Are you looking for a new camera and not sure where to start? Have you always used a point and shoot but feel pressured to switch to a DSLR in order to improve? And all this you've read about mirrorless lens' being the new in thing.. it can be a little bit daunting. But don't worry. I have made the switch myself and am here to guide you through it!
Panasonic Lumix FZ70 – The Best Bridge Camera For Travel Under $400
I loved my point and shoot. Like I really really loved it. And when I my interested in photography started I didn't have time (or the inclination!) to learn how to use a DSLR. Nor could I justify the inevitable expense of owning one.
Don't get me wrong, if you own/can use a DSLR – good for you – this is in no way a post against those people who have taken their photography to that level. Big congrats to all your DSLR-ers who have taught yourself an awesome skill!
But this post is for those who are not necessarily beginners (although it is a fantastic beginner camera). It is a post for those who want to upgrade their camera but don't have enough cause to spend $500+ on the latest tech.
Maybe you only travel once or twice a year and just want great quality images for those short trips. And you know you won't get the use out of the camera at home (even with the best of intentions!) Maybe you just want to up your game from a traditional point and shoot but don't want the added weight or space needs of a DSLR? Or maybe you're like me and just don't have the time (that you are willing to give) to learn how to use a DSLR? If any of these things sound like you then the Panasonic Lumix FZ70 is exactly what you are looking for.
.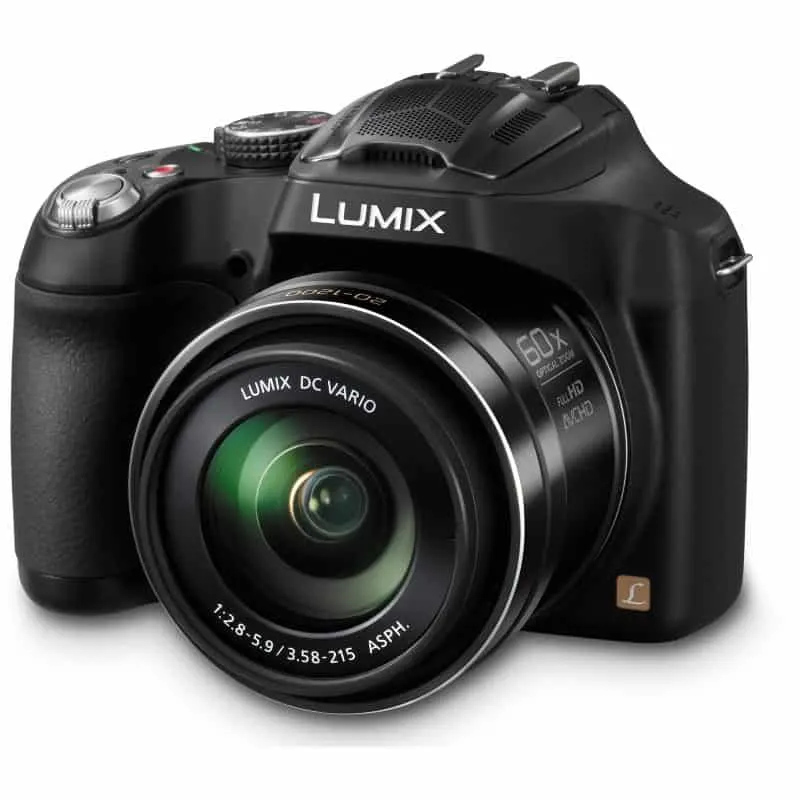 I am totally head over heels in love with this camera. With a 16.1 Megapixel sensor, Full HD video recording, 20-1200mm ultra wide angle lens and x60 optical zoom – it is a versatile powerhouse of a camera that makes me happy each and every time I use it. Measuring 130.2 x 97 x118.2 mm and weighing in at 600g, it's both compact and light and is not going to break your neck carrying it round all day!
Features:
That Zoom!!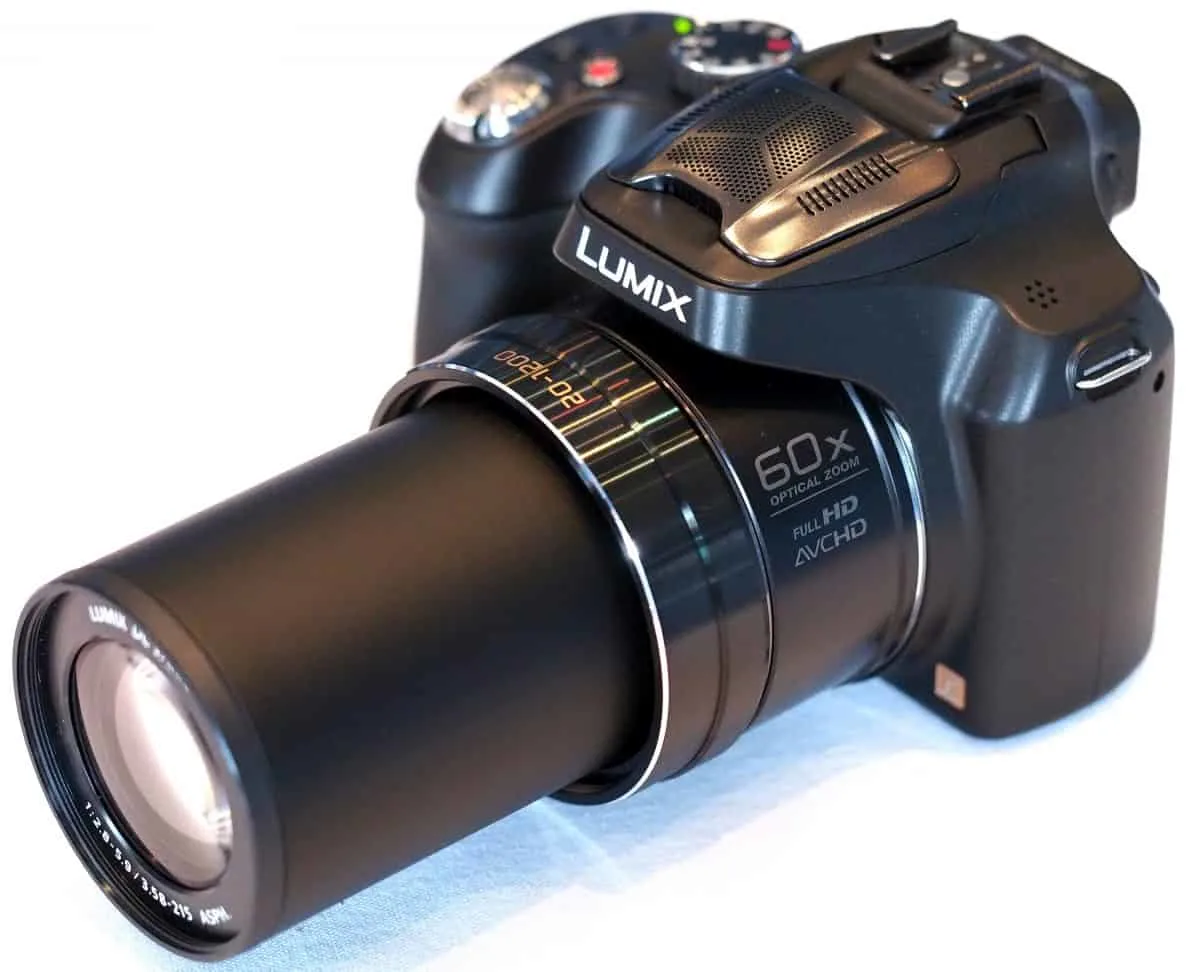 The 60x optical zoom is the reason I bought this Panasonic camera, and it did not disappoint. Usually when you see a camera offering a high level of zoom, you get to the end of the range and find your shots come out blurry and pixelated. Not with the Panasonic Lumix dmcfz70. Images remain clear, sharp and focused even when all the way out to 1200mm, aided by its built in powerful ois (image stabilization technology). The fact that there is no difference in the quality of shots whether it is a full zoom or no zoom absolutely blows my mind. And that the zoom also moves really fast between zoom depths means you can quickly refocus and grab that perfect shot even if the subject is not static. I mentioned this was the perfect camera for a safari, right?!
.
Screen or Viewfinder?
You can have both! When you are used to using a digital point and shoot it can take a bit of getting used to to switch to a viewfiender, but you don't have to make the switch with the FZ70. Boasting a 3 inch 460k-dot LCD screen it means you can always see the 'bigger picture' with awesome clarity on via the electronic viewfiender screen.
.
Shooting Modes
The FZ70 has a variety of shooting modes including Intelligent Auto ( complete with focus modeperfect for when you first start to use it), Program, Manual, Shutter Priority, Aperture Priority, Creative Control (where you can use filters) and a Scene Mode. You can easily switch between each using the mode dial. The Scene Mode is great for a range of shooting scenarios, with my favorites being the starry sky mode which allows for long exposure shots at 15, 30 or 60 seconds shutter speed in low light; sunset mode which brings out some beautiful colours; 3D photo which is insanely cool and Sport – which is great for capturing animals on the move (or kids, pets, active people.. etc)
For the techie's among you, click here for the full tech specs.
.
Video
The FZ70 is set up for HD video with an MP4 and AVCHD Output at a maximum size of 1920×1080 pixels. If you love your video and it is your primary medium, a GoPro may well be worth the investment, but if not, lumix dmcfz70 can satisfy most people's needs. The added bonus here is that the mega optical digital zoom works whilst shooting video too in the movie modes!
I've attached a little 30s compilation of a few videos I took for illustrative purposes. It turns out the free trial of the video software wasn't so 'free' as I can't seem to remove the watermark. Sorry guys!
.
Battery Life
Standard is around 400 shots per battery – less if you focus on video. So if you are a bit of a shutterbug like me, be sure to grab yourself a couple of extra camera battery packs to pop in your bag. They hardly weigh a thing and will ensure you don't run out of battery as you take that all important shot!
.
Summary
I love it. I love it. I love it. Did I mention I love it, because I really do. It's compact size, 16.1 megapixel image quality, ridiculously powerful zoom and range of shooting modes make this – in my mind – the best bridge camera on the market. Just don't forget your [easyazon_link identifier="B0143RT8OY" locale="US" tag="mak018-20″]sd card[/easyazon_link] to capture all those incredible images!
If you're a seasoned pro with a full DSLR, the Lumix FZ70 might seem a bit basic. But as a step up from a point and shoot for those you don't have time (or use the camera enough to justify purchasing a DSLR) it is fantastic.
If you think the Lumix FZ70 might be the camera for you – you can purchase the camera through Amazon from the links below. Just click the country nearest to you… and don't worry – you can thank me later! ;-)
RELATED: WANT TO GET ALL THE ACCESSORIES TO GO WITH YOUR NEW CAMERA – HEAD ON OVER TO THE things I love page TO PICK UP SPARE BATTERIES, MEMORY CARDS, TRAVEL TRIPODS AND MORE!
---
I just wanted to let you know that this post contains affiliate links, which means if you purchase something after clicking a link, I may get a small commission – which is at absolutely no cost to you. If you enjoyed this article and are going to be searching for some of the things I mention anyway, I would love it if you could click through from the links above & thank you in advance! Read my full Disclosure here.

---
And if you liked this post don't forget to Pin & Share – I'd really appreciate it!
(Psst. Don't settle for less – full size pin images pop up when you click the share bar on the left!)