Booking an overland safari in Africa will be accompanied by a range of emotions. Excitement – because it's one amazing adventure. Wonder – as in you may wonder how many animals you're going to see. (The answer is lots!! :-D ) And maybe a little bit of apprehension. What is life like on tour? Where do you sleep? What do you eat? How long are the driving days? Well, I'm here to answer all of these questions and more. Read on to find out what to expect on your Africa Overland Tour.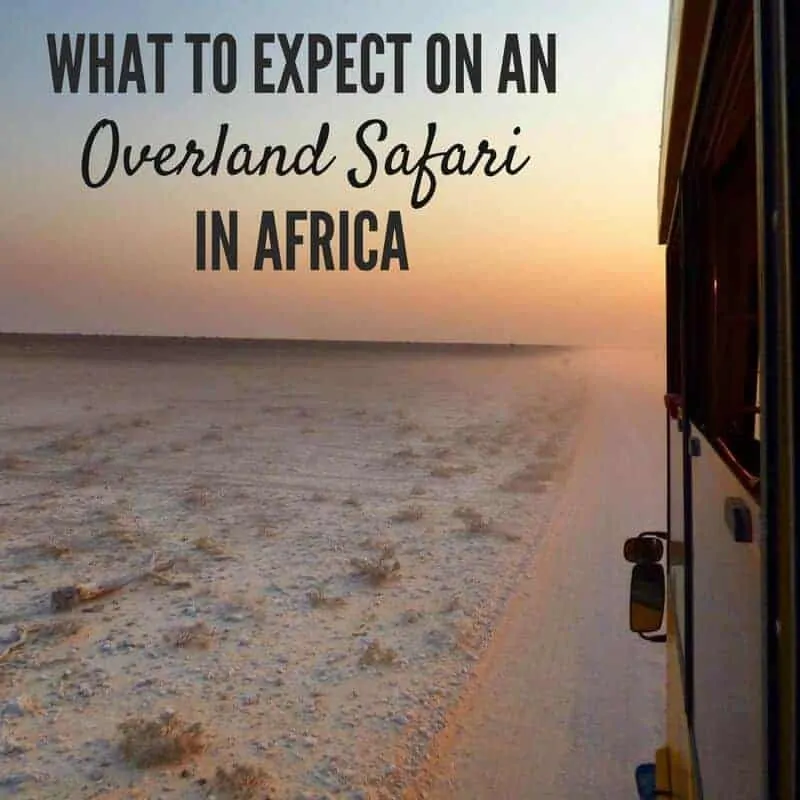 What to Expect on an Africa Overland Tour
.
So you are thinking about an overland safari in Africa but have no idea what to expect? Then you are in the right place. In this post I'll share with you all the key details about life on the truck so you can make a decision about whether this style of tour is right for you! And if it is – grab yourself the 5% discount code at the bottom of the post and get booking!
.
The Truck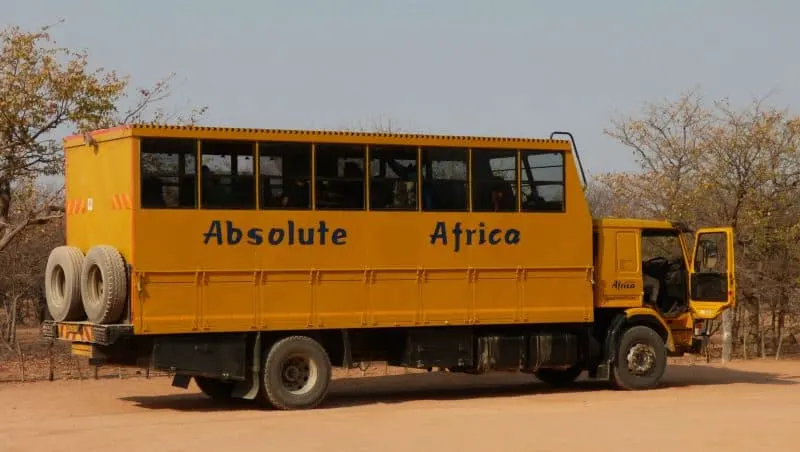 As I mentioned in my Budget Overland Safari Route (with Absolute Africa from Vic Falls to Cape Town), life on an overland tour revolves around the truck. Each overland company have their own tricked out vehicles with seating above and enough storage below to carry backpacks, tents, roll mats, cooking equipment, camp chairs, trestle tables and non-perishable food. You'll be amazed at everything that fits under there!
Seats are on a first come first served basis – but most people will be happy to rotate every week or so. Some trucks have lock boxes under the seats – this is where the cable locks come in handy and are big enough to lock away laptops, passports and other essentials.
Those who sit at the front of the truck will be in charge of a few things. First – the buzzer. Used to let the driver and guide know when you need to stop the truck for a toilet stop. Second – they get to play DJ. Most trucks will have a sound system that you can plug your ipod/mp3 players into. And third – they will be responsible for the rotation of devices that need charging.
There is usually a charging station at the front of the truck for communal use. The plugs/usb ports only work when the truck is turned on, and everyone gets a chance to charge their electronics. It may be the one consistent source of power – depending on which country you are in! I highly recommend a power cube/power bank to maximise the available sockets.
Job Rotation
Life on the truck is quite structured in so much as there are a few key tasks that have to be done everyday to keep everyone safe, fed and watered. To keep things fair, the group is split into (5) teams who rotate through the 4 groups of tasks: cooks, dishies, security, and truckies – the completion of the 4 days is then followed by a day off.
Cooks – pretty self explanatory – you shop for ingredients and cook a meal for the group;
Dishies – you wash up after the cooks;
Security – you make sure the windows are closed and the truck is locked when exiting during the day and that everything (tables, chairs, cooking equipment) is locked up on the truck at night;
Truckies – you clean the truck cabin after a day on the road. This includes mopping the floor, cleaning out the fridge (so it doesn't get smelly), and disinfecting the surfaces.
.
Sleeping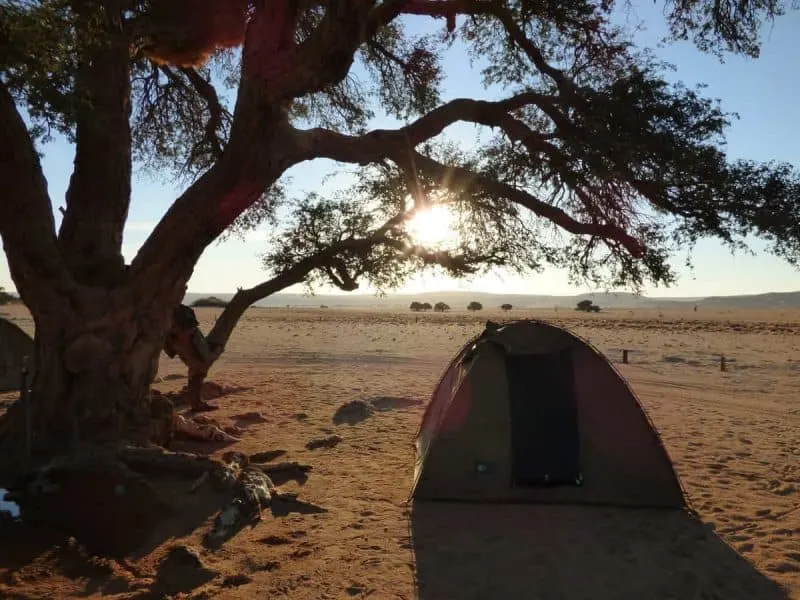 If your safari is at the budget end of the spectrum, don't be expecting any lodge-style accommodation! Overland tours keep the costs low by camping along the route – and on most – you'll be responsible for putting the tent up each day and taking it down/packing it away each morning.
They supply the tents & roll mats, and you take your own sleeping bag. The temperature rating will depend on where in Africa you are heading and at what time of year. I would also highly recommend a full size pillow. Travel pillows do not provide for the best night's sleep over the course of several weeks!
If you're getting sick of the tent you will also have the option to upgrade (for a extra fee) to a private room or cabin at some of the bigger camps and towns along the way. These are on a first come first served basis, so if you're thinking about upgrading, let your guide know as soon as possible that he can try and make reservations for you.
As you'll hear a lot in Africa – there are 'no guarantees'. That goes for hot water and wifi too!
.
Food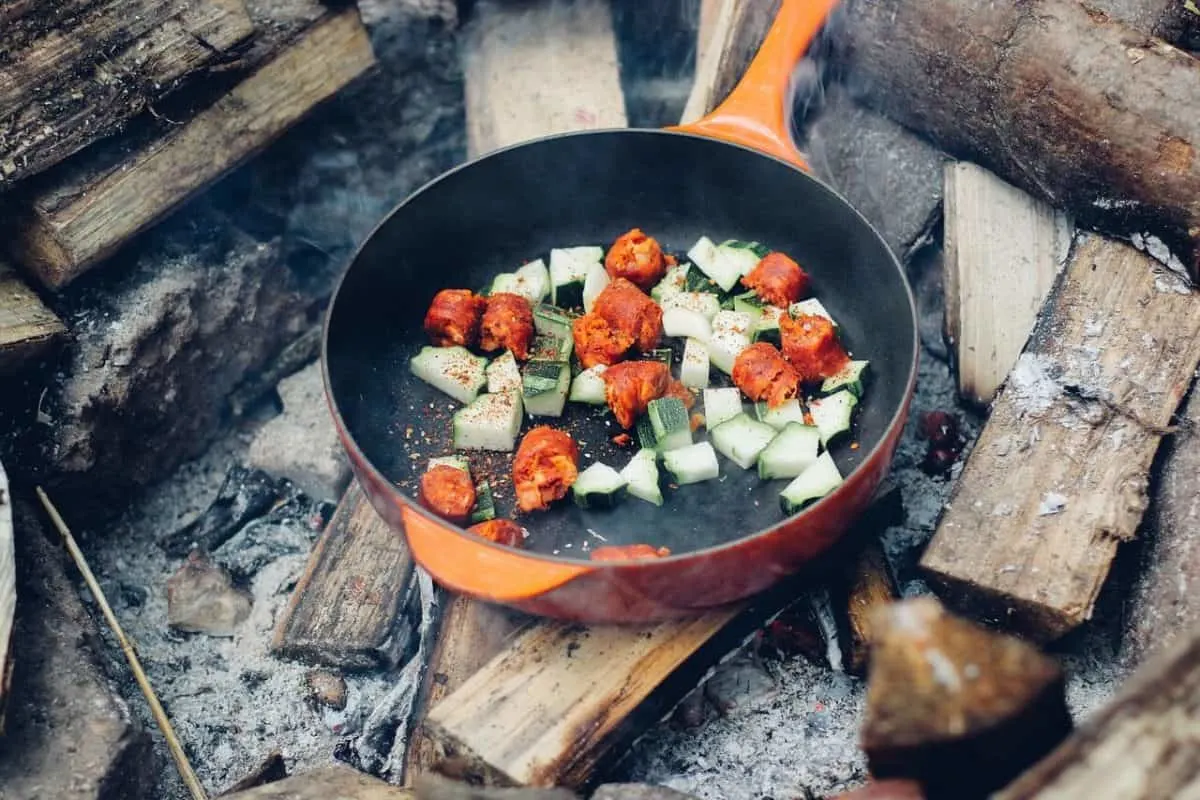 Most overland tours in Africa will include a self-serve breakfast and an evening meal in the cost. You will be responsible your own lunches. The cooks of the day will decide on a meal and buy the ingredients from a supermarket with money from the group kitty. This gives everyone a chance to be creative – or just cook something that they are missing from home. (Whatever or wherever that may be).
The guide will give you some ideas if you are struggling – and the only thing to keep in mind is the limited cooking facilities. For example, you'll cook over a campfire or gas stove and prepare food on the trestle tables. We had some amazing group meals – a lot of which were better than the occasional meal out that we had!
A sample of the meals include pasta and rice dishes, tacos, curries, stir fry's, steak, potato and salad/veggies. I was pleasantly surprised at the variety of food available – and although you can't get everything at the supermarkets that you can in the western world – you can get a great deal.
Dietary restrictions or allergies are dealt with exceptionally well, and the guides will go out of their way to ensure you have what you need (where it can be bought) i.e soy milk/vegan/vegetarian protein. Again, paid for out of the group kitty.
There will typically be a fridge on the truck where the fresh food is stored – and any group food takes priority over personal items. There is usually space in the fridge for bought lunches too – but drinks are a no go.
Drinks
On the drinks front, you will need to purchase water from the supermarkets and its is recommended you carry a 1l bottle to decant into (If you need to pick one up we've reviewed the best water bottles for travel here). The roads are very bumpy and trying to drink out of a 5l carton is not easy – but highly entertaining if you're watching someone try!
For those who like soda, this is also easily obtained – but you may not be able to refrigerate it as food must take precedence in the fridge.
And then there's alcohol. For some reason I believed that I would be on a detox in Africa, and that wine would be scarce. How wonderfully wrong I was. You can buy decent quality wine and beer for very little money – you may just need to agree with the group to keep buying ice for the cool box to keep everything cold! And if cold is not an option.. there's always red wine :-)
.
Scarce Wifi
Now this is one thing you can take a detox from when overlanding – unless you want to incur horrific roaming charges. Most trucks will not have wifi – and although some (pricier ones) do I wouldn't recommend it. Life on the truck is about the journey and experiencing it with your fellow travelers. Not sharing every other second on social media.
Around 50% of the campsites will have wifi – but it doesn't always work; and when it does, everyone on the truck wants to use it! This means trying to load your emails or Facebook/Instagram could be a very frustrating half an hour (or more!). If you really really need it, my advice would be to wait until late at night when everyone has gone to bed, or get up super early before everyone else is awake!
.
Cash/ATMs
There are ATMs and Money Changers throughout Africa, although they are limited to larger towns outside South Africa. You guide will give you a heads up about what currency you need and an estimation of how much to get out every few days; and activity providers/supermarkets will often take credit/debit cards for payment. If you can carry one Visa and one Mastercard – and some local currency – you should have all bases covered. But remember, AMEX is not accepted anywhere.
If you are carrying cash daily, only have enough for lunch/drinks/souvenirs and keep the majority locked away. Don't flash it around. The places you visit are not necessarily dangerous, but you should exercise the same amount of caution with cash that you would anywhere else in the world.
Activity Costs
Something that definitely needs to be considered when budgeting is the range of optional add-on activities that are available at various locations throughout the tour. These are often available on the operators website before you go, so it's easy to work out what you want to do before you get there.
Most overland tours include 3-5 game drives within the cost of the tour, but there are many other fun things to do on top of these.
Victoria Falls is by far the most expensive town you will stop in, with multiple high adrenaline activities for quite high prices – you can read all about the amazing activities on offer in Victoria Falls here.
There are also extra safari's – such as a mokoro safari in the Okavango Delta or a river cruise in Chobe National Park in Botswana – that are definitely worth the additional cost. My theory was – I didn't know when I would be back so I was going to do everything on the list. It was expensive but so so so worth it.
.
'TIA' will become a way of life
TIA – or "This Is Africa" – will be the explanation for anything you don't understand, don't like and just don't get when you are in Africa. This can be hot water that works at a certain time – or runs out after the first 3 people.. The wifi signal that is there – but won't let you connect… The concept of 'Africa time' – is not time told by a traditional watch… Or the fact you are covered in dust from head to toe and you've been in the truck all day!
Add that to the fact you wake up at 5am every day when the night is at it's coldest and Toto's Africa or the Lion King's Circle of Life become the soundtrack to your morning, and you know you're on an overland tour in Africa! For each and every quirk – TIA is the answer. And I love it.
.
Driving Days Are Long…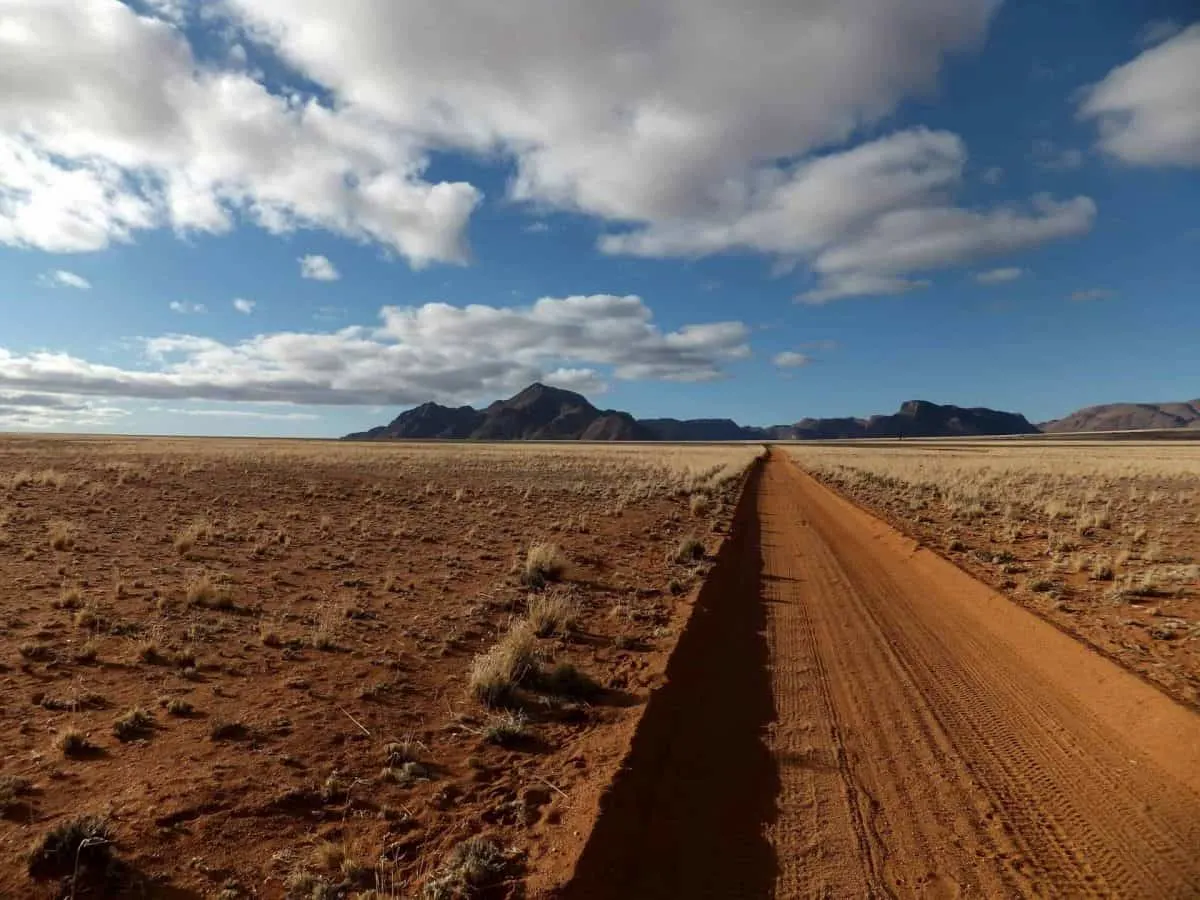 Africa is big. Like really big. And getting from A to B in some countries can take anywhere between 2 and 10+ hours. That's right – 10+ hours of driving. This is where your books, movies, kindles, music, packs of cards or group games come in handy. The truck will be hot, the road will be bumpy and if you can manage to grab a couple of hours sleep here and there, good for you. Don't say I didn't warn you!
.
… and Mornings are early
Due to the size of Africa – as mentioned above – to get those driving days in, you need to be up and on the truck early. And even on the shorter driving days – and especially on border crossing days – you want to get to where you are going early. The earlier you arrive the more chance you have of fitting in an activity – be it organsied or something as mundane as washing – doing other things during the day helps break up the long stretches on the road.
The time you get up depends on the time of your departure and if you want breakfast. So if you're on the truck at 7am – that means breakfast is available from 6 to 6.45am – and you're tent needs to be down and packed away before you eat. Everyone then helps pack the cookware back onto the truck and you get away on time. It sounds extreme, but you get into it after a few days!
So there you have it! An insight into life on-board an Overland Truck in Africa. It's an incredible adventure, and one of the most affordable ways to experience Africa.
I really can't recommend highly enough.
Ready to book your Africa Overland Safari? Click through to Tour Radar for a choice of hundreds of Africa Tours and get $$$ off Your Booking! (It's cheaper than booking direct!)


psst. Don't forget to pin this for later. Click the share bar for a selection of full size images!
READY MORE TRAVEL TIPS & INSPIRATION? YOU MIGHT BE INTERESTED IN THESE TRAVEL GUIDES, DESTINATION GUIDES, AFRICA ARTICLES & MORE:
Hi There! Thanks for reading our guide to What to Expect on an Africa Overland Tour (Overland Safari)! I just wanted to let you know that this post may contain affiliate links, which means if you purchase something after clicking a link, I may get a small commission – which is at absolutely no cost to you. If you enjoyed this article and are going to be searching for some of the things I mention anyway, I would love it if you could click through from the links above & thank you in advance! Read my full Disclosure here. Thank you for reading the MakeTimeToSeeTheWorld Travel Blog.