When it comes to making your all-important packing list before you go traveling, a travel water bottle is probably pretty high up there. (In fact, we'd say it was a real backpacking essential!)
And I don't think we need to tell you how important it is to stay hydrated whilst traveling but having a water bottle to hand throughout your travels is particularly vital if you are unsure how often you will have access to clean water, or are out in the hot sun all day (or both!)
You might be surprised at how many water bottle options there are available on the market but one thing we can say for certain is that you can say no to disposable plastic water bottles and help contribute to the zero-waste movement and combat the war on plastic!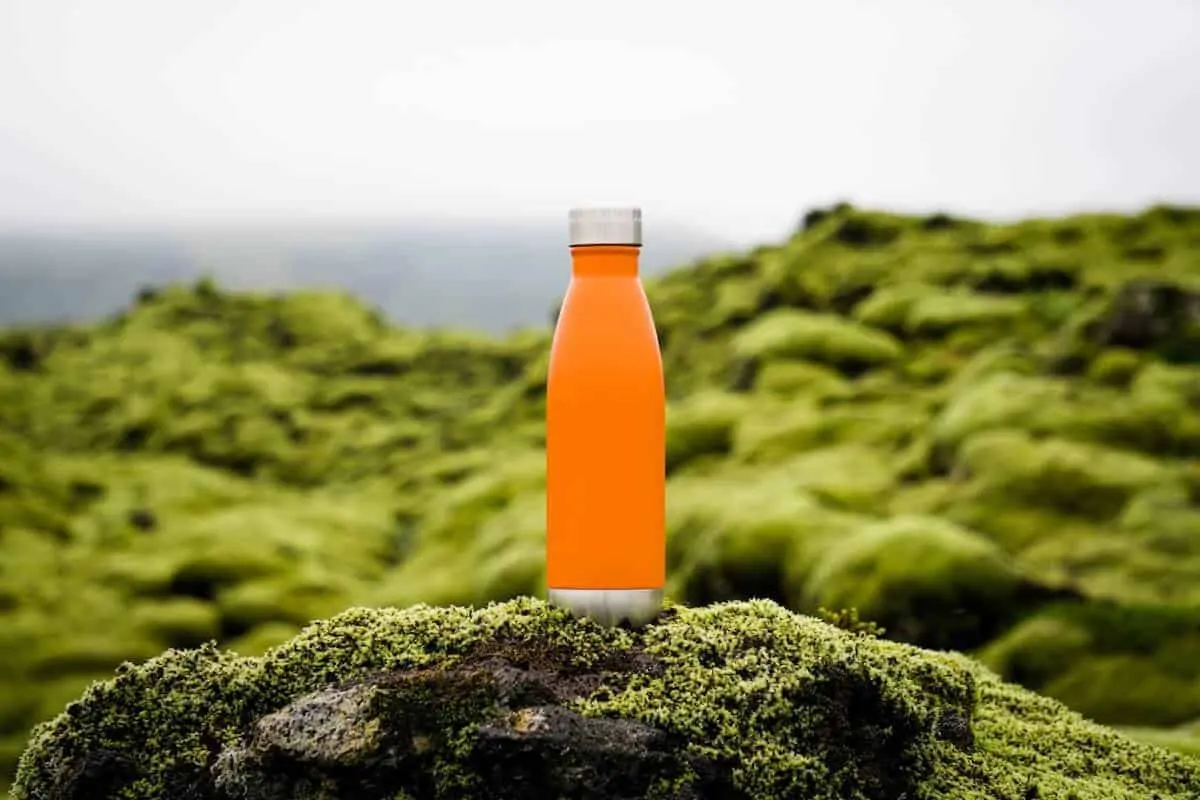 Disclaimer: This very helpful post about the best travel water bottles contains affiliate links, which means that should you click any of the links and make a purchase I may get a small commission at absolutely no cost to you. If you are thinking about buying a water bottle for travel (for yourself or anyone else) and wanting to stop buying single-use plastic water bottles – please consider using the links below. And you can read the legal stuff about it all in my Disclosure.
The Best Travel Water Bottle
To help you find your perfect water bottle for travel (or just your day to to day life!) we have put together this helpful guide allowing you to identify the range of options out there to choose from.
The Best Water Bottles for Travel - A Comparison
Name
Capacity
Weight
Hot & Cold?
Sundried
Water
Bottle
750ml
160g
Cold Only
DegBit
Motivational
water bottle
1000ml
205g
Both
Aquasana
Borosilicate
(Glass)
550ml
363g
Cold Only
OMORC
Fruit Infuser
950ml
200g
Cold Only
Bottled
Joy (Glass)
475ml
400g
Both
POP Design
500ml
Both
Tree Tribe
Stainless
Steel
650ml
320gm
Both
CHICMODA
collapsible
1000ml
120gm
Cold
Hydration
Bladder
2000ml
200g
Cold
MemoBottle
375ml
350g
Cold
Klean
Kanteen
950ml
422g
Both
HydroFlask
Insulated
950ml
440g
Both
Sundried water bottle
From the makers of ethical activewear brand Sundried, this water bottle is one of the most popular on the market. Its ergonomic design has made it a sleek, stylish, lightweight and easy to hold a water bottle.
It also tastes and feels just like glass, meaning you can enjoy great-tasting water with every refill.
Customers love this bottle for its durability and how easy it is to clean.
DegBit Motivational Best Travel Water Bottle
.
We all know how easy it can be to forget to stay hydrated throughout the day but not anymore with this motivational travel water bottle from Degbit.
With the 'times to drink design' printed on the bottle, it provides you with a gentle reminder to drink water and the standard mouth-piece nozzle makes it easy to drink from, even on the go.
And the infuser cap/ flex cap on the top is such a bonus when you are looking to spice up your H2O a bit!
Customers love this bottle for its size, designed to fit in both external backpack pockets and bike bottle holders.
Aquasana Borosilicate glass water bottle
Say goodbye to traditional clumsy glass water bottles with this revolutionary design from Aquasana. Made from eco-friendly borosilicate glass, it has a better temperature tolerance than standard glass bottle options and the ability to preserve fruit flavored water.
Customers love this hydration bottle it for its reinforced glass base and outer non-slip sleeve for enhanced durability – and the cute colour options don't hurt either!
OMORC fruit infuser water bottle
.
Prefer flavored water to quench your thirst whilst traveling? With this fruit infuser water bottle from OMORC you can enjoy the taste of your favorite fresh fruits on every day of your travels.
Available as a 1 Litre sized bottle you also can be sure you are getting enough fluids, which is something we are often guilty of falling behind on whilst traveling.
Customers love this bottle for its specially designed finger grips, making it a great choice for anyone who enjoys high paced activities and is ultimately one of the best infuser water bottles on the market today.
bonVIVO VitaliTEA insulated water bottle
If you would prefer a glass infuser bottle this one from bonVIVO is an excellent choice. What's even better is that this glass infuser is made from heat-resistant borosilicate glass, making it the ideal portable hot drinks infuser too.
It also comes with a neoprene sleeve, providing additional insulation and protection from breakages.
Travelers love this bottle for its endless drinking possibilities from fruit-infused waters, smoothies, herbal and iced teas.
POP Design stainless steel vacuum insulated water Bottle
.
.
Referred to as the perfect hydration companion from POP Design this water bottle is BPA-free, eco-friendly, made from insulated stainless steel to help keep your cold drinks cool and hot drinks warm.
Customers love this bottle for its two-year warranty and free cap replacement service.
Tree Tribe stainless steel water bottle
.
.
With so many reasons to get a classic stainless steel water bottle from Tree Tribe, it's hard to know where to start.
Not only is it eco-friendly, with an advanced design this bottle is fully insulated, leak-proof, easy to clean, wide mouth water bottle that claims to be indestructible.
Travelers love this bottle because, with every purchase, Tree Tribe plants 10 trees to help give back to the planet.
CHICMODA collapsible water bottle
.
.
The innovative design of CHICMODA's collapsible water bottle makes it suitable to fold up and easy to store when you don't need it.
Spillages are also not something you will need to worry about with this bottle's anti-leak silicon cap and stainless steel hook locking clip. It's also the only silicon water bottle on our list if you are looking for the ultimate in flexibility.
Travelers love this ultralight water bottle for its easy-grip, portable perfect for air travel and space-saving design.
RANIACO Hydration Bladder
.
This travel hydration bladder from RANICO is the ideal water reservoir for long hiking trips.
With a capacity to hold up to two litres of water it's made from a durable material that can withstand temperatures from -20 to 50 degrees Celsius.
Travelers love this water reservoir for its ease of use, portability and that it fits in most adventure-ready / camelbak chute backpacks.
MemoBottle flat water bottle
.
.
Despite its size this flat water bottle made by Memobottle has the capacity for up to 530ml water.
You may also be surprised to discover that this portable glass water bottle can also be used to store infused and hot drinks, soups, tap water and even other travel essentials, including shampoo & conditioner.
Travelers love this water bottle for its sleek design that will fit into even the smallest of bags – it's the best flat water bottle on the market!
Klean Kanteen Climate Lock™ Vacuum Insulated Bottle
With a lifetime "Strong as Steel" Guarantee, this could be the only travel water bottle you ever need.
It has a double wall which helps keeps cold drinks cold, hot drink hot – and even stores carbonated drinks at their fizzy best (and any other drink you could think of!). It's the chameleon of stainless steel bottles and is perfect for whatever adventure you are planning.
The Klean Kanteen Classic Stainless Steel Water Bottle is the go-to travel water bottle for those who want a no-fuss, top quality product; and is right at the top of the list for the best lightweight travel water bottle.
Hydro Flask Insulated Sports Water Bottle with Straw
At 950ml (32oz) this Hydro Flask water bottle is big enough to sustain a whole day off the grid adventures.
The Hydro Flask wide mouth water bottle is made of food-grade stainless steel, has a powder-coated non-slip grip and comes with a wide mouth for easy filling, a flip-top for quick access and a sports cap with straw top for sipping throughout the day (cold liquids only).
It comes in a range of bright (and muted) colours – there's one to match every outfit! and it's TempShield™ insulation also eliminates condensation and keeps beverages/water cold up to 24 hours and hot up to 12 hours.
No wonder it's one of the top insulated stainless steel water bottles on the market!
Things to consider when choosing the Best Travel Water Bottle
Travel Water Bottle – Material
There are several different types of bottles which can be insulated or noninsulated, dependant on your needs:
Stainless Steel: The ultimate adventure partner, often insulated to keep your drinks cold (or hot), easy to clean and strong and tough enough to last a lifetime.
Reusable Plastic: The most mass-produced, and often cheapest; they are strong, BPA-free (but it's always a good idea to check), easily cleaned but need to be cleaned more often than stainless; and have no insulation qualities.
Glass: They say the water tastes better out of glass, but it comes at a price: they are often heavier, and you run the risk of breakage on big adventures. Glass bottles look good, but unless you're only taking short trips – like to the office.
Silicone: For those that want to pack super light, silicone-based water bottles are often collapsible and a great addition to a backpackers limited space kit.
Weight & Capacity of Travel Water Bottle
Weight and capacity are two of the top things to consider when choosing the best travel water bottle.
Depending on the type of travel you do – camping, hiking, backpacking, city breaks, weekenders, etc – you'll want to assess how much space you have in your bag if it has a side pocket to carry, and how heavy it is when full. Lightweight water bottles are generally the best way to go regardless of what travel you do.
Mouth Opening: Size & Type
Straw lid, largemouth, flip top, sports, standard mouth – there are a variety of different ways to drink, just pick whichever is best for you.
I'd recommend straw or sports tops for most adventuring, although neither would be possible with hot drinks – the silicone/plastic they are made of is often flexible and can't withstand the heat.
Or a screw top with a small-medium size mouth opening. Because you don't want to be the person wearing half of their drink on a long bus journey when the car/bus hit a bump in the road. (Which if you are over-landing in Africa happens a lot!)
Filters and Purification
If you are traveling to places when you may not have access to clean water, a water purifying filtration device is going to be essential. Some travel water bottles come with a purifier, but unless you're going to be needing to use it all the time, I would lean towards getting a purification/filtration device that you can insert into your water bottle – such as a lifestraw (rather than a dedicated filter water bottles)
Well, we hope this water bottle travel guide has been informative for you and who knew you had so many great options to choose from when it comes to the best travel water bottle that suits whatever your requirements.
Have you come across the best travel water bottle that tops all others? Don't forget to tell us about it in the comments below. And if you liked this post, please pin, tweet, flip or share on Facebook – I'd really appreciate it!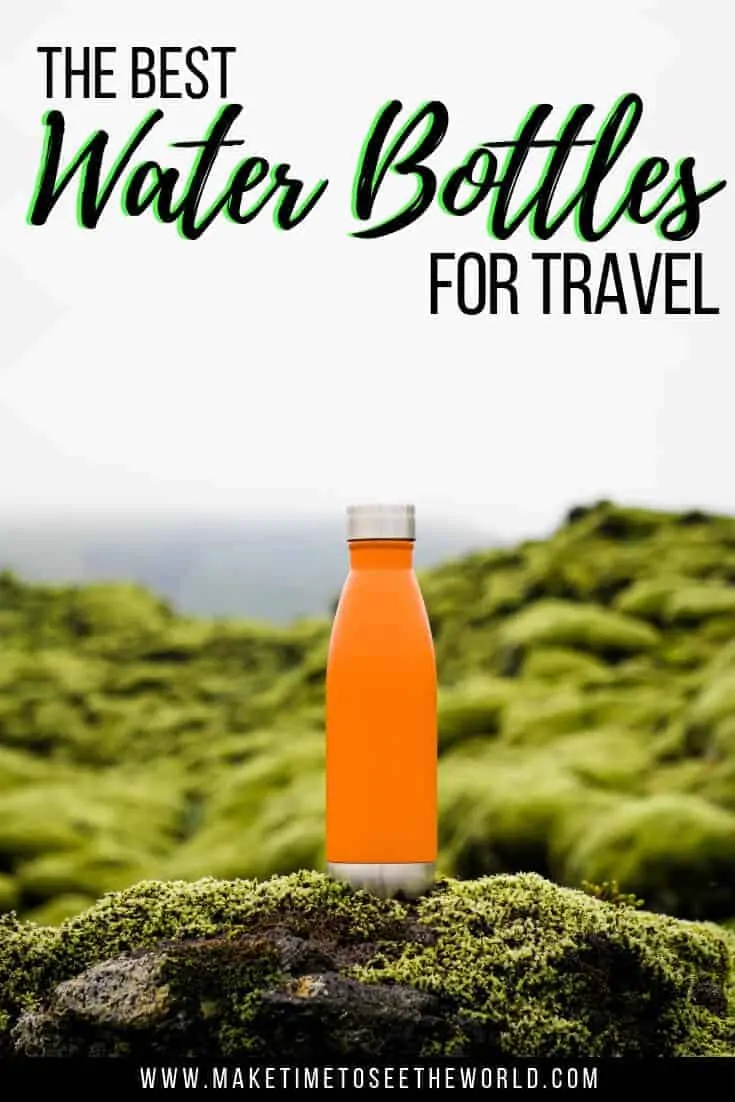 And if you liked this guide to the top travel water bottles, take a look at the other gift guides, packing tips & travel gear posts in this series:
Hi There! Thanks for reading my buying guide to reusable water bottles in the complete guide to The Best Travel Water Bottles, Best Travel Bottle and the Best water bottle for travelling! I just wanted to let you know that this post contains affiliate links, which means if you purchase something after clicking a link, I may get a small commission – which is at absolutely no cost to you. If you enjoyed this article and are going to be searching for some of the things I mention anyway, I would love it if you could click through from the links above & thank you in advance! Read my full Disclosure here. Thank you for reading the MakeTimeToSeeTheWorld travel blog posts.