With increasingly strict requirements for carry on, we've done the research for you and tested the 20 Best Carry On Luggage Bags & Brands in 2023.
Without a great piece of carry-on luggage, you are not going to get very far on your travels. The problem is, with so many choices out there, how do you even begin choosing the perfect backpack or hard case which is great for every adventure – and give you that all-important speedy airport exit by not having to wait at the luggage belt!?
Stand by for our recommendations for the Best Carry On Luggage 2023 (as tried and tested by a frequent traveler, complying with all the major carry-on luggage requirements) to help get you on that plane and off exploring this amazing world!
And don't forget to scroll down for out top tips on HOW to choose the best carry on luggage – which isn't all about what looks good!
.
The Best Carry On Wheeled Luggage - A Comparison
Name
Capacity
Dimensions
(cm)
Weight
Price
Antler Atom
36L
55x20x40
1.9kg
$$$$
MVST Select
40L
55x35x22
4.3kg
$$$
Eastpak
Tranverz S
42L
51x24x32
2.4kg
$$
Olympic
Denmark
42L
55x40x23
3.6kg
$
Cabin X One
38.5L
55x20x35
3.6kg
$$
Travelon
28L
53x24x32
2.4kg
$
Cabin Max
Icon
44L
55x40x20
2.6kg
$
Samsonite
Omni PC
40L
50x37x25
3.0kg
$$
5 Cities
Super Budget
42L
55x40x20
1.5kg
$
Genius Pack
21" Aerial
42L
53x35x23
2.8kg
$$$
Maxwell Scott
Luxury
35L
55x35x24
4.2kg
$$$$
TravelPro
Platinum
42L
58x40x24
3.6kg
$$$
5 Cities
Quick Stats: 42L | 1.5kg | 55 x 40 x 20 | $
Quick Features – Rigid back frame, two wheels with protective bottom, weigh scales.
If it's weight you are concerned about, you have to get this great carry-on suitcase. Specially designed to meet even the strictest of holdall restrictions and with its very own accurate scales, you can pack confidently for your trip with the knowledge you are not going to end up with an excess baggage fee.
.
NientyGo Hardshell with Brake System

Quick Stats: 33L | 3.3kg | 54.5 x 39 x 21.5 | $$
Quick Features – Stay put brake system, TSA lock, Scratch Resistant Makrolon Polycarbonate Shell, 5 year warranty
With a durable and modern design, this NinetyGo hardshell with Brake System has the same whisper quiet 360º spinner wheels and zip closed internal pockets as the NinetyGo carry on above, but does not have to sacrifice internal space to items placed in the laptop compartment. This makes it a better option for those that don't travel with a laptop/tech.
It is built from Covestro (former Germany BAYER MaterialScience) 100% Makrolon Polycarbonate which means the hardshell is lighter than aluminum & more durable than ABS. The 3-Layer Structure design also makes this suitcase super sturdy and scratch-resistant. Extra touches such as soft grip handle (for throwing it up into the overhead lockers), compression straps for securing clothing and telescopic handle make it perfect for all travelers. And the built in brake system means you can lock the wheels in place while seated/stationary and not have to worry about trying to keep hold of your case on moving vehicles (like the buses/monorails or even the tube in London(!) (I have – on more than one occasion – had to chase my runaway case down the tube when I lost my grip, which was comical for the few people in the train who witnessed it!)
.
Genius Pack 21″ Aerial
Quick Stats: 42L | 2.8kg | 53 x 35 x 23 | $$$
Quick Features – 360 degree spinner, Interior category compartments for socks, chargers, undergarments, Reinforced impact-resistant corners & scratch and stain resistant.
Not only is this carry-on holdall sleek, smooth to manoeuvre and pretty tough with its shock resistant outer shell, it has a huge 42L capacity, which means buying presents for all your loved ones on your travels will no longer be a problem due to a lack of space! It's one of the best spinner luggage pieces on the market and it looks downright gorgeous too!
If you are looking for a slightly less expensive option, the Amazonbasics hardsider spinner luggage is a great alternative – and comes in some beautiful colours!
.
Maxwell-Scott® Luxury Tan Leather Carry On Case
Quick Stats: 35L | 4.2kg | 55 x 35 x 24 | $$$$
Quick Features – Outer zip compartments, address tag, personalised, internal compartments and straps. It's the height of luxury.
If you are a fan of life's luxuries, then a handmade Italian leather carryon bag is going to be just the ticket. Not only is it practical with plenty of internal and external compartments (it's like having in-built packing cubes!), it's stylish too, available in tan, chocolate or black leather and you can even have it personalised too! Perfect for steeping off the plane looking stylish with this stunning piece of hand luggage on your business trips. (It's one of the best pieces of carry on luggage with wheels and is recommended by Business Insider!)
.
The Best Carry On Backpacks - A Comparison
Name
Capacity
Dimensions
(cm)
Weight
Price
Standard
Luggage
35-45L
21.5x13.5x7.5
1.6kg
$$
Deuter
Transit 40
40L
45x36x24
1.9kg
$$
Osprey
Farpoint
38L
50x35.5x20
1.3kg
$$
Cabin Max
Arena
27L
45x30x20
600g
$
EverVanz
Outdoor
Canvas
20L
19x12x6
800g
$
ZOMAKE
30L
49x39x18
335g
$
.
.
How to Choose the best carry-on luggage for you
Style
Obviously, the look of your carry-on luggage is important but an even more important consideration is, what style of bag is going to be most suitable for your trip? Are you going to be using your carry-on luggage merely to get you from A-B and then it will be left at your accommodation, or are you going to need to carry you luggage throughout your trip, for example, if you are hiking?
Capacity
Capacity is a pretty important requirement when it comes to carry-on luggage and you will need to pay close attention to baggage restrictions when choosing the best piece of luggage for you. Nobody wants to pay a hefty excess baggage fee for an oversized piece of luggage. You will also want to think about how much stuff you will be packing for your travels (there is no point buying a piece of luggage that looks great but is just too small and it pays to check with the airline you are flying with what their maximum carry on luggage size is.
*Top Tip* CarryOn Luggage Sizes on most airlines are: 55 x 35 x 20 cm or 22 x 14 x 9 inches – and if you are looking for checked baggage, head on over to our guide to the top hardside luggage on the market which includes how to pick the best one for you!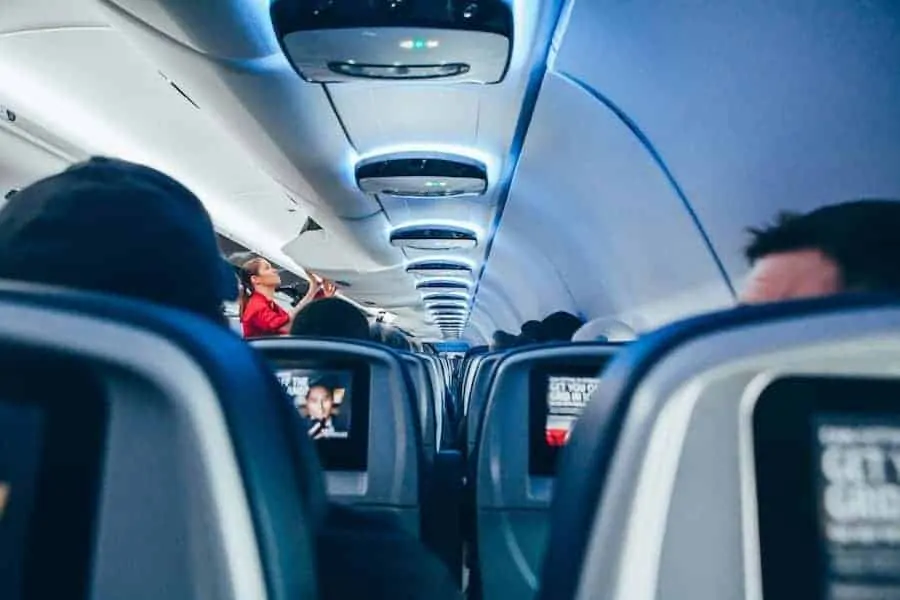 Features
Added features are a great bonus for any piece of carry-on luggage. Perhaps it's plenty of compartments you after looking for, or maybe additional straps and a waterproof outer layer? You will find that most pieces of luggage include a long list of added features but it's important to think about what is going to me most useful for you.
Durability
A particularly important selling point when it comes to finding the best luggage carry on. You want your suitcase of backpack to last for the entirety of your tripand preferably way longer! This is why it's always good to read reviews before you purchase any piece of luggage. Look out for any negative reviews regarding zips and straps as these are one of the most likely things to go first; and pick from established luggage brands (like the one's below) who's quality you can be confident in!
Value for money
We all know that sometimes it is better to spend that little extra if we want a quality item but it is important to be realistic about this and remember, especially if you are on a tight budget. There are plenty of carry-on bags available out there, meaning you won't have to break the bank.