Have you ever wondered what it like to visit a city when at exactly the same time as 4 million other people have also decided to do so? Well if you're heading to the Edinburgh Festivals in August you are about to find out!
Between 3-27 August each year Edinburgh becomes a mecca for festival lovers across the globe. They come to see the comedians, artisans, street performers, signers, dancers, acrobats, bookworms and anyone else that wanted to be part of such a monumental event.
It's vibrant, non-stop party atmosphere is world-famous, and when you are in the thick of it you can easily convince yourself that the rest of the planet has ceased all activity to watch the show too! It attracts those of all ages – groups, families, big kids and small, with the Festival itself taking on a life of it's own and often able to outlast even the best of them.
So strap yourself in for what is one of the most amazing events in the world – and read our top Edinburgh Festivals Tips packed full of things to know before you go to help you make the most of your visit.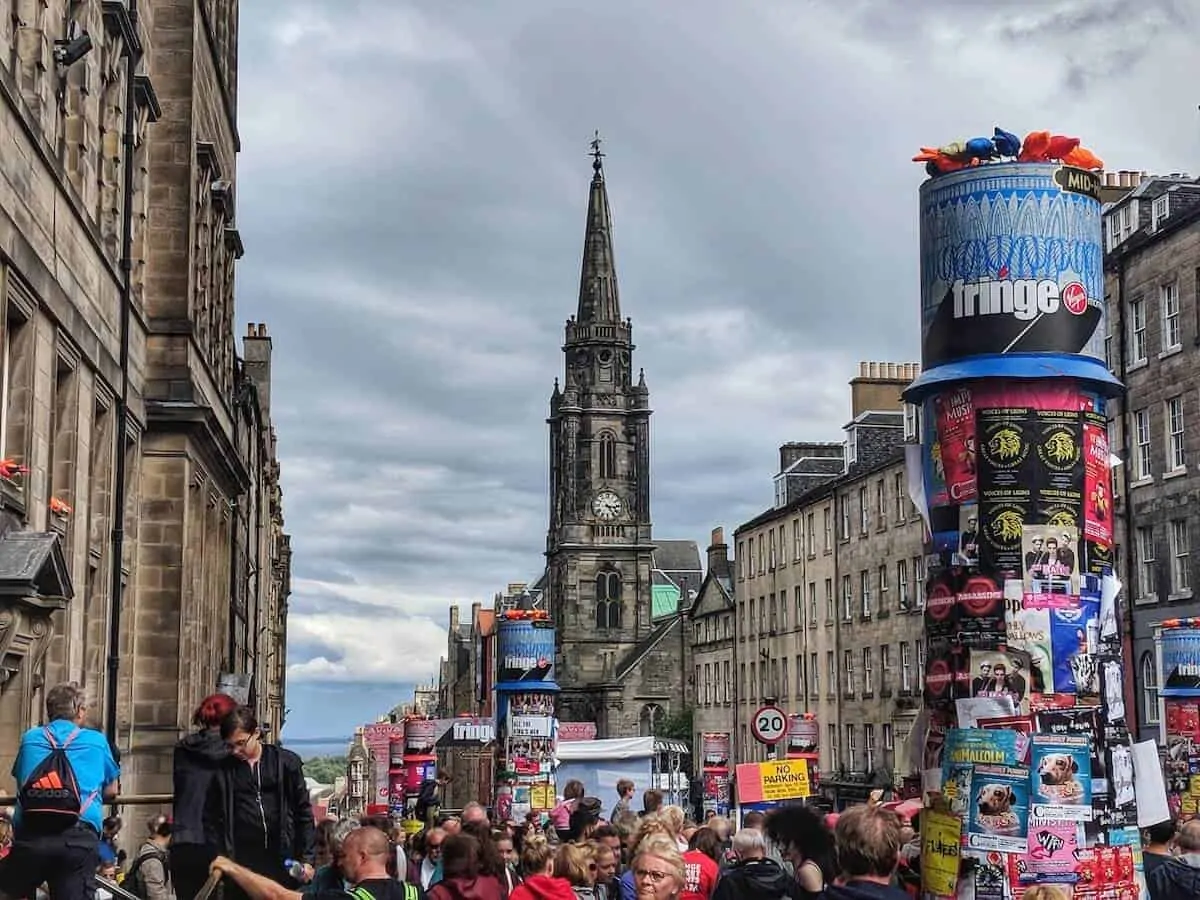 Disclaimer: I visited Edinburgh in August 2018 as a guest of Edinburgh Festivals Festival City, however all opinions (and fun had) was entirely my own, as always.
Our 12 Top Travel Tips to Get The Most of The Edinburgh Festivals in August
Don't Think that the only Festival is the Edinburgh Fringe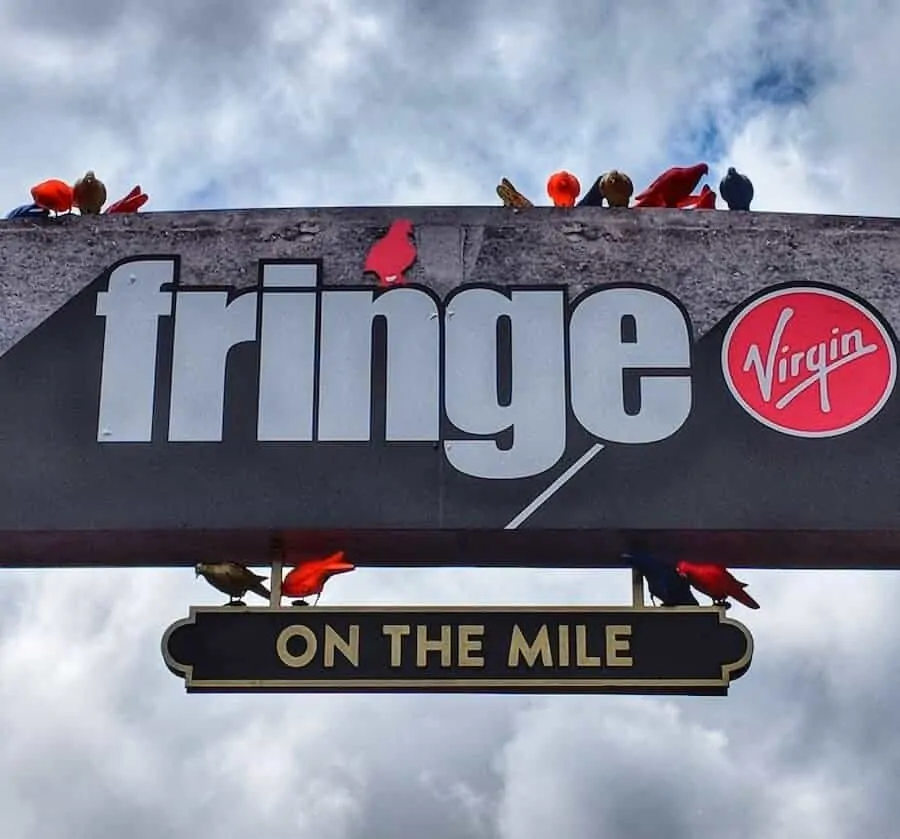 People flock to Edinburgh in August to get involved in the largest arts festival in the world – The Edinburgh Festival Fringe (aka the 'Edinburgh Fringe' or simply, 'The Fringe'). What started when 8 theater groups turned up uninvited to the newly created Edinburgh International Festival (and as such were on the 'Fringe') in 1947, has blossomed into largest open access celebration of the arts in the world.
The typically elegant and dignified city of Edinburgh morphs into a carnival of chaos, culture and craziness between 3-27 August each year, hosting 3,548 shows covering a range of genres (theater, dance, circus, comedy, music, musicals, cabaret, children's shows, free shows, exhibitions, events and spoken word!).
And whilst that should be more than enough to keep you going, Edinburgh actually turns into a complete Festival City in August when it also plays host to the Edinburgh Art Festival (26 July – 26 August); Edinburgh International Festival (3-27 August) – which is the actual Festival on in August and what the 'Fringe' is connected to; Edinburgh International Book Festival (11 – 27 August) and The Royal Edinburgh Military Tattoo (3 – 25 August). And it's possible to get a taste of each in one (busy but epic) weekend!
Plan, But Don't Go Overboard…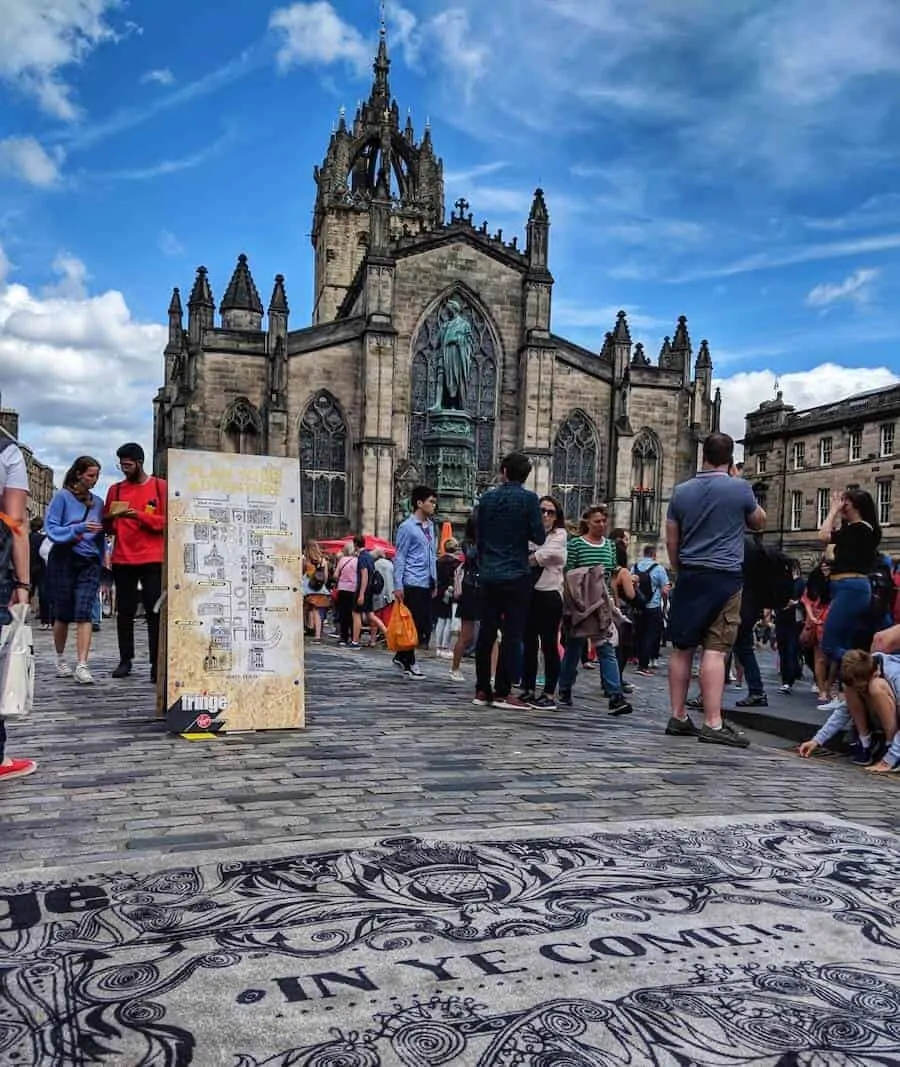 If you are heading to the Edinburgh Festivals in August you're in for a treat – and you're going to want to make the most of your time. Whilst a lot of the events are unticketed, the big names and notable/recommended performers all charge anywhere from pennies to pounds for you to be part of their audience.
My top tip is to pick out no more than 3-5 shows per day and let your feet and the festival vibes do the selecting the rest of the time.
It's also a good idea to build in 'arriving early' time – the queues to get into venues can get pretty crazy – particularly if you are attending one of the free events; and be sure to leave enough time between performances to give you plenty of time to navigate around the buzzing city.
*2 TOP EDINBURGH FESTIVALS TIPS*
– Don't be late to stand up gigs. Comedian's love to use late comers as start of the show targets (which in some cases can turn into a whole show!) You have been warned.
– Make sure you see a Showcase whilst you are in the city. These are typically hour long performances featuring 5-9 acts in 6-10 minute slots. There are comedy showcases, LGBTQIA+ showcases, family friendly showcases and cabaret + variety showcases (which feature a bit of everything). Highly recommended each year is The Electric Cabaret (late night comedy, circus, burlesque & bands) & new this year, the Russian Roulette (where all the acts have an element of danger!)
… And Don't Try and See Everything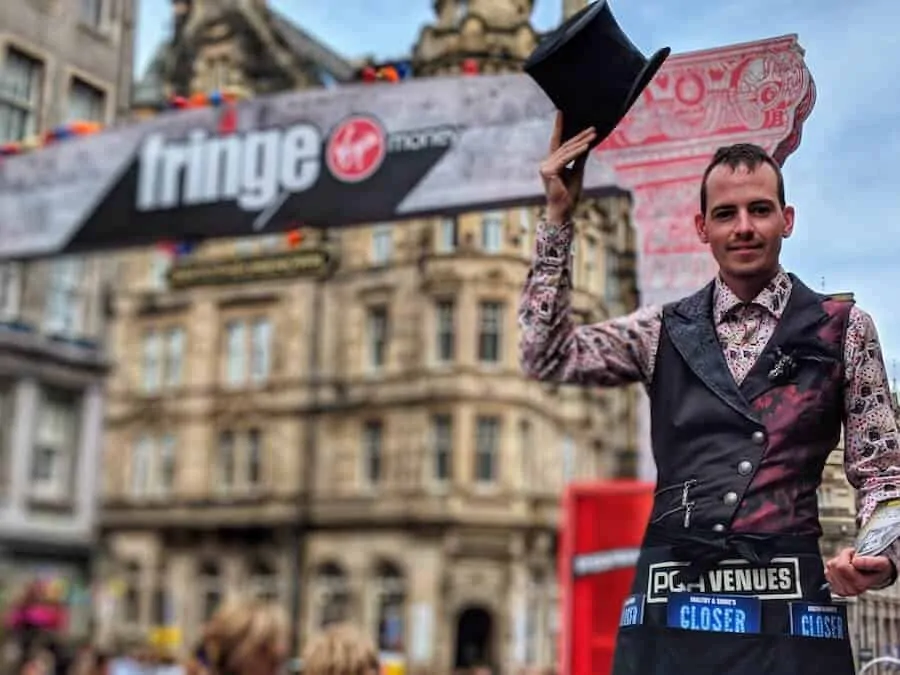 Hand in hand with a bit of planning is a whole heap of restraint. Sure, you could watch 12 hour-long shows throughout the day – which may not be good for your wallet depending on your show preferences (tickets run anywhere from Pay What You Like to £20 which adds up over a day) – but in cramming that much in, the likelihood is you'll remember very little of any of them. Which is less than ideal.
Get 'Appy –
Keep your finger on the pulse with the
EdFringe App
and see what shows are where in real time – they even have a 'near me now' section to save you traipsing across town to find a show when there could be one right next to you!
Book Your Accommodation Early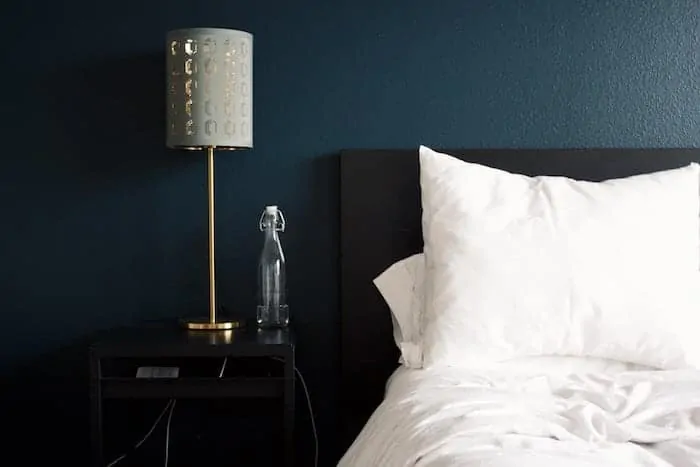 You read my opening line that 4 million people descend on Edinburgh each year during the month of August, right? Well it should go without saying that you're gonna need to book your bed as early as possible, and with prices only going up (and they're already typically 3x the normal rate at festival time) the closer you get to the festival, you could end up paying a small fortune.
If you have the luxury of time and can have your pick from the hotels, we have a few favorites below to help you find the perfect place to get some respite form the craziness, and have options for all budgets too. Not a hotel fan? lots of locals open up their homes on AirBnB (use this link to get up to $x off your stay)
And if you've go too wrapped up with Festival Fever and forgot to book your hotel, click here for last minute offerings – I won't go as far to call them deals, because if it's late in the game you may find you just have to grab the best of the rest.
.
Be Prepared for Any Weather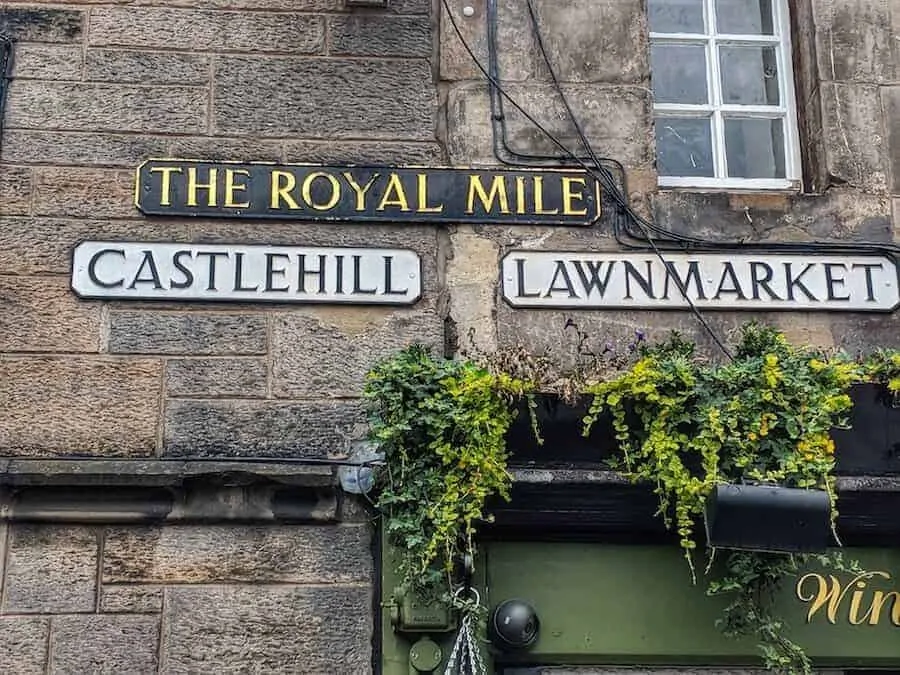 Just because it's summer time doesn't mean you're going to be graced with blazing sunshine and warm days. This is Scotland after all – and you may be in for a down poor worthy of an Ark. If you get wet in Edinburgh, it may be the case that you stay wet all day – which when you're out in the open for a large percentage of the shows is not going to be pleasant.
Think like an onion – dress in layers for easy peeling should the sun come out, and invest in a lightweight packable waterproof jacket – bonus points if it's windproof too – and a sturdy umbrella which fits in your handbag. You'll be prepared for anything – and you can thank me later!
Don't Limit yourself to the Big 4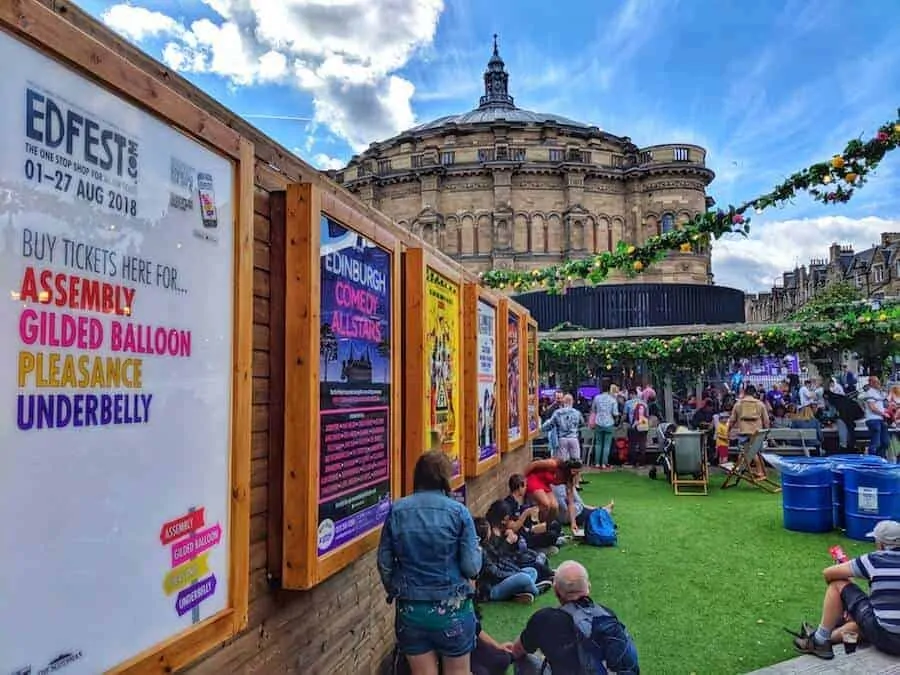 The "Big 4" are the 4 main Fringe comedy and theater venues: the Assembly, the Pleasance, the Gilded Balloon and the Underbelly – not to be mistaken with the giant purple .upside-down cow that is the Udderbelly which now sits in George Square Gardens & is an outpost of the Underbelly.
Whilst you can't really go wrong with these spots and where you're pretty much-guaranteed quality acts by the very nature of the venue, with over 300 venues and 3548 shows at the 2018 Edinburgh Festivals, there is plenty out there to see. Scan the program, go with your gut – and you never know, that person that you stumble across this year might be someone you have never heard – and be all that people are talking about next year!
RELATED –
Did you know that attending the Edinburgh Festivals is one of the Top 20 Places to Visit on the
Great British Bucket List
?!
.
Talk To People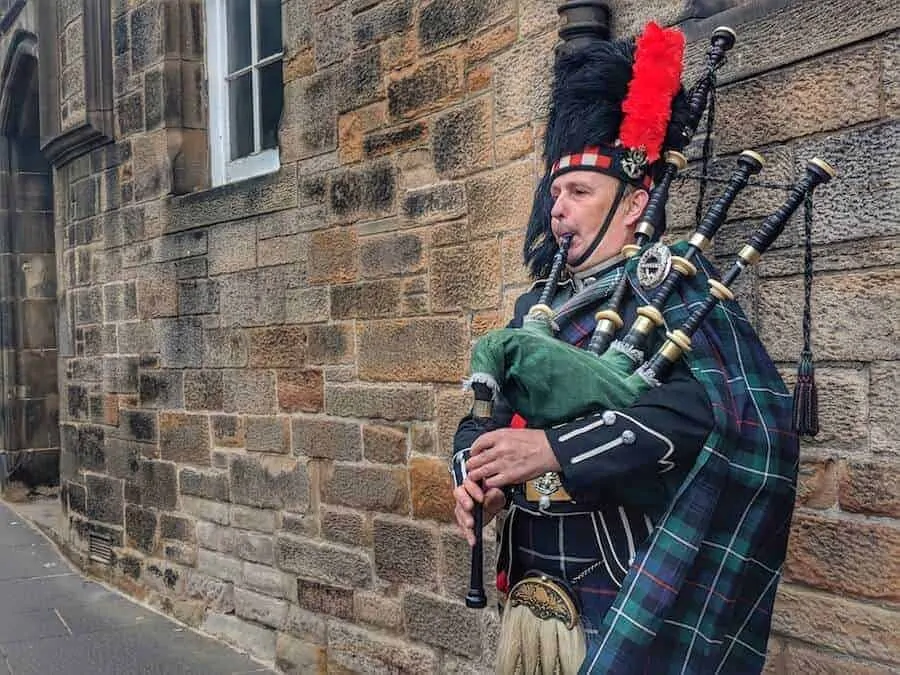 Think of it as crowd sourcing – because you can't see everything, and you can't go to everything – have a chat with your fellow festival goers and hear their recommendations. Word of mouth is often the best way to find out whats hot at whats not at the Edinburgh Festivals. (Just be sure that who you are talking to is not connected with the show!)
And if you're feeling a little out of your depth – read the recommendations from critics who know what they are talking about on sites like The Scotsman, Guardian or Telegraph.
.
Buy Your Tickets Online
The Fringe Box Office is located at 180 High Street on the Royal Mile and each of the Big 4 venues has a Box Office outside, however who wants to queue for tickets when the wonders of the interweb and the ed fringe app can put them right in the palm of your hand in an instant. There are also lots of ticket collections booths around the city, so if you have bought online you can pick your tickets up from wherever you happen to be.
If the internet or app are not inspiring you, the one queue it may be worth your while standing in is the one at the Virgin Money Half Price Hut at Mound Precinct. Open from 10am-9pm each day of the Festivals happy staff are flogging cheap tickets for a variety of shows. Grab yourself a bargain and see something on the spur of the moment. It might be the best show you see – or it could be the worst. Either way you'll have a great story!
Don't Forget To Eat!
It's easy to get wrapped up in the festival atmosphere as you drift from one performance to another enjoying the revelry and (possibly/probably) having a cheeky drink along the way. Scotland's relaxed licensing laws (you can drink in the streets!) combined with the supply and demand ratio during the month of August means there is a bar practically everywhere you look, and whilst it may be temping to assign yourself a liquid diet during the festivities, we really recommend against it.
If you're feeling prepared pack snacks, but there are plenty of options if not. There are food trucks in and around all the main performance areas serving everything from burgers to bratwurst, hummus to halloumi fries; and more restaurants, cafe's and take-aways than you can shake a stick at. This could also be a great time to try those local delicacies – haggis or a deep fried mars bar – that you've heard so much about!
Pre-Book Your Tickets to the Royal Edinburgh Military Tattoo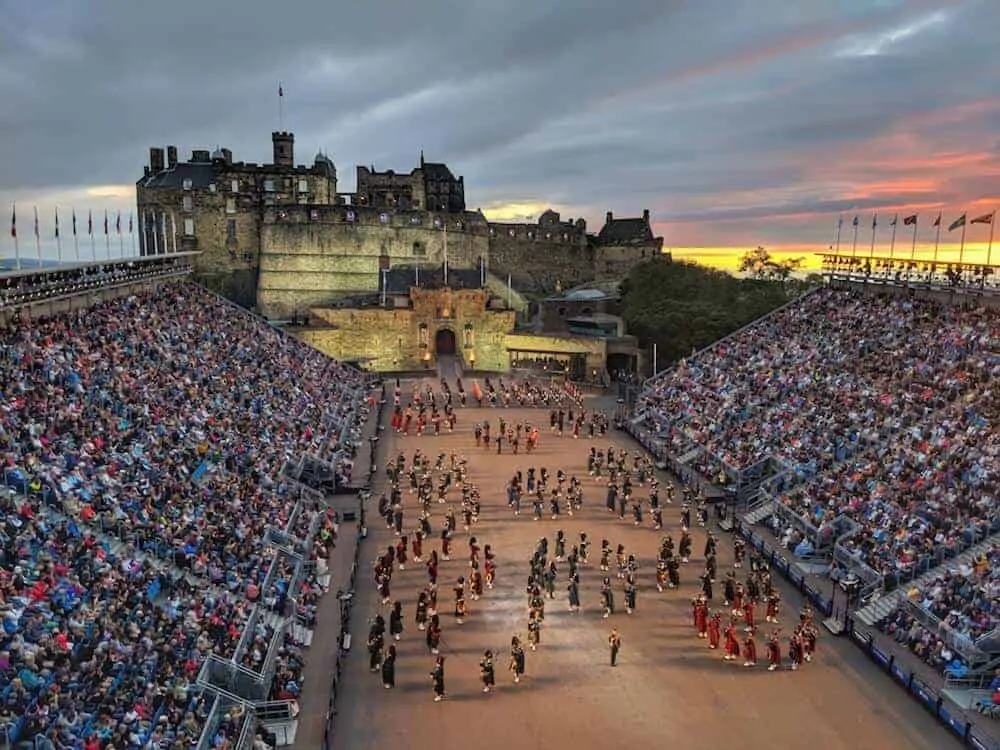 One of the most momentous events held in Edinburgh in August is the mesmerising Royal Edinburgh Military Tattoo. Hosting over 1000 military and civilian performers each night, the Tattoo welcomes 255,500 visitors to Edinburgh Castle's grounds each year and is watched on TV by over 100 million people globally. Each year it embodies a different theme and in 2018, inspired by Scotland's Year of Young People, the theme is 'The Sky's the Limit,' and will mark the 100-year anniversary of the Royal Air Force (RAF).
It truly is an amazing thing to be apart of – and in it's 68 years, it has never been cancelled. Come rain, hail or shine the show WILL go on so be sure to dress appropriately. The venue is open to the elements and can get a little chilly at night – without the Scottish weather taking a turn for the worse – so be sure to pack that waterproof jacket I mentioned earlier!
*Quick Fact* The Word Tattoo derives from a 17th-century Dutch phrase doe den tap toe ("turn off the tap") a signal to tavern owners each night (played by a regiment's Corps of Drums) to turn off the taps of their ale kegs so that the soldiers would retire to their lodgings at a reasonable hour.
.
Tip The 'Free Fringe' Performers
Yes, I know the clue is in the title – the Free Fringe – but whilst it may be free for you, the performers have had to pay to be included in the festivities, and these performances are how they make money (and each performer will remind you of this towards the end of their show). If you enjoy a show, don't be shy to show your appreciation and tip generously.
The standard tip (and what is set to on all the 'Tap-to-Tip' devices) is £3, although if you can give more it would be very much appreciated.
.
Get Away From The Crowds
There are so many beautiful places in an around the city of Edinburgh – and that are so quiet, peaceful and tranquil that you could practically forget there is a Festival (or 5) going on at all! If you are in need of a little time-out to decompress or are looking for a few Free Things to do in Edinburgh these are our top picks for relaxation:
Botanic Gardens –

The Royal Botanic Garden Edinburgh is one of the finest botanic gardens in the world. A scientific center for the study of plants, their diversity and conservation, the gardens are a pleasure to wander round – and a joy to photograph.

Calton Hill – If you want THE iconic shot of Edinburgh, be sure to head up Calton Hill where you can capture the Dugald Stewart Monument with the Edinburgh skyline in the background. There is also the (unfinished) National Monument and Anthean Acropolis
Arthur's Seat– for those that love a good hike, Arthur's Seat is a great way to escape the crowds and rise high above the city. There are several routes varying from easy to strenuous, just pick the one that is right for you, and off you go.
Dean Village – Just 5 minutes from Princes Street, Dean Village is one of the cutest towns you're ever likely to visit. Located on the Water of Leith (the river makes for great photographs), people are always captivated by this picturesque town.
Scotch Whiskey Experience – you can't come to Scotland and not have a dram (or 2) of Scottish Whiskey. And for this escapist activity you don't even have to leave the Royal Mile! Just be sure to pre-book your tickets, as it can get super busy in August.
So there you have it – hopefully we've given you enough festival inspiration & travel tips to help you plan your trip to visit the Edinburgh Festivals in August. Don't forget to let me know if there are any questions I haven't answered or alternatively let me your own highlights once you're back!

Oh, and if you enjoyed reading this guide to the Edinburgh Festivals in August please share on Facebook, Flipboard, Tweet or Pin – I'd really appreciate it! Click the P in the share bar for a full size image!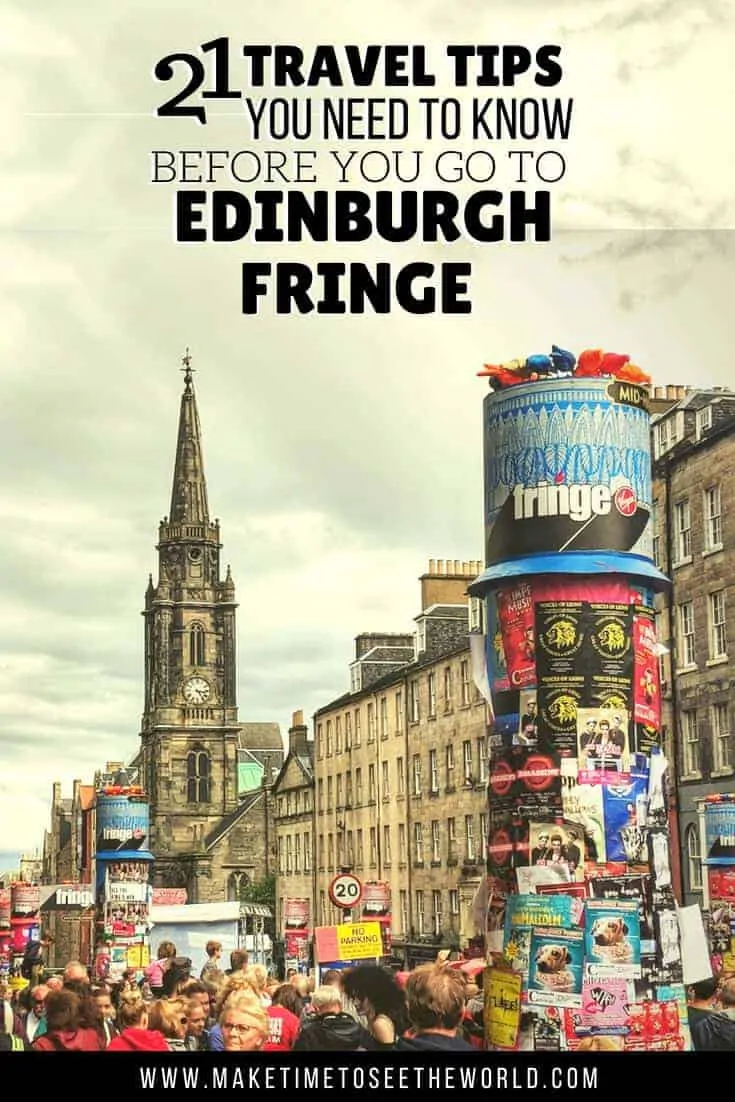 READY FOR MORE EUROPE TRAVEL INSPIRATION? YOU MIGHT BE INTERESTED IN THESE TRAVEL TIPS, TRAVEL HACKS, TRAVEL ARTICLES, TRAVEL DESTINATIONS GUIDES, TRAVELER RESOURCES AND RELATED POSTS ABOUT OTHER BEAUTIFUL CITIES IN EUROPE TO HELP YOU EXPLORE EUROPE AND TRAVEL THE WORLD:
Hi There! Thanks for reading our travel guide to the Edinburgh Festivals in August: What to Know before you go! I just wanted to let you know that this post may contain affiliate links, which means if you purchase something after clicking a link, I may get a small commission – which is at absolutely no cost to you. If you enjoyed this article and are going to be searching for some of the things I mention anyway, I would love it if you could click through from the links above & thank you in advance! Read my full Disclosure here. Thank you for reading the MakeTimeToSeeTheWorld Travel Blog.