The largest city in Scotland, Glasgow has a lot to offer to connoisseurs of foreign culture or lovers of shopping alike. With that being said, how can you maximize your experience while in the city and get the most out of the limited time at hand?
Well, you need to plan your trip carefully. And below, we have some general tips on how to get around in Glasgow, where to eat and the best things to do in Glasgow – not to mention some great ideas for day trips from Glasgow to help you see some of the beautiful Scottish countryside. What are you waiting for? Scroll down now and start planning your city break.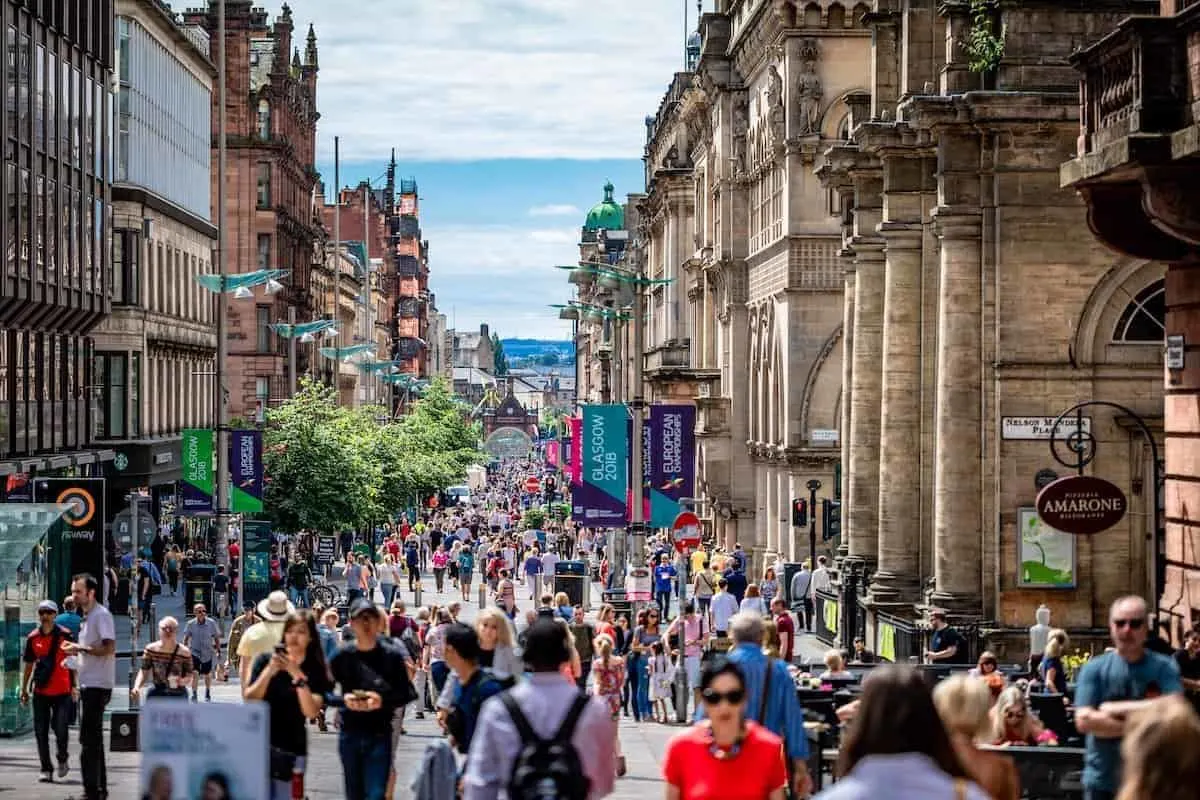 Disclaimer: Almost all posts on this site contain Affiliate links, and this one about the top things to do in Glasgow is no different. This means that if you click on any of the links in this post (and make a purchase) I may receive a small commission at absolutely no cost to you. Each post is carefully crafted to (hopefully!) answer all your questions and recommendations are made where we believe they will improve your trip and help with your planning. As such we thank you in advance should you decide to click & buy. Read my full Disclosure here.
A Guest Post by Graham of My Voyage Scotland.
Glasgow Travel Tips – What to Know Before You Go
How to get around in Glasgow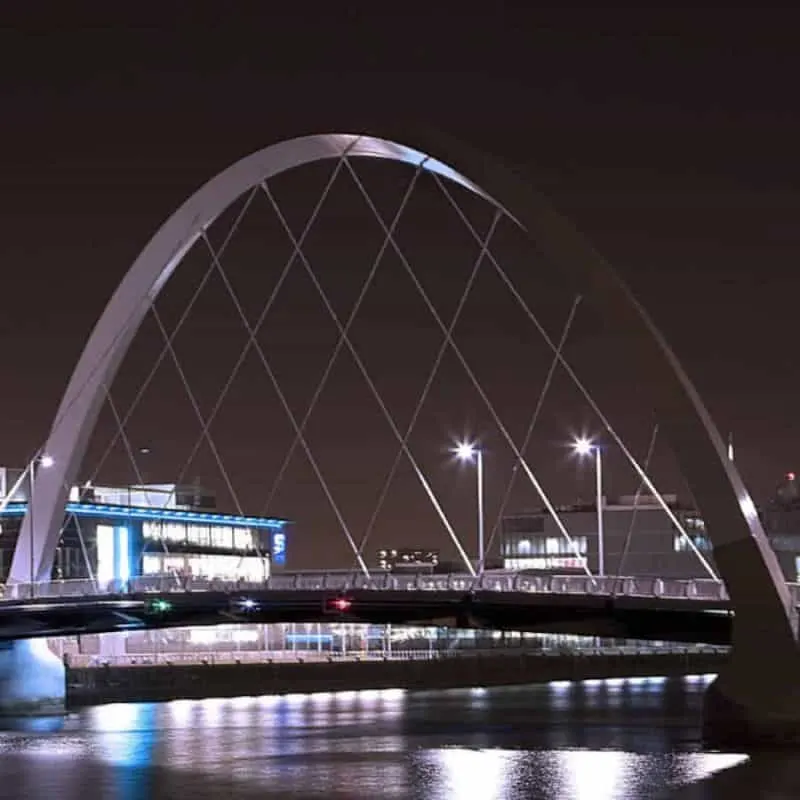 Glasgow isn't too big of a city, so it's easy to get around in it by foot. Walking is perhaps the best way of traveling around the city since you are going to see plenty of interesting things on the way. The architecture of Glasgow is quite the spectacle!
And yeah, the grid layout of the city makes getting lost nearly impossible.
For longer-distance trips, you may use busses or subways, or alternatively taxis. A local bus option is First Group which serves central Glasgow along with Greater Glasgow. You may purchase tickets for unlimited travel, with fares starting at around a pound.
Glasgow's SPT (Strathclyde Partnership for Transport) also offers bus services. Aside from that, SPT runs the Glasgow Subway with two circular routes, one running clockwise and the other counter-clockwise. You may purchase tickets at subway stations for something like £1.75 pounds per person (£0.80 pounds for children) for a single-way journey.
You also have the UK's traditional black taxis in Glasgow. You can find plenty of them in the city, though the fares can be a little too much. You may instead opt for the local Uber for a cheaper ride.
Finally, you may rent a car right at Glasgow Airport or from the several agencies operating in the city. Keep in mind that the traffic here is right-hand – like in the rest of the UK – so you may want to avoid renting a car if you are an inexperienced driver.
Where to stay in Glasgow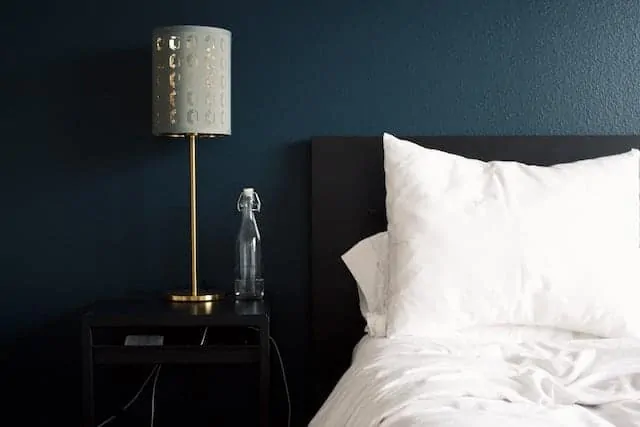 There are many hotels in Glasgow ranging from cheap accommodations to luxurious hotels costing well over £100 GBP per night. It's not really possible to list them all here, but here are a few suggestions:
If you want to see as much of Glasgow as possible, then we suggest that you stay in Glasgow city centre. Being the central business district of Glasgow, the city centre is close to the city's major attractions, and it's easier to get to other areas of Glasgow from there. Hotels here may be a little more expensive than in other areas though.
Where to eat and drink in Glasgow
While in Glasgow, it's a must that you partake of dishes from the Scottish cuisine. Your trip won't be complete if you don't try Scottish foods like haggis, black pudding, Scottish salmon, and many other dishes and desserts.
There are plenty of restaurants in the city to eat out at – just go out, walk around a little, and you will find a place to eat at very quickly.
As some suggestions, you may visit Two Fat Ladies in the City, Cafe Gandolfi, or Red Onion for Scottish food. For foreign cuisines, you may visit Nippon Kitchen (Japanese), Sarti or Paesano (Italian), or Ranjit's Kitchen (Indian).
To have a drink, check out pubs like Sloans, The Pot Still, Babbity Bowster, or The State Bar. And be sure to hop on a Whiskey tour whilst you're there!
Top 10 Things to Do in Glasgow
Shop on Buchanan Street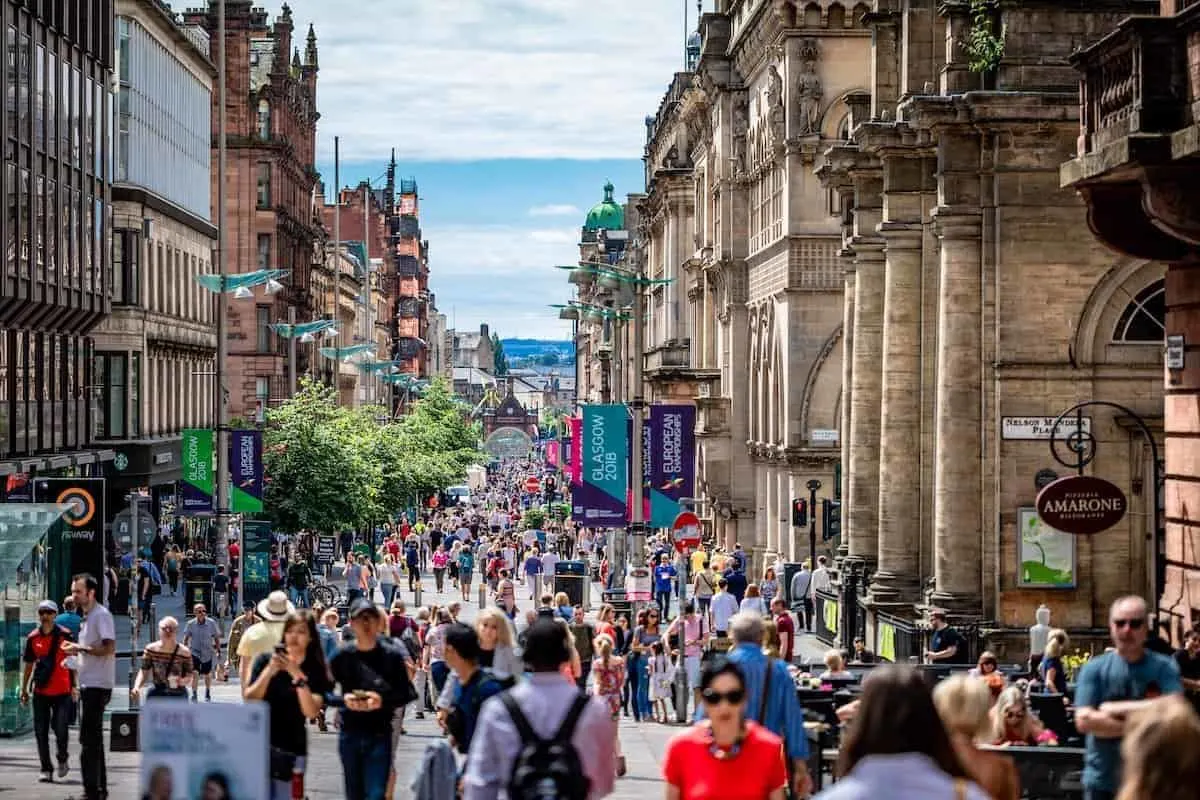 Forming the central stretch of Glasgow's shopping district, Buchanan Street connects together much of the city's shopping potential. Most shoppers particularly like to spend time inside the Buchanan Galleries where you can find The Whisky Shop, giant cookies from Millie's Cookies, or jewelry from Pandora.
Spend a day at Glasgow Tigers Speedway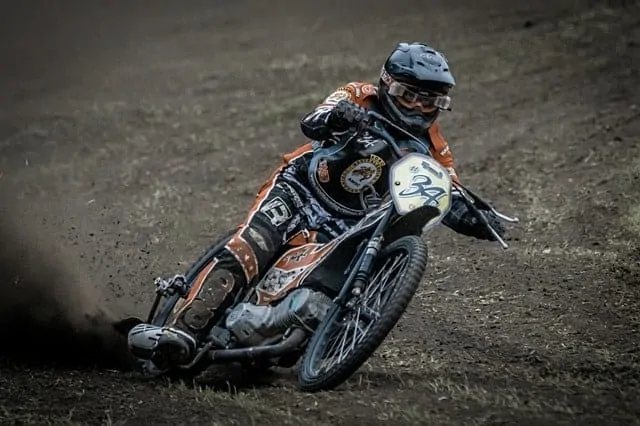 If you happen to be in Glasgow from the end of March to the end of August, you may have the chance to watch Glasgow Tigers, the only professional speedway team in western Scotland. Watching these guys tame motorcycles without brakes – one of the key features of motorcycle speedway – should ensure a fun-filled day in Glasgow.
If you do want to watch this spectacle, then make sure to check with Glasgow Tigers' schedule so that you visit Glasgow just when they are competing for a place on the British Speedway's Premier League.
Enjoy the Glasgow cityscape from The Lighthouse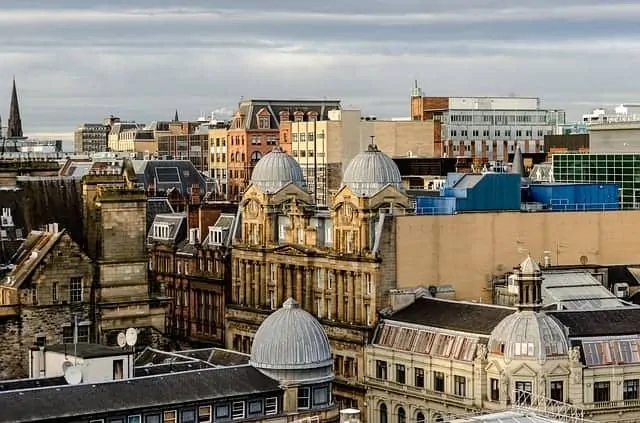 One of Glasgow's architectural wonders and works of famous Scottish architect Charles Rennie Mackintosh, The Lighthouse allows you to have a look at the Glasgow cityscape from above. Aside from that, The Lighthouse is a monument to Mackintosh's genius and distinct architectural style which you can see in numerous other buildings in the city.
Pay a visit to the Glasgow Science Centre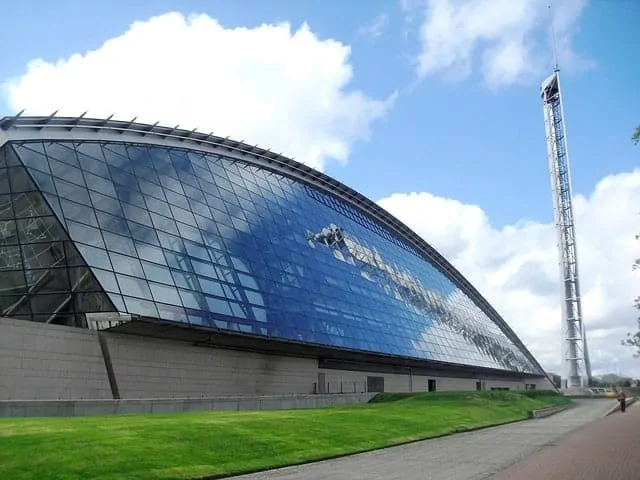 Science can be boring for children, but not at the Glasgow Science Centre! While adults can enjoy exhibitions like the captivating planetarium, children can have fun in the Big Explorer area where they get the chance to operate a crane to keep the balance of a pretend cargo ship. And on the bottom floor, younger children can spend their time in the soft play area.
Tour around the Hunterian Museum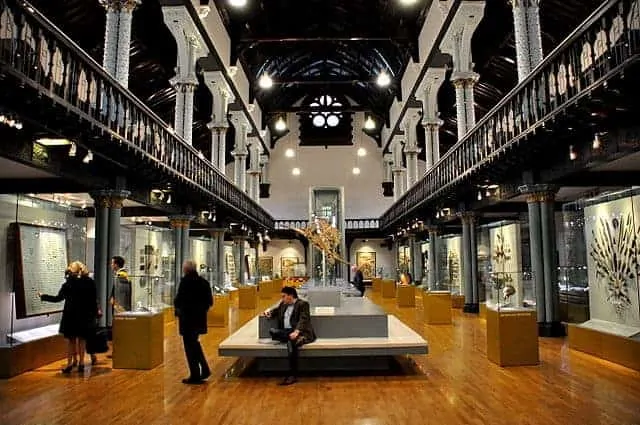 The Hunterian Museum adjoined to the University of Glasgow is the oldest and perhaps the richest museum in Scotland. Having received the wealthy collections of Scottish anatomist and physician William Hunter, the Hunterian Museum boasts a huge medical collection. But since William Hunter's interests spanned well beyond medicine, you can also find a plentitude of works of art along with artifacts from Ancient Egypt.
Tour the Glasgow Necropolis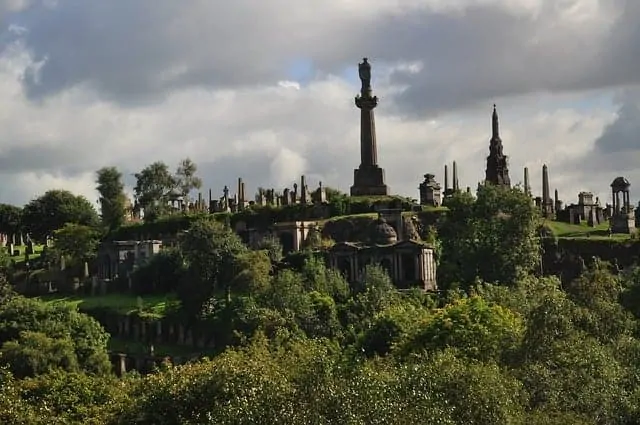 Modeled after the Paris Père Lachaise cemetery, the Glasgow Necropolis is one of the most significant cemeteries in entire Europe. With its 50,000 monuments within 37 acres of land, the Glasgow Necropolis may be the oddest attraction in the city.
You may explore the Necropolis for free, and Park Rangers patrolling the cemetery will make sure that you're safe while there.
Have some tea in the Willow Tearooms

Another creation of Charles Mackintosh, the renowned Willow Tearooms (now Mackintosh at The Willow) are must-to-visit for tea lovers. Located on Glasgow's Sauchiehall Street, the Willow Tearooms have been enjoying insane popularity since their establishment in 1903. Apart from tea, you can try out homemade sandwiches and traditional scones with jam and clotted cream.
Enjoy cinema classics at the Glasgow Film Theatre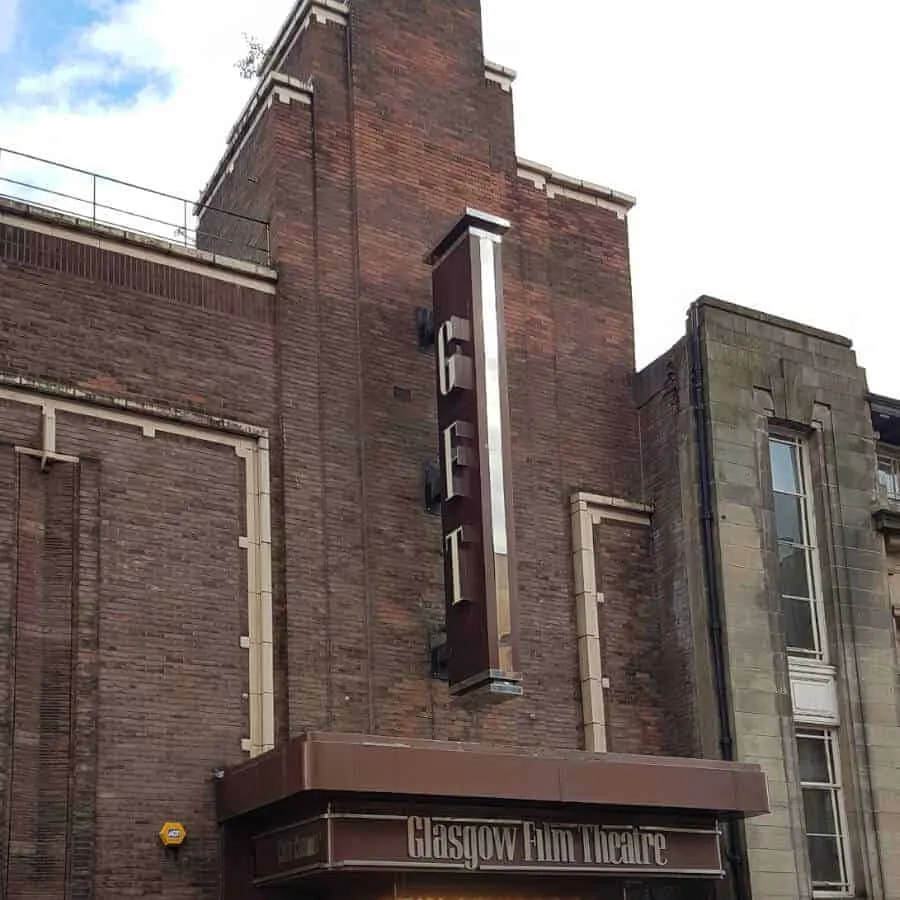 The Glasgow Film Theatre is for you if you love classics of film cinema. Not only that, but you can enjoy contemporary art house films here.
The personal approach of the Glasgow Film Theatre is remarkable – visitors are provided with a friendly and comfortable environment to watch the film in, and you may also try a variety of dishes and drinks at the Café Cosmo area of the Theatre.
See the heart of Glasgow at the City Chambers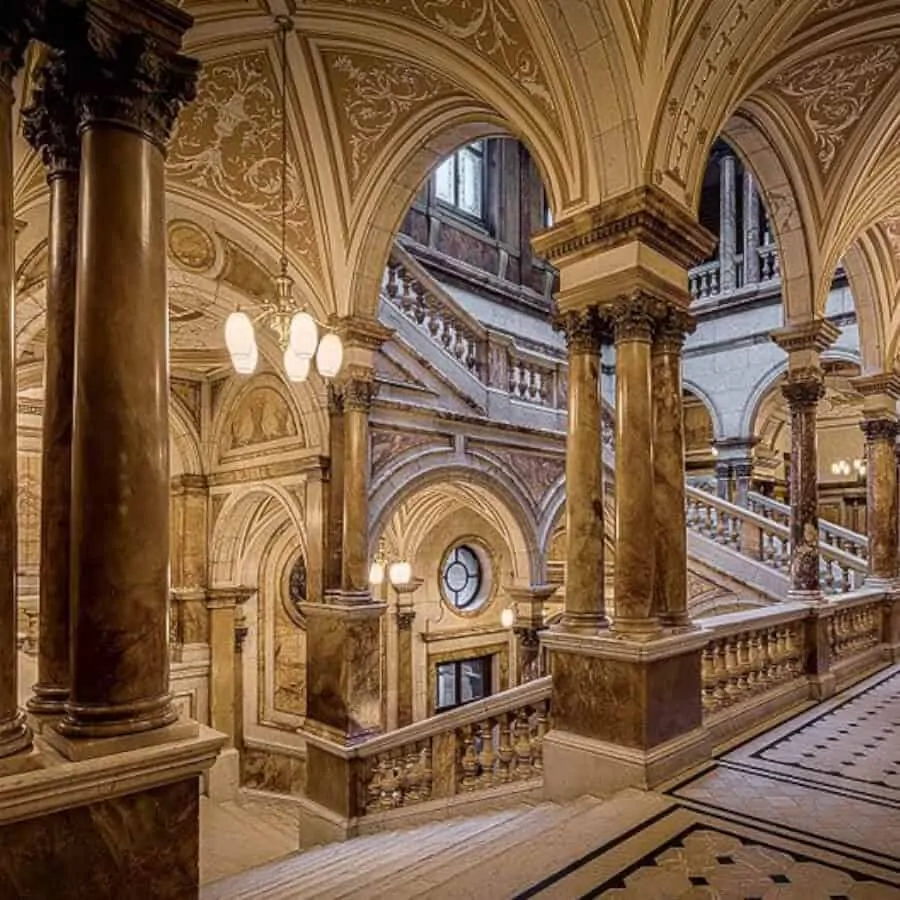 The Glasgow City Chambers on George Square is where the Glasgow City Council resides. An eminent example of Glasgow's Victorian architecture, this building boasts a late 19th-century vibe and features a huge ballroom and 2 spires with decorated domes, among many other things. Tours here are available on weekdays on either 10:30 AM or 2:30 PM, so make sure to plan accordingly.
Spend a peaceful day in Kelvingrove Park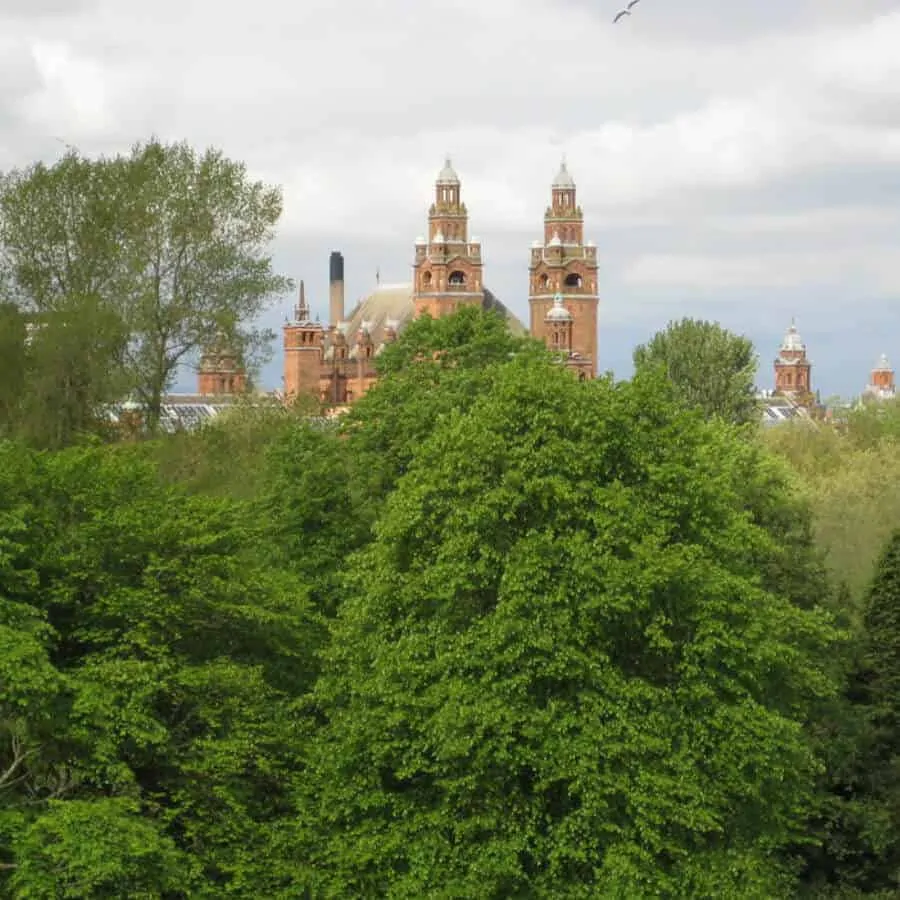 Situated right in front of the Kelvingrove Art Gallery and Museum, Kelvingrove Park set in 85 acres of land is a haven for those who may have gotten tired from the urban landscapes of Glasgow. The park is home for animals as rare as kingfishers and otters, not to mention the more common red foxes. If you are planning to visit the Kelvingrove Art Gallery and Museum, then make sure to spend a couple of hours in Kelvingrove Park as well.
Day Trips from Glasgow
Sample 3-5-Day Glasgow Itinerary inc Day Trips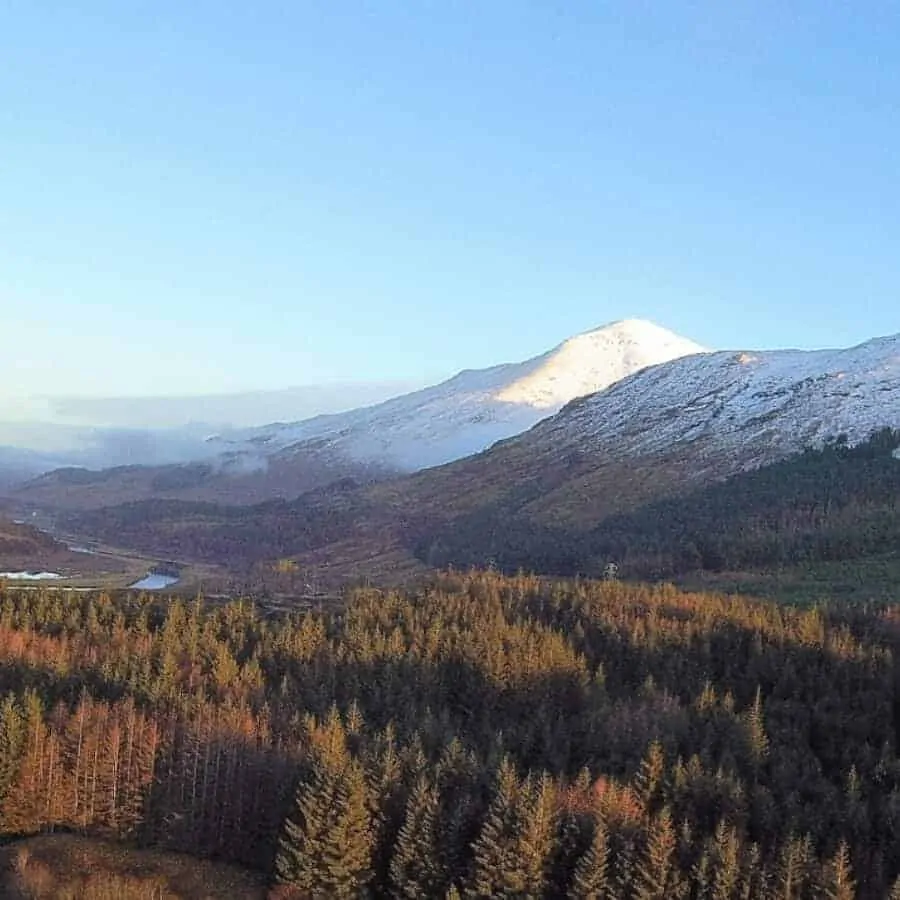 There are plenty of things to see and do in Glasgow, and with only so much time, you can't possibly fully experience the city, let alone its surroundings and the rest of Scotland.
If you are planning to visit Scotland for 3-5 days, then you have two options – you either stay in Glasgow and try to soak in as much of the city as possible, or you look around for a few hours and spend the rest of your time outside.
For example, you may:
Day 1: Check out Glasgow's top attractions and things to do (as above).
Day 2: Participate in food tours around the city.
Day 3: Explore areas outside the city like Loch Lomond, Cairngorms National Park, and the famous Loch Ness in a single-day tour; or
Day 3-5: If you have 4-5 days, then you may book a 3-day tour through the Isle of Skye, The Highlands, and Loch Ness.
Some people also like to rent a car and go visit Scotland's sights at their own pace. Often, people arrive in Glasgow, look around, then set off to a sightseeing journey on their way to Edinburgh, their final destination in the country.
1 Day Day Trips From Glasgow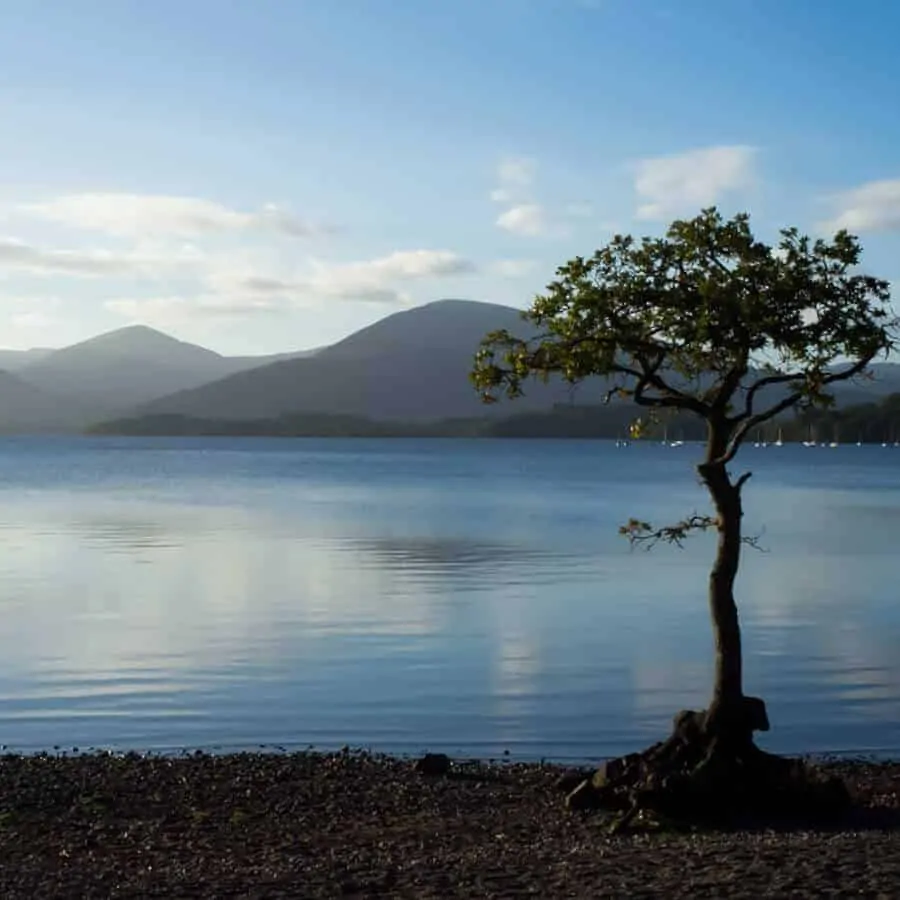 If you weren't grabbed by the itinerary and day trips suggested above, we'd also recommend adding these great 1 day day trips from Glasgow:
Heading to Loch Lomand with a walk down Milarrochy (said Malarkey) followed by a meal at the Oak tree inn.
Hopping on the train to Troon for a chilled out beach day. Weather permitted.
Dive into Edinburgh. It's only 45 minutes by train from Glasgow Queen Street Train Station.
Driving north to Pitlochry for a stroll around the shops and maybe a 'wee jaunt' up Ben Vrackie.
.
Who knew there were so many great things to do in Glasgow Scotland? We hope this Glasgow travel guide has given you some inspiration for your upcoming trip and if you discover anything that you think should be added to our post, let us know in the comments below.
And if you liked this guide, and know of someone heading to Glasgow city (or surrounds), please click the symbols in the sharebar to share via Facebook, Twitter, Flipboard and Pinterest.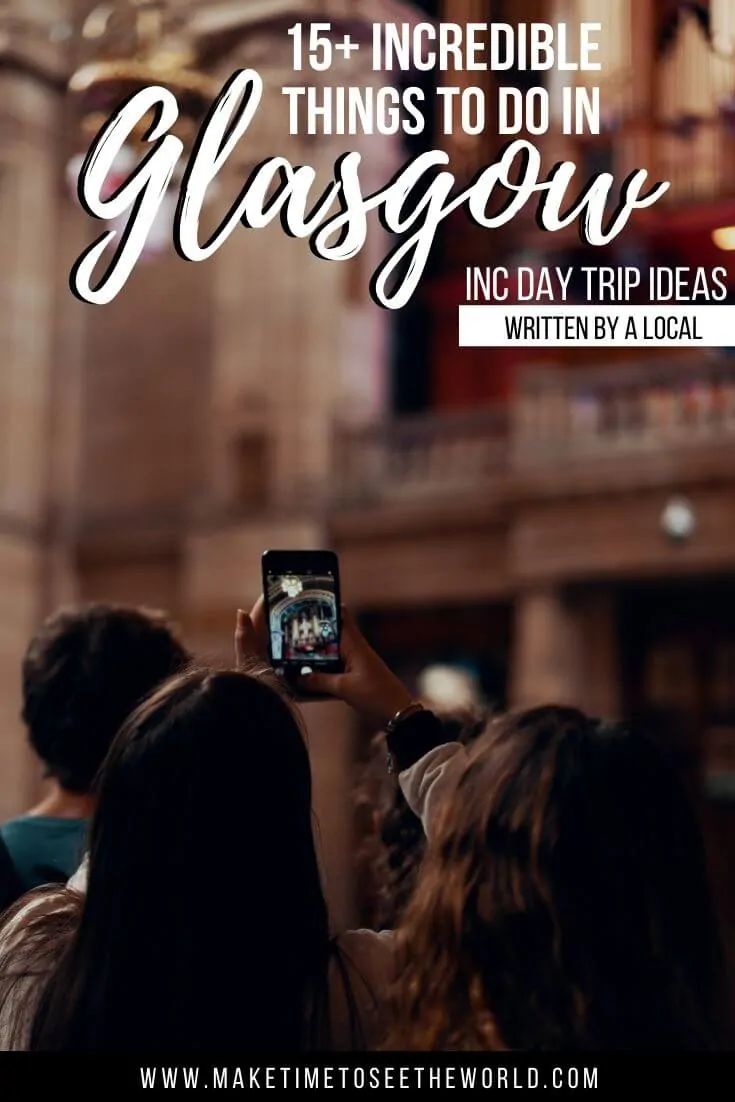 READY MORE TRAVEL INSPIRATION? YOU MIGHT BE INTERESTED IN THESE TRAVEL TIPS, TRAVEL ARTICLES, DESTINATION GUIDES, TRAVELER RESOURCES AND RELATED POSTS ABOUT OTHER AMAZING CITIES IN EUROPE:
Hi There! Thanks for reading our travel guide to the 10+ Top Things To Do In Glasgow Scotland (inc Day Trip Ideas!). I just wanted to let you know that this post contains affiliate links, which means if you purchase something after clicking a link, I may get a small commission – which is at absolutely no cost to you. If you enjoyed this article and are going to be searching for some of the things I mention anyway, I would love it if you could click through from the links above & thank you in advance! Read my full Disclosure here.
And a huge Thank You for reading the MakeTimeToSeeTheWorld travel blog.