For your next trip to Scotland don't forget to spend some time in Edinburgh, the capital of Scotland and a World Heritage Site. Edinburgh is known for its hilly landscape, its alleyways and closes, its summer festivals, its ghost stories, and of course plenty of activities to do. The best part is that many of these things can be enjoyed for free and below you can find some of the best free things to do in Edinburgh.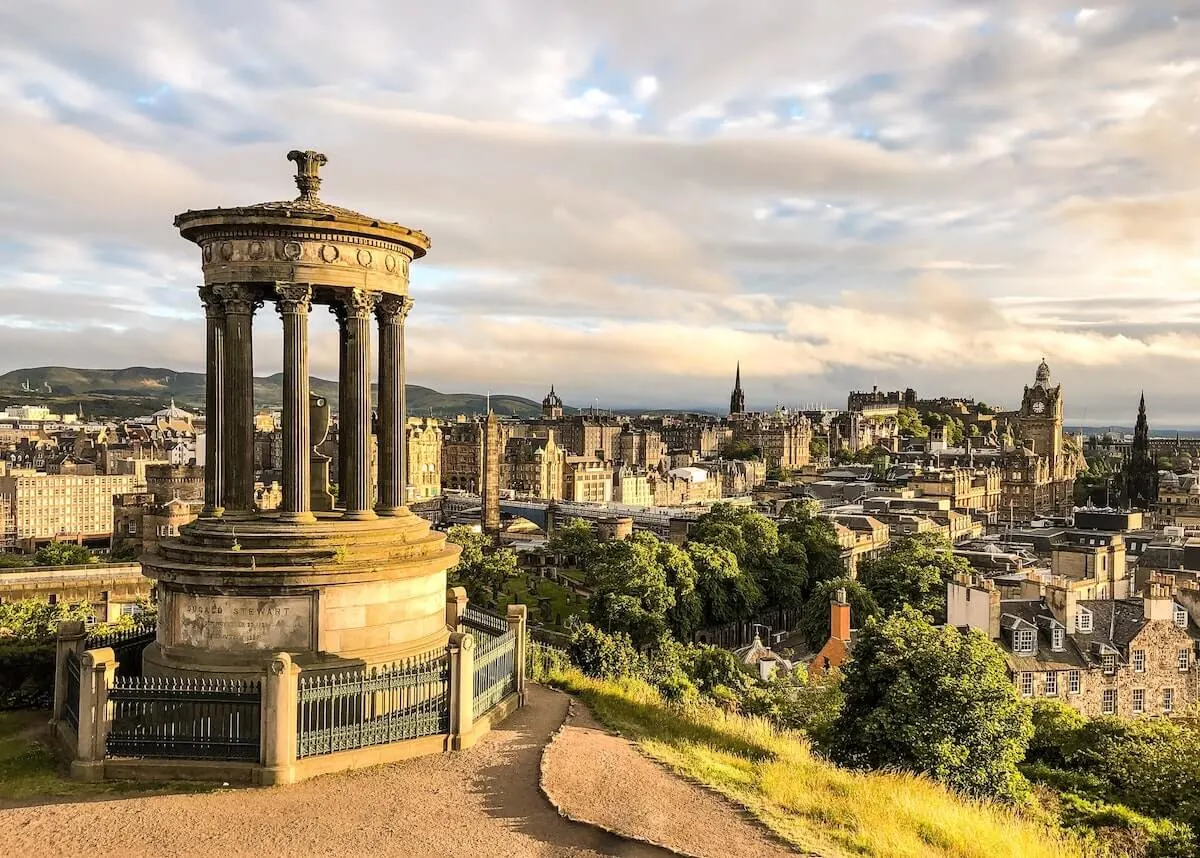 Disclaimer: Almost all posts on this site contain Affiliate links, and this one is no different. This means that if you click on any of the links in this travel guide (and make a purchase) I may receive a small commission at absolutely no cost to you. This post is carefully crafted to (hopefully!) answer all your questions about Free Things to do in Edinburgh and recommendations are made where we believe they will improve your trip and help with your planning. As such we thank you in advance should you decide to click & buy. Read my full Disclosure here.
Free Things to do in Edinburgh On Foot
Despite Edinburgh being built on hills, it is a very walkable city and distances are relatively short. At the same time, taking long walks in the city allows you to enjoy the beauty of the area and learn more about its history.
The Royal Mile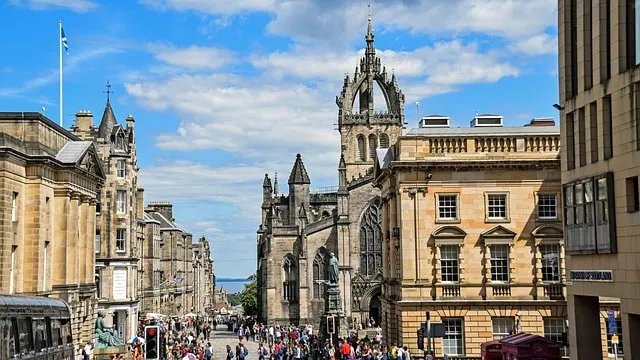 Start your walk at the Royal Mile, a long street connecting the Edinburgh Castle with the Holyrood Palace, the official residence of the Queen in Scotland. Unfortunately, both attractions have an entry fee, but you can still walk around and take some photos of the exterior.
Walking along the Royal Mile, you will notice numerous closes and alleyways providing connections to other parts of the city. Feel free to walk in these narrow streets and see what you can find. Perhaps it could be a nice restaurant, some touristy shop, or beautiful views across the city. Be prepared for steep terrain or stairs.
Grassmarket and Victoria Street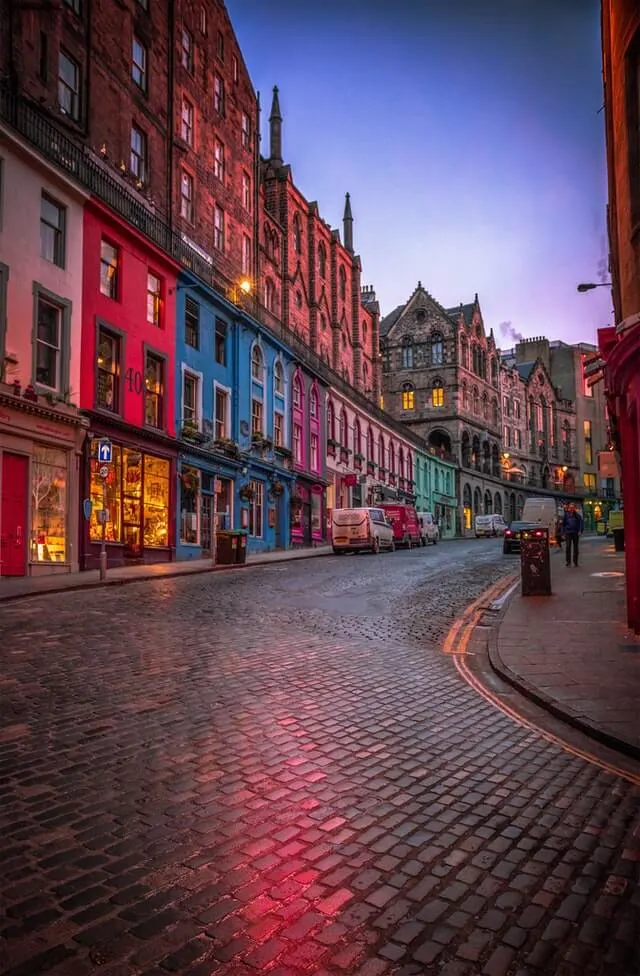 Another popular area to walk is Grassmarket. Grassmarket is a large square with a lot of eating and drinking options and it even houses the smallest pub in Scotland. On Saturdays, you can also find a local market with food and craft stalls. From there, you can also enjoy an amazing view of the castle.
Adjacent to Grassmarket is Victoria Street (above), a circular road on a hill full of small shops. Victoria Street is a popular spot in the Old Town of Edinburgh and many people come to photograph its unique layout and is believed to be where JK Rowling drew her inspiration for Diagon Alley in the Harry Potter Series.
Stockbridge and Dean Village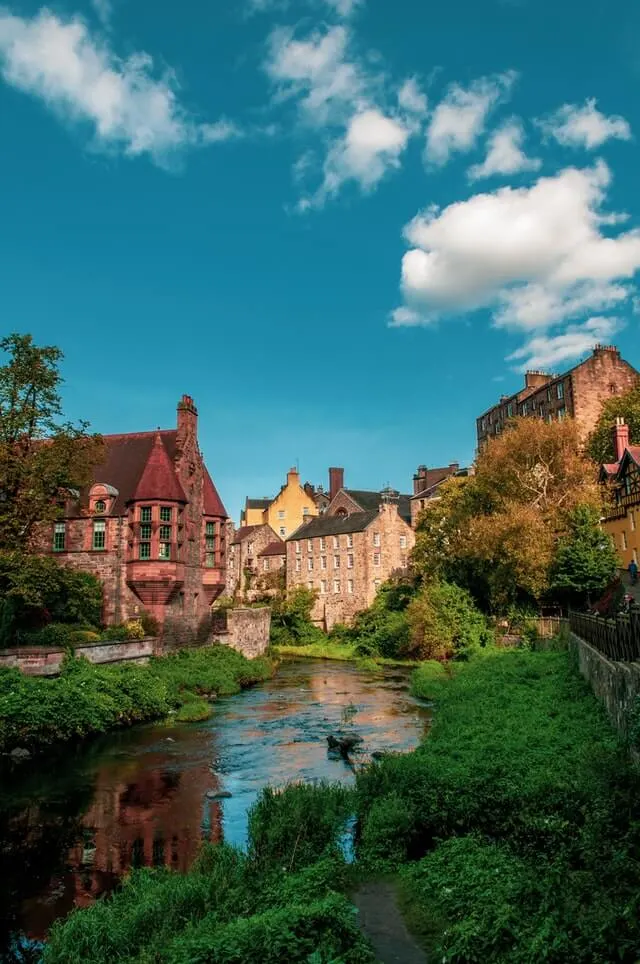 If you have a few more days in Edinburgh and a few pounds to spend, you can take the bus to Stockbridge and Dean Village.
Stockbridge is popular for its Sunday food market, while Dean Village is great for a walk in nature among picturesque houses.
Get lost in the riverside path on the Water of Leith walkway and forget that you are only a few minutes away from one of the busiest cities in Scotland.
Edinburgh's Viewpoints
Every city has a popular viewpoint where you can get up and enjoy the views. However, Edinburgh not only has one such viewpoint but three. Arthur's Seat, Vennel Viewpoint and Calton Hill are both popular spots for tourists and locals alike to enjoy views of the city.
Calton Hill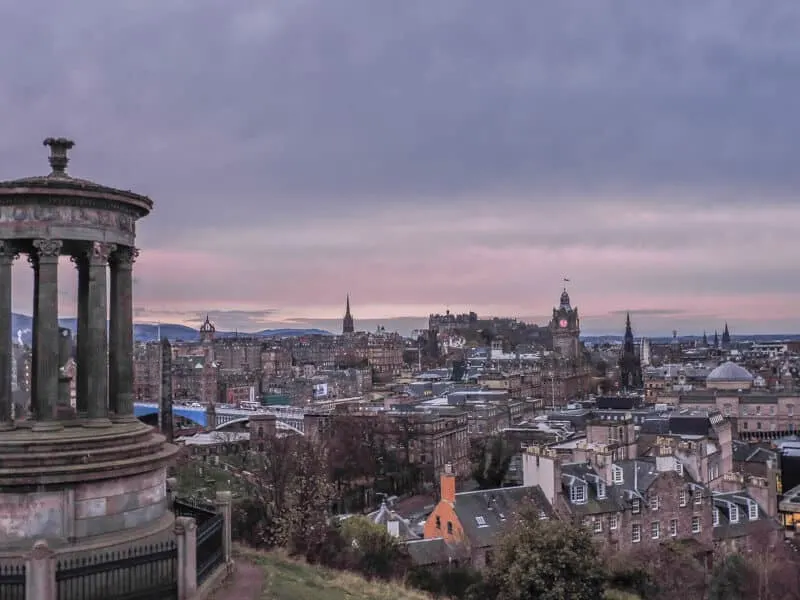 Calton Hill is perhaps the most popular and most accessible of the two viewpoints. It is located on the eastern end of Princes Street, the main shopping street in Edinburgh and it is easily accessible by stairs. From the top, you can enjoy an amazing view of the city of Edinburgh with the castle at the back. The spot is especially popular during sunset.
When you climb Calton Hill you will also find the impressive National Monument. The monument is an incomplete re-make of the Parthenon in Athens in memory of the soldiers of Scotland. Across the monument, you will find Nelson's Monument and the Royal Observatory.
Nelson's Monument is another military monument with a small viewing platform at the top and a small museum on the different levels of the short tower. Unfortunately, entry to the monument is not free.
On the other hand, the Royal Observatory has some free public areas displaying various temporary exhibitions, which you could take a quick look if you are in the area during its opening hours.
Arthur's Seat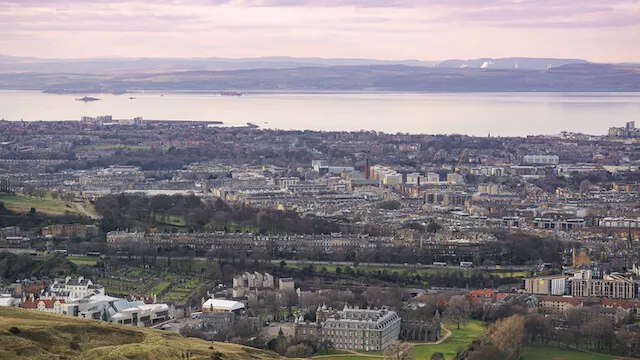 Another popular spot for enjoying the city from above is Arthur's Seat. Arthur's Seat is the highest point in Edinburgh at 251m and it is located in Holyrood Park, next to Holyrood Palace. To get to the top you need to follow one of the trails that lead to the top. Hiking Arthurs Seat takes about 45 minutes each way and you should be prepared for some steep terrain.
Once there, be prepared for lots of people being gathered on the small plateau at the top of the hill and for a lot of wind. So, do not forget to have with you an extra layer of clothing that you can wear once you reach the higher levels of the trail.
Vennel Viewpoint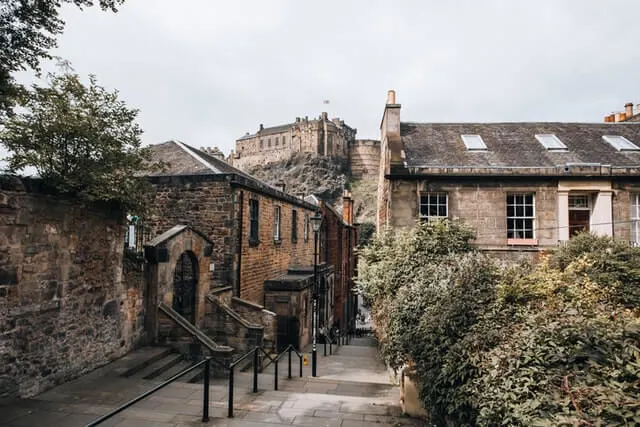 Located in the Grassmarket area of the Old Town, who would have thought a set of unassuming steps and alleyway with views of Edinburgh Castle in the background would be such a popular photo spot in the city?!
But I'm sure looking at the image above, you can understand why!
Royal Botanic Gardens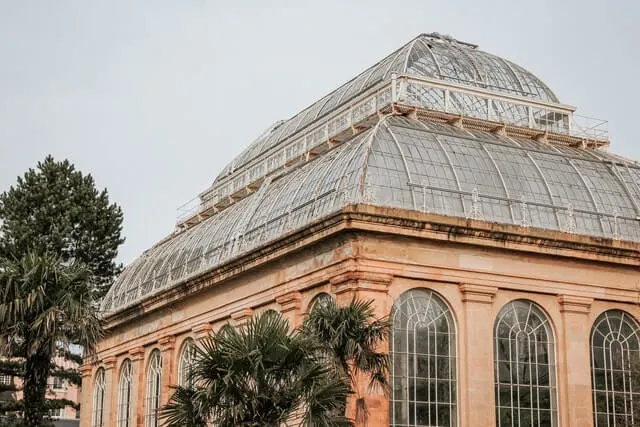 Unwind from the hustle of the city, at the Royal Botanic Gardens Edinburgh (RBGE). An oasis of green space, only a short bus ride (but easily walkable) from the Old Town of Edinburgh, waits for you to explore.
There you can find a myriad of plant and tree species, separated into thematic areas. The landscape changes based on the season, with spring being one of the best times to visit due to the many flowers that bloom that time of the year.
Circus Lane

One of the prettiest streets in Edinburgh, tucked just behind St Stephen Street in Stockbridge, it has become extremely popular with photographers and Instagrammers in recent years.
Built in the 1700s, the lane was originally where the wealthy residents of Royal Circus kept their horses, stables and carriages.
You'll probably only need 15 minutes to take any photos you would like (although keen photographers could spend considerably longer with all the different angles available!) but while you're there we recommend you take a look at the gorgeous houses on the Royal Circus around Circle Place. Oh, how the other half live!
Pentland Hills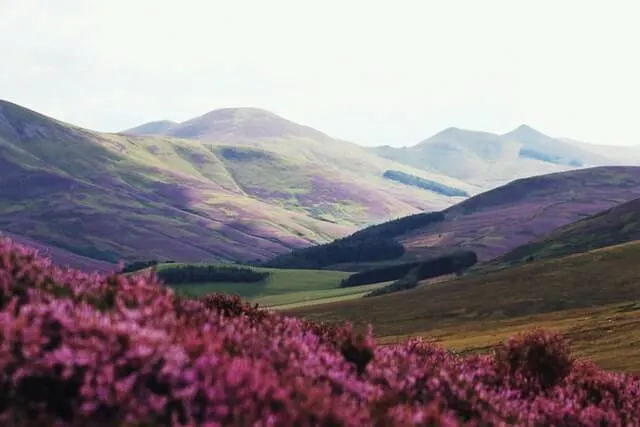 Just a short car (or bus) ride from Edinburgh center and you'll find yourself in the middle of the Scottish countryside with plenty of walks and hikes to choose from.
A favourite spot with locals to escape the hustle and bustle of the city, Pentland Hills Regional Park offers fabulous views of the city and the highlands in the distance.
Portobello Beach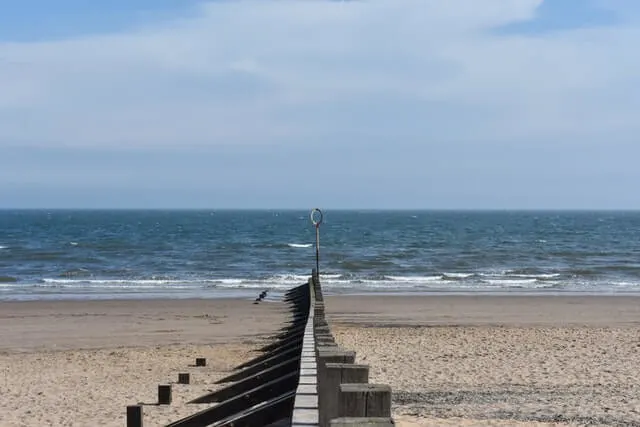 Did you have any idea that could visit the beach when visiting Edinburgh?! Even though it is a coastal town, Edinburgh and beaches are not traditionally thought of together, but locals know different. And in fact there are more than 10 beaches in Edinburgh!
Portobello Beach is a favourite and is easily reachable by bike from the city center, or added to your visit to Leith by turning left at the bottom of Leith Walk. Either way, you'll find yourself on the most popular beach in Edinburgh.
Weekend in summer will see Portobello beach packed with locals and families, with the 2-mile stretch is not only stroller friendly but great for a leisurely wander. There are also plenty of bars and cafe's dotted along the promenade to stop for refreshment along the way.
Cramond Beach (and Cramond Island)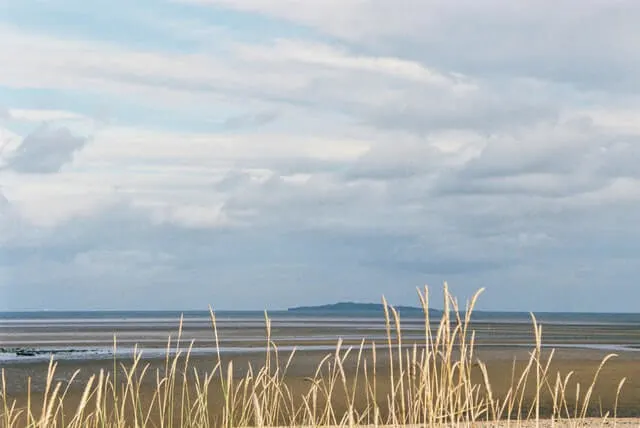 Cramond Beach is nowhere near as popular as Portobello Beach and will still be busy on weekends, but, you are likely to have the place to yourself on weekdays.
Instead of turning left at the bottom of Leith Walk, turn right and keep walking until you reach the beach car park.
Time your visit right you can even walk out to Cramon Island in the distance – just be sure to check the tide patterns before you set off and let someone know your plans (which is one of our top hiking tips for beginners).
Top Free Things to Do in Edinburgh City Centre
Visit St Giles Cathedral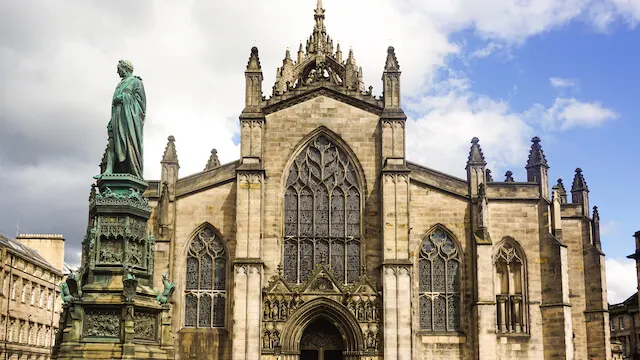 An unmissable sight during your walk along the Royal Mile is St Giles Cathedral High Kirk of Edinburgh. The cathedral is free to enter to have a look at the interior of the building, the beautiful stain glass windows or attend a service.
They even offer free guided tours to learn more about the history of the cathedral and its architecture. For a small fee, you can also take a tour of the bell tower with behind-the-scenes views of the bells and a small observation platform.
Visit Greyfriars Kirkyard…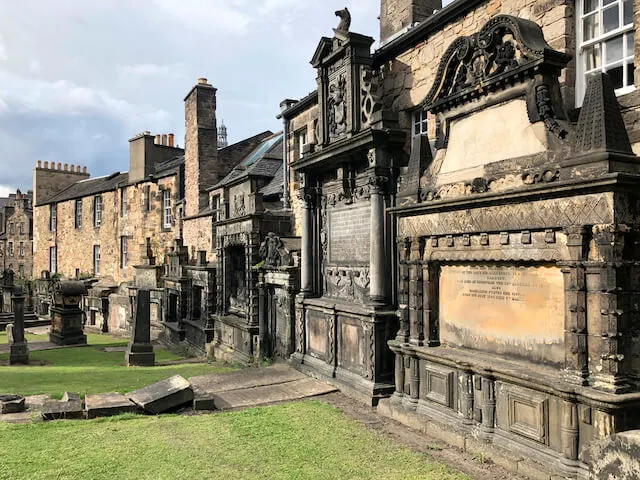 Located on the edge of the Old Town, and thought to be one of the most haunted cemeteries in the world, from the 1500s onwards Greyfriars Kirkyard became the final resting place for over 100,000 people!
Although after the body-snatching epidemic of the early 1800s – when the University of Edinburgh's medical studies program was extremely popular and corpses available for dissection were limited – it's unknown how many bodies were removed from where they were interred. (Making this site part of a gruesome bit of Scottish history)
Among the remaining residents, there is said to be a violent poltergeist (George MacKenzie), who is thought to harm and has harmed hundreds of late-night visitors over the years. Multiple people have reported scratches, bruises burns, and even broken bones after exploring the grounds at night.
A visit to Greyfriars Kirkyard is also a must for any Harry Potter fan, as itis where JK Rowling took inspiration for some of the character's names. Keep your eyes peeled for the Potters, McGonagall, Moodie and others while you wander around.
… and Greyfriars Bobby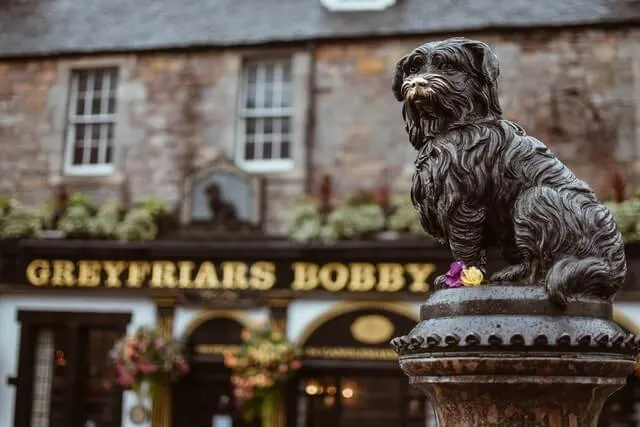 Whether or not you chose to visit Greyfriars Kirkyard (we can understand if graveyards are not your thing) but we encourage you to take a moment and visit the statue of the Greyfriars Bobby. A tribute to the loyal Skye Terrier who guarded his masters – John Gray – grave in the kirkyard for 14 years; and who is now also buried in the Kirkyard.
Note: Tourists have taken to rubbing the Greyfriars Bobby's nose for 'luck' (and why it is so shiny in photos!) but restoration work has failed on a couple of occasions, so visitors are asked to rub it gently if you feel compelled to do so.
Enjoy Princes Street Gardens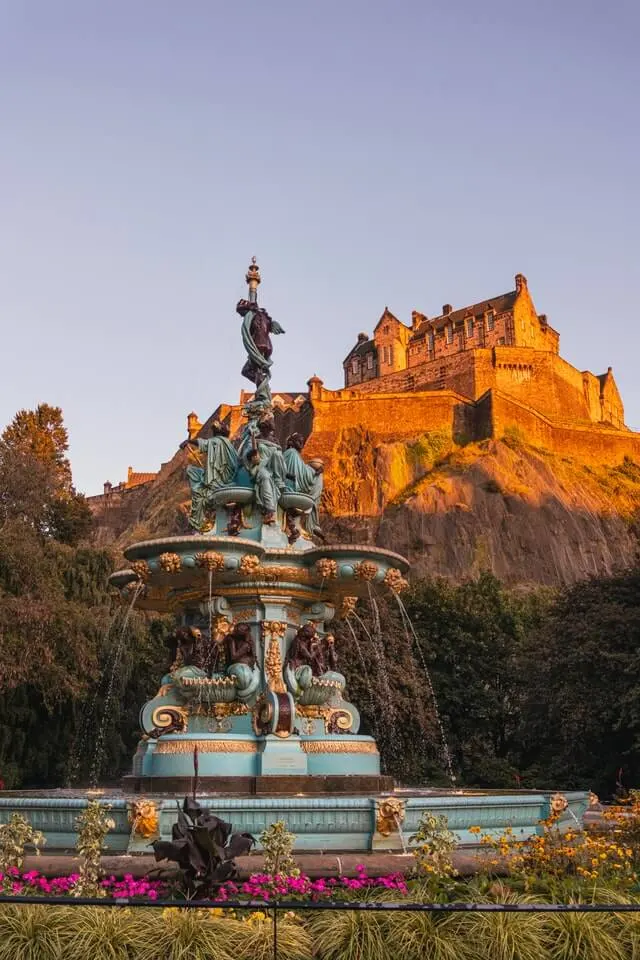 Running parallel to the Royal Mile and wrapping around the base of Edinburgh Castle, Princes Street Gardens are one of the most beautiful green spaces in Edinburgh. In summer they are packed by people enjoying the sunshine, and in winter are the location for Santa Land part of Edinburgh's Christmas markets.
Scotmans Steps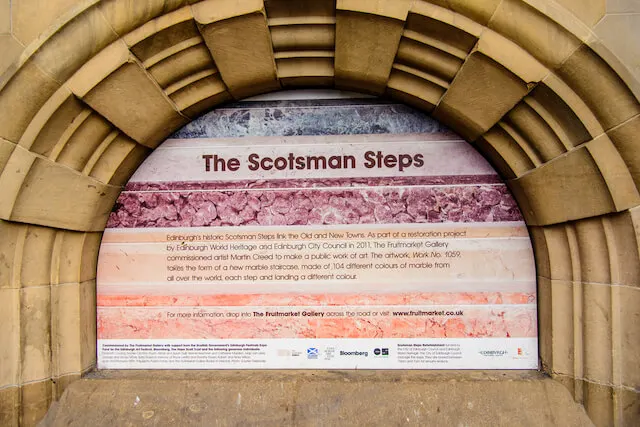 Originally built between 1899 and 1902 as part of the construction of the former Scotsman Newspaper buildings, the 104 steps linking North Bridge to Market Street fell into dangerous disrepair in the early 21st Century.
In an effort to revive them, artist Martin Creed was commissioned and installed 'Work 1059' in 2011 which saw each of the 104 steps replaced with different coloured marble slabs to create a swirling rainbow staircase.
Most people walk past without knowing they are there, and we'll be honest, they've been looking a bit run down in recent years, but well worth appreciating as you walk between Edinburgh Old and New Town.
Scott Monument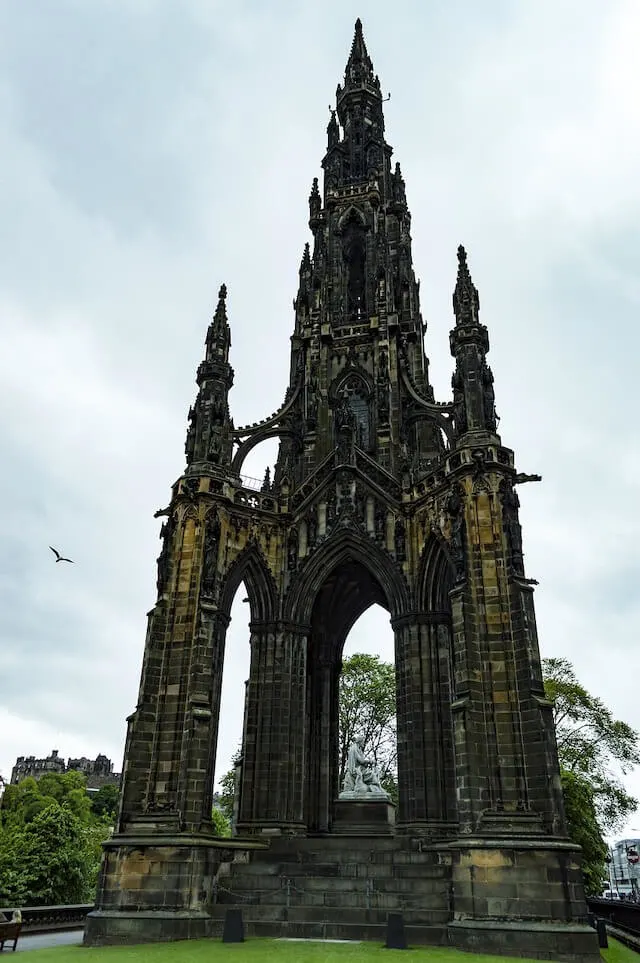 While the Scott Monument is technically on the edge of Princes Street Gardens, this beautiful gothic monument deserves a heading all to itself.
Constructed in 1938, this stunning Victorian Gothic monument to Scottish author Sir Walter Scott is a sight to behold and is in fact, the second-largest monument to a writer in the world. Standing 200 ft 6 inches tall (61.1m) it is a well-known feature of the Edinburgh skyline, and for a fee, you can climb the 287 steps to the viewing platform at the top.
Admire the Street Art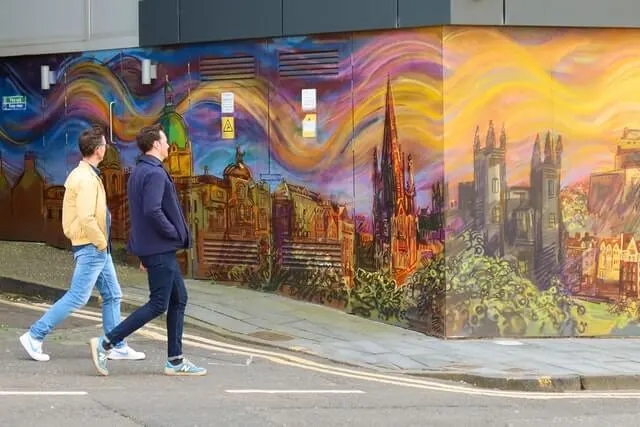 While you may not think of Edinburgh as a city particularly known for its street art – with a lot of the citys art housed in the galleries listed below(!) – that doesn't mean there aren't some incredible pieces dotted around the city.
Spurred on by the Mural Project, started in 2013, there are now several incredible artworks around Edinburgh Old Town, New Town and Leith, that often find themselves the talk of Instagram.
Head to the Colinton Tunel on the Water of Leith for an impressive mural depicting Robert Louis Stevenson's poem 'From a Railway Carriage.' Or the electronic inspired mural at former nightclub Studio24, which incorporates tributes to local sites such as the nearby Scottish Parliament & the Bongo Club. And find the wrap-around Capita Mural (above) on Morrison Street.
The Elephant House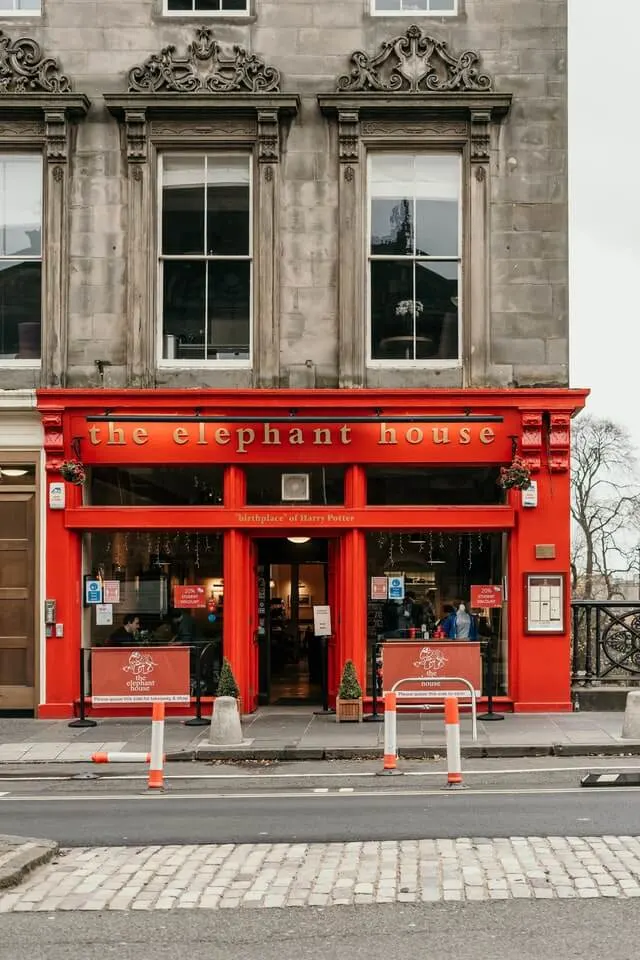 Another spot to add to your Edinburgh Harry Potter tour, the crowds outside this cafe are usually peering in to see where JK Rowling wrote some of the books.
You'll likely have to queue if you want to eat here, but for the non-Potterheads, you'll now understand why!
Scottish Parliament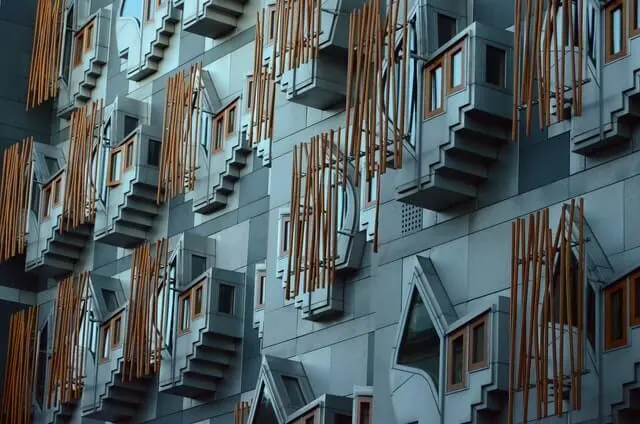 This striking building is very much a love it or hate it kind of deal among locals.
Free to enter, the Scottish Parliament building has a waft of interesting features including the widow bays above, designed as 'think pods' for the ministers, and the debating room is laid out in a horseshoe shape to encourage debating rather than conflict.
Open to the public Monday to Saturday, free guided tours are available and if you visit on a Thursday you may have the opportunity to watch the First Minister's Questions.
Free Museums in Edinburgh
After all this walking in Edinburgh, you will be probably looking for some warm (and probably dry) place to explore. Luckily, Edinburgh has a lot of museums and galleries which are free to enter and allow you to spend a few hours indoors. Most of the places below are also located in the center of Edinburgh, so you will not need to use public transport to reach them.
National Museum of Scotland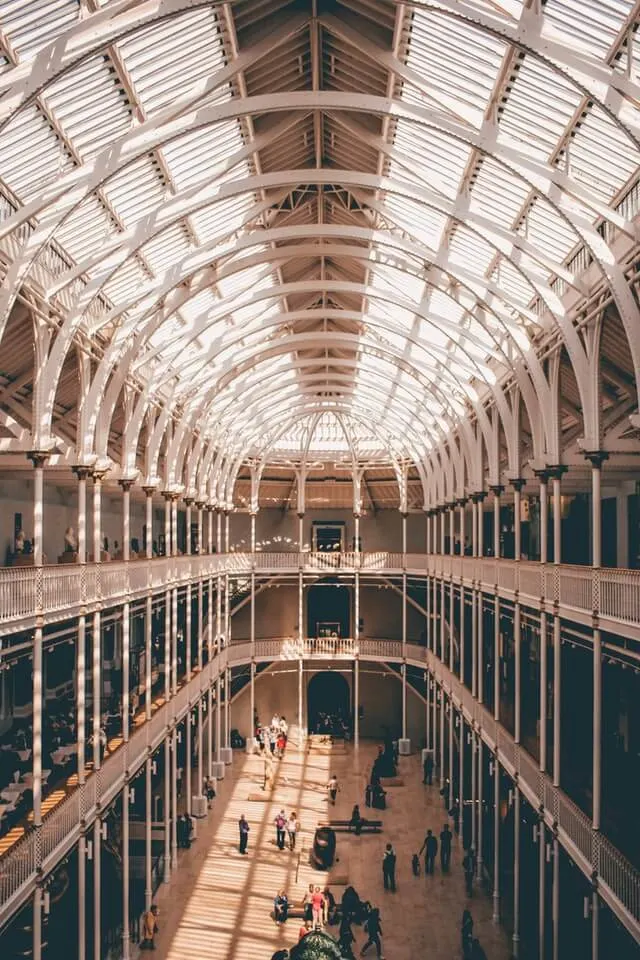 The first (indoor) place on your list should be the National Museum of Scotland. This is one of the largest museums in the city and has a variety of exhibitions. There you can learn more about the history of Scotland, science, nature and technology as well as about art and design in Scotland and the world.
When visiting the museum, you should set aside a few hours to explore the main galleries, however, if you want to get an in-depth look you will need at least a day there.
The People's Story Museum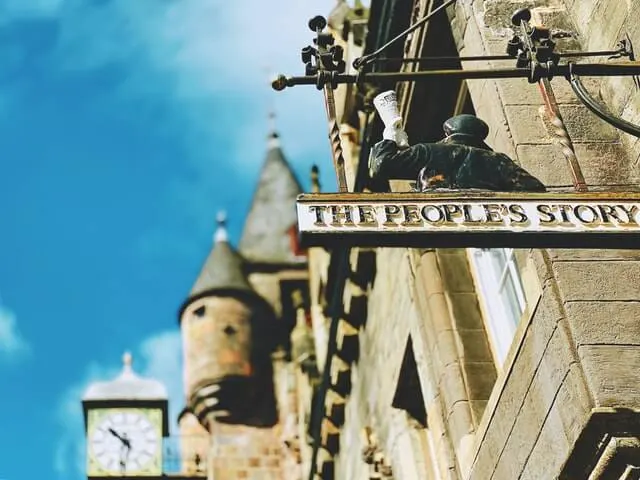 This small museum explains the story of the people of Edinburgh, of how they used to live and what their struggles used to be from the 1700s to the 21st century. It is an interesting place to understand more about the social norms of the city and how Edinburgh came to be what it is now.
Museum of Childhood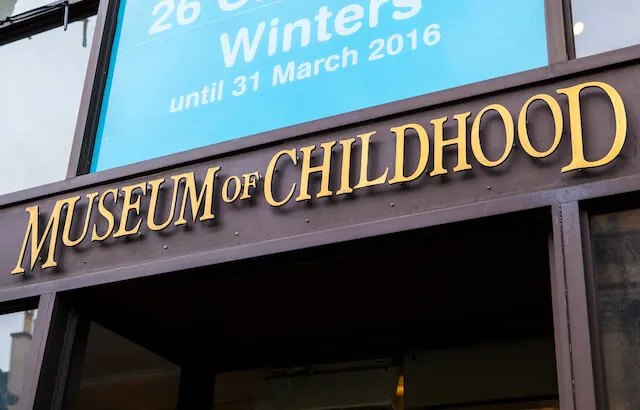 Another small museum along the Royal Mile displaying objects that children used to play with. A unique journey through history from the eyes of young people and the means they used to spend their time with. It can be a nostalgic place for adults, and a fascinating place for kids, who can see toys, dolls, clothes and more from the last 200 years.
Museum on the Mound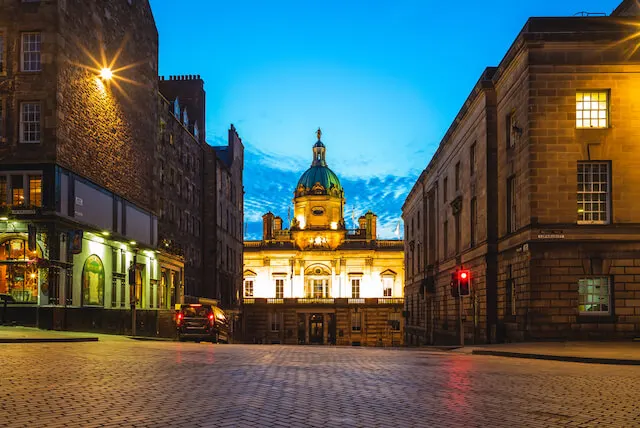 A specialist museum about money and its history in Scotland. The museum is located on the historic building of the Bank of Scotland, a few minute's walk from the castle. There, you can find rare exhibits, such as old banknotes, interactive displays about financial institutions, and a heavily fortified, 1 million pounds in cash!
The Writer's Museum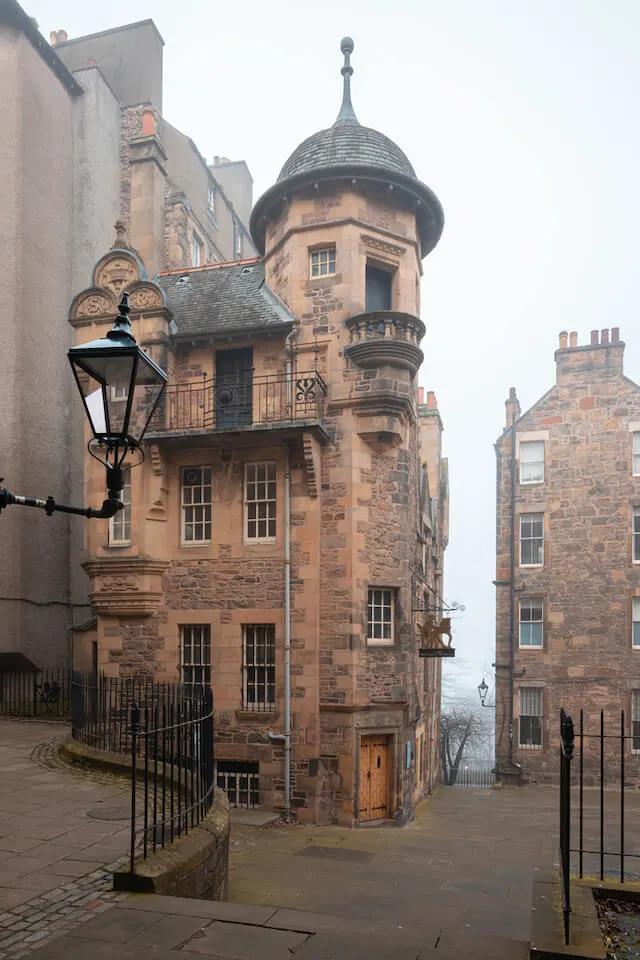 If you are interested in Scottish literature, especially in the likes of Robert Burns, Sir Walter Scott and Robert Louis Stevenson, then this is the place to visit.
The museum houses personal items of the writers, and other artefacts relating to them. Located, just off the Royal Mile, in the Lady Stair's Close, it is worth a quick visit while in the area.
Scottish National Gallery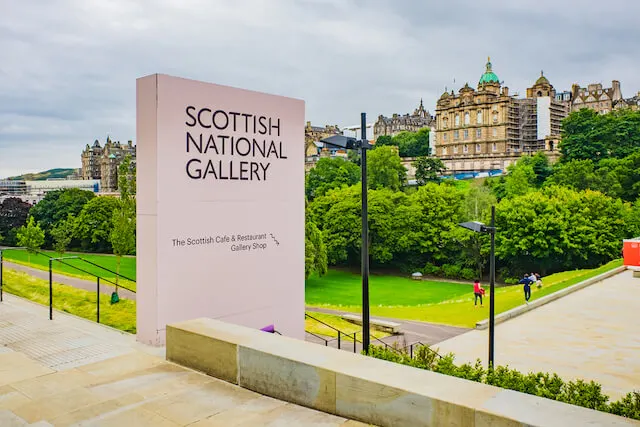 Visit the National Gallery of Scotland to get a glimpse of the greatest classical art collections the city of Edinburgh has to offer. One of the premier galleries in Edinburgh the rooms have displays of Raphael, El Greco, Rembrandt and many more.
The gallery is located on Princes Street and compromises of two buildings adjacent to each other (although one of them is usually reserved for temporary paid exhibitions).
Scottish National Portrait Gallery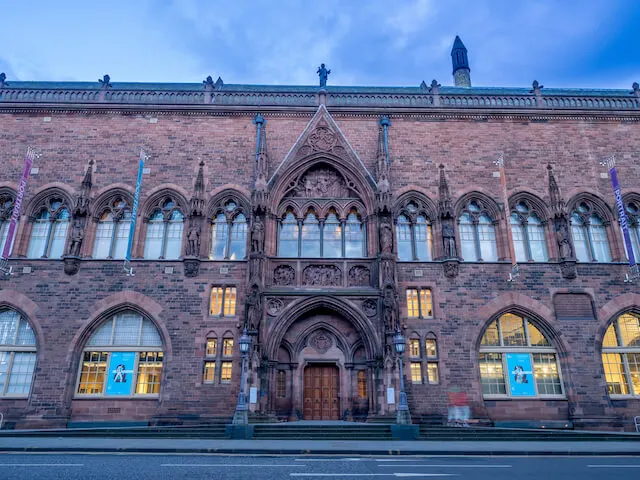 The Scottish National Portrait Gallery on Queens Street is another member of the National Galleries Scotland. As the name suggests, it houses an extensive collection of portraits of Scottish personalities. Equally impressive is the hall of the neo-gothic building which houses the collections and features huge tapestries and various sculptures.
Scottish National Gallery of Modern Art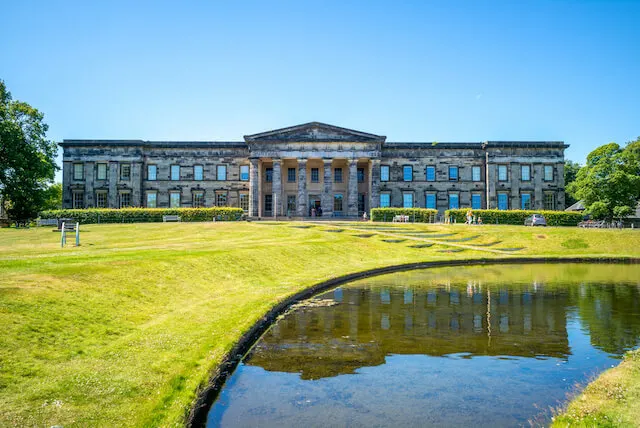 The modern and contemporary pieces of the National Galleries Scotland are housed in the Scottish National Gallery of Modern Art in West Edinburgh, a short distance from Dean Village. There you can find various art pieces from local and international artists.
The rooms are split into two buildings called Modern One and Modern Two, a few minute's walk from each other. Besides, at the grounds of the gallery, you will find beautiful gardens to take a walk in and admire some outdoor sculptures.
Seasonal Free Things to do in Edinburgh
Edinburgh Festivals in August (Fringe, International, Book, Tattoo etc)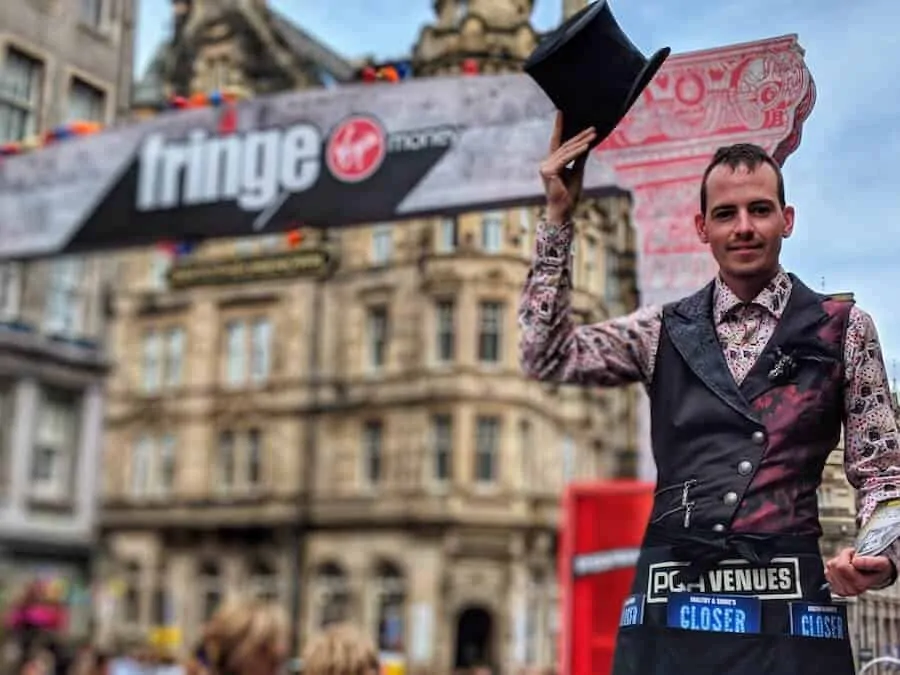 Edinburgh is a true festival city, with multiple events all occurring within the same month! So if you love a festival, you definitely want to visit Edinburgh in August.
Although mostly ticketed and paid-for events make up a large part of these festival programs, there are free things to do at each if you know where to look!
For example, if you are unable to get grandstand tickets to the Royal Edinburgh Military Tattoo, it doesn't mean you have to miss out completely. Position yourself in the top section of the Royal Mile (Castlehill) for the end of the show and watch as the performers all exit the venue in formation and march down Castlehill to Tolbooth Kirk (Church).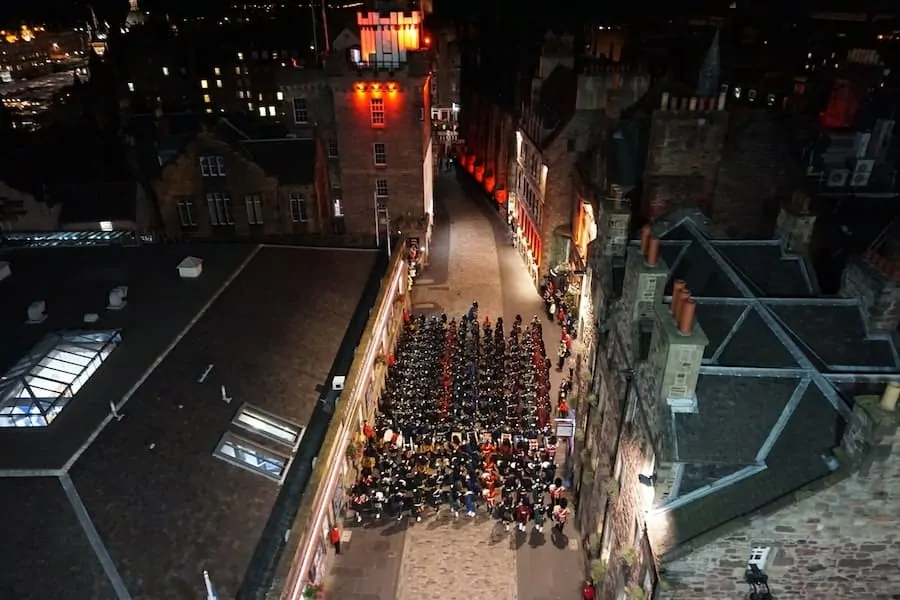 And for the Edinburgh Festival Fringe, there are lots of street performers across the various different sites along the Royal Mile and in the Old Town. These acts are not ticketed and are essentially free, but all the performers are very appreciative of tips so if you can spare some money, they'd love it if you could give generously.
Edinburgh Christmas Markets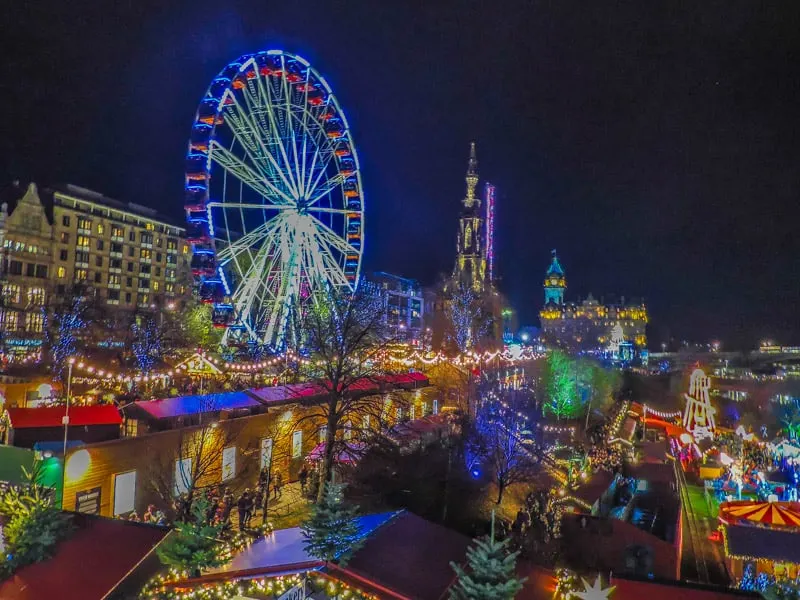 From around the 12th of November through to the 5th of January each year, Edinburgh's Christmas Markets are a joy for all.
With rides and Santa Land in Princes Gardens, food, drink and traditional crafts at the Scottish Market on George Street, and interesting and unique gifts at the European Market on the Mound, you'll be spoilt for choice.
Just a note – the Christmas markets are all free to enter and browse – but we can't guarantee you won't spend a fortune while you are there!
Beyond Edinburgh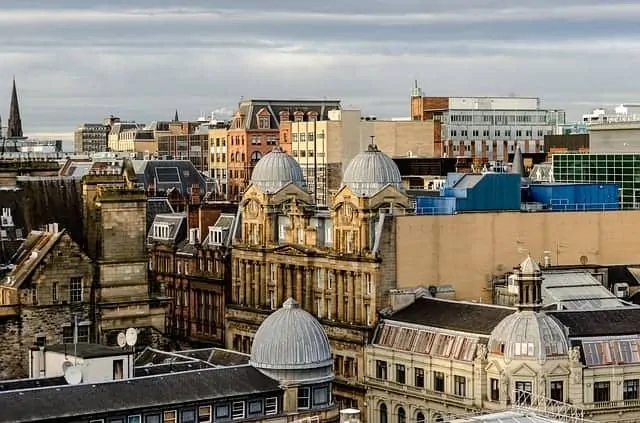 Even though Edinburgh is a great city on its own, before leaving I would suggest you spend some time exploring some of the other popular places in Scotland. Both Aviemore and Glasgow can be visited on a day trip from Edinburgh.
Aviemore is a popular destination as a gateway to the Cairngorms National Park, with plenty of free things to do and hikes to follow. As it can be easily explored by public transport, it is a great location to continue your trip on a budget around Scotland.
Glasgow is another place that should not be missing from your Scottish itinerary. It is only an hour from Edinburgh by train – making it a great contender for a day trip to Glasgow – and has plenty of free things to do. Glasgow may not have the charm of Edinburgh, but its urban vibes and street art are well worth a visit.
Are you surprised!? We bet you are! There are so many wonderful places to explore in Edinburgh Scotland and we hope you have been delighted to discover just how many of them are free to enjoy whenever you like on your trip to Edinburgh.
Have you visited any of the locations featured in our guide to the Scottish capital? Or do you know of any more great places to enjoy in Edinburgh for free? If so, we want to hear from you for in our comments below.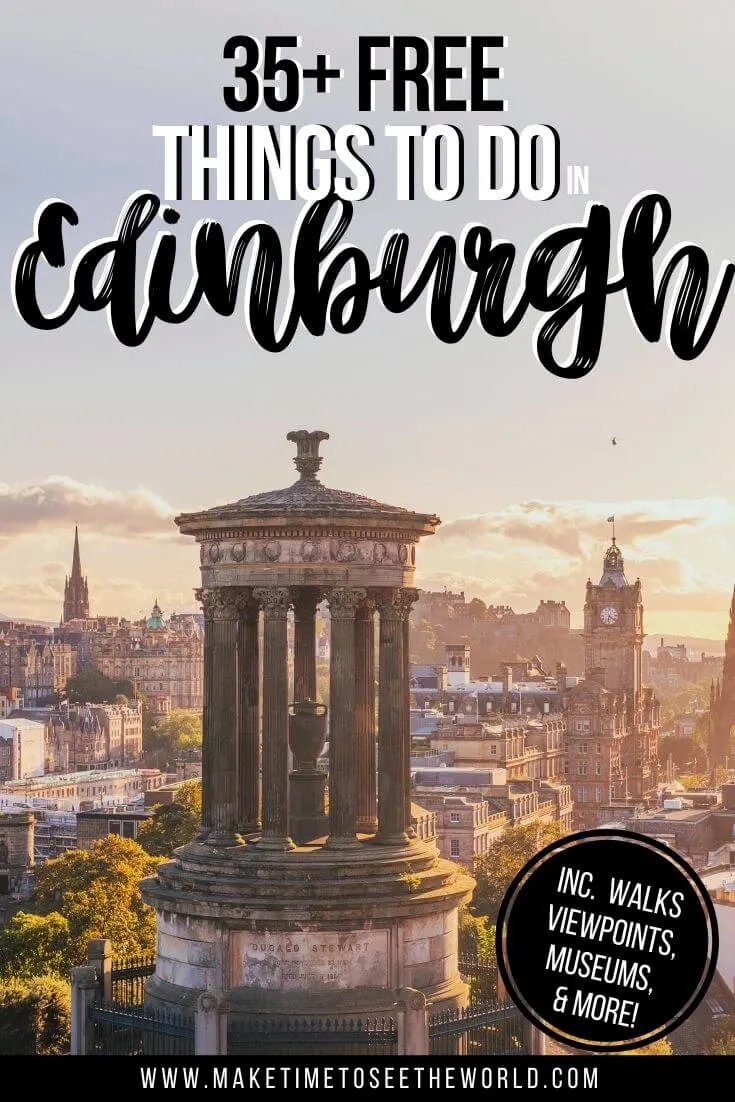 READY FOR MORE EUROPE TRAVEL INSPIRATION? YOU MIGHT BE INTERESTED IN THESE TRAVEL TIPS, TRAVEL HACKS, TRAVEL ARTICLES, TRAVEL DESTINATIONS GUIDES, SOLO TRAVEL GUIDES, TRAVELER RESOURCES AND RELATED POSTS ABOUT OTHER BEAUTIFUL CITIES IN EUROPE TO HELP YOU EXPLORE EUROPE AND TRAVEL THE WORLD:
Hi There! Thanks for reading our travel guide to the 35 Free Things to do in Edinburgh. I just wanted to let you know that this post contains affiliate links, which means if you purchase something after clicking a link, I may get a small commission – which is at absolutely no cost to you. If you enjoyed this article and are going to be searching for some of the things I mention anyway, I would love it if you could click through from the links above & thank you in advance! Read my full Disclosure here.
And a huge Thank You for reading the MakeTimeToSeeTheWorld travel blog.