Want to know the trick to heading out on the very best road trip? It's all in the planning! Sure, being spontaneous on any travel adventure is always fun, you never know what surprise is going to be around the corner. However, the careful planning of a road trip – from your route to road trip packing essentials is one of the best ways to make sure you have an amazing and most importantly, relaxing holiday.
So whether you have plans to drive across the US (or Las Vegas, or Wisconsin!) or follow South Africa's Garden Route or Australia's Great Ocean Road, we have compiled a helpful list of top road trip tips (and some road trip quotes!) to get you ready and set to go on your road trip of a lifetime.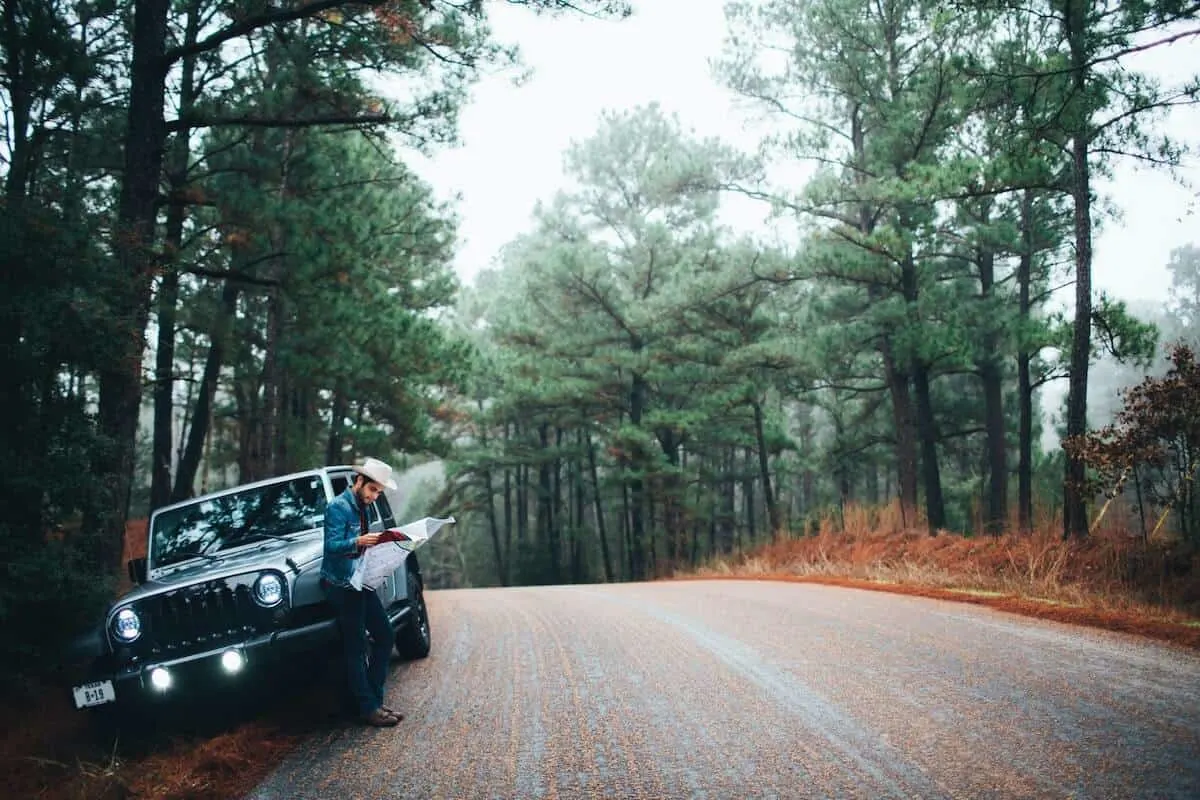 Disclaimer: Almost all posts on this site contain Affiliate links, and this one featuring 16 Essential road trip tips to help you get from A to B is no different. This means that if you click on any of the links in this post (and make a purchase) I may receive a small commission at absolutely no cost to you. Each post is carefully crafted to (hopefully!) answer all your questions and recommendations are made where we believe they will improve your trip and help with your planning. As such we thank you in advance should you decide to click & buy. Read my full Disclosure here.
16 Essential Road Trip Tips
Plan your route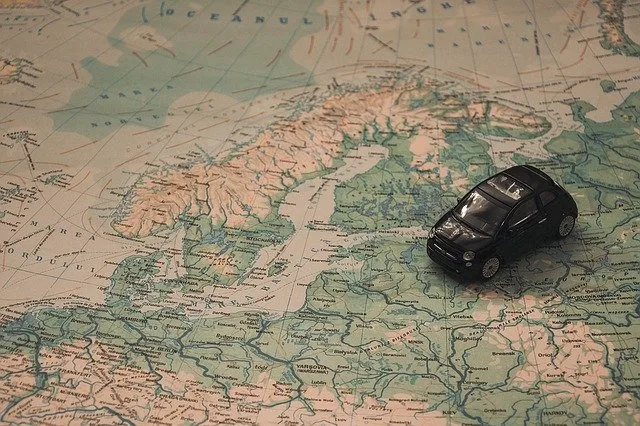 Your road trip plans all start when you map out your route. Mind you, it doesn't have to be exact. Pinpoint your start and finish destinations, then choose a few key stops you want to visit along the way.
It's also worth planning some alternate route options. Just in case you need to make a detour or decide to take a shortcut.
Service & clean your vehicle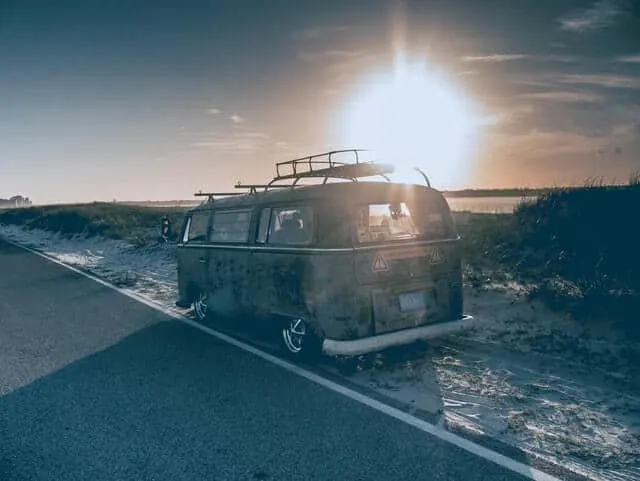 Whether you are heading off on your road trip by car or maybe you've been converting your dream bus or van to explore the world in, always remember to give it a service before setting off. Give it a clean too because nobody wants to start an epic road trip in a car full of random junk you've been slowly collecting for the past year.
You want to make sure you have a comfortable drive, both under the hood and inside the car! This shouldn't be such a concern if you are renting a vehicle for your road trip but be sure to check it's in good working order before you set off.
Signup for roadside rescue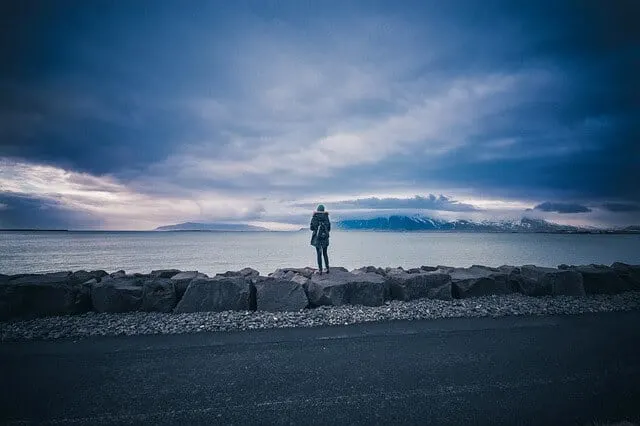 Breaking down on a road trip is nobody's idea of fun but this situation will be a lot less stressful if you have got some roadside rescue in place. If you're traveling in a country you are unfamiliar with it's also worth comparing roadside support companies along with their prices and reviews.
Pack important documents
We're not just talking about your passport and drivers license. Both vehicle, health and travel insurance documents are vital.
Get your gadgets ready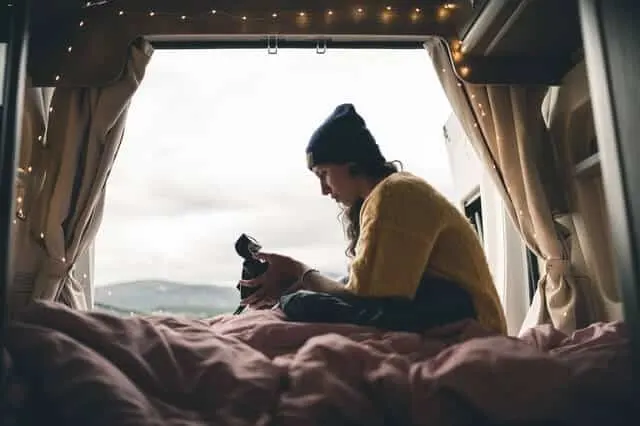 First things first, make sure you pack all the appropriate chargers, cables and adaptors for your gadgets. If you aren't attempting a digital detox on your road trip you are also going to want to make sure your phone is ready to go with all the appropriate apps installed, Google Maps at the ready and of course a suitable data package for wherever it is you are traveling to.
If you're planning to take a camera to snap some super enviable photos, be sure to pack a spare memory card too.
You may also want to consider purchasing some in-car charging adapters or a portable power bank, particularly if you're going to on the road for a few days with nowhere to keep your gadgets fully charged.
Listen to the music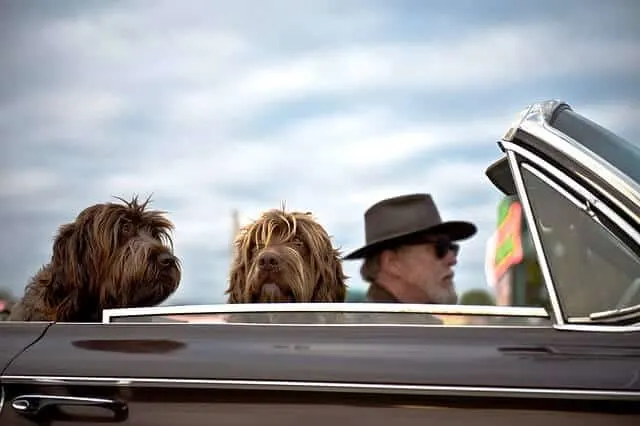 There's nothing wrong with the radio but it's always worth downloading all your favorite music to your phone ready to blast out on your travels. You could even pack a selection of CDs if you're feeling old school – but either way, make sure you take a look at our ultimate Road Trip Playlist for some amazing driving tracks!
Book any overnight accommodation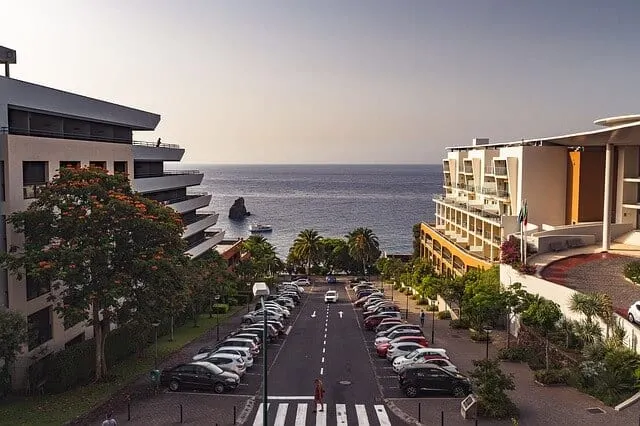 Although it's not always going to be a requirement to book accommodation in advance, particularly if you are staying at a motel or camping, if you are heading to a popular destination (like a National Park), it would be a great idea to plan ahead and ensure you have somewhere to stay for the night. It may even help you save money rather than paying last-minute rates.
Depending on your route and ideal stops, we recommend checking booking policies for certain places and look for free cancellations in case your plans change.
RELATED: More Money Saving Road Trip Tips
Take a map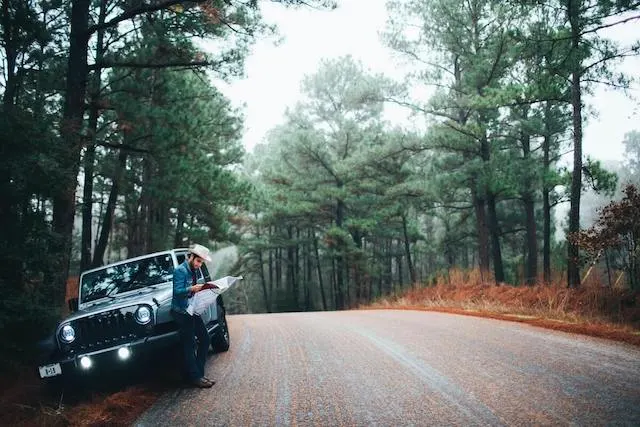 You'll thank us when all your gadgets fail. Map reading is also fun a great skill to master.
Also: Download Maps.Me for free offline map usage which even comes with step by step directions between two points on your route!
Take some snacks
Essential for snacking emergencies, although don't pig out so much that you have to stop for a nap. It may also be worth packing a cool box for keeping your drinks and snacks cool in destinations.
Make a note of gas stations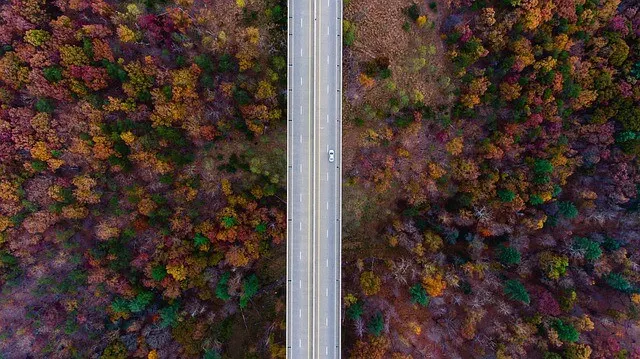 Running out of fuel is up there with road trip nightmares and without sounding too much like your parents, having a general idea of how far the next fuel station is – and current gas prices – is never a bad idea.
Safety first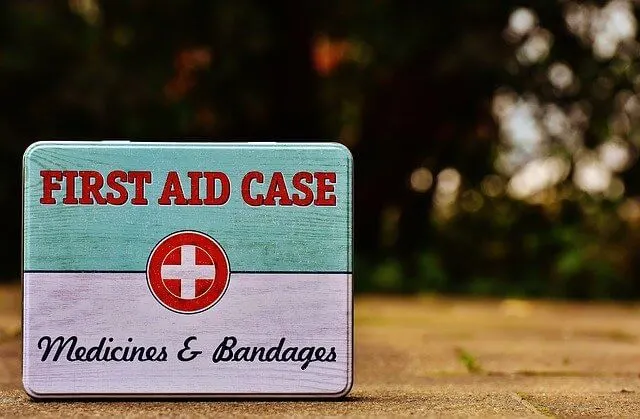 Without going overboard, some absolutely essential kit for any road trip includes:
If you are traveling to colder destinations you may also want to pack:
A Few Safe Driving Tips
Safe driving will be dictated by the destination and types of roads you travel on, but some general safe driving tips and tricks include:
Don't drive slowly in the passing lane.
Don't prevent other vehicles from overtaking.
Avoid cutting in on others.
Change lanes correctly when it's safe to do so.
Don't block intersections.
Give way to others when pulling out.
Avoid following too closely to the vehicle in front.
Don't drink and drive.
Schedule breaks.
Be aware of the speed limit(s).
Don't distract yourself when driving (e.g. using mobile phones)
Book attractions ahead of visiting
Again, you don't need to plan every day down to the hour but it's nice to pick out a few attractions you may want to visit during your road trip. Checking online to see if you can book in advance is a great shout, especially when you can end up saving some cash.
Pace yourself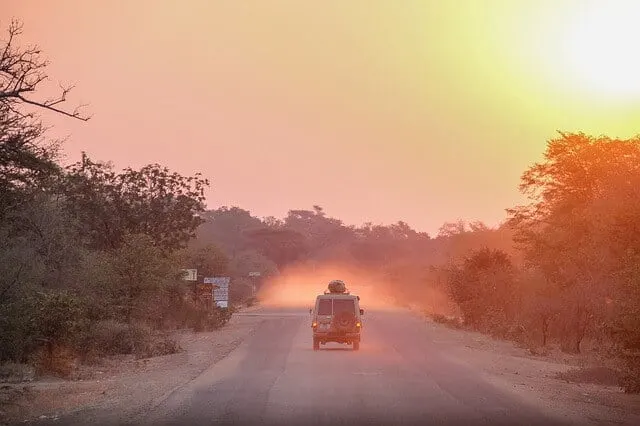 Once you have worked out the length of your trip, try not to be unrealistic when it comes to calculating how long it is going to take to get from A to B.
For stretches when you are going to be on the road all day, it's always a good idea to set off in the early morning (especially if you are wanting to miss any traffic) and try to ensure you reach your destination by sundown. Travelling at night is not a good idea in an area you are unfamiliar with.
Try out something you hadn't planned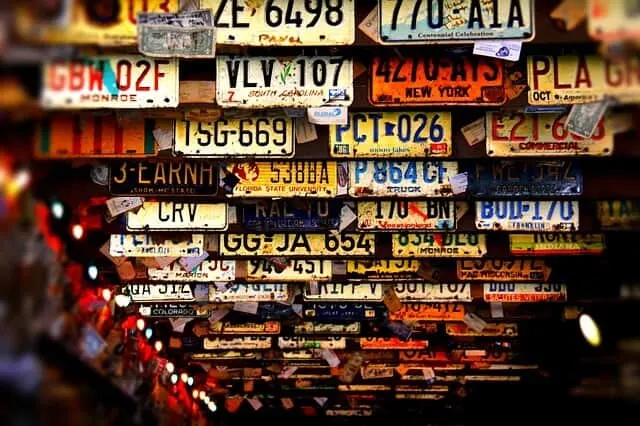 Planning is great but sometimes the best experiences are those that are spontaneous and unexpected. So, if you see somewhere that looks amazing, make a pit stop. Who knows what wonders you might come across.
Keep some cash on you
Keeping a bit of spare cash on you is essential for all those places that don't accept credit cards or for in a worst-case scenario, you lose your wallet.
Speaking of cash. Making a budget is also a good idea for any road trip. Before setting off estimate how much you think you're going to spend per day and try to stick to it where possible.
Were there any tips for road trips on our list that made you think "I hadn't even thought of that!?". We hope our guide to our top road trip tips has been helpful and makes planning your adventure an absolute breeze. Do you have any tips we should add to our guide? Let us know in the comments below.
We also want to know! What's been your no.1 road trip adventure of a lifetime? We bet you've all got some amazing stories to share with us and our readers.
And if you know of anyone planning a road trip – be sure to share this post with them or on social media. It can be shared on Facebook, Twitter, Flipboard or, by grabbing one of the images below, Pinterest. Remember, sharing is caring – and we thank you in advance!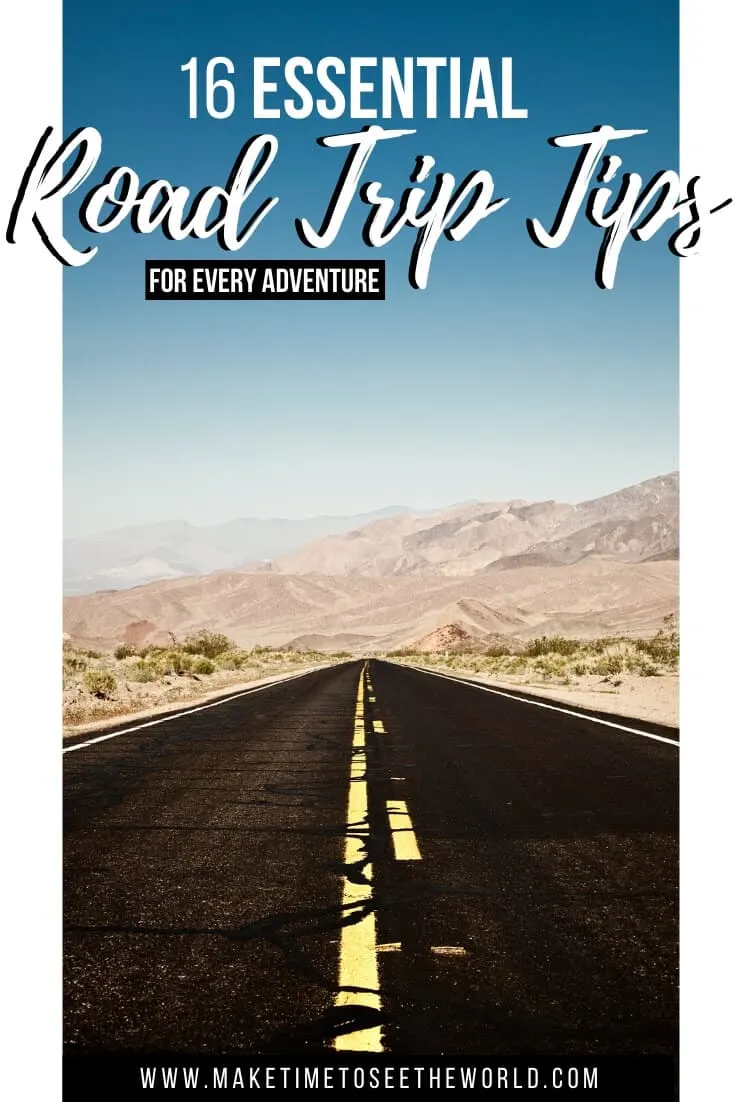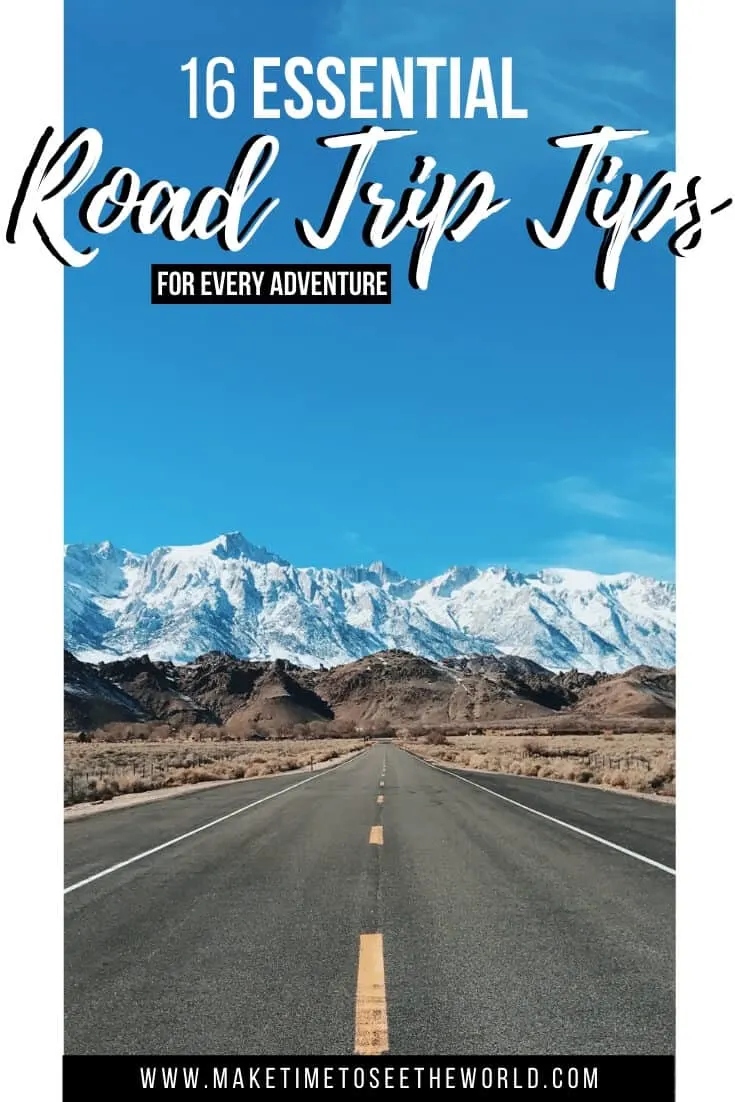 If you liked this post and would like a little summary, head on over to our web story:
16 ESSENTIAL Road Trip Tips to help you get from A to B! Story
And if you liked these road trip tips take a look at the other recent posts, packing tips, travel trends, travel accessories, travel resources, travel guides, travel tips, ultimate guides and packing lists in this series:
Hi There! Thanks for reading our travel guide to 16 ESSENTIAL Road Trip Tips to Help You get from A to B! I just wanted to let you know that this post may contain affiliate links, which means if you purchase something after clicking any of the links we may earn – which is at absolutely no cost to you. If you enjoyed this article and are going to be searching for some of the things I mention anyway, I would love it if you could click through from the links above & thank you in advance! Read my full Disclosure here.
And thank you for reading the MakeTimeToSeeTheWorld travel blog.