Planning a day trip, romantic getaway, or family vacation, these Wisconsin road trips will help you explore some of the most beautiful parts of the state.
With the weather allowing, there are very few things that could beat a road trip down a scenic route. And, the State of Wisconsin is filled with amazing road trips that would charm any traveler looking to have a good time out on the open road.
The state has numerous scenic and alluring routes for exciting road trips. These routes cover varying distances from a few miles to hundreds of miles.
Along these routes, you can expect to see picturesque locations and views, hundreds of inland lakes, and colorful flora and fauna.
In addition, these routes allow other opportunities to enjoy Wisconsin hospitality as you take part in indoor or outdoor activities that are exciting and rejuvenating.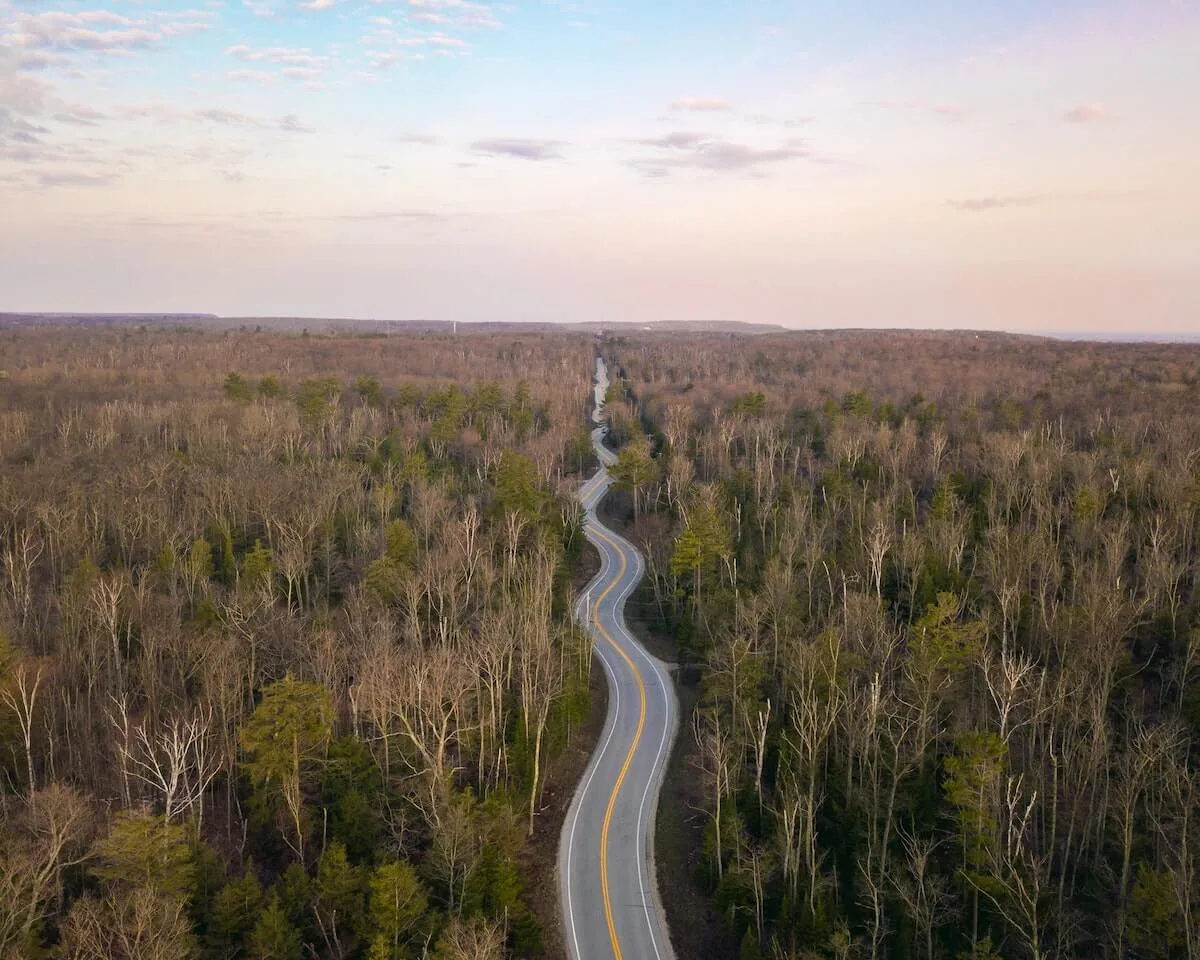 Disclaimer: Almost all posts on this site contain affiliate links, and this one about 11 Best Road Trips in Wisconsin to help plan your trip is no different. This means that if you click on any of the links in this post (and make a purchase) I may receive a small commission at absolutely no cost to you. Each post is carefully crafted to (hopefully!) answer all your questions and recommendations are made where we believe they will improve your trip and help with your planning. As such we thank you in advance should you decide to click & buy. Read my full Disclosure here.

GENERAL TRAVEL INFO FOR VISITORS TO THE USA
Visa: Travelers from countries that are members of the Visa Waiver Program (ESTA) do not require a visa when visiting the USA. However, it is recommended to check up-to-date visa entry requirements before your visit regardless of what country you are coming from to avoid issues and concerns on the date of your travel.
Currency: The official currency in Wisconsin is the U.S. dollar or American dollar ($, USD, US$).
You can withdraw currency from ATMs using your local bank card or a designated travel card. If you are visiting from another country, be sure to check any fees and charges from your bank prior to using it and carry a second source of payment/cash in case your primary card gets 'eaten' by an ATM.
Language: English is the primary and most widely spoken language in the USA (although not the official one at the Federal level!) There are 350 other languages spoken, the main ones being Spanish, Chinese, French, and Vietnamese.
WiFi/Internet Access: Depending on your length of stay, you can either purchase a local sim card (in advance or on arrival) – to swap out with the one in your own phone to avoid roaming charges. OR, grab a pay as you go portable Wifi Devices which means you can keep your sim active and connect wirelessly. Just remember to turn off data roaming so you don't incur any hefty charges.
Map of the Best Road Trips in Wisconsin
Best Wisconsin Road Trips (recommended by a local!)
Wisconsin Great River Road National Scenic Byway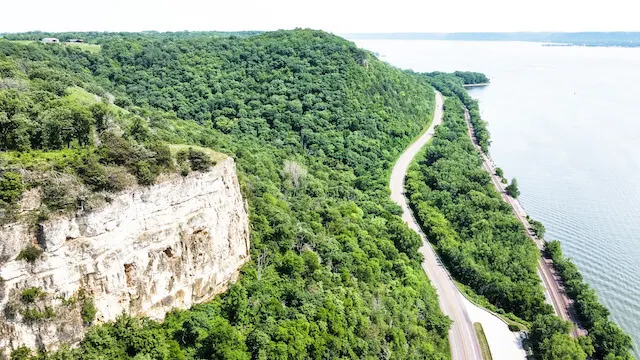 Also known as Highway 35, this route offers one of the best Wisconsin road trips. The byway covers a distance of 250-miles starting from Prescott to Potosi.
This route has breathtaking views ranging from dozens of small charming towns to the majestic curves and bends of the Mississippi River. It's truly one of the best scenic drives in America. If you are keen enough, you should be spelling the word Mississippi by the time you come to the end of the byway.
The quaint towns along this route have hundreds of attractions that include historic sites, birding sites, restaurants, galleries, and wineries. You'll also get amenities such as shopping, dining, and lodging. And, you can make a stopover at Buena Vista Park to get a good view of the Mississippi.
Also, don't forget to take a moment to watch the majestic birds soaring along the bluffs. And if you have the time, you can dash to the National Eagle Center for more adventure.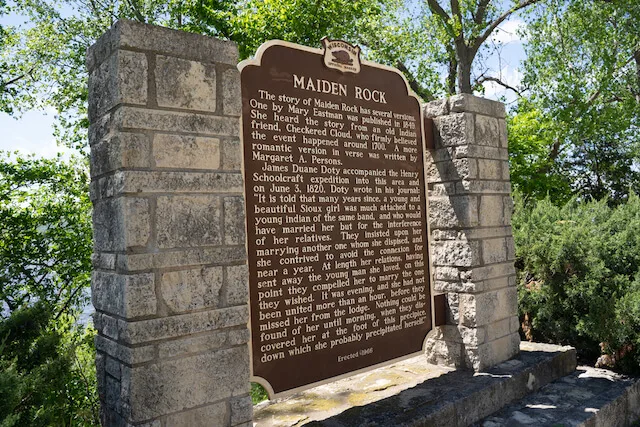 We promise that the Wisconsin Great River Road trip will be an unforgettable experience. Check out our YouTube video on exploring Maiden Rock, one of the most epic views of the Great River Road in Wisconsin.
Kettle Moraine Scenic Route
The Kettle Moraine Scenic Route is definitely up there with the best Wisconsin road trips. It stretches across six counties starting from Sheboygan County to Walworth County.
This road trip affords travelers a chance to see firsthand the geological history of southeast Wisconsin. The picturesque landscape owes a lot to the huge glaciers from the ice age that occupied the area for thousands of years and the beautiful trees of the Kettle Moraine State Forest.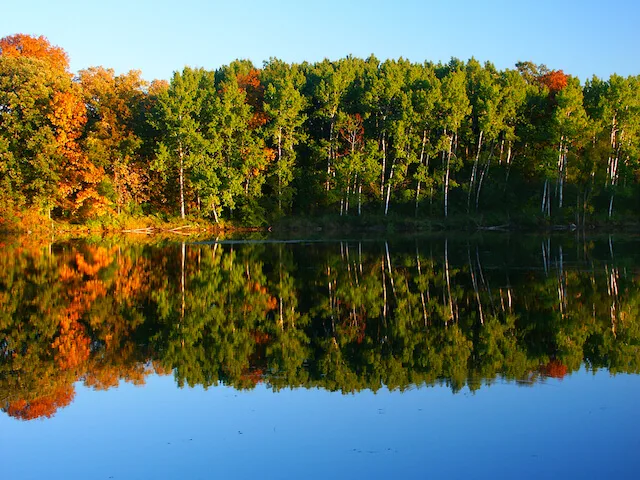 You can start your journey at Elkhart Lake and end around Whitewater Lake, covering 115 miles.
The route was designed with a deliberate attempt to provide an easy but scenic highway route where people could even spend a day or even two visiting the best that Southern Wisconsin has to offer. That is why it passes near or around state parks and forests.
One of the best things about this route is accessibility, as you can access it easily from most major cities. In addition, you will find several great places where you can picnic, camp, swim, shop, and even lodge.
You can do the Kettle Moraine Scenic drive at any time of the year, but summer is the most ideal.
Lake Superior Byway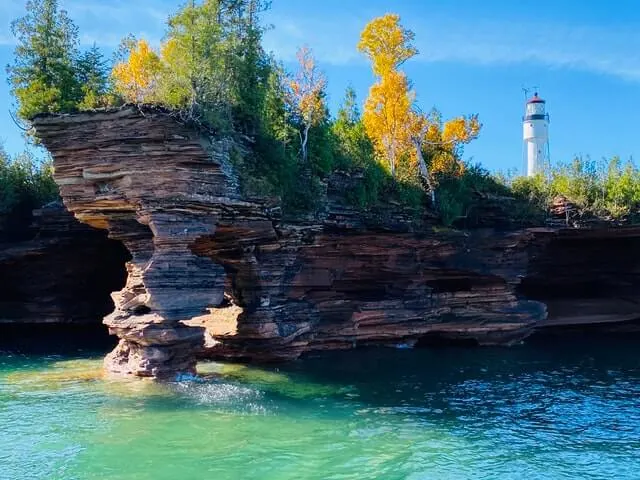 Lake Superior Byway is quite a unique Wisconsin road trip and makes for a great romantic weekend getaway. It covers a distance of 70 miles beginning from the Bayfield at the junction of Federal Highway 2 and State Highway 13 in Douglas County.
Did you know that quite a good number of multiple U.S. Presidents have visited this route for fishing and adventure? There is a good reason why.
There is no other road that better captures the geography, history, culture, and recreational diversity of Wisconsin. This makes it one of the best Wisconsin road trips.
By the time you complete it, you will have enjoyed awe-inspiring scenic views that include forests, sandy beaches, and the clear waters of Lake Superior.
The road also leads to the Apostle Islands National Lakeshore. Further down, you will find the Gaylord Nelson Wilderness Area and the Red Cliff Reservation.
The Lake Superior Byway also has many restaurants that serve fresh delicacies made using local ingredients. So, take this chance to savor some Wisconsin hospitality as you enjoy weekend getaways in Wisconsin. Grab one of these amazing cabin getaway rentals along Lake Superior so you can take in the scenery the right way.
Highway 33 Scenic Drive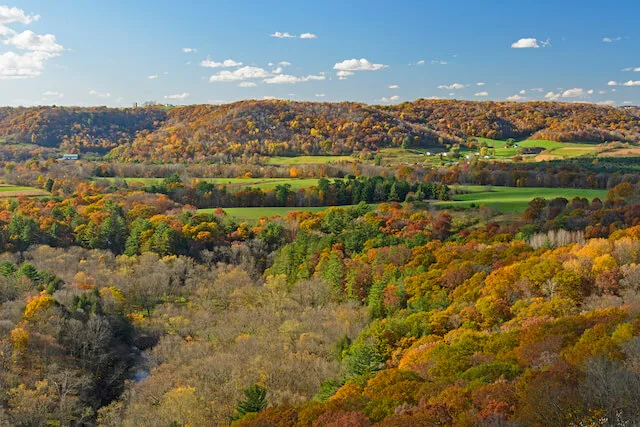 Highway 33 is one of the oldest but still among the best Wisconsin road trips. The road was built in the 17th century to connect Horicon Marsh with Port Washington on Lake Michigan. It is a coast-to-coast drive that touches Lake Michigan on one side and the Mississippi River on the other.
If you enjoy the thrill of hairpin turns, then you will be in for a treat. The area along Wildcat Mountain State Park has a few of these turns. There is also a lot to savor in terms of scenery.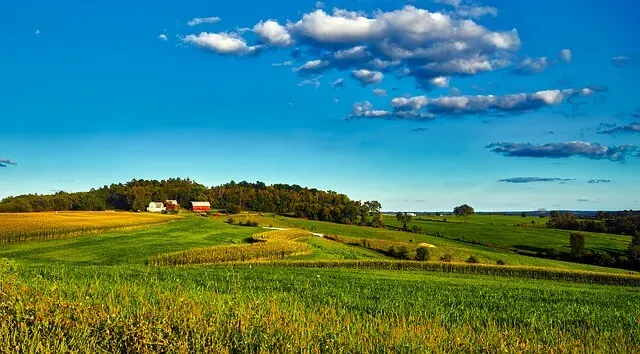 Along the way, you will also find some attractions such as Amish farms and early African American settlements. At the end of the road trip, you will be greeted by Grandad Bluff.
If you have a few minutes to spare, you can also choose to go hiking or canoeing in Wonewoc. Or for those who love outdoor adventures, be sure to add the Ice Age Trail and Devils Lake to the start of your trip.
This route is 93 miles long, and it starts at Baraboo through Coulee Country and to La Crosse. You can do this road trip at any time of the year.
Cranberry Highway
Isn't this an interesting name for a road trip? It is aptly named the Cranberry Highway because it cuts through expansive cranberry beds for almost 50 miles.
The route begins at Wisconsin Rapids and goes all the way to Warren. It is one of the best Wisconsin road trips that will excite not just fruit lovers but also anyone who is looking for a picturesque road drive.
It is also ideal for family getaways on Thanksgiving when the cranberries are in full bloom. The red berries can be seen right from the highway. Needless to say, the best time to make this trip is between late September and late October during harvest.
Other attractions along this road are wildlife and the old glacial lake in Wisconsin. You can also make some pit stops at the Wisconsin Cranberry Museum, the Sandhill Wildlife Area and get some gifts at Rubi Reds.
The Cranberry Highway is the perfect Wisconsin day trip for you and your family.
Highway 42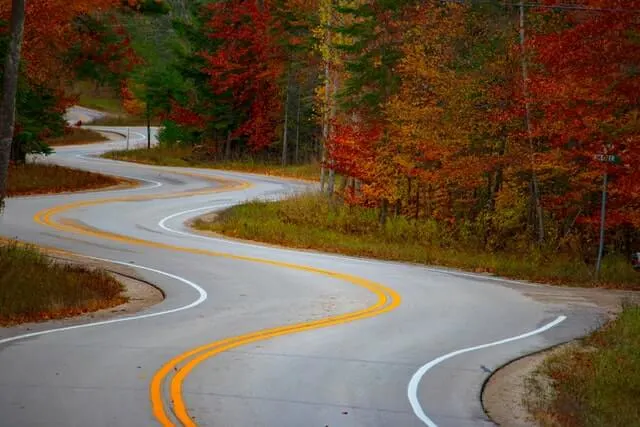 Highway 42 is a must-drive for anyone who wants a taste of the best Wisconsin road trips. The road takes you between Manitowoc and Algoma. It has hundreds of attractions that include lighthouses, beaches, museums, and many awe-inspiring views.
Before you get to the tip of the peninsula, you will find a winding stretch of road. This is the world-famous Wisconsin curvy road. It is about 15 miles long and is usually compared to a child's drawing of a curvy road. There is a backdrop of stunning fall foliage color that adds to the magic of this road trip.
Not surprisingly, this is one of the most photographed places in Wisconsin. The route is very popular with travelers and can get very busy, especially on weekends and holidays.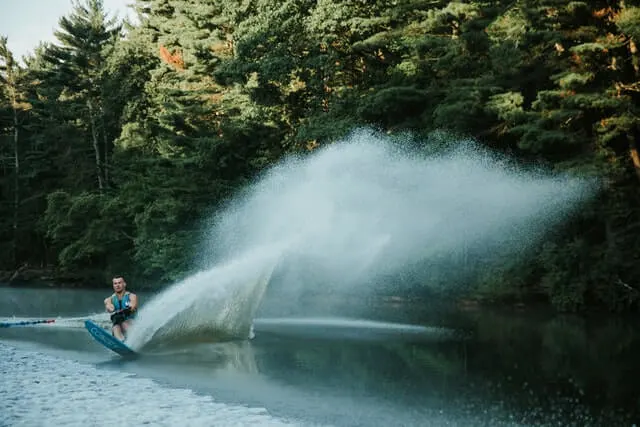 If you want to engage in adventure, you can try fishing on Lake Michigan, take a walk through the Marquette Historic District, or just spend some time on the beach. There is also a WWII submarine and tug boat that visitors are allowed to see.
Elkhart Lake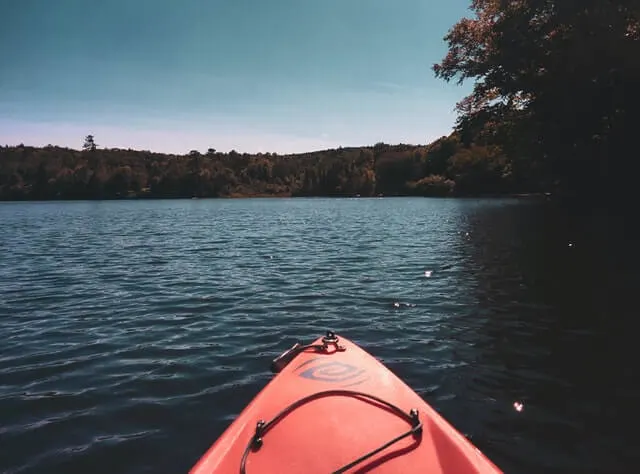 Elkhart Lake is a 282-acre lake located about an hour's drive from Milwaukee. You can consider it more of a road trip destination or the perfect Wisconsin vacation spot.
Most visitors come here for an afternoon or weekend of watersports like swimming, canoeing, and water-skiing. However, the main attraction is the world-famous Road America racecourse.
Started in 1955, this 4-mile track continues to draw visitors not just from Wisconsin but from other parts of the world as well. It is mostly used for amateur racing.
Road America is one of the few racecourses in the world that has remained relatively unaltered. It has many elevation changes and even has a relatively long front stretch where drivers can reach a top speed of 200 mph.
So if you are looking to have a bit of fun driving or watching other people drive, this is one of the best Wisconsin road trips for you. You may also get a chance to showcase a classic, muscle, or unique car so don't shy off if you have one.
Door County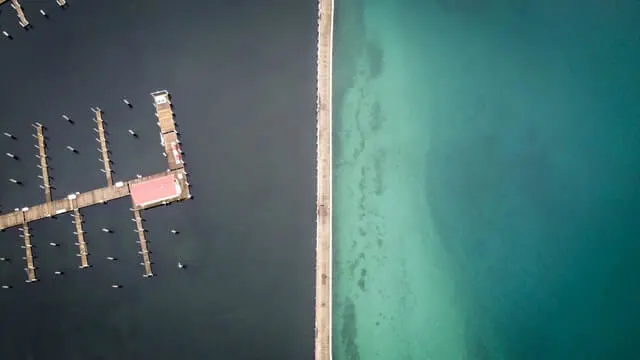 When you look at a map of Wisconsin, you should see a long peninsula consisting of hundreds of miles of shoreline, islands, parks, villages, and towns. It extends into Lake Michigan. This is Door County.
Within Door County is the Coastal Byway, which is one of the best Wisconsin road trips. It starts near the City of Sturgeon Bay and stretches for 66 miles to harbor town of Northport. When you get to Gills Rock, you can turn south and join Highway 42 and drive back to Sturgeon Bay.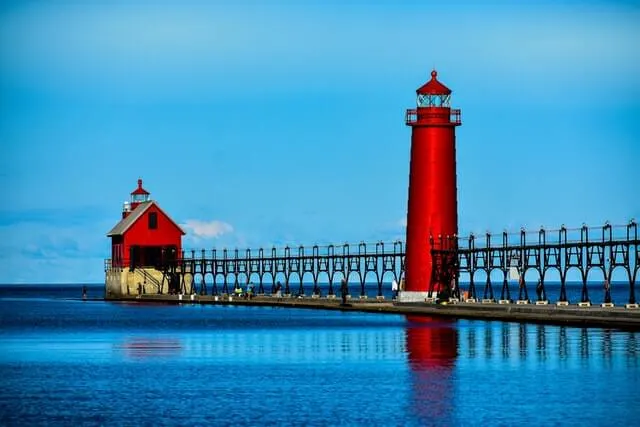 Along the way, you will find a wide range of scenic views and fun activities to do with friends and family. They include golfing, hiking, and fishing. This route affords visitors a chance to enjoy miles of shoreline and waterfront towns where you can shop, dine, and lodge.
Some of the key attractions include Lake Michigan, views of Niagara Escarpment bluffs, and the Bay of Green Bay. There are also several lighthouses and a about a dozen state and county parks.
Milwaukee to the Dells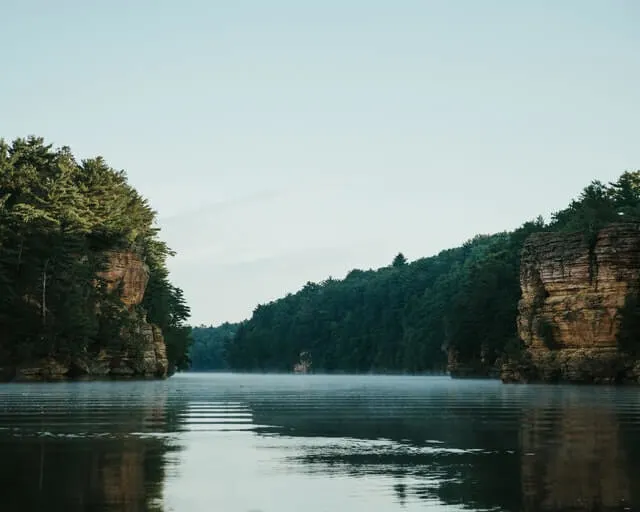 Milwaukee to the Dells is a 124-mile drive with plenty of scenic locations and exciting stops. As implied in the name, this east-to-west road trip starts from Milwaukee and ends at the Dells.
Halfway along the drive is the city of Madison. This is a must-stop-over because of the endless opportunities it offers to explore and have fun, including farmers markets for those that like unique stalls and local products!
In case you have tagged your children along, the Madison Children's Museum is a good place to visit. You can also visit the Henry Vilas Zoo, which is just ten minutes away from Madison. The zoo has a conservation carousel, a playground, and you will even get a chance to feed goats.
And did you know that the Dells is considered the waterpark capital globally? You can use this opportunity to find out why by exploring the dozens of waterparks in Wisconsin Dells.
If you want to enjoy all these activities, it is best to make this road trip during summer.
Rustic Roads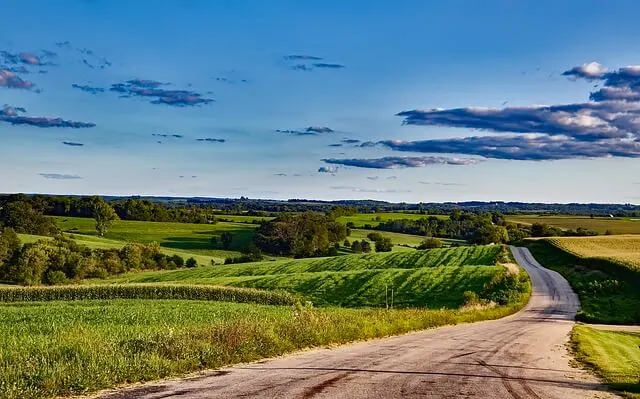 The State of Wisconsin has a huge network of dirt, asphalt, or gravel roads called Rustic Roads. These roads were created about 50 years ago for hikers, cyclists, and motorists to travel leisurely as they enjoy the state's natural beauty.
At the moment, there are 122 marked Rustic Roads in Wisconsin, and they cover a distance of over 740 miles traversing a whopping 61 counties.
Rustic roads may be one-way or two-way. Many also double up as bicycle or hiking paths, and so the maximum speed limit by law is 45mph.
In some areas, this may be as low as 30 mph. That is why they are recommended for leisurely driving.
Each Rustic Road is assigned a special number ranging from one to three-digit figures. The letter 'R' is also added before the number to distinguish the roads from State Trunk Highway numbering.
So if you are a fan of the off-road and love being surrounded by spring greens, then this is one of the best Wisconsin road trips for you and your family.
Lower Wisconsin River Road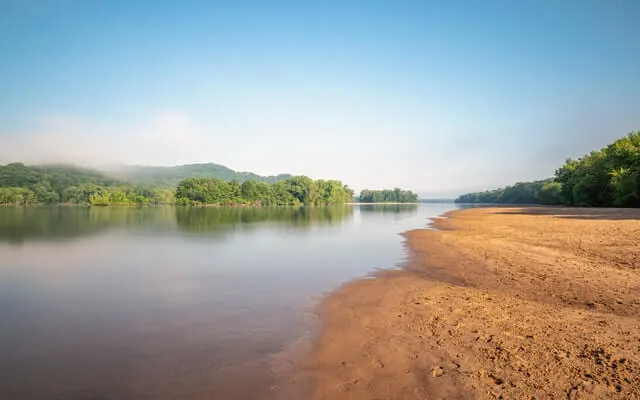 This Wisconsin scenic byway begins at the Empire Prairie and ends at the Mighty Mississippi. And do you know what makes it so scenic? It follows the turns and bends of the Lower Wisconsin River, covering a distance of 100 miles.
Considered one of the best Wisconsin road trips, this route offers a perfect opportunity to see the sparkles of nature, whether you are driving on a sunny day or a starry night.
The Lower Wisconsin River is one of the main attractions of this route. It is referred to as the "River of a Thousand Isles" because it continuously shifts channels, varies the flows, and shapes its sandbars as it flows downward. The river also offers great opportunities for fishing, canoeing, kayaking, and bird-watching.
Along the way, you will see golden bluffs that stand out from emerald hills, creating a picturesque view of the landscape.
And even though there are settlements that have sprouted along this route, the raw beauty of nature remains unscathed.
*Extra* Wisconsins Frank Llyod Wright Trail
Driving across 9 counties in Southern Wisconsin, road-trippers can embark on a self-guided tour that includes 9 stunning buildings designed by Frank Lloyd Wright.
Starting in Kenosha and driving through Racine, Milwaukee, Waukesha, Jefferson, Dane, Iowa, Sauk and Richland, on this road trip route you'll have the chance to visit the SC Johnson Administration Building and Research Tower, Wingspread, Monona Terrace Community and Convention Center, Wyoming Valley School and Cultural Arts Center, the AD German Warehouse and more.
Just be sure to check the opening hours of each when planning your trip!
Final Thoughts on the Best Road Trips in Wisconsin
From the great lakes to rolling hills, areas of stunning natural beauty to Amish farms celebrating a simpler time. We hope this guide to the best road trips in Wisconsin has convinced you to travel Wisconsin and explore some of the most beautiful places in WI.
And if you know of anyone else that needs a little bit of inspiration or assistance in deciding to spend some time in the Badger State, please be sure to share this post on social media: Facebook, Flipboard, Twitter or grab one of the images from below for Pinterest. And remember – sharing is charing (and we thank you in advance!)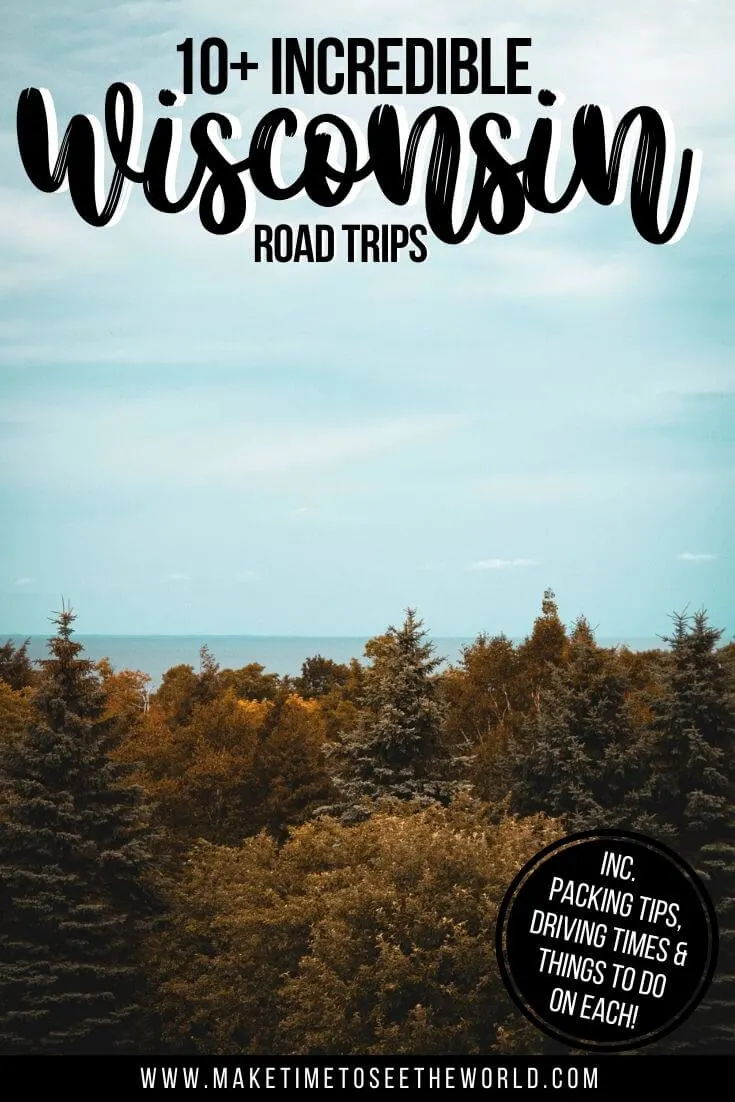 READY FOR MORE USA TRAVEL INSPIRATION? YOU MIGHT BE INTERESTED IN THESE TRAVEL TIPS, TRAVEL ARTICLES, DESTINATION GUIDES, TRAVELER RESOURCES AND RELATED POSTS ABOUT OTHER AMAZING CITIES IN NORTH AMERICA:

Hi There! Thanks for reading our travel guide to 11 Incredible Road Trips in Wisconsin USA (Recommended by a local) I just wanted to let you know that this post contains affiliate links, which means if you purchase something after clicking a link, I may get a small commission – which is at absolutely no cost to you. If you enjoyed this article and are going to be searching for some of the things I mention anyway, I would love it if you could click through from the links above & thank you in advance! Read my full Disclosure here.
And a huge Thank You for reading the MakeTimeToSeeTheWorld travel blog.