Planning 48 Hours in Austin? This guide is for you! It's packed full of things to do in Austin + where to stay & eat to help you plan a great weekend away!
If you are planning to visit Austin and wondering what to do when you get there, this guide is for you! Austin is the State Capital of Texas, known mostly for its eclectic music scene, and the University of Texas, it also boasts parks and lakes that are popular for hiking, biking, swimming, kayaking (and more!) and some of the best BBQ and Tacos in the state.
Add in outdoor art installations, great museums, and the bonus of a couple of annual music festivals and you're in for an awesome 48 hours in Austin no matter what time of year you visit! Keep reading for our rundown of the top things to do in Austin, the best places to stay in Austin, and a few suggestions of where and what to eat whilst you're in the city to help you plan the perfect city break.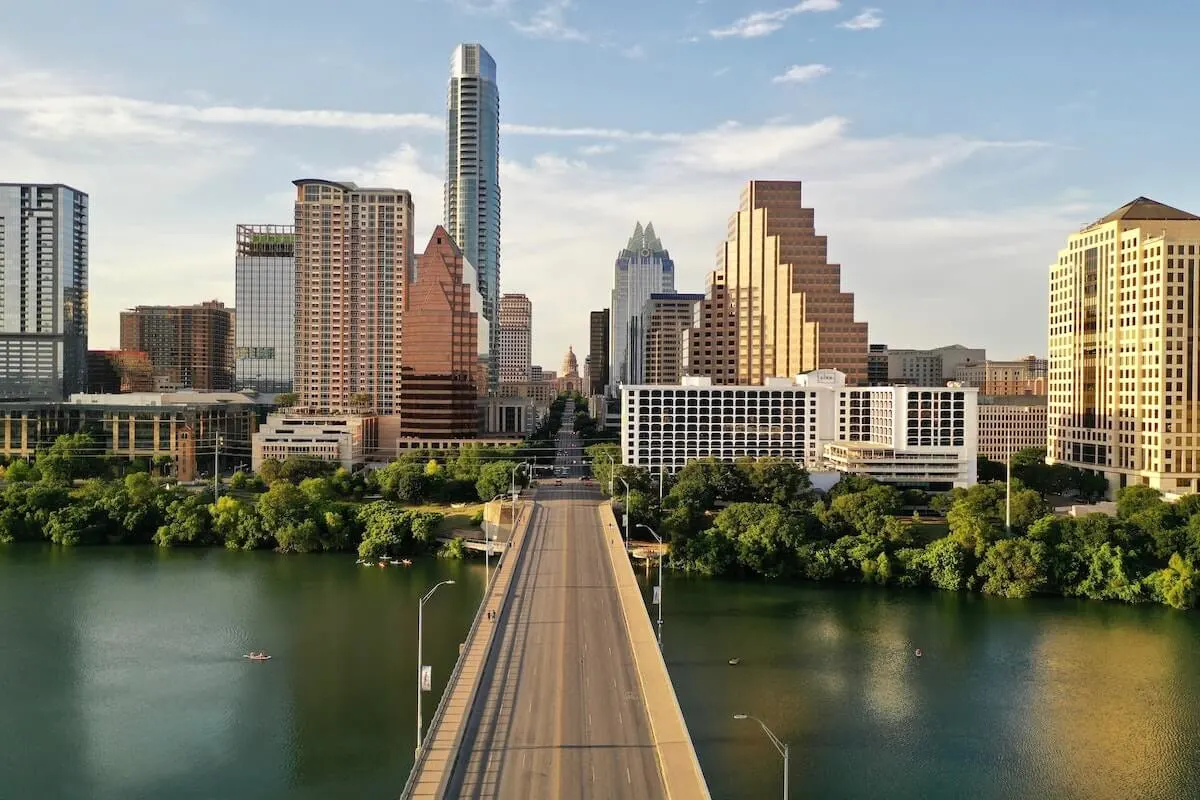 Disclaimer: Almost all posts on this site contain Affiliate links, and this guide to 48 Hours in Austin is no different. This means that if you click on any of the links in this post (and make a purchase) I may receive a small commission at absolutely no cost to you. Each post is carefully crafted to (hopefully!) answer all your questions and recommendations are made where we believe they will improve your trip and help with your planning. As such we thank you in advance should you decide to click & buy. Read my full Disclosure here.
A Guest Post by Yulia from The Foodie Miles
The moment I moved to Austin I started making must-do and must-see lists. Almost two years later, although I am constantly scratching points off, my lists have grown bigger, not smaller. 48 hours might not be enough to cover all the awesomeness of the capital of Texas, but it's a good amount of time to get the first impression and feel the vibe of the city. I am going to help you choose the best things to do in Austin and the most delicious foods to eat so you'll want to come back for more!

Great Things to do in Austin Texas
Take a tour of the Capitol Building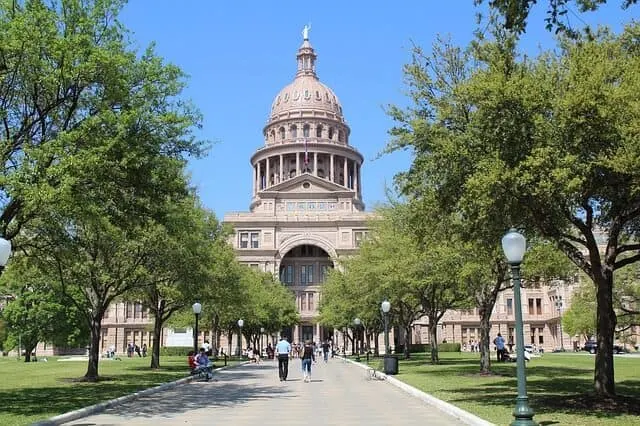 You'll probably walk by or drive by Texas State Capitol on more than one occasion while in Austin, but I encourage you to go inside and take a free tour. It only lasts 30 minutes, but you are bound to learn a lot about the history of the city and see the hidden corners of the building you wouldn't find on your own.
Texas State Capitol is a National Historic Landmark and, at 302 feet, is actually taller than the US Capitol in Washington, D.C.
Once you've finished the free tour, why not hop on a Segway Tour of the area where you'll get an overview of things to do in downtown Austin along with some epic photo ops of the Capitol Building, Congress Avenue and LadyBird Lake – to name a few!
Or if you don't think your balance is up to it, join a short, Best of Austin Bus Tour where you'll learn about the art, music, culture, food, history, parks, and famous residents of Austin, and how the locals live up to the slogan 'Keep Austin Weird.'
Walk Down South Congress Avenue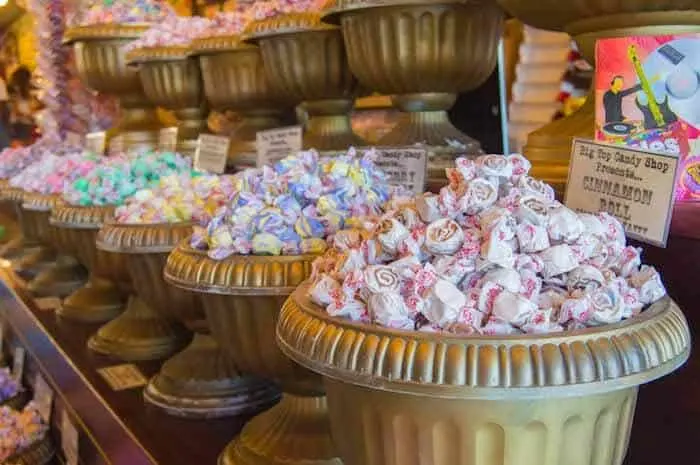 South Congress Avenue from Nellie Street to Mary Street is a lively part of town famous for its many boutique shops, local restaurants with comfy patios, and street art.
Take a picture in front of the famous "I love you so much" sign on the wall of Jo's Coffee. Try on cowboy boots at Allens. Eat every kind of candy imaginable at Big Top Candy Shop. Get lost in the many vintage shops.
If you are looking for a place to eat, there's a number of food trucks along the way like Burro Cheese, Hey Cupcake! and Crepes Mille. For a good cup of coffee head to TOMS Roasting Co.
Explore Hope Outdoor Gallery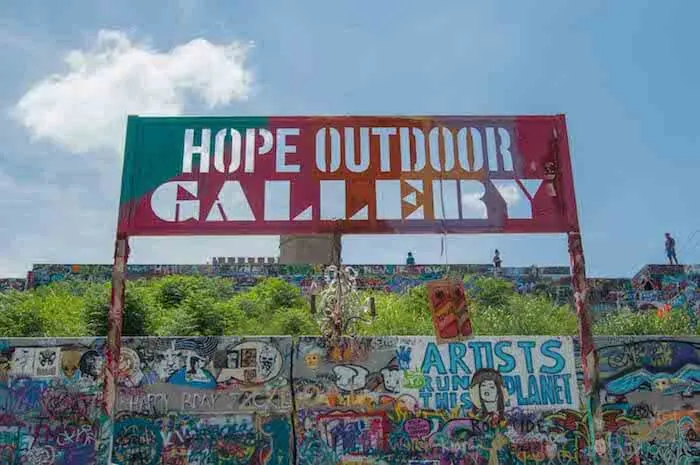 Hands down, one of my favorite places in Austin. This outdoor street art gallery is located in the city center and overlooks Texas State Capitol. I can't help but admire the owner of this land who chose to give the space to artists instead of building a property here.
The best part is that murals are painted over and over again, so every time you come to the gallery you will see new art works.
Shop at Whole Foods Flagship Store
Austin is where it all started! Frankly speaking, you don't even have to shop at Whole Foods (you might accidentally leave your whole paycheck there as the popular joke goes), just come in and wander around.
This is the most amazing supermarket you'll ever see. I don't have to mention that it has all things local, natural and organic. What's amazing is that you will find a BBQ restaurant, a taco joint, a sushi bar and a coffee shop inside.
In summer months you might enjoy a yoga session, while in winter ice skating on the rooftop is available. As unbelievable as it sounds, Whole Foods Flagship store is the most photographed place in Austin!
Take a Look at the City from Mount Bonnell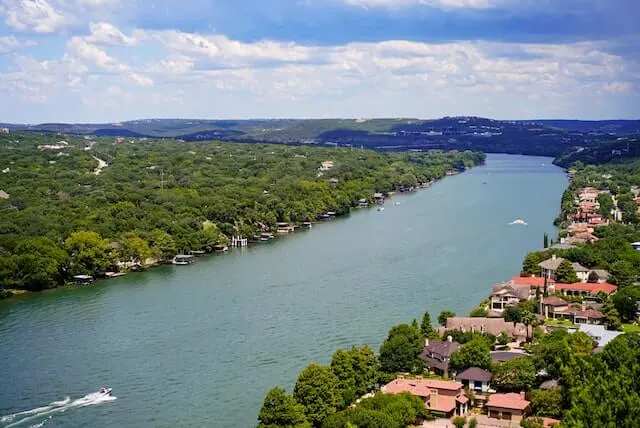 Climb 106 steps up a historical staircase to reach the top of Mount Bonnell and enjoy the views of the Colorado River. The gorgeous residences along its shores might make you slightly envious. Don't listen to your inner voice, you don't need a million-dollar house overlooking the river.
On the bright side, there are picnic tables on top of Mount Bonnell. Planning your visit around sunset time and bringing a couple of sandwiches or fruits is a good idea!
Watch Bats under Congress Bridge
Watching bat colony fly from under Congress Bridge is one of the most iconic things to do in Austin. What you should know is that watching bats is a seasonal activity. Season runs from March to November with peak being late July – early August when you can see 1,5 million bats at sunset.
You can simply come to Ann W. Richards Congress Avenue Bridge around 8 pm and stand along the sidewalk of the bridge to see the bats. The Austin-American Statesman Park on the south-east side of the bridge is also open to public.
The best view, though, is from the river boat that floats right under the bridge. You can buy a 1-hour sunset cruise from Lone Star Riverboat Cruises and enjoy the view without crowds around you; or if you want to really have some space around you – you can join a Sunset Kayak Tour!
I just don't recommend this if you're likely to get panicky when the bats fly – you don't want to start waving your arms about and end up capsizing!
Kayak on Lady Bird Lake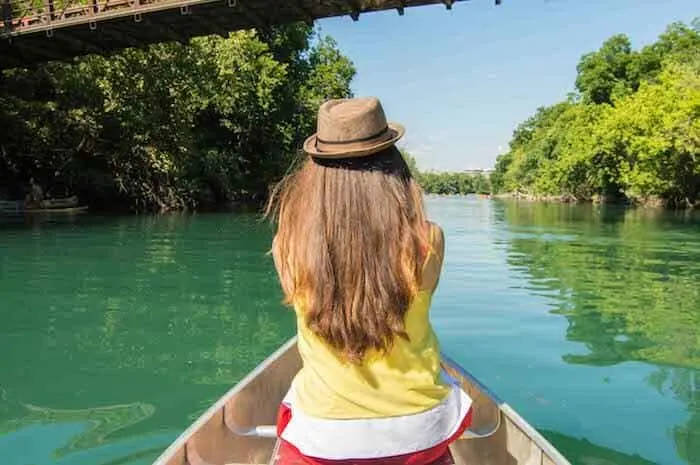 Do like the locals do! Rent a kayak or a boat and go swimming on Lady Bird Lake (it's one of the best lakes in Texas and should not be missed!).
Kaying is one of the most favorite summer activities for Austinites. On hot summer days you will see hundreds of kayaks on the lake that is located right in the city center. And if you're not a fan of the water, you can always join a bike ride around the lake to get your exercise fix.
Swim in Barton Springs Municipal Swimming Pool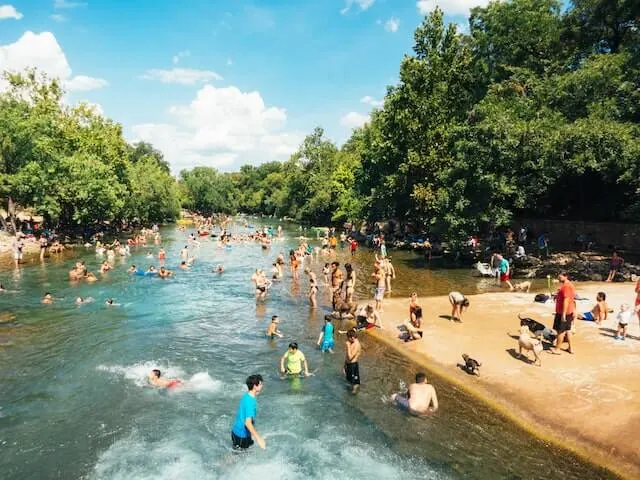 Another way to have a refreshing swim right in the middle of the busy city center! Barton Springs Pool is an outdoor swimming pool that is filled with water from nearby natural springs.
The non-resident fee is $9, but if you come between 5 and 8 a.m. or 9 and 10 p.m. no fee is charged. Food and drinks are not allowed inside, but you can pack a light breakfast and have a picnic afterward in Zilker Park nearby, which is seriously one of the best parks in Austin TX.
Listen to Live Music on Sixth Street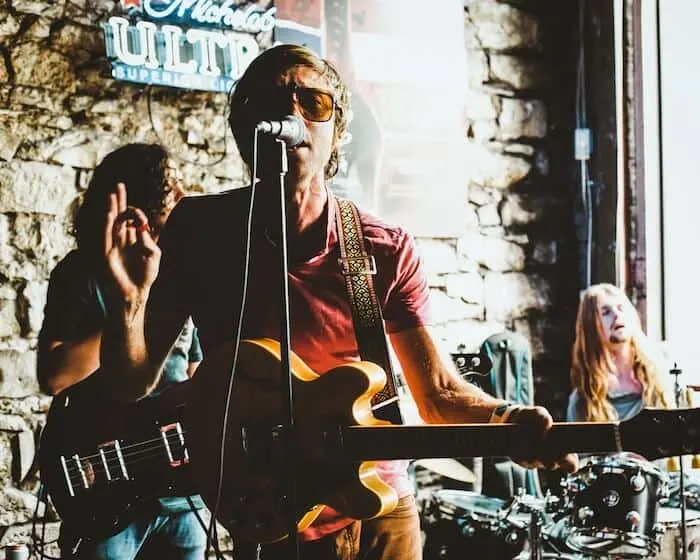 There's a reason why Austin is called "live music capital of the world"! Take advantage of the many bars, pubs and clubs on the Sixth Street at night. The most popular stretch of 6th Street runs from Congress Avenue to I-35. Locals refer to it as Dirty Sixth.
You'll be able to find live performances here pretty much any day of the week and if you want to know where they hottest acts are each night, consider joining a Live Music Crawl – led by a local musician it provides a great overview of the Sixth Street for first time visitors.
Austin Museums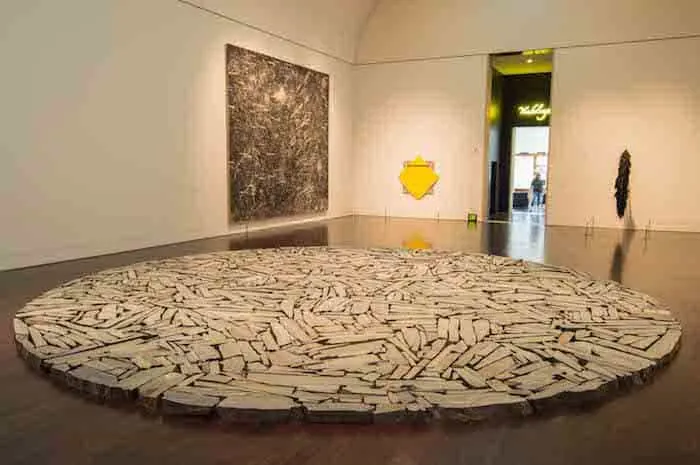 Austin museums might not be on the top of Trip Advisor list, but they are well worth your time! Learn more about the history of Texas at The Bullock Texas State History Museum, admire masterpieces from around the world at Blanton Museum of Art, or visit Harry Ransom Center at the University of Texas in Austin. The latter is always free of charge.
Where To Stay In Austin

Luxury – Archer Hotel Austin ($240+ per night)
Experience Texas chic and Southern hospitality at Archer Hotel Austin, the newest boutique hotel near The Domain in Austin, Texas. All 171 rooms offer thoughtful touches like espresso makers and pillow menus, as well as comforts such as pillowtop beds and Egyptian cotton sheets. Other amenities available to guests include free WiFi, MP3 docks, and TVs alongside a full-service spa, a restaurant, and an outdoor pool and Free WiFi in public areas.
Book Now | Compare Reviews for Later | Read Trip Advisor Reviews
Mid-Range – Residence Inn Downtown ($150-$200 Per Night)
The southern hospitality, free breakfast and Wi-Fi, saltwater pool, full kitchens and evening socials welcome guests with open arms. The 12-story Residence Inn features 179 suites offering queen-size beds with premium bedding, sofa beds, desks, dining tables and full kitchens, as well as flat-panel TVs, free Wi-Fi and complimentary grocery shopping services
Book Now | Compare Reviews for Later | Read Trip Advisor Reviews
Budget – Hampton Inn & Suites ($80-$100 per night)
Boasting a rooftop pool, free Wi-Fi and complimentary breakfast on the long list of amenities, the non-smoking Hampton Inn & Suites Austin is located less than one mile from the University of Texas at Austin and the Texas State Capitol.
Book Now | Compare Reviews for Later | Read Trip Advisor Reviews
.
What and Where to Eat in austin
BBQ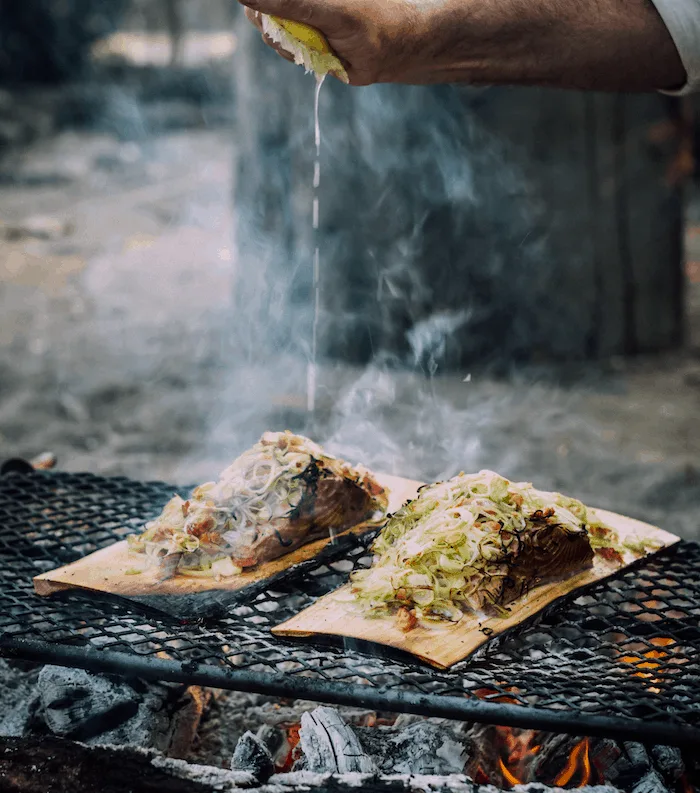 It would be a sin to leave Austin without trying the famous Texas BBQ! There are numerous BBQ joints around the city. Which one to choose depends on your taste and priorities. If you want to try the most famous BBQ in the state and, perhaps, the whole country, head to Franklin BBQ in East Austin. Barack Obama and Anthony Bourdain are only some of their famous customers. But be prepared to stay in line for at least 4 hours!
If you don't want to wait in line, Freedmen's is a great place for you. This BBQ restaurant and cocktail lounge was named one of the 50 best BBQ joints by Texas Monthly this year.
If you are looking for something creative, check out LeRoy and Lewis that serves unusual meats and cuts in South Austin. Instead of traditional brisket and ribs you will find beef cheeks and quail stuffed with macaroni and cheese on their menu!
Tacos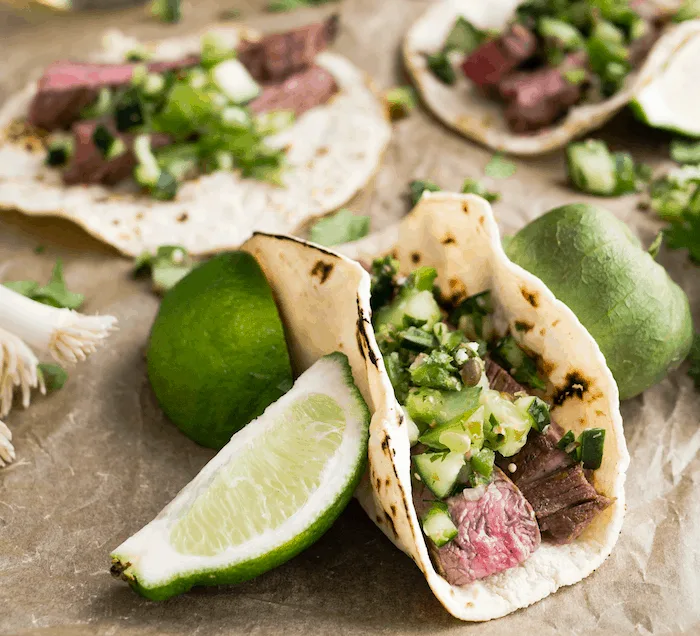 Another must-eat food in Austin, especially if we are talking about breakfast tacos. Try migas taco at Veracruz All Natural that was named one of the 5 best breakfast tacos in USA. For local's favorite head to Taco Deli or Torchy's Tacos and order something off their secret menu.
Pro-tip: their secret menu is not so secret and you can find it in Internet. To have the best combination imaginable – tacos filled with BBQ – check out Valentina's in South Austin!
RELATED: Click to find out about all the food you must try when you are in Austin! or make it yourself at home with these recipes for Texas BBQ Brisket, Breakfast Tacos and Pecan Pie!
A few quick ideas/Recommendations of where to Eat in Austin:
Tex-Mex:
Chuy's Tex-Mex @ 1728 Barton Springs Rd, Austin, TX 78704
Diners:
24 Diner @ 600 N Lamar Blvd, Austin, TX 78703
Kerbey Lane @ 2606 Guadalupe St, Austin, TX 78705
Magnolia @ 1920 S Congress Ave, Austin, TX 78704
Coffee shops with Austin vibes: Spider House Café + Elizabeth Street Cafe; or for something sweet you cant miss Texas' own Amys Ice Cream which have a whopping 15 locations across the city and even do kerbside delivery!
Can't decide what you want? Head to Rainey Street – known for its vibrant nightlife, with a variety of bars and restaurants to choose from. Many of the establishments on Rainey Street are housed in repurposed historic homes, giving the street a unique and charming atmosphere.
Grab a Beer:
ABGB (Austin Beer Garden Brewing Co) @1305 W Oltorf St, Austin, TX 7870
Austin BeerWorks @ 3001 Industrial Terrace, Austin, TX 78758
So there you have it a full run-down of the Top Things To Do in Austin along with suggestions for where to stay and what to eat. I hope you now have loads of ideas for how best to spend your 48 Hours in Austin Tx.
Oh, and if you enjoyed our weekend in Austin travel guide, please, tweet pin or share on Facebook – I'd really appreciate it! Click the P in the share bar for full size images!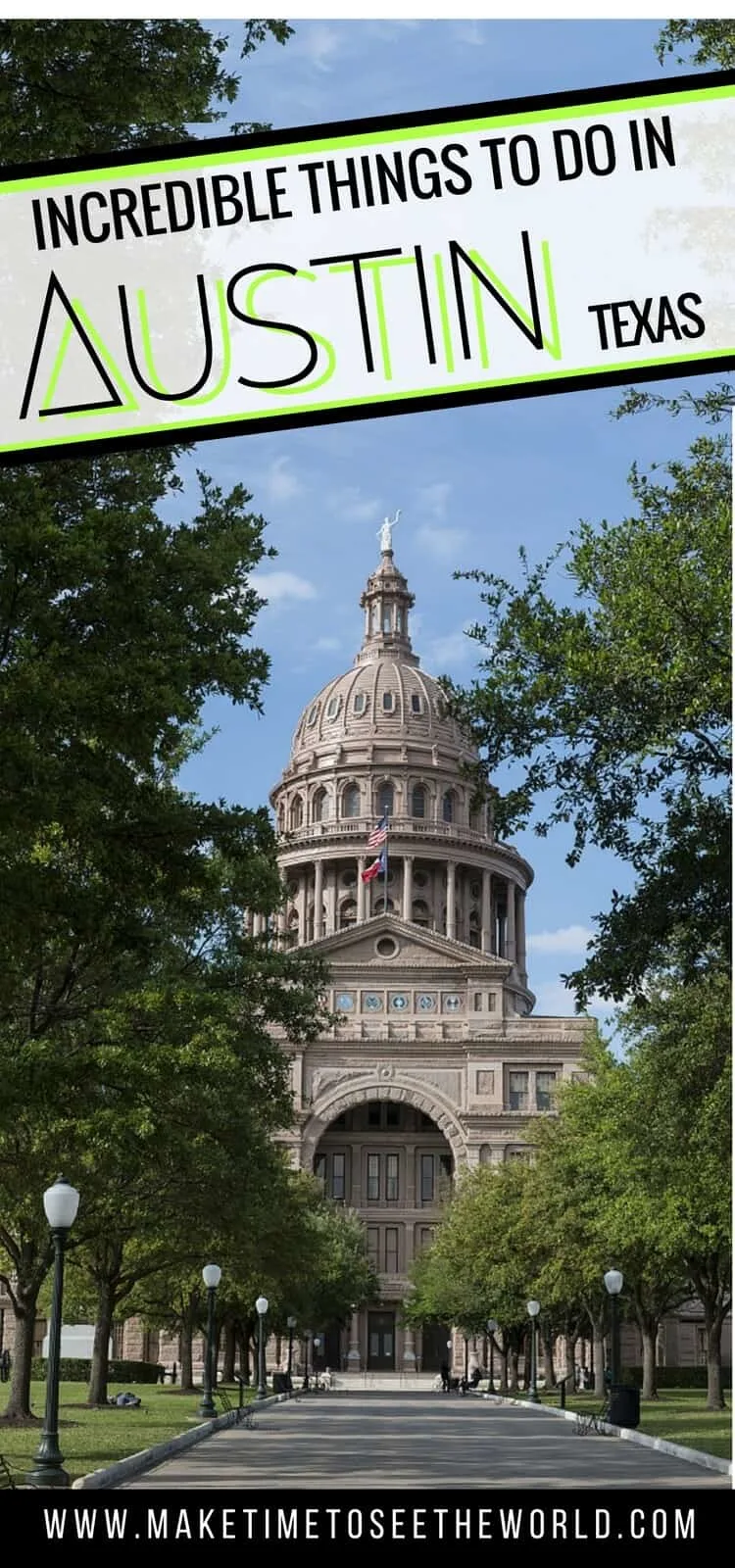 READY FOR MORE USA TRAVEL INSPIRATION? YOU MIGHT BE INTERESTED IN THESE TRAVEL TIPS, TRAVEL ARTICLES, DESTINATION GUIDES, TRAVELER RESOURCES, AND RELATED POSTS ABOUT OTHER AMAZING CITIES IN NORTH AMERICA:
Hi There! Thanks for reading our 48 Hours in Austin City Guide! I just wanted to let you know that this post contains affiliate links, which help support this site at absolutely no cost to you. If you enjoyed this article and are going to be searching for some of the things I mention anyway, I would love it if you could click through from the links above. These links help me keep this site online and updated – so thank you in advance! Read my full Disclosure here.