When you think of Hong Kong you'll probably think of it's crazy skyline, futuristic shopping malls and neon lights at night. All very true and fair, but for a Hong Kong local like me, I'll tell you to bypass all that and leave it for another metropolitan city you have plans for.
Instead, I want to share the unique food the city has to offer by telling you what and where to eat in Hong Kong featuring incredible dishes that are quintessentially Hong Kong-ian(!). Here's a list of the top 10 local eats every adventurous traveller should try in Hong Kong. And no, we're not going to see Dim Sum on the list today…kinda.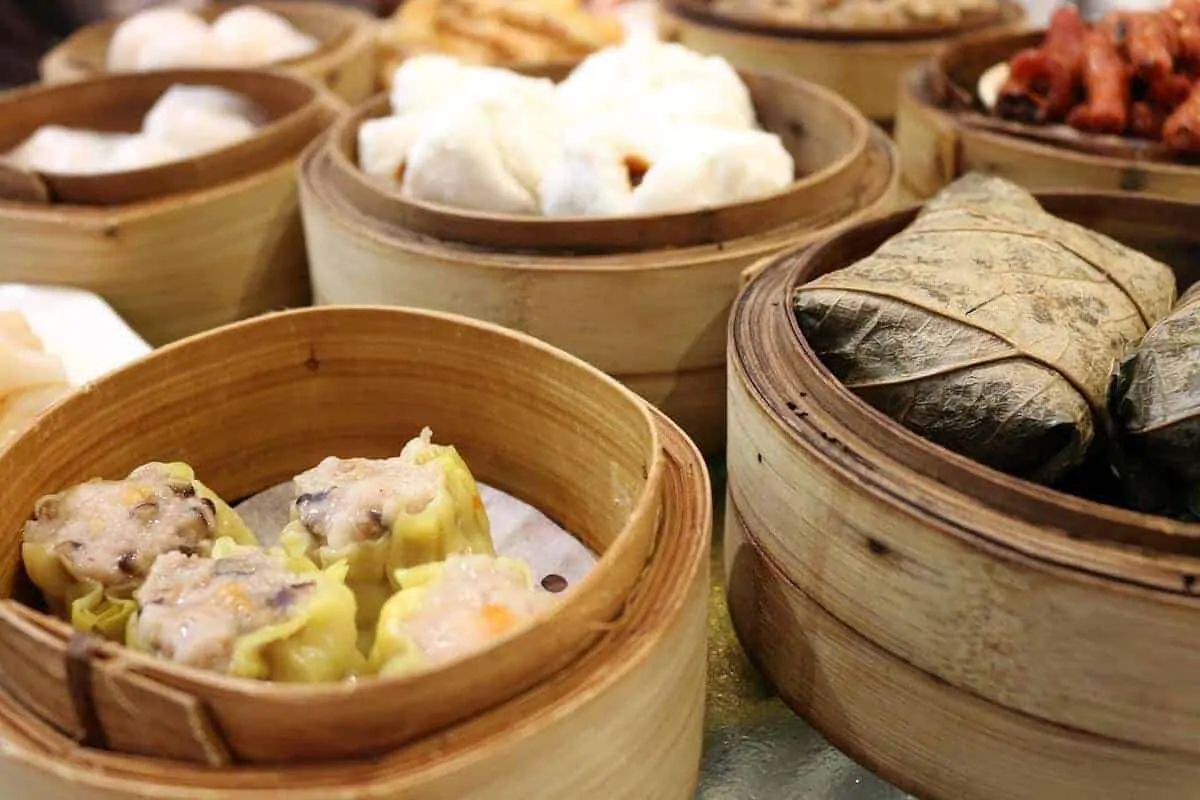 This is a guest post written by Hong Kong Resident Winnie from MillionDollarWinnie
Top 12 Local Dishes: The Ultimate Hong Kong Food Guide
Hong Kong style French Toast (sai-dou-see)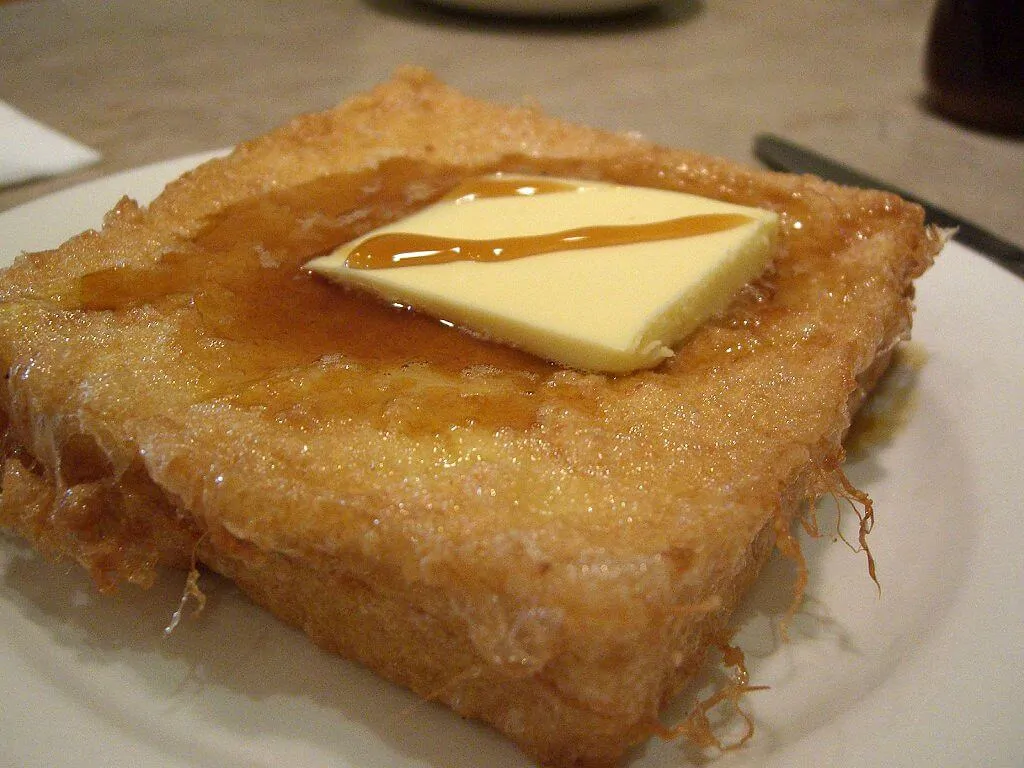 Image via CC
Hong Kong style French Toast is a diner classic in the city. You'll be able to find this beloved afternoon tea snack at any diner you go to. (Diners are everywhere in Hong Kong).
The dish is called "sai dou see" which if translated word for word would be "west toast". It normally comes with peanut butter generously slathered between two slices of thick bread by default.
Hong Kong style French Toast isn't simply fried in a pan, but deep fried to achieve a crispy golden outside. Add this with butter and syrup, and you'll wonder why the rest of the world hasn't fallen in love with this dish yet.
RELATED –
Still Planning your Hong Kong adventure? Take a look at our itinerary post for the best
3-5 Days in Hong Kong
!
.
Roast Meat Rice Box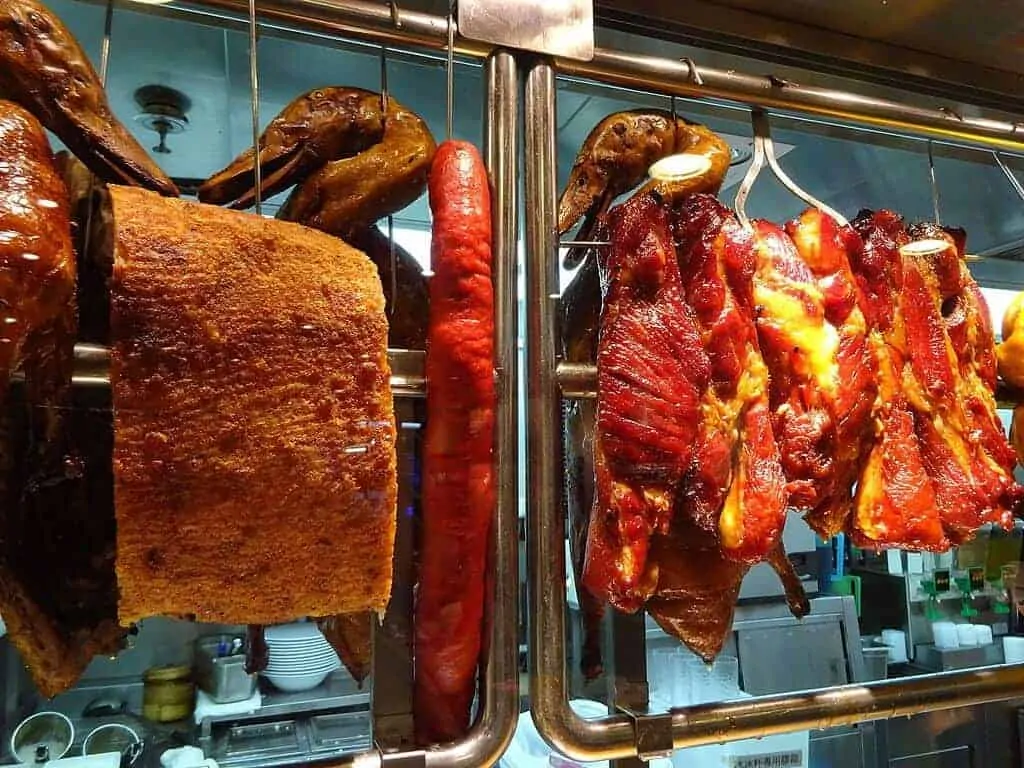 Image from CC
America has fried chicken, England has fish 'n' chips, Hong Kong has Roast Meat Rice Boxes.
These savory meaty rice boxes are every Hong Kong person's fail proof fast food choice. You can get these dishes in diners, big franchise establishments and roast meat stalls.
But I recommend you go to the stalls. These stalls are mostly mom and pops businesses passed down from one generation to another. They only sell roast meat and if you ask, they can sell you a roast meat box for a complete meal.
You will find an array of meats to choose from, typically you'll find the following:
Char-siu is a Sweet Roast Pork that's red in appearance on the outside
See-yau-guy is chicken marinated and braised in soy sauce
Bat-cheet-guy is chicken poached in chicken broth and then quick chilled served with a ginger and spring onion oil sauce (personal favourite)
Siu-aap is roast duck (they will give you plum sauce with it)
Siu-ou is roast goose (they will give you plum sauce with it)
Siu-yuk is roast pork belly with a crispy outer skin (they will give you chinese style mustard)
You might be able to find a few others depending on the stall, but the above are the main items.
You can either have one or two options with your rice, which are the most common ways of ordering.
.
24 Herb Tea (ya-say-mei)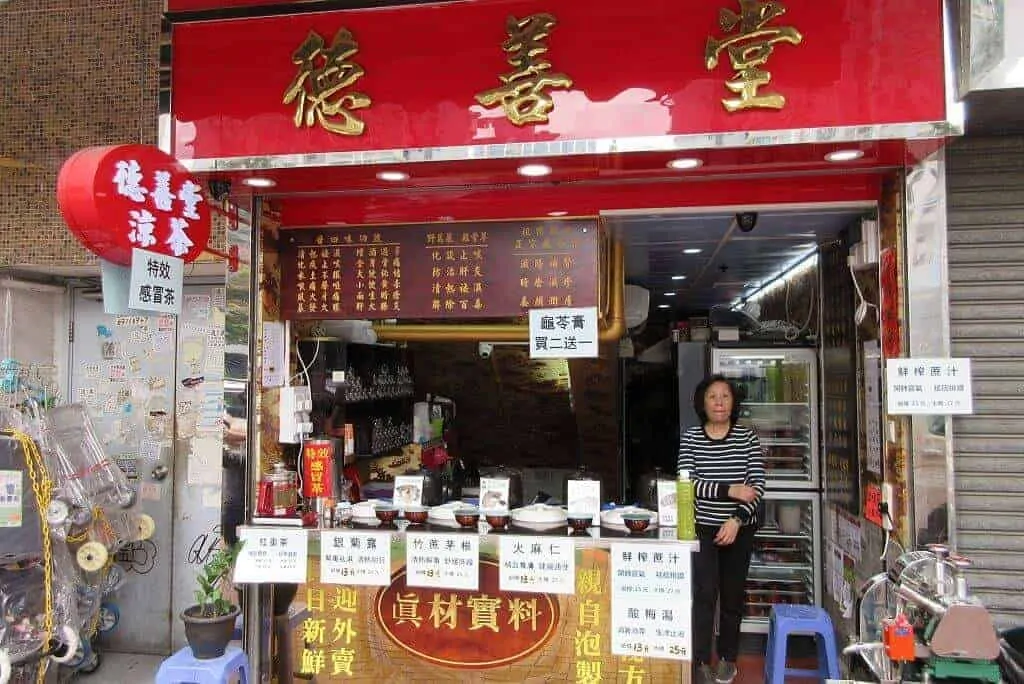 Image via Creative Commons
This tea is not for the faint at heart, but if you want to experience the real culture and history of Hong Kong with your taste buds, then you cannot pass the herbal tea shops in the city. This 24 herbed tea is extremely bitter.
What was once the poor man's doctor is now a health beverage for the casual drinker. Chinese cuisine has a heavy element of eating for health and not just for taste. This tea as well as other herbal teas all help you regulate your chi.
If you're having a dull tongue, breaking out, having poor restless sleep or other symptoms that match Chinese medicine's definition of "yeet hay" (heat), then 24 herb tea is perfect to help you calm your symptoms.
You can also drink this tea for the fun of it. But pregnant ladies and women menstruating should not drink 24 herb tea. Ask the tea shop owner for something more suitable, there's so many others to explore and taste!
These tea shops are becoming endangered in the face of rising shop rents. You won't find these shops easily, but if you head over to G/F, 87 Percival Street, Causeway Bay to find a very well established tea shop in the city. They specialise in Tortoise jelly, which is another Canton delicacy but also serve all the other usual tea shop offerings.
.
Hong Kong style Egg Tart (daan-tat)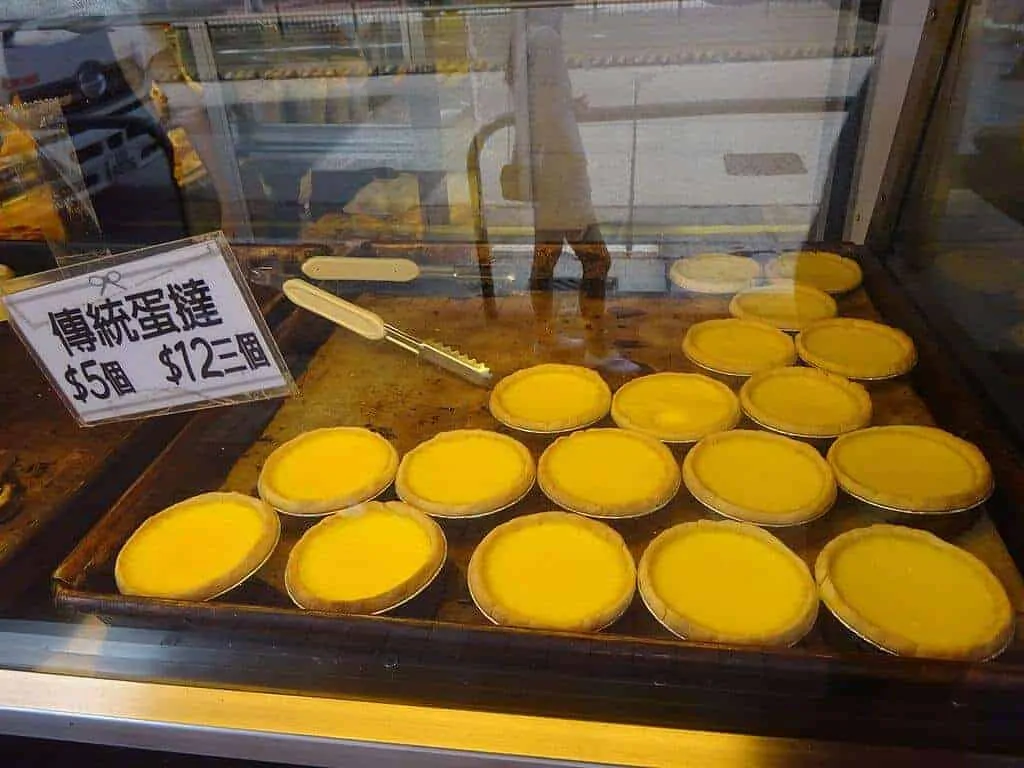 Image via CC
This list wouldn't be complete without the Hong Kong Egg Tart on it. This tart is a Chinese bakery staple in the city. It's a small eggy custard tart that's famous for its smooth silky custard texture and sweetness. The best way to eat these are while they're hot and fresh from the oven, when the flavour is at its most concentrated.
The tart is inspired from the Portuguese Egg Tart, or more accurately the Macanese style Portuguese Egg Tart. It comes in two types of crusts, the flaky puff crust or shortbread crust.
The shortbread crust is the original one and is more favoured with tourists. Go to Tai Cheong bakery at Central, to find piping hot egg tarts that'll make you want to buy a dozen for now. And a dozen to go.
.
Pig Trotter in Vinegar (zyu-goek-goeng)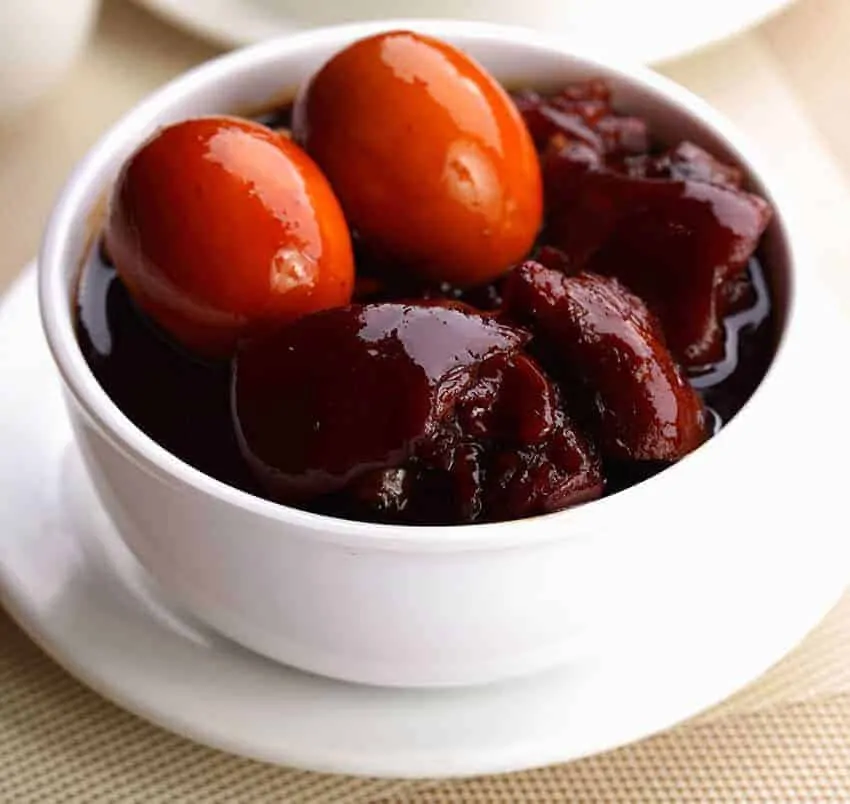 Image from Wikipedia
Unlike everything else of this list, this dish isn't uniquely from Hong Kong, but the taste of this dish in Hong Kong is. You can find Pig Trotter everywhere in China, because it's a traditional postpartum dish served to mothers for a quicker recovery. It's chopped pig trotter braised in a mixture of ginger, a few types of vinegars and sugar.
There are many variations of this dish, but in Hong Kong there is never more than 5 ingredients. Traditionally, the mixture is simmered on and off for a whole month before it is ready to be served to new mothers. The dish is very labour intensive and hard to store properly.
It will be served with only a few pieces of pig trotter, a chunk of ginger from the original mixture and a boiled egg. The egg is a personal highlight of this dish because it's texture. Like most Asian cuisine, texture is a big part of the dish and apart from the soft tender pork tendons from the trotter, the boiled egg will not be like any other boiled egg you have eaten before.
This dish isn't very easy to find because of the amount of work involved, but you can find it at DimDimSum,G/F, Man Wah Building, 23 Man Ying Street, Jordan. It's a modern Dim sum restaurant with all the classic flavours but modernised for the customer of today.
.
Ginger Steamed Beef Tripe (ngou-pat-yeep)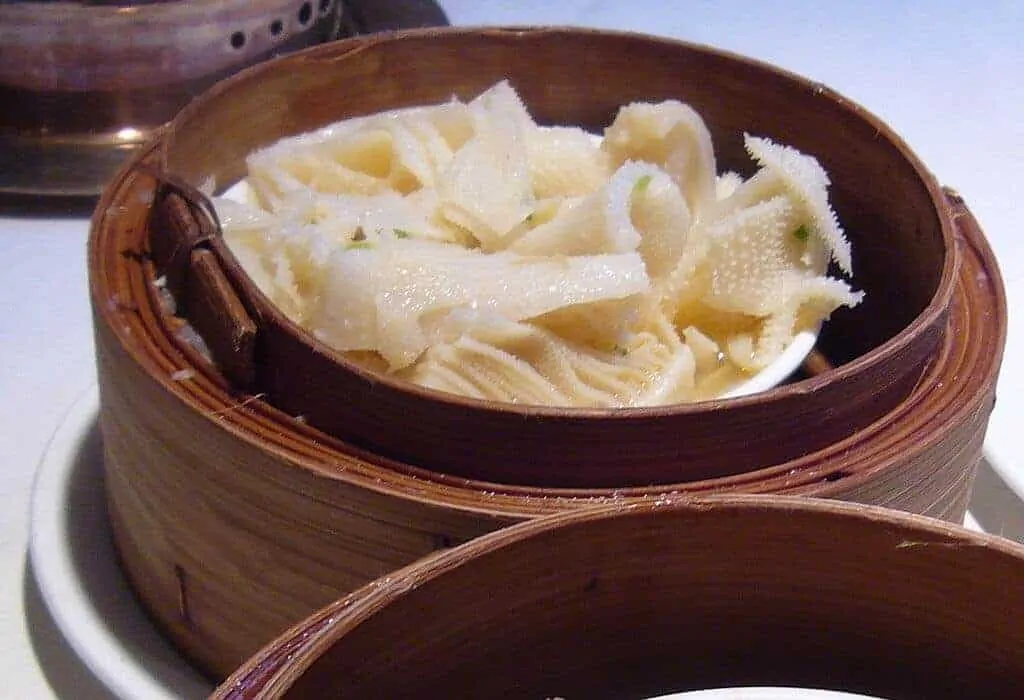 Image via Creative Commons
This dish is found at Dim Sum restaurants, but it's becoming increasingly hard to find. It use to be a menu staple at Dim Sum restaurants, but the lack of knowledge and skill in preparing this dish from new chefs have made it fall out of favour in recent times.
It uses the third stomach of the cow that has a unique texture and shape. It's called the book tripe with all the page like flaps. The tripe is cleaned and washed, then steamed with a ginger mixture.
This is another dish that's centered on the texture. The tripe should be slightly chewy with some bite to it and have no gamey taste or smell.
You can find this dish at DimDimSum, G/F, Man Wah Building, 23 Man Ying Street, Jordan. And if you are in a Dim Sum mood, take a peek at the best cheap Dim Sum Restuarants in HK.
.
Bubble Tea (

zhen zhu nai cha

)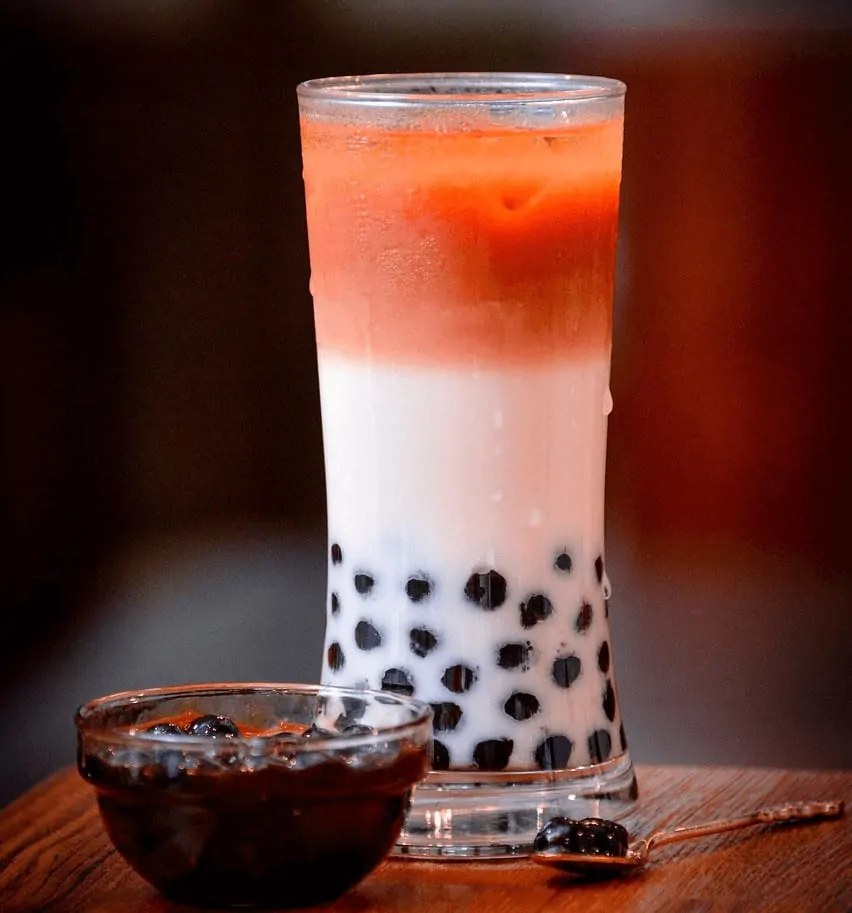 Bubble Tea – although it did not originate in Hong Kong – is definitely a local favorite – and it can be found on almost every street in the city!
First created in Taiwan in the 1980s, Bubble Tea is the term that loosely relates to the milky/sugary/fruity teas that are mostly served in plastic or paper cups with a lid and a straw (the above one is pretty fancy!). When ordering you select your level of sweetness (none, slight, half, less or full (from 0-100% in 25% increments), and how much ice (none, less, full) to customize sweetness and coldness. You can also order bubble tea without milk, should you so choose.
Where to find Bubble Tea: Practically everywhere!
.
Custard Bun (lau-sa-bao)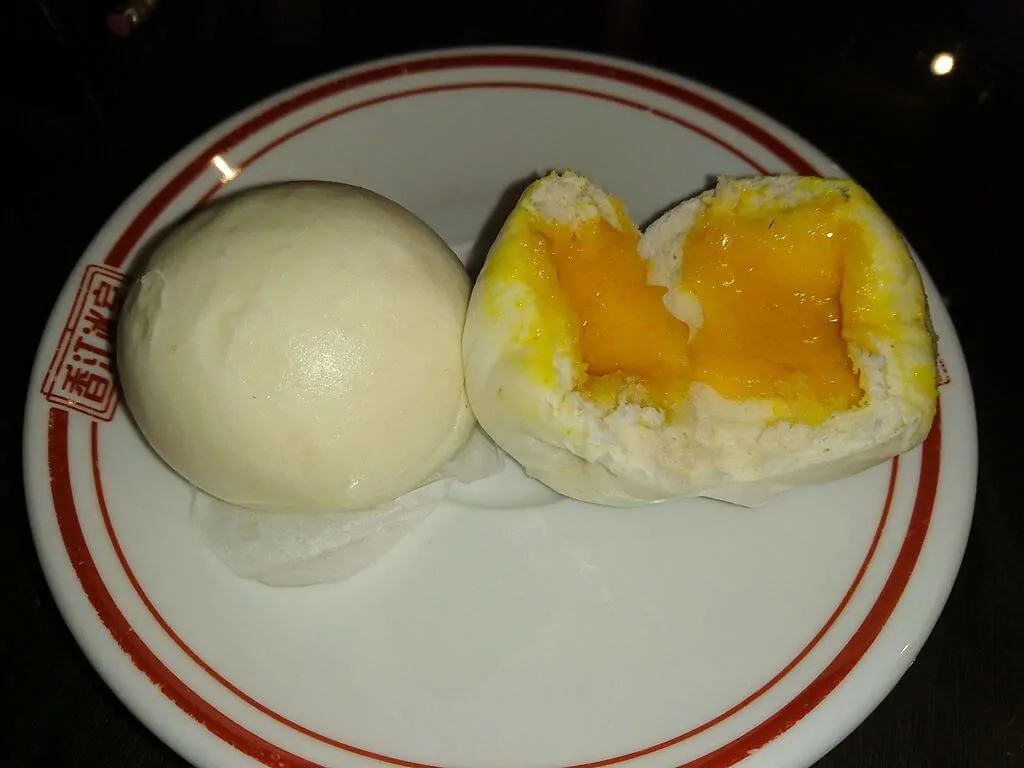 Image via CC
This is another one found at a Dim Sum restaurant and I placed it on the list because this isn't a classic dim sum option. It's a new culinary inventions that has firmly placed itself into Hong Kong menus.
It's inception is around a decade old, where it hit the Chinese community by storm all over the world. Restaurants were scrambling to find Dim Sum chefs that knew how to make this new bun.
Why all the fanfare for a steamed bun, you say? Because the custard centered is liquid. You have a perfectly steamed bun on the outside and a hot liquid inside. And no, the custard is not piped into the center: it's both savory and sweet because it incorporates salted duck egg into the custard. That might not sound very appealing to have duck egg in custard, but believe me when I say the two go very well together.
.
Snake Soup (Sei-gun)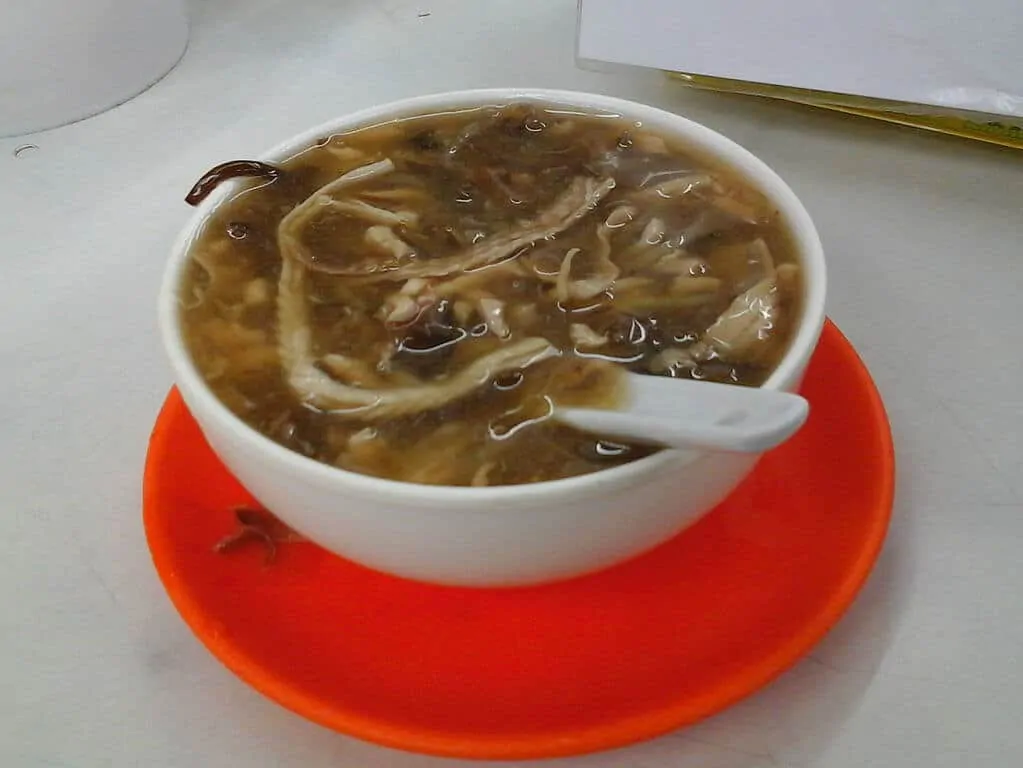 Image from Wikipedia
Snake Soup is a Cantonese dish and has become strongly linked to Hong Kong over the years. This dish is only served at specialised snake restaurants. You won't be able to find them anywhere else.
These snake restaurants are mom and pop establishments, where many of these places still have their original 60's decor of tiled walls and floors.
The soup is by far the most common dish available at a snake restaurant. It's a thick glutinous mixture of chicken and snake meat with fungus and herbs in a pork bone broth base. The snake meat is boiled and then hand shredded into strings of meat.
The soup is mostly served with crispy fried dough and shreds of lemon grass. You can also put white pepper or red vinegar before eating. The taste of snake meat is a cross with chicken, pork and fish.
Locals normally eat this dish in winter as snake meat is said to have health benefits to protect you from the cold. In fact, it's not unheard of to get a nose bleed after eating this soup when in Summer.
You can go to one of the cities oldest snake shops found in Tai Po, G/F, Mei Fat Building, 41 Tai Wing Lane.
.
Hong Kong style Chicken Curry (ga-lay-guy)
Every country seems to have its own iconic curry and Hong Kong has it's iconic Chicken curry. You can find this dish at most diners and it will always taste the same.
This curry is also used for Hong Kong fish balls at a lot of street vendors, but chicken is preferred. It's not too spicy, but very flavourful and served with chicken and potatoes over rice.
Fun fact: The words Curry Chicken in Cantonese is slang for hickey in Hong Kong.
.
Bubble Waffles (gai daan zai)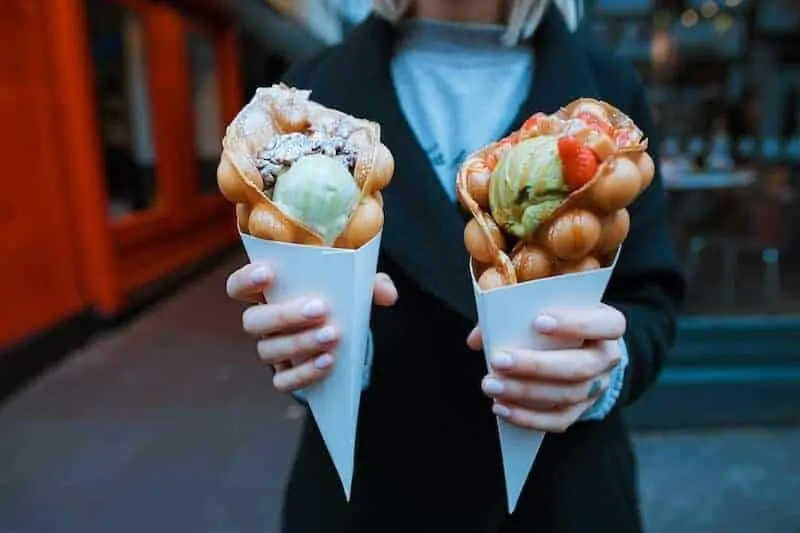 Long before the Bubblewrap Waffle became an Instagram Star this egg based waffle dessert was a treat for children all over Hong Kong. Traditionally served plain, it's more common now to see them turned into ice-cream cones, with each of the little waffle balls filled with whatever filling you fancy and covered in lashings of sauce. The only limit is your imagination (and your stomach – all the sweetness and sugar might be a bit much for 1 person alone!)
Where to find the BubbleWrap waffle: The markets in Mong Kok or Mammy Pancake on the Ground floor, Carnarvon Mansion, 8-12 Carnarvon Road, Tsim Sha Tsui, HK; or Lee Keung Kee North Point Egg Waffles located at 492 King's Road, North Point, HK | 178 Nathan Rd, Tsim Sha Tsui, HK.
.
Beef Brisket Noodles (ngau-lam-meen)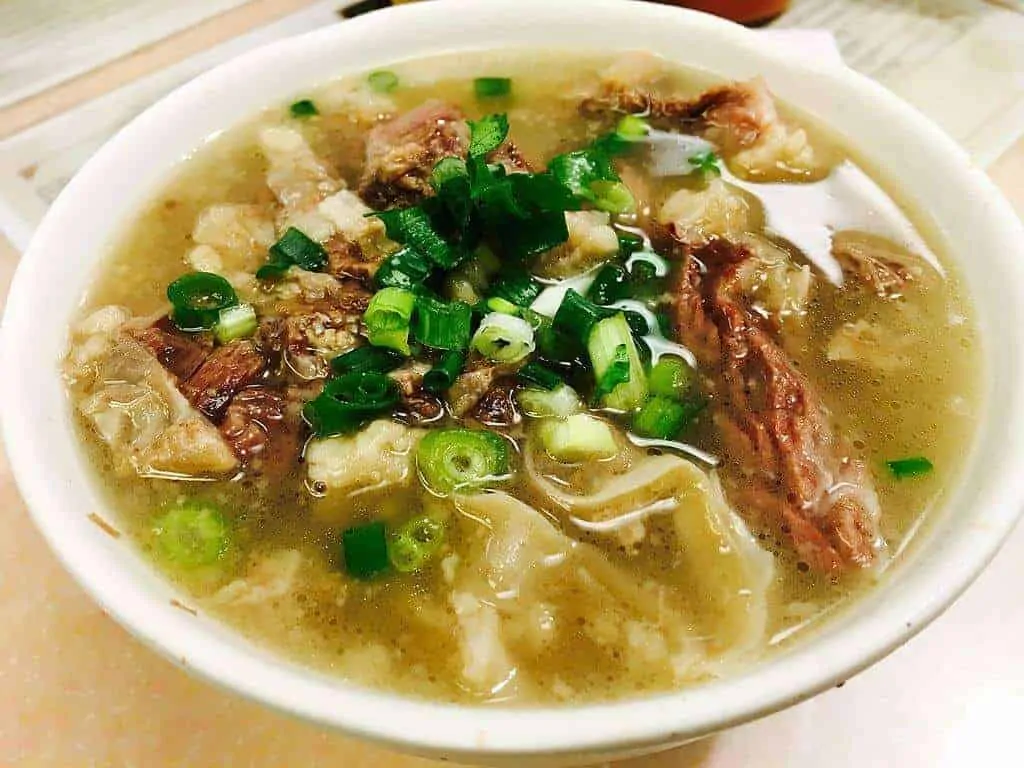 Image via Creative Commons
Everyone might have heard of wonton noodles, which is also delicious but beef brisket noodles is something you must try in Hong Kong.
There are two main elements to this dish and it's the beef and the broth. The beef is cooked on low heat for several hours until the meat is soft and melt-in-your-mouth tender. The broth the beef is cooked in is a rich dark broth full of herbs and ingredients.
Traditionally, the broth is never thrown out and the broth is never allowed to go cold. So the massive pot of broth is always kept simmering. They simply add to it over time, and all the beef that's been cooking in it will make the flavour richer and richer.
If you want to have a traditional bowl of these noodles then my top recommendation would be a third generation noodle place that specializes in it out in Fanling, however if this is too far to travel, Kau Kee at G/F, 21 Gough Street, Central is one of the top rated Beef Brisket Makers in all of Hong Kong.
.
And that's a wrap folks! I hope this post has helped you work out what dishes should be on your food hit list and Where to eat in Hong Kong. And if you have any of your own favourite must-try dishes that are not on this list, please let me know in the comments below!
If you like this post, please tweet pin & share – and, as always, full sized pins can be found by clicking the P in the sharebar :-)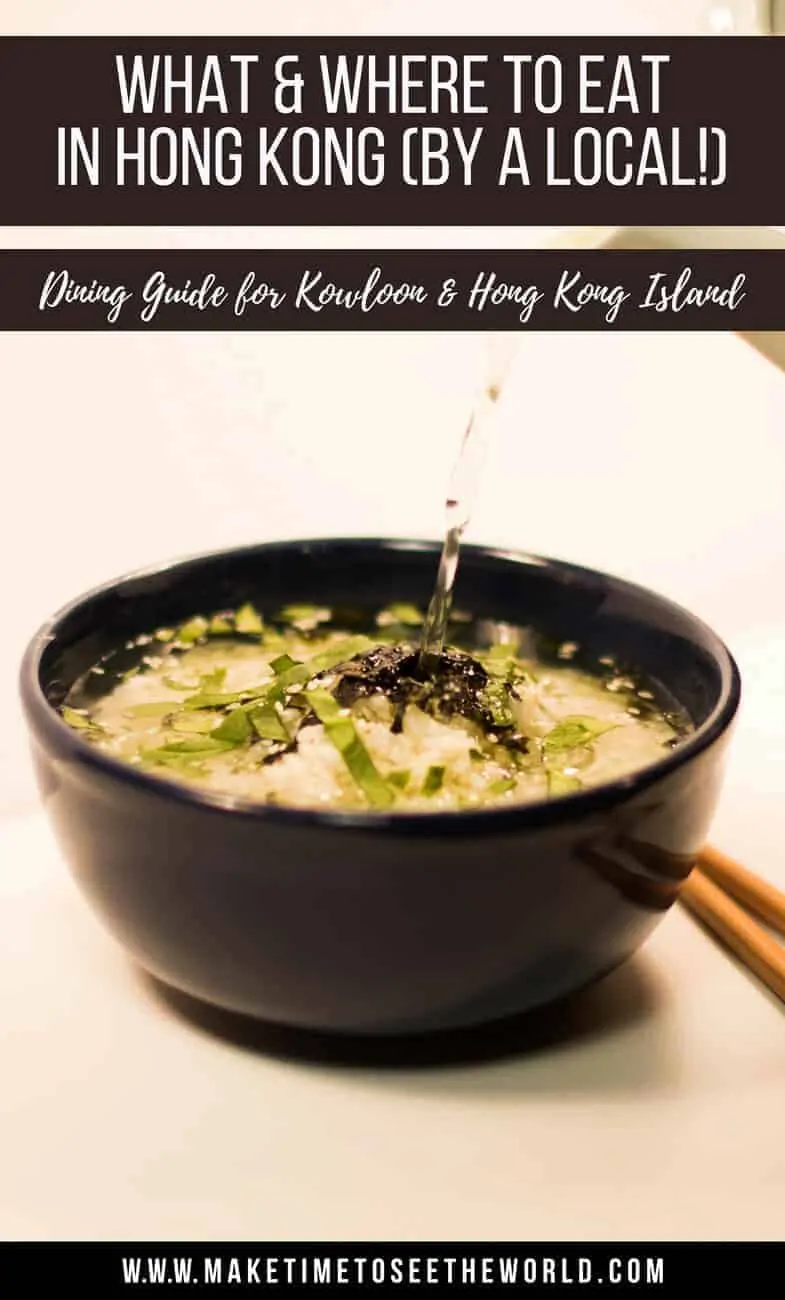 READY TO EXPLORE MORE OF ASIA? YOU MIGHT BE INTERESTED IN THESE ARTICLES & RECENT POSTS:

Hi There! Thanks for reading my travel tips and travel guide to What & Where to Eat in Hong Kong! I just wanted to let you know that this post may contain affiliate links, which means if you purchase something after clicking a link, I may get a small commission – which is at absolutely no cost to you. If you enjoyed this article and are going to be searching for some of the things I mention anyway, I would love it if you could click through from the links above & thank you in advance! Read my full Disclosure here. Thank you for reading the MakeTimeToSeeTheWorld travel blog posts.