If you are wondering where are the best places to visit in Indonesia, then you are on the right page! Made up of over 17,000 volcanic islands, Indonesia is the tropical paradise and island nation that has something for everyone.
The island of Bali has long drawn crowds from all other the world who come for the iconic rice paddies, beautiful beaches, yoga retreats, surf schools, and coral reefs, but don't you go thinking that this is all Indonesia has to offer!
Beyond Bali in the rest of the country, there are lots of amazing sights and cultural experiences just waiting to be explored.
From the mountains of Bromo and Rinjani to the beaches of the Gili Islands and Lombok, the temples of Yogyakarta and Pramanban, the natural wonder of Komodo and the scuba diving paradise of Raja Ampat (just to name a few epic reasons to visit the country!)
Read on to discover all about these incredible places to visit and the best things to do in Indoesnia – but be warned – your Indonesia Bucket List is about to get super long!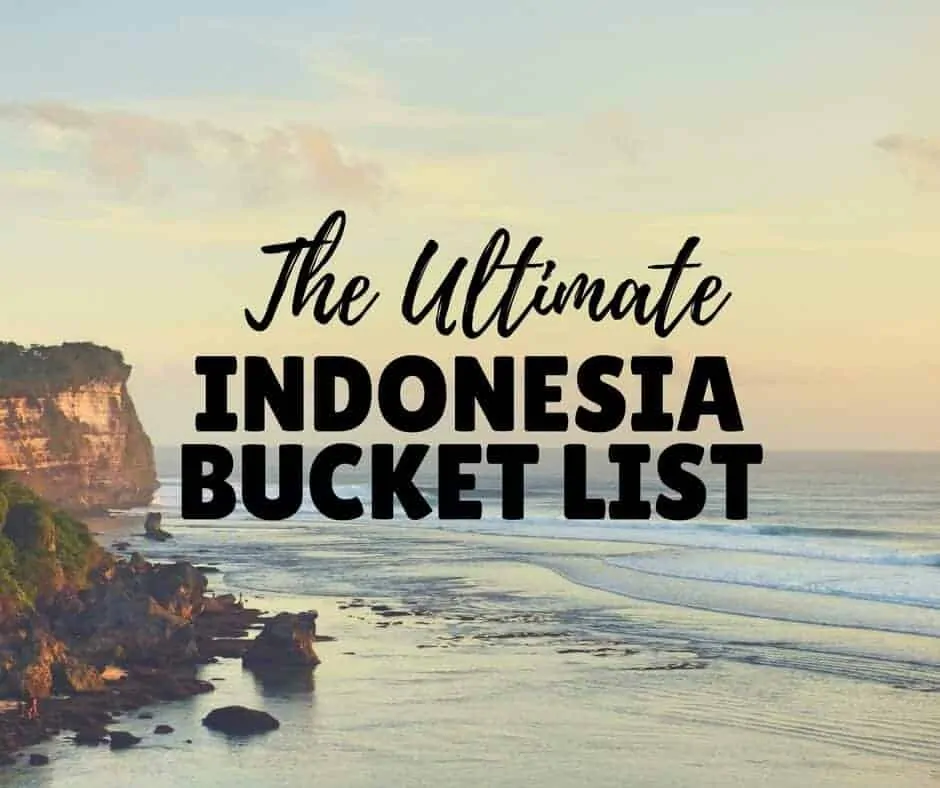 Disclaimer: Almost all posts on this site contain Affiliate links, and this one about all the best places to go in Indonesia is no different. This means that if you click on any of the links in this post (and make a purchase) I may receive a small commission at absolutely no cost to you. Each post is carefully crafted to (hopefully!) answer all your questions and recommendations are made where we believe they will improve your trip and help with your planning. As such we thank you in advance should you decide to click & buy. Read my full Disclosure here.
The Best Places to Visit in Indonesia – Including an Indonesia Travel Map!

(The Ultimate Indonesia Tourist Map of Indonesia Tourist Places to help you discover the best of Indonesia)
.
RELATED: Need some help packing for your trip? Read our Ultimate Travel Packing List (which comes with a free pdf download!) to make sure you have everything you need!
Bali
Probably the most well known Island in all of Indonesia, Bali has been welcoming tourists in the millions for many years now and can easily be declared as one of Indonesia top tourist attractions!
A lush island paradise, it is famous for its beaches, party scene, picturesque rice terraces is a favorite with surfers, the home of hundreds of yoga retreats and day spas, and offers some of the top restaurants in the whole of the country!
It's no wonder it's a tourist hot spot, is definitely one of the best places in Indonesia and should not be missed on any Indonesian Bucket List!
Here are some of the best places to go in Bali alongside the top Bali attractions and some of the activities and adventures available in each!
ALL ABOUT BALI? Head on over to our guide to 50+ AMAZING Things to do in Bali
Nusa Dua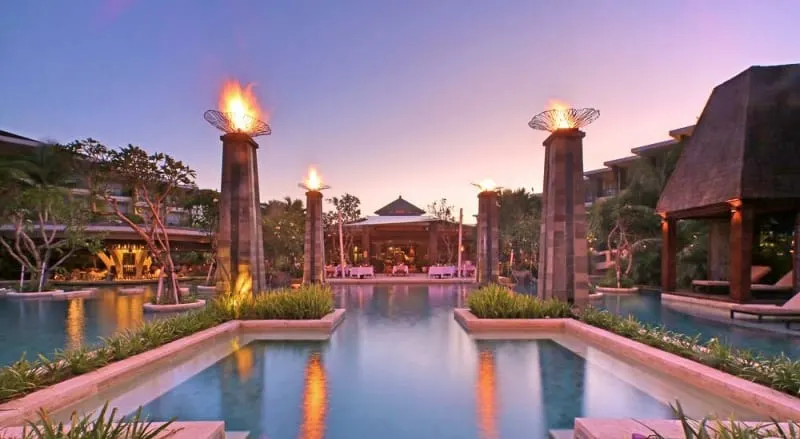 If you want to live the high life in Bali, Nusa Dua is the place to be. The gorgeous beach here is home to several luxury resort hotel chains such as the Sofitel, Westin and the Grand Hyatt – and at prices a low as $100-$150 a night, you can experience paradise at a bargain price! It's definitely one of the best places to see in Indonesia!
Things to do in Nusa Dua

.
Nusa Penida
Nusa Penida is the large island (200km sq) located on Bali's South West coast, and whilst tourist infrastructure is nowhere near as advanced as on the mainland, it is progressing rapidly.
It's one of the best islands in Indonesia, however, visitors must be aware that prices are inevitably more expensive here as even the most basic supplies are brought over by boat.
Things to do in Nusa Penida:
Pasih Uug (Broken Beach)
Angel's Billabong – Natural Pool framed by rugged cliffs
Nusa Lembongan – Smaller neighboring island in the Indian Ocean celebrated for its surf, diving and snorkeling and manta rays and the site of the underwater museum – everything you could need for some interesting underwater photography!
Nusa C

eningan – Tiny island nestled between Nusa Lembongan and Nusa Penida, easily reached from Lembongan by a famous yellow bridge, or a short boat ride from Penida. There's a stunning Blue Lagoon, secret beach and an epic surf break. Come to Nusa Ceningan to escape crowds.

.
Seminyak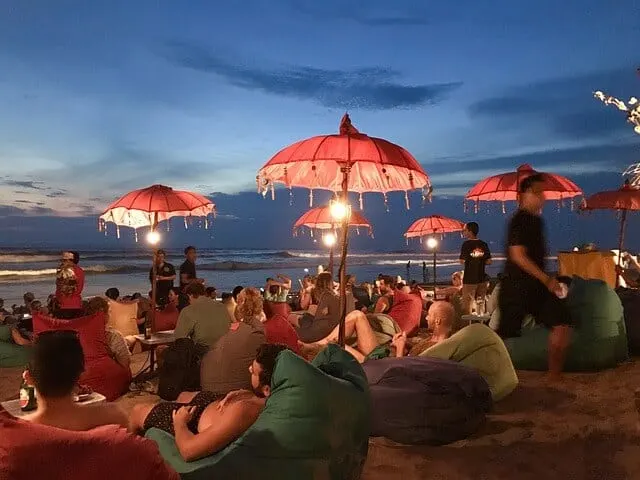 Seminyak is Bali's hip and upmarket tourist centre, packed to the brim with cool cafes, great shopping and with the likes of Ku de Ta and Mama San you've got some of the best restaurants in Bali just waiting to welcome you with open arms. Oh, and did I mention there is a superhero training facility and it's the hub of Bali's party scene?!
Take a peek here at the Best Places To Stay in Seminyak.
Things to do in Seminyak
Seminyak Beach – day or night, this beach just has a touch of magic about it. (Some even say it is the best beach in Indonesia for cocktails and sunsets over the Indian Ocean!)
SuperHero Factory Bali – and it's for kids and adults!
Live like a gypsy for the day at La Laguna
Get your wine fix @ Vin + Seminyak – fine wine from around the world curated in a beautiful bamboo enclave.
Potato Head Club – one of the hottest beach clubs on the planet. Come for the day, come for drinks, come for dinner – but whatever you do, make sure you visit this iconic spot at least once when you are in Bali.
Tanah Lot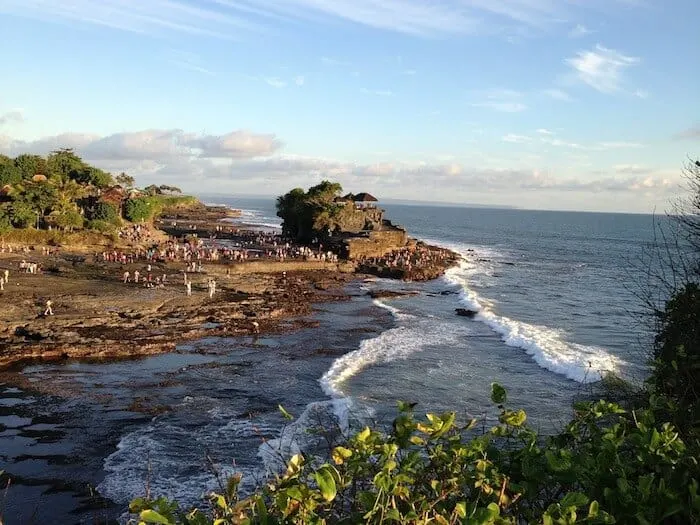 For the Balinese, Tanah Lot (Pura Tanah Lot) is one of the most culturally significant Hindu temples on the Island.
For tourists, it is the most visited/photographed due to its impressive location on a crumbling rock-face jutting out into the ocean. And to really do the tourist thing – make sure you are here for sunset!
RELATED: Combine Tanah Lot with Tegalalang Rice Terraces & Ubud Monkey Forest on this full-day tour (It's one of the most popular island tours in Bali!)
.
Ubud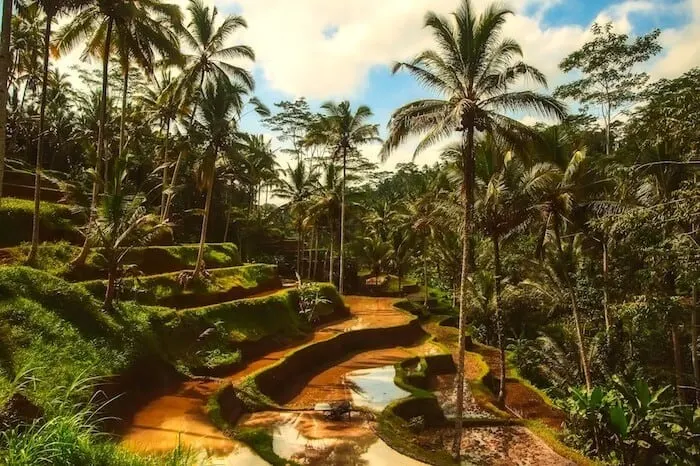 Located in the highlands of Bali, Ubud is surrounded by the rainforest and revered for its insta-worthy rice paddies.
It is here you'll find yoga retreats, day spas, art and culture museums, rice fields (for a dose of natures beauty), Hindu temples and hidden waterfalls. Ubud is one of the main places of interest in Bali and is well worth spending a few days exploring.
Things to do in Ubud
Ubud Monkey Forest (aka. The Sacred Monkey Forest Sanctuary) – you can't come to Ubud and not visit the monkeys! Just beware of valuable and shiny things, the cheeky monkeys can be handsy.
Visit the home of the (former) King of Ubud at Puri Agung Peliatan (Peliatan Royal Palace)
Ubud Market (

Pasar Seni Ubud

) – pick up local crafts and arts from surrounding villages.
Chase Waterfalls – around the Ubud region there are a number of spectacular waterfalls hidden within the rainforest
Join a Yoga Retreat – 6 days of Namaste and Spa Treatments in Ubud's highlands. Bliss.
Get a dose of culture at one of the many art museums in the area. Notable ones to include on your trip are ARMA (Agung Rai Museum of Art), Blanco Renaissance Museum and Neka Art Museum.
Uluwatu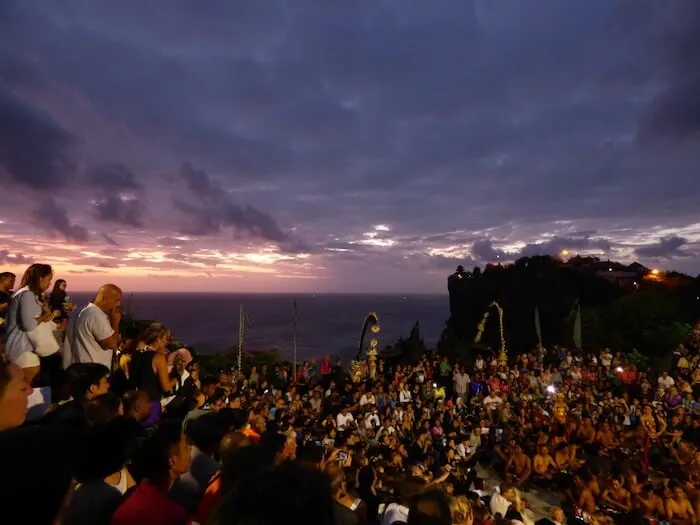 Uluwatu is located at the southwestern tip of Bali and is home to the Pura Luhur Uluwatu Temple where the famous 'Kecak' dance is performed nightly.
Crowds flock to the cliffside temple daily and stay for the performance that starts just before sunset every night. The area is also a favorite with surfers has one of the best nightlife spots in Bali which says goodbye to the weekend in style every Sunday night.
Things to do in Uluwatu
Uluwatu Temple & the Kecak Perfomance. (Combine it with a dinner in Jimbaran to end your night) – easily one of the most interesting places in Bali and one of Indonesia's top sights.
Surf in the Indian Ocean (it's one of the main Uluwatu attractions – whether your a do-er or a watcher!)
Head to the bars over looking Uluwatu beach for the perfect sunset shots. Find your spot at the balcony at SingleFin (a must visit place in Bali) and sip cocktails on a Sunday night and celebrate the week that was as the sun goes down and tunes are turned up.
.
Central Java
Solo/Surakata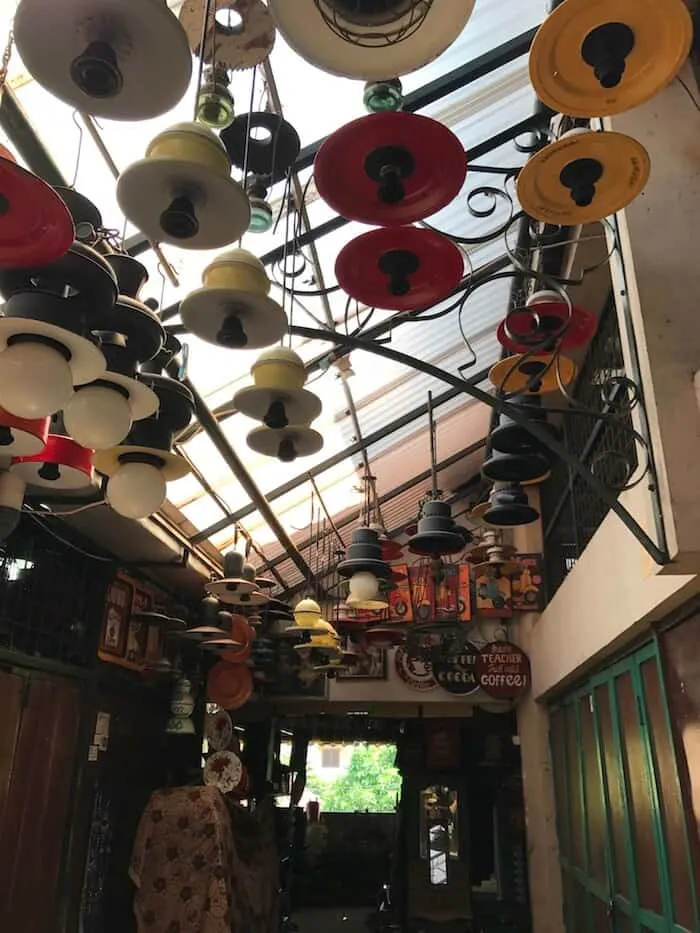 Solo – often referred to as the Spirit of Java (they even have their own hashtag: #solothespiritofjava(!) is the historic royal capital of Java.
A small city, it is one of the least 'westernized' places in Indonesia which is proud of its Javanese traditions. This makes it one of the best cities to visit in Indonesia if you want to experience some 'old world' charm.
Things to do in Central Java (Solo / Surakarta)
Visit Mangkunegaran Palace – a vast impressive structure filled with heirlooms from days gone by.
Go shopping in the Antiques Market – here you'll find nick nacks, art and jewelry at rock bottom prices.
Head to the Batik Museum (also known as the House Of Danar Hadi) to learn about the history of the fabric and how it was made in the past and in the modern-day.
Take a day trip out to D

ieng Plateau for a great combination of Hindu temples and hiking opportunities.
.
Semarang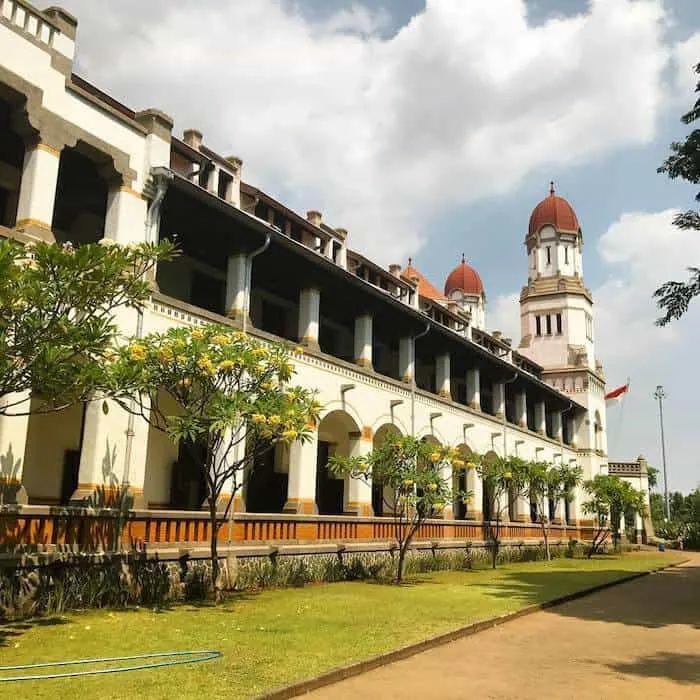 Semarang is the modern-day capital of central Java, and although it is more of a business than a tourist destination, there are still a few things that shouldn't be missed on your visit.
Its old quarter features decaying Dutch colonial architecture and the very impressive former Dutch built train station of Lawang Sewu.
There is also a Dome Church and Chinese Temple within the city for those who love interesting architecture: Perfect if you are wondering where to go in Indonesia.
Things to do in Semarang
Lawang Sewu – the old colonial train station built by the Dutch that was once the headquarters of the Dutch East India Company. The building itself now empty (apart from a couple of museum exhibits) and is home to one of the largest stained glass windows in Asia. It is also rumored to be haunted – but luckily (for me) I didn't see anything spooky on my visit!
Take a Walking Tour of the Old Quarter and see the magnificent Dome Church – the crumbling buildings make for some great photographs.
Visit Sam Poo Kong (also known as Gedung Batu Temple) which is the oldest Chinese temple in Semarang and has a mix of Javanese and Chinese styles within its architecture.
Get off the beaten path and go hiking on the Dieng Plateau
.
Prambanan Temples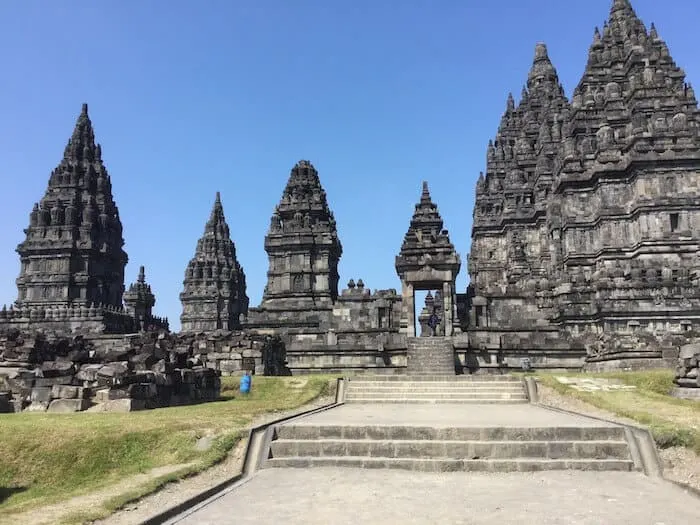 Prambanan is a ninth-century Hindu Temple Complex dedicated to the Trimurti, the expression of God as the Creator, the Preserver, and the Destroyer.
Within the grounds, there are 200 temples featuring stone spires, sculptures, and carvings. Located quite close to Borobudur, it is possible to visit on a half-day tour whilst staying in Yogyakarta.
.
East Java
Mount Bromo
Mount Bromo and Bromo Tengger Semeru National Park is one of the main Indonesian tourist spots and standing tall at 2329 m it is the most iconic and the most hiked mountain in Indonesia.
Most tourists see the sunrise from the base of the mountain before trekking up in the early part of the day where the heat is a little more bearable.

RELATED: Mt Bromo is one of the main Indonesia points of interest and one of the best hikes in Asia – Book your sun rise Mt Bromo tour here.
.
Ijen
Ijen Plateau (Ijen Lake), a volcano complex in East Java, is one of the unmissable sights in Indonesia.
It is a unique place to see electric blue flames rising from the crater, which is also the site for a large sulfur mine, and the acid in the volcanic lake is strong enough to dissolve clothes and eat through metal.
It's turquoise blue waters are a sight to behold, and you can book your Blue Fire Trekking Tour here to make sure you don't miss out on this unique landscape of Mount Ijen.
.
East Nusa Tenggara
Komodo National Park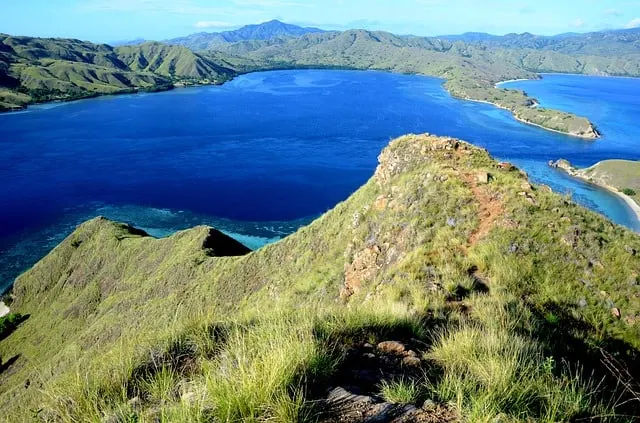 Komodo National Park is part of the Lesser Sunda Island Chain in Nusa Tenggara Indonesia and is made up of three large islands (Rinca Island, Padar Island and Komodo Island), and numerous smaller ones, all of which are volcanic in nature.
Komodo National Park is a beautiful place in Indonesia and diving sites here are said to be some of the best in the world, boasting a variety of marine life including whales, sharks and manta rays.
And on land, you'll find the prehistoric-looking creatures known as the Komodo Dragon or Komoto Monitor.
Komodo dragons are the largest, heaviest lizards in the world and one of only a few that has a venous bite – and can eat a whopping 80% of its body weight in a single feed. If they aren't enough reasons to make you keep your distance, I don't know what is!
Click for everything you need to know to plan your trip to Komodo National Park including how to get there, where to stay in Labuan Bajo, where to eat and all the other incredible things to do the!
RELATED: When staying on Flores Island (where Labuan Bajo is) be sure to take a day trip to the traditional Wae Rebo Village
.
West Nusa Tenggara
Gili Islands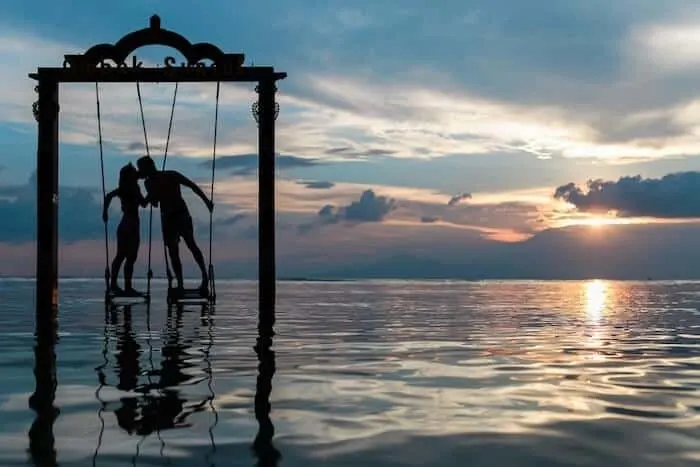 The motor-free Gili Islands are a group of 3 tiny islands (Gili Air, Gili Trawangan & Gili Meno) located off the northwest corner of Lombok.
Known as a complete island paradise the sandy beaches and pristine coral reefs have been attracting visitors for years. Also a favorite with scuba divers and snorkelers, you can swim with turtles at Turtle Point on Gili Meno or go wreck diving off Gili Trawangan.
Oh, and the swing in the ocean is always a good spot for photos! You can see why it is one of the main tourist attractions in Indonesia, right?!
.
Lombok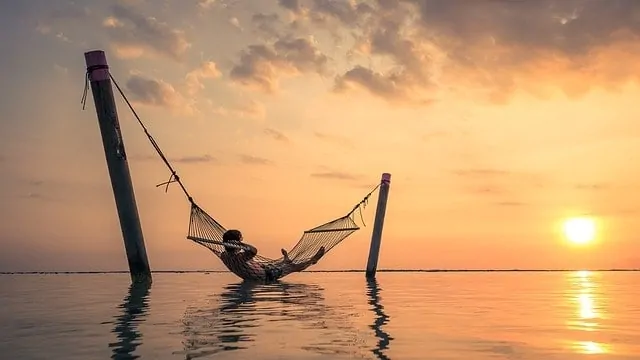 Forming part of the chain of the Lesser Sunda island, Lombok Island has long been overshadowed by it's bigger island brother of Bali.
Boasting long stretches of white sand beach, epic surf, lush rain forest interior, walking, and hiking trails and those oh so island-vibe sunsets, there is something to please every style of traveler (or so I thought – and in the interest of balance you can read one travelers an experience of Kuta Lombok here).
PLUS there is an incredible Pink beach located on the Northern coast of the island which should certainly not be missed – It is one of the most loved Indonesia tourist spots and one of the most beautiful places to visit in Indonesia.
.
Mt Rinjani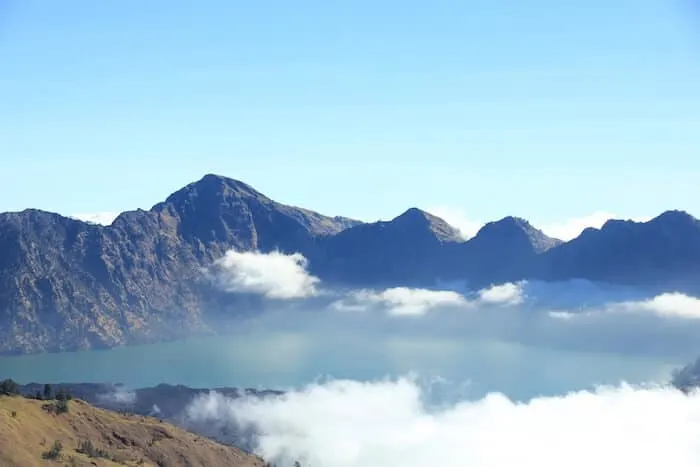 Located on Lombok, Mount Rinjani (Gunung Rinjani) is the second-highest volcano in Indonesia that draws hikers all year round.
Most come for the sunrise hike, often departing in the very early hours of the morning to reach the summit for sunrise. And I have been assured that they are rewarded with incredible views! It's an Indonesia must see and a chance to see one of the countries active volcanoes!
RELATED: For the adventurous among you, this 4 day trekking tour will see you reach the summit of Mount Rinjani and see all the other remarkable sights on the way up too!
.
North Sumatra
Lake Toba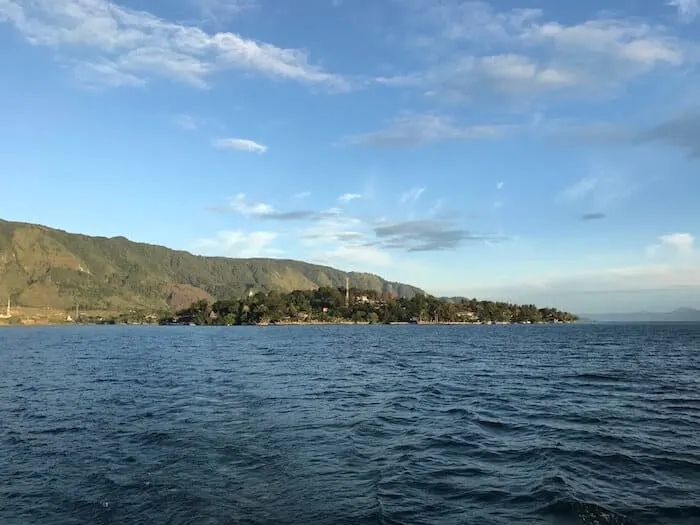 Lake Toba is the largest lake in Indonesia and was created in the crater left by the eruption of a supervolcano.
Perfect for those that want to relax but prefer being surrounded by the mountains over beaches, and a popular holiday destination for Indonesians, it a great place to unplug from the world for a few days.
Things to do in Lake Toba
TB Silalahi Museum in Balige – learn about the Batak culture and watch (or join in!) with some traditional dance!
Samosir Island – the largest island in the centre of Lake Toba is actually bigger than Singapore! Book a couple of nights stay on the Island for the ultimate in relaxation.
Take a drive to Sipispis – what is more relaxing than spending the day by a waterfall?
Head North to Bukit Lawang for tropical jungle trekking and a chance to see semi-wild orangutans.
.
South Sulawesi
Tana Toraja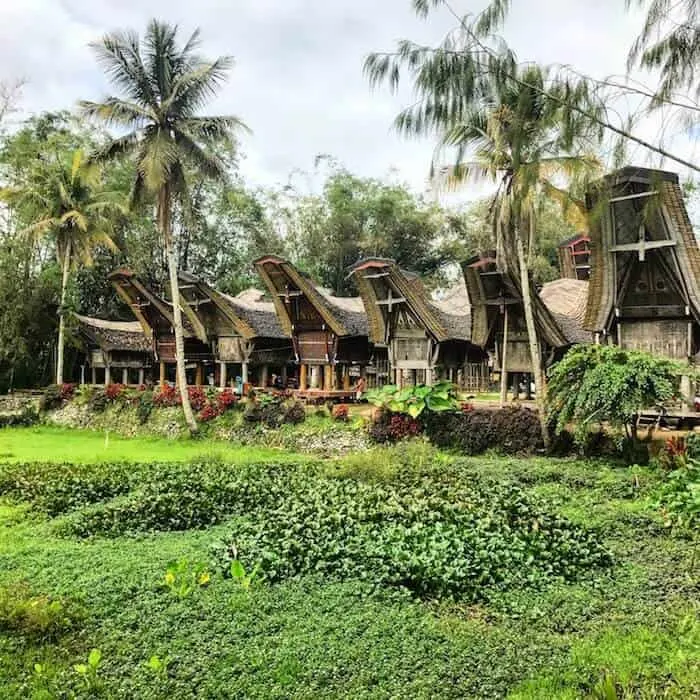 Not typically at the top of your list for your trip to Indonesia BUT this is a cultural, off the beaten path destination in Indonesia that shouldn't be missed.
The Tana Toraja Regency in the Indonesian highlands of South Sualwesi is one of the most interesting and culturally diverse places you could visit. Discovered only in the 1920s this society had lived with no existence of the outside world for centuries before the arrival of Dutch missionaries.
They are now most famous for the complex death rituals that they practice which include keeping the deceased in the family home for months after death, burying their deceased in cave graves or hanging from cliff-sides, and the festival is known as 'Ma'nene' where the deceased is removed from their final resting place for the corpse to be cleaned, re-dressed and displayed in the village.
Things to do in Tana Toraja
Visit Ke'te Kesu – a traditional Torajan Village
Wander amongst the Megalith Stones – a centuries-old burial ground
Climb Mount Sesean – not the highest peak in Indonesia, but a great hike for all capabilities with some epic viewpoints looking out over the countryside.
Pick up some locally grown exquisite Arabica Bean Coffee.
Witness the local weekly cattle market at Pasar Bolo (Bolu Market)
Explore Londa – a cave gravesite in which tourists can enter and learn about the history of the residents.
READ MORE:
RELATED: If you love diving, be sure to head to nearby North Sulawesi and Bunaken Marine Park.
.
West Papua
Raja Ampat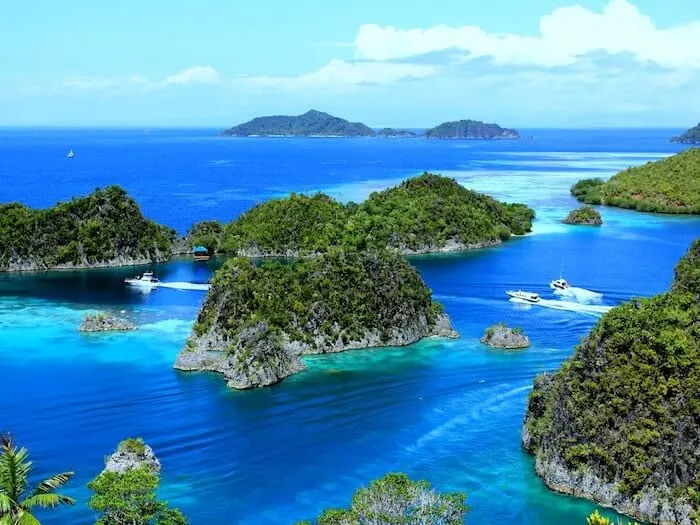 The scuba diving paradise of Raja Ampat Islands (which literally means 'Four Kings') is home to some of the most diverse sea life and species of coral you could ever hope to see. In fact, there are more recorded species here in Raja Ampat Marine Park than anywhere else on the planet!
For those that don't scuba dive, the snorkeling is also incredible (and sometimes better than scuba diving!), the beaches are beautiful, there are rock paintings and caves are on Misool Island, and the crimson bird of paradise lives on Waigeo Island.
It's easy to see why it is one of the most beautiful, must visit places to visit in Indonesia (not to mention one of the main tourist destinations in Indonesia, for diving opportunities in the Java Sea and for domestic and international visitors alike!)
.
Kalimantan
Tanjung Puting National Park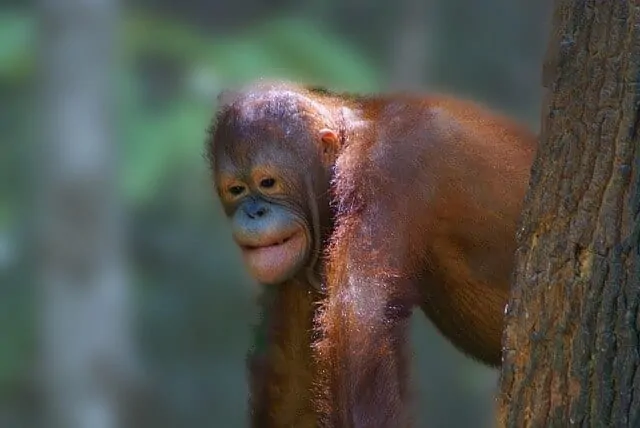 For those who love seeing animals in the wild (seriously, ethical wildlife viewing is the best way in my book) – you have to make the trip to the island of Borneo and the Indonesian region of Kalimantan. (Borneo is also home to the nation of Brunei and a part of Malaysia)
We recommend heading specifically to Tanjung Puting National Park where there is an abundance of wildlife, but most importantly, is home to the critically endangered Orangutan.
Yogyakarta
Borobudur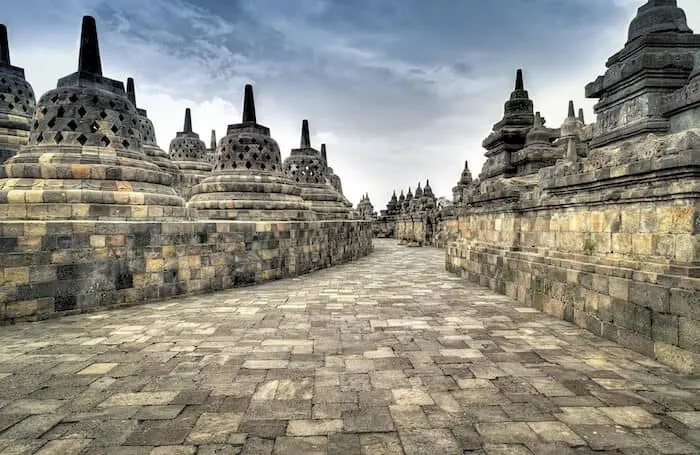 Whilst Borobudur Temple is technically located in Central Java, it is most easily reached from the city of Yogyakarta.
A UNESCO World Heritage Site, it was built in the 9th Century it is one of the largest Mahayana Buddhist temples in the world.
A favorite with photographers, the impressive temple is best at sunrise or sunset. Book your sunrise tour here and experience the magic for yourself (it's a favorite with travel bloggers for epic misty sun rise shots!)

RELATED: Spending more time here? Check out these other things to do in Yogyakarta to keep you occupied.
And that's a wrap, folks! I hope this travel guide has given you lots of ideas for planning your travels in Southeast Asia and a trip to the top places to visit in Indonesia and has shown you all the top sites in Indonesia. And I can totally understand if your Indonesia bucket list has suddenly become super long!
And if you liked this article and are traveling to Bali or plan to Visit Indonesia in general, please tweet, pin or share on Facebook! As always, full-sized pins are available by clicking the P in the share bar.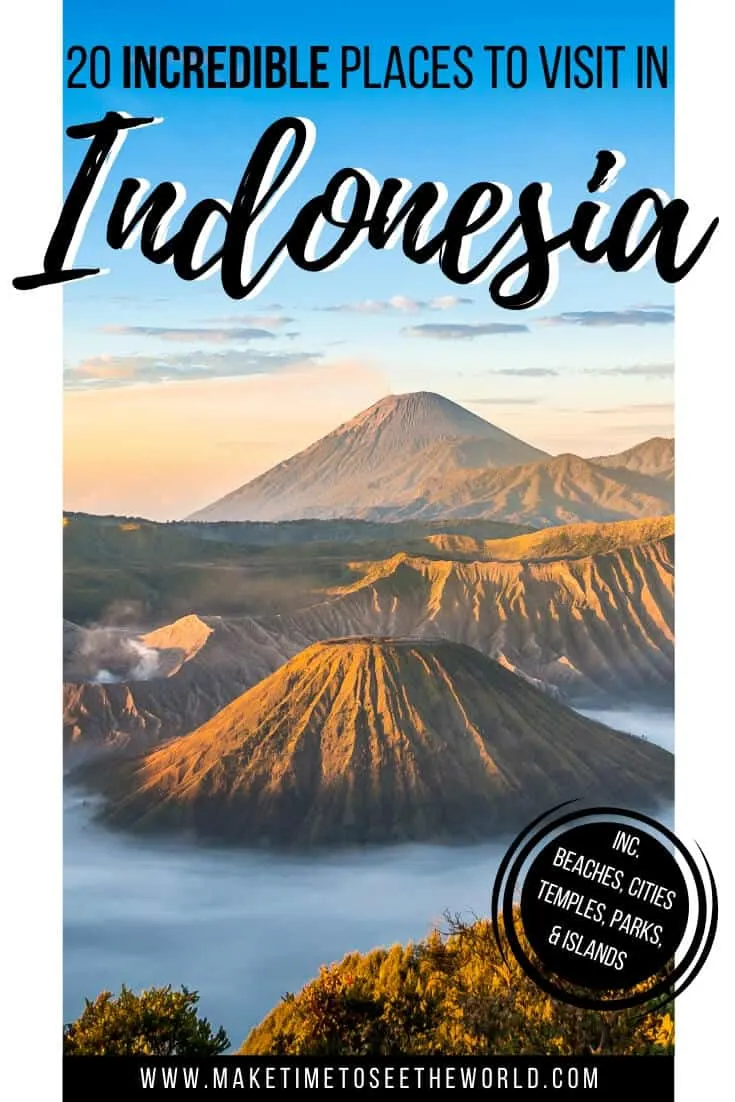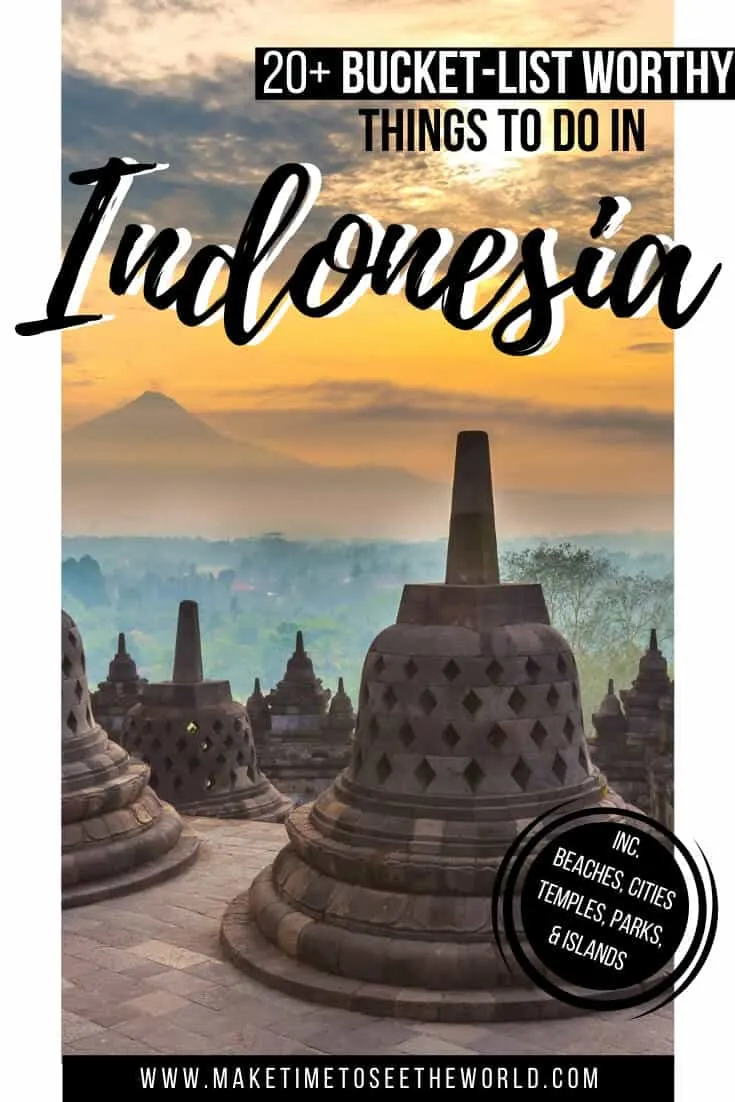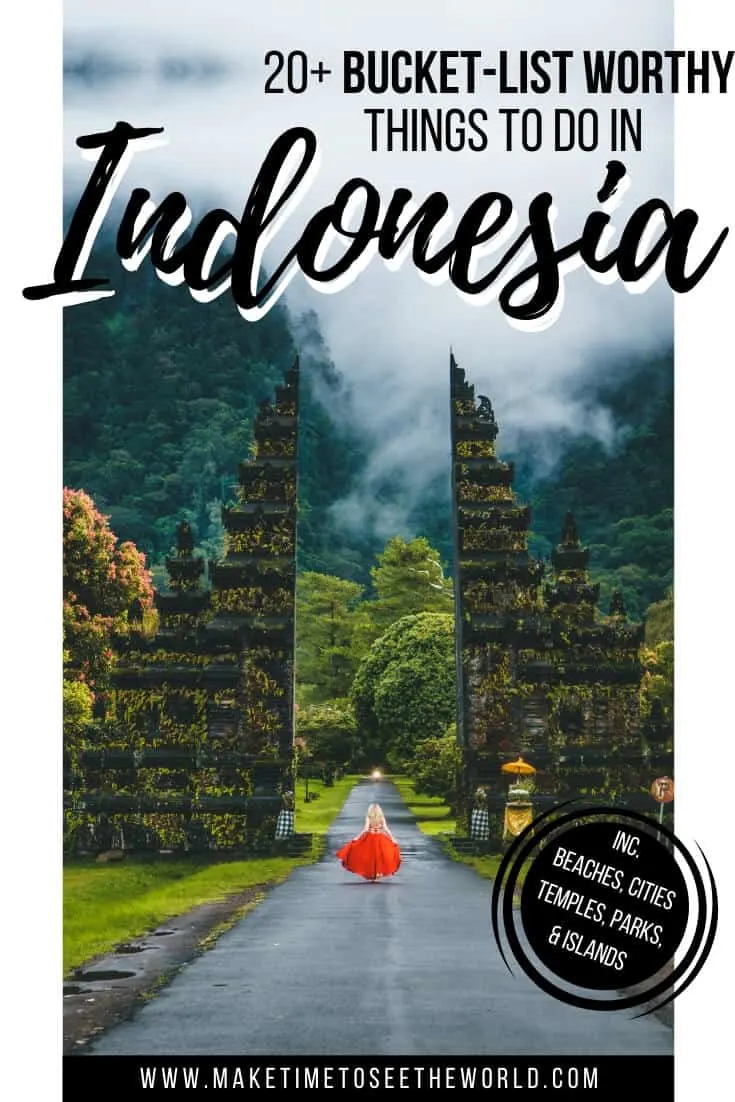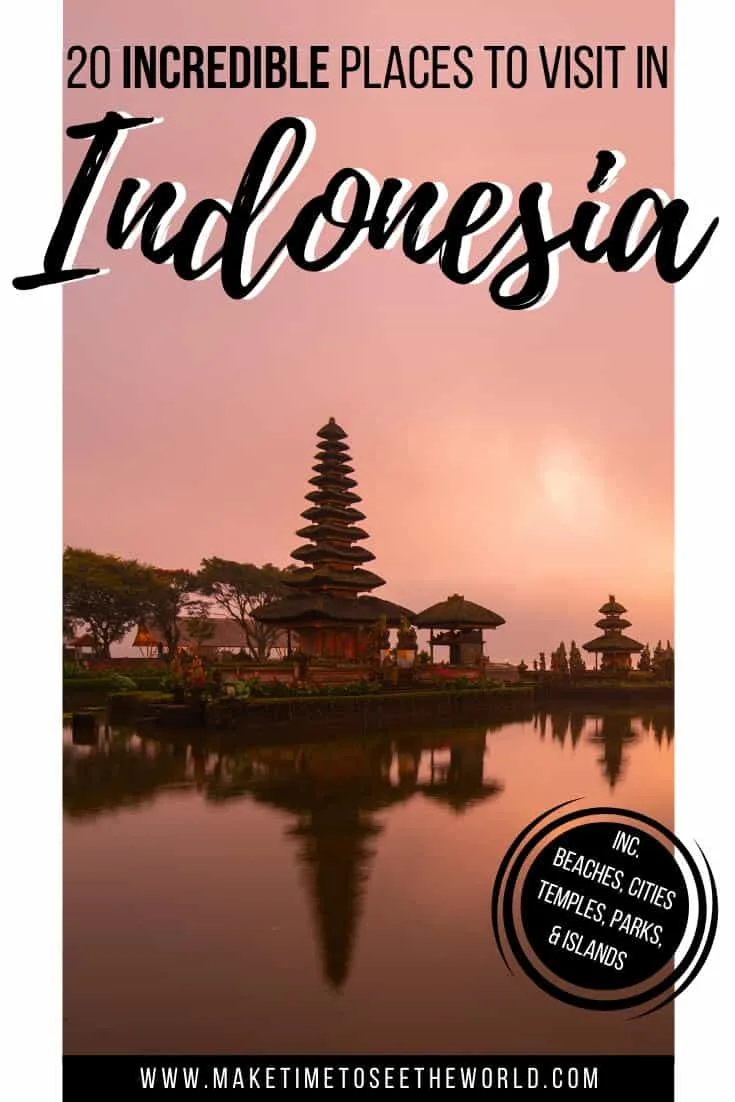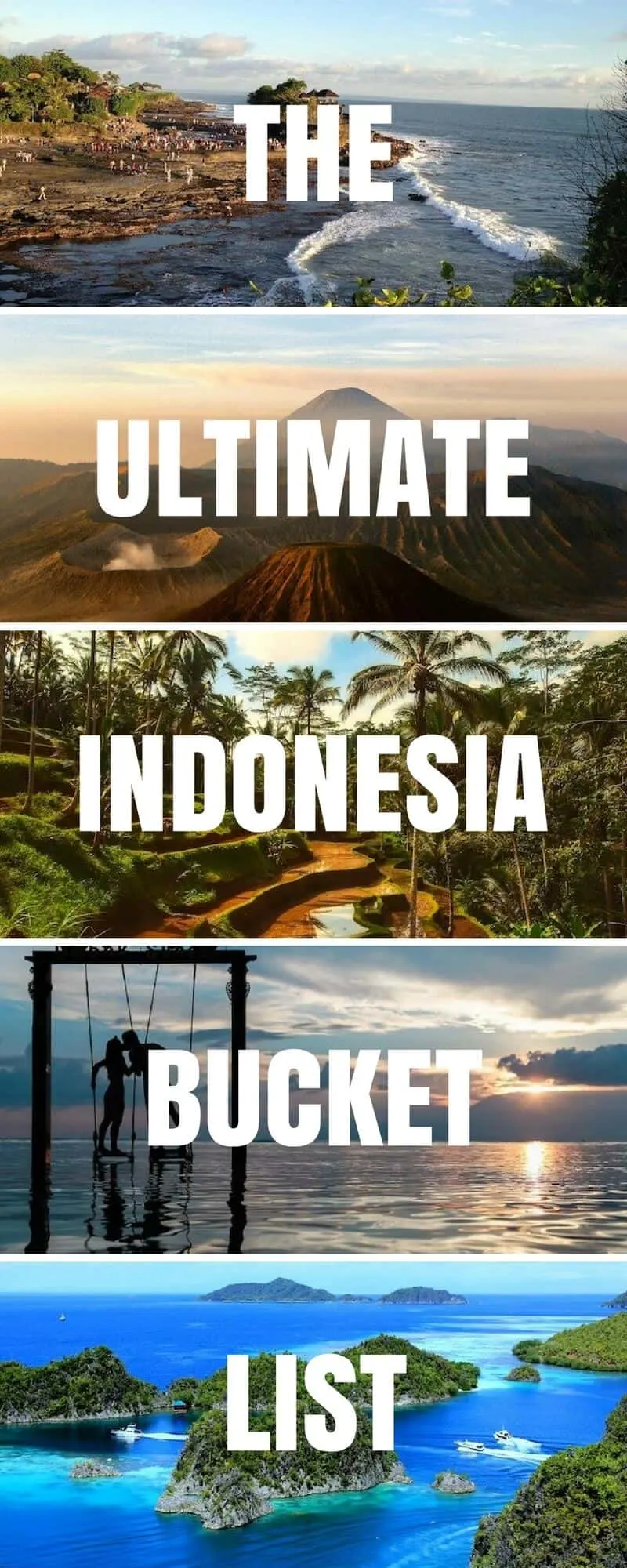 FYI: I visited a few of the locations on this list as part of the Wonderful Indonesia Trip of Wonders 2017 operated by the Ministry of Tourism, but all opinions and travel tips, as always, remain my own.
READY TO EXPLORE MORE OF ASIA & FOR SOME BUDGET TRAVEL TIPS TO MAKE THE MOST OF YOUR TRAVEL EXPERIENCE? YOU MIGHT BE INTERESTED IN THESE ARTICLES
Hi There! Thanks for reading my post about The Best Places to Visit in Indonesia written by Vicki Garside. I just wanted to let you know that this post contains affiliate links, which means if you purchase something after clicking a link, I may get a small commission – which is at absolutely no cost to you. If you enjoyed this article and are going to be searching for some of the things I mention anyway, I would love it if you could click through from the links above & thank you in advance! Read my full Disclosure here.