Kuala Lumpur is the capital of Malaysia and one of the busiest transport and tourist hubs in all of South East Asia. With hundreds of flights arriving daily from all over the world, the city has something to offer for every type of visitor.
From shopping to spa's, museums to aquariums and some of the tallest viewing decks and observation platforms in Asia you'll be spoilt for choice when it comes to picking out the Best Things to do in Kuala Lumpur!
Scroll down for the ultimate Kuala Lumpur Travel Guide where you'll find out all about KL's tourist attractions within the city itself, suggestions for incredible day trips from Kuala Lumpur to help you explore more of the country, plus ideas for where to stay, what to eat and how to get around!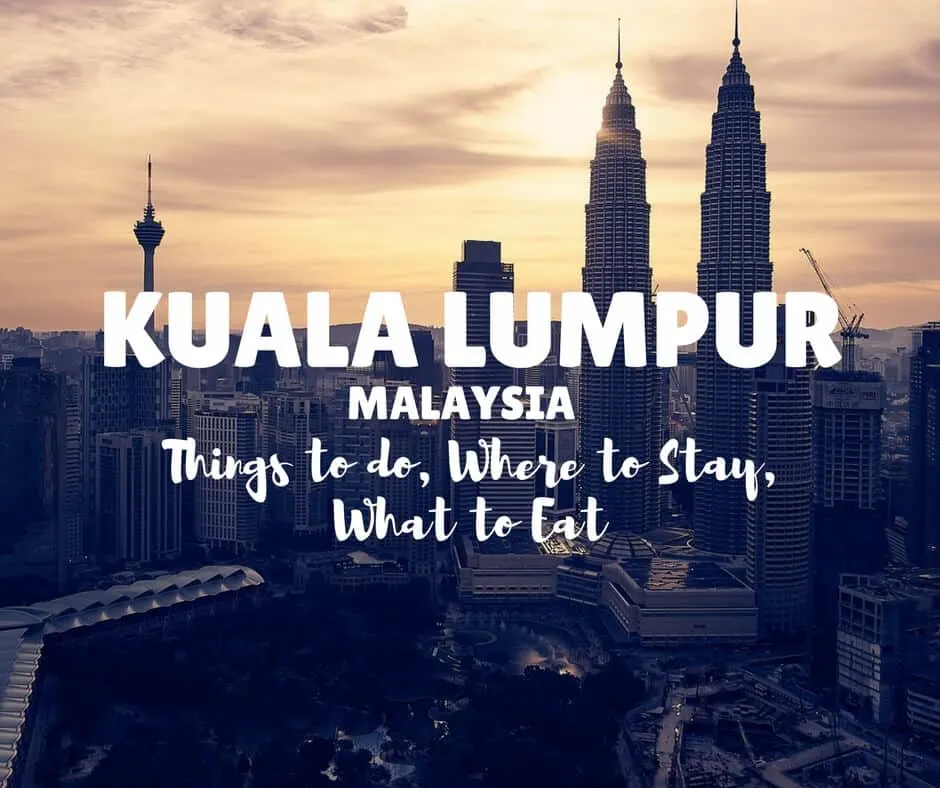 Incredible Things To Do in Kuala Lumpur + Where to Stay & What to Eat!
A Guest Post by Antoine from TravelingLife
.
Kuala Lumpur is a glistening, modern city right in the heart of Malaysia. The metropolis comprises awe-inspiring modern architecture with authentic old –style buildings, is home to a range of people of different nationalities and beliefs, and offers some of the best food in Asia; in the form of both Hawker-style street food and world-class fine dining restaurants.
The city of Kuala Lumpur has so much soul, which stems from a unique history and rich culture. Luckily, because the metropolis remains well-navigable, a large portion of Kuala Lumpur's spirit can be explored on a short stay. If you've only got 48 hours or a weekend in Kuala Lumpur, there's lots of attractions that will help you get to the heart of the city.


Essential KL: What Your Need To Know Before You Go
How to get to Kuala Lumpur
Kuala Lumpur has a large international airport and is often a stopover on transcontinental flights; which make the perfect excuse to explore the Malaysian capital. Buses reach Kuala Lumpur from all over Malaysia, Singapore and Thailand and trains can be taken via most of these routes as well.
The quickest way probably is the KLIA Express; this train brings you in 28 minutes from Kuala Lumpur central train station (KL Sentral) to the airport. You pay RM35 for a one way ticket, first train departs at 5am, the last train at 12.30am.If arriving to the city by train, it is best to contact your hotel to find out the best way to get there, who may also be able to arrange a taxi/transfer to ensure your safe arrival.
If you arrive outside these times – or prefer to head directly to your hotel after a long flight (I know I do!) you can skip the taxi lines by pre-booking your airport transfer for as little as $25
Buses are also available but only run to the train station if you are looking for a central drop off point and cost around 15 MYR per person one way.
As of the past few years, Grab and Uber have increased in popularity in the KL, and if you require a taxi, it is recommended you utilize these aps as they are often cheaper than regular taxis.
TRAVEL TIP –
Download the
FREE SkyScanner App
and have cheap flights at your fingertips whenever you want to take to the skies!
.
How To Get Around Kuala Lumpur
Kuala Lumpur offers a variety of transport options for exploring the city including trains, buses, light rail (mororail), taxis, Uber/Grab and the ever popular – walking. Whilst traffic can be notorious at peak hours, it is possible to combine the different modes of transport to make most journeys anywhere in the city quick and painless.
If your trip in Kuala Lumpur will last for more than a couple of days, consider buying the prepaid MyRapid card, which can be used on pretty much all public transport modes in the city. You can buy a MyRapid card at any monorail and LRT station for 20 MYR (inc 5 MYR credit) with fares per journey as little as 2 MYR.
When to visit
Kuala Lumpur has a year-round tropical rainforest climate which is warm and sunny, along with abundant rainfall. To experience the least amount of rainfall the best time to visit Kuala Lumpur (or visit in Malaysia in general) is between May and July.
.
Where to stay in Kuala Lumpur
A city the size of KL has plenty of accommodation options – which can be come a little overwhelming(!) so we have put together 4 recommendations for hotels in Kuala Lumpur based on different budget levels – from luxury hotels to backpacker's hostels and a couple of options in between to help find the perfect place to rest your head.

Luxury – Mandarin Oriental Hotel ($150+ per night)
Mandarin Oriental Kuala Lumpur is a slice of luxury right in the city center. With 632 gorgeous guestrooms, a spa, outdoor pool and tennis courts, there's plenty to be wowed at in this contemporary hotel. It's situated near all the best spots in Kuala Lumpur, including the Petronas Twin Towers and Suria KLCC shopping centre.
Book Now | Compare Reviews for Later | Read Trip Advisor Reviews
Mid-Range – Le Apple Boutique Hotel ($50-$75 Per Night)
Located in the heart of the city centre, this hotel makes use of free Wi-Fi and parking, a restaurant with breakfast available, comfy beds and clean, well facilitated bathrooms. The hotel is a great option for those wanting an economical choice in the middle of the city.
Book Now | Compare Reviews for Later | Read Trip Advisor Reviews
Budget – Quality Hotel City Centre ($30-$45 per night)
Quality Hotel City Centre is located in downtown Kuala Lumpur, just 5 minutes' walk from Raja Laut LRT Station and local restaurants; and 10 minutes drive from the Petronas Towers and KLCC. Aside from an outdoor pool, it also has a cafe and room service
Book Now | Compare Reviews for Later | Read Trip Advisor Reviews
Backpackers – Paper Plane Hostel ($24-$30 per night)
Paper plane hostel is a fun backpackers' hangout, with six dormitory rooms, four private rooms and a glasshouse lobby and rooftop garden. The hostel has excellent reviews, with guests commenting on its cleanliness, friendliness of staff and amazing facilities to each room.
Book Now | Compare Reviews for Later | Read Trip Advisor Reviews
.
Awesome Things to do in Kuala Lumpur
Petronas Towers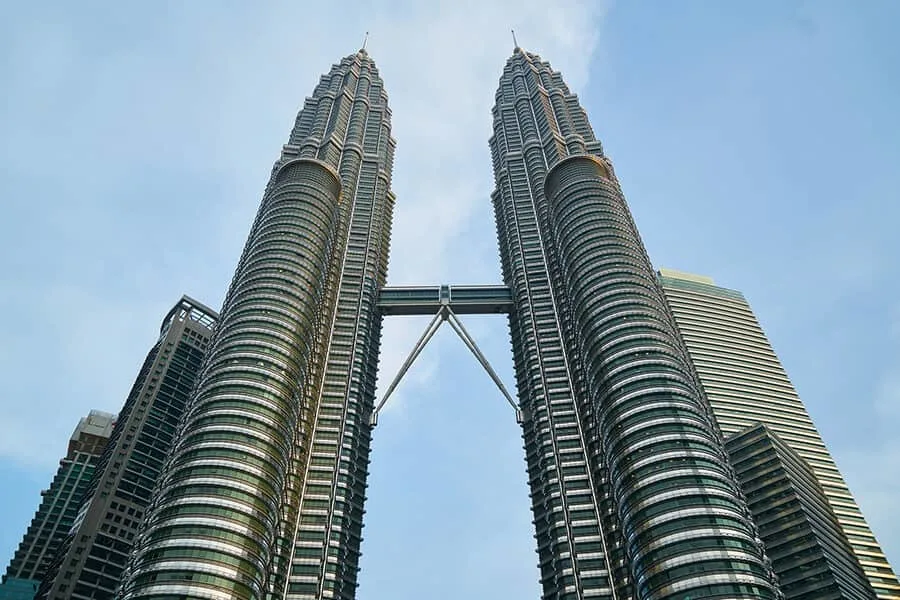 The Petronas Towers are an icon of Kuala Lumpur and in many ways, Malaysia. They were the tallest buildings in the world from 1998 to 2004 and remain the tallest twin towers in the world. Dominating the city's skyline, the towers are a must for any architecture, modern culture or photography enthusiasts visiting the city. You can either enjoy the view of the looming towers from the bottom, or ascend to the observation deck on a tower tour and relish the vista from the top. It's recommended to book tickets before you go, as the tours get booked up quickly. It costs around 85 MYR to ascend the tower.
RELATED: If you are struggling with packing for your trip – check our our Complete Travel Packing List (with free downloadable PDF checklist) to make sure you don't forget anything!
.
Sri Mahamariamman Temple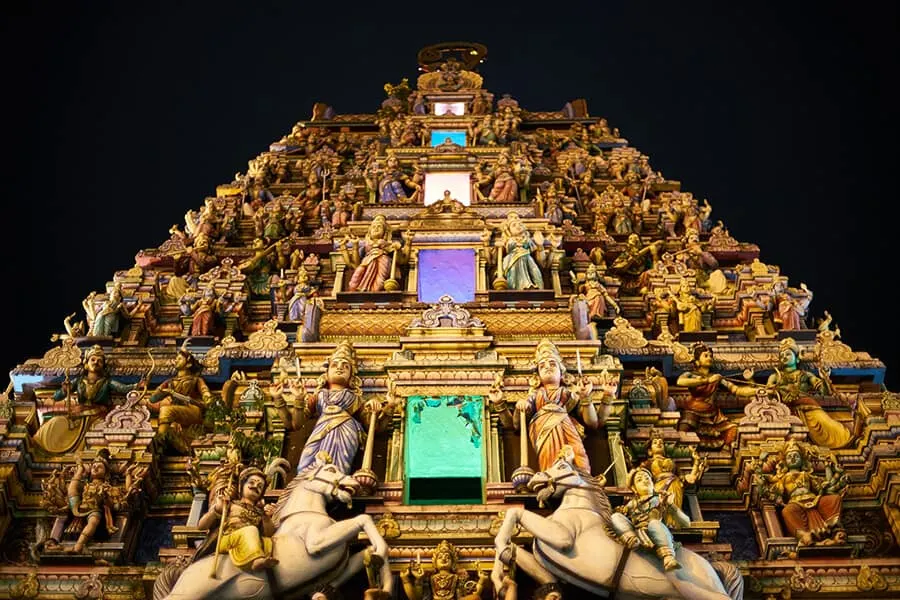 The oldest Hindu temple in the city, the Sri Mahamariamman Temple is a wonderful work of art and intriguing religious complex. The building dates back to 1873 and mirrors some of Hinduism's finest and most elaborate history. Visitors can enjoy the gorgeous architecture; the temple is adorned with colourful religious figures, which reflects on the intricacy of Hinduism and makes for a compelling visit. The temple is located within Chinatown and is free to enter.
.
Central Market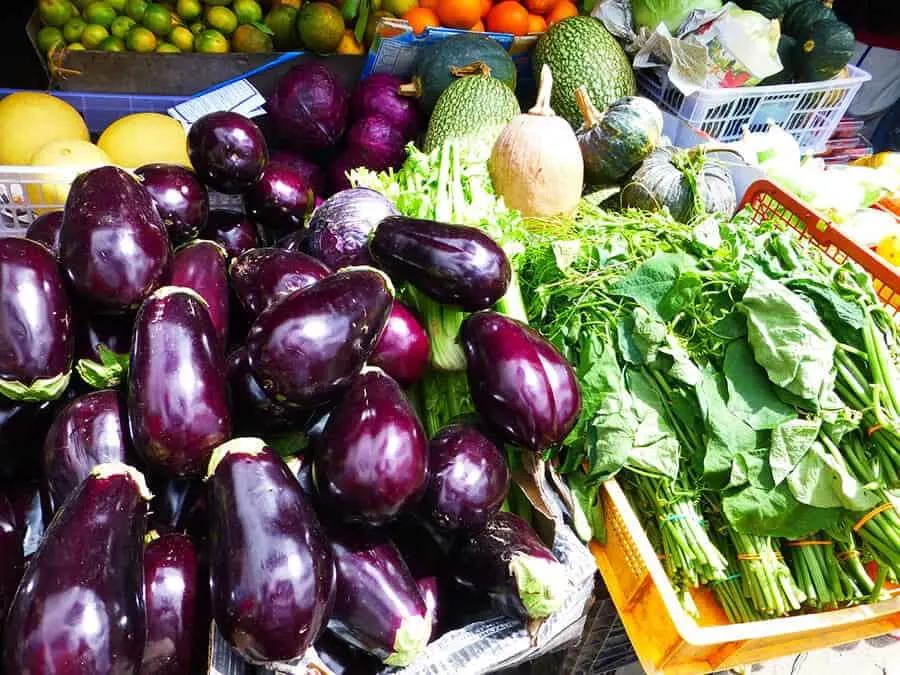 One of Malaysia's most loved markets, Central Market began its life as just a wet market, but in the 1980s was revamped into a handicraft and artwork space. It's the place to go to grab some authentic Malaysian souvenirs; from material to amazing artwork, pretty much every Malaysian tourist item can be located in the market. The market is open from 10:00am-10:00pm daily and is located near the Kota Raya Shopping Centre.
You can also explore the area on a guided Heritage Walking Tour: Take a walk through the historic heart of Kuala Lumpur and discover its cultural heritage on this half-day tour, including food tastings with a knowledgeable guide who shares insight about this former tin mining settlement and its diverse inhabitants.
.
Suria KLCC
Kuala Lumpur is, in many ways, a modern city, and the glitziness of Suria KLCC reflects this. The shopping mall and KLCC park is the perfect place to purchase some more high-end souvenirs and enjoy the glamour of browsing designer outlets. The shopping mall is located in the middle of the city centre, close to the Petronas Towers. And if you're looking for less luxury and more traditional style gifts, head on over to Bukit Bintang – the shopping and entertainment district of KL.
.
Jamek Mosque
Jamek Mosque (which is also known as Masjid Jamek) has beautiful Mogul architecture, inspired from Northern India. It is situated at the confluence of the Klang and Gomback Rivers. It's a picturesque mosque that is located in a serene area of the bustling city; shaded under coconut trees, with imposing domes and towers standing proudly against the skyline. Visiting hours to the mosque are from 8:30am until 12:30pm and 2:30pm until 4:30pm. Visitors must dress conservatively.
If beautiful mosques are of interest to you, it may also be worth checking out The National Mosque of Malaysia (Masjid Negara) is also located within Kuala Lumpur sentral and has a large capacity of 15,000 people. It is surrounded by lush greenery which expands to a 13-acre land and as one of the most important religious sites in Malaysia, it is a symbol of Islam for the country.
.
China Town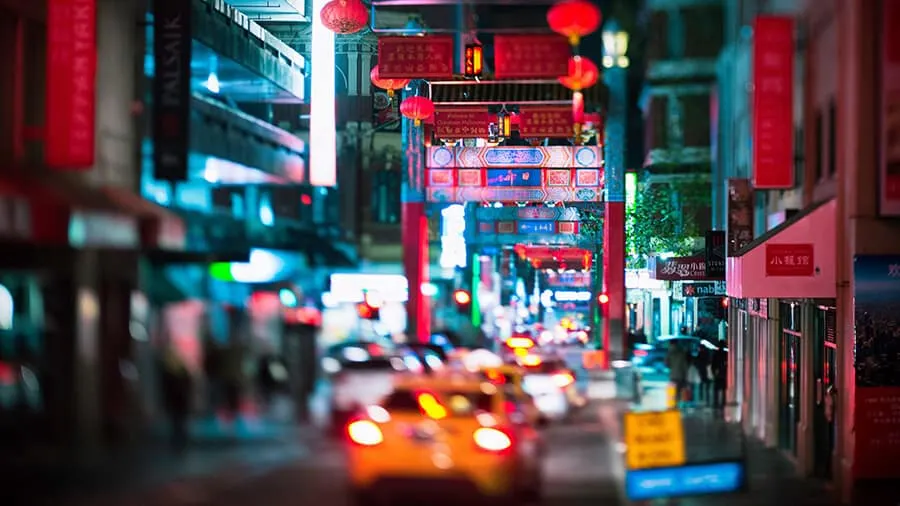 Like a lot of countries in South East Asia, the capital of Kuala Lumpur has a huge Chinese population. Chinatown is based in Petaling Street and is known as one of Kuala Lumpur's most exciting areas; with Chinese restaurants, bustling bars and authentic shops lining its streets. There's loads of places in Chinatown to snap up some bargains, especially on Chinese medicines or goods made in China. Petaling Street (Pataling Jaya) transforms into a busy night market once the sun goes down, with hundreds of stalls offering every kind of goods you could think of.
.
Kuala Lumpur Bird Park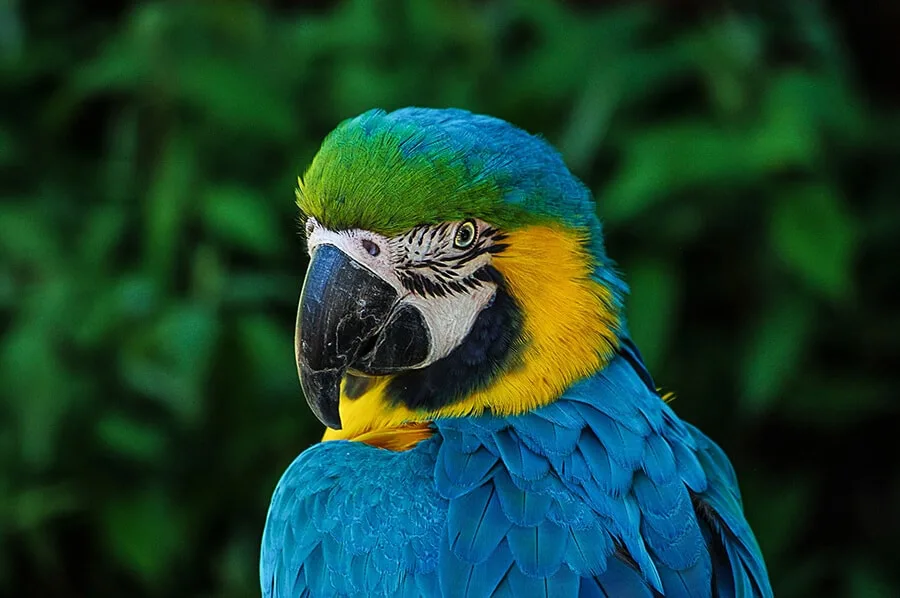 The KL Bird Park is 'The World's Largest Free-Flight Walk in Aviary'. It's a fantastic eco-tourism destination, being home to more than 3,000 birds from around 200 species. In three of the four zones, birds are able to fly free in an aviary that is very similar to their natural habitat, making it almost like seeing these amazing birds in the wild. Many of the birds are colourful and beautiful, making Kuala Lumpur Bird Park a photographers' or birdwatchers' paradise. It costs 67 RM to enter and the park is located just five minutes from Kuala Lumpur sentral station.
.
National Museum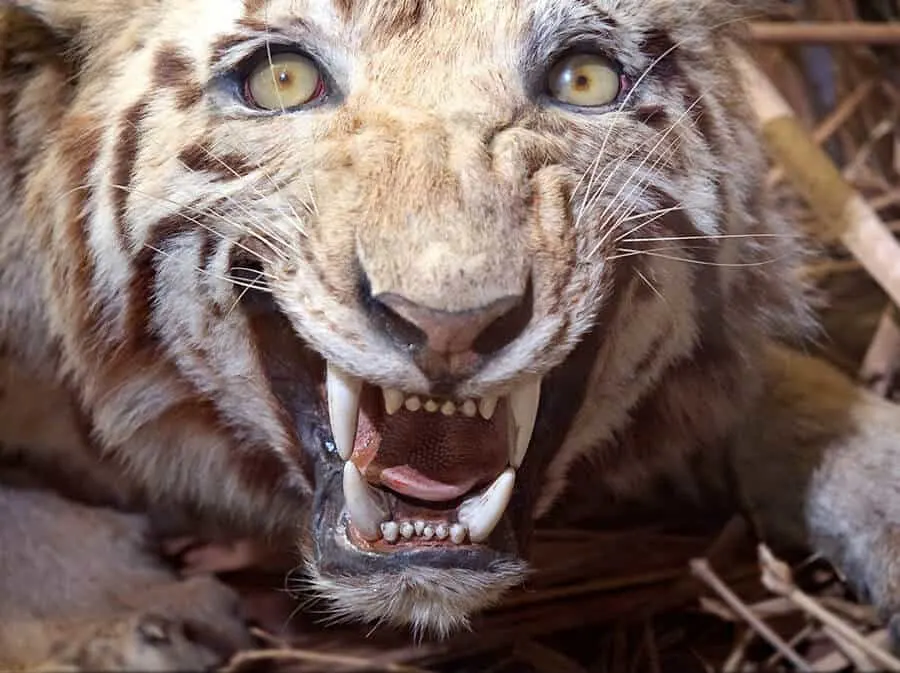 Kuala Lumpur National Museum is an important site to learn about Malaysian history, culture, art, literacy and economics. Exhibitions range from interesting historical displays, demonstrating how Malaysia as a country came to be how it exists today, to a zoological section which details Malaysia's unique fauna such as Orangutans and adorned with stuffed animals. The museum is open daily from 9am to 6pm and is located near Central Station. It costs 5 RM for foreigners to enter the museum.
.
Kuala Lumpur Butterfly Park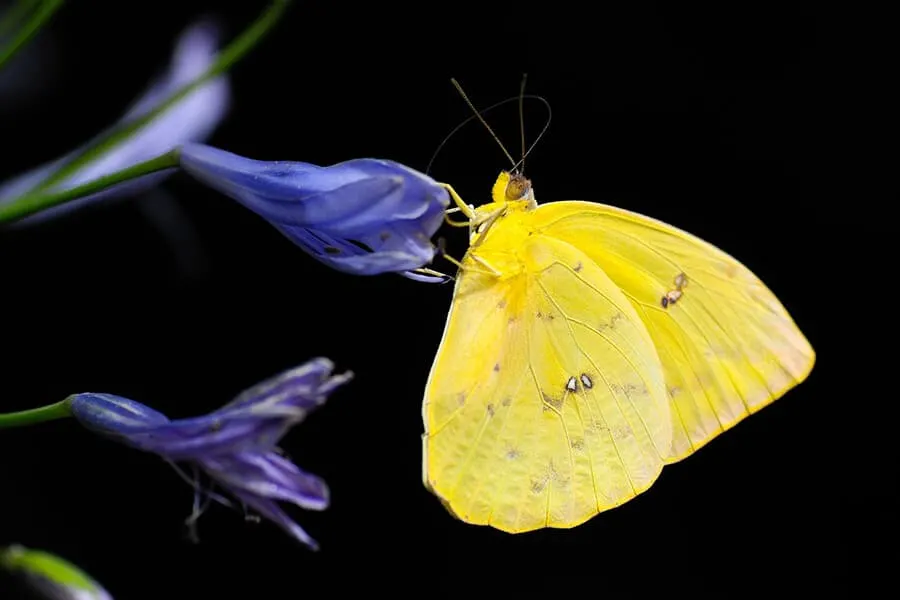 One of the best places in the world to spot butterflies, and widely regarded as a magical paradise, is Kuala Lumpur Butterfly Park, the biggest butterfly park in the world. It encompasses over 80,000 square foot and is home to 5,000 butterflies, nesting amongst tropical plants and ferns and swooping around ponds with koi fish and fresh water turtles. There is also a museum with butterflies and insects from around the world on-site. The butterfly park is near to the Old Kuala Lumpur Railway Station and costs 22 RM to enter.
.
Kuala Lumpur Tower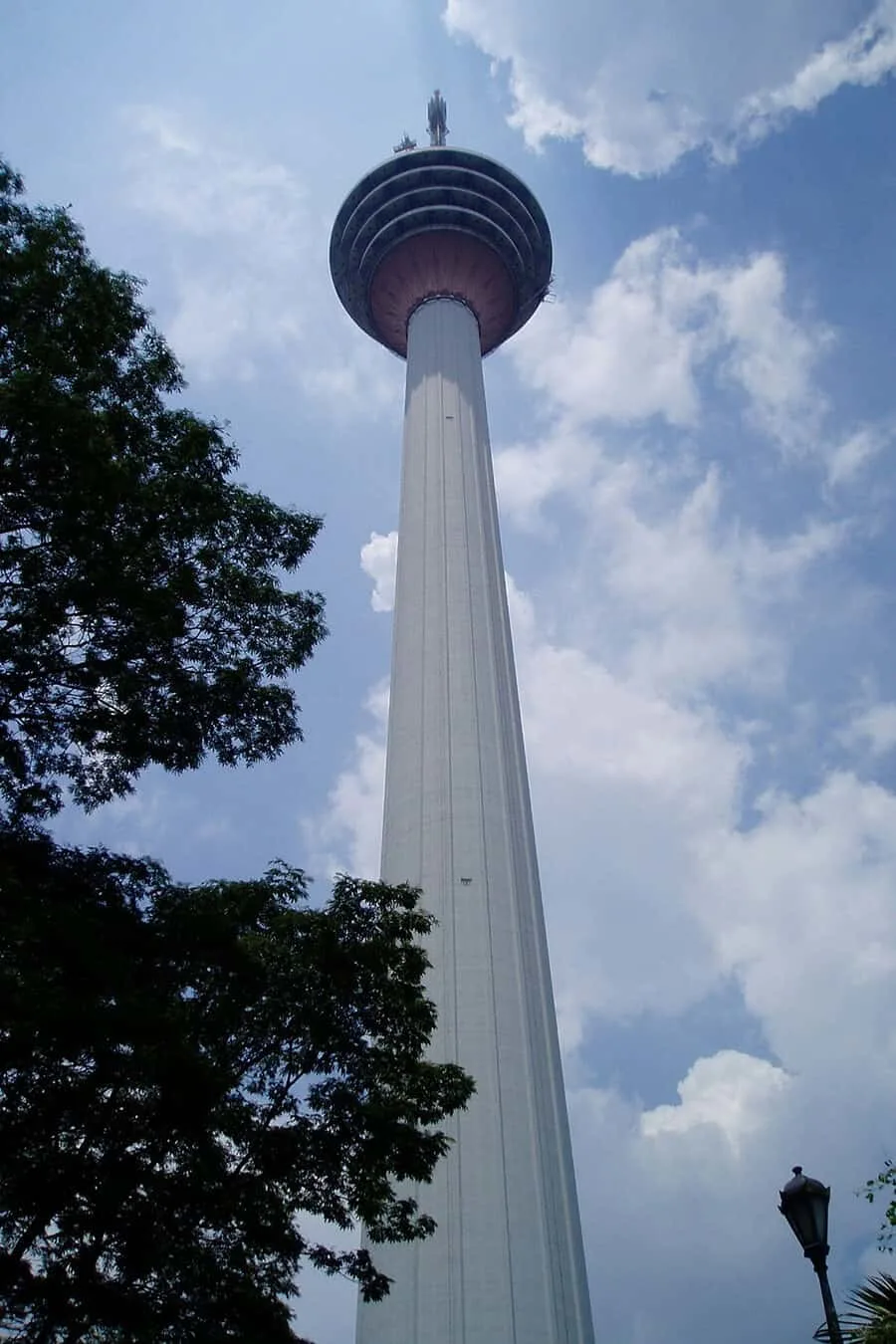 The Kuala Lumpur Tower is a communications tower with an observational deck that makes a great tourist attraction. Along with the Petronas Towers, the Kuala Lumpur Tower dominates the city's skyline, giving the capital a futuristic feel. It costs between 9 and 15 RM to reach the observation deck. But if you plan on visiting both the Petronas Towers and the KL Tower it is cheaper to buy a combined ticket and skip the lines!
.
Aquaria KLCC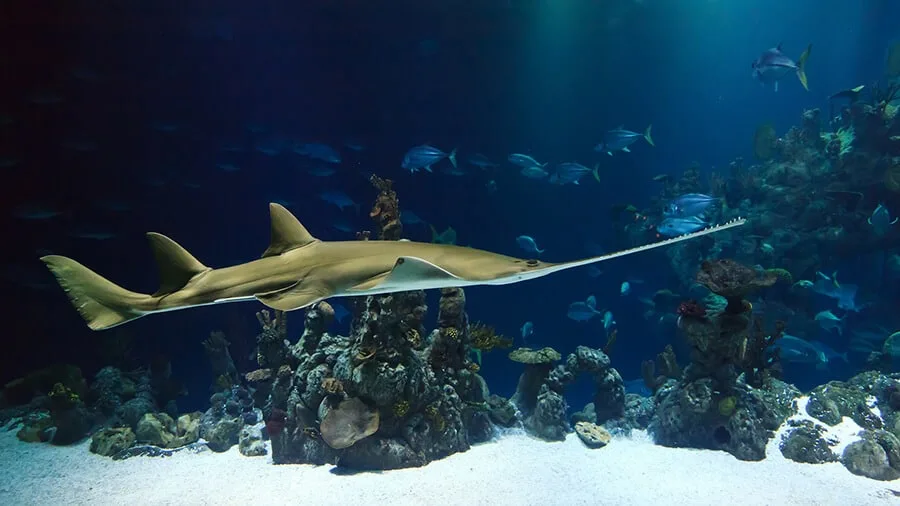 Kuala Lumpur's amazing aquarium (Aquaria klcc) shows the best of marine life from the seas of Malaysia and South East Asia and elsewhere in the world. The aquarium aims to educate visitors about the marine life that surrounds us, with different sections depending on the different type of marine life exhibited. Admission is 69 RM for an adult (but you can get it cheaper if you buy your ticket in advance) and the aquarium is located right in the heart of the city.
RELATED: If you're looking for another great family day out, Kuala Lumpur has some great theme parks including the Malaysia LegoLand and the Sunway Lagoon Water Park; A great theme park which combines water rides and a wildlife park, kids and adults will be entertained for hours.
.
Kuala Lumpur Railway Station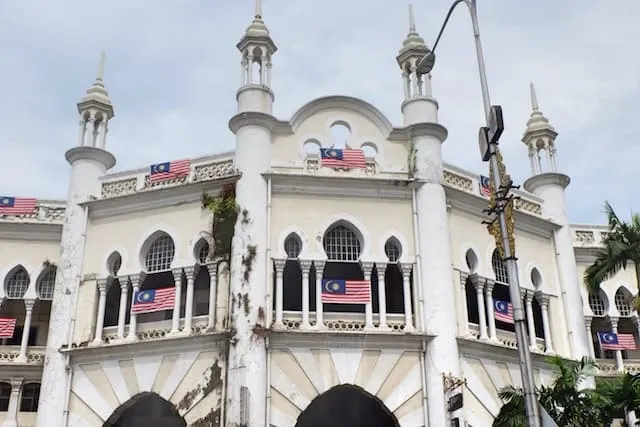 Kuala Lumpur Railway Station is worth a walk past just to admire the architecture; it is housed in an almost gothic-style building which was designed by A.B. Hubbock in 1910. In a fusion of Eastern and Western architectural forms, the station's exterior manages to blend Islamic architecture with an English Victorian style. The station is located on Jalan Sultan Hishamuddin.
.
Merkeda Square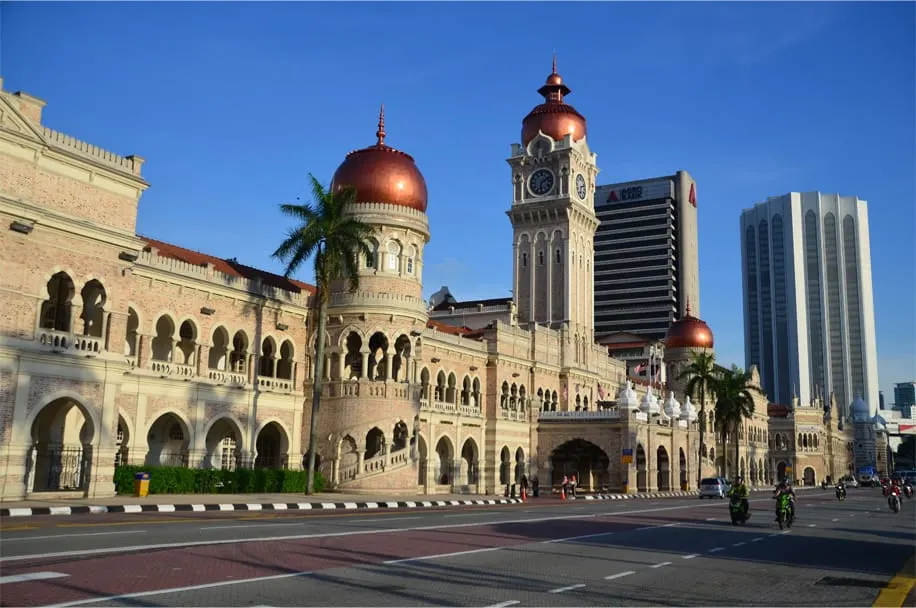 Merdeka Square is undoubtedly KL's best known landmark. Also called Dataran Merdeka, it is set in front of the Sultan Abdul Samad Building (the former State Secretariat). Directly in front is the Royal Selangor Club and to the north is St. Mary's Church, one of Malaysia's oldest Anglican churches. A large green space in a bustling city, many events are held here each year including the annual Merdeka Parade.
.
Thean Hou Temple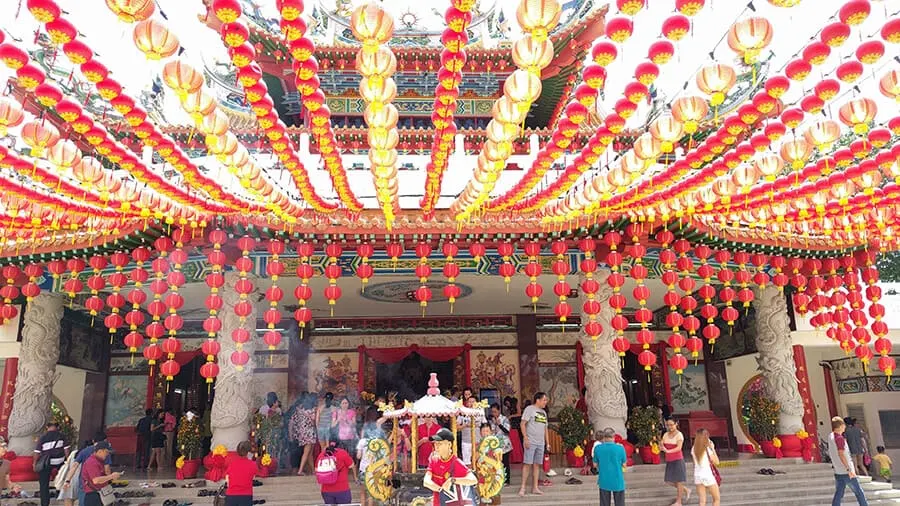 This Chinese temple is one of the grandest temples in South East Asia; situated on top of the Robson Heights hill, it acts as a place of worship as well as a space for weddings and events. The architecture is typical of what you might find in China, with pagodas and oriental detailing and the inside contains many Buddhist relics and sacred statues. It is free to enter and explore the temple.
.
Batu Caves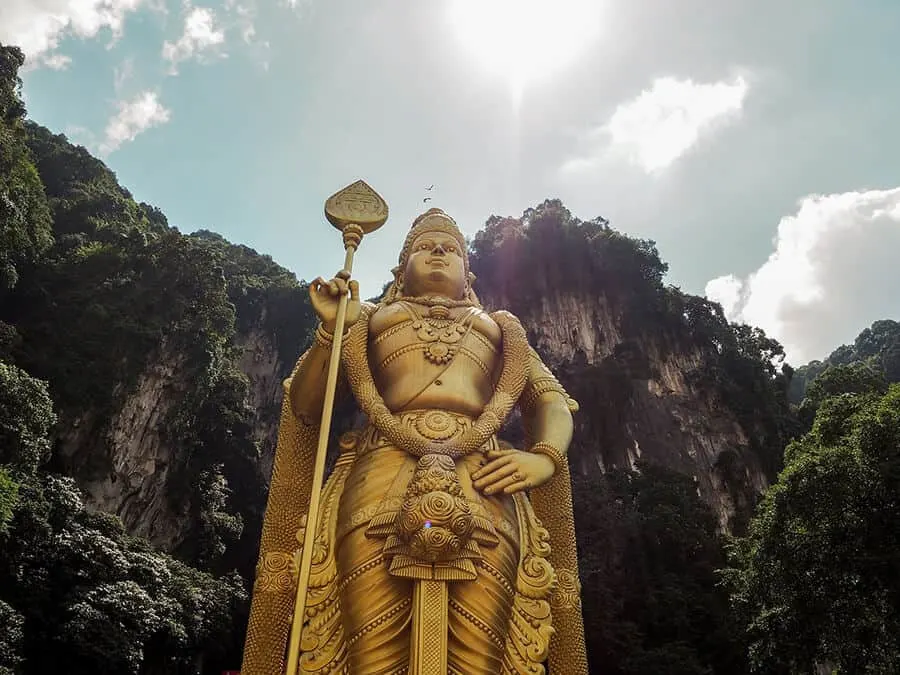 Located just 16 kilometres north of the city centre are the famous Batu Caves. The Royal Selangor-based caves are ready to be explored after a 272 step climb, and inside they contain temples and Hindu shrines, with native monkeys playing at the entrance. The Batu Caves are a fantastic trip to escape the city centre and enjoy a unique slice of Malaysia's history. The main cave is free of charge (it'll just cost you the climb!) and the caves can be visited by taking the train from Kuala Lumpur; but if you want to make a day trip out of it, you can combine the Batu Caves with a visit to local waterfalls and hot springs – perfect for relaxing your body after the 272 stair climb!
.
Where to Eat and Drink in Kuala Lumpur

Lot 10 Hutong
Lot 10 Hutong is a food court that was created to imitate Beijing's hutongs, so the fast food outlets are arranged in a cluttered fashion. There are 34 food stalls at the hutong, including Durian Lagenda which specialises in frozen durian and durian desserts, Layumcha which is a delectable dim sum restaurant and Roast Duckling which specialises in Cantonese barbecue meat.
Jalan Alor
Away from the glamour of Kuala Lumpur's city centre is Jalan Alor, a charismatic food street that is reminiscent of old-style Malaysia. The street comes alive at night, with countless restaurants and hawker stalls serving their food along the streets. There's so much to take in at Jalan Alor; it's not just a culinary delight there but an authentic experience of Malaysian culture.
RELATED: Eat like a local, taste some local delicacies and soak up the city by joining a nighttime Hawker Center & Street Food Walking Tour
Dewakan
One of Kuala Lumpur's best fine dining restaurants is Dewakan, serving meals made from homegrown ingredients such as keluak fruit and budu. The restaurant offers five or ten course dinners, giving customers a truly unique dining experience in the heart of the Malaysian capital.
The Golden Triangle
The Golden Triangle encompasses Jalan Imbi, Jalan Sultan Ismail and Jalan Raja Chulan, as well as the surrounding inner streets. The area is known for its world-class nightlife, with karaoke bars, discos and great places to grab a local beer. Some of the best spots once the sun goes down are Beach Club, Rum Jungle and Sky Bar.
RELATED: For the vegans among you check out this Vegan Guide to KL for all your foodie needs.
..
Day Trips from Kuala Lumpur

IF YOU HAVE THE LUXURY OF TIME AND CAN'T GET ENOUGH OF KUALA LUMPUR AND WANT TO EXPLORE MORE OF MALYASIA, TAKE A LOOK AT THESE GREAT TOURS TO HELP YOU GET OUT AND ABOUT
Visit historical Malacca on this 8 hour day tour from Kuala Lumpur which includes lunch. Famous for it's 16th century Portuguese buildings and flourishing street art scene. Malacca is a day trip not to be missed.
Combine a visit to the Batu Caves with a Tour of the Cameron Highlands. Renowned for its farmlands, tea plantations, orchards and nurseries, the hill station is a popular getaway from the bustling Malaysian capital and on this tour you'll see waterfalls, streams and the rain forest!
Get close to the local wildlife with a visit to the Kuala Gandah Elephant Sanctuary. Marvel at limestone caves in Gombak, and then observe elephants and learn about rehabilitation and relocation efforts complete with picnic lunch and round trip transfers.
Head out for dinner and a show as the Selangor Fireflys light up the banks of the river. Included in your evening is a seafood buffet and boat cruise. Sounds like a great night out to me!
Get away from the hustle and bustle of KL on this 13 hour day tour of Taman Negara – Malaysia's National Park including Canopy Walkway, Jungle Trekking and a Boat Cruise to Berkoh Waterfalls.
See the Orangutans in their natural habitat on this tour of Orangutan Island and Ipoh. Walk along a caged walkway as the orangutan's swing through the trees above you – simply magical!
.
And that's a wrap folks! I hope you enjoyed this Kuala Lumpur travel guide – and that we have given you a great list of travel tips and Things To Do in Kuala Lumpur to make sure you get the most from your visit. Don't forget to let me know you're own highlights once you're back!

Oh, and if you liked this post please tweet, pin and share on Facebook – I'd really appreciate it! Click the P in the share bar for full size images!
READY TO EXPLORE MORE OF ASIA? YOU MIGHT BE INTERESTED IN THESE ARTICLES
Hi There! Thanks for reading our Incredible Things to Do in Kuala Lumpur + Where to Stay & What to Eat! I just wanted to let you know that this post contains affiliate links, which means if you purchase something after clicking a link, I may get a small commission – which is at absolutely no cost to you. If you enjoyed this article and are going to be searching for some of the things I mention anyway, I would love it if you could click through from the links above & thank you in advance! Read my full Disclosure here.
.