Plan your visit to Komodo Island inc. how to get there, where to stay and eat PLUS the top things to do including National Parks, Snorkelling, Pink Beach, Hikes and more!

Komodo National Park, home to the dinosaur-eque Komodo Dragons on land and some of the best scuba diving on the planet under the water, has been delighting visitors for decades. It currently holds a place on list of the 7 New Wonders of Nature and is one of the prides of the Ministry of Tourism in Indonesia.
Perfect for adventure travelers – Komodo National Park in made up of three main Islands – Komodo Island, Rinca and Padar (plus numerous smaller surrounding islands); where Komodo and Rinca are collectively home to more than 5,000 Komodo Dragons.
The flora and fauna here are some of Indonesia's finest (which is why it is listed as one of the Best Places to Visit in Indonesia!) and as it's popularity increases, there is a need for more information about planning a trip to Komodo is paramount: and that's exactly what this guide is for! So scroll down for all the information you need to visit Komodo including how to get to Komodo Island, where to stay, where to eat and the best things to do in Komodo National Park!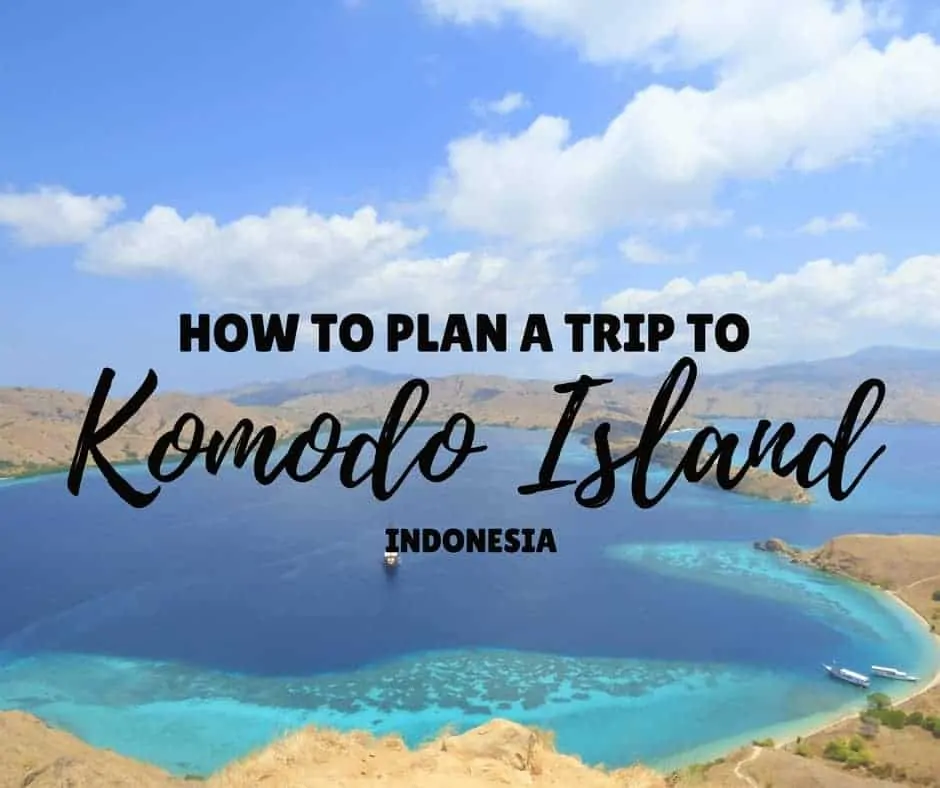 Disclaimer: Almost all posts on this site contain Affiliate links, and this guide to How to Plan a Trip to Komodo Island Indonesia is no different. This means that if you click on any of the links in this post (and make a purchase) I may receive a small commission at absolutely no cost to you. Each post is carefully crafted to (hopefully!) answer all your questions and recommendations are made where we believe they will improve your trip and help with your planning. As such we thank you in advance should you decide to click & buy. Read my full Disclosure here.

***Editors Note – January 2023: While there were rumored plans to close Komodo Island over the past couple of years, it does in fact remain open – just with a huge entrance fee increase.
The East Nusa Tenggara provincial head of tourism had advised the new National Park entrance fee for Padar and Komodo Island is IDR3.750.000 per person (a 25-time increase on the previous DR150.000 per person). Locals have objected stating it will damage the local tourism industry, and we are yet to see if this fee will be enforced or reversed. In the meantime, if you are on a budget, it may be better to take a tour or day trip from Labuan Bajo to Rinca instead of Komodo Island, where the cheaper fees are still in place.

How to get to Komodo Island & Komodo National Park?
Komodo Island (a UNESCO World Heritage Site) is part of the Lesser Sunda chain of Islands in East Nusa Tenggara (Republic of Indonesia) and the closest town is Labuan Bajo on the Island of Flores. Due to the fact it is near Komodo, it is the natural choice for travelers to the region.
You can catch a flight to Labuan Bajo Airport (also known as Komodo Airport) from both Bali and Jakarta for between $120-180USD on Garuda Indonesia, Lion Air, Batik and Nam Air – with multiple other routes offering connecting flights. From the airport a taxi into the town – which is located less than 10 minutes away – should cost no more than 50-60,000 IDR and should be negotiated before getting in; or the journey can be walked in 20-30 minutes (it's downhill).
If you want to make an adventure out of the journey, check out this 9 day Indo Island Hopping Tour. You'll start in Lombok and travel to Labuan Bajo Flores and the tour includes a visit to all the highlights of the region including Komodo National Park, Moyo Island, Pink Beach, Padar Lookout, Manta Point and so much more!
Alternatively, for those on a super tight budget there is a ferry + mini bus + overnight bus + ferry service that takes just over 24 hours to travel from Labuan Bajo to Lombok. Another of Indonesia's island paradises and is the perfect spot to base yourself if you're traveling onto the Gili Islands.
.
The Best Time To Visit Komodo Island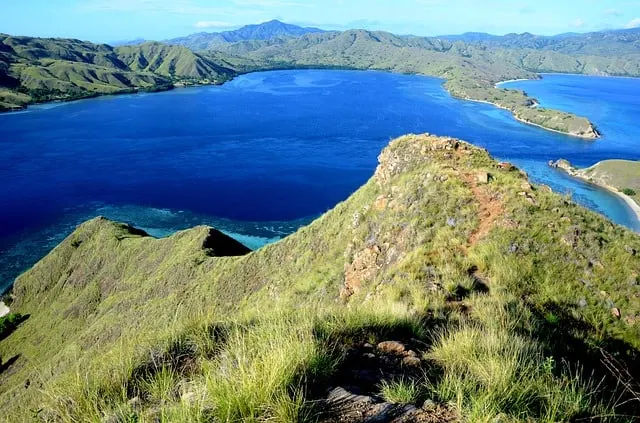 The best time to visit Komodo Island, Komodo National Park, and Labuan Bajo in Flores depends on your preferences and the experiences you seek. The peak tourist season (dry season) falls between April and October when the weather is dry and the seas are calm, making it ideal for diving, snorkeling, and exploring the national park's stunning biodiversity. During this time, you can witness the famous Komodo dragons in their natural habitat and enjoy clear visibility underwater.
However, if you prefer to avoid crowds and take advantage of lower prices, visiting during the shoulder months of November and March can be a great option. While there may be occasional rainfall, the landscapes are lush and vibrant, and you can still have fantastic wildlife encounters.
It's worth noting that the wet season (rainy season), from December to February, can bring heavy rainfall and choppy seas, limiting outdoor activities. Some facilities may also have reduced availability or close for maintenance. However, if you're primarily interested in capturing stunning photos of the island's lush greenery and enjoying a more tranquil experience, this period can offer unique opportunities.
Whatever time you decide to visit, don't forget to buy Travel Insurance before you go (and get 5% off with our link).
Where to stay for Komodo Island
Once you arrive in Labuan Bajo Flores (searchable as Labuhanbajo on some booking platforms) you will notice that is really is one of the tiniest towns you'll ever visit. Comprising the port, one main street packed with dive shops and tour operators, a handful of restaurants and offering a choice of around 50 hostels and hotels in the whole town, it is the fishing town that packs a punch. Fun Fact: all water in the town is trucked in, so water preservation and conservation is a big thing here!
We recommend the following hotels and hostels depending on your budget:
Dragon Dive Komodo Hostel Dorm beds (from $18 per night) and private rooms (from $90 per night) laid back atmosphere, dive shop, swimming pool, onsite bar & restaurant – but no hot water.
Green Hill Boutique Hotel or Komodo Lodge (from $30 per night) Both properties are good options when looking for a hotel in Labuan Bajo and offer a handful of double rooms, terraces to chill out on and the ability to organize tours and activities. Book early to avoid disappointment as rooms sell out quickly.
Hotel Bintang Flores Island (from $75 per night) 4* accommodation, free wifi, gym, swimming pool but located a 2.5km from the main street – perfect if you're after a more resort feel.
.
Where to eat in Labuan Bajo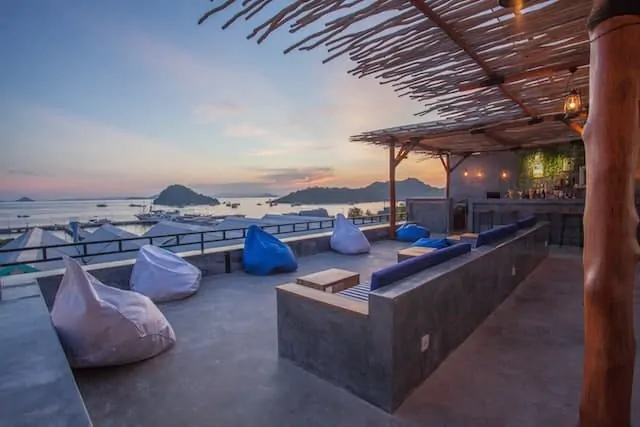 Whilst there's no denying that the choice of restaurants is a little bit thin on the ground in Labuan Bajo, you can still grab some amazing food in this tiny town – although, to be expected – prices are a little higher than you expect in Bali. We recommend:
Le Pirate: Officially part of the hotel of the same name, this restaurant offers a range of western and Indonesian food that would satisfy even the fussiest of eaters. Add in a rooftop terrace complete with swimming pool and you've got a great spot for sunset, dinner and drinks.
Mediterraneo: Seriously one of the best restaurants I have been to in Indonesia. Incredible pizza, pasta, salads and more that are straight out of a 5* Mediterranean restaurant. Beautifully presented and reasonably priced, make sure you eat here at least once during your stay.
Warung Mama: Raised above the main strip in Labuan Bajo, the bamboo roofed space serves authentic Indonesian fare for breakfast lunch and dinner and relatively cheap prices.
Happy Banana: Japanese fusion restaurant that are renowned for its sashimi and sushi. Slightly on the pricier side, but well worth a visit.
.
Things to do on and around Komodo Island
Komodo Island National Park
If you're anything like me, the mere mention of Komodo National Park immediately makes you think of Komodo Dragons, and so naturally, visiting the Komodo dragons will be at the top of your list of things to do!
The Komodo dragon is the largest monitor lizard on the planet. They grow up to 8.5ft long, can weigh up to 200lb and can run an impressive 12mph. (Humans can run up to 15mph) – so you definitely do not want to be chased by one unless you're Usain Bolt! (Although on our visit, where we saw 5, they barely moved their heads to look left and right…)
Komodo Island (also known as Dragon Island) is included on most day trips/Komodo tours from Labuan Bajo and is home to over 3,000 dragons and offers 4 different trekking routes (short, medium, long & adventure) with the shortest taking less than an hour and the longest (adventure trek) up to 4 hours. You must follow and stay with the guide(s) at all times – and remember to take a bottle of water, as it can get very hot walking around the trails.
The park rangers/guides will also recommend that you don't go to the toilet alone, that you don't look the dragons in the eye, keep your head down and girls on their period must take extra care as the dragons have a highly sensitive sense of smell and may attack if they smell blood.
But as long as you follow the rules, you'll hopefully get to have the unforgettable experience of seeing the world's largest lizards, and if you're super lucky you'll see them right on Komodo beach – but, as always with wild animals – there are no guarantees!
Booking Your Day Trip to Komodo National Park (Komodo Island)
It is possible to book your boat tour to Komodo whilst in Labuan Bajo – just walk along the main street and ask every tour company what trips they have planned for visiting Komodo Island (and anywhere else you want to go!) and be prepared to negotiate on price! But if you are short on time or have specific dates that you need to travel, we recommend booking in advance.
PRE-BOOK YOUR TOUR HERE
– 1 Day Tour:
If you are short on time and like to have everything booked in advance, this
1 Day Komodo Island Tour
is perfect! Walk with the dragons, laze on Pink Beach and snorkel at Manta Point!
–
2 Day Tour:
Spend one night on a traditional Phinisi Boat and enjoy two days of dragons, diving and snorkeling in the Komodo Marine Reserve, and of course, a visit to the pink beach!
–
3D2N Tour:
Spend two nights aboard a traditional boat and visit Rinca Island, Hike Padar for sunset, Walk with the Dragons, Snorkel at Manta Point & Swim with giants at Manta Point (with all meals included! –
if you have the time, this one is my top pick!
)
Entrance Tickets to Komodo National Park are included in almost all tour prices, but for reference, the fee for foreigners is currently around IDR3.750.000 per person for Padar & Komodo Island, 250,000 IDR for Rinca + different fees for guides, tax, conservation etc (and is subject to change at any time).
.
Trek Padar
Padar Island is the third major island which makes up Komodo National Park and hiking to it's summit offers you the chance to glimpse one of Indonesia's most beautiful viewpoints. The hike itself is pretty tough. The terrain is sandy with many loose rocks and although they are currently developing the site and have steps at the lower section, to get to the top you'll need a decent pair of hiking shoes, balance, dedication and a full bottle of water!
You'll sweat, probably curse (I know I did) and again, if you're anything like me, need to take regular breaks on the way to the top. But it will be worth it once you get there. Padar Lookout is easily one of the most epic landscapes I have ever seen.
.
Pink Beach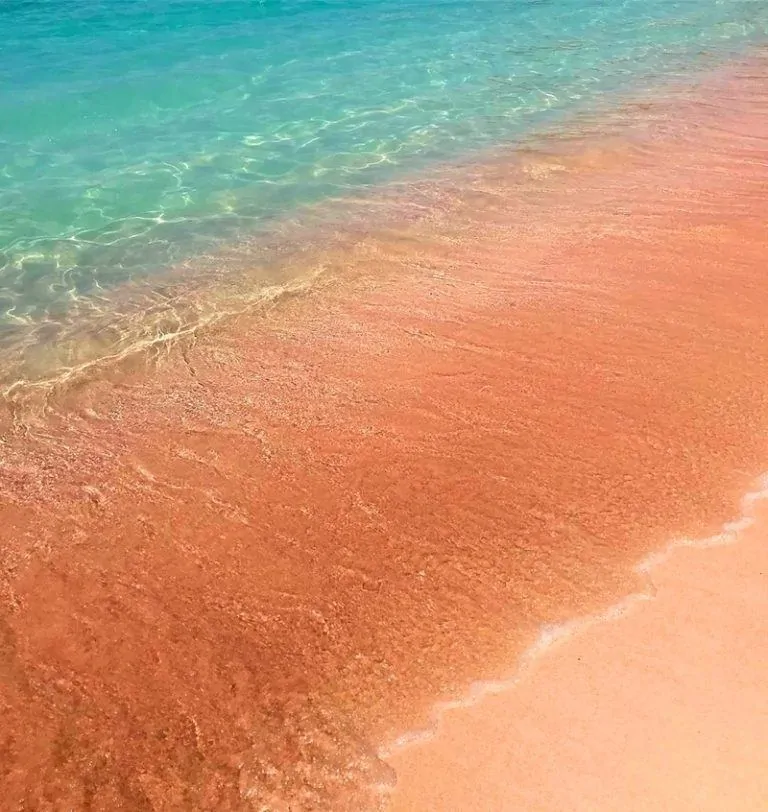 If I'm honest, a lot of the shores on the various islands of Komodo National Park have a touch of pink to them, but THE Pink Beach at Mawan Island is the place to go to see the best hues. Caused by a combination of white sand and tiny bits of red coral washed up by the waves, the pink sand where the water meets the sand is simply magical.
Pink Beach Komodo is included on most day tours and is also a great spot for snorkeling due to the array of tropical fish and well preserved beautiful corals just off the shoreline. Don't forget your GoPro – the proximity of the coral to the surface makes for some of the best lit underwater photography in the world!
.
Snorkel at Manta Point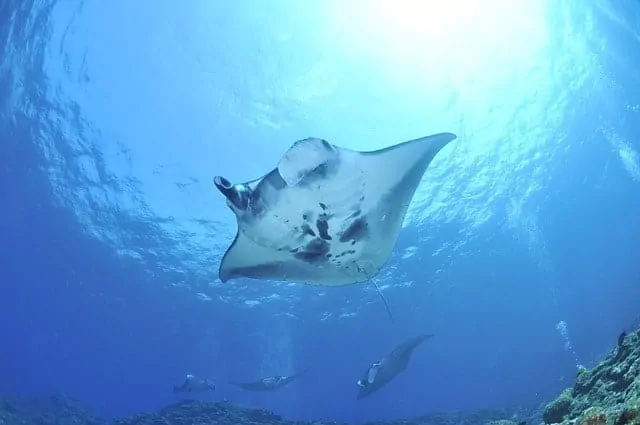 Manta Point in Komodo National Park is one of the best diving spots in the world to get in the water with these magnificent creatures. The active currents here attract the manta rays and it is possible to drift along with these creatures graciously swimming around you. You'll also get to see beautiful coral reefs, loads of colourful fish and if you're lucky a turtle of two will glide past to say hello.
So grab your snorkel and GoPro for those epic Manta selfies, jump in the water and get a glimpse of this incredible underwater paradise and unique marine environment. It's the perfect place for diving and snorkeling.
.
Hike Gili Lawa
Gili Lawa is one of the smaller Islands in Komodo National Park, and whilst less well-known than Padar, the hike to the top is increasing in popularity. It is also a tougher climb than Padar – the trail is small and less well marked and by the time you have hiked to the top and back down again, sweaty won't ever cover it and you'll be more than ready for a dip in those aqua blue waters. But as you can see from the picture above, the view from the top is totally worth it!
We visited as part of the Indo Island Hopping Adventure but if you want to visit independently check with the tour groups in Labuan Bajo town to see who makes a stop at this beautiful uninhabited island.
.
Visit Rinca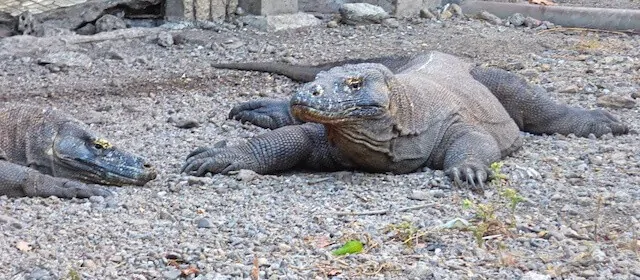 If you can't get enough of the Komodo dragons and want another shot at spotting these incredible prehistoric-looking giant lizards, Rinca Island is the place to go. Rinca is the second-largest Island in the Komodo National Park and is home to the second-largest population of Komodo Dragons.
Just a short 2 hour boat trip by speedboat from Labuan Bajo you'll find yourself immersed in a Jurassic Park style landscape where park rangers are available to walk you along the trails. Again, as with Komodo Island, you must stay with the guides at all times and only walk along the designated trails.
RELATED: Love Dragons? Love Scuba? Combine the two in this Dragons and Scuba Diving adventure day!
.
Scuba Dive This Underwater Paradise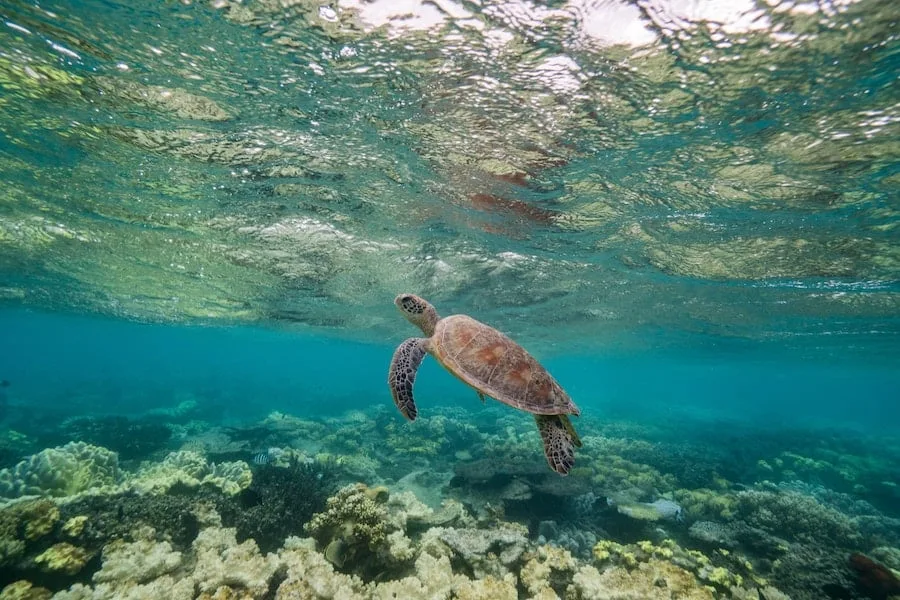 Komodo Island is a scuba diver's paradise. The currents in the area attract some of the most incredible marine life including sharks, manta rays, octopus and turtles and Komodo National Park is the perfect spot for underwater photography, drift dives and reef life.
Whilst there are a huge number of diving sites in the area, most are better suited to intermediate and advanced divers, but if you're a newbie – don't be put off! The dive centers in town are happy to talk you through the various options so that even relatively new divers will have a great time underwater and get to experience some of the most incredible diving in Komodo National Park.
We recommend booking your diving trip with Blue Marlin Komodo on either their 1 Day Komodo Dive Package (which offers 2 dives for PADI Open Water Level and 3 dives for PADI Advanced Open Water) or if you want to extend your dive trip, sign up for their Liveaboard Dive Package. Each day on board offers 4 dives, 4 meals and all your equipment. You can also choose how many nights you spend on board – perfect for customizing your own trip.
Psst. Don't forget to invest in a high-quality dry bag to keep your stuff protected whilst out on the boat!

And that's a wrap guys! I hope you enjoyed our ultimate Komodo Island travel guide packed with travel tips for planning your trip to Komodo – and that you get to visit Indonesia and come face to face with a Komodo Dragon very, very soon!
And if you don't mind sharing the love, a tweet, stumble, pin, or Facebook share on social media would be much appreciated! (Full sized pins are available by clicking the share bar on the left)
Happy Travels!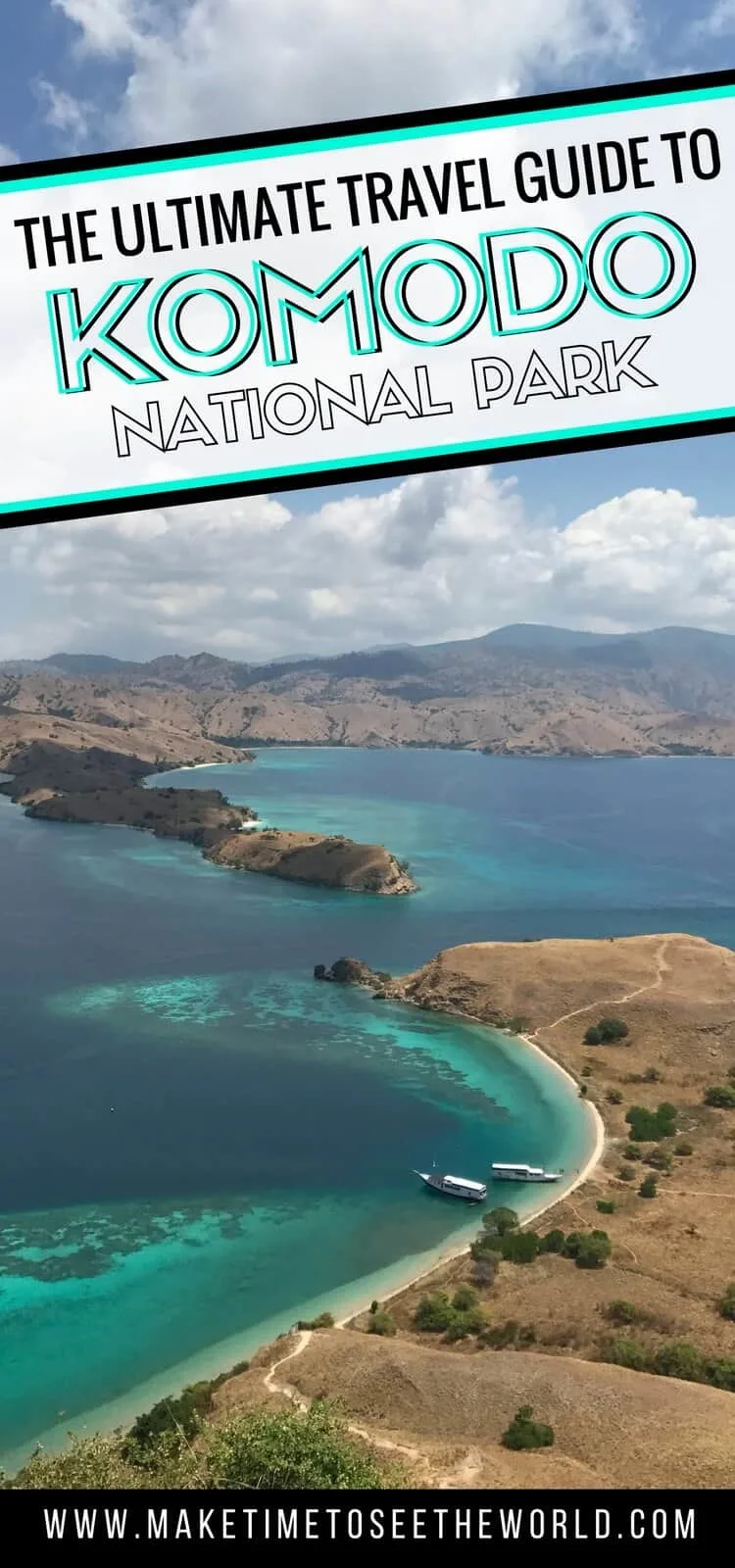 READY FOR MORE TRAVEL INSPIRATION? YOU MIGHT BE INTERESTED IN THESE RECENT POSTS, TRAVEL ARTICLES, DESTINATION GUIDES, TRAVELER RESOURCES, TRAVEL GEAR GUIDES AND RELATED POSTS ABOUT OTHER AMAZING PLACES AROUND THE WORLD
Once you've visited the island, explore Indonesias Raja Ampat, Nusa Penida, Nusa Dua
Around the world: Sri Lanka, North America, Middle East, United Kingdom, Hong Kong, South Pacific + More!
Road Trip Resources: The Ultimate Road Trip Packing List, Road Trip Tips, Road Trip Quotes & Self Drive Road Trip Playlist – keeping you and your car happy, entertained & healthy on the road
Japan: 25+ Epic Things to do in Japan, How to Onsen, How to Eat Sushi & Things to do in Tokyo, Kyoto + Osaka
Travel Gear: Travel Backpacks & Carry On Luggage, passport wallets, camera backpacks & travel yoga mats!
General Travel Inspiration! Travel Quotes, Mountain Quotes, Beach Quotes, (to go with all those beach essentials!) Quotes about the Ocean & some of the most unique travel words with beautiful meanings!!
Hi There! Thanks for reading our travel blog post about How to Plan a Trip To Komodo Island – Things to Do, Where To Stay & Where To Eat! I just wanted to let you know that this post contains affiliate links, which means if you purchase something after clicking a link, I may get a small commission – which is at absolutely no cost to you. If you enjoyed this article and are going to be searching for some of the things I mention anyway, I would love it if you could click through from the links above & thank you in advance! Read my full Disclosure here.