Neglected by many tour guides as well as independent travelers for the mental traffic and a lack of time combined with too many places to visit, Tehran is actually a fascinating city packed with things to do. Lively, trendy and dynamic, Tehran's population comes from all Iranian provinces, making the capital a city-size Iran. It might not be as old as Isfahan, Yazd or Shiraz, but for sure Tehran doesn't lack in palaces, mosques, and chaotic traditional markets, and should definitely make it to your list if you travel to Iran. Scroll down for our guide to 48 hours in Iran's capital including where to stay, where to eat, how to get around and the top things to do in Tehran.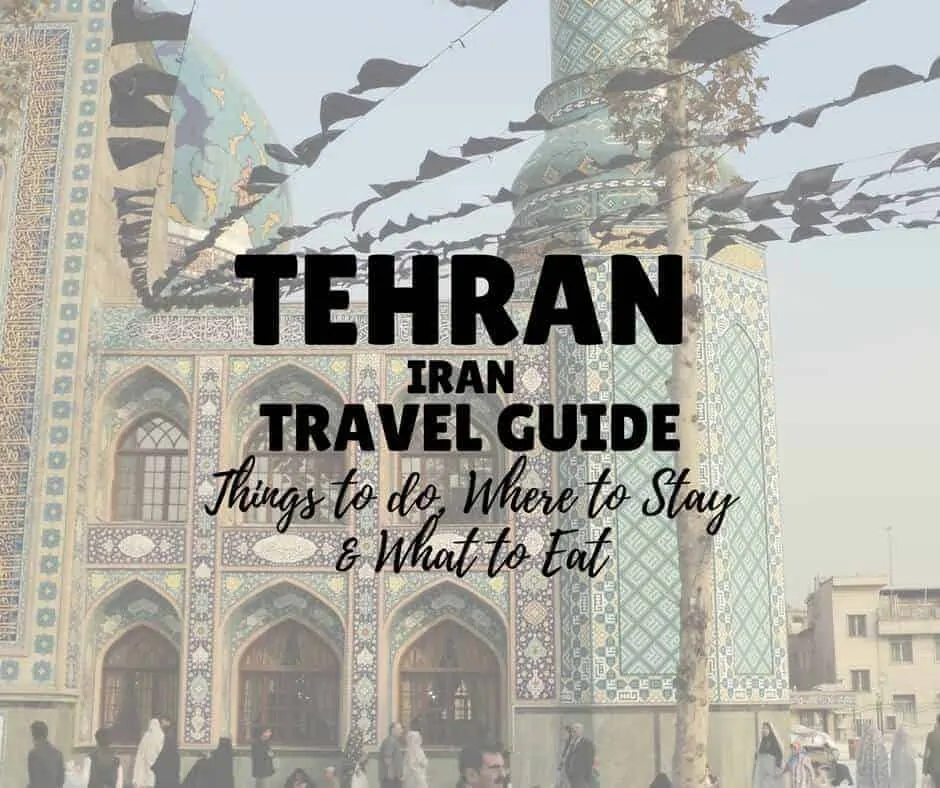 Disclaimer: Almost all posts on this site contain Affiliate links, and this one is no different. This means that if you click on any of the links in this post (and make a purchase) I may receive a small commission at absolutely no cost to you. Each post is carefully crafted to (hopefully!) answer all your questions and recommendations are made where we believe they will improve your trip and help with your planning. As such we thank you in advance should you decide to click & buy. Read my full Disclosure here.
Tehran Tourism Guide – Where to Stay, Where To Eat, How to Get Around and Things to Do in Tehran
A Guest Post by Angela Corrias of Chasing The Unexpected
Top 10 Things to do in Tehran
Golestan Palace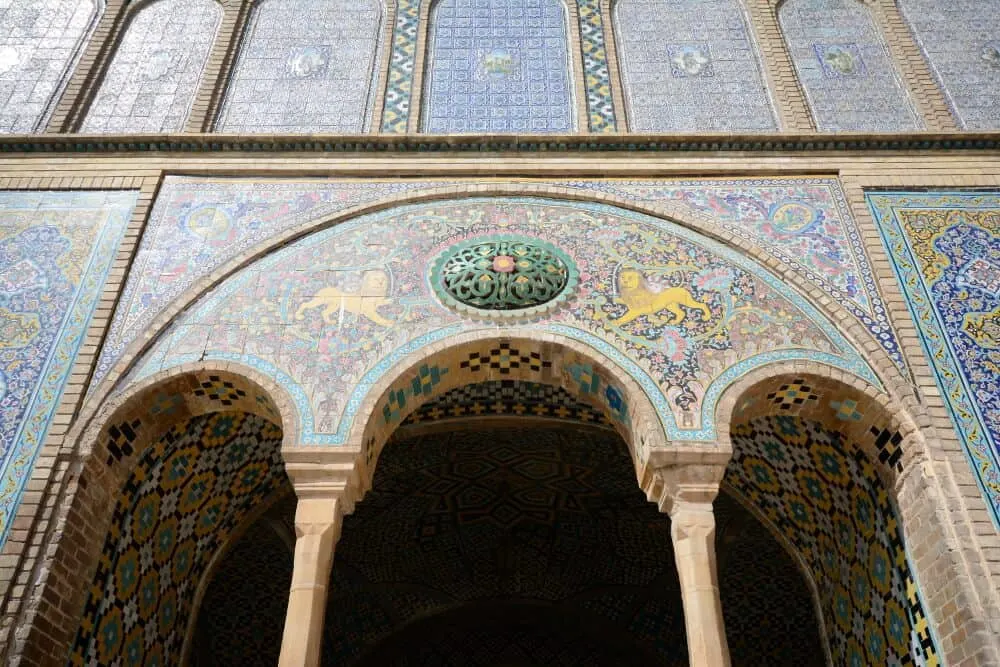 Declared World Heritage Site by UNESCO in 2013, Qajar-era Golestan Palace is a stunning royal residence. Embellished with sophisticated decorations, colorful tiles and European-style paintings, this luxurious palace was originally built in the 16th century during the Safavid dynasty. Get lost in its courtyards, halls and fine ornaments.
.
Azadi Tower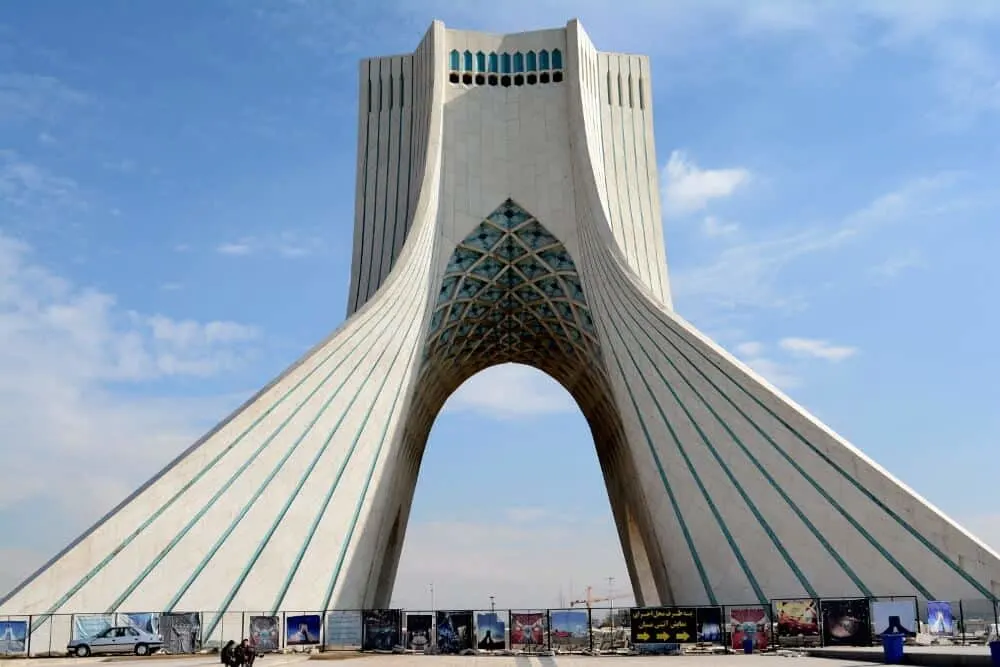 Persian for Freedom Tower, the imposing Azadi Tower is the symbol of Tehran, hence a must-see place to take postcard-like photos. Located in Azadi Square, the 54-mt-high tower was inaugurated in 1971 by Shah Mohammad Reza Pahlavi with the name of Shahyad Tower (Kings' Memorial) to celebrate the 2500th year of the Persian Empire. After 1979 Revolution it was renamed Freedom Tower, and now it hosts exhibitions, a library, a museum and a gallery.
.
Tehran Grand Bazaar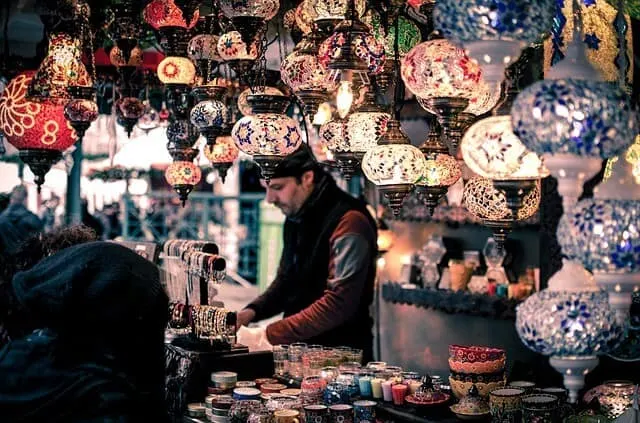 By all means, don't leave Iran without visiting one of its bazaars. It's here that you will experience Iranian daily routine, the hectic shopping life, the bargaining, the most common ingredients used in Persian cuisine and the local handicraft. Tehran Grand Bazaar is huge and chaotic, and in the city one of the best places for traditional shopping and photography. Here you will find anything from carpets to saffron to pistachio to jewelry and restaurants.
Niavaran Palace
Huge complex of around 9000 square meters, Niavaran served as royal residence to Iran's last Shah, Mohammad Reza Pahlavi, until 1979, the year of the Islamic Revolution. Today we can visit this luxurious mansion and still see how it was furnished, the living room with a fully set table, the bedrooms with the kids' toys and the queen's dresses, and a big collection of Persian carpets and paintings.
.
Grab a coffee at Enghelab Street
Trendy, hipster and filled with students, Enghelab Street is the best place in central Tehran to go sit, away from the hustle and bustle of the capital and enjoy a cup of coffee and some delicious cakes. Close to Tehran University, the street is packed with coffee shops and book stores. You will love to hang out here, try out some of their delicious cakes, teas and coffees, and meet young Iranians enjoying their evening after university.
.
Vali Asr Street
One of the Middle East's longest roads, tree-lined Vali Asr Street was built during the Pahlavi era. The northern and southern edges of this 20th-century 18-km long street are connected to the Tajrish are, close to the namesake bazaar, and the Railway Square, respectively. Along this street you will find many shopping malls, restaurants, urban gardens such as the beautiful Park Mellat and Park Saei, museums and cinemas, and roughly in the middle, in Valiasr Square (Meydan-e Vali Asr metro station), Tehran City Theater, a performing arts complex.
.
Jewelry Museum
Originally hosted at the Golestan Palace, in the 1960s the Jewelry Museum was moved to the Central Bank of Iran, where it is today. As this is a sensitive location, it's forbidden to take pictures both outside and inside the museum. Photo ban notwithstanding, the Jewelry Museum is a fascinating place thanks to the huge collection displaying some of the world's most precious and expensive jewelry.
.
Walk along Nature Bridge to Water and Fire Park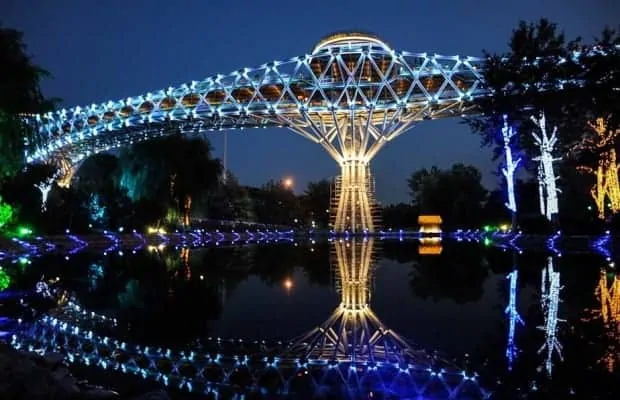 Beautiful from afar, especially at night when it's spruced up with colorful lights, Tehran's Tabiat (Nature) Bridge is a long promenade with many restaurants and hotels. Designed by 26-year-old Iranian architect Leila Araghian, this scenic bridge connects two parks, Taleghani on the southern end and the lovely Water and Fire (Ab-o-Atash) Park at the northern edge that hosts water fountains alongside fire towers, horse training areas and coffee shops.
.
Ferdowsi Garden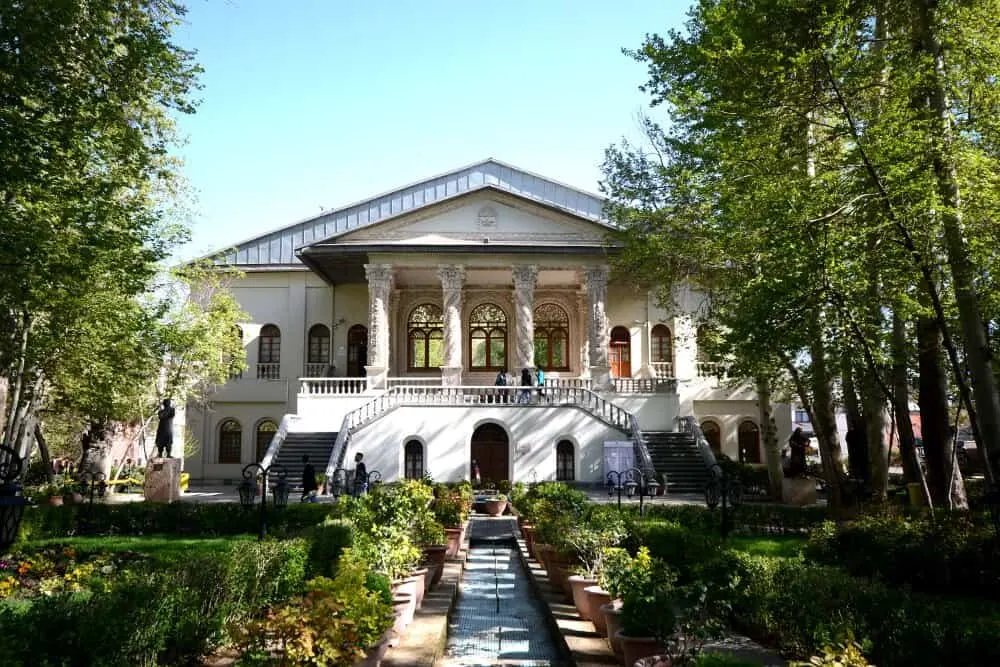 The love of Iranians for nature and gardens is clear in Tehran. Even though a big and busy city, there are countless parks and gardens that allow people to immerse in the greenery and enjoy a picnic, one of the country's very favorite activities. Built keeping in mind Iranian-style gardening, the lovely Ferdowsi Garden features the water element running in the middle, stone sculptures, paved pathways and a nice restaurant.
.
Artists' Garden
Quiet park not far from the former US embassy, the Artists' Garden is a perfect place to enjoy a relaxing walk and spend an afternoon in its Artists' Forum. Here there is a gallery that always hosts art and photo exhibitions, a theater hall, concerts and sometimes in the outside a handicraft market.
.
Mosalla Mosque Complex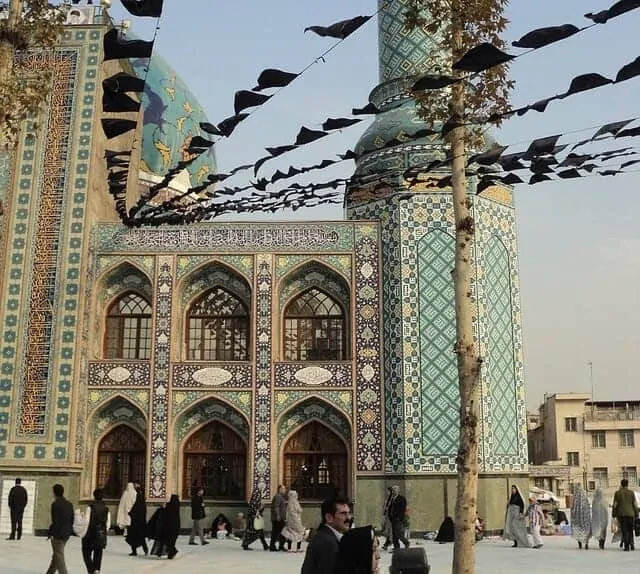 Iran's strong contender for the title of world's largest mosque, the Mosalla complex has been under construction since the 1990s (and won't be finished for several years to come!). Architecturally it sits somewhere between modernist and space age, with 230m minarets and beautifully colored, intricately decorated buildings throughout the complex, it is a photographers dream.
.
Where to Eat in Tehran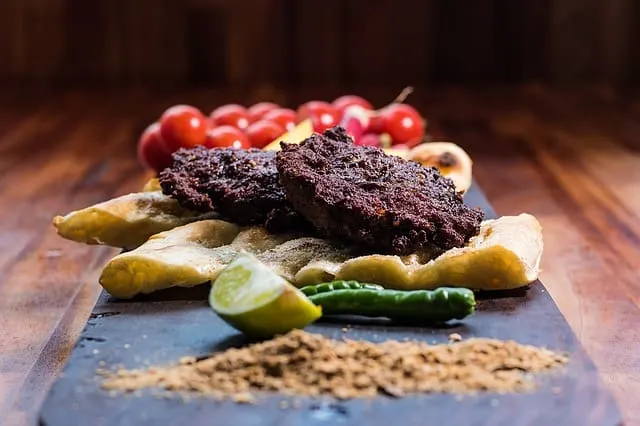 Ananda vegetarian restaurant
It is considered one of the best vegetarian restaurants in Tehran with a good variety of foods, appetizers and desserts. The employees are friendly, polite and some understand English.
Address: Tehran, District 3, South Ekhtiyariyeh, No. 18
Timings: Daily from 9 am-11 pm.
Artists Cafe, vegetarian cafe at the Artists' Garden
Iranian Artist Forum Vegetarian Cafe is good place to either have your veggie meal or just relax for a coffee or a saffron ice cream. They offers a good range of vegetarian dishes, both Iranian and international with a good service and affordable prices.
Address: Tehran, Baghe Honarmandan, Iranshahr St.
Hours: Daily from 11 am-10.30 pm
Small restaurants in Tajrish Bazaar
In Tajrish Bazaar you will come across many restaurants that offer good choice of traditional Iranian foods. One of them is Morshad Restaurant that kept everything traditional and serves excellent Joojeh kebab and saffron rice for affordable prices.
Address: Tehran, Niavaran St, Morshad Restaurant
Hours: Open daily for lunch and dinner
Divan restaurant
For delicious Persian cuisine with a modern twist, try the stylish Divan Restaurant in the Sam Center not far from Vali Asr Street.
Address: Sam Center, Fayazi Blvd (Fereshteh), Akhgar St., Bahar St.
Hours: Always open
Where to Stay in Tehran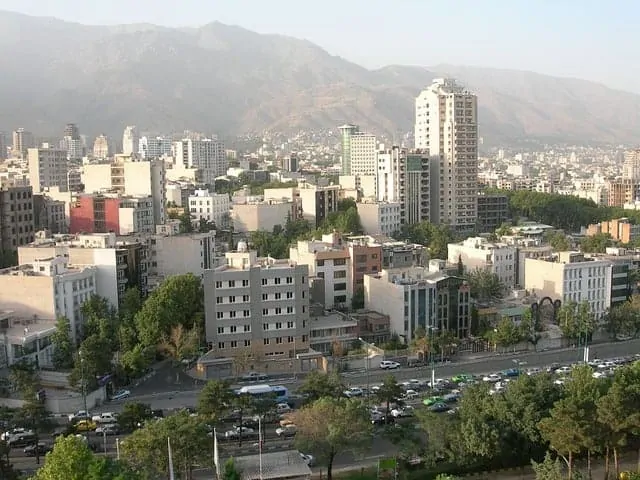 Tehran is under-developed as a tourist destination, and as such hotel prices remain quite high across the board and there seem to be limited options on the typical booking platforms. Booking.com has a few properties (and if you use that link to book any property in any country we'll both get $25 in credit!) Smaller guesthouses can be located with the help of local operators – which if you decide to go down that route we suggest checking TripAdvisor once you have the name of a potential property; but outside of that, we recommend the following hotels in Tehran:
Luxury – Sepehr Apart Hotel ($350+ per night)
Featuring free WiFi throughout the property, Sepehr Apartment Hotel is one of the best Tehran hotels and offers 4* accommodation in Tehran, complete with free parking on site and a swimming pool.
Compare Reviews for Later | Read Trip Advisor Reviews
Mid-Range – Parsian Azadi Hotel Tehran ($200-$300 Per Night)
Rooms at Parsian Azadi Hotel Tehran provide a stylish space to unwind, complete with a mini bar and a flat-screen TV. They feature an in-room safe, tea and coffee making facilities and a bathtub. There is also a Finnish sauna and a Jacuzzi on site.
Compare Reviews for Later | Read Trip Advisor Reviews
Budget – Parsian Evin Hotel ($130-$180 per night)
The rooms are air conditioned and include movies-on-demand, prayer mats and a flat-screen TV. They all feature a desk, an alarm clock and newspapers. Parsian Evin Hotel houses both a restaurant and a bar where guests are able to unwind at the end of the day with a meal and a drink.
Compare Reviews for Later | Read Trip Advisor Reviews
.
Essential Visitor Info
How to get to Tehran
First, you need a Visa. There are over 80 nationalities who are able to obtain a 30 day tourist visa-on-arrival, however American, British and Canadian citizens need to apply for their visa beforehand. And Israeli citizens cannot enter at all. If you are not part of a tour group, Check with IranianVisa.com for location, costs and processing times of visas, and remember to apply with plenty of time to go before your trip departure date. For those on tours, your tour operator will usually assist in obtaining your visa.
Since 2014, the Iranian Government have had rules in place that state that all America, British and Canadian travelers must be accompanied whilst traveling in the country. We recommend contacting a tour operator who specializes in Iran for a custom itinerary or joining one of the many Group Tours available in the region and are run by Western Operators such as Intrepid, G Adventures and Exodus Travel.
You also won't be granted a visa without travel insurance. Be careful with what policy you chose and the majority do not cover Iran. We recommend World Nomads for travel in the Middle East as they cover the area and are reliable. (August 2019 update: Due to political tensions between Iran and the USA, World Nomads are not insuring travelers at this time; and I am unaware of anyone else that will without incurring major costs).
Most people will arrive in Iran via

Imam Khomeini International Airport

(IKIA/IKA) which is 35km south of the city. From the airport, it is possible to reach Tehran by taxi, metro, bus and via the use of apps such as Snapp and TAP30 (which operate like Uber).
There are fixed priced taxis available at the airport, with the fee set at around $25-35USD, but it is possible to negotiate down if you are feeling confident. As always, never get into a cab unless you have confirmed the destination and final price.
The Tehran Metro also runs to and from the airport from various points in the city, with fares varying depending on the length of the journey, which are usually no more than a Dollar. Click here to view a metro map.
How To Get Around Tehran
Since 2014, the Iranian Government have had rules in place that state that all America, British and Canadian travelers must be accompanied whilst traveling in the country. We recommend contacting a tour operator who specializes in Iran for a custom itinerary or joining one of the many Group Tours available in the region and are run by Western Operators such as Intrepid, G Adventures and Exodus Travel.
For those outside these nationalities, the metro is a cheap and efficient way of navigating the city.
Money in Tehran
Iran has a closed currency – the Iranian Rial (IRR) which means that you will be required to travel with enough cash (preferably Euro – it used to be USD but Trumps travel ban put an end to all that) to cover the length of your trip and note that ATMS will not accept foreign cards.
On arrival in the country it is possible to exchange your EUr for IRR, and whilst the exchange booths at the airport offer relatively poor rates (the booths at arrivals have the worst rates, with slightly better rates to be found at the exchange booths at departures), both will provide you with a receipt of exchange which you will be required to produce should you wish to change cash back to EUR at the end of your trip.
Day to day expenses should be minimal, with eating out costing between $4-20USD per meal; entrance fees are around $5-15USD per person, dependent of the site and metro fees are $1-4 per journey. As Iran is a Muslim country, alcohol is forbidden for it's citizens and consequently illegal.
Tipping is not customary in Iran but services that cater to tourists will expect a gratuity. If you've hired a guide, a porter or a driver, expect to give a tip at the end. A few dollars should be fine. Additionally, high end hotels may add 10%+ onto a restaurant bill, but smaller restaurants outside the main attractions would be pleasantly surprised if you left a tip.
The Internet in Tehran
As with the rest of Iran, certain websites – such as Facebook – are restricted and you will require a VPN to access them. We recommend downloading and installing NordVPN prior to your trip to ensure you have unlimited access to the internet during your stay.
What to Wear in Tehran
As a strict Muslim country, it is necessary for women to be dressed conservatively, and it is necessary for women to cover their hair/heads at all times when out in public.
However, it is common for women to strip off to more fashionable and 'shorter/minimalist' clothing once inside the family home, and should you be mixing in such circles it would be expected you would do the same.
When to visit Tehran
Spring (March – May) and autumn (September – October) are undoubtedly the best time to go to Iran and so avoid the searing hot Middle Eastern summer and the icy winter. It is also advisable to check when the month of Ramadan falls in the year you intend to visit as during this time eating and drinking in public during daylight hours is not permitted and religious laws are enforced more strictly.
And that's a wrap folks! I hope you enjoyed this Tehran travel guide – and that we have given you a great list of travel tips and Things To Do in Tehran to make sure you get the most from your visit. Don't forget to let me know your own highlights once you're back!

Oh, and if you liked this post please tweet, pin and share on Facebook – I'd really appreciate it! Click the P in the share bar for full size images!
READY MORE TRAVEL INSPIRATION? YOU MIGHT BE INTERESTED IN THESE TRAVEL TIPS, TRAVEL ARTICLES, DESTINATION GUIDES AND RELATED POSTS:
Hi There! Thanks for reading our travel guide to Tehran Tourism: Things to Do, Where to Stay & Where to Eat! I just wanted to let you know that this post contains affiliate links, which means if you purchase something after clicking a link, I may get a small commission – which is at absolutely no cost to you. If you enjoyed this article and are going to be searching for some of the things I mention anyway, I would love it if you could click through from the links above & thank you in advance! Read my full Disclosure here.
And a huge Thank You for reading the MakeTimeToSeeTheWorld travel blog.