We've reviewed the Top 10 Hardside Luggage options on the market in 2023 + shared our insider tips on how to pick the right one for you!
What's your top priority when jetting off on adventures around the world? Is it enjoying new experiences, making sure you travel first class all the way or finding the best accommodation deal out there? Whatever your requirements there is one priority we all share in common whilst traveling and that's keeping our belongings safe and in one piece.
Hardside Luggage (aka hardshell luggage or simply, a shell case) is a great option when you are looking for a robust case to accompany you on your adventures, and this post will help you find the best Hardside Luggage for you – whatever your style, size requirements, color preference or budget!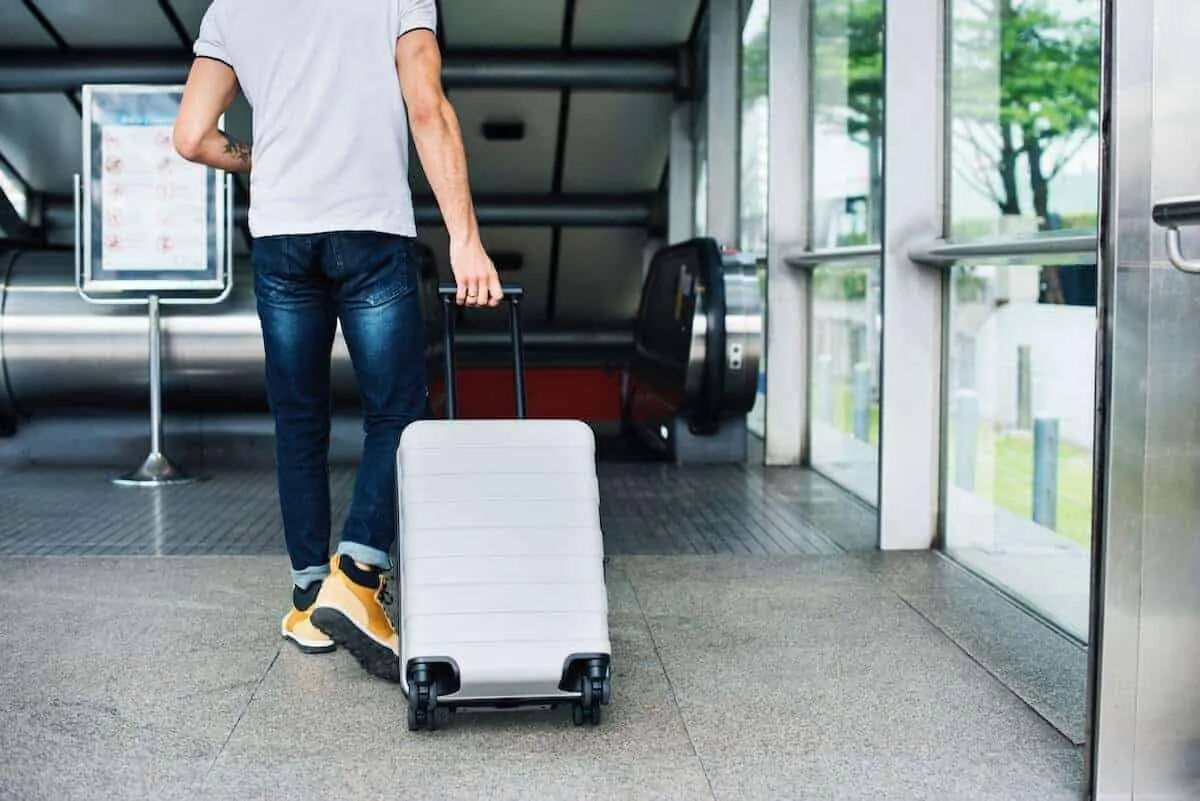 Disclaimer: This very helpful post about the best hardside luggage contains affiliate links, which means that should you click any of the links and make a purchase I may get a small commission at absolutely no cost to you. If you are thinking about investing in a new hardshell suitcase – please consider using the links below. And you can read the legal stuff about it all in my Disclosure.
Things to Consider when selecting the best Hardside Luggage
Hardside vs Softside Luggage: The age old debate, but one which firmly falls on the side of Hardsided Luggage in 2023 (IMO). Softside luggage, whilst offering a little more in terms of 'give' when packing due to it's more flexible outer construction, that is about the only benefit of it. Hardside suitcases offer excellent durability, intergrated TSA locks, retractable handles and a desirable 4wheel spinner system making traveling with it a breeze. (FYI there are some softsided spinner luggage pieces on the market, but not many!). Hardside rolling suitcases also look pretty beautiful – and what stylish traveler doesn't want that?!
Size: With increasingly strict carryon

s

luggage requirements, taking a checked luggage bag on your trip is becoming more and more the norm. You might think that should mean you buy the biggest case out there, but this is not so! You should always make sure when buying a hardsided suitcase that it's maximum dimensions are compatible with all airline requirements. For most (including American Airlines & United Airlines) – sticking to a 28″ or 29″ expandable hardside case will keep you in the airline's good books!
Security & Internal Features: Does the hardsided spinner luggage come with an inbuilt security system such as a TSA lock? Or will you be required to purchase your own combination locks? Does the case have an internal organisation system such as compression cross straps, zippered pocket, divider, mesh pockets or a laptop pocket? Be sure to look closely at a bags features and decide what YOU need in your perfect travel suitcase.
Price: As with most things, you get what you pay for – and as you will be wanting to keep your belongings safe and secure, don't be afraid to pay a little extra. But don't think that automatically spending more will mean you have the best case. Sometimes, you may just be paying for a brand name.
.
| IMAGE | PRODUCT | Cost | Size | Weight | |
| --- | --- | --- | --- | --- | --- |
| | 1. SAMSONITE S'CURE HARDSIDE CHECKED LUGGAGE | $$ | 28″or 30″ | 2.9kg | Check Price |
| | 2. MVST SELECT TREK ALUMINUM SUITCASE | $$$ | 27″ | 4.8kg | Check Price |
| | 3. COOLFIE SUITCASE | $ | 28″ | 4.9kg | Check Price |
| | 4. AMAZONBASICS HARDSIDE LUGGAGE SET | $$ | 20″, 24″ & 28″ | 3.24kg | Check Price |
| | 5. KONO 28″ LUGGAGE (UK) | $ | 28″ | 4.15kg | Check Price |
| | 6. BRIGGS & RILEY SYMPATICO | $$$$ | 28″ | 3.6kg | Check Price |
| | 7. AMERICAN TOURISTER CURIO SPINNER 29″ | $$ | 29.5″ | 4.8kg | Check Price |
| | 8. DELSEY PARIS HELIUM AERO 29″ EXPANDABLE SPINNER | $$ | 29″ | 5.5kg | Check Price |
| | 9. CRASH BAGGAGE | $$$ | 30″ | 4.1kg | Check Price |
| | 10. SAMSONITE TERMO YOUNG SPINNER | $$$ | 29″ | 5.1kg | Check Price |
| | 11. TRUNKI KIDS RIDE-ON SUITCASE | $ | 17.5″ | 1.6kg | Check Price |
11 Best Hardside Luggage Options in 2023
Samsonite S'Cure Hardside Checked Luggage
.

Top Features
– Hard shell polypropylene outer case
– TSA Approved Lock
– Telescopic Handle
– 360º Double Wheels
– Waterproof
– Internal Compression Straps
.
.
Cost Size Weight
$$ 28″or 30″ 2.9kg

Recommended by travel professionals this hardside suitcase from Samsonite is popular among pilots and cabin crew around the world. As one of the very best luggage ranges available on the market, this Samsonite S'Cure case comes in a variety of sizes from carry-on friendly to XL. This lightweight hardside luggage with spinner wheels boast fantastic quality and ensures you can from A to B quickly and easily with the knowledge all your belongings are safe and secure. As an added bonus the internal cross straps compression system will keep everything neat and tidy.
.
MVST Select Trek Aluminum Suitcase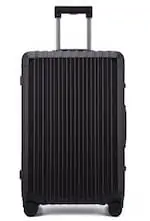 Top Features
– Unbreakable aluminum-magnesium alloy shell
– Reinforced corners
– Zipper-less closure
– Dual TSA-approved combination locks
– Ultra smooth 360° spinner wheels
– Aluminum telescoping handle

This rolling suitcase features a grade 5052 aluminum alloy hardshell exterior, Rubber seals, a zipperless closure, TSA-approved combo locks, and ultra-smooth spinner wheels ensure your belongings are secure and easy to carry when on the road for business or leisure. And it even comes with it's own protective travel cover to keep it looking in mint condition.
Cost Size Weight
$$$ 27″ 4.8kg

COOLFIE Suitcase
.
Top Features
– ABs hard shell outer
– Padded interior
– Telescopic Retractable Handle
– 360º Wheels
– Combination lock
– Expandable by 15%

.
Featuring great reviews from customers, you can't go wrong with this range of hardsided spinner suitcases from COOLIFE. Affordable and available in a selection of sizes, this brand is popular with urban nomads for being lightweight, durable and great quality too.
Cost Size Weight
$ 28″ 4.9kg

RELATED –
Looking for the perfect domestic carryon expandable spinner? Head on over to our guide to picking your perfect
Carry on Luggage
. Or if you already have one you love, check out our guide to packing your carry-on like a pro – it's the ultimate
carry on packing list
for air travel!
.
AmazonBasics Hardside Luggage Set
.
Top Features
– ABS hard shell outer
– Scratch Resistant Finish
– Telescopic Handle
– 360º Double Spinner Wheels
– Expandable suitcase
– 3 Zippered internal pockets (28″)
.
For great value hardside luggage, you will want to check out this 3 piece expandable spinner set from AmazonBasics. Also available individually, the Amazon Basics hardside luggage spinner set includes 55cm, 68cm and 78cm cases that all benefit from 360-degree wheels for easy maneuverability and the ability to expand, for up to 15% extra packing space in the 28″ model. The smaller sizes are great hardside carryon options, with the medium a slightly bigger carryon case (although it may only be permitted on certain airlines)
Cost Size Weight
$$ 20″, 24″ & 28″ 3.24kg

.
Kono 28″ Luggage (UK)
.
Top Features
– Lightweight Multi-Directional Wheels
– ABS Scratch Resistant Finish
– Telescopic Handle
– Combination Lock
.
.
This stylish Kono 28″ Suitcase will be the envy of all your friends. Available in a selection of light summery colors this suitcase is robust, practical and with 3 internal pockets is perfect for those whole like to be organized. And even fully packed, this wheeled luggage glides like a dream (so no one will know if you have over-packed!)
Cost Size Weight
$ 28″ 4.15kg

RELATED –
Get organised & invest in a set of
Packing Cubes
– seriously, they are a lifesaver (especially the compression ones!)
.
Briggs & Riley Sympatico
.
Top Features
– Polycarbonate durable hard shell
– TSA Approved Lock
– Laptop Compartment
– 360º Degree Wheels
.
.
If you have ever had the unfortunate experience of having you bag damaged whilst travelling you will know what a pain and how expensive it can be! Which is why Briggs & Riley have developed their Baseline range of hardside rolling luggage that will limit your chances of luggage damage, featuring a durable outer shell made from polycarbonate and a lifetime guarantee that protects you even against airline damage.
And as far a large suitcases go, its one of the most lightweight luggage pieces out there!
Cost Size Weight
$$$$ 28″ 3.6kg

.
American Tourister Curio Spinner 29″
.
Top Features
– Polypropylene Circular Design
– TSA Approved Lock
– 360º Degree Wheels
– Telescopic handle
-10 Year Warranty
.
Stand out from the crowd – and never wonder which case is yours on the belt ever again(!) with the American Tourister Curio Spinner hardside suitcase which is available in a range of bright, vibrant colors.
It's huge 29.5″ size means there is plenty of space for your stuff and Duel 360º spinner wheels make for a smooth glide wherever you happen to be. And the side mounted TSA combination lock keeps your belongings safe and secure. (And if you are loving the bright design of this case, check out the American Tourister Moonlight Spinner for more funky hard shell designs!)
Cost Size Weight
$$ 29.5″ 4.8kg

.
Delsey Paris Helium Aero 29″ Expandable Spinner
.
Top Features
– Polycarbonate Hardshell
– Double spinner wheels
– TSA Combination Lock
– Expands by 2″
.
.
The Helium Aero Collection from Delsey Paris is extremely lightweight and durable, designed for the frequent traveller. This 29 inch expandable spinner trolley case expands up to 2 inches for maximum packing flexibility. 4, 360º spinner wheels make for a smooth and effortless glide and the integrated TSA Combination lock keeps your belonging secure.
The Delsey Luggage Helium Aero collection is also protected under a Worldwide Limited 10 Year Warranty, and is always a top traveler choice when it comes to extensive travel. (And if you are Delsey lover and looking for something even more stylish, check out the Delsey Chatelet Hardside – and as a 2 piece set comes with a matching spinner carryon!)
Cost Size Weight
$$ 29″ 5.5kg

.
Crash Baggage
.
Top Features
– Internal divider and crompression cross straps
– ABS/Polycarbonate Hardshell
– Double spinner wheels
– In-built Combination Lock
.
A popular range of designer luggage, this unique looking hardside suitcase from Crash Baggage may look bashed but this design feature has been incorporated to keep your belongings safe and in one piece. Available in a range of sizes and benefiting from plenty of other features that promote durability, it's a brand well worth considering.
Cost Size Weight
$$$ 30″ 4.1kg

.
Samsonite Termo Young Spinner
.
Top Features
– Internal divider and crompression cross straps
– ABS/Polycarbonate Hardshell
– 4 x 360º Spinner wheels
– Telescopic Handle
.
With this XL hardside suitcase from Samsonite Luggage, it's all about size. Boasting a whopping capacity of 120L you will be able to pack as much as you like and more. With the added benefit of this case's durable outer shell, it is the ideal bag for anyone packing for a long term trip.
Cost Size Weight
$$$ 29″ 5.1kg

.
Trunki Kids Ride-On Suitcase
.
Top Features
– Multi-functional strap
– Durable plastic outer shell
– Carry-on Friendly
– 5 Year Guarnatee
.
.
Finally, the best hardside suitcase out there for your little ones. Not only is this kids suitcase suitable as a carry-on cabin bag, it also features a hard-wearing outer shell, wheels and carry strap, making it easy to maneuver. This suitcase from Trunki is also a ride-on case making it popular with children around the world and a fantastic boredom buster to relieve tired parents on long journeys.
Cost Size Weight
$ 17.5″ 1.6kg

.
If you have been struggling with an outdated suitcase that is neither waterproof, secure or easy to maneuver, we bet this guide has opened your eyes to the wonderful world of hardside luggage that is on offer. If you haven't purchased yours already, we guarantee it will revolutionize your travel experience and you'll never look back to the days of lugging a duffle bag on a long journey.
For any of you who have just purchased a piece of hardside luggage, we would love to hear why you love your hard shell suitcase or what travel woes it has saved you from on your adventures in the comments below.
And if you love this harside spinner luggage buying guide – or know of someone who is in need of a new checked luggage bag, please tweet, flip, pin or share on facebook. Click the pin in the sharebar on the left to grab the below image.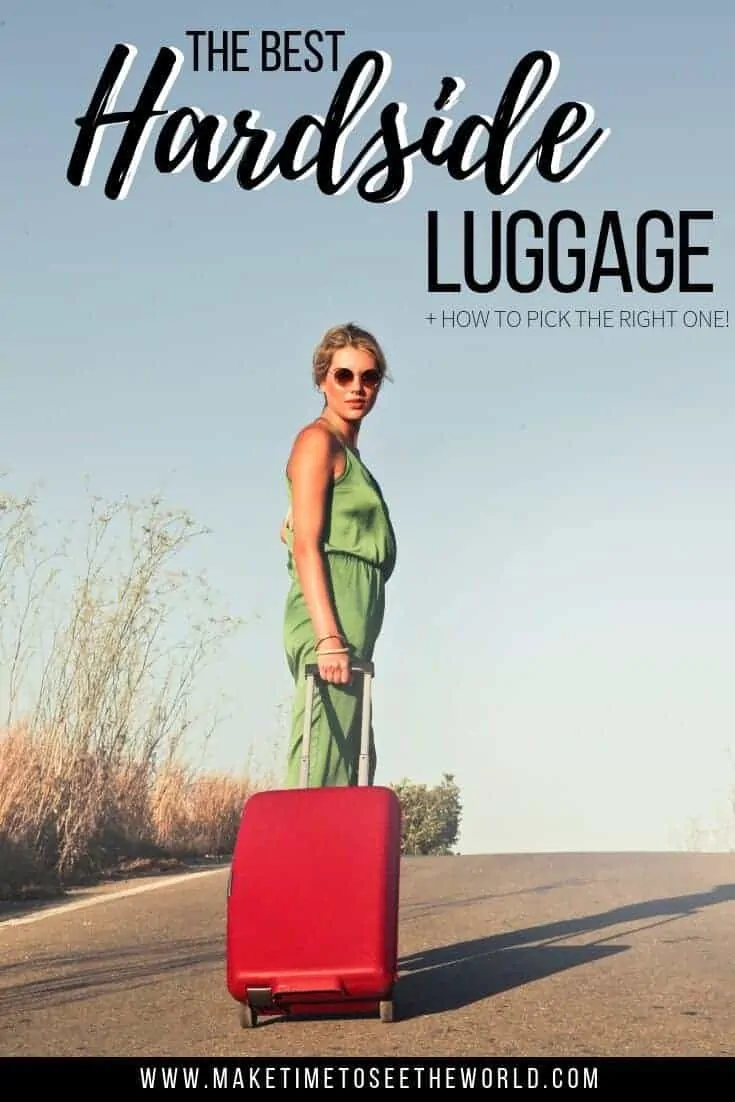 And if you liked this buying guide to best hardside luggage, take a look at the other gift guides, packing tips & travel gear posts in this series:
Hi There! Thanks for reading my travel guide to The Best Hardside Luggage for Travel in 2022 (And how to pick the right one!) I just wanted to let you know that this post contains affiliate links, which means if you purchase something after clicking a link, I may get a small commission – which is at absolutely no cost to you. If you enjoyed this article and are going to be searching for some of the things I mention anyway, I would love it if you could click through from the links above & thank you in advance! Read my full Disclosure here.
And Thank you for reading the MakeTimeToSeeTheWorld travel blog posts.