Planning a trip to Antigua? Our Top 20 Antigua Travel Tips will help you with your vacation planning & cover EVERYTHING you need to know before you go!
The beautiful island of Antigua in the West Indies spans approximately 54 miles and is the main island of Antigua and Barbuda. A typical Caribbean Island, Antigua is home to 365 white sandy beaches (that's one for every day of the year!), historical harbours, stunning landscapes and – of course – rum (and Susie's Hot Sauce!) is on the menu everywhere you go.
For any of you out there planning a trip to these unique islands for the first time, you may very well have a few questions on your mind. With our guide below on what to know before you go to Antigua and Barbuda, we hope you can plan a stress free trip and enjoy plenty of memorable adventures along the way.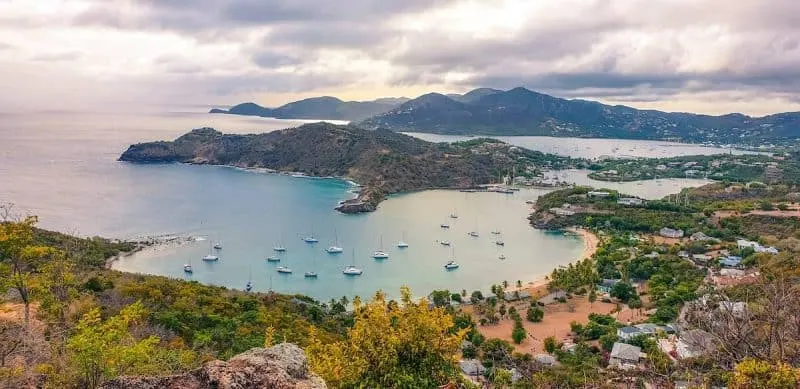 Disclaimer: Almost all posts on this site contain Affiliate links, and this one is no different. This means that if you click on any of the links in this travel guide (and make a purchase) I may receive a small commission at absolutely no cost to you. This post is carefully crafted to (hopefully!) answer all your questions about Antigua & Barbuda and recommendations are made where we believe they will improve your trip and help with your planning. As such we thank you in advance should you decide to click & buy. Read my full Disclosure here.
20+ Essential Antigua Travel Tips
Learn about the culture and history of Antigua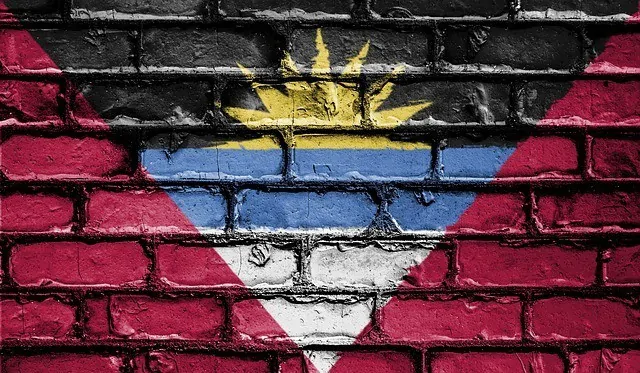 Like any destination you travel to the first time, it is always a good idea to come a little prepared and have a general understanding of both the country's history and culture.
As a brief history, the West Indian island of Antigua was named by Christopher Columbus when he first visited the island in 1493 the island takes its name from the Church of Santa Maria de la Antigua in Sevilla, Spain. However, it is known as Waladli by native islanders.
Colonized by British settlers, sugar cane was the main crop grown on the island, mainly by enslaved Africans, who were later emancipated in 1834 after the slave trade was abolished.
The island gained independence in 1981 and is now a member of the United Nations and the Commonwealth of Nations.
The official language is English
As a constitutional monarchy with the British monarch as the nominal head of state, the primary language spoken across the island is English and you will notice the distinct British accent amongst locals during your stay.
Explore the capital city of St. John's
Located to the north west of the island, St. John's is the capital and most populated area of Antigua. With plenty of history, culture and shopping the city is a popular tourist destination – and during the season, is cruise ship central welcoming several ships per week!
Be aware of hurricane season
For those of you who prefer warmer climates you will be pleased to know that the weather on the island of Antigua is warm throughout the year. However, it is important to take into consideration hurricane season that runs from June – November. Back in 2017 the catastrophic hurricane Irma sadly destroyed much of the neighbouring island of Barbuda.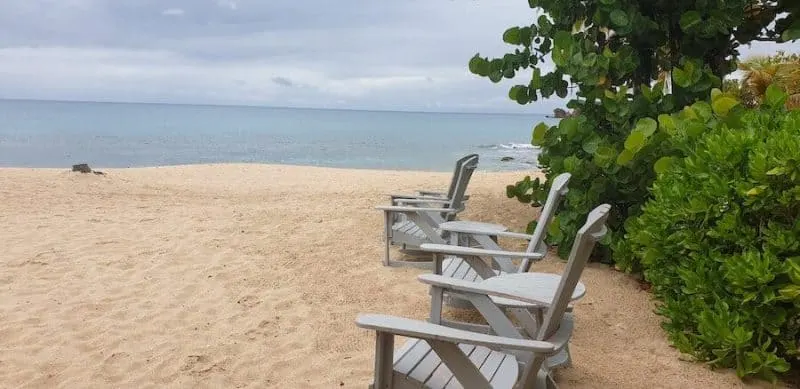 Experience Barbuda
As we mentioned, Barbuda is the neighboring island to Antigua and was badly affected during Hurricane Irma. You can catch a boat to the island most days of the week to experience this unique location, home to beautiful natural landscapes and wildlife.
The best time to visit Antigua is..
The dry season runs from December-April and is the best time to visit the island for wall-to-wall blues skies.
Check if you need a visa to visit Antigua
For those visiting Antigua from either Great Britain or the US, a visa will not be required. However, it is recommended to check up-to-date visa entry requirements before your visit.
It's a nature-lovers paradise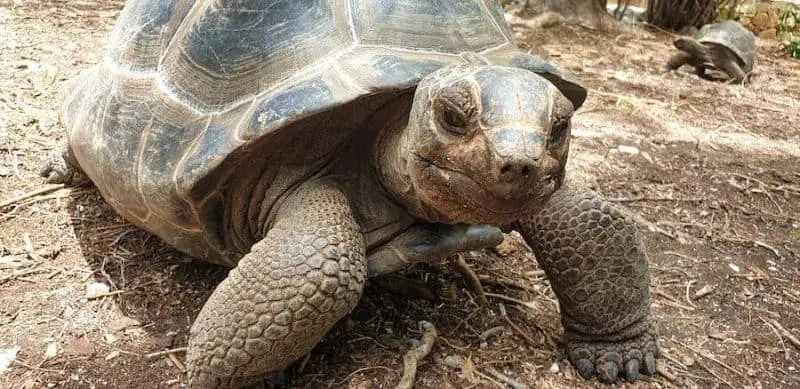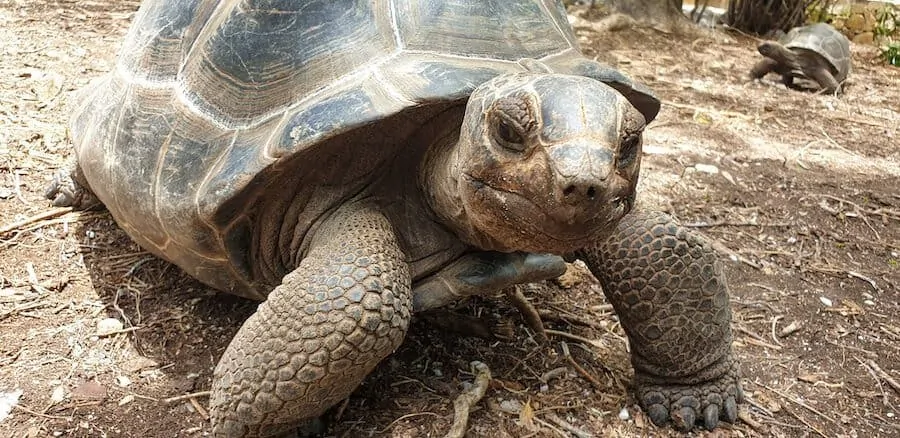 A combination of rugged coastline and mountainous areas, Antigua is home to plenty of natural wonders such as the impressive Devils Bridge (which has a morbid past – see below) and the hike to Signal Hill starting under the Antigua rainforest canopy and emerging to incredible views over the island.
There is also wildlife galore above and below the ocean, such as sea turtles, tropical fish upside-down jellyfish (book yourself a scuba dive if you want to get closer!) plus native birds and if you love animals you can't miss Antiguas donkey sanctuary!
Preserving the landscape and protecting the native species are something that is very important to those who live on Antigua and all tourists are reminded to ensure that they leave no trace during their visit and even better, plastic bags are banned on the island!
Antigua is renowned as a luxury destination
With its world-renowned luxury status, it is important to be conscious of costs when planning a trip to the island. Because most items have to be imported, expect to pay higher costs when dining and exploring the shops.
All-inclusive vs self-catering
If you have never really experienced an all-inclusive holiday before, one of the all inclusive resorts in Antigua is the place to do it! Enjoy a luxurious stay and everything you could possibly want in your own little slice of paradise.
We recommend the Verandah Resort and Spa and Pineapple Beach Club (two of my favorite resorts in Antigua) – or for the super luxe: Galley Bay Resort and Spa which is the top hotel in Antigua))
For most, it is not only a great option, but the only option – as the resorts on the island as so widely spread out, even when hiring a car, it can be a struggle to go 'out' to eat.
However, for those who think that eating is a fabulous way to get to the heart of a culture (which is a mindset we wholeheartedly agree with!) be sure to get yourself along to an Antiguan cooking class at Nicoles. There are cooking classes that focus on rum, jerk chicken, curry, and seafood. I'm sure you will be able to find a cooking class to suit your tastes!
Watch out for Susie's Hot Sauce!
The West Indies are known for their spicy food, and Antigua is no exception. Susie's Hot Sauce is an institution not to be messed with and loved by tourists and locals alike. Test out your taste-buds and see if you can handle the heat!
Pay attention to the local currency
Currency in Antigua can be a little confusing, and something that regularly catches tourists out is the fact that Antigua uses two types of dollar.
While it is true the US dollar is widely circulated, the island also uses the Eastern Caribbean dollar, the same as all members in the Organisation of Eastern Caribbean States. Take a second to check which currency is being quoted when spending money.
This highest peak is…
At a whopping 1,319 ft the highest peak in Antigua forming part of the Shekerley Mountains was officially renamed Mount Obama in 2009 "as a symbol of black achievement".
The buildings are some of the prettiest you will ever see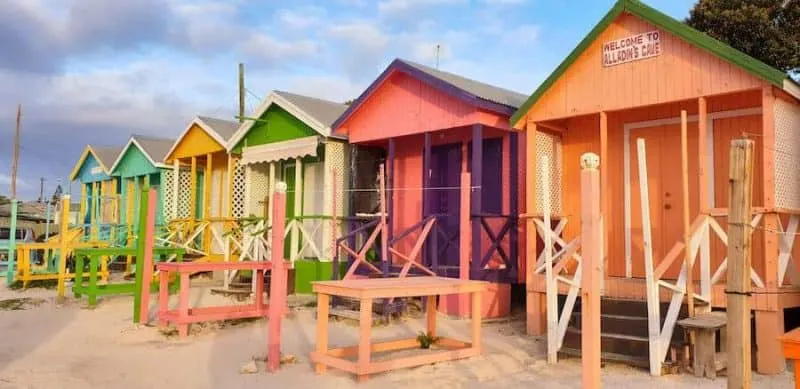 Driving through Antigua past all the colorful buildings simply makes you smile. The tropical colours, the bright vibes, I defy anyone not to feel happy and content when surrounded by such beauty and light.
Devil's Bridge has a sinister past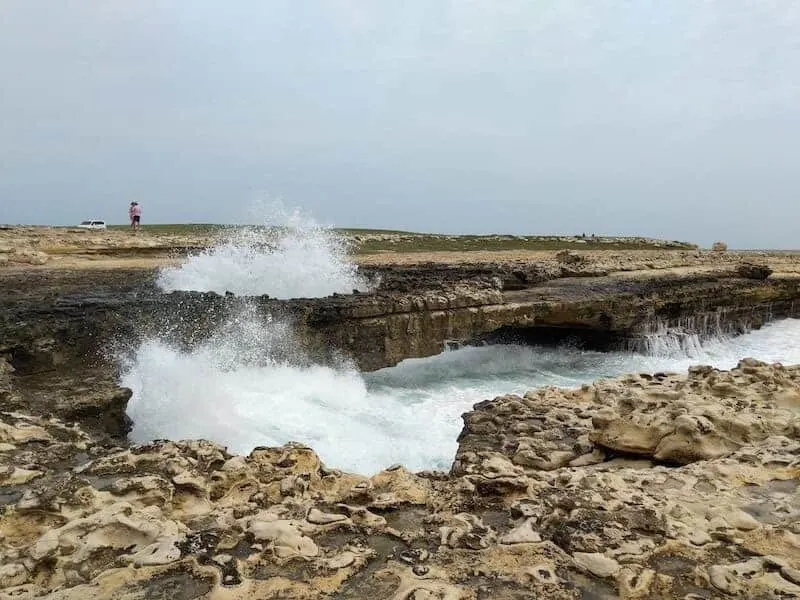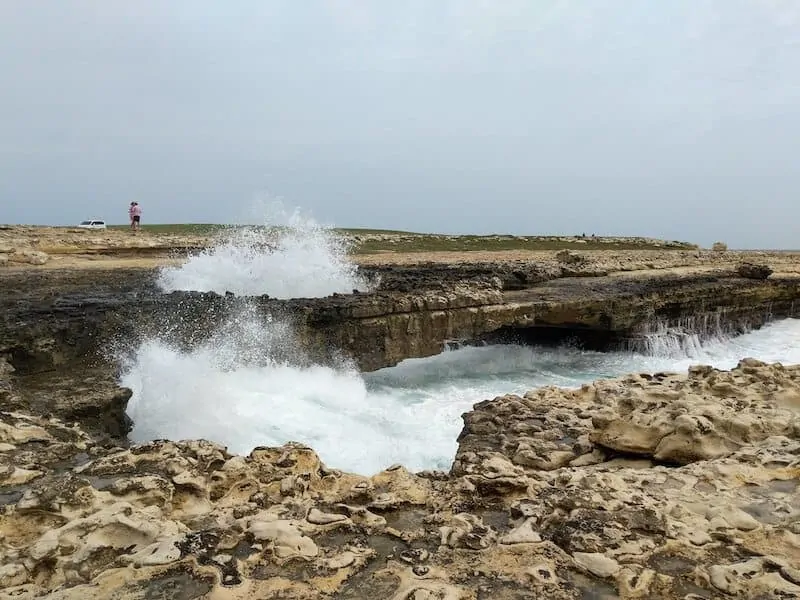 Devil's Bridge is a natural arch on Antigua's North East Atlantic coast. Battered by the waves over centuries, the sea eroded the coastal limestone rocks to create a 'bridge' over thousands of years (and where the powerful waves continue to crash into each day).
Due to the power of the water, and the rocky cavern it had carved out below the bridge, it is believed that it was a site of mass suicide for those trying to escape slavery – although there is no evidence to support this. Nevertheless, Devil's Bridge takes it name from these stories as it was believed that due to the number of deaths, the devil must be there.
Antigua is famous for its annual yacht regatta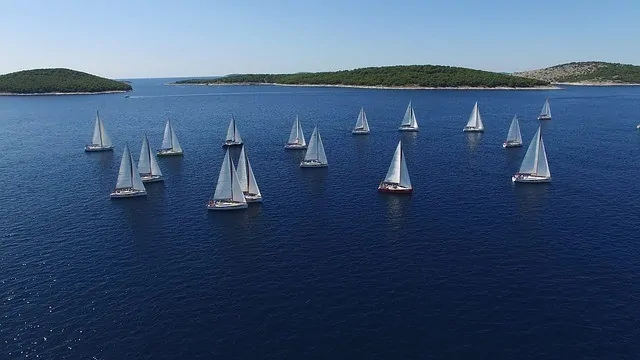 Every year during late spring, Antigua hosts their annual yacht regatta (also known as Antigua sailing week).
Founded in 1967 the event welcomes over 150-200 yachts and sailing boats each and every year and is an absolutely incredible sight to see. Just be aware if visiting at this time that hotels and resorts may charge a premium.
Renting a car is a must
Like many islands with plenty of rural areas to explore, and if you want visit some of the most picturesque parts of Antigua – including some of the 365 beautiful beaches – hiring a rental car and heading out on some mini road trips is a must
There is just one little quirk with hiring a car in Antigua and that is that you will need to purchase a temporary local license (approx. $20USD) in addition to the regular daily hire fee. This may sound a little complicated, but the process itself is quite straightforward, and your hotel will be more than happy to assist.
Also, as most resorts in Antigua offer airport transfers – and unless you plan to drive every day – we would recommend arranging your car hire through your hotel. This would give you the freedom to rent for a few days only without having to get yourself to and from the airport for pick up/drop off, or incur the cost of a car for the duration of your stay.
Things to do in Antigua
Being on the smaller size, Antigua is an island you can easily explore in its entirety during your vacation. Whether you would prefer to spend every day on a different beach (there are 365 beaches in Antigua so it is entirely possible!), go back in time and experience the islands fascinating history, take on some water sports, go scuba diving below the surface of those amazing azure waters, play golf at the islands 2 golf courses (Cedar Valley & Jolly Harbour) or spend the week exploring the islands rugged and remote landscapes, there is something for everyone to enjoy.
And regardless of your interests, a sunset cruise with a healthy serve of rum punch is a must for everyone! Click here for our complete guide to Things to do in Antigua
If you want to party, head to Shirley Heights on a Sunday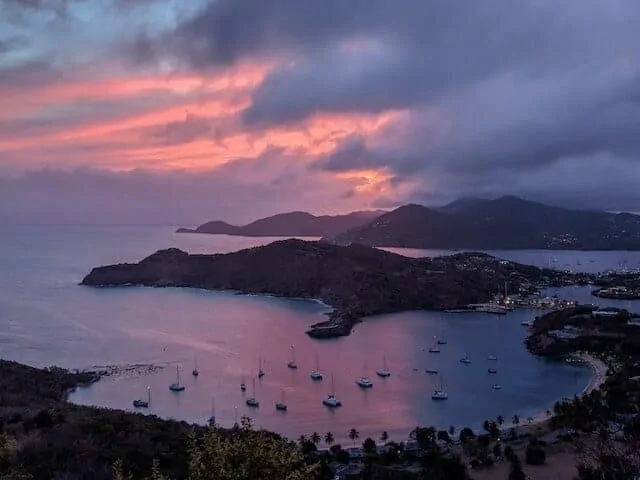 Located to the south of Antigua, Shirley Heights is a popular lookout for panoramic views but it's on a Sunday when things get lively as locals head to the area for a night of partying and an opportunity to watch the beautiful sunset over the south coast.
And if you are not a fan of large crowds, consider heading to Shirley Heights for the quieter Thursday night event. There is still a barbecue, steel drum music, singing, rum punch topped with cinnamon and (hopefully) one epic sunset overlooking English Harbour and Nelsons Dockyard – just minus the heavy Sunday crowds.
This is an island devoted to cricket
If you are visiting Antigua and are a cricket fan, great! An extremely popular sport on the island – and the home of cricket legends such as Curtley Ambrose and Sir Viv Richards, there are few other countries where the Bobby Cliff reggae song "I don't like cricket, I love it" is wholly embodied.
The Antigua Recreation Ground became the 52nd international test venue back in 1981 and will be one of the first sights that you see as you land at VC Bird International Airport (as it is just outside!).
.
How did we do? After visiting this enchanting island, we like to think we have put together a comprehensive list of Antigua travel tips to help you work out what you need to know before you go – and we hope it has helped you with your own Antigua vacation planning.
If you have visited Antigua before and think there is anything else we should include in our Antigua travel guide, do let us know in the comments below and don't forget to share this with any of your friends or family who are planning their own trip to Antigua this year.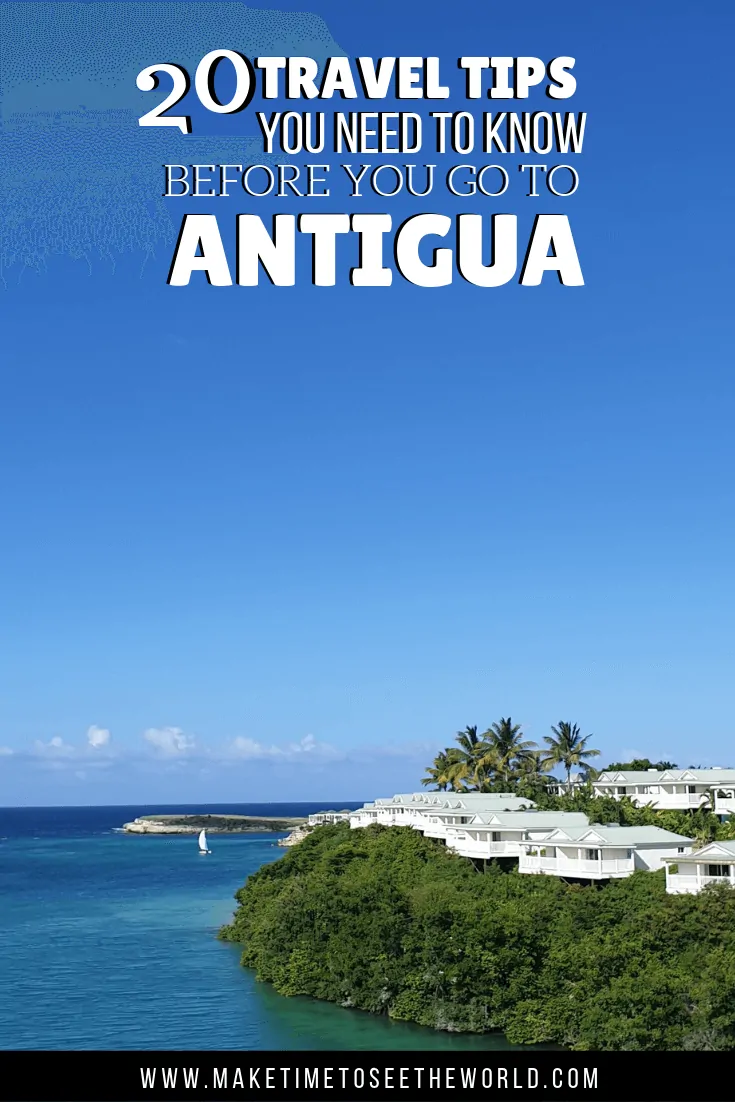 READY TO EXPLORE MORE OF THE USA & MORE? YOU MIGHT BE INTERESTED IN THESE RECENT POSTS, RELATED ARTICLES, DESTINATION GUIDES & POPULAR POSTS:
Hi There! Thanks to Antigua tourism for hosting this trip and for reading our travel guide and travel tips post about Antigua and Barbuda: What to Know Before You Go! I just wanted to let you know that this post contains affiliate links, which means if you purchase something after clicking a link, I may get a small commission – which is at absolutely no cost to you. If you enjoyed this article and are going to be searching for some of the things I mention anyway, I would love it if you could click through from the links above & thank you in advance! Read my full Disclosure here.
And a huge Thank You for reading the MakeTimeToSeeTheWorld travel blog.