South Africa is a dream destination for hundreds of thousands of people, offering something for every type of traveler. From cosmopolitan cities to lush national parks; beautiful beaches to the Big 5, stunning wine regions and an incredible food culture, and not to mention more history than you can shake a stick at.
There are so many bucket-list-worthy experiences in South Africa that it can be hard to decide where to start – and that's where we come in! We've put together this comprehensive guide to 20+ Incredible Things to do in South Africa to both inspire you and to help you plan your ideal South Africa itinerary.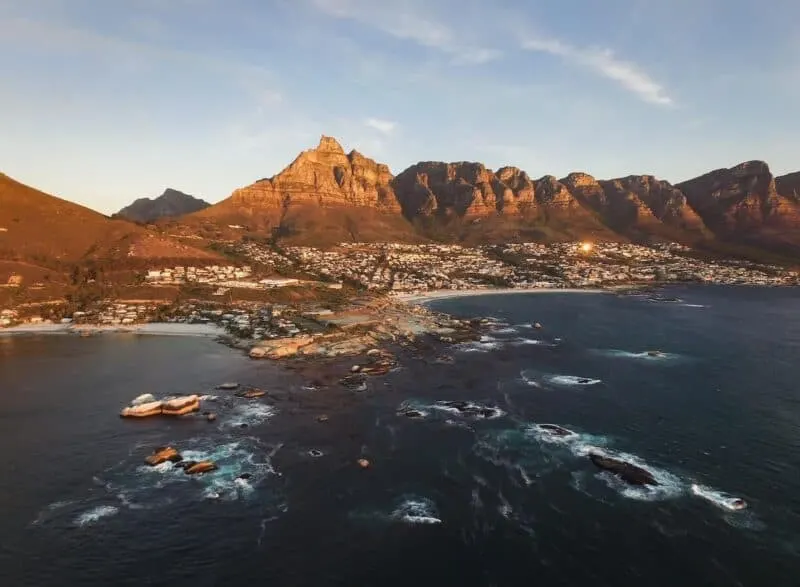 Disclaimer: Almost all posts on this site contain Affiliate links, and this one about (name of post) is no different. This means that if you click on any of the links in this post (and make a purchase) I may receive a small commission at absolutely no cost to you. Each post is carefully crafted to (hopefully!) answer all your questions and recommendations are made where we believe they will improve your trip and help with your planning. As such we thank you in advance should you decide to click & buy. Read my full Disclosure here.
20+ INCREDIBLE Things to do in South Africa
Get a glimpse of the Big 5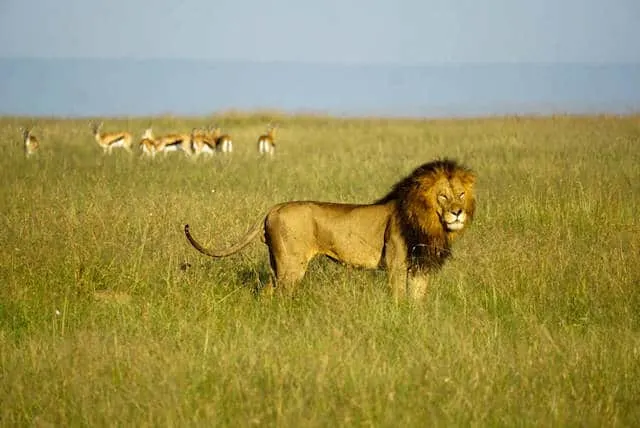 Game drives are probably one of the most popular experiences for those visiting South African shores. With experiences suitable for a range of budgets and timescales, there are several safari experiences to choose from. Opt for a blow-the-budget luxury safari experience while staying at a beautiful safari lodge in Pilansberg National Park or take a trip to Kruger National Park.
And if you're more inclined to see 'the big one' rather than the big 5, pay a visit to the Addo Elephant National Park from Port Elizabeth to get up close and personal with one of Africa's most majestic giants. Find out more about the Best Game Parks in South Africa.
Hike the magnificent Table Mountain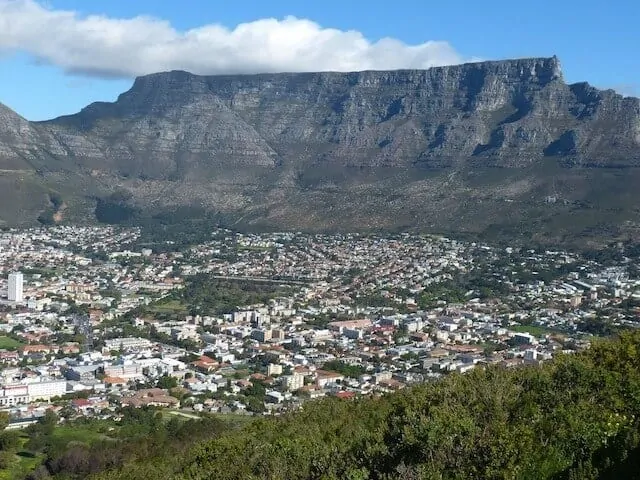 Not for the faint-hearted, Table Mountain is quite a hike but well worth the exertion for the view from the top. Sat between the Indian Ocean and the Atlantic, the vistas over the shimmering ocean are magnificent and one of the top things to see in Cape Town.
Table mountains position standing towering over the city of Cape Town means you'll be able to pinpoint the best beaches for a cocktail as a reward for your strenuous climb once you reach the top! But if hill climbing isn't your bag, but you want the insta-worthy panorama, there is also the Table Mountain Aerial Cableway that can whisk you to the top of the mountain.. shh.. we won't tell if you won't.
Wind through the Winelands

Explore the stunning scenery of the Franschhoek Valley wine region on the well-known Wine Tram, a hopon hopoff tour that allows you to explore at leisure, soaking up the sights from the comfort of the vintage style tram. Enjoy a stroll through undulating vineyards, take a cellar tour or experience a wine tasting or wine paired lunch with views of the Cape Winelands valley.
Or if you're more about the wine than the transport- simply take a day tour to visit South Africa's best wine spots including Stellenbosch and Franshoek wine regions – with many options for wine tours and day trips from Cape Town including half-day tours and private tours, there are plenty of options to make sure you don't need a designated driver.
Cape of Good Hope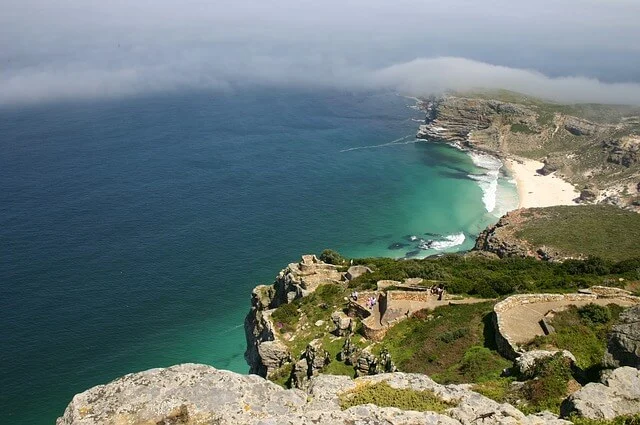 The Cape of Good Hope is the most South-Western Point on the African Continent, and when it was first discovered by Portuguese sailors it was originally called the Cape of Storms, however, the Portuguese King changed it to the Cape of Good Hope as he hoped that it navigating around it would bring wealth and prosperity from the East. And it just sounded nicer.
The walk down from the Cape Point Lighthouse to the Cape of Good Hope is along well-kept boardwalks and makes for a lovely stroll for those who want a little ocean air in their lungs.
Explore Tsitsikamma National Park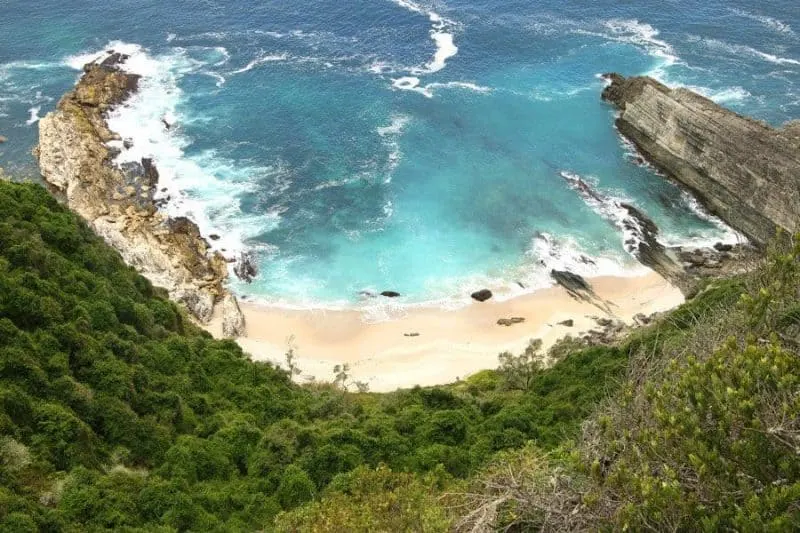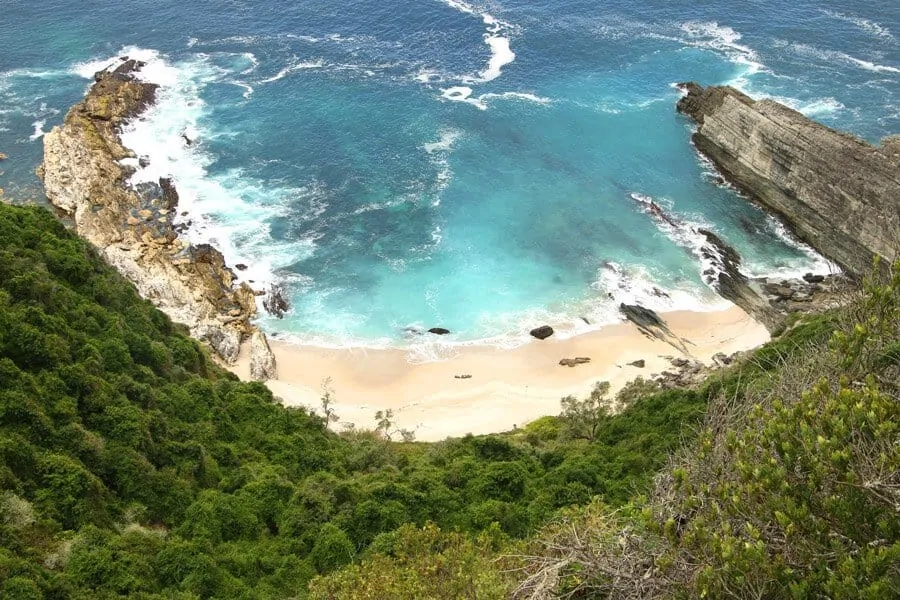 Tsitsikamma National Park is a protected area of coastal forest land on the southern coast of South Africa. Well known for the Otter Trail (a popular hiking route along the Garden Route coast) the forest offers an array of things to see and do including: zip-lining, kayaking in Storms River Gorge, waterfall hiking discoveries and, if you have the nerves for it, an epic bungee jump experience above the Bloukrans River (below).
Bungy Jump of the Bloukrans Bridge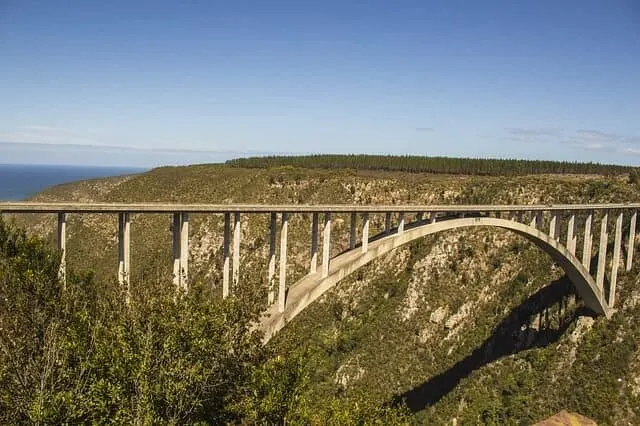 For a long time, the Bloukrans Bridge offered thrill-seekers the highest Bungy jump in the world (until the Macao Tower came on the scene) – but that doesn't mean this 216m leap of faith is any less of an adrenaline rush because it's now in second place!
The stats say that for every 10 people that go to the platform, 2 don't jump. That means you've got an 80% chance of going through with it (and you don't get your money back if you don't jump!). Do you think you could do it?!
Embark on a foodie discovery tour of Cape Town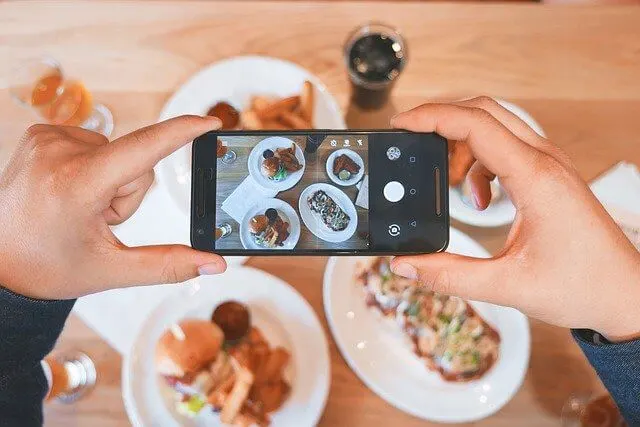 Harboring a real melting pot of cultures, South Africa boasts some of the world's most rich and underrated cuisine. With culinary influences from Dutch, Malaysian, French and Indian heritage, one of the best ways to discover the foodie culture of the nation is on one of the food discovery walking tours in the vibrant city of Cape Town. The Cape Town Essentials Food Tour takes you on a half-day city discovery, learning about the culinary heritage of Cape Town and uncovering lesser-known gastronomical gems along the way.
Take an Epic Road Trip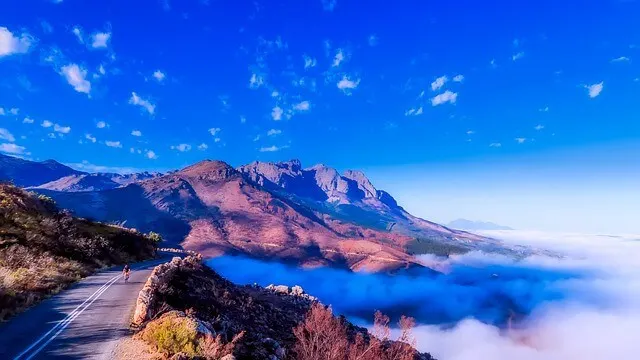 One of the best ways to explore and uncover some of the most picturesque parts of South Africa is by car. Discover the revered Blyde River Canyon on the popular Panorama Route in the north-eastern region of Mpumalanga. Or take in some of South Africa's coastal gems on the nation's favorite – The Garden Route.
Take a road trip from Johannesburg to Cape Town (or vice versa) passing through the lush green landscape and some of the coastlines most beautiful harbor towns including Mossel Bay and Port Elizabeth. Our handy Garden Route travel guide tells you how to make the most of this epic road trip and one of the most scenic drives in the world.
Cape Agulhas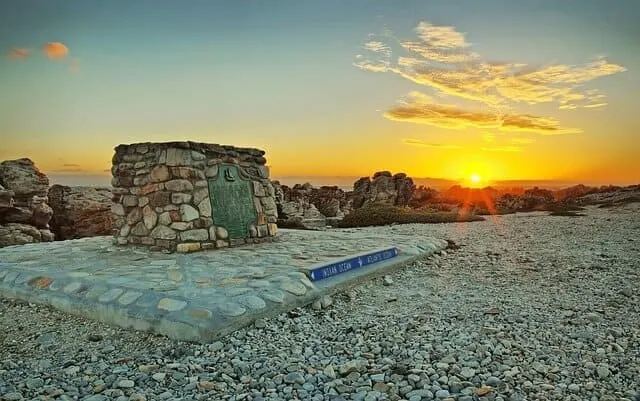 Cape Agulhas is the geographic southern tip of the African continent and the beginning of the dividing line between the Atlantic and Indian Oceans. Known for its rocky coastline and treacherous waves, there is a Japanese Shipwreck that you can visit just beyond the southernmost point, and – after climbing the 71 steps – see incredible views from the top of the second oldest working lighthouse in South Africa.
Experience the Romance of Rail Travel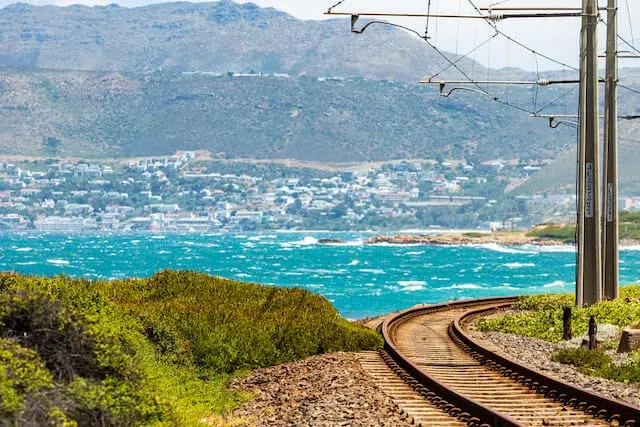 South Africa holds claim to some of the world's most iconic rail journeys, so why not immerse yourself in the bygone era of rail travel. Embark on an iconic, vintage rail experience encased within the indigo livery of South Africa's Blue Train on a trademark journey through some of the most breath-taking scenes of the African sub-continent from Cape Town to Pretoria (or the reverse) on a luxury six-night train journey.
Or for a real vintage adventure on the tracks, The Magaliesburg Express is a traditional steam locomotive which transports passengers from Johannesburg to the town of Magaliesburg in the foothills of the Witwatersrand mountain range, and back again all by the power of a traditional steam engine.
Go Cave Camping in The Drakensberg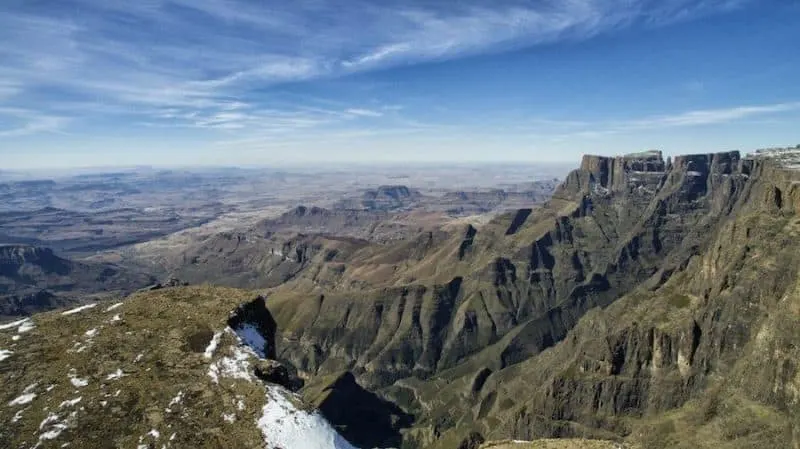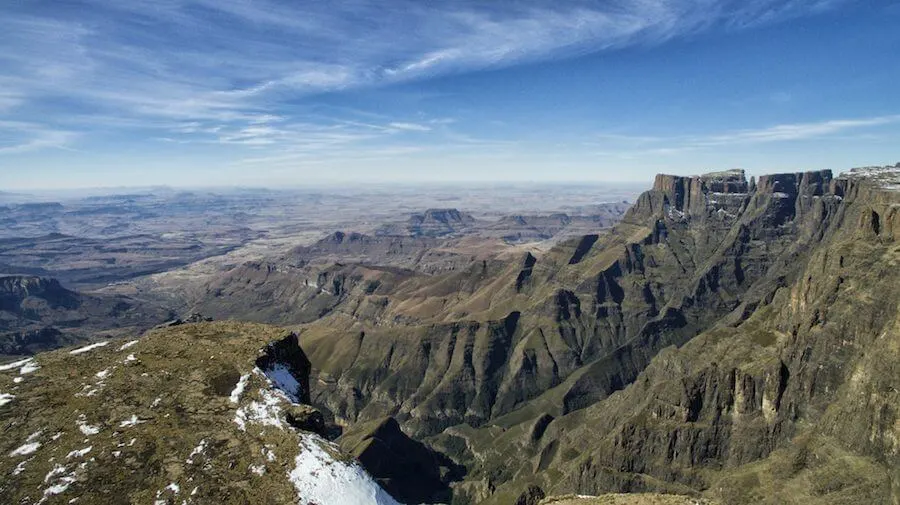 Be sure to take the appropriate gear for this one and prepare for an epic hike on a mountain trail to get to one of the remote sandstone caves of the Drakensberg Mountain Range, but rest assured this could be one of the most rewarding of your South Africa adventures.
The Drakensberg UNESCO World Heritage site houses one of the most magnificent mountain ranges in South Africa. Home to roaming rhino, wildebeest and incredible birdlife as well as some of the most spectacular views of soaring mountains, lush green cliffs and sweeping valleys, a night, or 3(!) in the Drakensberg Mountains will be an African adventure you won't forget.
Make The Most of Cape Town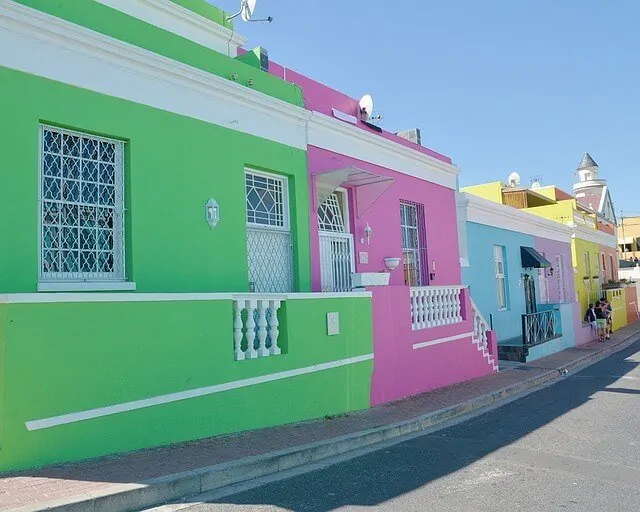 Cape Town is undoubtedly one of the best places to visit in South Africa. We've highlighted a few of Cape Town's top attractions such as Table Mountain, the Cape of Good Hope, Boulders Beach, not to mention it's proximity to some of South Africa's best wine regions. But there are so many more things to see and do in Cape Town that you'd be wise to add some extra time to your South Africa itinerary!
There are the colorful houses at Bo Kapp, incredible shopping and dining at the Victoria & Alfred Waterfront (VA Waterfront), beautiful natural wonders like the views on Chapmans Peak Drive or that can be seen from the lions head hiking trails, miles of white sand beaches at Plettenberg Bay and Muizenberg Beach plus the tranquility of Kirstenbosch National Botanical Garden at the foot of Table Mountain. Plan to stay in Cape Town as long as possible. You won't regret it!
Apartheid Museum & Constitution Hill in Johannesburg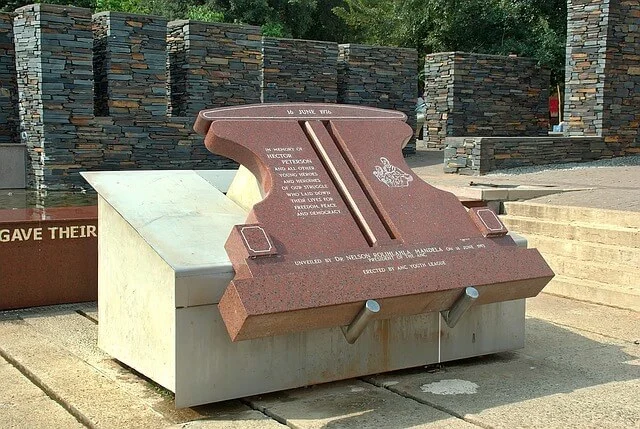 Two of South Africa's most important cultural and historical sites, the Apartheid Museum and Constitution Hill can be found in Johannesburg.
The Apartheid Museum illustrates the rise and fall of South Africa's era of segregation and oppression, and is ultimately the story of the triumph of the human spirit over adversity. Constructed on a 16-acre plot of land, the museum features a unique design that you notice immediately as you enter – as there are separate lines for whites and black. It's certainly an interesting way to start your voyage through the history of apartheid.
To add to your heavy history day, Constitution Hill is a former military and prison complex that is now a museum that bears testament to South Africa's turbulent past whilst also being home to the country's Constitutional Court and Human Rights Precinct. During its 100 year history it confined tens of thousands of ordinary people: men and women of all races, creeds, ages and political agendas; children too; the everyman and the elite. They say that the history of every South African is contained within its walls.

Both sites are definitely worth visiting during your time in South Africa.
Ride the waves in Durban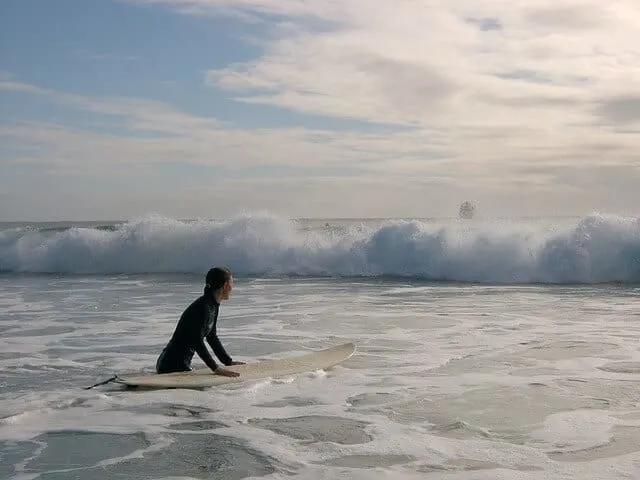 South Africa is renowned for being a surfer's paradise, with hotspots hosting year-round consistent swell and beaches that are safe for beginners as well as gnarly veterans. The city of Durban boasts a vibrant nightlife, cosmopolitan culture, great cuisine and some of the country's best-loved beaches.
The city also offers an easy base if you want to experience both the surf and a safari, with easy access to the popular Kruger and Kalahari Gemsbok national parks. Head up the city's 'Golden Mile' to the North Beach where the waves are consistent, beginner-friendly and lessons and gear hire are super affordable.
Meet the penguin colony at Boulders Beach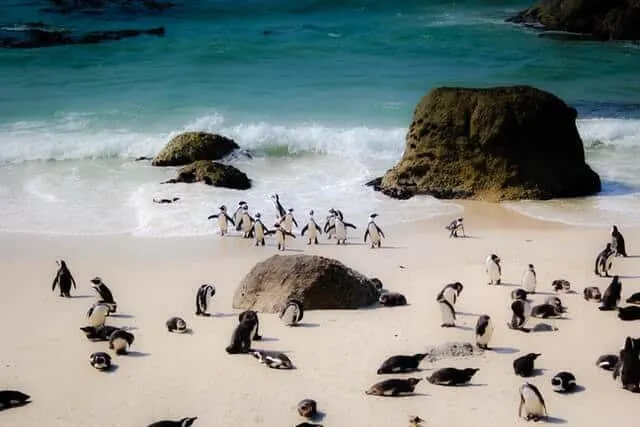 Boulders Beach, near Simons Town just south of Cape Town on the Cape Peninsula, is one of the only places in the world where you can catch sight of the African Penguin. Get up close and personal with these cheeky but dapper creatures whose colony here represents a fraction of this beautiful, but sadly endangered species.
Part of the Table Mountain National Park Marine Protected Area, the penguins are protected under the care of the national park, so visitors can enjoy all the waddling sass of these well-dressed, quirky characters. Boulders Beach is a top tourist attraction in Cape Town and one of the best things to do in South Africa – be sure to add it to your South Africa bucket list!
Experience Seal Snorkelling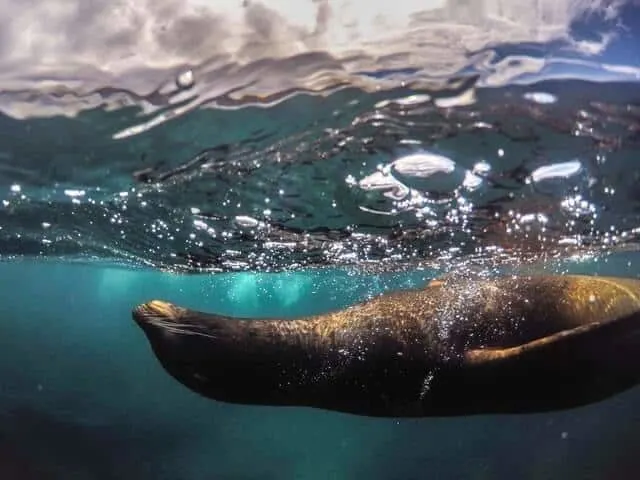 Taking up a base in Cape Town offers another opportunity to get up close and personal with another of South Africa's best-loved creatures – the Cape fur seal. With day trips to Hout Bay near Cape Town, visitors can take an excursion by boat to go snorkeling or simply swim with the curious creatures, embracing the sight of these beautiful seals in their natural habitat, and on their terms.
RELATED –
Never been snorkeling before? Our
Beginners Guide to Snorkeling
can help you out + as we're sure you'll be hitting the beach on your South Africa adventure, make sure you have all the
Beach Essentials
before you dig your toes in the sand.
Head to Hermanus to spot Humpback Whales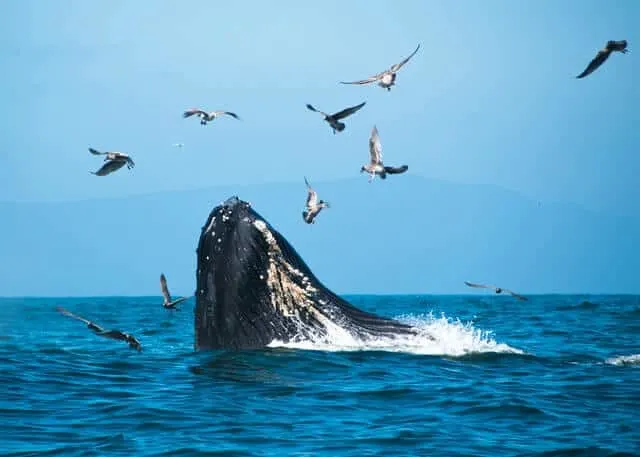 Continuing the Marine life theme, South Africa is one of the best places to spot Humpback Whales. If you travel during the low season months between June and November, take a day trip to Hermanus, a small town on the Garden Route which is said to be one of the best places for whale watching. Settle in with a picnic somewhere along the cliff path which affords great views over the ocean or take a guided boat tour, scenic tour by flight or even a kayaking or paragliding tour to get a glimpse of one of the ocean's most magnificent beasts.
Get in the Water with Great White Sharks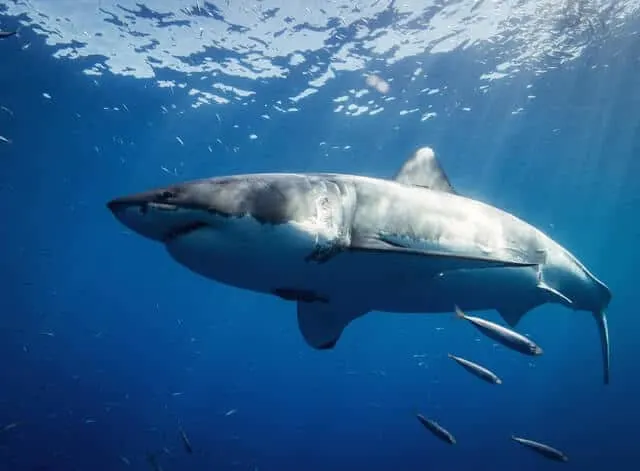 And just for good measure – one more epic sea life experience to have in South Africa is to get in the water with Great White Sharks at Gansbaai – the gateway town to South Africa's Shark Alley.
Take a shark cage diving tour from Cape Town with fellow daredevils where no dive experience is necessary, wetsuits, masks, and snorkels will be provided and for good measure, you'll (typically) get 3 guaranteed swim-by's from these incredibly powerful yet graceful great white sharks. Check Availability & Book Your Shark Cage Diving Adventure Here.
Get a birds-eye-view of Pilansberg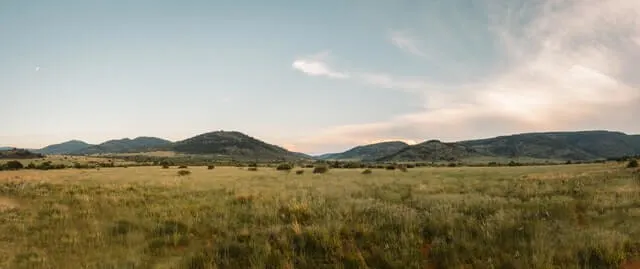 Pilansberg National Park, one of South Africa's most popular destinations for seeing the majestic big 5 is nestled within the crater of a dormant volcano just north of Johannesburg and close to the administrative capital of Pretoria. With so many safari experiences to choose from in the form of a traditional game drive set-up, why not take a wildlife safari excursion to the next level. Book your 2 day Pilansberg Luxury Lodge Safari (from Johannesburg) here.
And if you have a head for heights and want to see the beauty of the parks flora and fauna, why not experience one of the best ways to see the big 5, from above, on a guided hot air balloon safari which takes flight from the breath-taking Pilansberg Game Reserve.
Visit the Cradle of Humankind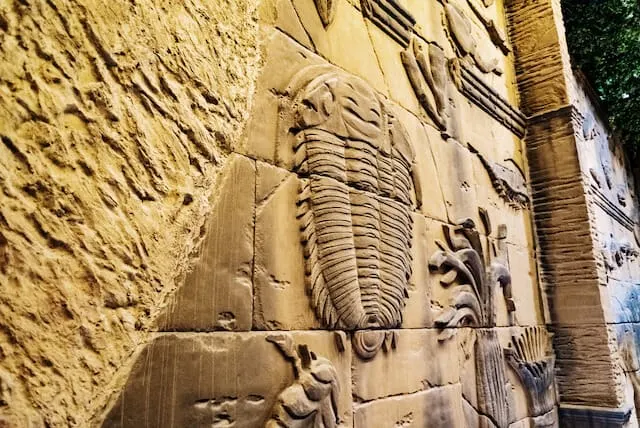 Possibly one of the most culturally enriching experiences in South Africa is a visit to the UNESCO world heritage sites at the Cradle of Humankind. South Africa is adorned with spectacular sub-terranean cave sites, but this one is a must-see for fans of anthropology or anyone who has ever wondered how humankind came to be.
The Sterkfontein caves, which form part of the Maropeng exhibition centre is where the famous Mrs Ples, the 2-million-year-old hominid was first discovered. The fascinating 'out of Africa' theory, that humankind originated here, was triggered by these discoveries and this fascinating site is a tribute to the incredible anthropological uncovering which has taken place here over the years.
Immerse yourself in history on Robben Island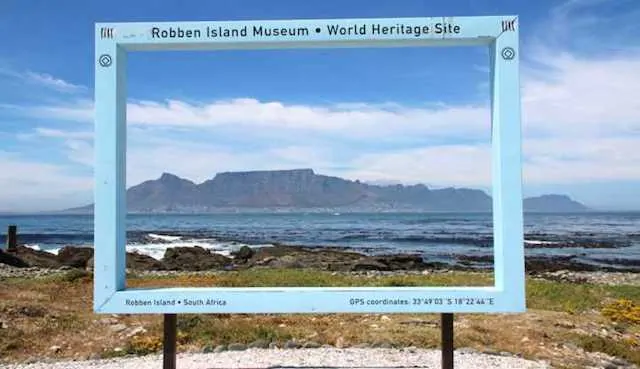 This humbling and bittersweet experience is an appropriate way to round-off any visit to South Africa. The famous Robben Island, which translates from the Dutch/Afrikaans as 'Seal Island' houses the jail of political prisoners, and most notably, Nelson Mandela.
The island itself has seen many lives and served many purposes over the years. Learn about the eclectic history of the island including its former use as a leper colony, general place of banishment as well as delving into the incredible history of the jail as you stand in the cell that housed Nelson Mandela for 18 years of his life at the Robben Island Museum. It's one of the top attractions in South Africa and should definitely be included on any South Africa bucket list.
With so many things to do in South Africa, spread out across the whole country, you're going to want to make sure you have a tip-top South Africa itinerary and plenty of time to make sure you can fit it all in!
Are you currently in the throes of planning your trip to South Africa? If so we would love to hear from you. Tell us in the comments below what you are hoping to do and see during your trip.
And if you know someone who has always wanted to go to South Africa or just to Africa in general, SA is a fabulous place to start and we would love it if you could share this South Africa travel guide with them to help with their planning. It can be shared on Facebook, Twitter or Flipboard, and if you grab the image below – on Pinterest too!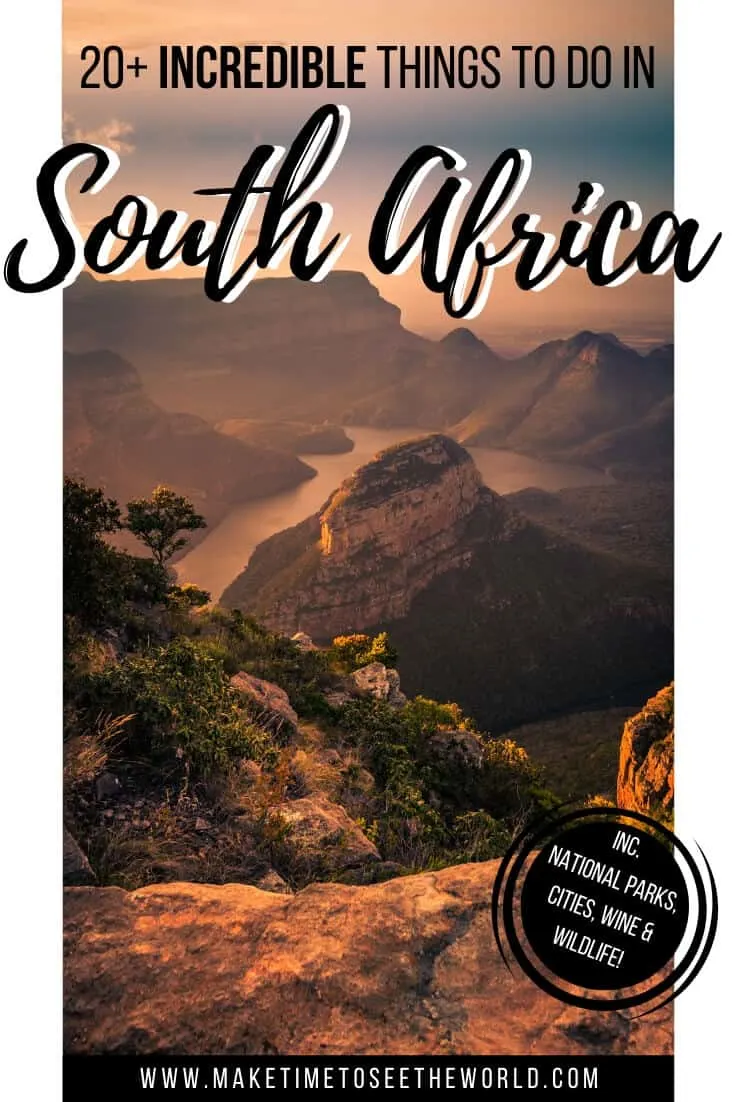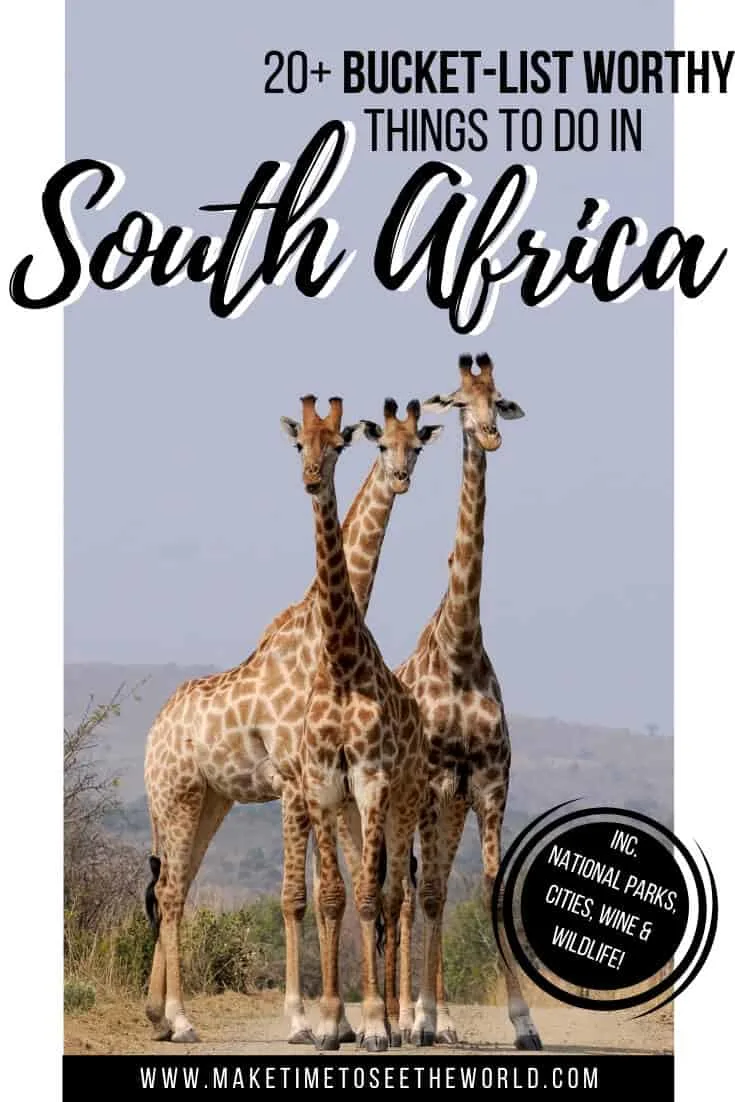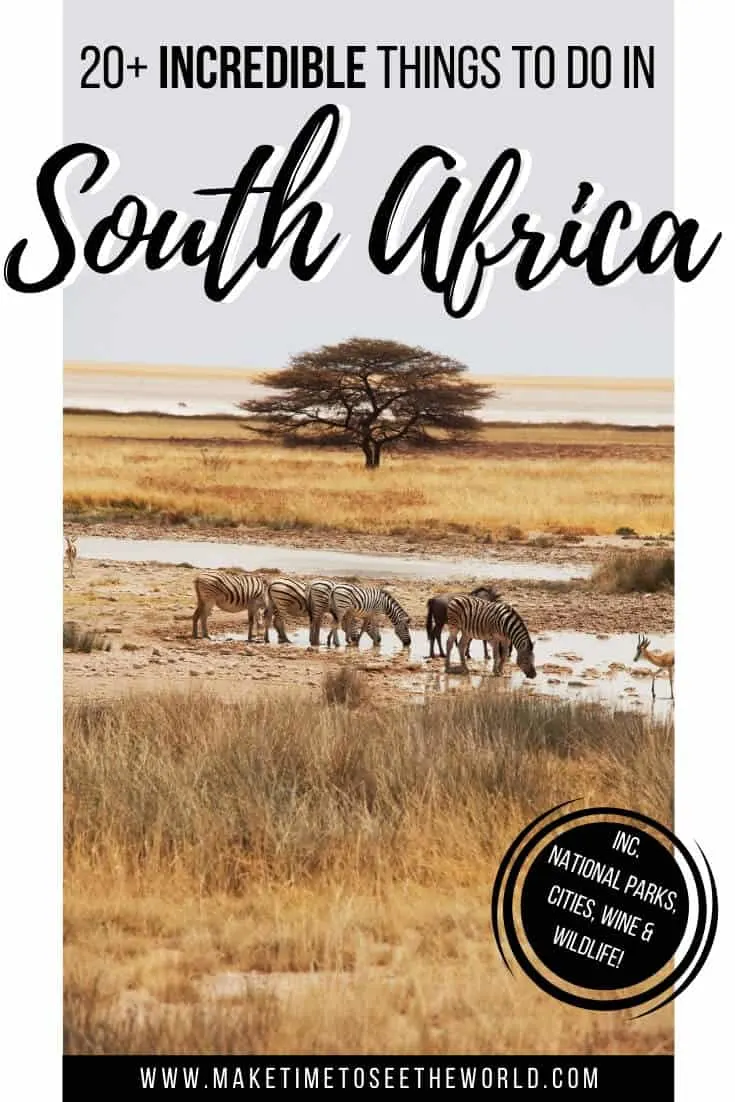 READY MORE TRAVEL INSPIRATION? YOU MIGHT BE INTERESTED IN THESE TRAVEL TIPS, TRAVEL ARTICLES, DESTINATION GUIDES, TRAVELER RESOURCES, TRAVEL GEAR GUIDES AND RELATED POSTS ABOUT OTHER AMAZING PLACES AROUND THE WORLD:
Hi There! Thanks for reading our guide to the 20+ Bucket List Worthy Things to Do in South Africa I just wanted to let you know that this post contains affiliate links, which means if you purchase something after clicking a link, I may get a small commission – which is at absolutely no cost to you. If you enjoyed this article and are going to be searching for some of the things I mention anyway, I would love it if you could click through from the links above & thank you in advance! Read my full Disclosure here.

And a huge Thank You for reading the MakeTimeToSeeTheWorld travel blog.