If you've been on the site before – or know anything about me at all – you'll know that Africa is far and away my favorite continent. I love the landscapes, the cultures, the diversity – and of course – the animals. I've already written about the best places to visit in Africa – but for this post I thought I would narrow it down a bit more with 30 AMAZING African Adventures to add to your Africa Bucket List.
From White water rafting on the Zambezi, to sleeping under the stars in Spitzkoppe; sun bathing on the beaches of Zanzibar to Gorilla trekking in Uganda; cruising in a Mokoro in the Okavango to gazing on the Pyramids of Egypt – from North to South and East to West, this list has got more adventure inspiration than you can shake a stick at! And so in no particular order, here are the Top 30 African Adventures to ignite your wanderlust!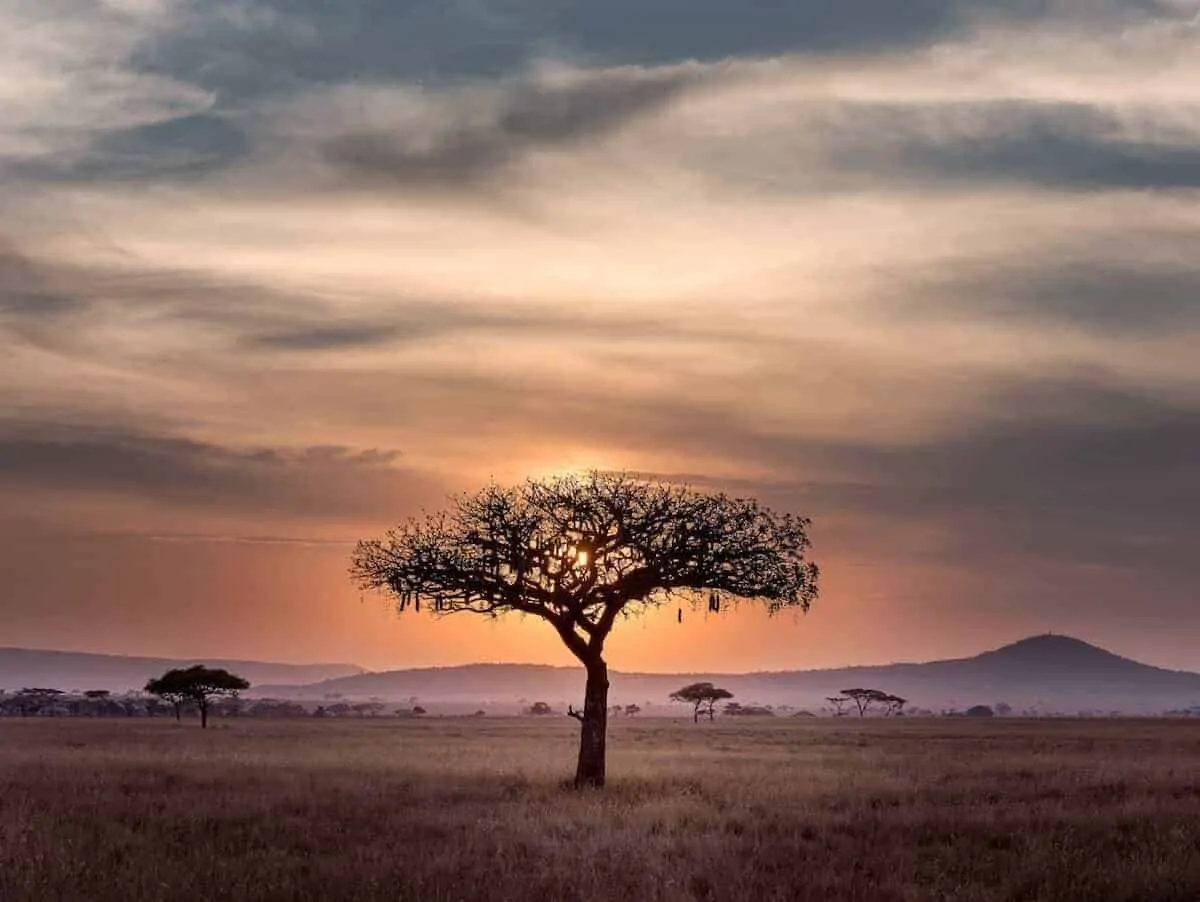 Disclaimer: Almost all posts on this site contain Affiliate links, and this one is no different. This means that if you click on any of the links in this post (and make a purchase) I may receive a small commission at absolutely no cost to you. Each post is carefully crafted to (hopefully!) answer all your questions and recommendations are made where we believe they will improve your trip and help with your planning. As such we thank you in advance should you decide to click & buy. Read my full Disclosure here.
30+ African Adventures to Add to your Africa Bucket List
Feel the Spray from Victoria Falls (Zimbabwe/Zambia)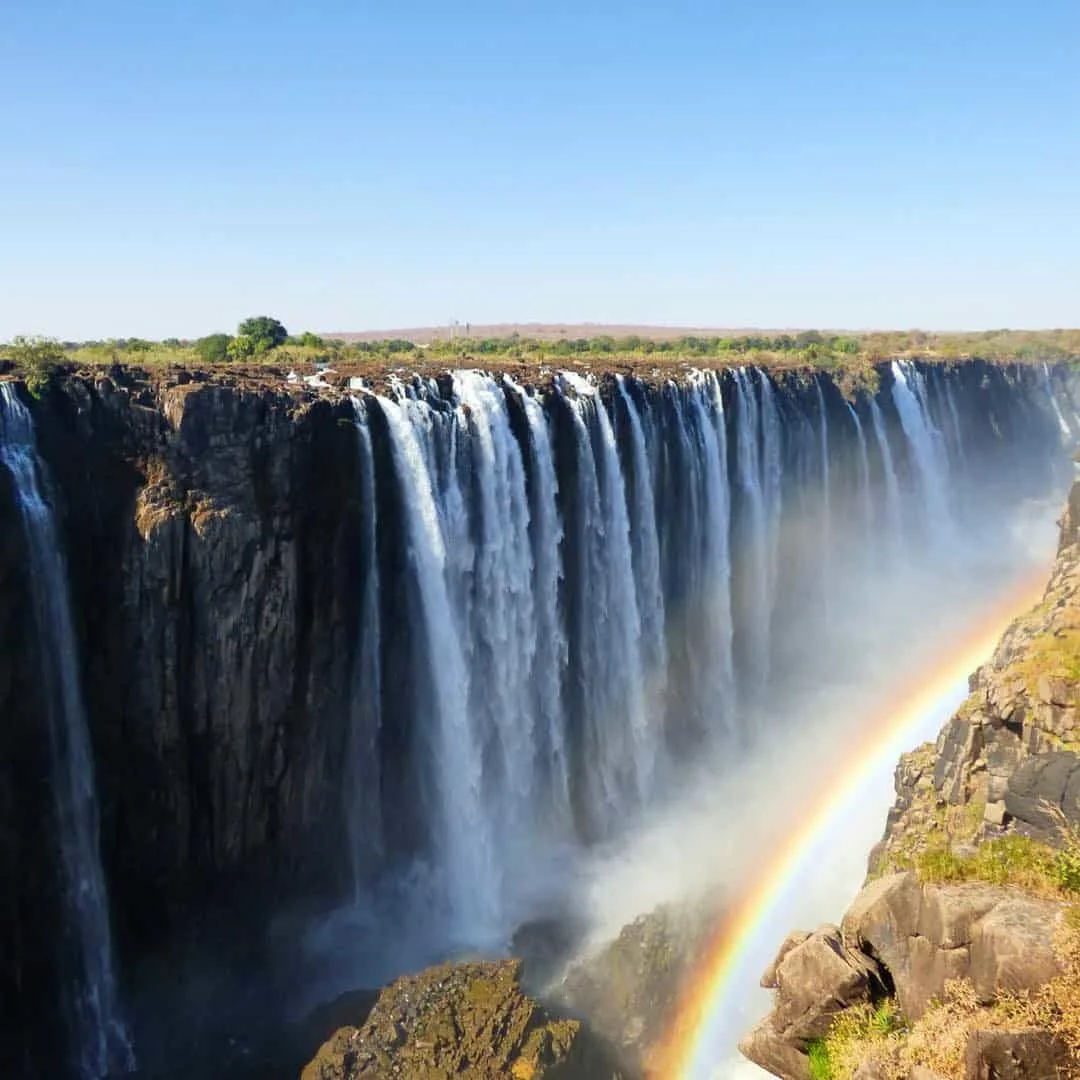 Contributed by Me (Vicki) from MakeTimeToSeeTheWorld
Located on the border of Zimbabwe and Zambia, Victoria Falls is the adventure capital of Africa. Not only is it home to one of the Seven Wonders of the Natural World – Victoria Falls itself (or Mosi-oa-Tunya / the smoke that thunders) but also to a whole heap of adrenaline pumping activities that have sprung up around it.
From bungee jumping to white water rafting, gorge swings to microlight flights – and not to mention devils pool! You can push yourself to your physical limits as far as you want here – and end each day with a sundowner looking over one of the most spectacular sights in nature, or a calming river cruise on a luxury boat.
Read more about all the fun things to do in Victoria Falls here. And if you need to decide which side of the falls to stay, we have put this guide together to help you. Its the ultimate destination for Africa Adventures!
See the Great Pyramids (Egypt)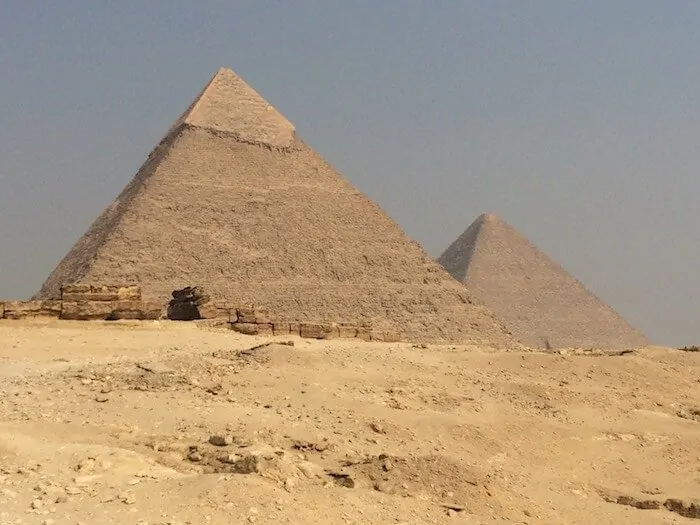 Contributed by Nathan from Foodie Flashpacker
Of all the incredible African adventures on this list, a visit to the Pyramids of Giza in Egypt is surely one of the top ones!
I recall learning about the pyramids as a kid in school but those lessons didn't come close to explaining the wonder of the ancient structures. Yes, they're crumbling and in some areas are practically ruined but you won't believe how well preserved they are to have been built more than 4,500 years ago.
Be sure to take a guided tour to learn about some of the history of one of the 7 Wonders of the Ancient World. As much of the history that is known, there are many theories about the pyramids that have still yet to be proven. Many still argue as to how ancient Egyptians even had the technology to build the incredible structures. You can even buy a ticket to crawl inside one of the pyramids and explore a room where mummies were discovered! Book your Pyramids tour here.
Hike the Otter Trail on The Garden Route (South Africa)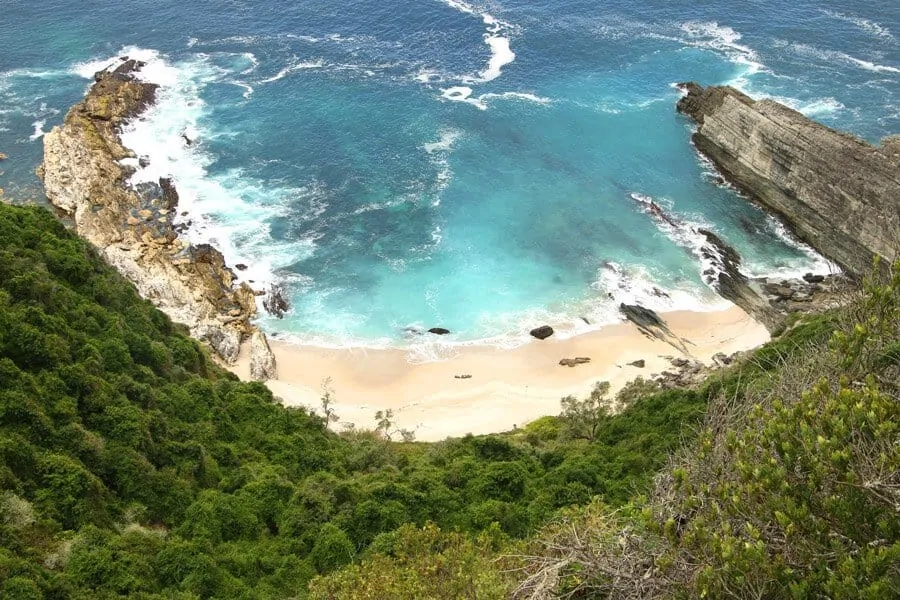 Contributed by Campell & Alya from Stingy Nomads
Out of many hikes that we've done in South Africa the Otter Trail is by far our favorite. The trek goes through Tsitsikamma National park on the Garden Route – one of the greenest and most beautiful areas in the country. The Otter Trail is considered to be one of the finest hiking trails in the world and I must say it totally deserved its fame. The scenery on the hike is breathtaking; white-sand beaches, lush green forest, dramatic cliffs, waterfalls and rivers.
Except for incredible scenery hikers have a good chance of spotting some marine and land animals; whales and dolphins in the sea, clawless otters on the rocks or next to the rivers, small forest deer, monkeys, genets and many different birds. Most of the places on the route are accessible exclusively on foot, only hikers can get there – no tourist crowds. Only 12 people a day are allowed to start the hike – advanced booking is essential though you can be lucky and get a spot easy due to regular cancellations.
The total distance of the hike is 45 km, it's walked over 5 days and 4 nights. Every night hikers stay in a hut, all huts have bunk beds and basic facilities; outside shower, toilet, fireplace and dining area. The huts are located at the most spectacular spots with stunning views, usually by the sea.
Most of the time the route follows the coastline from time to time entering lush green forest. On hot days hikers can enjoy snorkeling in the sea or swimming in the rivers. The walking distances are not long which gives enough time to stop on the way, rest, take photos and observe the beautiful nature. It the perfect outdoorsy African adventure!
.
See the Mighty Kalandula Falls (Angola)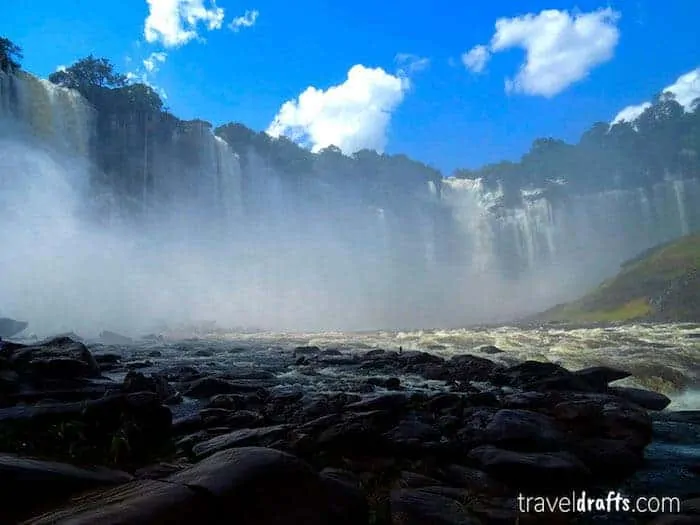 Contributed by Jorge & Claudia of Travel Drafts
Although Kalandula Falls aren't famous they are dubbed as the 2nd most impressive and biggest of Africa (after Victoria Falls), with 100 meters high and 400 meters long. These waterfalls are located in Angola in the town of Kalandula, 360 km away from
the capital Luanda. The Kalandula falls are formed along the Lucala River and the best time to visit these massive falls is during the rainy season (February- May).
One of the coolest things about Kalandula falls is the trail that leads to the waterfalls and its banks. The trail passes through the middle of a wild forest with enormous trees, mud, and rocks. When you arrive at the falls you will experience the raw power
of Nature and the feel of fresh water spray everywhere. Angola doesn't have much tourism, so the falls are quite a hidden gem, that only a few lucky people have the opportunity to appreciate. If you ever get to go there, take your time and enjoy – there aren't many places like this anymore…
Climb Kilimanjaro (Tanzania)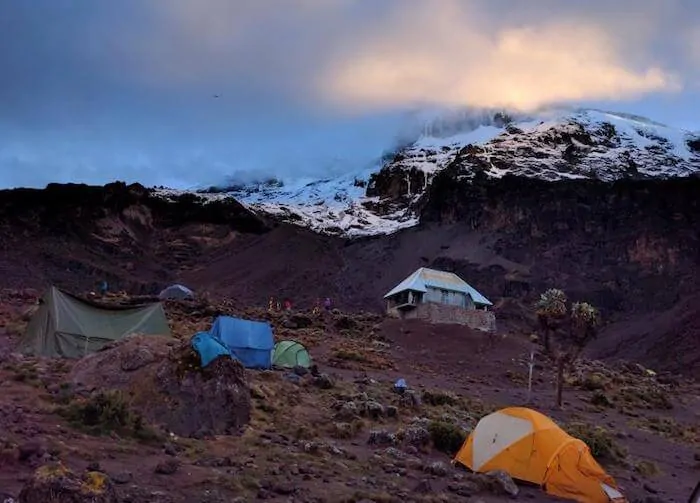 Contributed by Jackie & Justin of Life Of Doing.
Want to experience Tanzania in a unique and adventurous way? Consider hiking up Mount Kilimanjaro, the tallest mountain in Africa. It's not an easy task going up Mount Kilimanjaro due to the unpredictable weather and the altitude. You may hit all four seasons in one day on the mountain, yet, the journey is worth it.
The hike takes 5-9+ days depending on the route and is truly life changing. Your hiking guides, cook, porters, and your group members are your cheerleaders and supporters to help you succeed and reach the summit. Don't worry about hiking at a fast pace and go "pole pole" (which means "slow slow" in Swahili).
The summit day is the hardest day as you start at midnight, walk through the brutal winds and cold, and reach the summit after sunrise. Once you're at the Uhuru Peak sign, at 5,895 meters (19,341 feet) high, you deserve a high five. Congratulations on making it to the summit! Enjoy the views of the glaciers, take a photo with the sign, and head back down to lower grounds for a celebration.
RELATED –
Need some inspiration to take on this epic climb? Read these
adventure-inspiring quotes
to get you all fired up! Or if you're just looking for some general Africa inspiration which can be accessed from your couch, check out our
30 Incredible Movies About Africa
to get you in the mood!
Explore the Hottest Place on Earth in the Danakil Depression (Ethiopia)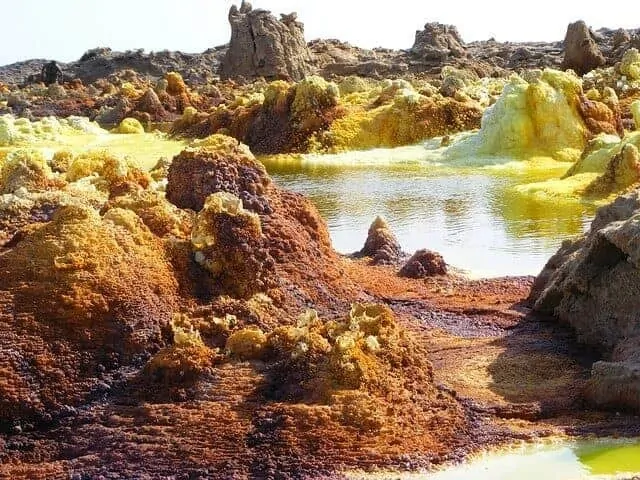 Contributed by Me (Vicki) from MakeTimeToSeeTheWorld
The Danakil Depression is a desert area in the Afar region of northeastern Ethiopia, north of the Great Rift Valley that is widely known locally as the Dallol depression. It is the hottest region on earth averaged year round as well as being one of the most geologically active, but against all odds, people actually live here.
A mix of endless salt pans, lava lakes and multi-coloured hydrothermal fields make up this incredible landscape and will make you feel like you are on another planet. A Rift Valley is created when the Earth's tectonic plates move apart, creating new crust and in the Danakil the plates are moving apart along three deep rifts at a rate of 1-2cm per year.
A millennia or more from now, the plates will have moved apart so much that the salty waters of the Red Sea will spill over, creating a new ocean and drowning this strange landscape forever. Would you like to be one of the people who see it before it (eventually) disappears.
Go Gorilla trekking in Bwindi National Park (Uganda)

Contributed by Becky The Traveller
One of the most incredible experiences in my life was an up close and personal encounter with the beautiful mountain gorillas in Uganda. As a teenager, I'd obsessed over the film 'Gorillas in the Mist' and I decided that although expensive it was time to treat myself.
Booking a tour to go trekking with the mountain gorillas in the Bwindi impenetrable forest isn't a guarantee that you will see them. This adds to the nervous buzz and excitement as you trek through the thick jungle canopy in search of them. But that moment you see a gorilla in the wild is wonderful. These huge creatures are amazing to watch in their own habitat and I don't think many wildlife experiences come much better than this.
You get to spend an hour with the gorillas and that's not in one place. The gorillas are constantly moving so you're basically following them through the jungle, stopping to take photos and watch them eat, bang their fists on their chests and even fall over. This is truly an incredible experience and the memories of that day and hour with the gorillas will last forever.
Stand in the Shadow of (or on top of!) Table Mountain (South Africa)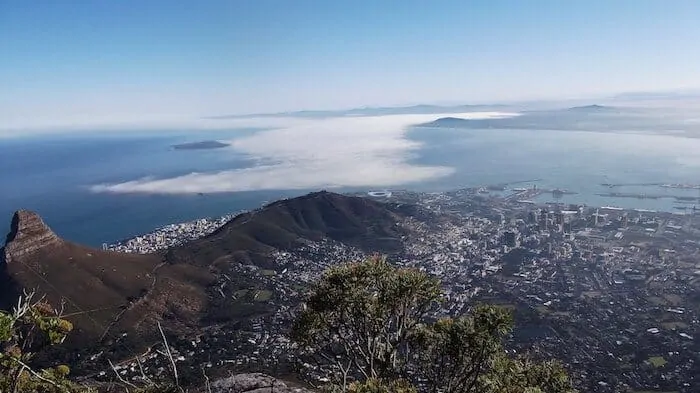 Contributed by Matt of Special Tours
Table mountain is one of the most iconic landmarks in the world, and for good reason. With a beautiful backdrop of Cape Town's skyline and cost, the mountain is a favorite for locals and visitors alike..
There are many different ways to experience the mountain. Regular buses provide transport to the lower cable station, while visitors looking to reach the summit must choose between the gondola or a hiking trail. Home to many of South Africa fynbos
and a great viewpoint, Table Mountain's peak is an experience not to be missed.
Although there is an extensive network of hiking trails scaling this 1 km tall peak – taking between 1 and 5 hours depending on your fitness level – buying a cable car ticket is the easiest way to the summit. Although queues can be long, purchasing an online ticket circumnavigates them completely. Furthermore, the gondola has a rotating floor showing off panoramic views of the surrounding mountains, Cape Town city center, as well as the West Coast stretching past Atlantis dunes.
RELATED –
Whilst you're in Cape Town, make sure you don't miss a visit to Boulders Beach to see the Penguin Colony.
Book your tour here.
.
Take a Game Drive Through Kruger National Park (South Africa)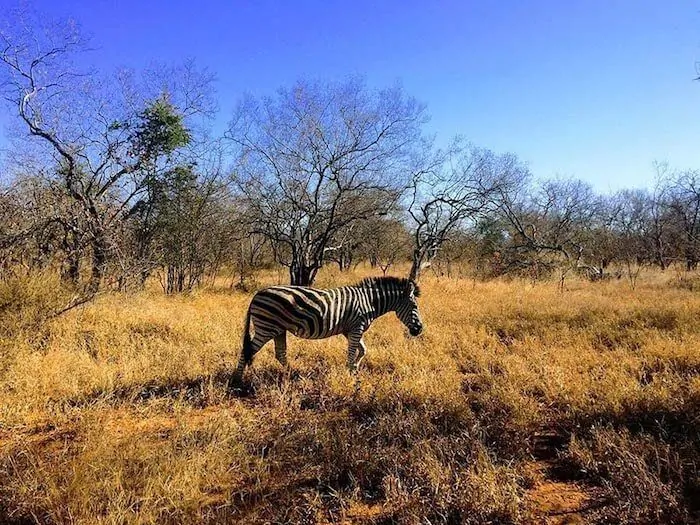 Contributed by James from Portugalist Travel Guide
Kruger National Park is one of the most special places in South Africa, and it's a popular travel destination for both South Africans and international travelers. It is home to a wide array of wildlife: everything from the big five (lion, leopard, black and white rhino, elephant, and the cape buffalo) to antelopes, wild dogs, baboons, cheetahs, zebras, warthogs, hyenas, and hundreds of other wild animals, birds, and insects.
There are two main ways that you can experience a Kruger safari. The first is the do-it-yourself option, and the preferred choice among most people in South Africa, which is to book your accommodation and game drives through the park itself.
The second option is to book yourself into an all-inclusive stay at one of the many game reserves that are located within the Greater Kruger National Park. The latter is often easier for first timers as it means that everything from food to accommodation to game drives is organised in advance, and all you have to do is turn up.
Regardless of which option you go for, a safari at Kruger is one of those must-do Africa bucket list items and an experience you're going to look back on for the rest of your life.
Watch The Great Migration in the Massai Mara (Kenya)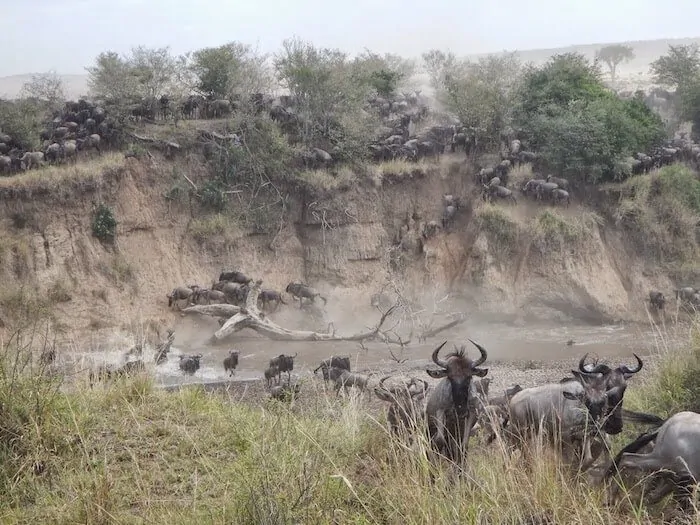 Contributed by Thea from Zen Travellers
Few experiences in the world can compare to watching the Great Migration in Kenya's Masai Mara Reserve. Anticipation mounts as thousands of wildebeest line up along the banks of the mighty Mara River, waiting for the perfect moment to start their perilous journey to the other side.
Endless grasslands for grazing await them, but first they must run the gauntlet through crocodile infested waters where the fearsome predators lie in wait anticipating an easy meal. A few brave scouts will descend the banks first, testing several potential crossings before finally deciding to go while you watch in your safari vehicle from the other side. It's an absolutely amazing experience.
The whole process can take hours but eventually one wildebeest will decide to go which will set off a stampede as the whole herd follows the leader. Many tumble and crash down the steep banks injuring themselves in the fall, while others employ a jumping launch strategy to try to avoid the crocodiles. Unfortunately, some are not successful and are dragged off by the sharp jaws awaiting them in the water.
For the lucky ones who make it across, they will have many months' worth of food waiting for them which they can enjoy until it's time to repeat the whole dangerous procedure and cross back for fresher pastures.
RELATED –
African safaris are the ultimate African adventure and are just one of the amazing
Ethical Wildlife-Related Holidays
that you could take. Click the link for more!
Go on Safari in Serengeti National Park (Tanzania/Kenya)
Contributed by Jessica from Independent Travel Cats
The Serengeti National Park is located in northern Tanzania although the larger Serengeti ecosystem also extends into south-western Kenya. Serengeti National Park is one of the most famous national parks in Africa offering amazing wildlife viewing opportunities, including the chance to see all of African's Big Five mammals and over 500 bird species.
The Serengeti, and the nearby Maasai Mara National Reserve in Kenya, is where the famous Great Migration take place where about 1 million wildebeest migrate annually across the Serengeti towards Kenya. The migration tends to mainly take place between July and August as this is when they typically cross the rivers, but they are a bit unpredictable!
There is more to do in the Serengeti though than just see wildlife, you can also visit a local Maasai village, visit the Oldupai Gorge paleoanthropological site, go hot air ballooning, and stay in luxury tents, operated by a luxury safari company.
As a wildlife lover, this has been one of my favorite parks I've ever visited and I hope I have a chance to return some day!
Stay in the Sahara amidst the dunes (Morocco)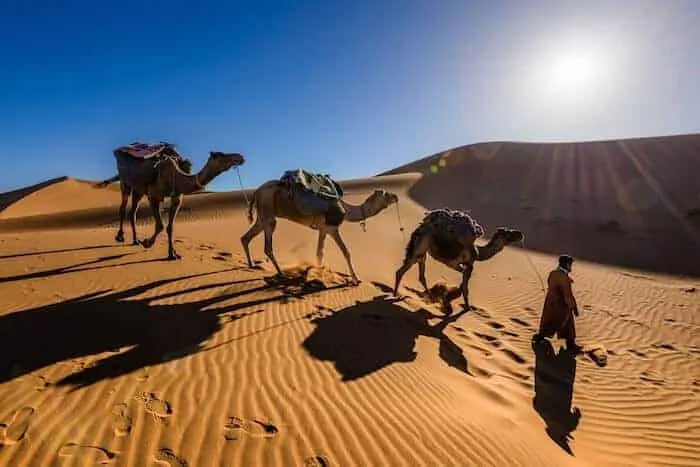 Contributed by Lavina from Continent Hop
One of the most surreal experiences I've ever had the chance to experience has been staying in the middle of the dunes in The Sahara desert. We had no clue where we were staying, as we slowly made our way on camel-back into the desert. All we could see was a sea of sand in front of us. An hour or so later, the campsite came into view. A hot meal was waiting for us, followed by some Mint tea. The locals then started to sing some songs.
Other than the few tents at the campsite, it was pitch dark everywhere else. It truly felt like cutting away from civilization. I walked a little way away and could hear the songs echoing in the distance. No other campsites were visible. It was unbelievable. We woke up early the next morning, to catch the sunrise. Sun rays bathed the dunes in gold. After a short tea, we made our way back to the mainland. The shadows cast by the camels on the way back remain one of my favorite memories.
Go Island Hopping In The Seychelles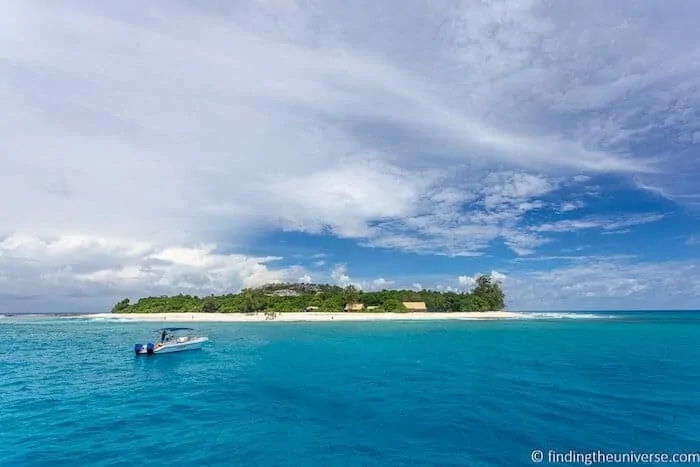 Contributed by Laurence from Finding The Universe
One of my favorite activities in Africa isn't on mainland Africa, but rather, on the beautiful island nation of the Seychelles. These are found a thousand miles off the coast of Kenya, in the Indian Ocean and are classed as part of East Africa.
There are more than hundred islands to choose from (the exact number seems to vary depending on the tide), although only a small number of these are inhabited. We'd suggest that the best way to spend your time in the Seychelles is to go island hopping. Each island really is unique, and we'd recommend spending time on at least three islands to get a feel for how they vary.
Mahe is the main island, and has the most hotels, beaches and general services of all the islands. It's also where 80% of the population lives, so is the most cosmopolitan feeling. We'd also recommend visiting Praslin and La Digue (home to Anse Source D'argent, one of the world's most beautiful beaches). If you are feeling like splashing out, visiting one of the privately owned islands like Bird or Fregate is also an unforgettable experience.
Sleep Under the Stars in Spitzkoppe (Namibia)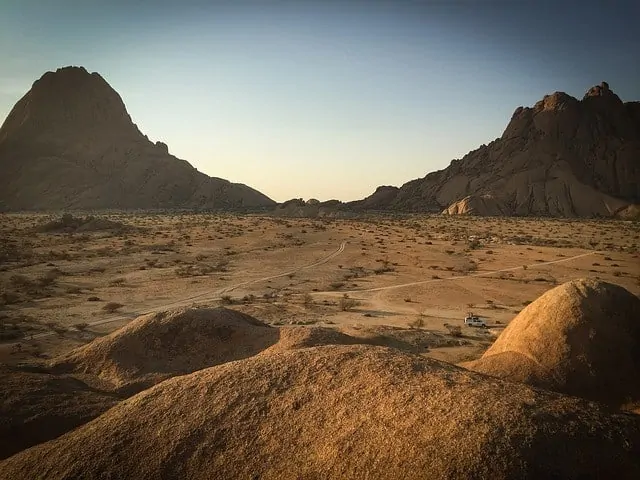 Contributed by Me (Vicki) from MakeTimeToSeeTheWorld
If you're looking for epic landscapes, Namibia has more than its fair share – and Spitzkoppe is one of the most spectacular. This incredible collection of bald granite peaks (also known as inselbergs) are located between Usakos and Swakopmund in the Namib desert of Namibia.
The granite is more than 120 million years old and the highest outcrop rises about 1,784 metres above sea level. The peaks stand out dramatically from the flat surrounding plains and make for one of the most epic campsites you could ever hope to stay in.
There are several secluded campsites around the rocks, some with toilet and braai (BBQ) facilities, others are simpler and bushcamp-esque. Although few have electricity so you are in for one heck of a night stargazing whichever campsite you stay in. Make sure you pack your favorite camera and learn to use the astro settings, because seeing the milky way above you here is simply something else.
Hike in the Rwenzori Mountains (DRC)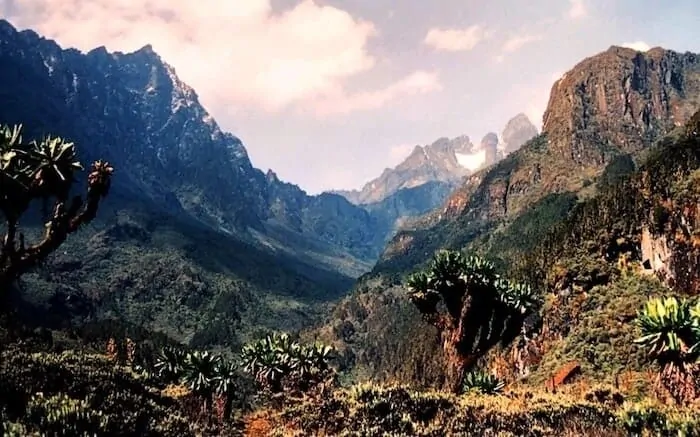 Contributed by James of Travel Collecting
The Rwenzori Mountains (AKA "The Mountains of the Moon") lie along the equator on the border between Uganda and the Democratic Republic of Congo (DRC). They are the highest mountain range in Africa and include the third highest peak in Africa. But more than that, they are incredibly beautiful with an amazing diversity of unusual and unique plant life. Trekking the Rwenzoris is an incredible experience that few people have.
The mountains are frequently shrouded in mist and rain. Consequently, much of the mountains is a quagmire and hiking here is most often searching for the next tussock of grass to jump to in order to avoid the deep mud. But the payoff is worth it. The spongy mosses, enormous tree heathers, giant lobelias, bamboo forests, and trees draped in Spanish moss all create a fairytale land that will literally take your breath away. This is a really special place that few people get to.
A typical circuit of the Rwenzori National Park takes 7-8 days leaving from Ibanda near Kasese in Uganda. There is also access in the neighboring Virunga National Park in DRC, but security can be an issue there. The rainiest periods are from mid-March to May and from September to mid-December, so avoid these if you can.
One of the local tour operators will arrange a guide and porters for you, and there are huts along the way to stay in. Reaching one of the peaks is iffy, because of the weather, but it is the journey, not the destination that makes this hike worthwhile.
See the Seven Coloured Earth of Chamarel (Mauritius)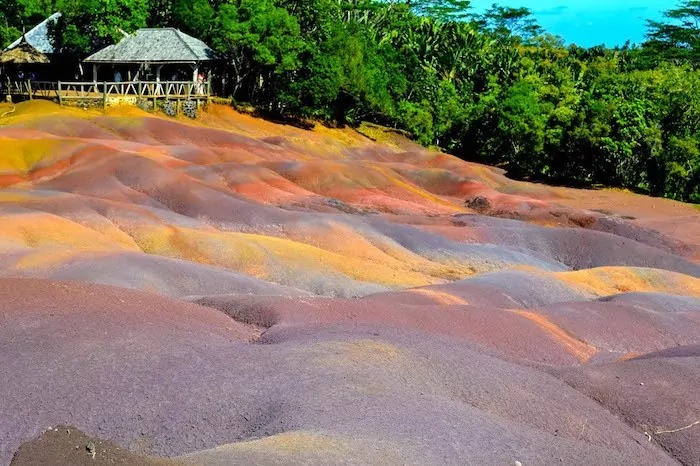 Contributed by Soumya from Stories By Soumya
A popular tourist destination in Mauritius, Seven Colored Earth of Chamarel is a rare geological quirk of Mother Earth. The area consists of numerous sand dunes made up of sand of seven distinct colors namely red, brown, violet, green, blue, purple, and yellow. Strangely enough, the colors do not mix. The sand does not erode either despite heavy Mauritian rains. All of this makes the place a curious natural phenomenon.
Thick, tropical forests surround the enclosed area of Seven Colored Earth. This provides ample viewing points and great photo spots. You can't touch or walk on the sand. You can take great pictures though. The colors are especially bright in the morning under the rays of the rising sun. This makes early morning the best time to visit.
The park is open all year long from 8:30 am – 5 pm and you can get here by bus or car. Make sure you drop by at the souvenir shop at the end of your tour and get a piece of the seven colored earth for yourself.
Get Tipsy at the Cape Town Wineries (South Africa)

Contributed by Mar from Once In A Lifetime Journey
One of the best things to do in Cape Town for wine lovers is to explore the thousands of wineries from the West Coast all the way up the Garden Route to Mossel Bay. While the three most popular regions include Stellenbosch, Franschhoek and Constantia, there are in fact 26 different wine regions to visit. Wine is a very competitive industry in the Cape, so many wineries not only have tastings in beautiful settings, but have lunches, picnics and pairings of all kinds from chocolate to biltong (South African beef jerky).
If you're visiting for a short period, then definitely hit the major wineries like Kanonkop, Boschendal or Rust en Vrede. But if you have more time to explore, then hire a car and drive to the arid bushvine region of the Swartland, spot some whales with your vino in the Walker Bay region, drink Burgundy-style Pinot Noir and Chardonnay in the Hemel-en-Aarde, or hire a bicycle and ride around Robertson, Wellington or the wineries along Route 62.
You are sure to find some true gems amid the most gorgeous settings. And don't forget to taste the uniquely South African varietal Pinotage! Get the Platter's Guide or the Vivino app to help plan your route.
Take a Digital Detox at the Siwa Oasis (Egypt)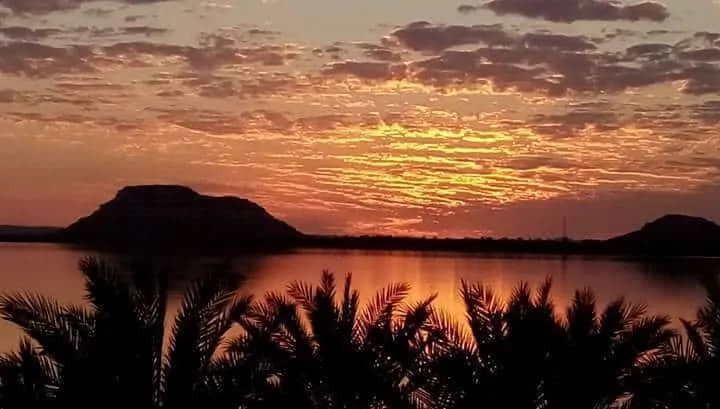 Contributed by Christina from Why Not Egypt
Siwa Oasis
is certainly the place for those who REALLY like to get away from it all. Located over 500 kilometers (300 miles) east of Cairo, and roughly only 50 kilometers (30 miles) from the Egypt/Libya border, Siwa teems with greenery and life in the midst of a vast stretch of empty desert. Here, numerous natural hot springs and salt lakes, palm trees laden with the region's world-famous dates, and majestic desert-mountain formations provide the backdrop for some of the most stunning desert sun-rises and sun-sets seen anywhere around the globe.
The single, overland route to Siwa from Cairo is a 12 hour bus-trek across Egypt's Western Desert; the closest airport in Marsa Matruh is still 3 hours away. Yet isolated as it is, Siwa has been beaconing adventurous souls for centuries. Legend has it that upon conquering Egypt, Alexander the Great travelled here seeking the famed Oracle of Amun, whose temple ruins can still be visited in Siwa to this day.
Other popular oasis activities include dipping in the hot springs of Cleopatra's Pool, sand-boarding or trekking over the desert dunes, enjoying a relaxing spa treatment, or giving the natural hot sand therapy baths a try. Of course, eating your fill of sweet Siwa dates is also an absolute must!
Explore the Rock-hewn churches of Lalibela (Ethiopia)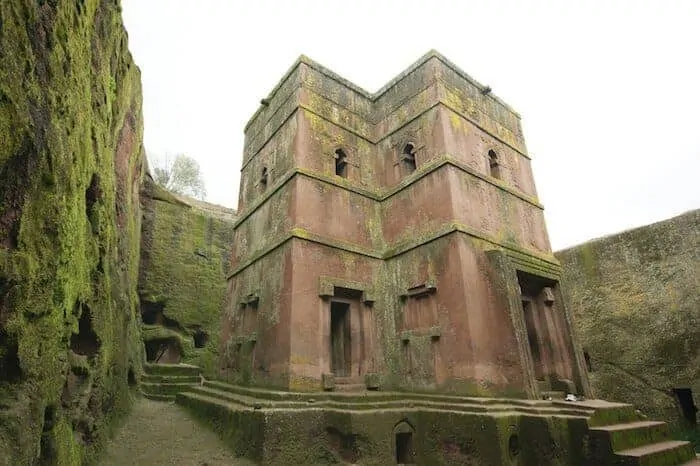 Contributed by Elisa from World In Paris
Lalibela is a town located in Northern Ethiopia. It is known for its rock-hewn churches which year after year attire many Orthodox Christian pilgrims from all the country. The rock-hewn churches of Lalibela were built during the 12th and 13th centuries. The legend tells about King Lalibela, who went into exile to Jerusalem because his half-brother wanted to kill him.
He vowed that when he returned he would create a New Jerusalem, and that's what he did: it is believed that the ensemble of Lalibela is an exact replica of the Holy Land of the 12th century, where even the Jordan River is represented.
King Lalibela built 11 monolithic churches in total. The churches were hewn out of solid rock in a variety of style. Generally, the construction started excavating trenches to isolate a solid granite block, which was then carved both externally and internally, then work proceeding from top downward.
This is a unique and amazing archaeological site full of symbolism and interesting details. The site can be visited during a packed full day but we recommend taking it easy and do it in 2 days. You can visit Lalibela by yourself but if you want to get the most out of it I recommend hiring a local guide or buy a book about this archaeological site.
Wander the Beaches of Mozambique (Mozambique)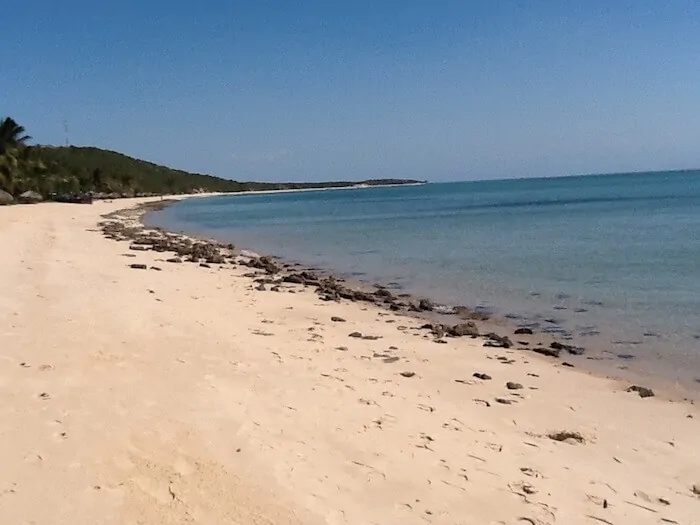 Contributed by Talek from Travels with Talek
On the southeastern coast of the African continent, facing the warm waters of the Arabian Sea lies the largely undiscovered paradise of Mozambique.
Mozambique is a safe, politically stable and beautiful country with remarkable. The beaches of Mozambique are honey colored lapped by crystalline waters. Many fishing villages sit on the fringes of the beach. The villagers can be seen drying and mending their nets in the afternoon sunshine. Later that day the aromas of roasting fish waft from the village cooking fires. The villagers are so friendly and hospitable that they offer visitors a meal of savory fish served on banana leaves.
At night the beaches are aglow with multiple bonfires. Musicians play and villagers sing and dance, their silhouettes reflecting against the night sky.
Wander Through The Simien Mountains (Ethiopia)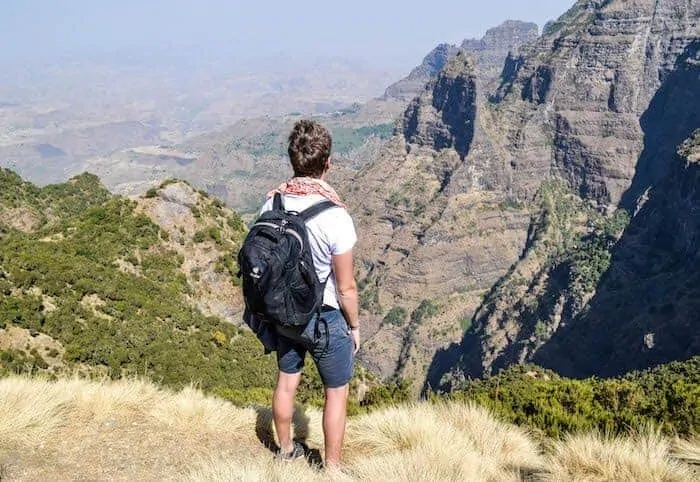 Contributed by Patrick from German Backpacker
My most incredible experience while backpacking Ethiopia was a 3-days hiking trip in the Simien Mountains. The landscape and nature are stunning with incredible viewpoints of the Ethiopian landscape. I spent two nights camping in the Simien Mountains and while the hiking was quite exhausting at times (also due to the high altitude) it was very rewarding and an experience you shouldn't miss. Just make sure to bring enough warm clothes – despite of what you might think about the climate of Ethiopia, it certainly gets cold in the mountains, especially as soon as the sun is gone.
During our hiking trip, we passed through local villages, visited several viewpoints and even saw some wildlife. My favorite moment was probably watching the sunset from the top of a mountain while hundreds of baboons climbed down the cliff due to the risk of leopards in the night on the highland.
Please keep in mind that the so-called "local mafia" made it extremely difficult to visit the Simien Mountains independently, since taxi and truck drivers are threatened not to pick up any tourist inside of the part. Therefore, your only choice to visit the mountains will be on an organized tour, which can be booked directly in Gondar. You will need to bargain, and a good price for a 3-day tour including camping equipment, food, transport and guide will be approx. 170$.
See Lake Abbe (Djibouti)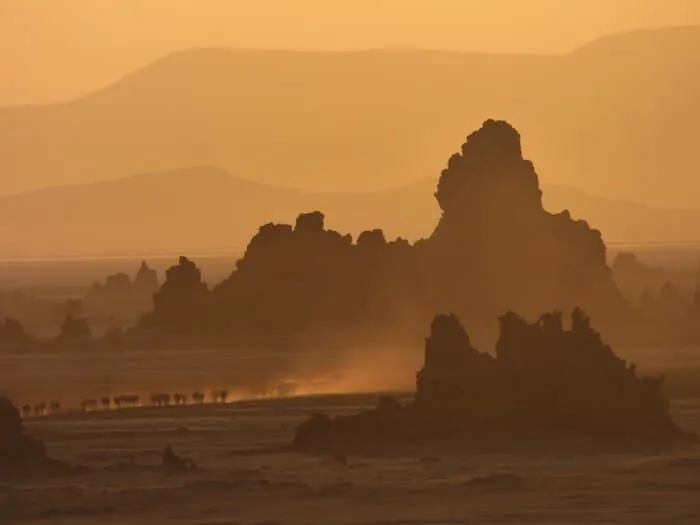 Contributed by Lisa from TheHotFlashpacker
The most iconic, and most difficult place to get to in Djibouti, is Lake Abbe (or Lac Abbe) on the western border. This lake straddles the border with Ethiopia. Geothermic activity has created hot pools and giant, unique mud spires on the Djibouti side of the lake. The area is inhabited by nomadic Afar people, who herd cattle, camels, and goats and bring to the shore each day to drink.
It's also home to wildlife such as baboons, antelope, and warthogs. This place can only be visited by private 4×4 with a driver who knows what they're doing – many a jeep has been trapped in the soft sands, or wrecked in the rocky hills you need to cross to get there, or lost on the unmarked dusty roads in the desert. It's best to stay overnight at the encampment so you can see sunrise and sunset, as well as the incredible stars in this desert camp.
See Sunrise (or Sunset!) from Lions Head in Cape Town (South Africa)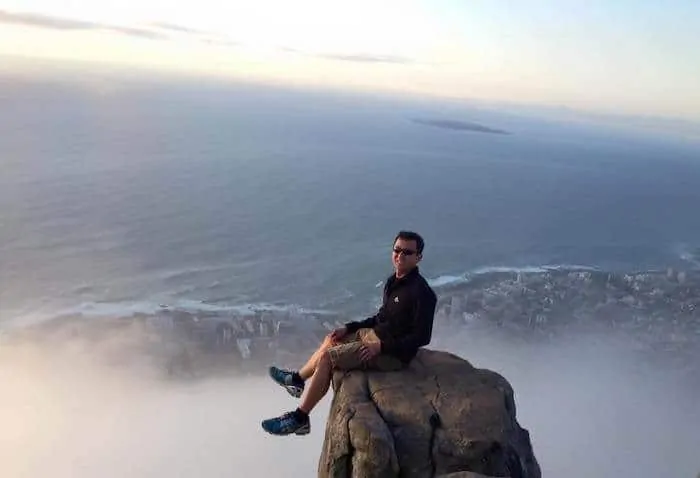 Contributed by Halef & Michael from TheRTWGuys
Cape Town, South Africa is an amazing city. There's always something for everybody: from city culture, history, and nature exploration, Cape Town has it all. Two of my favorite things to do in Cape Town were Scuba Diving in Two Oceans Aquarium and hiking the Lion's Head.
Besides the famous Tabletop Mountain, Lion's Head is one of a few landmark peaks of Cape Town. While it is a moderately difficult hike to get to the top of this amazing wonder, it is definitely worth the effort.
To hike up, you will have a steady climb of about two hours. Definitely take your time and marvel at the beautiful views. In some places, you will have to climb a makeshift ladder, with little to no protection, so you will have to be extra careful.
Getting to see the view of the world's two largest oceans and Cape Town from top of the Lion's Head is stunning. There are a few rocks that offer unique angles for photos. When taken correctly, these photos can give viewers the illusion that you are floating far above the Cape Town skyline. But the main draw of Lion's Head is to view the sunset. It is just simply spectacular!
Walk on the Salt Pan at Deadvlei (Namibia)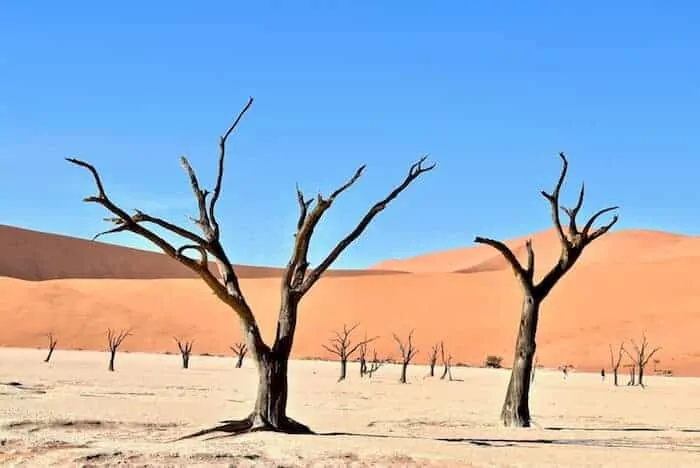 Contributed by Me (Vicki) from MakeTimeToSeeTheWorld
Sossusvlei is a salt and clay pan surrounded by high red dunes, located in the southern part of the Namib Desert, in the Namib-Naukluft National Park of Namibia. Home to Dune 45 – the most climbed sand dune in the park – along with the geographical marvel that is Deadvlei. Its an area of incredible contrasts and one that you have to see to believe.
Okavango Delta (Botswana)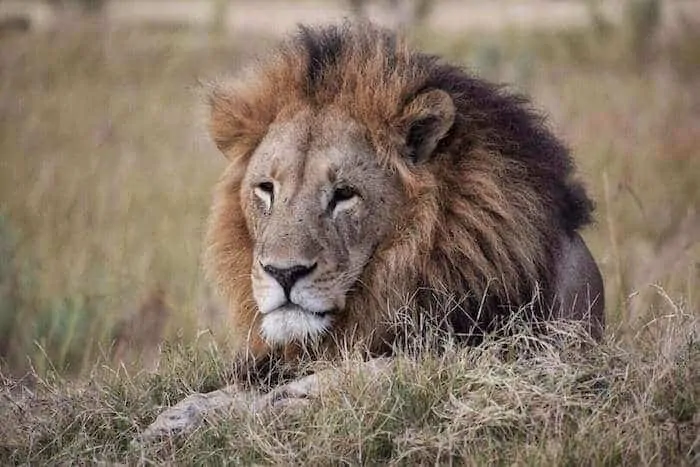 Contributed by Claudia from My Adventures Across The World
When traveling across southern Africa, visiting the Okavango Delta, in Botswana, is an absolute must. This is one of the best places in the world to see wildlife in its natural environment and in a way that is respectful to the animals and to the environment they live in.
The Okavango Delta is a vast, inland river delta. As the area is mostly flooded and wet throughout the year, it's easy to spot animals who make use of the riverways and waterholes to feed, drink and bathe, and the best way to explore the region is in a traditional wooden dug out canoe called a Mokoro that is powered and steered with a large wooden pole (similar to how a Gondola is punted in Venice)
Among the animal species that can be admired in the Okavango region, there's an abundance of elephants and hippos, who make their presence clear by being very vocal, especially throughout the night. Impalas, kudus and warthogs are common, along with zebras and giraffes. Lions are fairly easy to spot, as well as other big cats such as leopards and cheetahs.
Vervet monkeys and baboons enjoy getting close to the camping sites where tourists spend the night. Spotted hyenas live in the area too, although they are very skittish and incredibly hard to spot. Last, but definitely not least, wild dogs live in the area, although it is quite hard to get a sighting of these fierce hunters.
Oh and if you are looking for the off the beaten path safari destination of your dreams, Chief Island, in the heart of the Moremi Game Reserve – that makes up 1/3 of the Okavango and stretches all the way to Chobe National Park – is the perfect solution. Reached by a small light aircraft which arrives via a dusty landing strip before visitors are whisked away to a bush camp, you'll be off the grid and surrounded by nature (and wild animals!) in no time!
Walk along Baobob Avenue (Madagascar)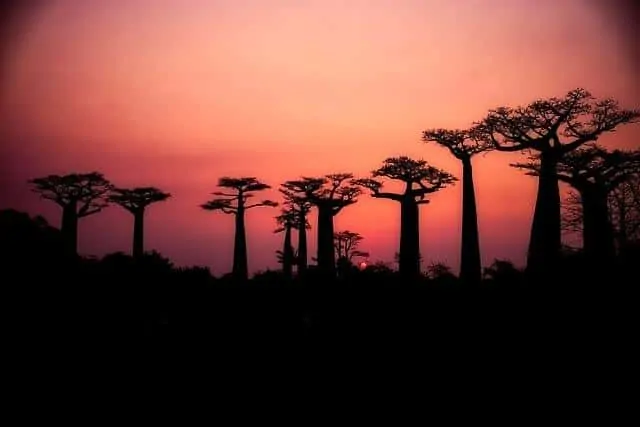 Contributed by Me (Vicki) from MakeTimeToSeeTheWorld
In Western Madagascar there is a collection of magnificent Baobab trees which line the dirt road between Morondava and Belon'i Tsiribihina. It is one of the most amazing landscapes in the world and draws travelers from all over the world. Madagascar also boasts one of the most unique and diverse Eco-systems in the world, with 90% of all plants and animals found there being endemic to the Island (similar to Christmas Island in the Indian Ocean).
Madagascar is also famous for it's Lemurs – all 88 species of them – which are endemic to the Island and is truly the only place you can see them in the wild in their natural habitat.
Walk Along the Shores of Lake Malawi (Malawi)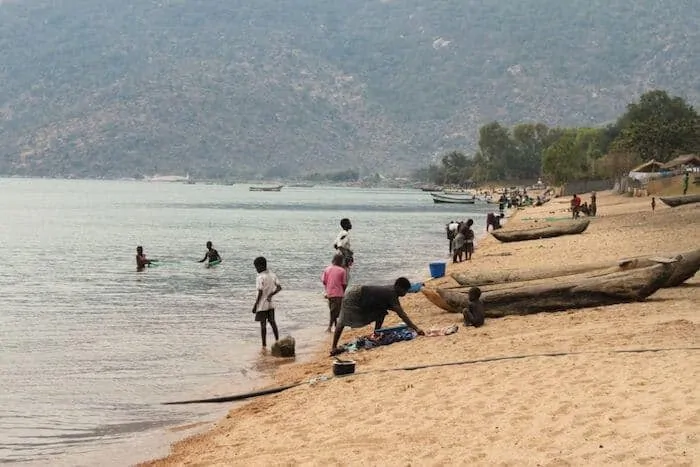 Contributed by Rachel from Rachels Ruminations. Photo by Albert Smith
Part of the Rift Valley series of lakes down the east side of the African continent, Lake Malawi is long, narrow and deep. It is bordered by Tanzania in the north, Malawi on the west and south, and Mozambique in the east. In Malawi, it is lined with white sand beaches, where women wash clothes and dishes while their children play, and where fishermen launch their heavy wooden canoes and return to sell their catch.
Lake Malawi is freshwater, and inhabited by cichlids, a colorful range of fish found nowhere else in the world. Some of them are mouth-breeders, which means they hold their babies in their mouths when danger threatens.
The lake is safe for swimming and wonderful for snorkeling and diving. Lots of other water sports are available as well, or just enjoy the tropical vibe, lying under a palm tree, cocktail in hand.
For the more adventurous types, take a week on the MV Ilala, a small passenger ship that travels the length of the lake, stopping at many tiny villages that are virtually unreachable any other way. It'll give you a unique view of life in Malawi, "the warm heart of Africa."
Stand Tall in the Drakensberg Mountains (Lesotho)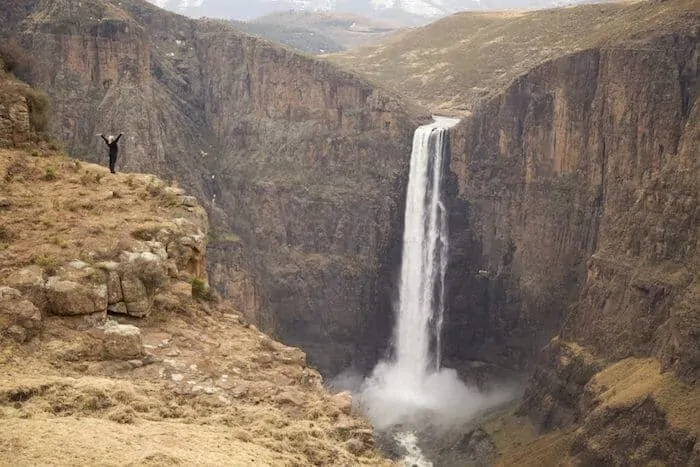 Contributed by Natasha & Cameron from The World Pursuit
We ventured into the small country of Lesotho from South Africa in search of a non touristy experience in Southern Africa. We had a newly purchased Toyota Landcruiser from South Africa and were ready to explore. Thankfully, we found that quiet place in the heart of the Drakensberg mountains and The Kingdom in the Sky.
Lesotho is a landlocked country completely surrounded by South Africa. The country has the highest lowest point of any country in the world, but is the only country in the world to be entirely above 1000m. Needless to say it is a very tall, but small country with a population of just over two million. That means plenty of hiking with hardly anyone around!
We found solitude while hiking around Maletsunyane Falls. Maletsunyane Falls is a 192-meter single waterfall. Arriving here you will definitely feel a rush and a sense of satisfaction for any adventuring. Since the waterfall plunges fro so high it creates an echo for all around to be heard. Head here to witness nature at it's finest without hoards of people around.
Explore the Medinas of Fez & Marrakech (Morocco)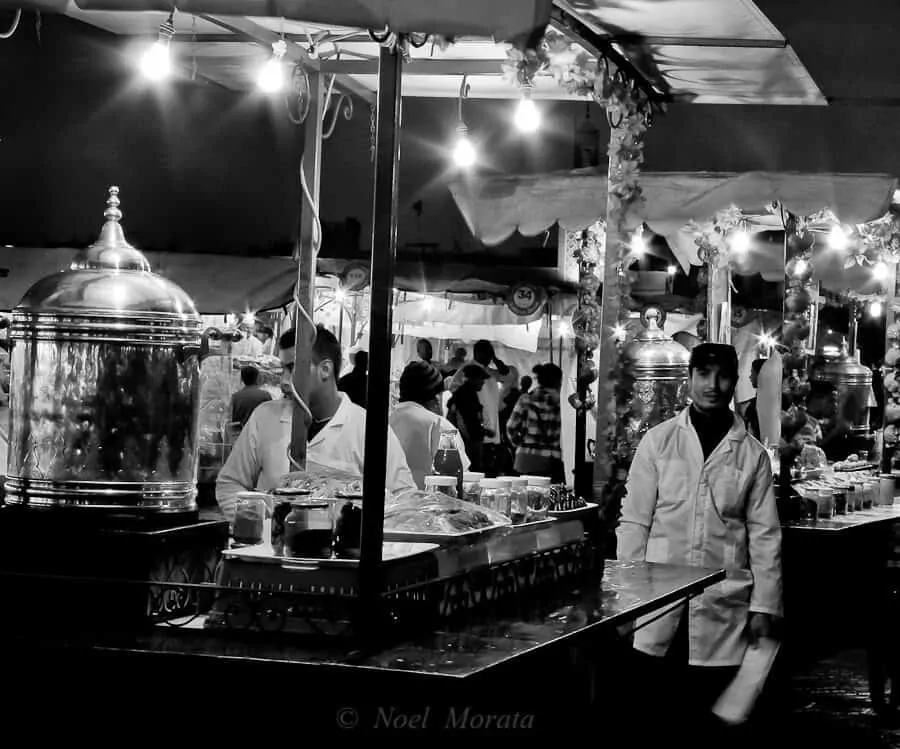 Contributed by Noel from Travel Photo Discovery
Visiting the medinas in Marrakesh and Fez take you directly into the exotic parts of Morocco that remain unchanged for centuries. Tight and narrow streets lined with ancient buildings with hidden gardens and courtyards lead to magnificent riads (small inns), madrasa (Islamic schools) and mosques.
A kaleidoscope of visuals, scents and tastes when you enter the beautiful public markets with delicious fruits, nuts and food vendors selling the freshest ingredients and take away street food. It's also fun seeing actual craftsmen make intricate detailed work on leather, metal, clothing and art for sale in their shops enticing you with a nice cup of sweet mint tea, a typical offering of welcome.
It's confusing and fun wandering and getting lost in these medinas, but no worries because you can easily ask for help or just take a taxi back to any place you want to go back to.
Tip – taking photos in the medinas are fun, but know that people here in general do not like to have their photos taken – so pan for larger environment shots or detail shots instead of portraits.
RELATED:
Another incredible, 'Africa Bucket List' worthy spot in Morocco is the totally Instagrammable blue village of
Chefchaouen. Haven't heard about it? Take a look at this Instagram tag!
Relax on the Zanzibar Archipelago (Tanzania)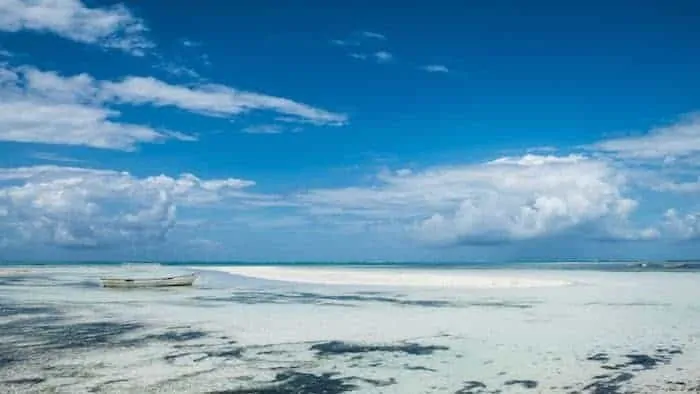 Contributed by Soumya from Travel Books Food
Africa is full of incredible experiences and my pick would definitely be a visit to the Zanzibar Archipelago, also sometimes known as the Spice Islands. With some of the best beaches in Africa, the Zanzibar archipelago mainly consists of two larger islands and several smaller islands in the Indian Ocean off the coast of Tanzania.
The easiest way to get here is to either take a ferry boat from Dar-Es-Salaam which would take approximately 2-3 hours or take a quick flight from Dar-es-Salaam. Some of the most popular things to do in Zanzibar are to visit the UNESCO World Heritage site of Stone town, visit one of the many Spice farms on the island, go snorkeling/ diving near reefs close to the Mnemba island, take a tour to the Prison island to visit the Giant tortoises and get a chance to interact with them, go for a nature walk in the Jozani forest and visit the beaches of Nungwi and Kendwa if you crave for some white sands and turquoise waters.
Notes to make sure your African Adventures go off without a hitch:
Purchase travel insurance for the full duration of your African Adventure (or for any other trip you take!)
Consult your doctor/physician about the necessary vaccinations for travel to Africa. Yellow Fever is mandatory for re-entering practically all Western Countries, but there are others that you will need to have (or have boosted) dependent on your chosen destination. You can also take this opportunity to discuss the risk of Malaria and if they recommend you take prophylaxis medications.
If you are planning a safari (and that's any kind of safari be it a family safari, honeymoon safari, or overland African adventure safari!) take a peek at our Safari Packing List which has all the essentials for game drives to overland adventures and includes what to wear!
Don't forget your camera – if planning any safari activities I would highly recommend the Panasonic Lumix Fz70 (read the full review here) – and I can guarantee you'll be glad you have the x60 optical zoom!
Go with an open mind, open heart and embrace every second of your trip.
So there you have it – hopefully this guide to the best Adventures in Africa (which is also packed with travel tips!) has given you a great list of epic experiences to add to your Africa Bucket List.
What would be the first adventure you would want to take? Or is there one that I have missed off the list?! Let me know in the comments below.

Oh, and if you liked this post please share on Facebook, tweet, flip or pin – I'd really appreciate it! Click the P in the share bar for full size images.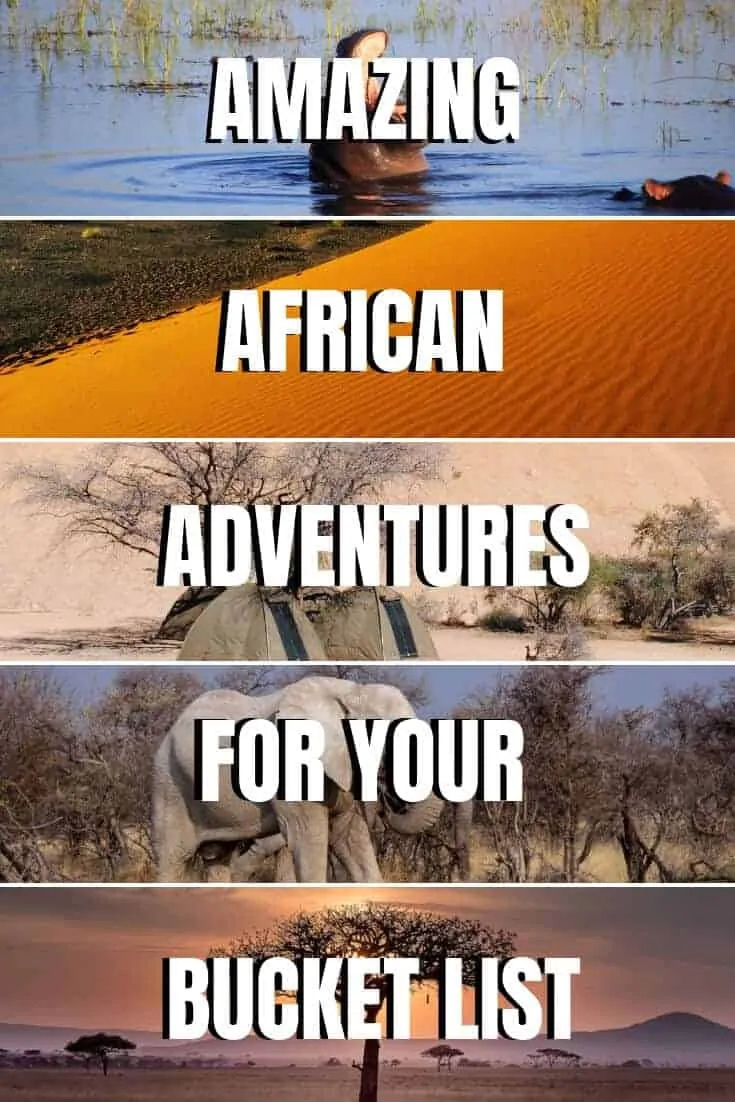 READY TO EXPLORE MORE OF AFRICA? YOU MIGHT BE INTERESTED IN THESE ARTICLES
Hi There! Thanks for reading our travel guide to the 30 African Adventures to Add to Your Africa Bucket List. I just wanted to let you know that this post contains affiliate links, which means if you purchase something after clicking a link, I may get a small commission – which is at absolutely no cost to you. If you enjoyed this article and are going to be searching for some of the things I mention anyway, I would love it if you could click through from the links above & thank you in advance! Read my full Disclosure here.
And thank you for reading the MakeTimeToSeeTheWorld travel blog posts.