The city of Basel oozes history and refinement and has a typically Swiss ambiance of order. However, if you scratch the surface you will discover Basel is also a very multicultural and creative city, and this makes it an exciting place for a wide range of travelers. Basel is not a megacity, but in my view, this is a bonus. You can visit for a short trip or even a weekend and really get under the skin of the place. I have spent time living in Basel and visited the city many, times since. You will find a lot of fun and interesting things to do in Basel.
Read on for my shortlist of the Top 15 things to do in Basel Switzerland and recommendations of where to stay and what to eat so you can get the most out of your trip.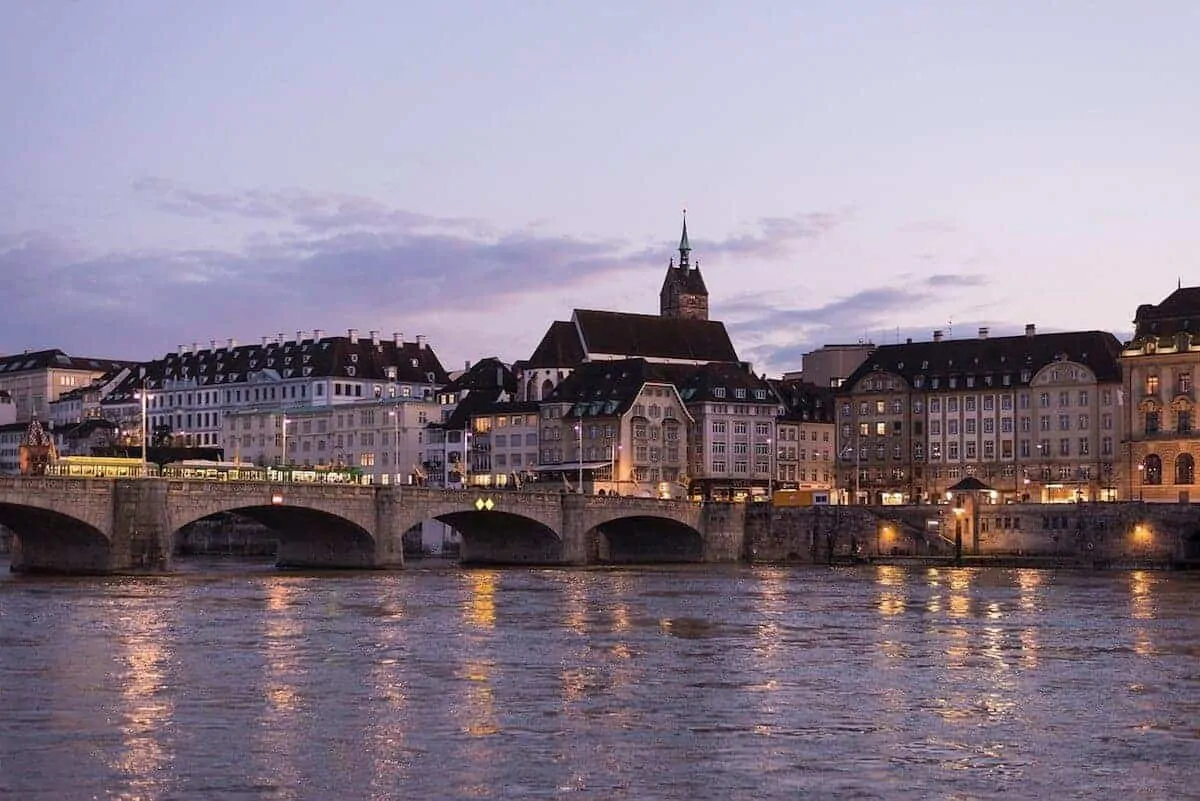 Disclaimer: Almost all posts on this site contain Affiliate links, and this one about the best things to do in Basel is no different. This means that if you click on any of the links in this post (and make a purchase) I may receive a small commission at absolutely no cost to you. Each post is carefully crafted to (hopefully!) answer all your questions and recommendations are made where we believe they will improve your trip and help with your planning. As such we thank you in advance should you decide to click & buy. Read my full Disclosure here.
This is a Guest Post by Ryan of MrAbroad.com
Essential Basel Travel Tips: What to know before you go
How to Get to Basel
Whether by air, rail or road, Basel is a really easy city to get to. By plane, EuroAirport is just 15 minutes from the city center; the train stations connects Basel to other cities throughout Switzerland and Europe; and with flat smooth Swiss road, driving to the city would be a joy, and almost all hotels have parking facilities, road-tripping could be an economical option depending on where you are traveling from.
How to Get Around Basel
The city center of Basel is EXTREMELY easy to navigate. You have regular trams and buses all around the city, and two train stations for making trips out of town – or even out of Switzerland. You can buy single journey tickets at each stop (you check which zone each stop you want is in, then buy a single ticket for the appropriate zone.) Or to take advantage of much better value you can buy various bulk tickets. You must get a ticket before getting on the tram, they do check (think swooping sting operations), and fines are hefty. They don't accept excuses either (even if you're a tourist.)
Where to stay in Basel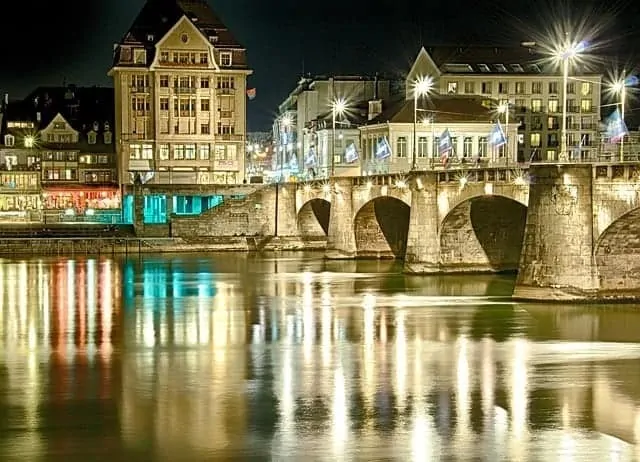 There are lots of lovely hotels in Basel, both in the city center and surrounds, and here are out top picks to help you choose:
Luxury Stay (€150-180 per night): Hotel Basel (4*) – Right in the heart of the city center this bright, airy hotel is a great place to rest tired legs and heads after a day exploring the city. Check Prices or Read Reviews.
Mid-Range Stay (€105-125 per night): East-West Riverside Hotel (3*) – On the banks of the river with views of the Middle Bridge, this hotel is a great place to stay with most major attractions within easy walking distance. Check Prices & Availability or Read Reviews.
Budget Stay (€50-80 per night): Ibis Budget Hotel Basel (1*) – Cheap, clean and cheerful, this Basel hotel is a short 1.5km from the city center and is a great place to stay if you'd rather spend your money on experiences, food & drink than a posh hotel. Check prices and availability or read reviews.
15 Fun & Fab Things to do in Basel, Switzerland
Take a walk-through Basel Old Town
The Basel old town is on the West side of the Rhine river and there are some really nice areas with cobbled streets which you can spend an hour or two wandering along. The terrace houses are really beautiful in a very quaint kind of way and come in lots of funny shapes, sizes and even colors. These streets are also where you will come across random little private shops selling all kinds of unusual specialist items. I'm not going to spoil the surprises here… just take my word, have a wander and take a guided tour to learn about the history of the town and to find out about all the best spots! Book your tour here.
Basel Munster – Twin Spire Gothic Cathedral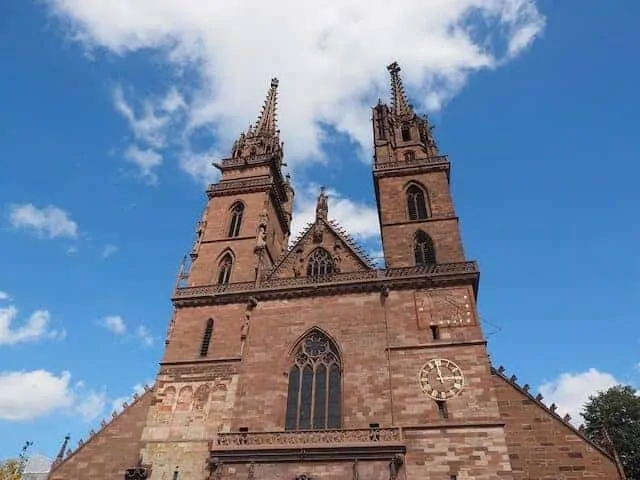 While walking through the old town make sure your feet take you to the Basler Münster Basel Cathedral – which is still in operation as a place of worship, so be respectful when you go inside. You can go up into the towers and there is also a cool garden/ park in the back where you can sit and enjoy beautiful views of the Rhine. You might notice a young hip looking crowd hanging out there under a cloud of smoke.
Visit the Highly Original Tinguely Museum (& fountains)

I love Jean Tinguely for his "everyman" art. While not 100% acceptable in the most sophisticated art circles there is something very accessible and fun about his work. This means even non-art lovers should visit the Jean Tinguely Museum in Basel celebrating his work and life. If you're not convinced, try out his fun moving Tinguely Fountain at Tinguely Brunnen first, and then if you are sold, head to the museum where more mad contraption moving sculpture wonders await.
Hang Out by the River on the East Bank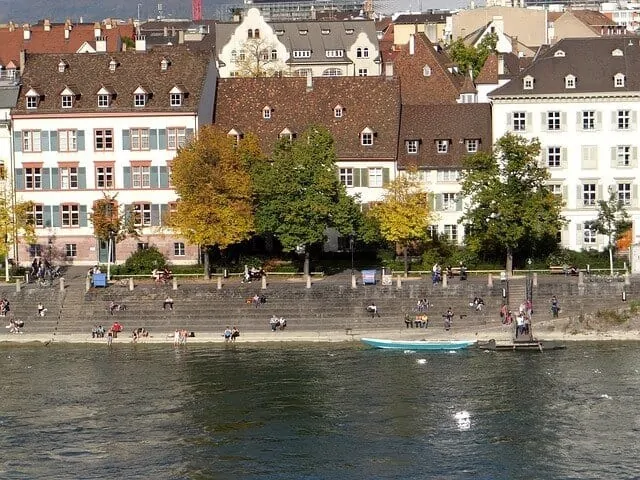 In the summertime, particularly on the East bank of the river close to the Mittlere Brücke bridge (south), you will find lovely deep steps along the river which are more like rows and rows of seats. Here you will find a young, local crowd who come to meet up and hang out. In summer, people will also float down the river and this is one of the places you will see them bobbing past. If you want to take a dip yourself try to befriend some locals first because they will tell you the best (and safest) places to get in and out of the river.
While there pop over to the other side of the bridge (same bank), and look out over the river from the platform. Here you find you join an interesting sculpture of Helvetia auf Reisen (also found on Swiss coins) as she looks out over the water.
Indulge your Inner Child at Spielkiste Basel Toyshop
If you have children, or your inner-child never went to sleep, then visiting the Spielkiste Basel Toyshop is a must-see when you visit Basel. This little shop holds a wonderful range of toys, and they focus on natural materials (such as wooden toys) and well-made, high-quality offerings. Plus, they have a real slide in the store. What can be better than that?
Chocolate, oh yes!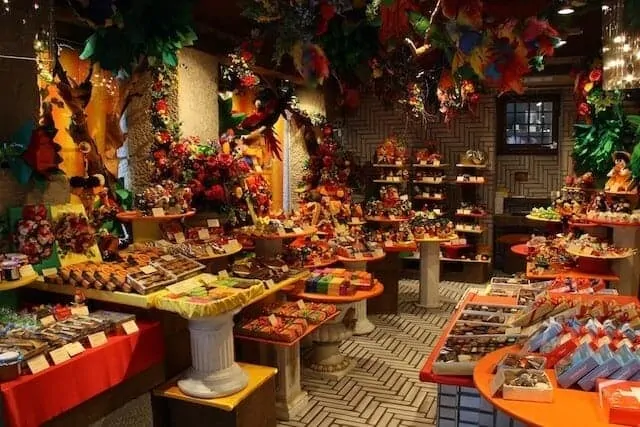 I'm a chocoholic, and Switzerland is one of the best places in the world to get a mother of all chocolate fixes. My favorite shop Confiserie Sprüngli AG is at Basel SBB. Although to be honest you can't really go far wrong with any of the chocolate shops in Basel…
Go to the Cinema – Do it!
For anyone from the USA or other places in Europe such as the UK, you will find a trip to the Swiss Cinema an interesting cultural experience! Many films have showings in English with German subtitles, so don't think if you aren't a language whizz you can't go!
My favorite cinema is the Stadtkino where you find international films, old films, arthouse movies, and other types of movies not found on the mainstream screens. You can also find several mainstream movie theatres on Steinenvorstadt if you prefer to go Hollywood : D.
Now, you are probably still wondering at this point why you have to go to the cinema? Well, here's the thing. There is a break at halftime (like when you go to the real theatre) AND you can buy wines and beers to drink in glasses. Yes. That is how civilized Switzerland is. Don't miss the experience!
Basel City Events: Fasnacht, Fun Fair, and Art Basel
I'm cheating a little here… I know that's three things in one point, but whatever the time of year you visit Basel the chances are you will find some kind of festival or event taking place. Many of these events are particular to Basel but some of them aren't necessarily only found in Basel, but all the same, add more life to the place. For a relatively small city, there is a lot going on.
Fasnacht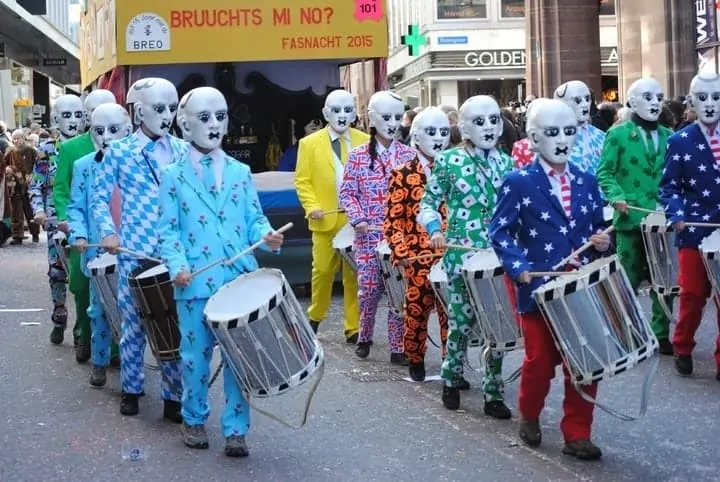 Fasnacht is a riot of a festival for children and adult-children of all ages with masks, costumes, confetti, pipe bands, late-night eating, and drinking, a dark lantern only lit city, and a considerable amount of mess (highly unusual in Switzerland.)
Art Basel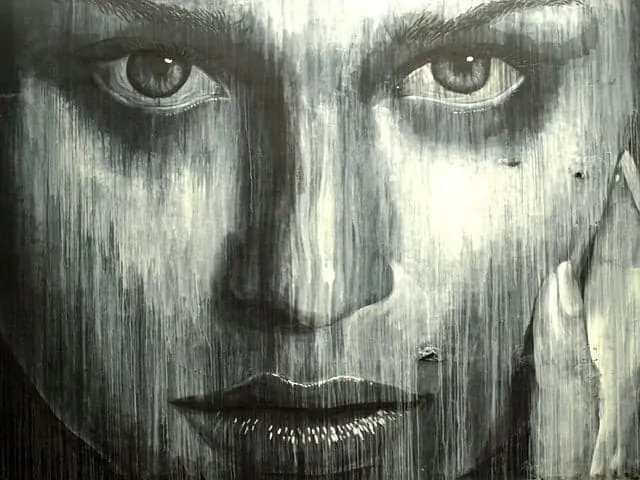 If you are even a little involved in the art world you probably know about the Basel Art Fair. If you don't know anything about art and your visit coincides with the event I still recommend having a look around. The massive fair is a great way to discover new artists for free. Yay.
Basel Fun Fair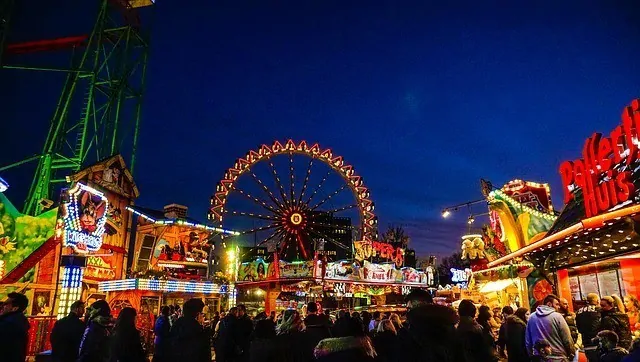 Held every autumn this fun fair is spread across the city in the different squares and marketplaces. Each area has a different feel and may feature rides with thrills or something nostalgic like the merry-go-round.
Take a Tram to the Beyeler Art Foundation
For a nice trip to the suburbs of Basel then I suggest a visit to the Beyeler Art Foundation (Fondation Beyeler). The building is beautifully designed. This space presents more highbrow art than the Tinguely Museum, but the space is intimate and very well curated so I think even if you are not a massive art-o-phile you can get something out of the visit. The gallery is located in a beautiful garden, and the convenient tram route takes you through some lovely green suburban areas with old houses and parks.
Among other big names such as Francis Bacon, Jackson Pollock, Louise Bourgeois, Vincent Van Gogh and more, they have a beautiful Monet in their permanent collection. The work is housed in a bright well-lit room with bench seating and views over a still body of water. You can really soak the work up in a much more intimate way than you usually can in large galleries.
Check out the Rathaus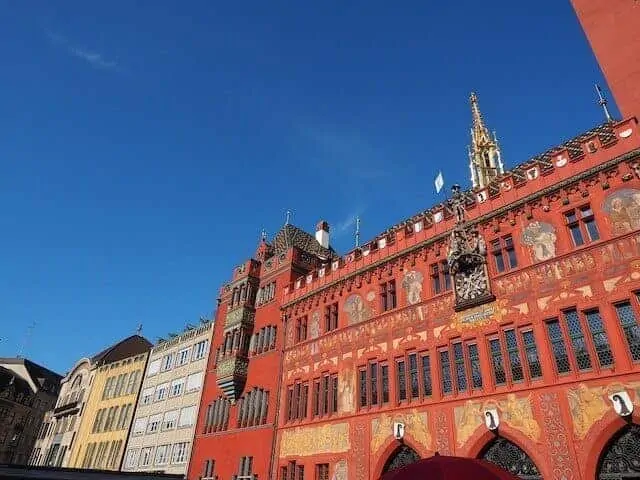 You can't visit Basel without at least a quick look at the Rathaus. No, no it's got nothing to do with Rats! Somewhat ironically, the Rathaus is the seat of the government. Rathaus is the German name for a town hall, this making Basel Rathaus the Basel City Hall. Built between 1509 and 1514, this historical building is beautiful with a rich red color and brightly painted frescos. Furthermore, the town square outside Basels town hall (called Marktplatz) is usually a lively place to visit with farmers markets and other activities going on at different times of the year.
Get Cultured at Basel's Museums

Explore Basels art and culture side with your pick of 25 different art museums! There's the Kunstmuseum Basel (Fine Art Museum) is the oldest publicly accessible art collection in the world; the Pharmazie historisches Museum (Pharmacy Museum) houses one of the largest collections of pharmaceutical paraphernalia; the Museum Tinguely + Fondation Beyeler (discussed above); The Cartoon Museum (Cartoonmuseum Basel) which is the only museum of its kind devoted exclusively to satirical art and at Basels Paper Mill Museum (Basler Papiermühle) – housed in a medieval mill – visitors learn about everything from hand-made paper to finished books. The museums are really one of the main attractions in Basel.
A Few Other Random Cool things to look out for:
As Christmas approaches catch the Christmas markets in Basel. My favorite is the one on Barfüsserplatz where they have Christmas markets and where you can make your own candles.
Water fountains. Everywhere around the city, you will find a wide range of drinking water fountains. You will see a wide range of fountain sizes and sculptures with water gushing forth from griffins' mouths, and so on. See how many different fountains you can spot! They are one of the most unique tourist attractions in the city – and best of all, they are FREE!
Try one of the four the ferry boats to cross the Rhine, there is no motor, just a wire holding the boat and the current which pushes the boat. It's one of the coolest boat rides in Europe!
Day Trips From Basel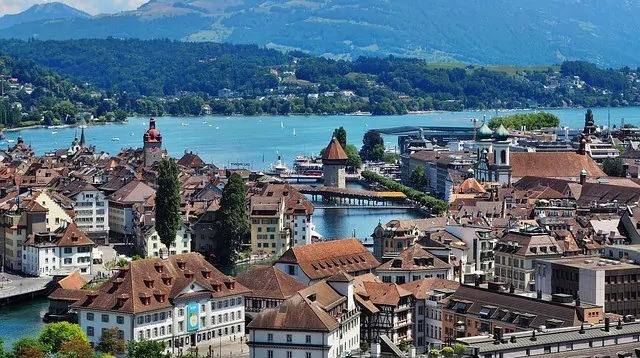 With Switzerland being a relatively small country, there are plenty of spots near Basel that would make for a great day trip:
Visit a ruined, 11th-century castle set high on a forested hill with a 3-hour trip to Rötteln Castle from Basel
Just a short 20 minute road trip

s

and a quick border crossing and you'll be rewarded with a day trip to the Vitra Design Museum in Weil am Rhein, Germany. It's one of the oldest museums dedicated to design and it's funky buildings make for great photography!
Hop on the train and in just under an hour you can be in the picture perfect postcard-esque Swiss town of Lucerne.
Another train ride, but in around 2 hours (+ for under €10) you can be in the beautiful town of Zurich. Read our guide to One day in Zurich for what you can do whilst you are there!
What and Where to Eat in Basel
You will never be short of fantastic food and drink options in Basel! There are a lot of fancy restaurants and cafes along the river close to the Mittlere Brücke bridge. This is where to head for upscale dining options. You can find cheaper dining options around Barfüsserplatz and on either side of the pedestrian road Steinenvorstadt.
I love to pop into Angel oder Aff in Andreasplatz for lunch. Andreasplatz is a kind of hidden away courtyard and the café has a hipster/ arty vibe. They have a huge range of different herbal teas and hearty warming food choices like soups with different delicious crusty bread.
If you want a cheap lunch you can get a pretzel sandwich at Marktplatz, or on the other side of the river, you can usually find stalls around Claraplatz. The Claraplatz area is also good for finding lower-end restaurants for a good meal for those of us on a budget.
Don't miss trying Basler Läckerli from the little specialist shop on Greifengasser close to the river opposite the Swisscom shop. Baseler Läckerli is a kind of chewy spiced biscuit cum cookie sort of thing. They are a Basel specialty and very delicious.
In the winter months, make sure you try roasted sweet chestnuts which you can buy by weight from little stalls that pop up all around. Try Marktplaz first if you don't see any elsewhere. Peel off the hot shells and enjoy the crumbly sweet goodness, just the trick on a cold day. P.s empty chestnuts shells are the only litter which is socially acceptable to drop on the floor in Basel.
If you love your beer, then you can't miss a visit to Ueli Beer, a microbrewery in Klein Basel (on the East side of the river.) You can't try their beers anywhere else in the world. Furthermore, they are delicious and made with heart. You can also go on a fascinating guided tour of the Microbrewery if you are thus inclined. (And there are plenty of wine bar options if you prefer wine to beer!)
BEWARE: As part of a general Switzerland travel guide, we have to make you aware that Basel – and the rest of Switzerland – has a very organized population who genuinely value their work-life-balance (for everyone, even people who work in shops.) This means, they usually close supermarket/ food stores (and sometimes Restaurants) on Wednesday afternoons, Sunday's and some might close Saturdays too. You can't assume anywhere will be open every day or late nights (or afternoons even in some cases.) Keep your phone to hand and check opening times on Google before you plan which restaurant you want to try!
Pro tip: Eating out three times a day can get expensive in Basel. If you are on a budget make sure you choose a Hotel with breakfast included, then get a picnic lunch, and treat yourself to dinner. This will help you keep your meal costs down.
So there you have it – hopefully this Basel travel guide and travel tips has given you a great list of Things to do in Basel Switzerland to help you to plan your trip to Basel and to make sure you get the most from your visit. Don't miss this underrated city and don't forget to let me know your own highlights once you're back! Or if I have missed your favorite spot in Basel, please let me know in the comments below.

Oh, and if you liked this post please share on Facebook, tweet, flip or pin – I'd really appreciate it! Click the P in the share bar for full size images.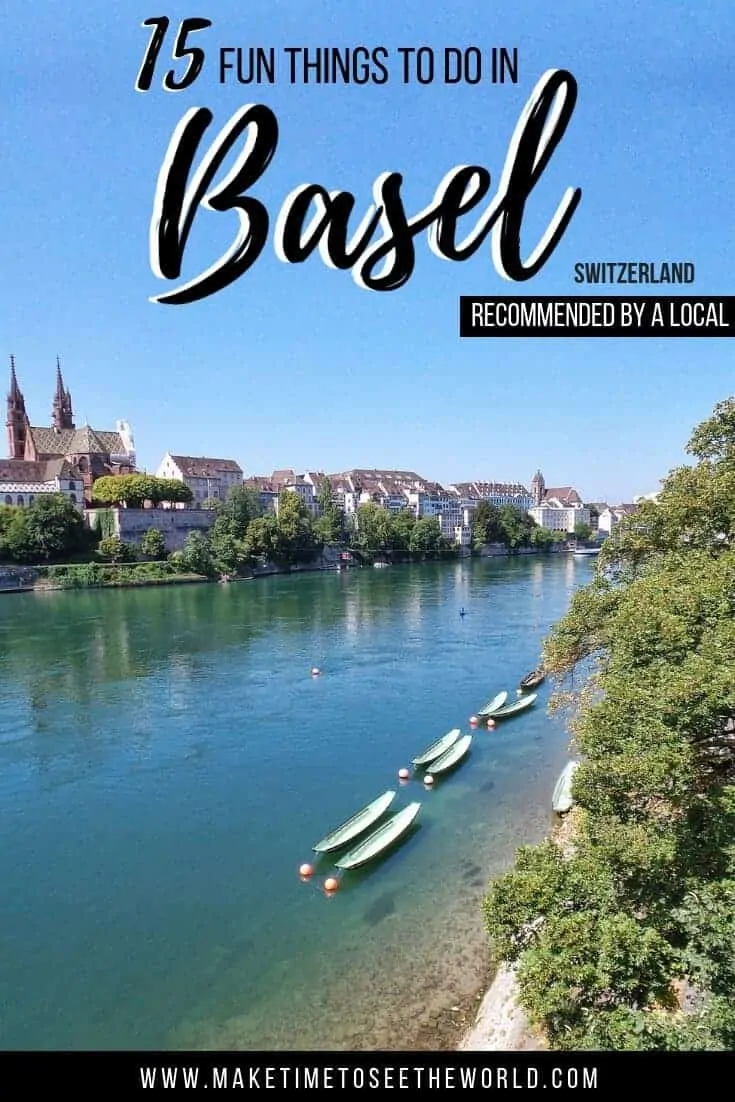 READY TO EXPLORE MORE OF EUROPE OR JUST WANT SOME GENERAL TRAVEL INSPIRATION? YOU MIGHT BE INTERESTED IN THESE TRAVEL TIPS, TRAVEL ARTICLES, DESTINATION GUIDES, TRAVEL RESOURCES, PACKING LISTS AND RELATED POSTS:

Hi There! Thanks for reading my ultimate guide to 15 Fabulous Things to do in Basel (Switzerland) + Basel Travel Guide. I just wanted to let you know that this travel guide contains affiliate links, which means if you purchase something after clicking a link, I may get a small commission – which is at absolutely no cost to you. If you enjoyed this article and are going to be searching for some of the things I mention anyway, I would love it if you could click through from the links above & thank you in advance! Read my full Disclosure here.
And thank you for reading the MakeTimeToSeeTheWorld Travel Blog.