Zurich is the financial capital of Switzerland and one of the best places to visit if you want a touch of Swiss city life. There are restaurants that compete with the best in the world, museums galore, as well as a huge lake with views of the distant alps.
In this post I want to share with you some of the things you absolutely have to see in Zurich, along with some lesser known tips that only a local will know to help make the most of your one day in Zurich – and you never know, it may even convince you to stay for longer!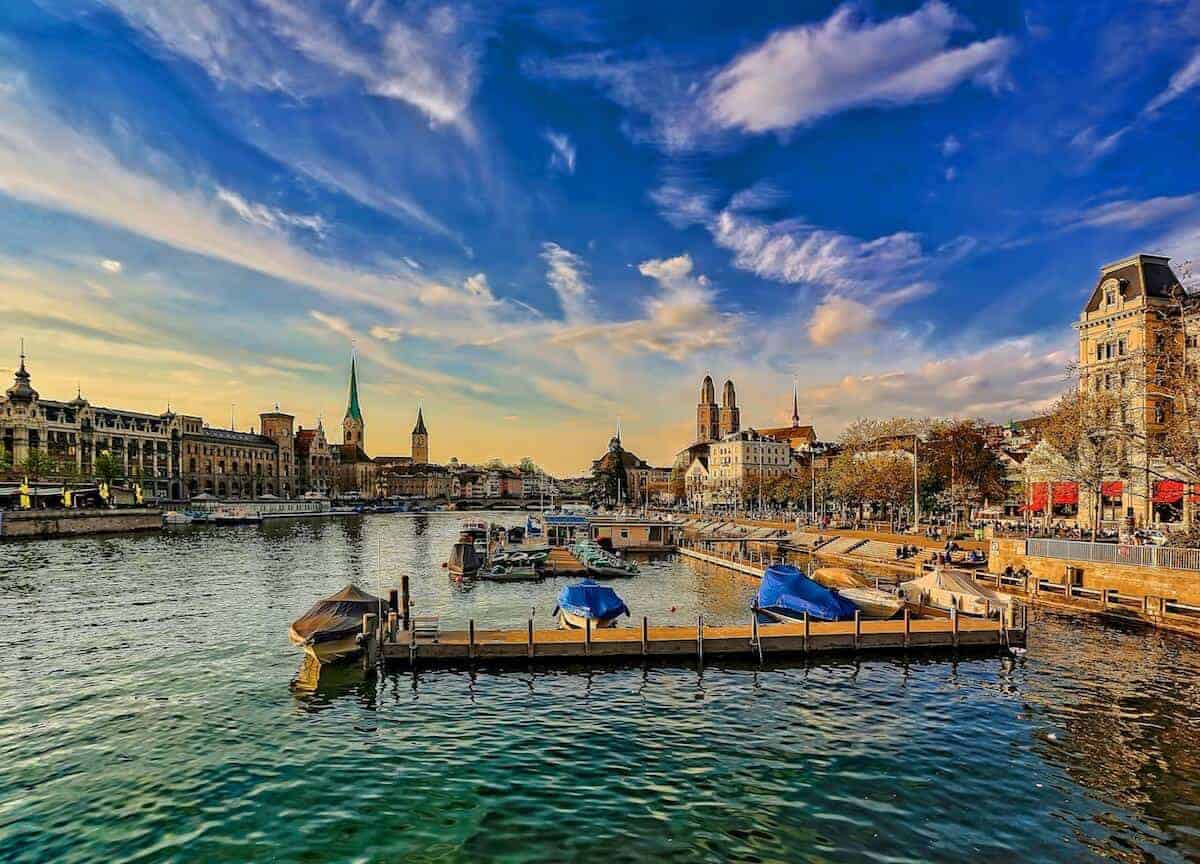 Disclaimer: Almost all posts on this site contain Affiliate links, and this one about the The Best Things to do Do in Zurich is no different. This means that if you click on any of the links in this post (and make a purchase) I may receive a small commission at absolutely no cost to you. Each post is carefully crafted to (hopefully!) answer all your questions and recommendations are made where we believe they will improve your trip and help with your planning. As such we thank you in advance should you decide to click & buy. Read my full Disclosure here.
Great Things to do & ways to spend one day in Zurich
A Guest Post by Roger from Expert World Travel
.
The Old Town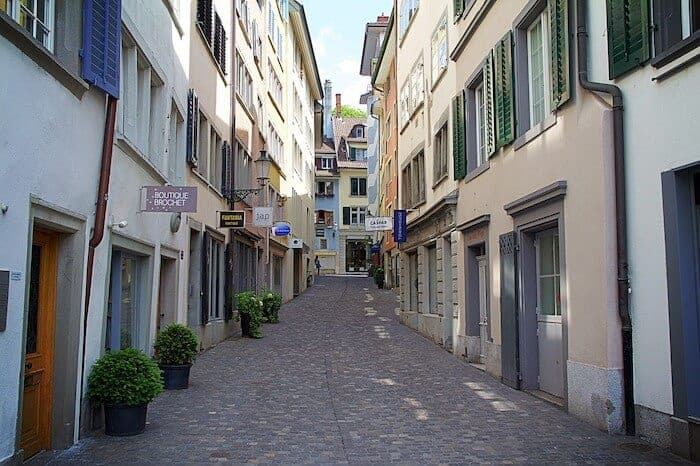 At the heart of Zurich is an old town that has not changed much in centuries. And the beauty of it is that it spans the stunningly blue Limmat river that runs right through the heart of Zurich. You can lose yourself for hours in the winding streets of this historic centre, finding shops and cafes that most people miss, or just soak up the atmosphere of a time long passed.
Some of the highlights of the old town include: wandering down Niederdorfstrasse (the heart of the old town), St Peter's Church featuring the largest clock face in Europe and the view from Lindenhof (a quiet park in the center of town).
.
Grossmunster Church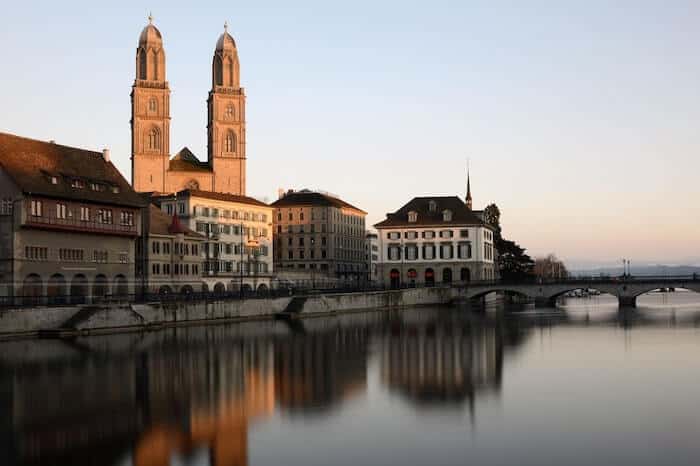 While getting yourself lost in the old town, you absolutely have to check out the iconic "salt and pepper shakers" landmark of Zurich: the Grossmunster church. You will certainly see it from along the river, as it stands out like a saw thumb (or salt shaker).
Not only are there some impressive features in the church worth checking out (the stain glass windows and bronze doors) it's towers are also one of the best places to get a view of the city. And, it only costs you 2 bucks! As well as a lot of sweat and tears, because there are quite a lot of stairs. But it's definitely worth it.
.
The Lake of Zurich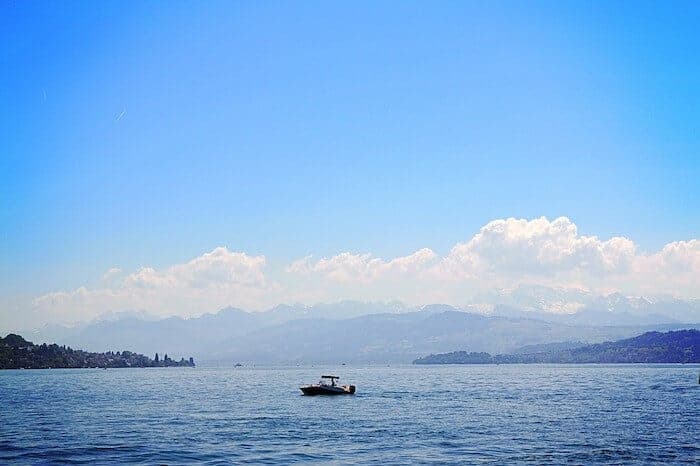 No trip to Zurich is complete without spending some time on the shores of this iconic lake. The place where clandestine meetings with the likes of James Bond have taken place in many a spy movie.
But more than that, Lake Zurich belongs very much to the people of Zurich, so there are parks and places to just sit back and enjoy the view or go for a view-ridden walk. If you want to take in the crowds and often some local music, the left-hand promenade is the way to go. But for a more peaceful and green-filled walk along the lake, head right where you will eventually come to a park where many a local group will be having an impromptu BBQ in summer. It's a must do during one day in Zurich.
RELATED: If you have a little more time, take a peek at this guide to 48 Hours in Zurich
.
Cruise Over To Rapperswil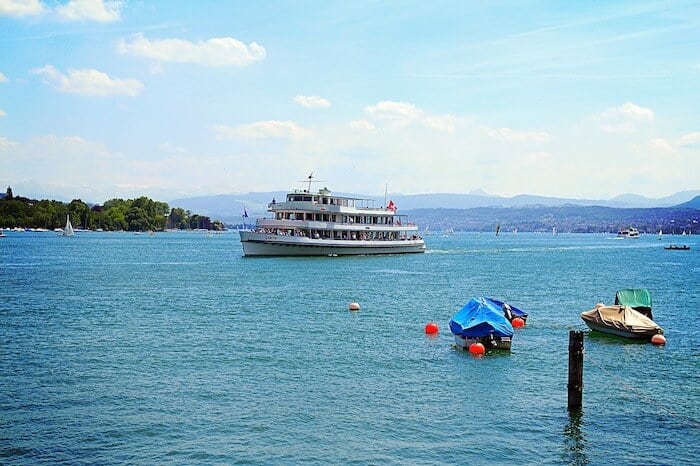 If you want to take it a step further, and enjoy the lake to its fullest, take a boat ride to the picturesque and romantic town of Rapperswil. This is one of the most beautiful towns in the region, and you will get a fantastic view of the mountains as you head down the lake. Once you are there, you can also soak up the history in the old town or castle on the hill.
Check out the Zurich Ferry website for more information.
.
Go For A Natural Swim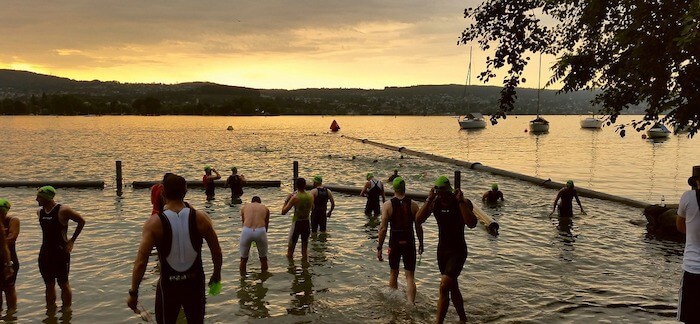 With so many mountains around, Switzerland obviously has an abundance of water. And the good news is that it is all extremely clean and drinkable. You will often find the restaurants serving and charging for local water (water is never free in Europe) because it is that good.
That also means that you can swim almost anywhere in Switzerland without having to worry about the quality of the water. Zurich takes full advantage of this in the summer with swimming baths all along the lake of Zurich, luring you to spend the day, or a lazy hot evening. Some even host bands and have bars during or after swimming hours. (Check out Seebad Enge, Barfuss Bar or Rimini for some great bar/swimming spots).
.
Take A Hike On The Uetliberg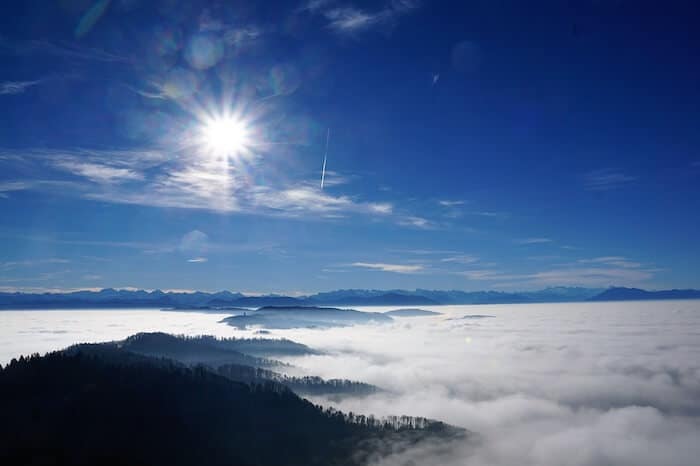 Zurich locals are very proud of their town mountain and for good reason. Right on the edge of the city is this fantastic mountain – Uetliberg, covered in preserved forest, full of hiking trails, and topped with a viewpoint and restaurant. And to add cherry on top, there is a view worth dying for. You can see right along the lake all the way to the distant chain of Alps, as well as a great overview of the city itself.
You can get here either by walking up from the tram or train stops "Triemli", or you can take a train most of the way to the top, then walk the last 15 minutes or so. In winter, this path also becomes a local hangout for sledding.
.
Head To The Fifa Museum
Switzerland is home to many large sporting organisations. As a result, in Lausanne you will find the Olympic museum, and in Zurich the FIFA World Football museum. Inside there is a quite significant collection of unique football memorabilia along with lots of interactive media exhibits and best of all, a giant pinball machine where you can test your balls skills. So, if you are interested in the crazy world of football, this is definitely worth a spot on your itinerary.
.
Soak Up A Little Einstein History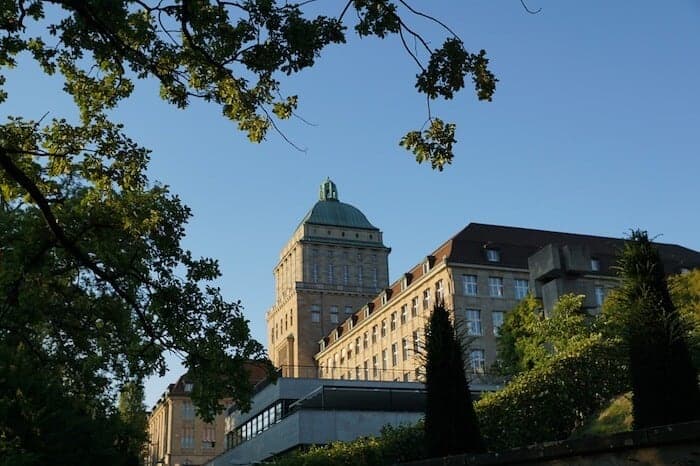 If you are at all a fan of science of the crazy hairdo of Einstein, then Zurich is the place for you. He spent much of his later life living and teaching here. The ETH, one of Switzerland's premiere technical universities was where he studied and later taught for many years. It is also one of the best spots for a great sunset in Zurich, along with a cheap beer from the Uni bar. So, once you are finished your tour of the ETH you can relax here with the students and take in the stunning and free view!
You can get up to the ETH a variety of ways, but the best, especially if you have a public transport day pass, is to take the Polybahn- a short cog railway that whisks you to the top at a 45 degree angle. You will find the entrance next to Starbucks at Central tram stop.
.
Indulge In Some Swiss Chocolate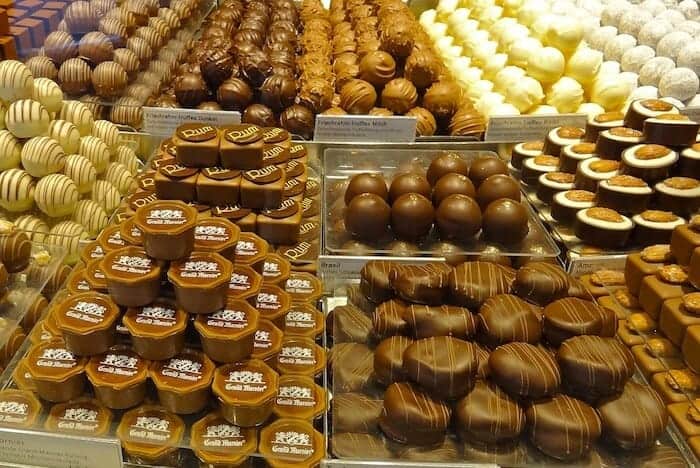 You are in the home of chocolate, right? And Zurich is not the time to ignore this fact. Right in the heart of Zurich there are quite a few opportunities to indulge the chocoholic in you.
You can head to any of the many Sprüngli or Läderach chocolate shops around the centre of Zurich (there are a bunch in the main station or along Bahnhofstrasse). Both are top notch chocolatiers worth their weight in – well, chocolate. If you prefer your chocolate in liquid form you can pop into one of the best homemade hot chocolate producers in town (Schober's) while you are taking your tour around the old town.
For the more hardcore, or those just wanting a massive amount of chocolate to take home, you can pop over to the Lindt chocolate factory in the suburbs of Zurich where they have a discount chocolate shop for you to empty your wallet in. The best way to get there is by train to Kilchberg from the main station, then it's a short walk to the factory.
RELATED –
Want to explore more of Switzerland? Our
Guide to Basel
might give you a few ideas!
.
Enjoy A Swiss Cheese Fondue, The Zurich Way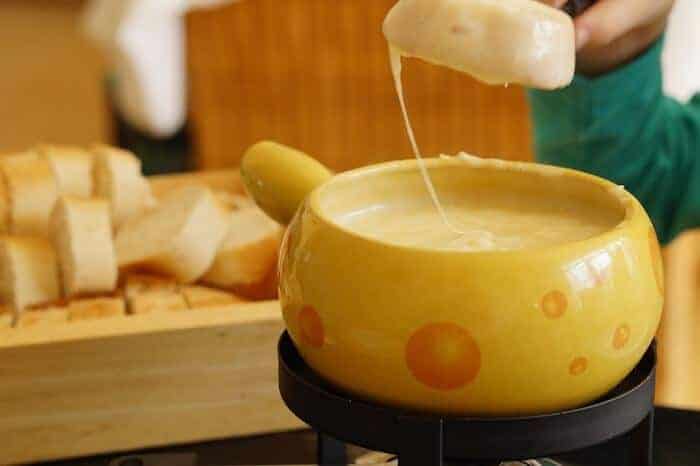 There are a tonne of fondue places in Zurich, one of which you should definitely plan an evening in while you are in here. If you have not had cheese fondue before, the meal is quite simple, but extremely filling. You get a boiling pot of awesome swiss cheese, often with a little alcohol in for flavour, along with a basket of bread pieces. Your job is to simply empty the cheese pot using a long fork with small pieces of bread on the end. Just don't lose your bread in the pot!
The best way to really enjoy this experience in my opinion is to take one of Zurich's iconic trams and enjoy a fondue at the same time. The Zurich Fondue Tram experience is one you won't repeat almost anywhere else!
.
Head Out For A Night On The Town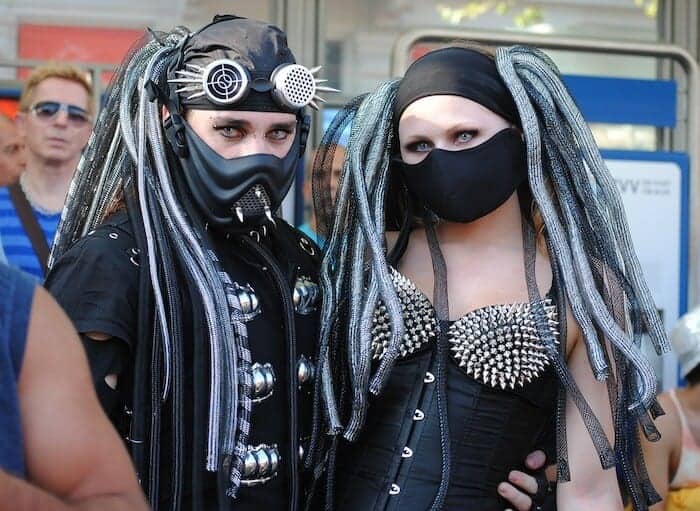 The Swiss are not known to be party animals, but surprisingly there are still a lot of high-end clubs to head to if you want a night on the town. They all open quite late, but they stay open late too. So, don't think you will be home by midnight. Just remember, they are quite expensive, as are the drinks, so if you want to save a little money, head to a local bar first.
Another great party to enjoy, if you are here in August, is the yearly Street Parade in Zurich which fills the city streets (and clubs at night) with millions of visitors and locals alike. The main attraction are a bunch of speaker and dancer filled semi-trucks slowly winding their way along the lakefront. But to be honest, the party is literally everywhere!
.
Where To Eat in Zurich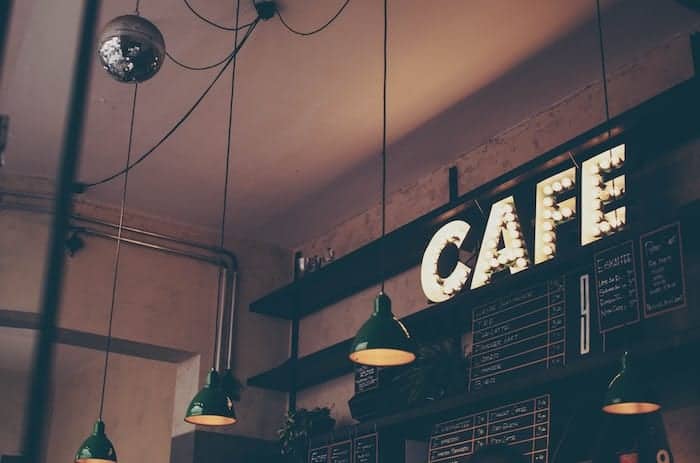 One thing you will quickly notice while in Switzerland is that it is super expensive. So, in this section I will try to give you some low to mid-range options with the hope that it helps you keep your budget in check.
Zurich has gotten the burger bug lately and there are quite a few reasonably priced burger joints around town. My favourite at the moment is B Good, but there is also Jack and Jo, as well as a few smaller places like the Bite and Burgermeister on Langstrasse. They all offer very tasty burgers at reasonable (for Switzerland) prices.
If you are vegetarian or vegan (or even if you aren't) you can pop into one of Zurich's two iconic locations of the Hiltl serve yourself restaurants. They have a huge range of food so you will surely find something you will love. It is often very busy, so if you are coming during the main meal times I recommend reserving.
There are also a few great and new Asian food options I would recommend, one Chinese in Langstrasse – the Lucky Dumpling, that serves tasty dumplings, as well as a cool new place called Co chin chin which serves a variety of tasty Vietnamese food. If you are near Cocuchin you can also pop over to the new International Beer bar for some of the best IPAs around. It's not cheap, but even one beer is worth stopping for here.
.
How To Get Here And Around Zurich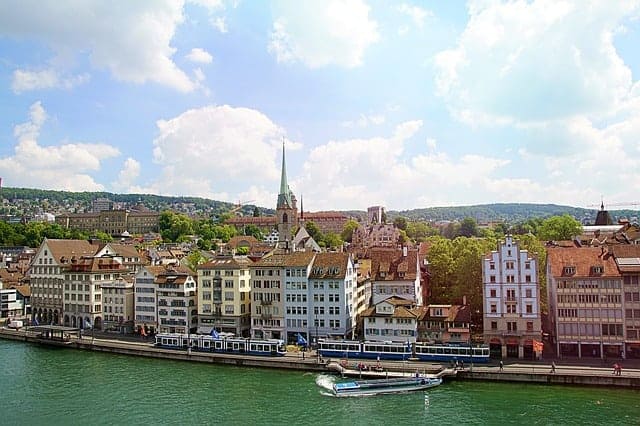 If you are flying into Zurich, the airport is only about 10 mins train ride from downtown. It has to be one of the most convenient, and well-appointed airports you will ever visit.
Although it is possible to drive into and around Zurich, I would not recommend it for most people. You are far better of coming to and from the city via train. Whether from a city in Europe, or the airport itself, the train system is easy, punctual and lands you right in the city centre. The only thing to keep in mind is that it is expensive, so if you are heading further afield after Zurich, you might want to consider a train pass to ease the burden on your wallet.
Zurich itself is a very easy place to get around for those who like to walk. In most cases, you can get around the city centre almost without a tram ticket, It is however, not a bad idea to get a day pass for the city area (Zone 110) so that you can jump on a tram (or the polybahn) if you choose to.
.
The Best Time To Visit Zurich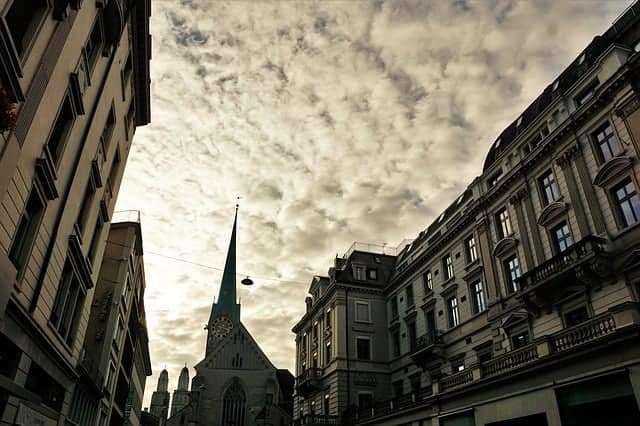 Zurich is at it's best during summer, which in Switzerland means July and August. Temperatures range on average from 15-25 Celsius, although we often get into the 30s too. This is also the busiest time here, so be sure to book both accommodation and restaurants in almost all cases. For more accommodation tips, read this guide to where to stay in Zurich.
Winter can also be a great time to come, as there is often snow on the ground and in the mountains, which gives the place a far different feel. Just before Christmas there are markets and lights around town, which is quite a unique experience. And in the early part of the year (January/February), you might also find some stable, sunny, but cold weather. Be prepared for temperatures at least around zero (freezing) and often below.
And there you have it – 11 Great Things to do in Zurich! I hope these travel tips and travel guide to one day in Zurich can help you plan your time in the beautiful city.

Oh, and if you liked this article and travel tips, please share on Facebook, Tweet or Pin! Share the love – I'd really appreciate it :-)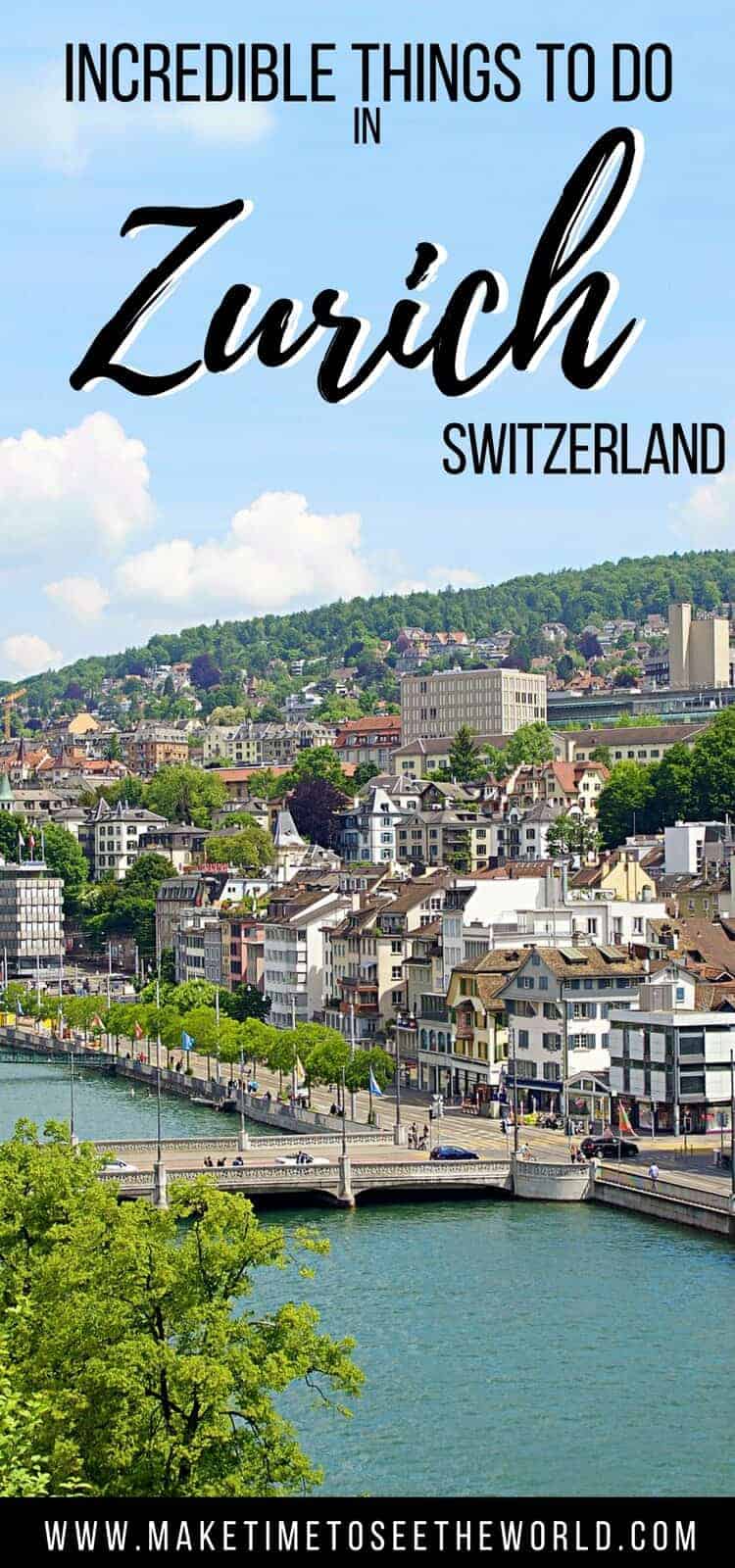 READY TO EXPLORE MORE OF EUROPE? YOU MIGHT BE INTERESTED IN THESE ARTICLES
Hi There! Thanks for reading my ultimate guide to The Best Things To Do When You Only Have One Day in Zurich. I just wanted to let you know that this travel guide contains affiliate links, which means if you purchase something after clicking a link, I may get a small commission – which is at absolutely no cost to you. If you enjoyed this article and are going to be searching for some of the things I mention anyway, I would love it if you could click through from the links above & thank you in advance! Read my full Disclosure here.
And thank you for reading the MakeTimeToSeeTheWorld Travel Blog.