For any of you currently in the process of planning and booking a once in a lifetime holiday to Antigua, we bet you are already creating a list of everything you want to experience on this paradise island in the Caribbean.
The only problem is… choosing what to do! Depending on how long you are adventuring on Antigua, you may not have the luxury of time, so to help you out, we have done the leg work for you and compiled our top things to do in Antigua (and Barbuda!), famed for its picturesque landscapes, some of the world's best beaches and a huge variety of wildlife for all you nature lovers out there.
Read on to discover some of the top things to do on Antigua for some unique experiences you will remember forever.
[Please note: I visited Antigua & Barbuda as a guest of Traverse Events, Elite Island Resorts & All Inclusive Resorts & Antigua & Barbuda Tourism, but all opinions, as always, remain my own.]
Disclaimer: Almost all posts on this site contain Affiliate links, and this one is no different. This means that if you click on any of the links in this travel guide (and make a purchase) I may receive a small commission at absolutely no cost to you. This post is carefully crafted to (hopefully!) answer all your questions about Antigua & Barbuda and recommendations are made where we believe they will improve your trip and help with your planning. As such we thank you in advance should you decide to click & buy. Read my full Disclosure here.
20+ AMAZING Things to do in Antigua
Things to do in St John's Antigua – Visiting the Capital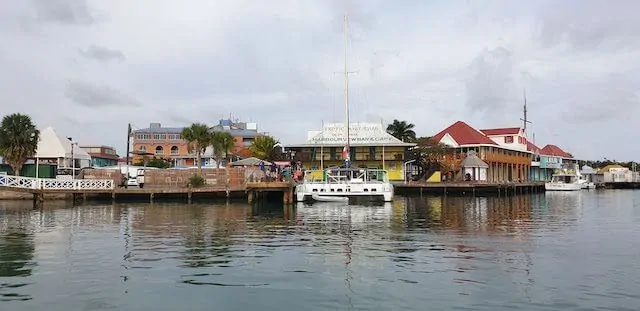 It is almost impossible to avoid a visit to Antigua's capital of St. John's and it's well worth it! Discover the island's past at the Museum of Antigua and Barbuda, along with the city's unique Museum of Marine Art.
End your day with dinner in one of St. John's eclectic mix of quirky restaurants and be sure to spend some time exploring the city's unique shops.
Stop by St. John's Cathedral (known as the St. John the Divine) – the Cathedral Church of the Diocese of North Eastern Caribbean and Aruba. This striking white building with two twin towers was built on a fossilized reef in 1845, although has been rebuilt twice following the earthquakes of 1683 and in 1745.
And for the Insta crowd, be sure to head to the Cruise ship port/street where there are colorful walls that make for the perfect photo backdrop!
Climb Mount Obama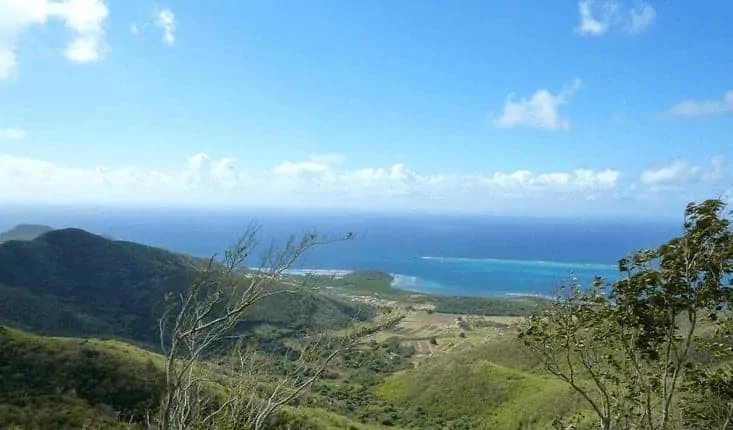 The highest point on Antigua, Mt. Obama (originally Boggy Peak) is a symbol of black achievement and the climb to its summit is a must if you want to experience breathtaking views across the island.
Suitable for both beginners and experienced hikers, it will take you up to three hours to hike to the mountain's highest point at 300m through this now national park with its lush jungle trails.
Snorkel the clear blue waters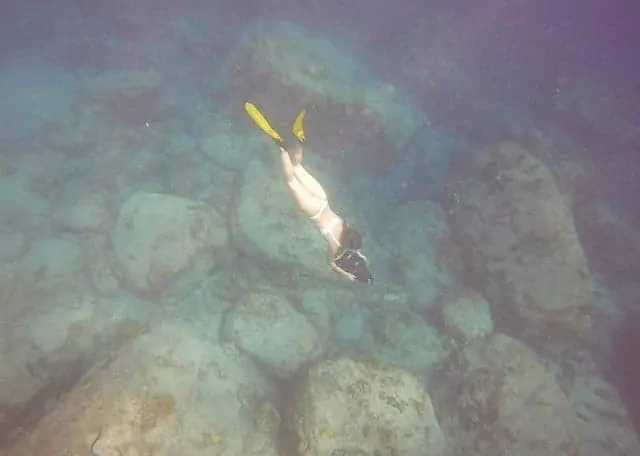 Antigua is known for its beautiful natural environment and what better way to explore this unique part of the world than by getting up close with the island's wildlife.
There a wide range of water sports and snorkel cruises to get booked onto where you will not only enjoy snorkeling with stingrays and other tropical fish but you can also sit back and enjoy a delicious lunch and maybe even a rum punch.
And for those that want to up their Snorkel game, why not give Scooter Snorkeling a try – it's where you hold onto an underwater fan propelled 'scooter' which helps you swim further, faster and deeper!
It is very fun and I'd highly recommend joining Damon and his team at Skylork for one of his snorkeling adventure eco tours.
Tour the islands top beaches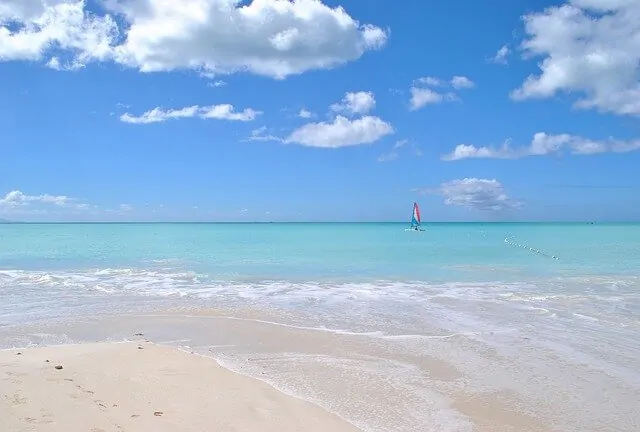 With 365 beaches, you have one to visit for every day of the year on Antigua, including the iconic Love Beach with its beautiful white sands, Deep Bay and its hilltop ruins, or there is always the private Long Island and its breathtaking Jumby Bay; not to mention, Dickensons Bay, Half Moon Bay, Galley Bay Beach, Galleons beach, Valley Church Beach, Pigeons Point Beach, Darkwood Beach and Turners Beach which are some of the best beaches in Antigua and some of the perfect spots to enjoy the Caribbean sea.
Wherever you decide to while away your days on Antigua, you are guaranteed glorious sunshine and sea views for days at any of its glorious beaches.
Hire A Car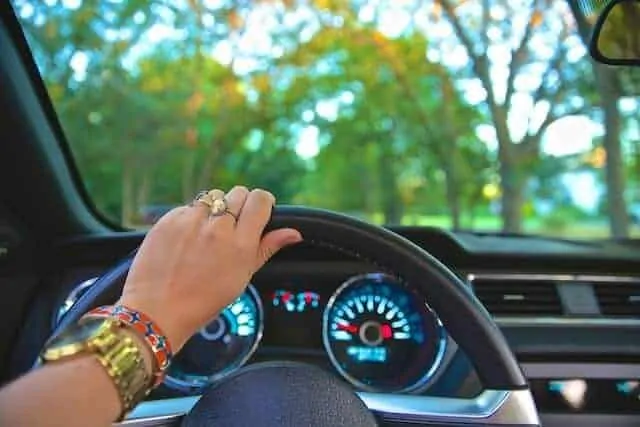 If you are planning to tour the beaches, drive down fig tree drive, or want to visit a few of the other sites on this list without a tour; get ready for some road trips with a hire car.
There is just one little quirk with hiring a car in Antigua and that is that you will need to purchase a temporary local license (approx. $20USD) in addition to the regular daily hire fee.
This may sound a little complicated, but the process itself is quite straightforward, and your hotel will be more than happy to assist.
Also, as most resorts in Antigua offer airport transfers – and unless you plan to drive every day – we would recommend arranging your car hire through your hotel.
This would give you the freedom to rent for a few days only without having to get yourself to and from the airport for pick up/drop off, or incur the cost of a car for the duration of your stay.
Visit Hells Gate Island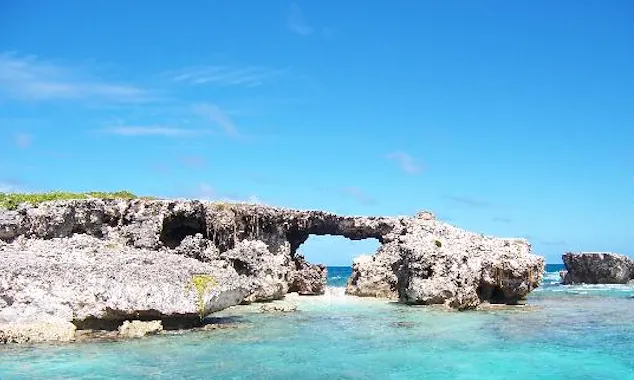 Only accessible by boat and located close to Bird Island, Hell's Gate's natural arch and rock caves are a sight to behold and make for a perfect day trip from Antigua. Be sure to select one of the boat tour that includes a visit to this natural wonder for some envy-inducing Instagram shots!
Go Scuba Diving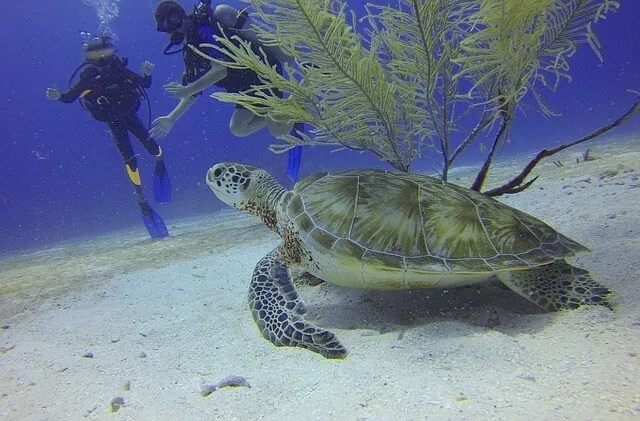 It's an Island, surrounded by clear turquoise waters and marine life for days. It's one of the top activities in Antigua and if you can dive, you definitely should!
Charter a sailing boat
One of the busiest weeks on Antigua is the island's annual yacht regatta / Antigua sailing week and exciting time of the year to see some of the most amazing sailing boats in the world.
If you fancy it, you could even charter your very own sailboat to explore the islands rugged coastline and secret bays for yourself.
In the photo above we also got 40+ content creators on a luxury catamaran for a sunset cruise which was easily one of everyone's highlights.
Contact Mystic Cruises if you want to organize the same kind of thing!
Visit Antigua's Donkey Sanctuary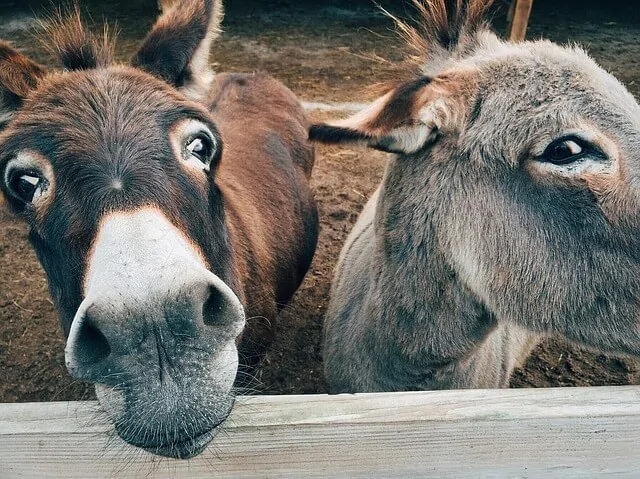 Located in St Paul's Parish on the southern part of the island, the Antigua & Barbuda Humane Society operates Antigua's Donkey Sanctuary which currently shelters more than 150 donkeys.
It's a great day trip option and makes a great alternative for a day at the beach. Visit the Donkey Sanctuary from Monday to Saturday (inclusive) between 10 am – 4 pm. It is fully wheelchair accessible following an extensive renovation project completed in Dec 2017.
Meet The Wildlife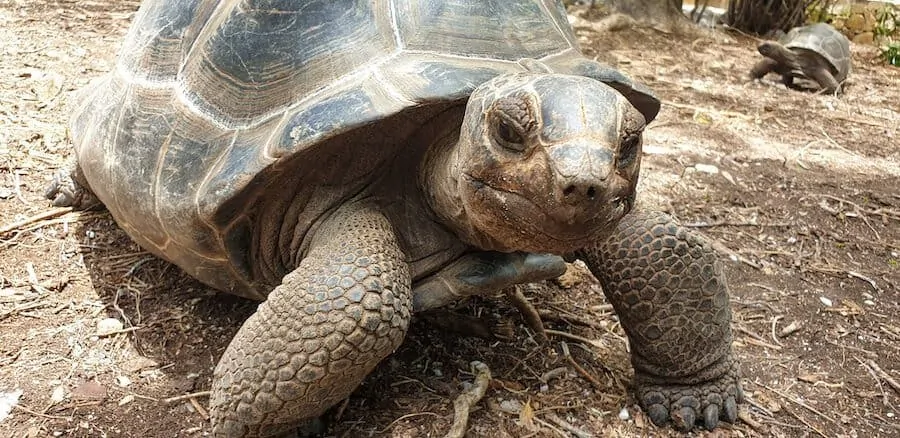 When it comes to wildlife offerings, the Caribbean is typically thin on the ground for land species.
With the exception of donkeys, sheep, goats, lizards and the bird sanctuary, the majority of Antigua's wildlife can be found in the ocean and includes:
There is also a new Aldabra Tortoise Sanctuary being set up, with animals re-homed from Mauritius, which is currently also home to tropical birds and reptiles.
It is not open to the public yet but should be completed in the not too distant future.
One thing to note is that one of the top 'tourist attractions' on the island is Stingray City – but I do not feel comfortable recommending this or similar attractions. Stingrays are wild animals yet Stingray City Antigua offers the chance for you to swim with them and touch them.
When speaking to a representative of the company he described the animals as 'domesticated as a result of being fed', but advised they are free to come and go as they please.
He also noted that the Stingrays have frequented the area for decades (and before the introduction of a food source) – but I feel uneasy where in recent years wild animals have been encouraged to stick around on the promise of food, whereby they don't have to hunt as a natural survival instinct, and further are 'handled' by multiple tourists per day.
If you would like to read more about the issues I have mentioned above (and I urge you to do so), please read these articles from The Smithsonian, LiveScience and The Guardian featuring quotes from industry experts and academic studies about the negative effects of stingray 'interactions'.
PLEASE NOTE: The conservation work done to protect both the Stingrays and their natural habitat by the owners of Stingray City is admirable. They have also provided locals with jobs and stopped the fishing of these creatures through education – both of which are great.
However, my hesitation remains with the handling of the wild animals for the reasons discussed above and in the linked articles.
If the hand feeding, touching and handling could be removed from the excursion, I would have no hesitation in recommending it; and if you plan on visiting to support the local economy – because these people do depend on tourism – think about asking for a tour that doesn't allow you to hand-feed or touch the Stingrays.
Tourism, local jobs and ethical wildlife interactions can all work together here, but it won't happen overnight and working with the tourism operators is the only way to do this.
.
Party at Shirley Heights

One of the top attractions in Antigua – The Sunday night parties at Shirley heights lookout are iconic and no trip to Antigua is complete without a night watching the sunset looking out over the historic English Harbour whilst dancing to steel drum music, eating BBQ and drinking Cinnamon spiced rum. Popular among the locals of Antigua, and tourists alike.
And if you are not a fan of large crowds, consider heading to Shirley Heights for the quieter Thursday night event. There is still a barbecue, steel drum music, singing and rum punch topped with cinnamon – just a few fewer people!
With Caribbean vibes it's easy to see why it's one of the best things to do in Antigua – and those sunsets over the bay are an absolute must see in Antigua.
Travel to Barbuda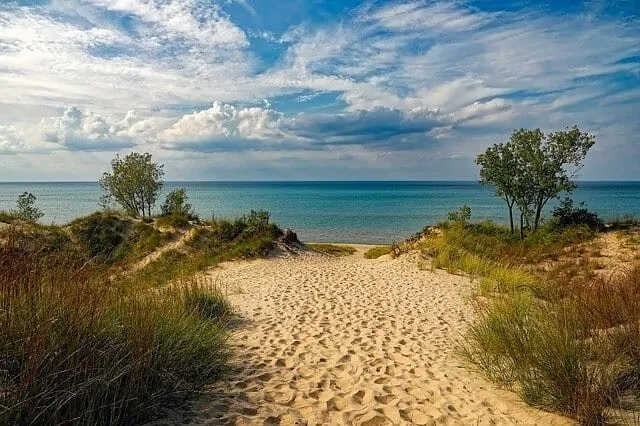 In 2017 Antigua's neighboring island of Barbuda was hit by hurricane Irma and sadly suffered significant damage.
However, there is a way to support the regeneration of this tiny island by catching the Barbuda Express (an innovative high-speed catamaran) to explore this unique area of the Caribbean, still home to a varied natural habitat.
It's easy to understand why this is one of the best things to do in Antigua and why it remains one of the best tourist attractions.
Taste the flavors of Antigua
If there is one thing that is loved on the Caribbean island of Antigua, it's the hot and spicy flavors (did someone say Susie's Hot Sauce?!), which you are guaranteed to enjoy across numerous restaurants it is islands capital of St. John's, English Harbour and basically anywhere on the island.
Take it one step further and try your hand at making some local classics when you join a cooking class – it's a super fun things to do in Antigua and will give you a new appreciation for the glorious food on the island:
Soak Up Some Resort Life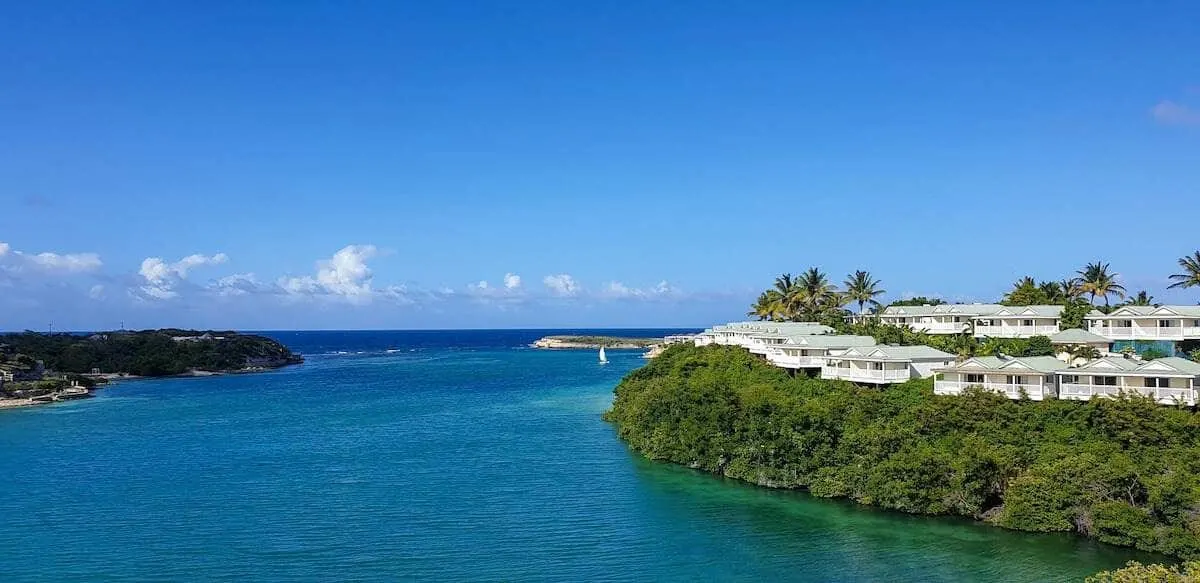 If there was ever a place to travel to on an all-inclusive basis, Antigua is it. The Verandah Resort & Spa, Pineapple Beach Club + Galley Bay Resort and Spa are all-inclusive resorts in Antigua complete with white sand beaches (not to mention beach bars!)
They are also some of the top hotels in Antigua, perfect for relaxing, exploring and generally enjoying life!
Go for a paddle in a Kayak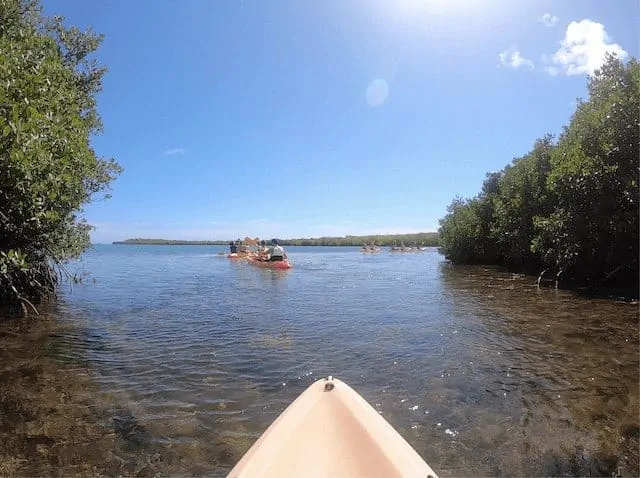 One of my favorite things to do in Antigua was to hop in a Kayak and head out for a paddle on the ocean – or even better – around the unique mangrove Eco-system.
The mangroves are also a great place to spot the upside-jellyfish – one of the species native to Antigua.
Most of the tours in Antigua to the Mangroves are often combined with an afternoon snorkeling making for the perfect snorkel and kayak excursion. It's a must do in Antigua!
Discover the legend of Devil's Bridge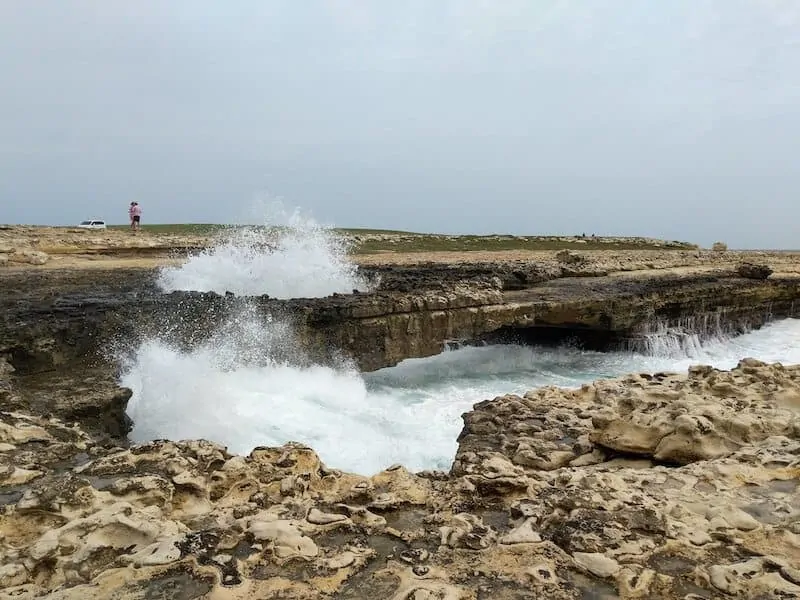 For any of you who have delved into the history of Antigua, you will have an understanding of the islands slave trade up until 1834 for the production of the islands once the most profitable crop, sugar cane (there were once several sugar plantations on the island).
Devil's Bridge plays into this, as the spot rumored to be where slaves committed mass suicide to escape slavery (although there is no physical evidence of this).
Devil's Bridge has been formed over centuries of harsh Atlantic ocean waves crashing into the Limestone rock in the North-East corner, gradually wearing away layers to form a bridge across the waves below and several blowholes in the surrounding rock.
Step back in time in English Harbour
Home to the 18th bastion of Nelson's Dockyard (a UNESCO World Heritage Site), a visit to Antigua's English Harbor in Nelson's Dockyard National Park is a step back in time and well worth a visit if you enjoy history.
A popular tourist attraction, you will also enjoy strolling around the town yacht marina, exploring the Admirals House Museum, taking a stroll around Fort Berkeley (which lies at the entrance to the harbor) and maybe even a spot of souvenir shopping too.
*Insider Tip* Nelson's Dockyard is also home to the fabulous Seafood Friday's event. Not to be missed for any discerning foodie!
Still Wondering What to do in Antigua? Go birdwatching!
With over 100 species of birds recorded on the island of Antigua, it is easy to see why this island is so popular with nature lovers.
For avid twitches, we recommend you keep your binoculars on you throughout your trip and scout for the beautiful frigate birds, or why not book yourself onto one of the many birdwatching tours available across the island.
Trek the rainforest
You may not be expecting it but much of Antigua is covered by lush rainforest, just waiting to be explored. A trek is highly recommended, with a number of hiking trails to try including the Signal Hill Antigua Rainforest Canopy Tour (mentioned above).
Alternatively, if you prefer something a little different, why not try zip lining through the trees for a thrilling day out.
Sample local produce at the markets
Like anywhere you visit, if you want to experience local culture and try some of the very best produce available, you a best paying a visit to a local market.
St. John's market is your best bet, where you will be able to pick up some exquisite local delicacies and maybe even a bottle of the islands beloved Susie's hot sauce!
Enjoy a tasting session at the Antigua Rum Distillery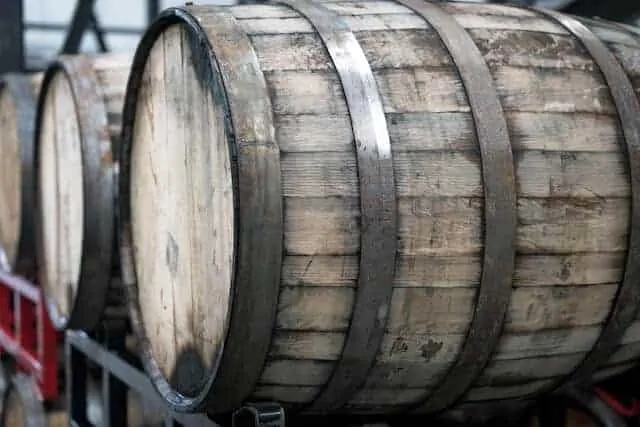 As you may have already guessed, rum is the drink of Antigua and the island Rum Distillery should definitely be on your list of things to do.
Established in 1934, why not visit the distillery's tasting room or if you are really keen you could take a sightseeing tour of the islands rum shops, just to ensure you've sampled everything.
Even if you aren't one for planning in advance, we hope our ultimate guide for top things to do in Antigua and Barbuda has been helpful! Don't forget to tell us all about your travels to this glorious destination in the comments below and be sure to read our guide to 'what to know before you travel to Antigua' for plenty of extra tips and tricks before you jet off on your highly anticipated travel adventures.
And if you liked this Antigua travel guide to what to do in Antigua please tweet, pin, flip or share on Facebook. Pins can be found by clicking the share bar on the left.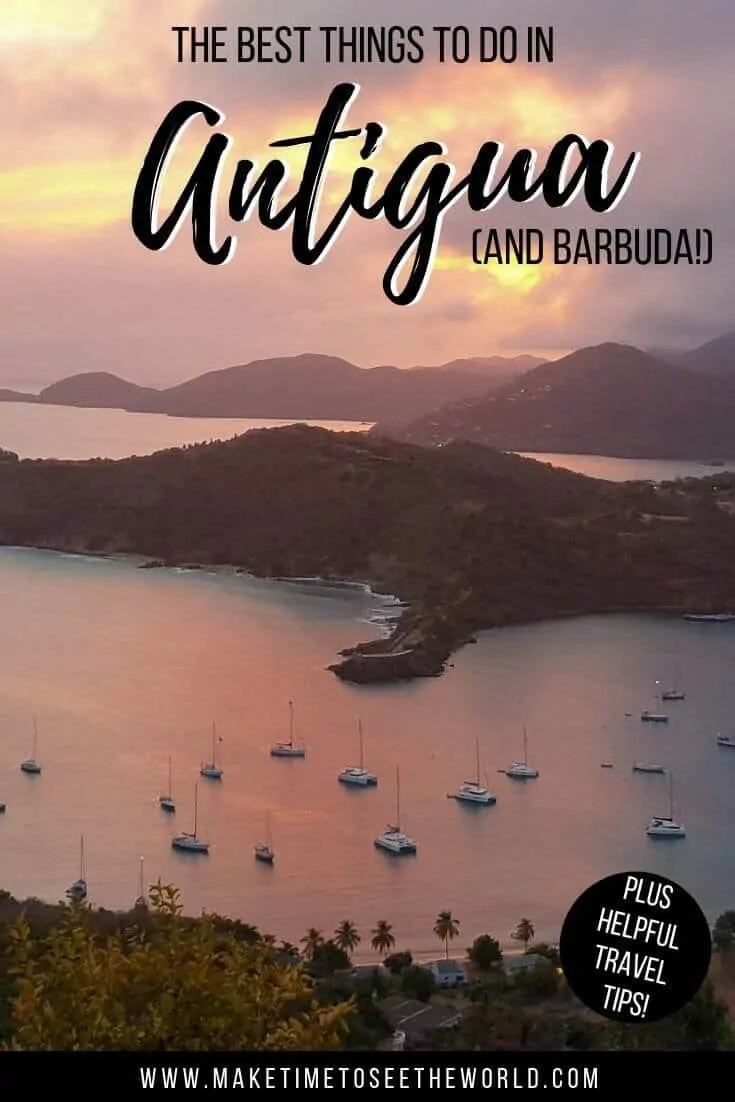 READY TO EXPLORE OTHER DESTINATIONS OF THE USA & MORE? YOU MIGHT BE INTERESTED IN THESE RECENT POSTS, RELATED ARTICLES, DESTINATION GUIDES & POPULAR POSTS:
Hi There! Thanks to Antigua tourism for hosting this trip and for reading our travel guide and travel tips and Antigua resorts post about the Top 20+ Things to Do in Antigua (and Barbuda) I just wanted to let you know that this post contains affiliate links, which means if you purchase something after clicking a link, I may get a small commission – which is at absolutely no cost to you. If you enjoyed this article and are going to be searching for some of the things I mention anyway, I would love it if you could click through from the links above & thank you in advance! Read my full Disclosure here.
And a huge Thank You for reading the MakeTimeToSeeTheWorld travel blog.