New York, New York – the city so nice they named it twice! NYC is a bucket list destination for many people, and in this post we're going to show you how to explore the tourist capital of the world, like a local! From New York hot-spots to off the beaten path alternatives and secret spots only a local would know – we're going to share with you all the top things to do in NYC (to help you explore NYC!) Whether you have a week or a weekend, we're here to help you get the best from the city that never sleeps – keep reading for the ultimate guide to exploring New York City like a local, by a local!
Disclaimer: Almost all posts on this site contain Affiliate links, and this one about the best things to do in NYC is no different. This means that if you click on any of the links in this post (and make a purchase) I may receive a small commission at absolutely no cost to you. Each post is carefully crafted to (hopefully!) answer all your questions and recommendations are made where we believe they will improve your trip and help with your planning. As such we thank you in advance should you decide to click & buy. Read my full Disclosure here.
This is a Guest Post by Ian Ellis of Escaping Expectation
New York City is a dream destination for many people all around the world. When I'm traveling outside the States and tell people where I'm from, their eyes open when I reply, they tell me how much they want to visit.
Living here was something I took for granted because I grew up and spent so much time surrounded by the concrete walls. However, I went on my first long-term trip last year, and being away from it all for an extended period of time made me realize that there is nowhere in the world quite like it. And let me tell you – I missed it.
I hope that this list can be helpful as you plan your upcoming trip. To be as helpful and comprehensive as possible, I tried to find a balance between the "tourist hot spots" and "local hidden gems." No matter what – you should be excited – you're visiting the greatest city in the world, and it has something for everyone! Here's a locals guide to exploring NYC!
Things to do in NYC
+ How To Explore NYC Like a Local (by a local!)
Hit the Midtown Manhattan Hotspots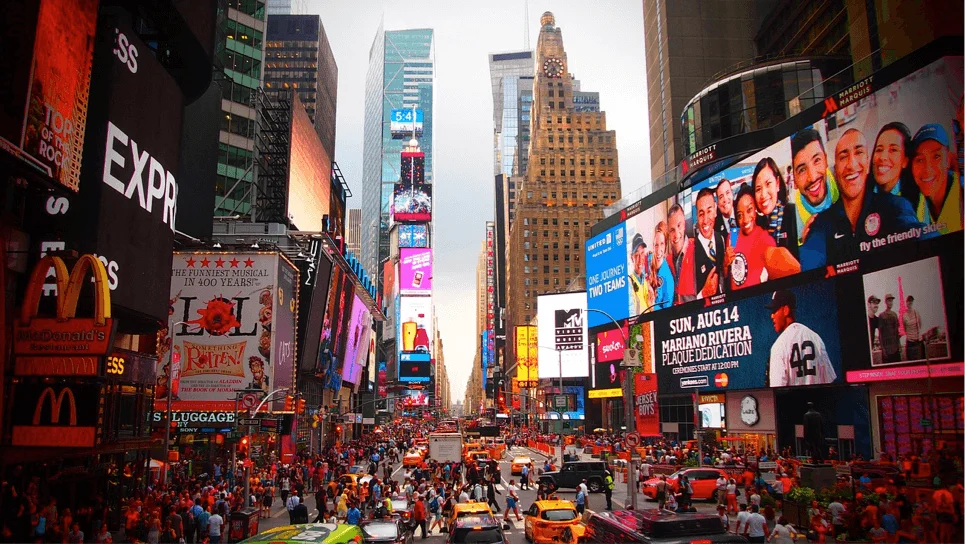 Get this out of the way as quickly as you can; there's so much more to do in the city outside the biggest tourist trap in the world. And while I try to avoid this place as much as possible, anyone visiting for the first time has to stop here and check the famous sites off your list. The great thing is that most of the highlights are within walking distance, and you can see them all within one afternoon!
Top Spots from Google
Start at Grand Central Station (and don't miss one the top rated Oyster Bars in the city! located under the Grand Central Terminal) then walking a few blocks north along Fifth Avenue to do some window-shopping and visit Rockefeller Center, before heading over to Times Square. If interested, St. Patrick's Cathedral is right in the neighborhood too!
Off The Beaten Path Things To Do in NYC From a Local
Head over to Bryant Park, where you can sit on the lawn and watch movies during the summer, or go ice skating during the winter. The iconic New York Public Library is conveniently located right across the street. If you're hungry, check out the Burger Joint, located inside the Le Parker Meridien Hotel.
.
Head to Lower Manhattan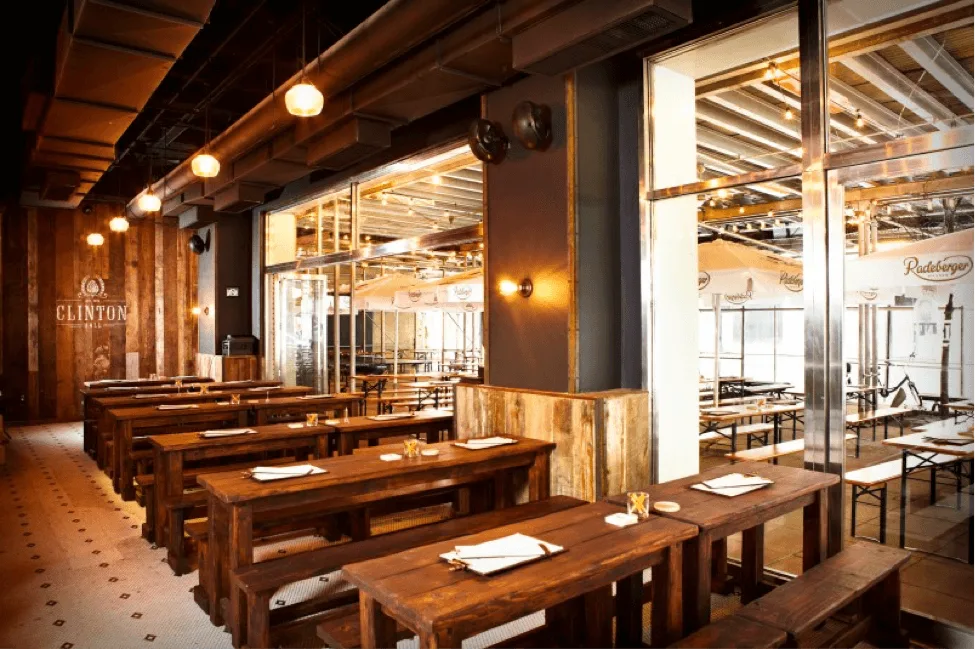 …As quickly as possible – this is where all the action is: the trendiest restaurants, incredible rooftop bars (exactly where you want to be for happy hour!) hole-in-the-wall boutique shops, and best speakeasies, among other hidden gems! There are are also fantastic food tours and between Union Square, the West Village, East Village, SoHo, Tribeca, and Financial District, there is something for everyone. This is where you'll discover the best, off-the-beaten path spots in the city.
There are so many options, but here are a few of my favorites:
Union Square
The Greenmarket (farmers market); Dylan's Candy Bar (large collection of candy from around the world); ABC Kitchen (using fresh, organic, local ingredients); Dear Irving (cocktail parlor); 15 East (minimalist Japanese serving creative sushi & fish); and The City Bakery
West Village
Walking tour/Christopher Park, Murray's Cheese Shop, Magnolia Bakery, Barbuto (a Manhattan Staple renowned for its roast chicken); The Spotted Pig (British & Italian styled meals); Po (traditional Italian); Grom (Best Desert Bar in NYC)
Tribeca
Tribeca Film Festival, Pier 25 (one of the best playgrounds in the city), Bubby's (simple & fresh comfort food); Locanda Verde (rustic Italian in a lively atmosphere); American Cut (modern steakhouse); The Odeon (French-American Bistro); The Brandy Library (refined bar specializing in rare and eclectic spirits).
RELATED: Need a little wanderlust inspiration? Check out our 100+ favorite travel quotes!
.
Explore Downtown Manhattan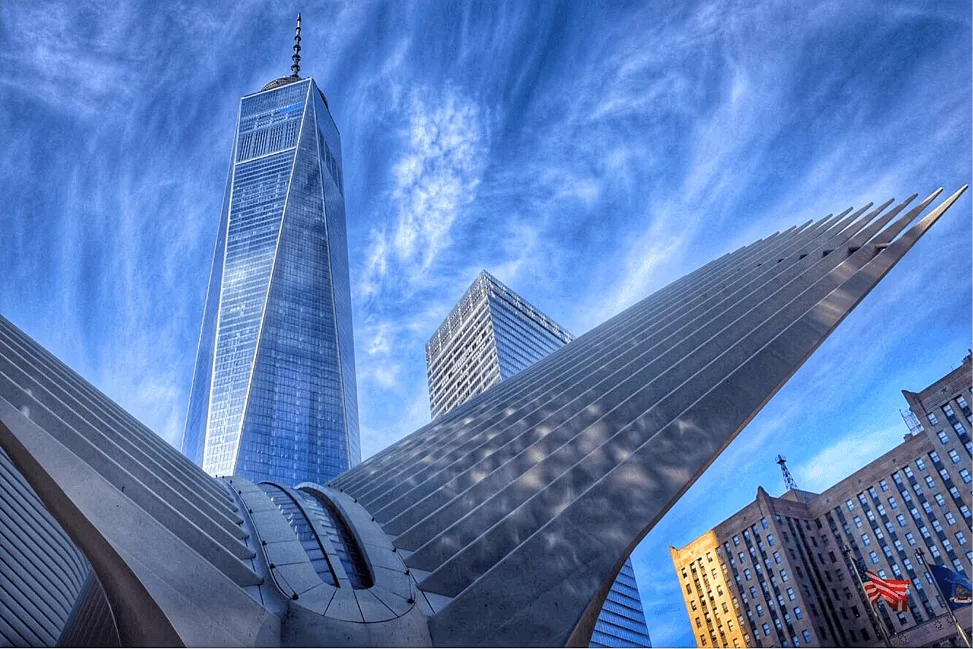 Downtown Manhattan is my stomping ground; where I lived for five years. So I might be biased when I say that it's be the best part of the city… but I'll let you be the judge of that!
Staring up at One World Trade Center and visiting the National 9/11 Memorial and Museum will be a humbling experience, and one that you must include on your agenda.
Skip the line and book your 9/11 Memorial and Museum Admission here
But the opening of the (new) World Trade Center site also led to several large companies relocating and it has completed changed the dynamic of downtown Manhattan. Development in the area has taken off, with lots of new restaurants, shops and commercial buildings opening – leaving much to do and see in NYC. Underneath the WTC site is the Oculus, a transportation HUB that will eventually connect all the subways in Lower Manhattan. It's also home to over 50 retail shops and stores, and connects to Brookfield place, another upscale shopping center with Hudson Eats, one of NYC's gourmet food halls.
.
Places to check out
The Financial District is home to the #1 ranked bar in the world, the Dead Rabbit, where you can get some truly unique cocktails. This is where you will also find a ferry to see the Statue of Liberty on Liberty Island. Our favorite local things to do in NYC include hanging out at Clinton Hall, Stone Street (Ulysses), Distilled, Stout, and Insomnia Cookies.
.
Indulge in the Latest Fad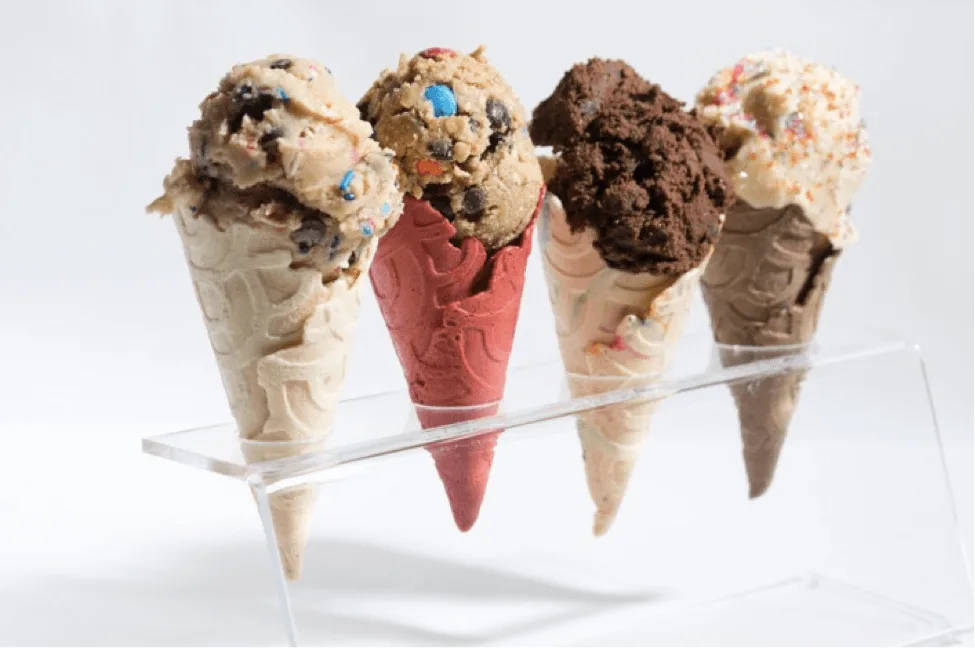 From the Cronut and Churro Ice Cream Sandwiches, to Rainbow Bagels and the Ramen Burger, there's always a crazy new food phenomenon going on here. Google is your best friend to find out what's hot when you're in town.
The Latest: DO (pronounced dough), where people eagerly wait 3 hours to get their hands on scoops of raw cookie dough sold like ice cream – it's one of the top things to see in New York City! And if sweets aren't your thing, there always the recently invented sushi burrito…
RELATED: Check out this locals guide to the best foodie hotspots in NYC!
.
Check out the NYC Skyline

From within Manhattan
The view from the Empire State Building or Top of the Rock Observation Deck is popular, but I would recommend heading downtown to the World Trade Center, where its Observatory recently opened and offers an unrivaled view and experience and is one of the best things to see in NYC.
From outside Manhattan
Head over to Brooklyn to the East (the view from the Brooklyn Bridge Park on the Brooklyn Side of the East River has amazing views), or Jersey City to the west – where you'll find another spectacular view of the iconic Manhattan skyline. You've got to witness these views yourself, and they also make for perfect Instagram shots!
RELATED: NYC is the last stop on my Coast to Coast USA Road Trip -> If you're planning on driving to LA, this is the route to go!
.
Hit an Outer Borough
Gentrification has run rampant in the boroughs outside Manhattan and popularity in Brooklyn, Queens, and the Bronx has skyrocketed. A lot the hottest NYC spots now require an Uber or subway ride away from core Manhattan.
Recommendation: check out the Brooklyn Flea Market or Smorgasburg during the summer; eat dim sum in the best Chinatown in Flushing, Queens; visit the lions at the Bronx Zoo; or even go hiking on Long Island. The possibilities and experiences here are endless, and there's always new things popping up, so you'll never run out of new opportunities!
RELATED: A Solo Female Travelers Guide to The Big Apple
.
See a Show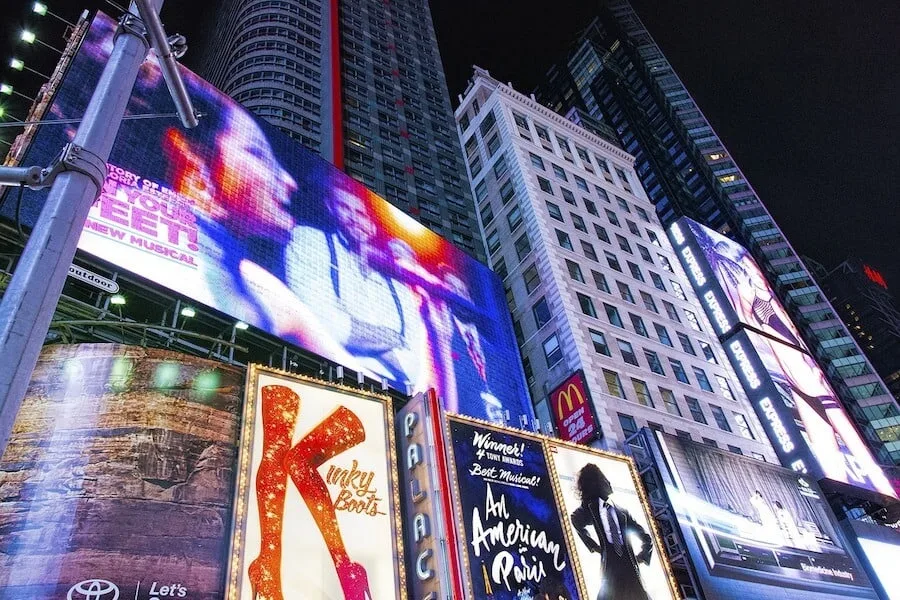 Everyone's knows about Broadway and its headlining shows – it's a quintessential NYC experience, but can be pricey even for mediocre seats (especially if you want to hit up some of the most well known venues such as Radio City Music Hall!)
Click to check what tickets are available for your visit!
For a unique experience to brag about, that won't break the bank, I'd recommend looking into an "Off-Broadway" show, where you'll get much better seats and a lot more bang for your buck. It's a unique experience and often features well-known performers (for those even more adventurous, there is "Off-Off-Broadway," which are new, experimental shows that take place in small theaters for $15-$25).
Alternatively: Look into getting tickets at one of NY's many comedy clubs, one of the most entertaining (and underrated) experiences in the city. Many of them are known to have popular comedians unexpectedly stop in (fingers crossed)!
Watch a Sporting Event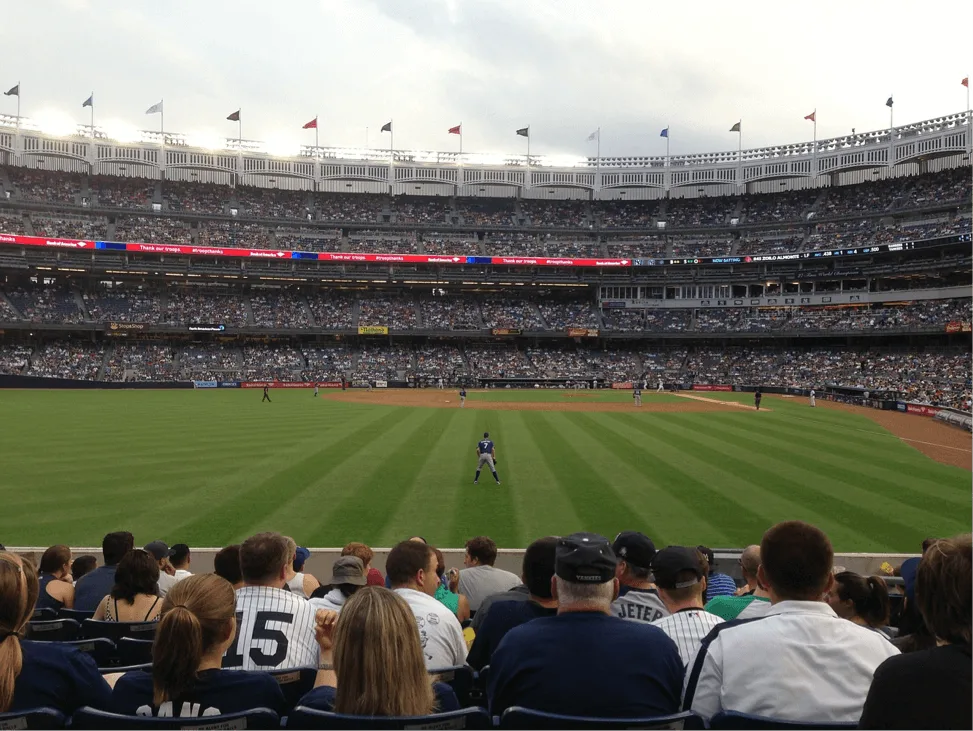 This is one of my favorite ways to experience a new city and there's no place better (although it can be fairly expensive). There's a wide variety of sporting events you can watch but it completely depends on what time of year you're visiting.
Check on TicketMaster for events that will be one during your visit!
Where to go: between Madison Square Garden, Barclays Center, Yankee Stadium, Citi Field, MetLife Stadium, and Red Bull Arena, you should be able to find something that piques your interest. They also host some big-name concerts. Be sure to take a look at the websites above for all the details!
RELATED: Traveling with kids? Check out this guide to New York for Families
.
Go for a Stroll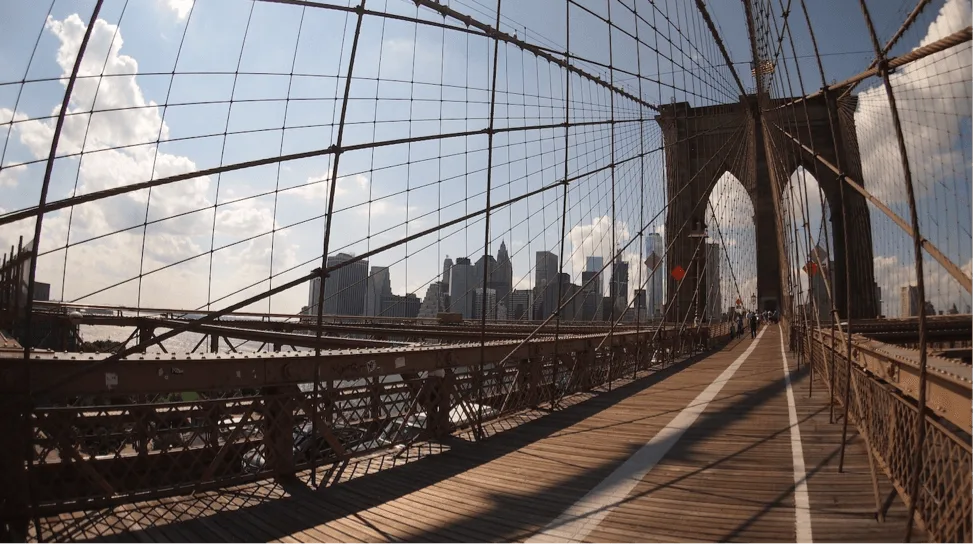 While you're going to be doing a lot of walking no matter where you are – NYC has some incredible spots that you should specifically make time to explore.
Hotspots
Central Park (you could spend a few days here), the High Line (don't forget to stop for gelato), Fifth Avenue (bring your wallet!), Brooklyn Bridge (go early to avoid the crowds – like the pic above!)
New York City Off the beaten path
Head downtown where you can walk along the West Side Highway through Battery Park – one of my favorite places to catch a sunset overlooking the Hudson River, and there are views of the Statue of Liberty. The Brooklyn Botanical Garden or Prospect Park are also great spots to visit in the summertime.
.
Traveler Resources: Extra Ways To Save Money & Get A Great Deal In New York

.
And that's a wrap folks! We hope you have some great ideas for what to do in New York City, along with a few ideas to get off the tourist trail and explore the city like a local. Whatever you do on your visit to NYC, I'm sure you'll have a great time exploring, New York is an incredible place, and with so much to do there, you know there will always be something new for you to see on every trip!
And if you liked this post – please share the love: tweet, Flip, pin or share on FaceBook – all shares are appreciated! Click the P in the sidebar for full size pins!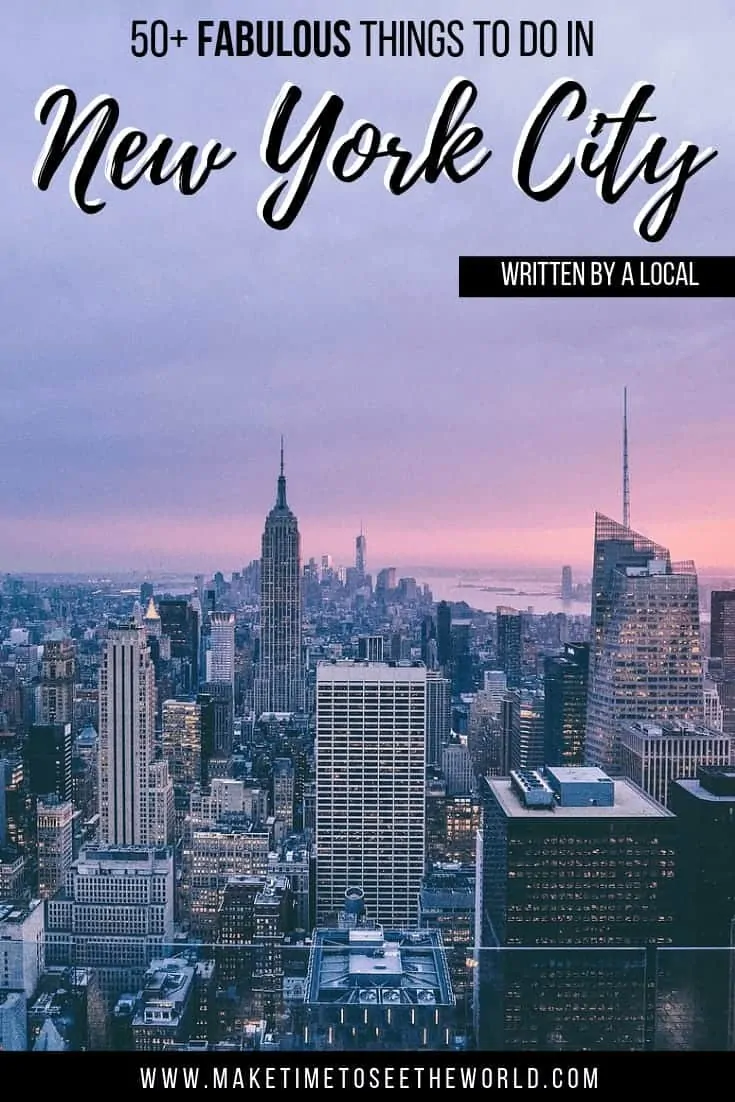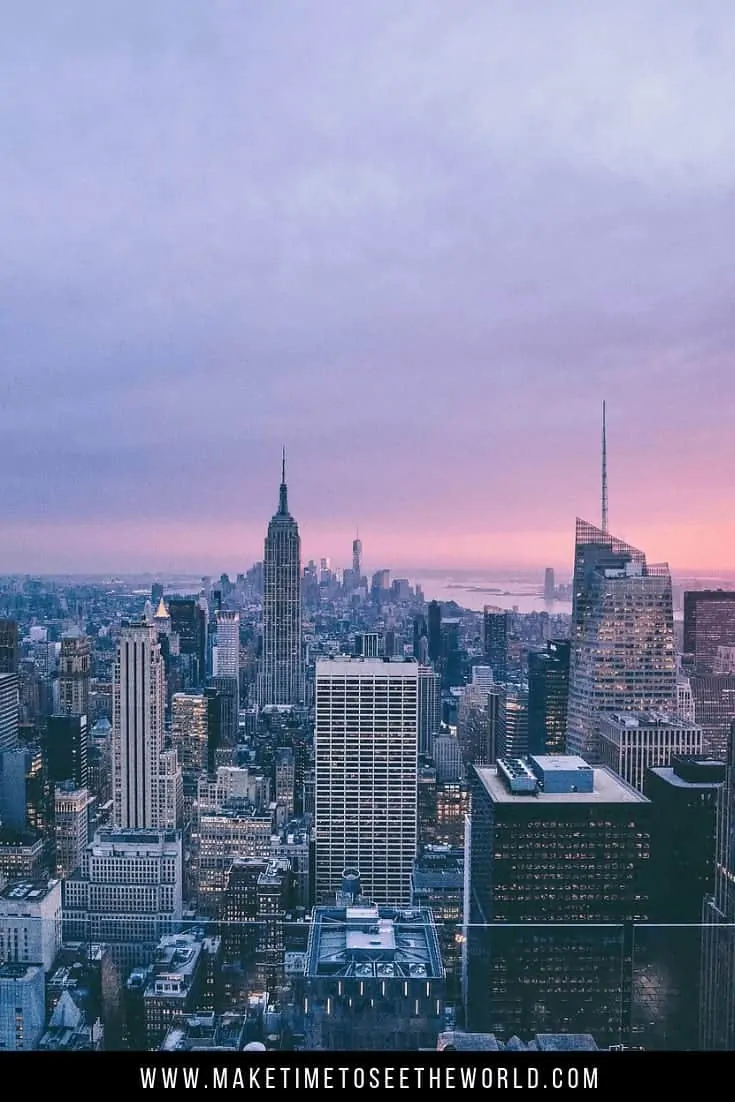 READY MORE TRAVEL INSPIRATION? YOU MIGHT BE INTERESTED IN THESE TRAVEL TIPS, TRAVEL ARTICLES, DESTINATION GUIDES AND RELATED POSTS ABOUT OTHER AMAZING CITIES IN NORTH AMERICA:
Hi There! Thanks for reading Incredible Things To Do In NYC: How To Explore New York City Like A Local, By A Local. I just wanted to let you know that this post contains affiliate links, which means if you purchase something after clicking a link, I may get a small commission – which is at absolutely no cost to you. If you enjoyed this article and are going to be searching for some of the things I mention anyway, I would love it if you could click through from the links above & thank you in advance! Read my full Disclosure here.
And a huge Thank You for reading the MakeTimeToSeeTheWorld travel blog.