Bright Light city gonna set my soul, gonna set my soul on fire… Viva Las Vegas!
(And if you didn't sing that line, go back and try again!) Elvis was pretty spot on when he sang about the gambling and the neon back in 1964. Often referred to as the Disneyland for Adults, the town has grown to encompass word class shows, incredible hotels, enough dining options to last a lifetime and a party atmosphere like no other. Perfect for a weekend break (but less crowded if you can visit during the week!) let us share with you our top Things to Do in Las Vegas, plus Where to stay, What to eat and Day trip ideas!
Disclaimer: Almost all posts on this site contain Affiliate links, and this guide to Viva Las Vegas! The Best Things to See, Do & Eat in Sin City! is no different. This means that if you click on any of the links in this post (and make a purchase) I may receive a small commission at absolutely no cost to you. Each post is carefully crafted to (hopefully!) answer all your questions and recommendations are made where we believe they will improve your trip and help with your planning. As such we thank you in advance should you decide to click & buy. Read my full Disclosure here.
A Guest Post by Luke Marlin of BackstreetNomad
Las Vegas is a wonderful, magical place, filled with lollypops and rainbows and unicorns. And by that I, of course, mean free beer, rampant gambling, and excessive casinos.
Alright I'll level with you, Las Vegas isn't all wild parties, stupid gambling and wild, debaucherous strip clubs like the movies would have you believe. Sure, they exist, but there's so much more to Vegas than that. And to be honest, if that's what you're coming to Vegas for you're so missing out on so much. Here are 10 of my favourite things to do to fill a weekend.
RELATED: Traveling with just carry on? Check out our Ultimate Carry On Packing List for tips and tricks to getting all the essentials in your bag!
The Best Things To Do in Las Vegas
Explore The casinos on foot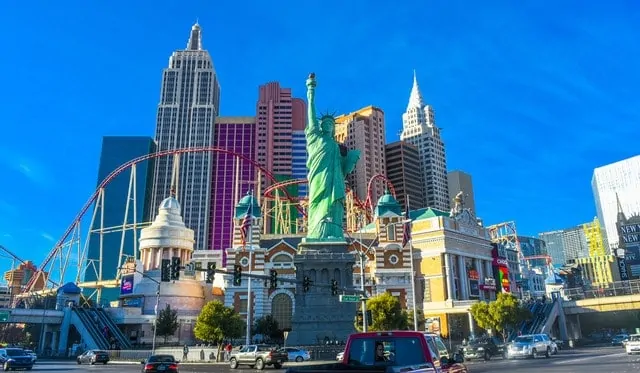 One of the best free things to do in Las Vegas is just walk around the casinos, taking in the grandeur, and pondering how much money was piled in to create the mega structures. The southern end in particular is great if you love themed casinos. The Luxor is of course built with a giant pyramid and Sphinx replica out the front. (The pyramid itself cost $323 million in 1993!)
Next door is the Excalibur, which is admittedly more impressive from the outside than the inside (like the Luxor), as it has been fashioned into a cartoony, medieval, multi-turreted castle. Inside it is pretty well worn so you are best spending your hard earned time inside the nicer casinos and enjoying this one from the outside.
And next door again is the New York NY Casino. I love the colour of the "NY Skyline" and the cheers screams emanating from the roller coaster as it zooms overhead. Inside, grab a slice of New York style pizza if you need a snack, or better yet, if you're not from the east coast, grab a burger and a shake at Shake Shack, New York's most famous burger joint.
.
Enjoy Vegas' best view of the Strip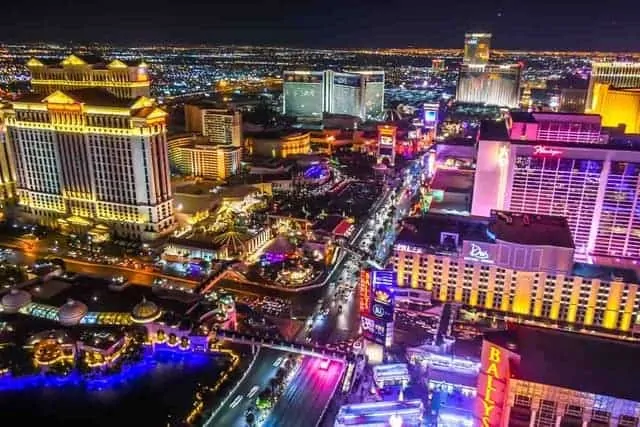 The Eiffel Tower Experience at the Paris is a wonderful way to finish any evening in style. On the surface it may look like an overrated tourist-laden activity, but having been up myself I can tell you it is one of the best things I've done in Las Vegas.
Being right in the center of the strip, the view is rewarding in both directions. Flashing LEDs light up the desert and every 10 minutes you can look down and watch the regular fountain show at the Bellagio. If you thought it was spectacular from the ground, wait until you see it from the air. (Watch the video below to see what I mean).
RELATED –
You may not think it, but Las Vegas is a great city to travel to alone! Don't believe us? Take a peek at our full post for other
top solo travel destinations
.
.
See a show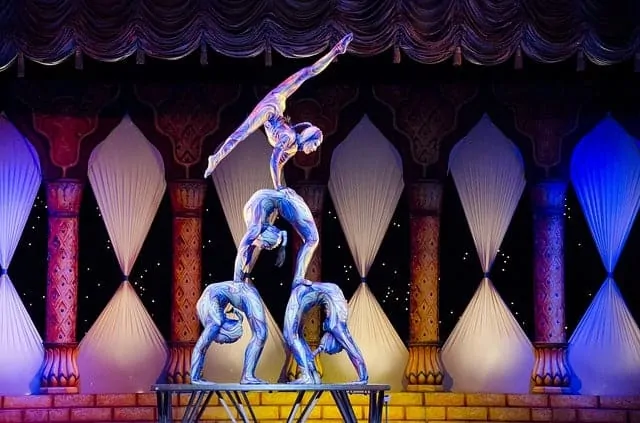 Vegas is packed full of shows with endless variety. At last count, there were 8 different Cirque du Soleil shows(!). But if incredible acrobatics and circus stunts are not your thing, try the illusions of David Copperfield. I can vouch for both.
Click to find out What Shows Are On in Vegas when you're in town.
Maybe you're into music. Britney Spears, Celine Dion, and Human Nature all have regular shows. And Calvin Harris plays every Saturday night at Omnia night club in Caesars.
Click to grab your Las Vegas concert & fight night tickets
.
Downtown Las Vegas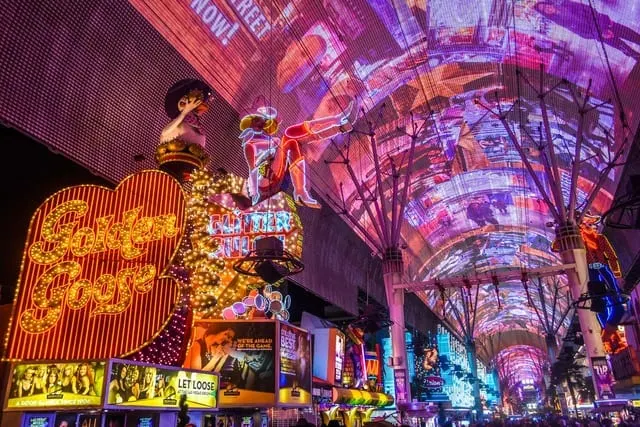 Catch a cab out to the Fremont Street Experience, otherwise known as Downtown Las Vegas. Downtown can often get left behind on short trips but I think it's a must see. Fremont Street is a long, covered pedestrian mall with live entertainment filling the airwaves, a zipline overhead and casinos on every side. It hosts some of Las Vegas' more historic casinos like the Golden Nugget and Binions, and the decorations are less LED, and more flashing bulbs, much like the Vegas of old.
*INSIDER TIP* The Fremont Street Light Show is free and displayed on the roof of the mall every hour on the hour between 6pm-1am. Paying homage to Old-time Vegas, the entire show lasts around 6 minutes and is best viewed by lying on the floor. Don't be shy – just lie down and enjoy! – You'll be surprised how many people join you. And even if they don't, at least you won't get a stiff neck from craning up!
.
Yearn for the olden day at the Las Vegas Neon Museum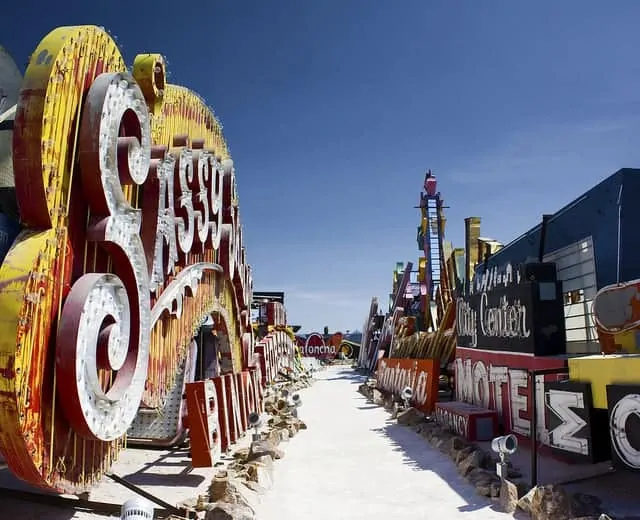 The Las Vegas Neon Museum is a time capsule of Las Vegas history. It's an outdoor museum jam-packed full of vintage, retired, mostly dilapidated signs from historic motels and casinos that have since either been demolished or significantly upgraded.
Most are from the golden age of the 1950's and 1960's, but some are even older. They are in the process of restoring a few of them to their former glory – but most are stored as a reminder of days gone by. A very interesting afternoon for anyone interested in Vegas history. Make sure to book ahead!
.
Relive the Mob Days at the Mob Museum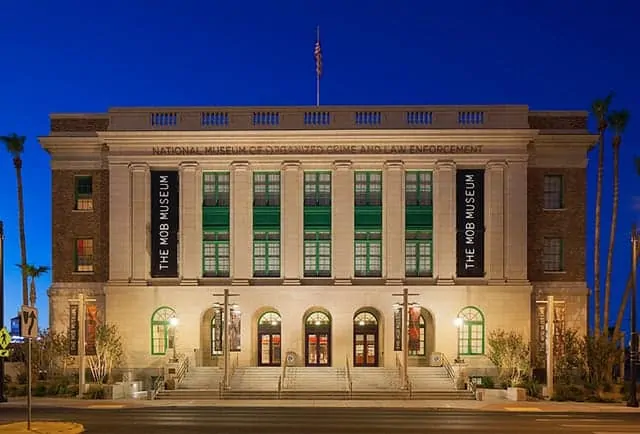 Officially known as the National Museum of Organized Crime and Law Enforcement, the Mob Museum will teach you all about some of the most famous gangsters in history including Al Capone, John Gotti and Bugsy Siegel. (And how they were caught!) There's even a Tommy Gun and the opportunity to take part in FBI weapons training!
.
Learn to play craps
I know I said at the top that there's so much more to Vegas than gambling, but you would be doing yourself a disservice if you came to Vegas and ignored it completely. Personally, I love blackjack and Texas Hold'em poker, and I think most people are vaguely familiar with the games. But the game that eludes most people is craps.
Craps is the one with the dice and the deep table with all the numbers where people call out "snake eyes!" and "come on lucky 7!". I've learnt to play craps on 2 of the 4 times I've been to Vegas, and to be honest, I still forget how to play. But I had fun playing it. I suggest finding a cheap table to learn on, where other players aren't taking the game too seriously, and the dealers are happy enough to teach you. The cheapest tables are at the Luxor, the Flamingo, the Linq, Circus Circus, and Hooters.
.
Ride the Thrill Rides at the Top of the Stratosphere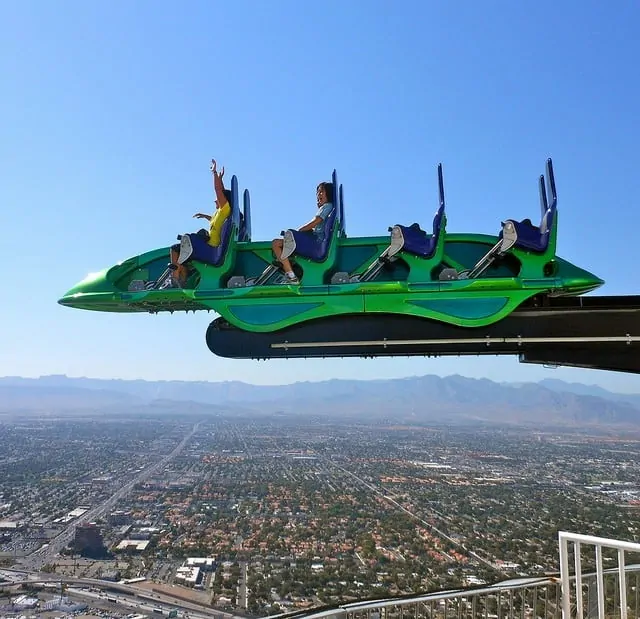 (c) Sarah_Ackerman c/o Flickr Creative Commons
Get your scream on with these Thrill Rides located 350m (1149ft) in the air at the top of the Stratosphere. There are 3 rides at the top: Insanity, X Scream and The Big Shot. You'll be spun around, shot into the sky and dropped off the edge of the building. Pick one, or do them all – it all depends how brave you are! And whilst you're up there – take in a 360º view across Vegas, and see where Vegas ends and the desert begins. (This looks very cool lit up at night!)
.
Hit Up The Gun Store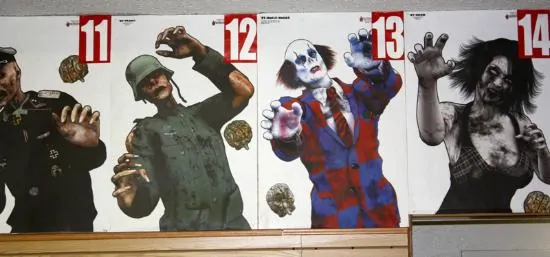 *EDITORS NOTE: Added by Vicki*
As a Brit, I find the whole gun culture in the USA both baffling and intriguing. Here in Las Vegas – and I'm sure this exists in other parts of the country too, but you can go to Gun Store, pick out any number/type of gun (inc. machine guns!), purchase a certain number of rounds and head off into the firing area and shoot it. This may seem perfectly normal to some, but it was a whole new world to me! As you can see from to image too – you also get to pick your target, with difficulty going up with hostage scenario images for those who want to improve their accuracy! If your curious about guns, this is the place to go. It's safe, supervised and they completely understand if your new/terrified!
.
Day trip to Red Rock Canyon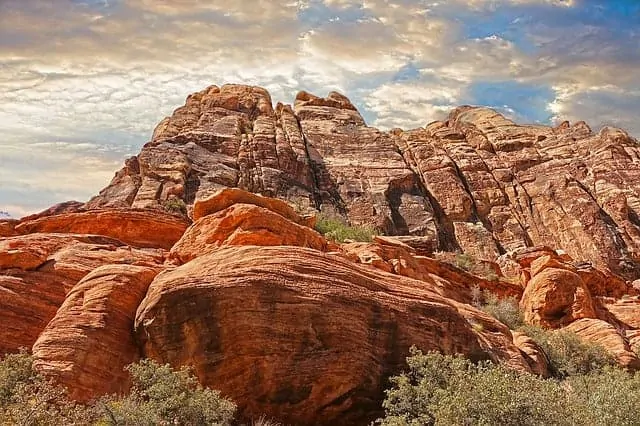 After a few intense days in Vegas you might feel like you to escape for a day. A Red Rock Canyon Day Tour provides that escape by taking you to a completely different world.
Dramatic boulders rise from the earth in a variety of reds and browns. The Visitors Center starts at the beginning of a ring road which offers around 20 different hikes through canyons and up peaks with spectacular views of the Nevada desert.
RELATED: Get off the Strip with these 17 Epic Tours and Day Trips from Las Vegas + if you have your own car, we've got 18 Incredible Road Trips from Las Vegas
.
See a free show
If you can't splash the cash for a theater show, make a list of all the free shows and hop between them. They might be a bit tackier, but you'll stay entertained. Caesars has the Fall of Atlantis in the Forum Shops; there are regular circus shows at Circus Circus; and Treasure Island and the Mirage both have free shows in the evening. The Mirage is a light and fire show on a volcano, and the Treasure Island show is a pirate-themed stunt show. And if you don't want to Casino hop you can always..
Watch the Dancing Fountains at the Bellagio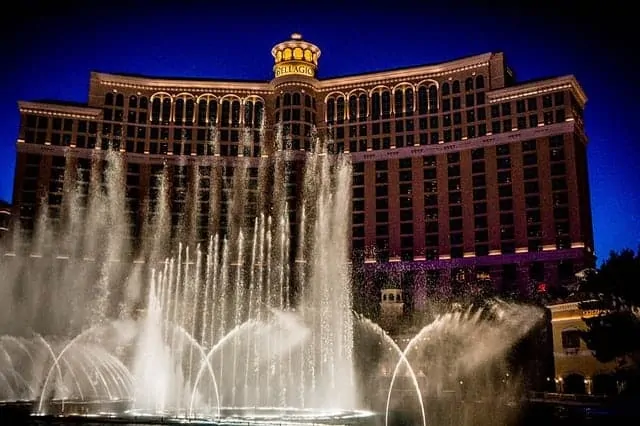 More than a thousand fountains at the Bellagio dance to music ranging from Pavarotti to Sinatra on every day of the week! Mon-Fri shows are every half an hour between 3pm-8pm then every 15 minutes to midnight. And on the weekend 12pm-8pm every half an hour and 8pm-midnight every 15 minutes. Gather round the railing for an up close and personal experience , or grab a table at the corner of the Planet Hollywood complex across the road and watch this mesmerizing free show.
.
Take a gondola ride at the Venetian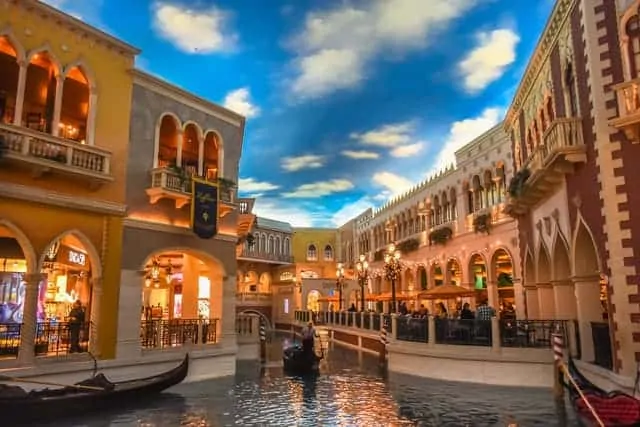 The Venetian is one of the best designed Casinos on the Strip. You'll want to take your time in here because the interior is seriously stunning. It's unbelievable how realistic the sky-painted roof looks. Combine this with the intricate detail given to the "streets" through the mall and the canals through the complex and you actually start to wonder if you are actually in Venice. Poke your head in some shops then be serenaded in a gondola as you float around the Casino.
.
Visit Linq and Ride the Highest Observation Wheel in the World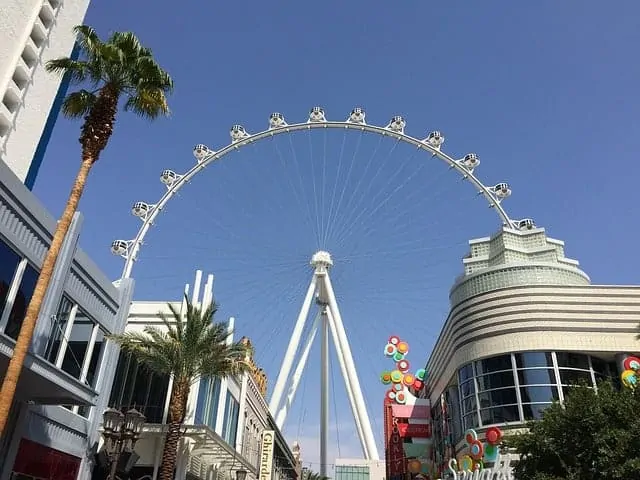 Linq is the open air entertainment complex by Caesar's Entertainment, the centerpiece of which is the Linq High Roller – the tallest observation wheel in the world. One 30 minute revolution will give you a fantastic view over the Las Vegas Skyline and can be timed to your choice – although Sunset usually has the best light for incredible photographs. Add in a Happy Hour option and you will score yourself an in-pod bartender to serve you drinks throughout your revolution.
Get Your Photo Taken @ The Welcome to Las Vegas Sign!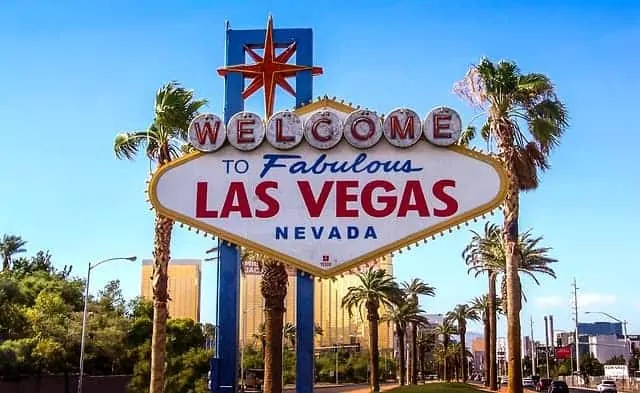 Located on the Las Vegas Strip just south of Russell Road and the Mandalay Bay Casino (about 15 mins walk), this historic sign has famously read, "Welcome to Fabulous Las Vegas, Nevada" since 1959. It's the most iconic piece of neon signage in America, and is a must visit when in Vegas. There is also 12 bay car park just off to the side, so it has never been easier to hop out of the car and get a picture of this piece of Vegas history. And if you don't fancy a walk back, you can catch an uber/lytf back down the strip.
.
Eat until you explode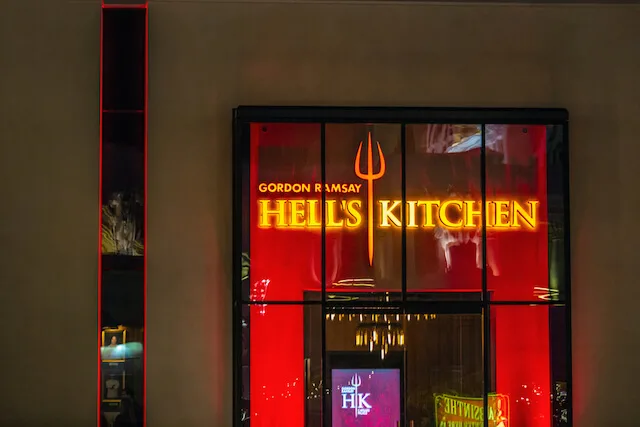 There are so many places to eat in Las Vegas; you might not know that many famous chefs set up shop in Vegas like Julian Serrano in the Bellagio, or Gordon Ramsey in Planet Hollywood. Ramsey's BurGR is actually my favorite place to eat in Vegas and I've eaten there on my last 2 visits. The burgers are simple but unbelievably delicious and to make things even better, they have an extensive craft beer range on tap too.
Other favorites include Holsteins Shakes and buns in the Cosmopolitan, Mon Ami Gabi in The Paris, Pizza Rock near Downtown Las Vegas, and Lago by Julian Serrano.
No city tries to keep up with the Joneses as much as Las Vegas casinos try and outdo their competition. You just have to look at the skyline to see the replicas of the pyramids, the New York City skyline and a one-third scale model of the Eiffel Tower to understand that. But that's all part of its charm. It's a place like nowhere else on earth and it is impossible to be sucked in to the magic. My only advice is to just lean in to it and enjoy yourself.
Where to Stay in Las Vegas
These are just a few of our favorite hotels – hop on over to our post about the best places to stay in Vegas for the full list – complete with options for every budget (or lack of!)
.
Day Trips from Las Vegas

IF YOU HAVE THE LUXURY OF TIME AND CAN'T GET ENOUGH OF LAS VEGAS AND WANT TO EXPLORE MORE OF NEVADA, TAKE A LOOK AT THESE GREAT LAS VEGAS TOURS AND DAY TRIPS & ROAD TRIPS FROM LAS VEGAS TO EXPLORE THE SURROUNDING AREA. I MENTIONED VEGAS WAS A DISNEYLAND FOR ADULTS, RIGHT?!

.
Essential Las Vegas: What You Need To Know Before You Go
How To Get to Las vegas

Las Vegas has it's own airport making it easy to access from anywhere in the world. Cheap flights operate daily and most places in the USA are no more than a few hours flight. For those that prefer to drive, Los Angeles is around a 4 hour drive away; Phoenix is approx 5 hours & San Fransisco and Albuquerque are between 8-10 hours drive.
RELATED: If you're wanting to head out on the open road, we've got a fabulous All American Road Trip Route to get you on your way and the Ultimate Road Trip Packing List to make sure you and your car are set for the journey!

If arriving by plane, the airport shuttle is the most economical way to get to your hotel and costs around $15 per person round trip for hotels on the strip.
TRAVEL TIP –
Download the
FREE SkyScanner App
and have cheap flights at your fingertips whenever you want to take to the skies!
How to Get Around Las Vegas

Walking is definitely the best way to explore, and it's known as the 'Strip' for a reason. A stroll along one of America's most famous roads will allow you to experience the sheer size of the hotels and casinos – with the option to wander in an take a look round each to take a break from the desert heat.
If walking isn't feasible for whatever reason, monorails runs from Sahara Ave to the MGM Grand 7 days per week from 7 a.m. – 12 a.m (extended hours at weekends) and buses run along the strip 24/7. Bus far is $6 for 2 hours on the strip; $3 for 2 hours off.
Or to have the ultimate Las Vegas experience – you'll want to hire a limo and be driven down the strip like they do in the movies! For as little as $50 a hour you get a limo, photographer and as many stops as you like!
When to Visit Las Vegas (Climate + High/Low Seasons)

The best time to visit Las Vegas is in the shoulder seasons of March to May and September to November, when temperatures are mild(er) at between 20-32ºC. Summer temperatures can rise as high as 41ºC(106F) and winter temperatures rarely fall below 14ºC(58F)

Las Vegas is always busy – but is particularly so during winter and the holiday season (December – January) or if there are any large events/fights being held at the MGM Grand.
As Vegas is home to many conventions throughout the year, it is best to check the conventions calendar to see which hotels may likely be booked out at any given time, or of delaying your trip by a week could result in better prices.
Regardless of when you plan to visit, try to make it a midweek stay. Las Vegas is a popular weekend destination throughout the year and hotel prices and crowds will be more manageable (in most cases) during the week.
.
So there you have it – hopefully we've given you enough information to plan the perfect trip – and given you a great list of Things To Do in Las Vegas to make sure you get the most from your visit. Don't forget to let me know you're own highlights once you're back!

Oh, and if you liked this post please tweet, pin and share – I'd really appreciate it! Click the P in the share bar for full size images (and a couple of hidden ones too!)
READY TO EXPLORE MORE OF THE USA? YOU MIGHT BE INTERESTED IN THESE ARTICLES
Hi There! Thanks for reading Viva Las Vegas! Where to Play, Stay & Eat in the City of Sin! I just wanted to let you know that this post contains affiliate links, which means if you purchase something after clicking a link, I may get a small commission – which is at absolutely no cost to you. If you enjoyed this article and are going to be searching for some of the things I mention anyway, I would love it if you could click through from the links above & thank you in advance! Read my full Disclosure here.