Sofia is a fabulous destination! Roman ruins over the city center, numerous green areas, friendly locals and amazingly delicious traditional food. On top of all of this, Sofia it's also a budget travelers paradise. What else can you ask for? Although the main sights are concentrated in the city center and can be seen in 48 hours, there's a plenty of things to do in Sofia and the surrounding area. So, like always when you have a short time to spend in a certain city, you should plan your time wisely to make sure you make the most of it – As a local, let me share with you my highlights and help you plan what to do in Sofia to make sure you have the best city tour possible!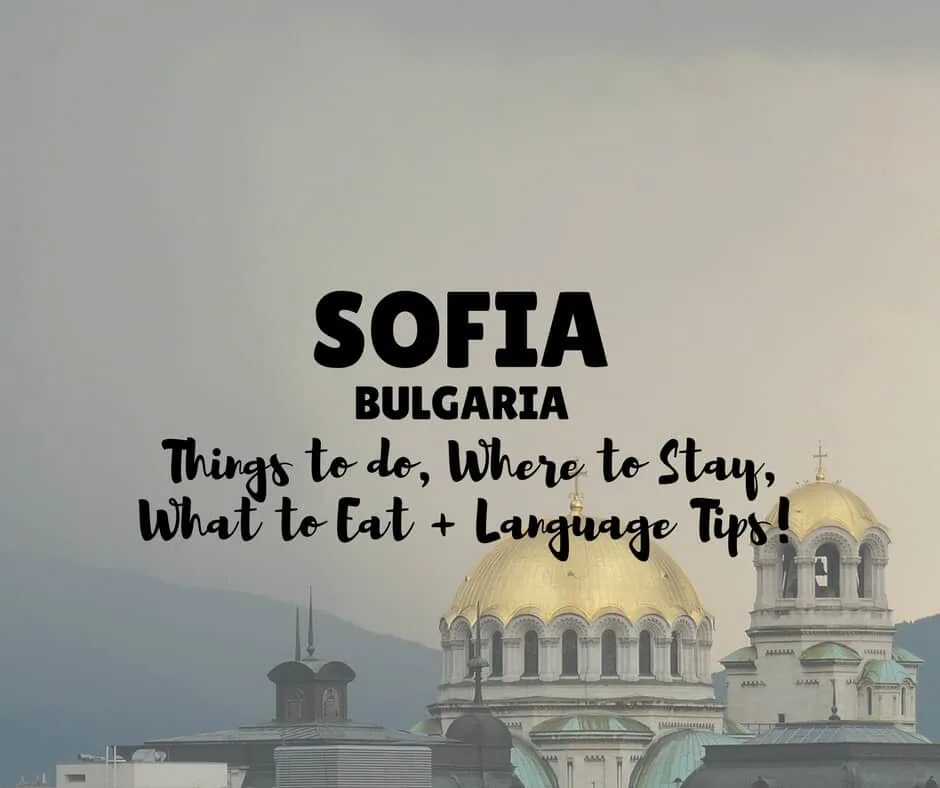 Disclaimer: Almost all posts on this site contain Affiliate links, and this post about Top Things To Do in Sofia Bulgaria + Where to Stay, What to Eat & Language Tips(!) is no different. This means that if you click on any of the links in this post (and make a purchase) I may receive a small commission at absolutely no cost to you. Each post is carefully crafted to (hopefully!) answer all your questions and recommendations are made where we believe they will improve your trip and help with your planning. As such we thank you in advance should you decide to click & buy. Read my full Disclosure here.
A Guest Post by Bilyana from OwlOverTheWorld
Essential Sofia: what you need to know before you go

How To Get to Sofia

If you are in Europe there are a variety of cheap flights to Sofia; or if you prefer, an overland journey by train would be a great experience.
RELATED: If you're wanting to explore more of Europe – our Europe By Train itinerary has some great route suggestions!
If arriving by plane, you have several options to get into Sofia city: a private taxi (<$20); the metro train system – Line1 and several buses. As routes change often it is best to seek advice from the information center in arrivals, who will also assist with purchasing your tickets. If traveling by taxi, it is best to pre-book as there are hundreds of taxi drivers in the area, not all of whom are legitimate and have a reputation for over-charging tourists. (Although this kind of behavior is not as common as it used to be!)
TRAVEL TIP –
Download the
FREE SkyScanner App
and have cheap flights at your fingertips whenever you want to take to the skies!
How to Get Around Sofia
Walking is definitely the best way to explore the city. Taxi's have a bad (but improving) reputation. All taxis should be yellow and operate by meter and it is always a good idea to check if the meter is on.
The Sofia Urban Mobility Centre is responsible for the operation of all trams, buses and trolley cars in the city. Tickets are sold at kiosks at the major bus stops and newsagents, and must be validated on board using the metal punchers near the windows. Passes or transit cards, valid for one day, five days or one month, are also available. Karta (coupons of 10 tickets) are valid on trams, buses, metro and trolley buses.
When to Visit Sofia (Climate + High/Low Seasons)

The best time to visit Bulgaria (for warm weather) is between May and September so you can benefit from lots of sunshine and warm temperatures; for those more interested in winter sports, Bulgaria's ski slopes are open between December and April.

Summer is the peak tourists' season to visit Sofia, making the city crowded. Spring (April and May), and autumn (September and October) are also good time to visit Sofia as it is the shoulder season.
Winters (November to March) in Sofia gets very chilly as the temperature drops down to an average of -3 degree Celsius, with only two hours of daylight in the months of December and January.
Where to Stay in Sofia
Great location and gorgeous restaurant views, the 5 star, centrally based hotel offers free wifi, onsite swimming pool, a range of spa treatments and a rooftop terrace.
Book Now | Compare Prices for Later | Read Trip Advisor Reviews
Ramada Sofia offers spacious rooms equipped with cable/satellite channels, a hair dryer and a shower, plus onsite Turkish Steam Bath and free wifi.
Book Now | Compare Prices for Later | Read Trip Advisor Reviews
There are a range of amenities available to those staying at the hotel, such as a garden, beauty salon, laundry service, free wifi and an onsite restaurant.
Book Now | Compare Prices for Later | Read Trip Advisor Reviews
Conveniently situated, Hostel Mostel Sofia allows for easy access to Sofia's best hot spots. It features comfortable rooms with a private bathroom and a kitchenette.
Book Now | Compare Prices for Later | Read Trip Advisor Reviews
.
Things To Do in Sofia Bulgaria
Relax in one of the many parks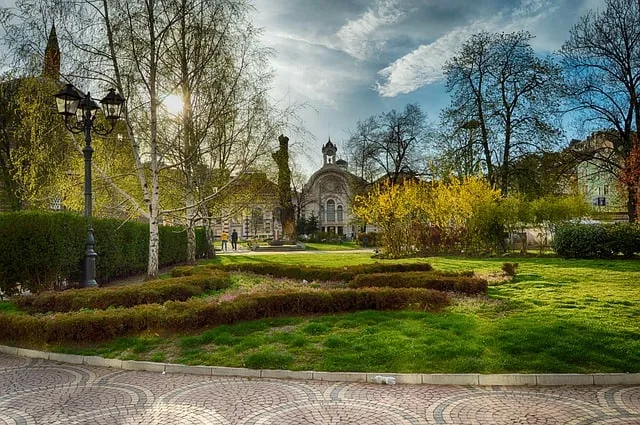 There are many parks in Sofia, which are some of the favorite places of the locals. The biggest, which is also next to the city center is Borisova garden. The park gathers locals and travelers, young and old people, basically everyone. You can grab a beer and relax there or join a game with the locals.
.
Join a free food tour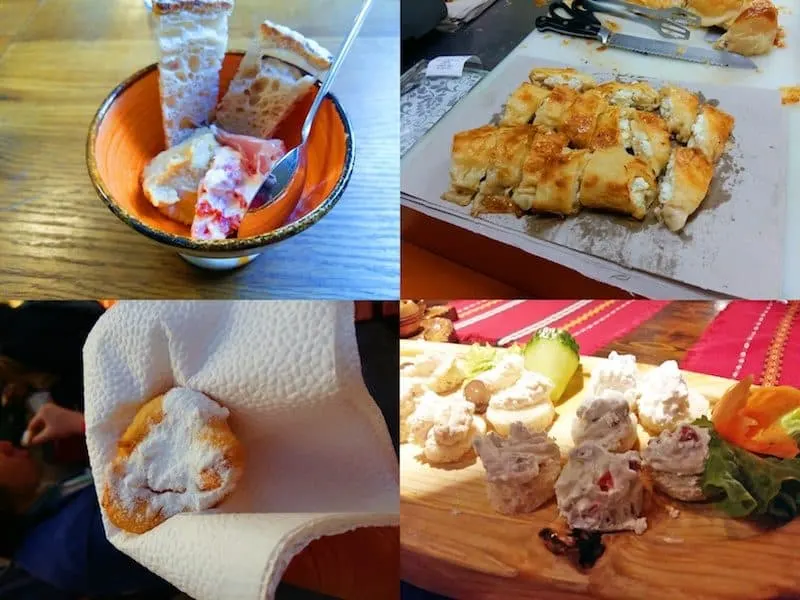 The one and only I know so far, free food tour. Sounds good, right?
Where & when: Park Crystal, in front of the big head statue of Stefan Stambolov, every day at 2 pm.
The tour collects enthusiasts who want to try some delicious local food. During the tour, which lasts for approximately 2 hours, the group visits several locations. In every one of them, you will be able to try samples (note that it's not going to be a free four-course menu) of different local meals. And if you are a vegetarian don't worry, you can still join the tour, all of the participators are separate in two groups, vegetarians, and non-vegetarians. And if after all the eating you are in need of a coffee fix, make a plan to visit any one of the best cafes in Sofia.
.
Light a candle at St. Alexander Cathedral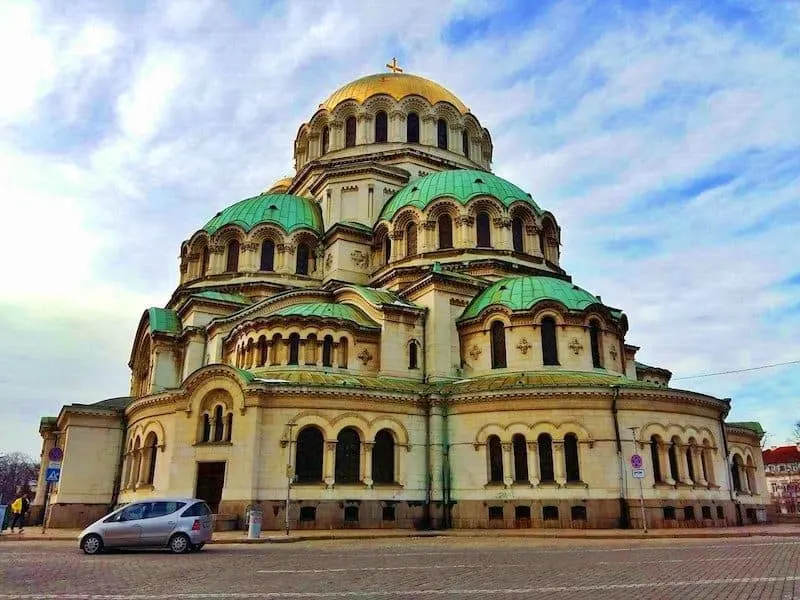 St. Alexander Nevski Cathedral is Sofia's main tourist attraction. It is the second largest Orthodox church in the Balkans. Every day many locals are going to light candles and wish health for their families. It takes not more than a few minutes to do it, and is definitely one of must-do things to do in Sofia Bulgaria.
.
Stroll down Vitoshka (Vitosha) street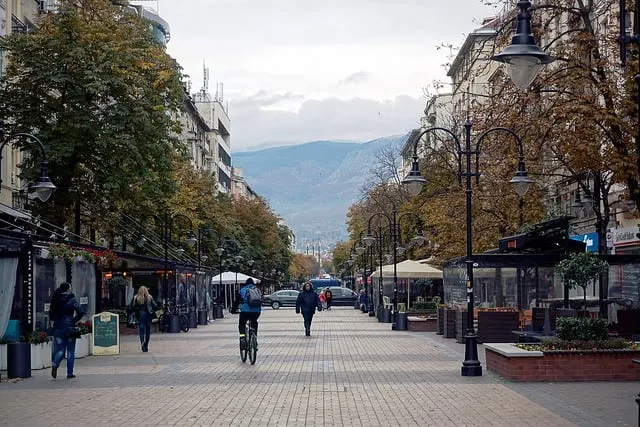 Image (C) A&F Botting c/o Flickr Creative Commons
Vitosha Boulevard is one of the main streets in the city center. It's full of shops, restaurants, bars and cafes. Oh, and strolling down the street you will have a fabulous view of the Vitosha mountain in the background. It is very beautiful.
.
Visit The St George Rotunda
Considered the oldest building in Sofia and located amongst the ruins of the ancient town of Serdica, it is incredible that the building has survived since it's establishment in the 300s! Inside the St George Rotunda are beautiful medieval fresco's which had been covered by the Ottoman Empire when they converted the building into a Mosque in the 1600s and were rediscovered and restored in the 1990s.
.
Ivan Vazov National Theater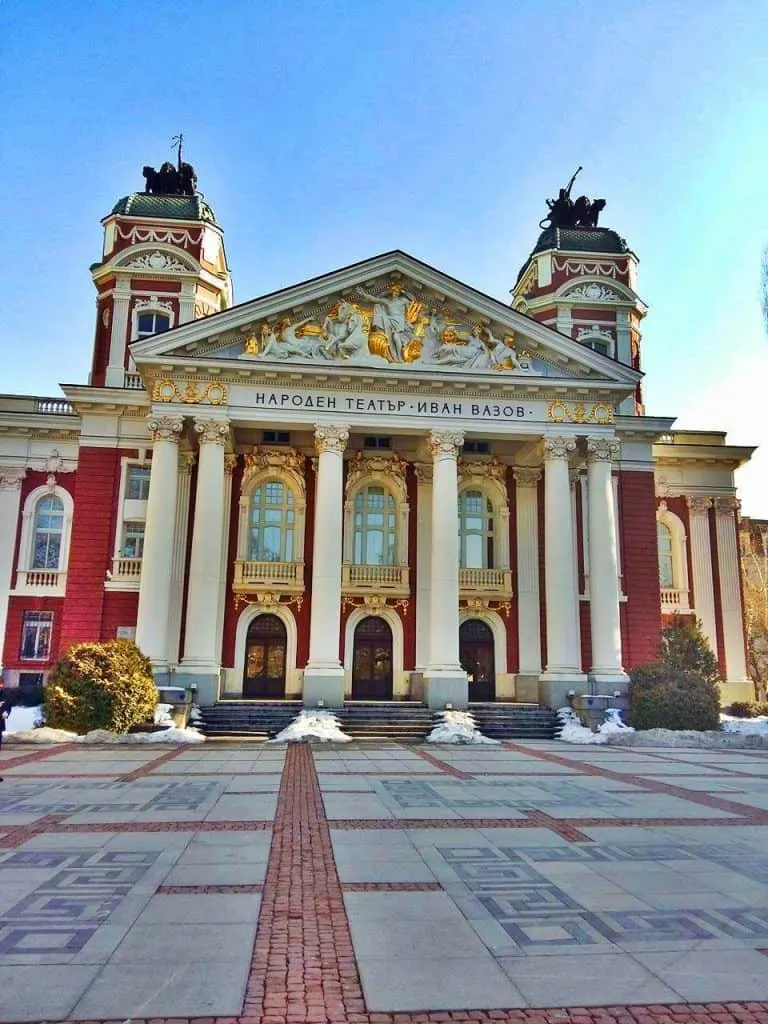 Built in 1907 by the Austrian architects Helmer & Felner, the National Theatre is one of the most ornate buildings in Sofia. Its towering portico is an iconic sight for Bulgaria – and even appears on it's banknotes!

.
Visit The Serdica Amphitheater
Image (C) Arena di Serdica Hotel
Discovered in 2004 and the subject of excavations in 2005 and 2006, it was once one of the largest Amphitheaters in the Roman Empire the ruins of the amphitheater can be visited as part of a specifically designed exhibit in the Arena di Serdica Hotel.
.
The Synagogue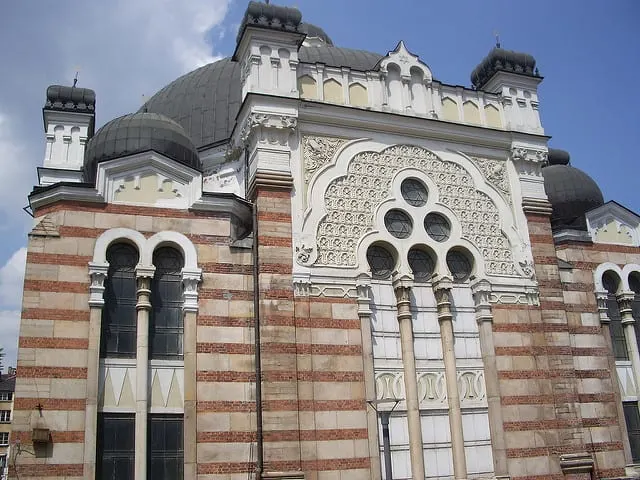 The Sofia Synagogue is the largest in South Eastern Europe. It was built for Sofia's sizeable Sephardic Jewish population in 1909 and Tsar Ferdinand I of Bulgaria was present when it was inaugurated. More than 1,000 people can fit inside this cavernous building which holds permanent exhibits dedicated to Bulgaria's Jewish population.
.
Go party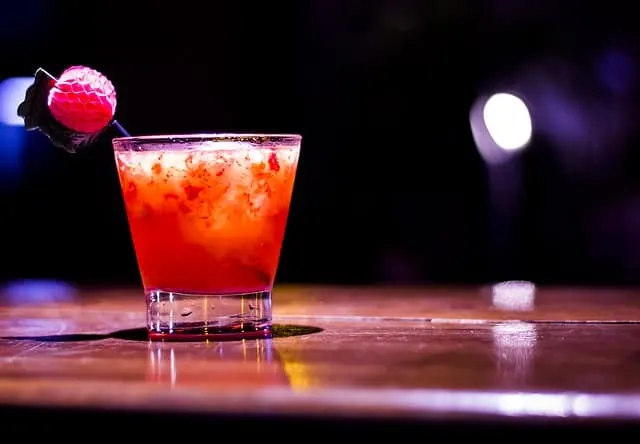 Bulgarians, we love to party. And Sofia has a crazy nightlife. Usually, when you go partying in Sofia this continues until the morning. Some cool bars and clubs are Roderic, One More Bar, Terminal 1, Switch, Bedroom, etc. Join an organised Pub Crawl to be taken on a tour of all the best (and hidden!) spots!
On a side note – and this is something that I usually don't recommend – but if you want to immerse yourself completely in the locals way of life in Sofia then you can go to chagoteka. Chalgoteka is a club which plays 'chalga' – a type of music that is loved by many Bulgarians. The lyrics of the songs are ridiculous and the singers look more like porn stars but this is another topic.. But it is definitely a real 'Bulgarian' pub crawl experience!
.
Play Chess with the locals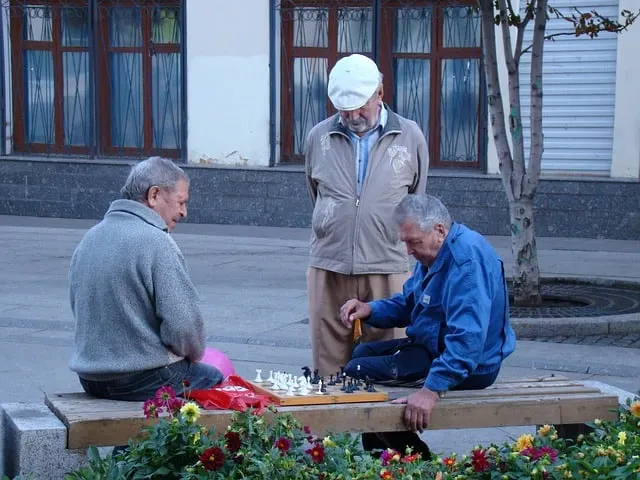 Many locals are gathering to plays chess in the garden in front of the National Theater. If you like playing you can join them and even..
.
Try to learn some Bulgarian (I dare you)
Bulgarian is a difficult language, but it would be nice to learn some phrases.
A few useful common expressions are:
Hello: Zdravei (Здравей)
How are you: Kak si (Как си)
Yes: Da (Да)
No: Ne (Hе)
Thank you: Blagodarya (Благодаря)
Good bye: Divizhdane (Довиждане)
White Wine please: Byalo vino molya (Бяло вино моля)
1 Beer Please: 1 bira molya (

1 бира моля

)
The Bill Please: Smetkata molya (сметката Моля)
.
Sofia National History Museum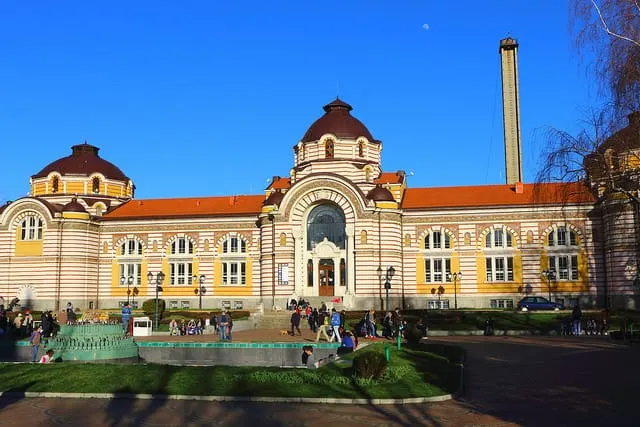 The history of Sofia is long and spans thousands of years from Antique to modern times. You can discover the history of the city and learn more about it at the Museum of the History of Sofia, which is located in the center of the city in the building that was once the Sofia Central Mineral Baths. The museum is closed on Mondays, but is free every first and third Thursday of the month.
.
Explore Vitosha Mountain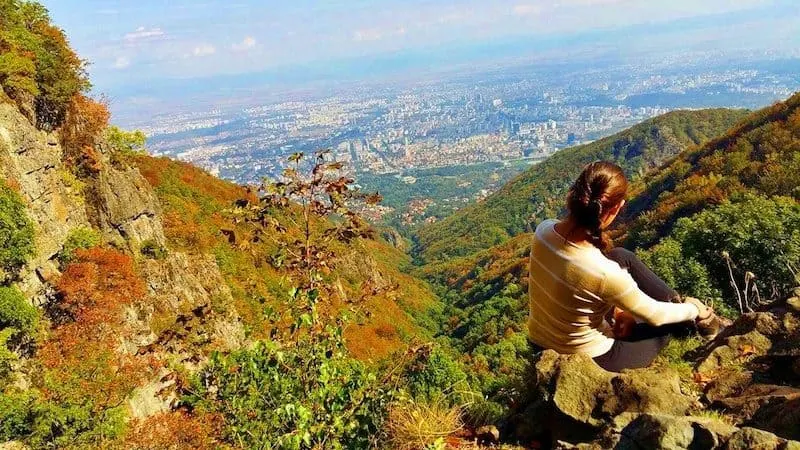 One of the things that I love the most about Sofia is Vitosha mountain. Correct me if I'm wrong, but I'm almost sure that Sofia is the only European capital with a high mountain in its backyard. Getting from the city center to the mountain takes around 30 minutes. There is a place there, in the mountain called Kopitoto. From there you can see almost the whole city. Is also on the favorite places to the locals to gather. Everyone can get there with a car and if you don't like to hire one, you can find a Vitosha tour, which offers transport and hike combinations.
.
The National Institution of Archeology
Located in the city's former Grand Mosque, there a 4 exhibits over 2 floors and are home to the famous Valchitran and Lukovit treasures.
.
What to Eat in Sofia
When you in Sofia, you need to eat like a local. Some of the best traditional dishes to have in mind, so you can try them are:
Banitsa: a mixture of whisked eggs and pieces of cheese between filo pastry which is baked in an oven.
Bob chorba:a Bean soup made with dry beans, onions, tomatoes, chubritza or dzhodzhen and carrots.

Shopska Salad: a cold salad made from tomatoes, cucumbers, onion/scallions, raw or roasted peppers, sirene, and parsley.
Moussaka:

minced meat dish, resembling a casserole.



Tarator: served as a soup or a sauce it is made from ground walnuts, garlic, and yogurt or tahini, and often cucumber, herbs, and vinegar or lemon juice.
There are many restaurants offering delicious traditional Bulgarian cuisine, but I will tell you about my favorite one. It's called Do-Re-Mi and it's located at Neofit Rilski str. 72. The chef-owner has his own farm where he grows his own vegetables, etc. So, everything everything on the menu is made with home grown produce! He also makes a great wine and the famous traditional Bulgarian alcoholic drink rakia. A perfect combination of Bulgarian food and drink!

Extra Sofia Adventures

IF YOU HAVE THE LUXURY OF TIME AND CAN'T GET ENOUGH OF SOFIA – OR WANT TO EXPLORE MORE OF BULGARIA, TAKE A LOOK AT THESE GREAT TOURS TO EXPLORE THE SURROUNDING AREA:
So there you have it – hopefully you enjoyed our travel guide and we've given you enough information to plan the perfect trip – and given you a great list of Things To Do in Sofia Bulgaria to make sure you get the most from your visit. Don't forget to let me know you're own highlights once you're back!

Oh, and if you liked this post please tweet, pin and share – I'd really appreciate it! Click the P in the share bar for full size images!
READY TO EXPLORE MORE OF EUROPE? YOU MIGHT BE INTERESTED IN THESE ARTICLES
Hi There! Thanks for reading Top Things to do in Sofia Bulgaria + Where To Stay, What to Eat & Language Tips! I just wanted to let you know that this post contains affiliate links, which means if you purchase something after clicking a link, I may get a small commission – which is at absolutely no cost to you. If you enjoyed this article and are going to be searching for some of the things I mention anyway, I would love it if you could click through from the links above & thank you in advance! Read my full Disclosure here.