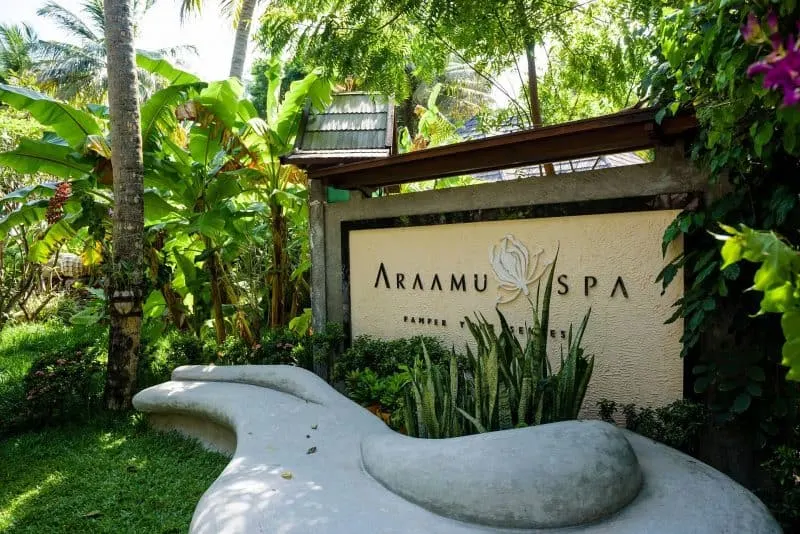 This post was originally posted on the Sun Island Resort and Spa Blog: Araamu Spa – Total Relaxation in Paradise! I was a guest of the hotel and my visit to the spa was a complimentary activity.

This post is one in a series about the Maldives including: Plan the Perfect Maldives Vacation with Options for every Budget; What to Wear in the Maldives – The Ultimate Maldives Packing List; and Scuba Diving with Whale Sharks in the Maldives. Click the link to find out more!

.
Araamu Spa – Total Relaxation in Paradise at Sun Island Resort & Spa
Sun Island in the Maldives, the flagship resort of the Villa Hotels Group, is home to the Araamu Spa – and although it is located on a small island in the middle of the Indian Ocean, is actually the 3rd biggest spa in South East Asia!
The word 'Araamu' is a Dhivehi word (Dhivehi is the Indo-Aryan language of the Maldives spoken by approximately 350,000 people), but is Sanskrit in origin and translates to mean a blissful state of total relaxation – and is certainly something that one experiences when enjoying a treatment at the award winning Araamu Spa.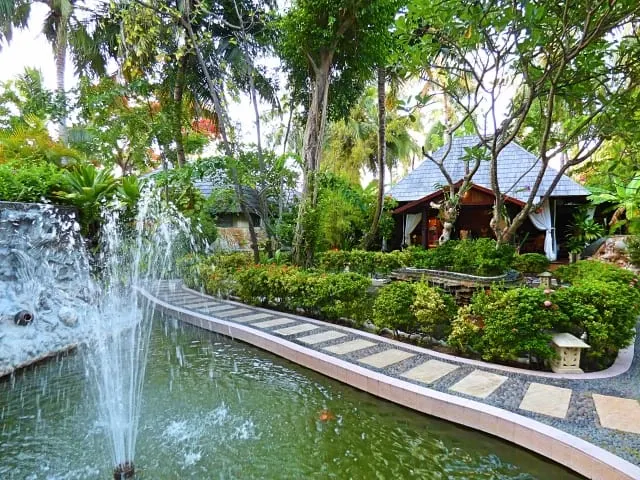 Whilst the Spa in located within with the Sun island resort, as you pass through the Japanese inspired entrance way, complete with koi carp pond, waterfalls and lush green gardens, it is clear you have entered another world. Taking a seat in the reception you will be served with a delicious welcome drink that combines ginger, herbs and honey in a spiced tea, and as the scent of essential oils drifts into your nostrils, you mind calms into a state of Zen, a feeling that only a world-class spa can achieve.
The Araamu Spa has 6 indoor treatment rooms and boasts 14 luxurious outdoor treatment gardens, each containing a sunken bath or Jacuzzi, outdoor shower, steam room and a traditional massage pavilion complete with two treatment beds. Whether visiting solo, or as part of a couple, the Araamu Spa is the ultimate in relaxation.
In addition to an onsite hair & beauty salon, the Araamu Spa offers over 50 different spa treatments. Guests are truly spoilt for choice when presented with the spa menu, with each treatment guaranteed to soothe any aliment and relieve every possible stress from the strain of modern day life.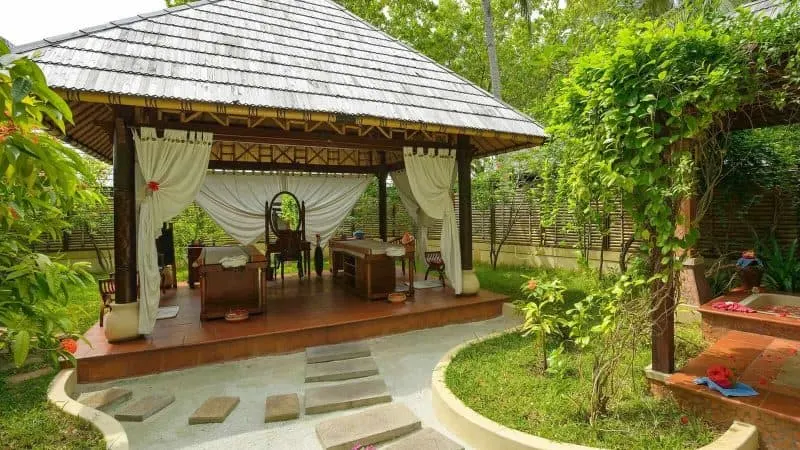 Of the two lengthy treatment menus available, guests can chose between classic treatments that focus on traditional methods, or on treatments that are based on the ancient Indian art of 'Ayurveda'.
Ayurveda means the 'science of life' and originated in India more than 10,000 years ago. It is believed to be the oldest healing science in existence – and the system from which all other emerged. If you are considering a visit to the Araamu Spa whilst staying on Sun Island, this will be the perfect opportunity to indulge in the oldest healing system known to man.
The classic menu at the spa offers the usual variety of well-known massage techniques such as Swedish, Malay, Indonesian and Thai, but also offers 4 of it's own signature Maldavian style of massage. The first of these is the Araamu Theyo Dhemun – and was one that I was lucky enough to experience. This is a tantalising combination of short firm strokes with the thumbs to pressure points and the use of the heel of the hand to provide long soothing pressure strokes which rejuvenate the bodies energy, relieves tired muscles and improves skin elasticity. A fantastic combination of pressure and technique, the Araamu Theyo Dhemun is easily one of the best massages I have had anywhere in the world.
After experiencing this incredible massage, I'm sure you'll be a convert to the Maldavian style and may consider trying out the other signature treatments offered at The Araamu Spa. One of these – the Veli Modun – is the epitome of island style relaxation. Conducted on the soft white sands of Sun Island's beaches, your therapist will use virgin coconut oil and fine wet sand to combine a massage and body scrub. With the sounds of the waves gently lapping at the shore provide the natural soundtrack to this immersive and luxurious island experience. Perfect for both the start and end of your holiday, the massage and scrub invigorate, polish and rejuvenate the skin resulting in that effortless island glow that will make your friends and family jealous!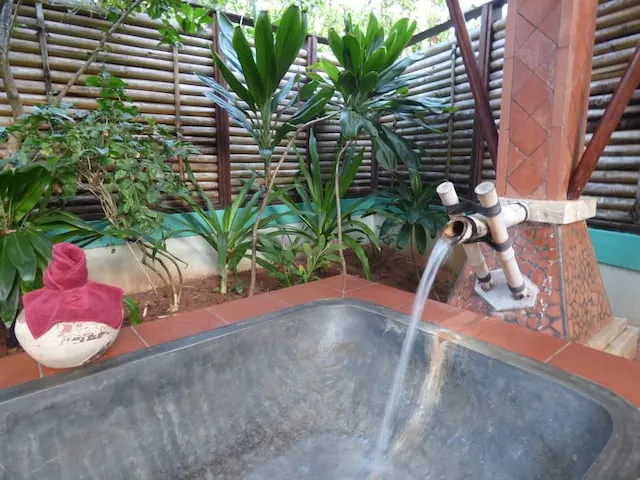 A further signature treatment offered at the Araamu Spa is one designed with couples in mind. Combining a 50-minute massage with Ayurvedic oil with a 30-minute herbal bath, the Loabi-Loabi couples massage is perfect for those at every stage of their relationship. Whether you are a honeymoon couple or a couple who have already enjoyed many wonderful years together, this treatment will cement the connection between you. After your revitalizing massage, the therapists will leave you to relax together in herbal bath allowing time, space and privacy for you to truly focus on each other.
Araamu Spa's final signature treatment is a traditional Maldivian favourite known as Fini Kela: a skin treatment utilising Sandalwood Powder, it promotes an all over affect of beauty and wellness. Using a Sandalwood and Rosewater base this treatment exfoliates, smoothens and softens the skin and, thanks to its cooling nature is perfect after a long day under the hot Maldivian sun.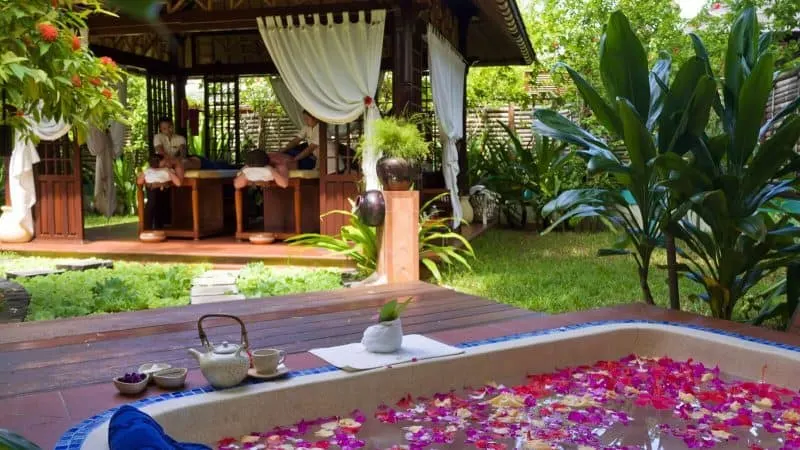 However, if these signature treatments sounds too exotic for you, Araamu Spa offers a variety of more traditional spa treatments including those that focus on nails, hair and beauty alongside bathing rituals; facial and eye therapies; healing and detoxifying treatments; holistic body wraps; Jacuzzi, sauna and steam room facilities and multiple styles of massage – there is bound to be something to suit everyone's needs. And with prices starting as low as $30USD per person, it is a small price to pay to experience the ultimate in relaxation at the Araamu Spa.