Xi'an is home to the Terracotta Warriors, one of China's most loved icons; but don't be mistaken for thinking that is all the region has to offer! From museums to mountains, temples to street food, Xi'an has something for everyone. We've put together this guide to the Top Things To Do in Xi An plus recommendations for where to stay, what to eat and how to get around along with other essential info to help you get the most from your trip.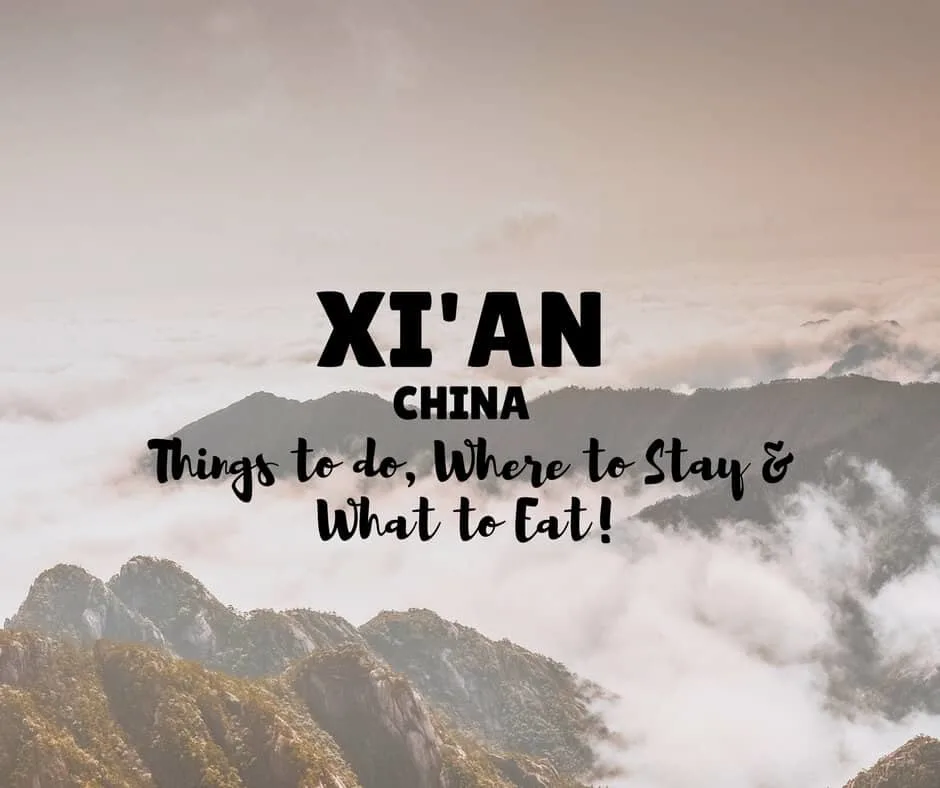 Disclaimer: Almost all posts on this site contain Affiliate links, and this post about the Incredible Things To Do in Xi'an China is no different. This means that if you click on any of the links in this post (and make a purchase) I may receive a small commission at absolutely no cost to you. Each post is carefully crafted to (hopefully!) answer all your questions and recommendations are made where we believe they will improve your trip and help with your planning. As such we thank you in advance should you decide to click & buy. Read my full Disclosure here.
A Guest Post by Claire of Claire's Footsteps
Xi'an is my favourite Chinese city. It is the capital of the Shaanxi province and one of the ancient capitals of China, so it is a very significant city within the country. But for visitors, it is packed full with culture and history and is slightly less busy than the colossal Beijing and Shanghai (but that's not to say it's quiet… this is China after all!). It has a wonderful cultural mix of Islam, Buddhism and Atheism and boasts the most mouth-watering street food. And if you're not so into city life and are just using Xi'an as a base, there's plenty of things to do in the beautiful Shaanxi countryside.
If you only have 48 hours in Xi'an, don't despair! I've put together a list of the ten best things to do in Xi'an, which make the most of all aspects of the city's culture and surrounding nature, while also factoring in some time to enjoy some of Xi'an's best culinary experiences.
Top Things To Do in Xi An
Terracotta Warriors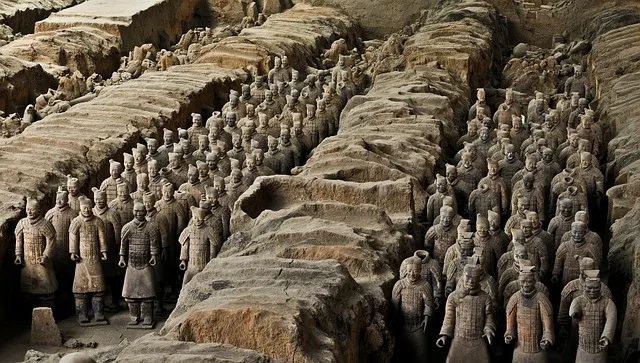 The Terracotta Warriors are one of the iconic 'must-sees' in China, and it's easy to understand why. The lines of ceramic figures, built just with the intention of preserving Qin Shi Huang, the first Emperor of China in his afterlife, are certainly a sight to behold. Learning about the history of the warriors is just as fascinating, and sometimes gruesome – did you know that the workers who built the warriors were killed afterwards, so they didn't reveal the existence of them?!
Take a full day tour with an archeological expert to get the most from this incredible historical site.
.
Muslim Quarter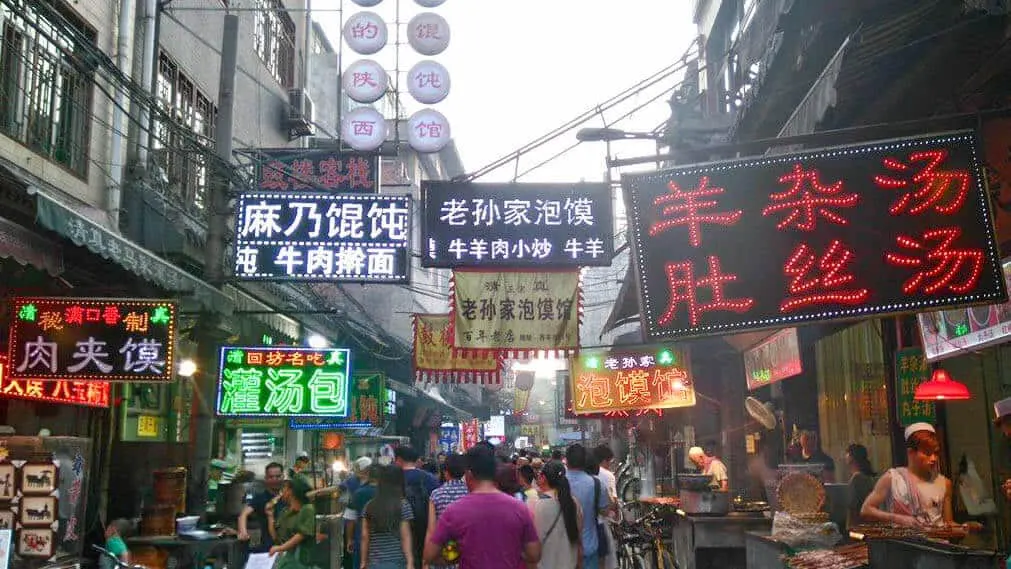 The Muslim Quarter in Xi'an has got to be my most favourite spot in the city! It's the definition of bustling, with flashing signs overhead, tonnes of people weaving in and out of the crowd and cheerful food vendors on every corner. And the street food is incredible – with lots of options for any palate. And once you've had your fill, why not take a Dumpling Masterclass and learn the secrets of those little bites of heaven!
.
Great Mosque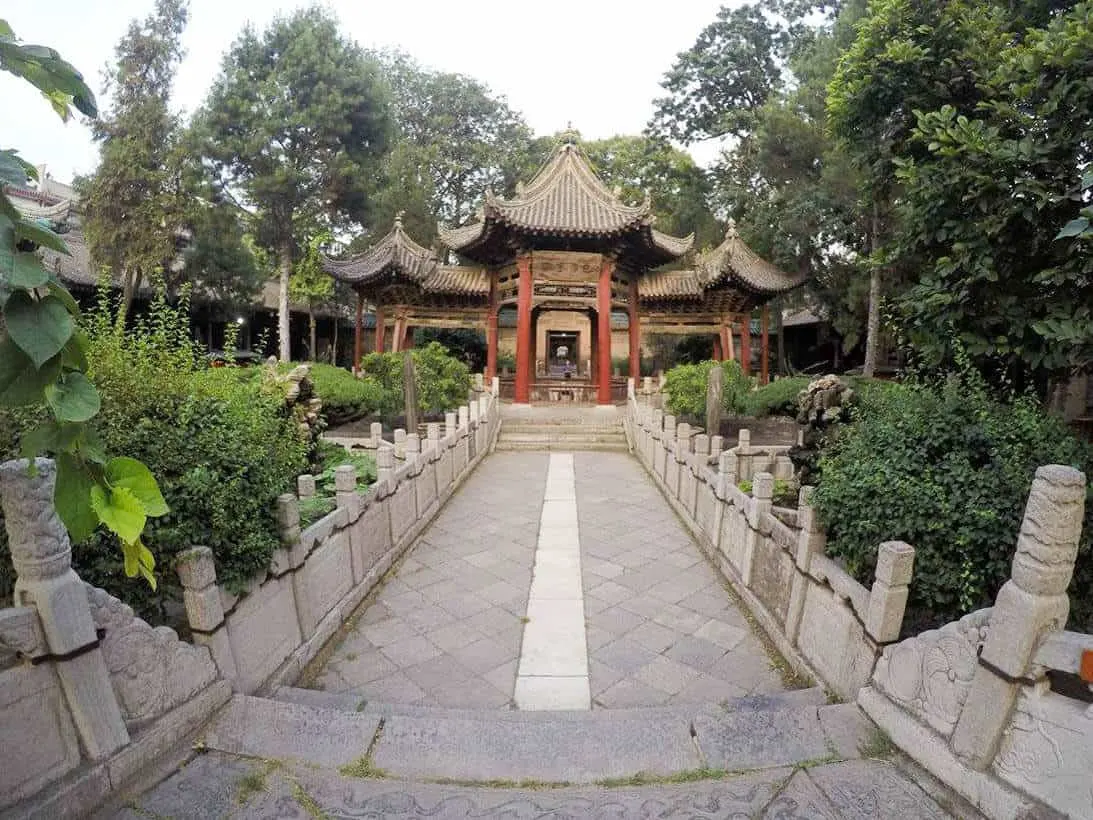 Nestled in the Muslim Quarter, The Great Mosque is a must visit for any tourists interested in Islam in China. The building is a beautiful fusion of Western Mosques and Far-Eastern Temples and for me, this represented the harmonious synthesis of cultures and religions in Xi'an.
.
Giant Wild Goose Pagoda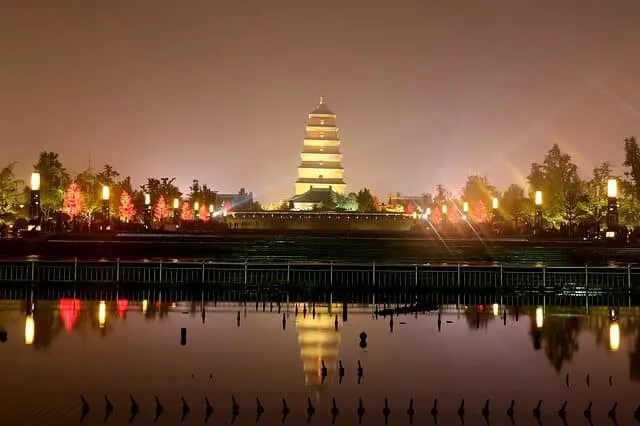 The Giant Wild Goose Pagoda is Xi'an's most established Buddhist temple and is built in the typical architecture form of many East Asian temples: a simple yet striking pagoda. Visitors to the temple can enjoy wandering around its majestic tiers and learning about the history of Buddhism in Xi'an.
.
Mount Huashan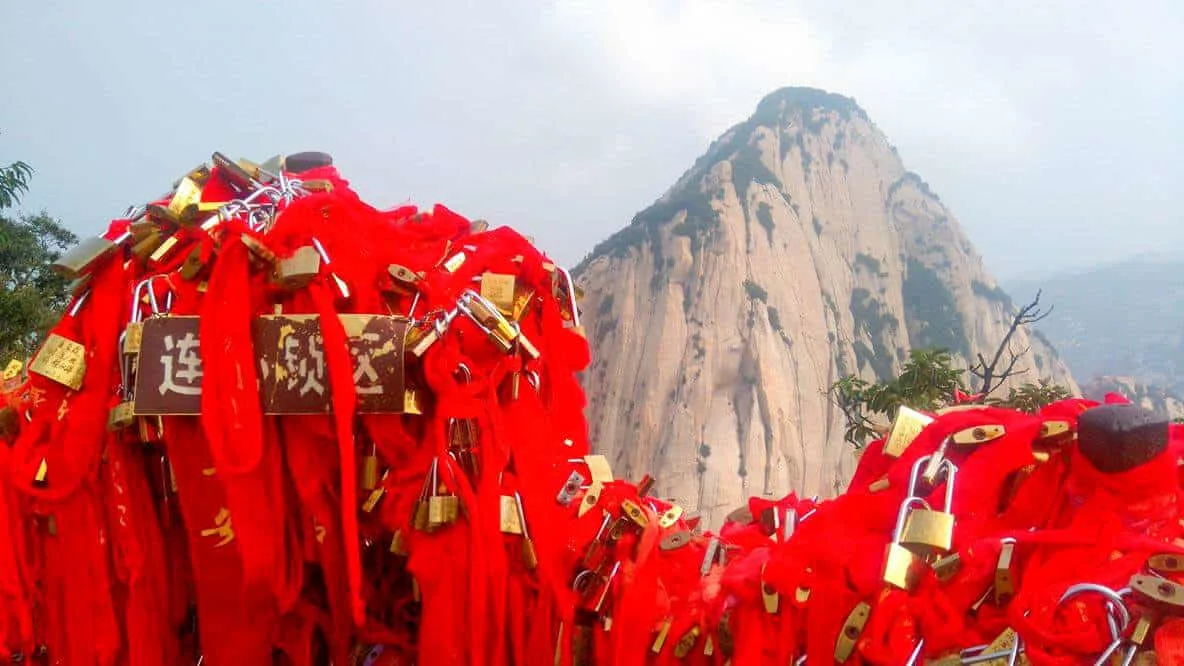 A couple of hours outside the city (which is basically a suburb in Chinese terms!) lays the formidable Mount Huashan. Contrary to popular belief, I don't think that Mount Huashan is as dangerous as it claims to be. It's a beautiful mountain, adorned in red ribbon and locks and with a terrain unlike any I've ever seen. Spend a day exploring this incredible mountain on this Huashan Mountain Adventure Day Tour.
.
Walk the city walls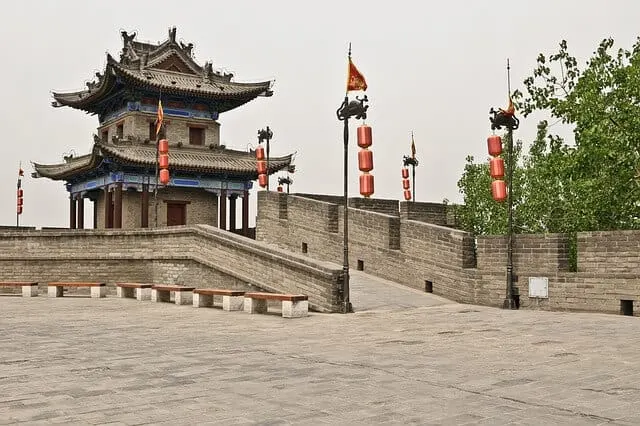 Once upon a time all cities in China were walled. Most of these (including Beijing's) were pulled down in the Cultural Revolution, but those of Xi'an – the oldest of China's four ancient capitals – were left standing. The city walls of Xi'an ooze history and tell fabled stories from the time of their construction in the 14th century until the present day. You can walk the 14kms of the city walls, or just stroll along a section, and learn about its history while enjoying the impressive vistas of the city below.
.
Shaanxi History Museum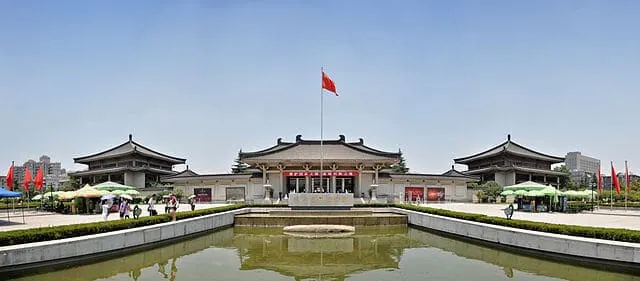 A must-visit for those interested in the region's history! The museum is bursting with information about Xi'an from prehistoric times to 1840 AD. Here you can learn all about the city and province's importance as one of China's ancient capitals. Most of the exhibits are translated into English.
RELATED: READY TO EXPLORE MORE OF SE ASIA, WHY NOT ADD SEOUL (SOUTH KOREA), MANILA (PHILIPPINES) OR OSAKA (JAPAN) TO YOUR TRIP LIST!
.
Han Yangling Museum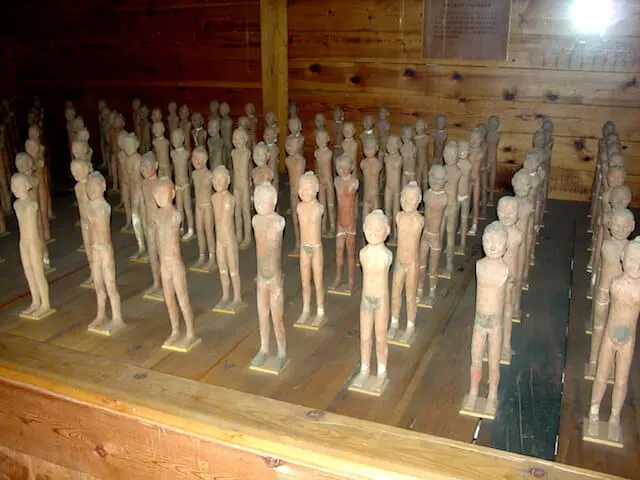 A somewhat spooky yet incredibly interesting attraction, the Han Yangling Museum is the tomb of Liu Qi, a Western Han Dynasty emperor and Empress Wang. It dates back from 153 AD and spreads out over 20 square kilometres. Visitors to the tomb will be awed at the effort that went into its construction, and nowadays it offers some valuable insights to Ancient China.
.
Yuanjia Village
The village is situated just out of the city, and is the site of Emperor Taizong's burial. It's a great place to get a bit of time out from the big city, and boasts some incredible food, amazing architecture and a relaxed atmosphere; perfect for an afternoon's visit!
.
Drum and Bell Tower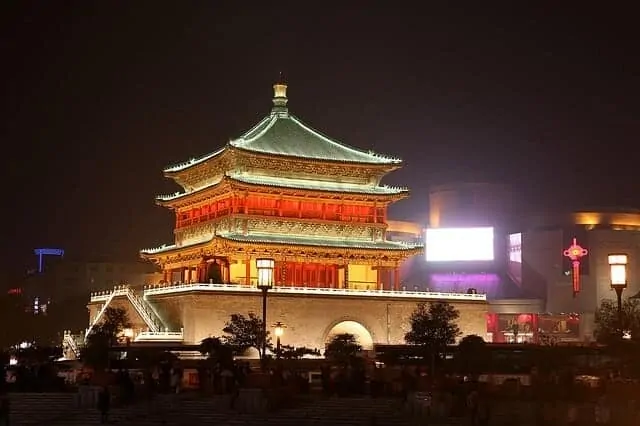 This spot marks the centre of Xi'an and is the largest of its kind in China. From the tower, roads span North, South, East and West, connecting it with the city's four gates. Visit the tower to admire the architecture and integrity that made this attraction the centre of old Xi'an.
.
What to Eat in Xi'an
Once the start of the Silk Road, and an old cultural and political capital of China, Xi'an has one of the most interesting food histories of anywhere in the country, and is heavily influenced by it's Muslim residents.
With a range of snacks, street food and local dishes to try we've put together this guide to the main ones to help you know what you are looking at!
Cold Noodles – liangpi (凉皮)– the most basic way to serve cold noodles is drizzled with a sauce of chili oil, pepper powder, vinegar and diced garlic, topped with bean sprouts and sliced cucumber. Beef, egg, apple and pear can be added as required.

Dumpling in Sour Soup – suantang shuijiao (酸汤水饺) – authentic mutton dumplings steeped in a

sesame seeds, minced leek and cilantro broth.

Pork Sandwiched Between Pita Bread – Roujiamo (肉夹馍) – bacon stuffed in baked pancake
Steamed meat and wheat powder – fenzhengrou (粉蒸肉) –

consists of some fatty meat (pork or beef) marinated in a combination of Sichuanese spicy bean paste, soy sauce, and rice wine, which is then coated in a thick layer of the toasted rice powder.

Pita Bread Soaked in Lamb Soup – paomo (羊肉泡馍) – a hot stew of chopped-up steamed leavened bread, cooked in lamb broth and served with lamb meat, sometimes substituted with beef
Zong Zi with Honey (蜂蜜粽子) – honey combined with sticky rice and often served cold. It's a favorite in summer.
Kabobs (烤串儿) – Food on a stick. Meat or Vegetables covered in spices and grilled over fire.
If you like to really get to the heart of a city through its food, book yourself onto an gourmet walking food tour and spend an evening eating at some of the best spots in town. Or you could combine your dumplings with a history lesson at this Dumpling Banquet and Tang Dynasty Show.
RELATED: If you're a Food lover (like me!), Vietnam has some awesome cuisine. Why not visit the UNESCO heritage city of Hoi An and continue you're foodie journey!
.
Where To Stay in Xi'An

A true luxury property that offers onsite outdoor hot springs in addition to the typical spa facilities.
Each room is beautifully furnished and includes complimentary wifi, tea and coffee making facilities, a refrigerator and slippers.
Book Now | Compare Prices for Later | Read Trip Advisor Reviews
The Shangri-La Hotel is known as one of Xi'an's best. The hotel boasts four restaurants and a spa, with deluxe rooms and unmatchable services. For those wanting a little more luxury during their time in the Chinese city, there is no better option than Shangri-La.
Book Now | Compare Prices for Later | Read Trip Advisor Reviews
A room at the Grand Hotel certainly won't break your budget, and the hotel offers free internet, complimentary wifi and en-suite rooms. It's a great base to begin your exploration of Xi'an.
Book Now | Compare Prices for Later | Read Trip Advisor Reviews
Travelling With Hostel is both accommodation and a travel guide to Xi'an. With friendly and knowledgeable staff, an on-site bar and restaurant, tours and heaps of places to hang out, as well as fully equipped rooms; Travelling With is the ideal spot for backpackers or budget travellers to stay during their time in Xi'an.
Book Now | Compare Prices for Later | Read Trip Advisor Reviews
.
Extra Xi An Adventures

IF YOU HAVE THE LUXURY OF TIME AND CAN'T GET ENOUGH OF XI AN – OR WANT TO EXPLORE MORE OF CHINA, TAKE A LOOK AT THESE GREAT TOURS TO EXPLORE THE SURROUNDING AREA:
Experience one of China's ancient capitals on this private 2-day tour of Luoyang, including high-speed train transport from Xi'an and overnight accommodation in a 4-star hotel. Marvel over the fascinating sculptures, caves and temples of the UNESCO-listed Longmen Grottoes; learn more about the city's history at the Luoyang Museum; and dine on delicious local cuisine.
Take a 5 day self guided overland tour from Xi'an to Zhengzhou. On this Shaolin Experience tour you'll spend 5 nights crossing the country discovering the Terracotta Warriors, Denfeng and go on a private guided half day tour to the Shaolin temple, which embraces many exciting attractions, such as the Hall of Heavenly Kings (Tianwangdian), the Mahavira Hall (Daxiongbaodian), the Pagoda Forest, the Dharma Cave and the Martial Art Training Center, where you will have the opportunity to learn some basic kung-fu from the local monks.
Spend 8 Days traveling from Xi'an to Bejing, hitting all the major highlights along the way. Visit Pingyao and Datong before arriving in Beijing where you will explore the Forbidden City and the Great Wall. Hotels, Transport and Train Fare are all included in the price of this tour.
Uncover the mysterious mask of China by exploring its top 3 destinations, Beijing, Xian and Shanghai which are famous for their history and culture. If you enjoy 72-hours Visa-Free, you can take Xian tours from Beijing by flight or train in one day, or day tours to Xian from Shanghai. You will visit Terracotta Warriors and marvel at its lively sculptures, bike on the old City Wall and explore the Big Wild Goose Pagoda after hiking on the Beijing Great Wall or strolling at Shanghai Bund.
.
Essential Visitor Info
How To Get to Xi An

Xi'an is perfectly positioned in China: three stations make train travel to Xi'an easy and the city has an airport with great connections to other cities. The ancient capital is centrally located, meaning that from Xi'an it is easy to travel onwards in any direction. This makes it the perfect stopover before or after any business elsewhere in China.
The airport is located 41km from the center of Xi'an and the city can be reached by private transfer ($22USD), express bus ($5USD pp) – there are 8 different lines and tickets can be bought at the counters in Terminals 2 & 3. The journey by bus takes between 1-1.5hours.
How to Get Around Xi'An
Taxi is the easiest way to navigate the city, and most hotels will provide a card with their location in Chinese to make sure you can get back to the hotel safety after a day exploring.
Local buses are the cheapest way to get around Xi'an, and have routes covering every corner of the city with express buses to the major attractions. Change is not given on the buses so it is wise to carry smaller denominations to cover each trip.
Xi'an has a small metro system with 3 out of 15 lines currently in operation.
When to Visit Xi'an (Climate + High/Low Seasons)

Xi'an has a temperate and continental monsoon climate, with four distinct seasons. Summer is hot and rainy, while winter it is usually cold and dry. The weather is generally pleasant all year round, but spring (March to May) and autumn (September to November) are the best seasons to visit Xi'an.

Peak season in the province is between June and August (summer) with the low season falls with the temperatures in winter (December – February).
.
So there you have it – hopefully we've given you enough information to plan the perfect trip – and given you a great list of Things To Do in Xi An to make sure you get the most from your visit. Don't forget to let me know you're own highlights once you're back!

Oh, and if you liked this post please tweet, pin and share – I'd really appreciate it! Click the P in the share bar for full size images!
Hi There! Thanks for reading our Incredible Things To Do in Xi An + Where Stay & What to Eat I just wanted to let you know that this post contains affiliate links, which help support this site at absolutely no cost to you. If you enjoyed this article and are going to be searching for some of the things I mention anyway, I would love it if you could click through from the links above. These links help me keep this site online and updated – so thank you in advance! Read my full Disclosure here.