The UNESCO Heritage Town of Hoi An is a must-visit on any Vietnam Itinerary. Its quiet streets are a welcome reprieve from the chaos of the big cities, it is known throughout SE Asia as the spot to get clothes made.
You can visit a tailor in the morning and collect your new made-to-measure threads within a few days.
And if you're wondering what to do in Hoi An whilst your waiting, never fear: From enjoying the food scene to touring the rice paddies or relaxing at the beach, there are so many great Things To Do in Hoi An – you're bound to find something for everyone!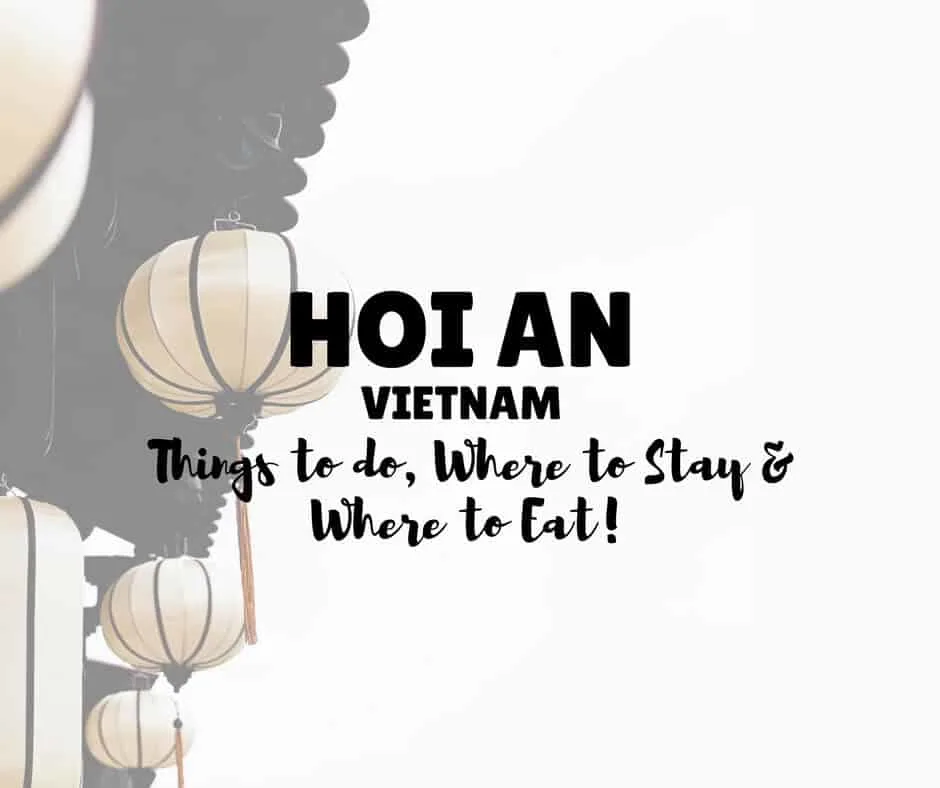 Disclaimer: Almost all posts on this site contain Affiliate links, and this post about Top Things To Do in Hoi An Vietnam + Where to Stay & What to Eat is no different. This means that if you click on any of the links in this post (and make a purchase) I may receive a small commission at absolutely no cost to you. Each post is carefully crafted to (hopefully!) answer all your questions and recommendations are made where we believe they will improve your trip and help with your planning. As such we thank you in advance should you decide to click & buy. Read my full Disclosure here.
A Guest Post by Emma from HoiAnNow.com
The ancient town of Hoi An in central Vietnam is the place that paintings are made of. And in fact, they are – scores of people come from all over the country to pose for wedding portraits or dreamy nightscapes within the butter-yellow walls of the Old Town.
Classical music wafts from speakers and the smell of coriander from local dishes like cao lau and banh xeo floats around each lantern-lit corner. Boats bob along the ribbon of the Thu Bon River, to the murmur of elderly locals watching from a coffee stall nearby.
It'd be easy to spend your whole time in Hoi An lost in the reverie of this scene. But there's so much to do – and I'm here to bring you ten of the top things to do in Hoi An.
Top Things To Do in Hoi An
Explore the Old Town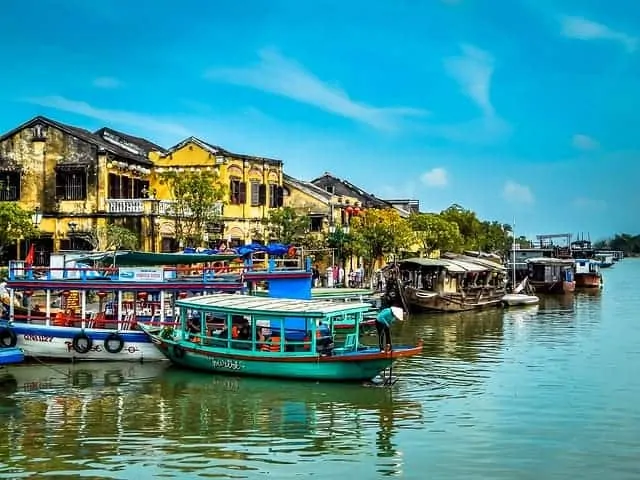 An obvious one really but definitely a necessity. The pretty ancient houses that line the streets are photogenic enough; add to them a swarm of die-hard selfie-takers, a long line of rickshaw drivers and a variety of basket-balancing older women and you've got photographic gold. And don't miss the Japanese covered bridge – it's one of the most photographed bridges in Asia!
The houses themselves host an array of coffee houses (coffee culture is huge in Vietnam and Hoi An is no exception), from trendy hipster joints to creaky old works of art.
There's a range of silversmiths, designer boutiques and specialty tea shops plus more art galleries and tailors than you can shake a stick at.
When you first arrive, orientate yourself with the Old Town by strolling around on a self-guided walking tour, exploring by bicycle or commuting in style with a rickshaw tour.
Recommended:
Shop: The Ô Collective, 85 Nguyen Thai Hoc
Coffee: Faifo Coffee, 130 Tran Phu
Lunch: Morning Glory, 106 Nguyen Thai Hoc
.
Get a new wardrobe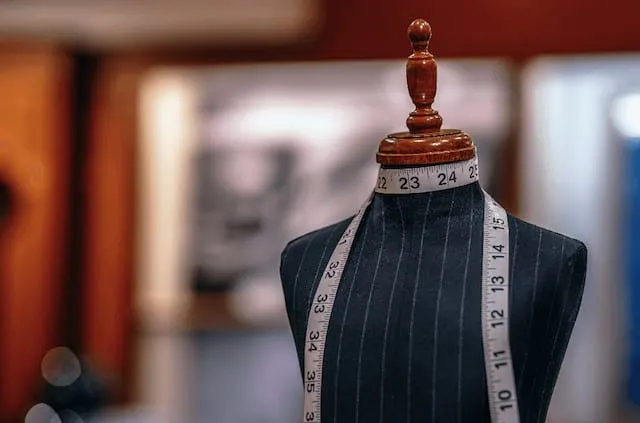 Hoi An is a hotbed of tailors and the ideal place for you to get some new travel clothes or occasion outfits for back home.
Choose from more upmarket options, where you can get anything from suits to wedding outfits, or a more budget-friendly option that can do a turnaround within a matter of hours.
Recommended:
High-end: Kimmy Tailor, 70 Tran Hung Dao, Hoi An; 39A Nguyen Phuc Chu, An Hoi
Mid-range: Hoang Kim Tailor Hoi An, 57 Nguyen Thai Hoc
Budget: Thuy Ngoc Cloth Shop, 328 Cua Dai
.
Become a master chef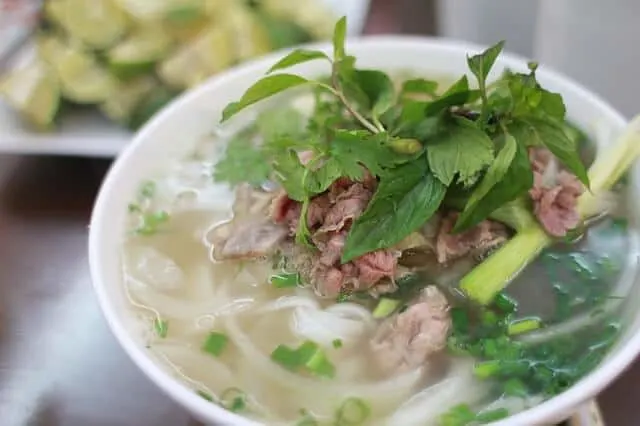 As the food capital of Vietnam, Hoi An is the place to go for cooking classes. You can do day-long ones that include a local market tour, a rice paddy cycle or boat trip and a hands-on class with a few extras like rice-paper making and water-buffalo riding thrown in.
Or if you're stuck for time, plenty of places offer a 1–2-hour evening class, after which you can feast on your own creations over a well-earned drink.
.
Tour the rice fields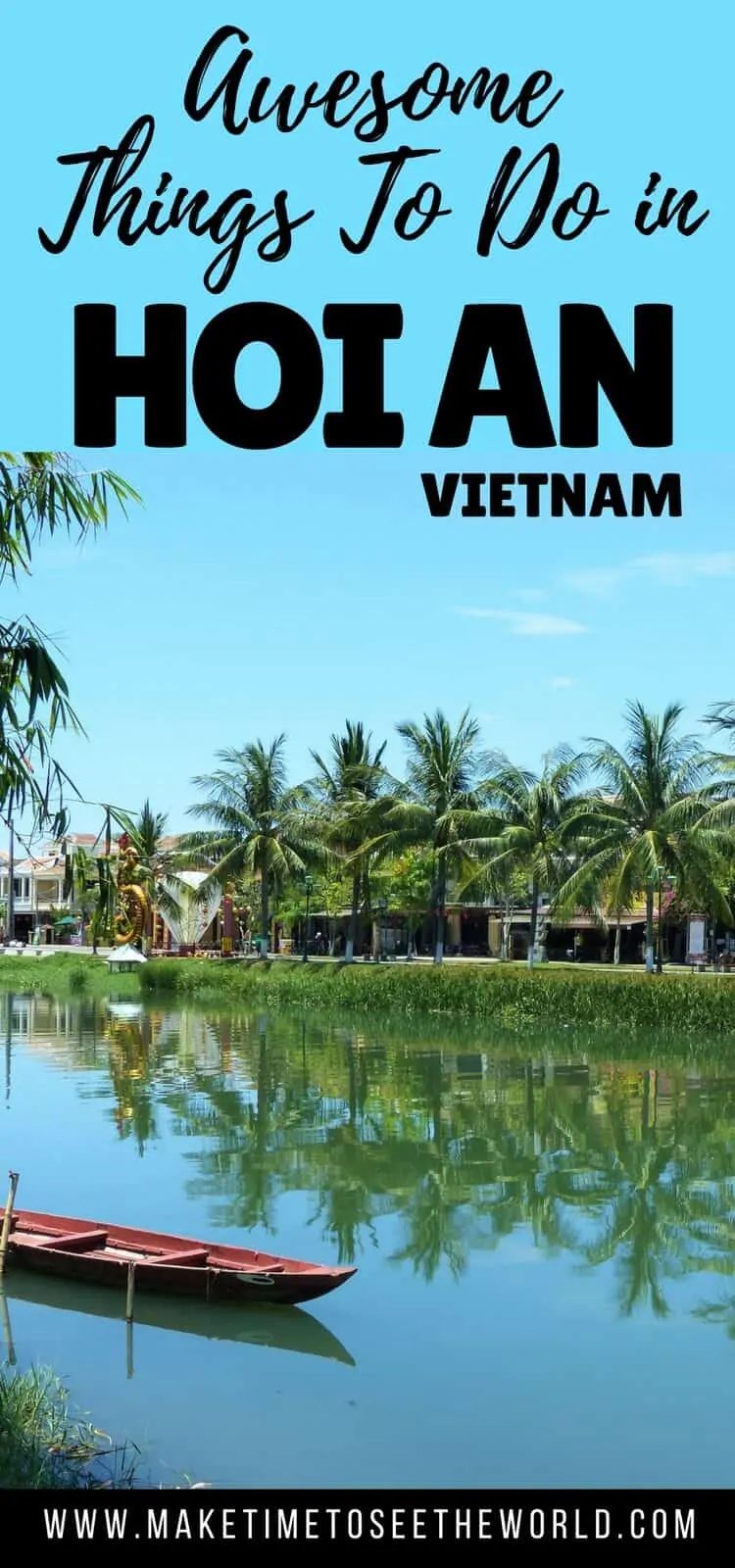 One of the best ways to explore Hoi An's beautiful surroundings – the vegetable gardens of Tra Que, the ancient sites and shipbuilding yards at Cam Kim and the friendly villages all around – is simply to get lost. Grab a bicycle, take some water and cycle aimlessly through fields of brilliant green, watching the conical hats of local farmers bobbing as they collect their harvest.
If DIY isn't your thing, there are some great bike tours that you can avail of and leave finding a route back home up to someone else. The rice paddies are one the best things to see in Hoi An – whichever way you to do it.
Recommended:
Cycling through the community garden on Cam Kim
Sunset dinner @ The Field Restaurant & Bar, Cam Thanh
.
Hit the beach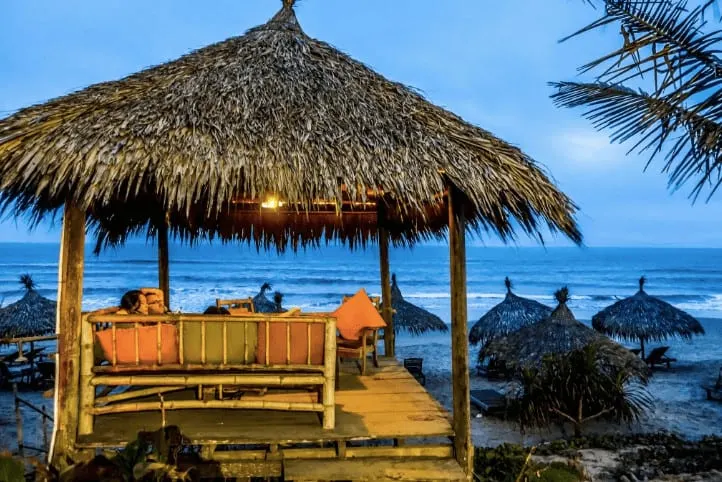 When you're all shopped and toured out of it, maybe you're ready for a lazy afternoon at one of the Hoi An beaches. Cua Dai Beach is closest but unfortunately, erosion over the past few years has rendered it less of a desirable choice (unless you venture to the man-made option at the very luxurious Sunrise Resort).
Better options await at the slightly further, but very beautiful, An Bang (Bang Beach) and Hidden Beach. Both have options for food, drinks, and massage…what more could you want?!
Recommended:
.
Get crafty
For a morning of culture and a great souvenir to take home, I'd highly recommend a visit to Taboo Bamboo.
Owner Tan has created a bamboo wonderland, including a 2-story house and even an electric car! Sign up for a workshop and while away a few hours on a unique present, under his careful supervision and over lots of cups of tea.
Back in town, there's the Timing Masks workshop, where you can paint your own traditional Vietnamese theatre mask. Hours of messy fun!
.
Visit Cham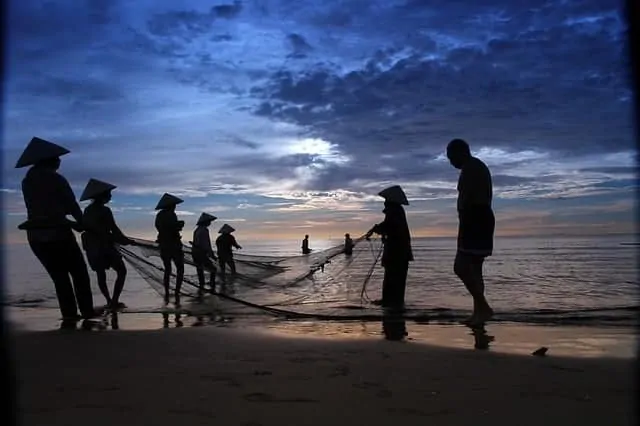 If you have a little longer to spend in Hoi An, and fancy something a bit different, take an early public boat to Cham Island. There, you can explore the pretty markets and pagodas, hang out with local fishermen and sample amazing Vietnamese dishes with the welcoming family of a homestay.
They can arrange snorkeling trips for you too; the coral reef around Cham Island is beautifully pristine so it's something you don't want to miss.
If you prefer to just do a day trip, a range of diving operators can take you out for a snorkeling or diving tour including a big BBQ lunch on the beach. Yum. (Its one of the best Hoi An Tourist Attractions so really make an effort to have enough time to see it!)
.
Take a street food tour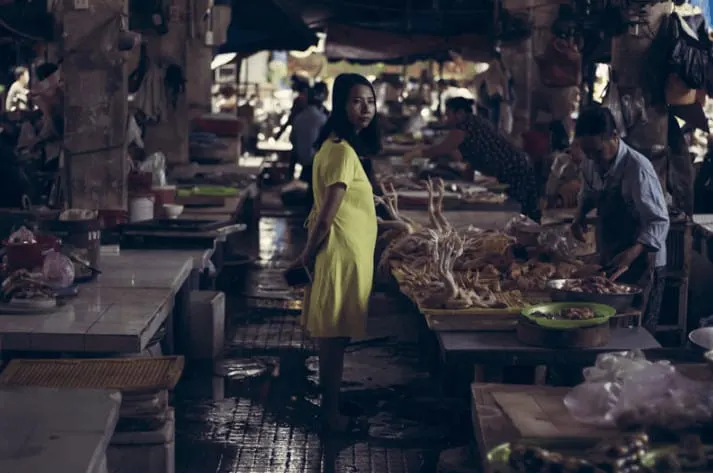 Hoi An is famous for local specialties like white rose dumplings and chicken rice but what of the lesser-known treats that populate this city? One tasty and adventurous way to find out is with a Street Food Tour, a gastronomic journey through the Old Town and beyond.
Come hungry. (Street food is also perfect for budget travel – if you are looking to save a buck here and there!)
.
Check out the Nipa Palms
The mystical Nipa (coconut) Palms that emerge from the Thu Bon River have the ability to transport you back hundreds of years.
Take a kayak or paddleboard and explore the peaceful channels through the dense foliage, in gloomy waterways that are uplifted now and then by piercing shafts of light.
It's a real way to find the joys of nature a few kilometres from the city…and it'll help you to work off all that food you've been sampling, too. ;)
.
Hit the markets
Shopping-wise, places like Ba Le and Tiger Market are best for fresh food and veg, plus you'll get a real sense of local life there.
For souvenirs, you can spend a really enjoyable evening at the night market on An Hoi, followed by a well-deserved cocktail at Mango Mango after. With 2-for-1 at happy hour, it'd be rude not to… the markets are places to go to Hoi An.
.
What to do in Hoi An? Check out the Food Scene in Hoi An

Where To Eat in Hoi An
If you are wondering where to eat in Hoi An there are some amazing restaurants and cafes that you can eat at – but if you're looking for the authentic Vietnamese experience, The Central Market's where it's at. For just 20,000vnd you can eat like a very happy king and choose from the tastiest cao lao, mi quang and banh xeo around. (see below for what these dishes are!). t's a fun atmosphere too, with all the market mamas clamouring for your custom – so take your pick, have a beer and enjoy the chaos.

Morning Glory – a Hoi An institution run by the wonderful Ms Vy. A woman whose passion for food and local ingredients has ensured her popularity in the town for years. She now owns 4 restaurants in Hoi An and operates a cooking school in the same building as Morning Glory, her flagship restaurant.

Banh Mi Phuong – after having its praises sung by Anthony Bourdain almost a century ago, this sandwich shop has a queue outside morning-to-night. A Hoi An institution that you should definitely give a try whilst in the city – and at 20,000VND, its popularity has not inflated its prices!
Madam Khan – another spot specializing in the traditional Banh Mi. There's no menu here and no need for one. Her single offering — banh mi stuffed with barbecued pork, pate, sausage, fried egg, pickles, papaya, carrots, parsley, chili sauce, soy sauce, and her own secret sauce — is widely considered the best in the country.
Marketplace – Again owned by Ms Vy and located across the river opposite Morning Glory, her signature dish of squid stuffed with pork mince along with other local specialties are on offer.
Mango Mango – A colourful eatery offering contemporary Vietnamese delicacies and a wide range of signature cocktails.
What To Eat In Hoi An
Cao lao

– A Hoi An Specialty, Fat, chewy, yellowed noodles are served with slices of fatty pork, beans sprouts, raw greens, crunchy bits of rice crackers and a dark, rich pork broth

Mi quang –

Another Hoi An Specialty

–

thick-cut, broad, rice noodle that somehow manages to be soft, slippery and chewy at the same time. It's served with a small amount of very rich broth and is usually topped with roasted pork, fresh lettuce, herbs and crunchy rice crackers. The wow factor comes in the form of a few boiled quail eggs, peanuts and small fried river shrimp, meant to be eaten with the shell on. Put this at the top of the what to eat in Hoi An list!


Banh vac –

also known as white rose dumplings is a steamed rice flour dumpling with a centre of ground shrimp meat and its delicate folds do make it resemble a flower.

Banh xeo – A crispy savory fried pancake made of rice flour, water, turmeric powder, stuffed with slivers of fatty pork, shrimp, diced green onion, and bean sprouts.
Com ga – Hoi An's version of chicken rice has exploded in popularity recently. The rice is cooked in flavourful chicken stock and served with shredded chicken (which has been boiled whole), herbs, thin slices of onion and a bowl of broth. Add lime and chili to your taste and you're all set with a hearty comfort food meal.

Banh Mi –

A fusion of French and Vietnamese, this baguette filled with a selection of mayonnaise, pate, cold cuts, barbecue pork, cilantro, herbs, pickled veg, chili sauce is a staple throughout Vietnam.
.
Where To Stay in Hoi An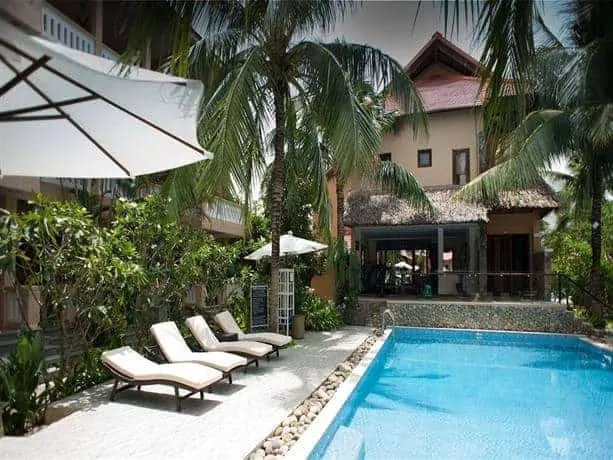 Vinh Hung Riverside Resort (4*) – Luxury Stay ($75+ per night)
Strategically located in the heart of the city, and one of the best Hoi An hotels, this 4-star resort makes for an excellent base in Hoi An.
It has complimentary wireless internet, a bar and is close to Vinh Hung Riverside Resort Spa which offers a range of amenities, including a Turkish steam bath, a sauna, and a Jacuzzi.
Book Now | Compare Prices for Later | Read Trip Advisor Reviews
Atlas Hotel (4*) – Mid-Range Stay ($40-$60 per night)
Conveniently located in the middle of the city, this 4-star boutique hotel makes for an ideal base in Hoi An. The hotel has a variety of facilities including a swimming pool, a hair salon, coffee bar and a day spa.
Book Now | Compare Prices for Later | Read Trip Advisor Reviews
Orchid Garden Villas (2*) – Budget Stay (<$50 per night)
Situated in Hoi An City Centre, it is within walking distance of several local attractions.
Book Now | Compare Prices for Later | Read Trip Advisor Reviews
Ngo Homestay Hoi An – Homestay (<$20 per night)
Ngo Homestay Hoi An is conveniently located in the city center and is close to local attractions, including the Museum of Trade Ceramics. The comfortable rooms include a flat-screen TV, a mini bar and private bathroom. It's the best hostel in Hoi An – book early.
Book Now | Compare Prices for Later | Read Trip Advisor Reviews
.
Things to do in Hoi An – Extra Hoi An Adventures

IF YOU HAVE THE LUXURY OF TIME AND CAN'T GET ENOUGH OF HOI AN, TAKE A LOOK AT THESE DAY TRIPS FROM HOI AN TO EXPLORE THE SURROUNDING AREA:
Explore the UNESCO Heritage site of My Son & Marble Mountain on this day trip. Examine the wealth of abandoned towers left behind by the ancient Champa civilization, enjoy an included lunch in Hoi An before continuing to Ngu Hanh Son (the Marble Mountains) to take in the area's natural caves, beautiful pagodas and mountaintop views.
Ride around the Hoi An Countryside on a Bicycle (afternoon) or Scooter (morning or afternoon) Tour. Offering tasty food stops, a river cruise, or sunset BBQ – click the links to find out which tour is best for you.
And if you're planning to explore more of Vietnam we recommend putting Ha long Bay, Ho Chi Minh City (Saigon), Nah Trang and Da Nang on your list!
.
Hoi An Travel Tips

How To Get To Hoi An

Train , Plane or Automobile! Vietnam has good transport links throughout the country. Visitors can fly into Danang airport and then take a 45-minute taxi/private airport transfer (approx $25USD) into Hoi An; or arrive via train from major cities all over the country.
Vietnam's air-conditioned trains are safe, comfortable & inexpensive, the ideal way for independent travellers to get around and see Vietnam at ground level. There are a variety of different 'class' tickets available (much ore than the usual 1st and 2nd class options!) The Guy in Seat61 has a fantastic summary of travel by train, and it was what we used to plan our train trip through Vietnam (Hanoi -> Hue -> Ho An -> Nah Trang -> Saigon/Ho Chi Minh)
How To Get Around
Hoi An is easily one of the easiest towns to navigate. It is much smaller and quieter than it's bigger counterparts and the center of the town is closed off to vehicular traffic for several hours a day.
Visitors can leisurely wander the streets of this beautiful UNESCO Heritage Town without the fear of being taking out the by the motorcycles that are ever-present in Vietnam, or if wanting to explore the wider area, push bikes are available to rent at most hotels (approx 30,000VND per day)
A cyclo is also another great way to take a tour of Hoi An. Each seat 2 people and cost around 25,000VND per kilometer, but we recommend agreeing on a price and route before hopping in. Most drivers are happy to share their knowledge of the town and its landmarks whilst giving you a tour.
Motorbike rentals/taxis and regular taxis are available outside the old town if you are wanting to explore further afield. Motorbike rentals start at around 100,000VND per day and should include a helmet.
When to Visit (Climate)

Hoi An's dry season is between February and July w

here the city sees lots of sunshine, lower humidity, and the least rainfall. The general consensus is that the best time to visit Hoi An is between February and April when average temperatures are 23-28ºC – rather than the 29-31ºC often experienced in May – July.

The rainy season in Vietnam falls between September and January where It can rain constantly and there is a high probability of flood and typhoons. Contrarily this is considered the high season in Hoi An, with the quietest months being June and July.
.
So there you have it – hopefully this Hoi An travel guide has given you lots of info about this UNESCO World Heritage town and lots of travel tips to help plan your trip – and given you a great list of things to do in Hoi An once you get there! Don't forget to let me know you're own highlights once you're back – and if I have any suggestions of things we've missed, feel free to let us know in the comments below.

Oh, and if you liked this post please tweet, pin and share – I'd really appreciate it! Click the P in the share bar for full size (+ 2 hidden) images!
READY TO EXPLORE MORE OF ASIA? YOU MIGHT BE INTERESTED IN THESE ARTICLES
Hi There! Thanks for reading our guide to Where to Stay, What to Eat and The Top Things To Do in Hoi An Vietnam. I just wanted to let you know that this post contains affiliate links, which means if you purchase something after clicking a link, I may get a small commission – which is at absolutely no cost to you. If you enjoyed this article and are going to be searching for some of the things I mention anyway, I would love it if you could click through from the links above & thank you in advance! Read my full Disclosure here.