Osaka might sound like it plays second fiddle to Tokyo when you're considering where to visit in Japan but dig a little bit and you'll know how amazing it is. Not only does Osaka have endless tourist attractions of its own, but the cities of Nara, Kyoto and Kobe are all within an hour or less. If you've been wondering what to do in Osaka, this is the post for you. We've put together this Osaka travel guide to help you plan the perfect visit. With recommendations for where to stay, what to eat and the top things to do in Osaka – plus awesome day trip suggestions – we'll help you get the most from your visit to Japan's incredible 'Second City'.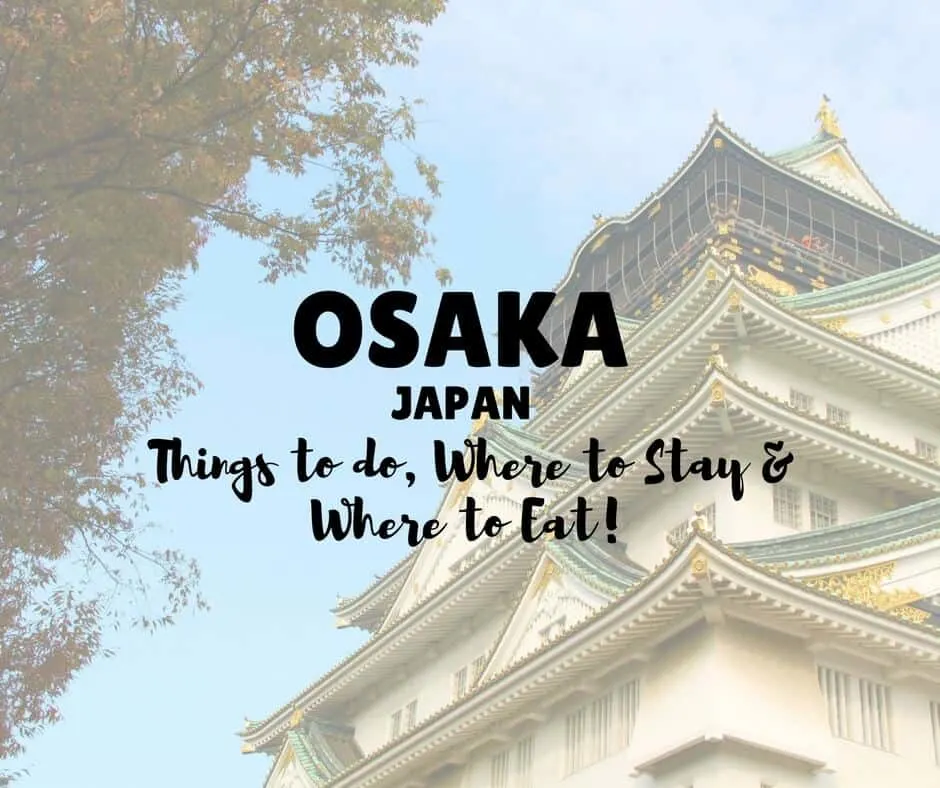 Disclaimer: Almost all posts on this site contain Affiliate links, and this post about Top Things To Do in Osaka Japan + Where to Stay & What to Eat is no different. This means that if you click on any of the links in this post (and make a purchase) I may receive a small commission at absolutely no cost to you. Each post is carefully crafted to (hopefully!) answer all your questions and recommendations are made where we believe they will improve your trip and help with your planning. As such we thank you in advance should you decide to click & buy. Read my full Disclosure here.
A Guest Post by Amanda Kendle from Not A Ballerina
Things To Do in Osaka
Dotonbori and the Glico Man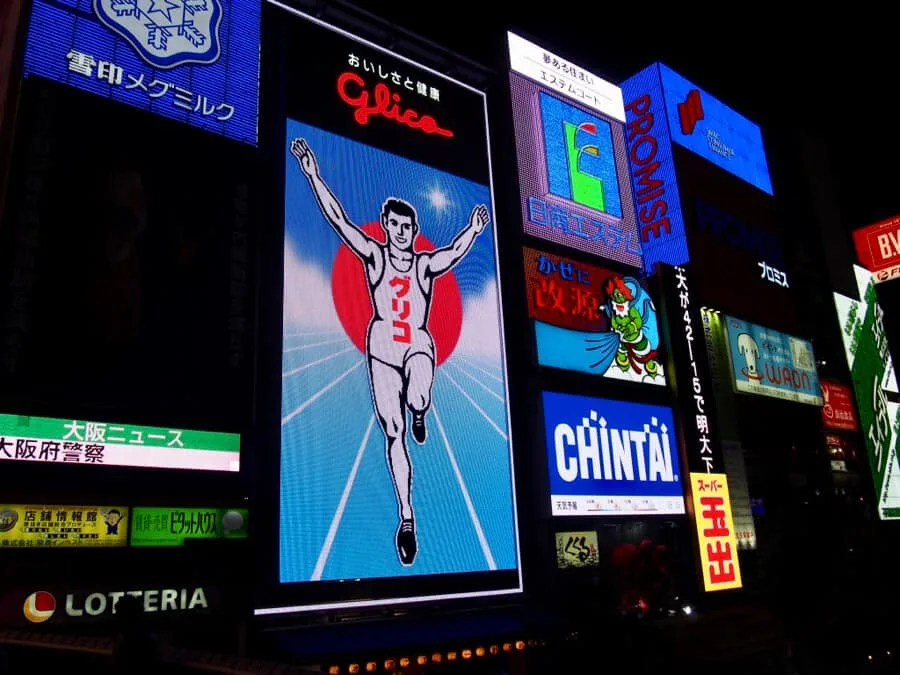 The Dotonbori Bridge in the center of Osaka is a sight you'll often see on photos of the city, especially at night when the famous neon advertising really sets things off. The famous Glico Man ad has been there since 1935, though he's had a few updates, most notably that he's modernised to be made from LEDs instead of neon these days. The atmosphere around Dotonbori is always good and the area is close to many tasty restaurants.
.
Osaka Castle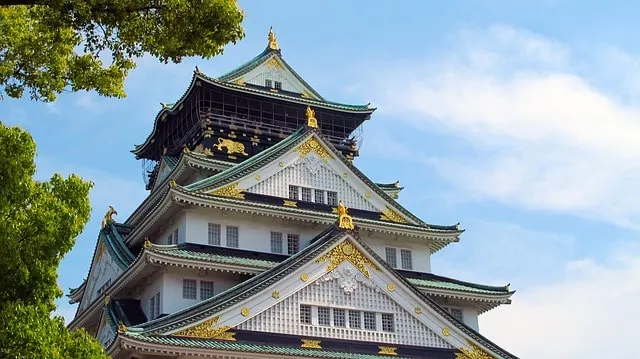 Another super-famous site of Japan's second largest city is Osaka Castle. The current incarnation is a rebuilt version and houses a historical museum and access to viewing platforms at the top; it's surrounded by Osaka Castle Park, a large green area with lots of activity happening throughout the year. The view from the top is one of the 5 Things I Love About Osaka.

.
Umeda Sky Building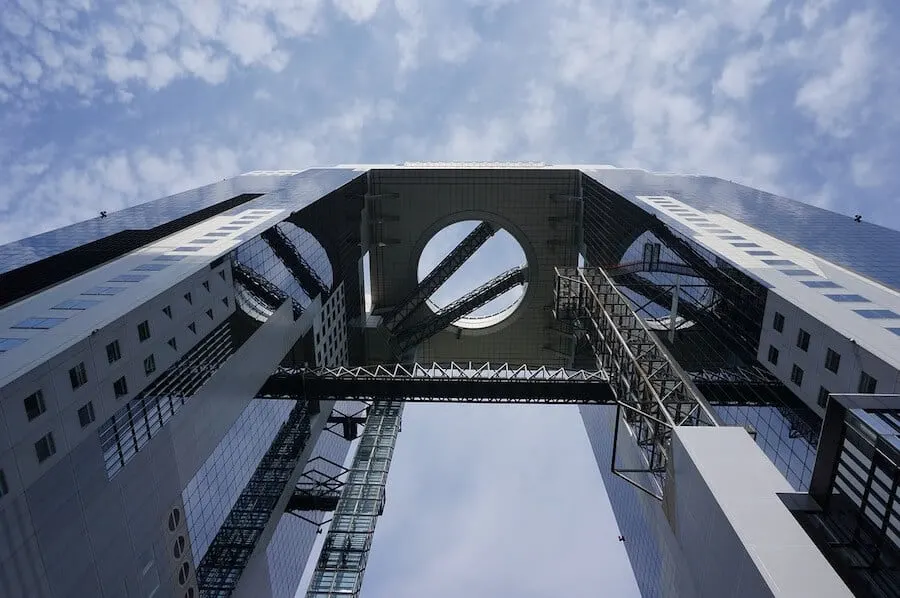 With nearly nine million people living in Osaka prefecture, you need to get up really high to understand just how big it is. The Umeda Sky Building was completed in 1993 and includes two towers which connect at the top with elevators and then a garden. The elevators are a little creepy if you're not good with heights but the views are worth it!
RELATED: Ready to explore more of Asia? Make Seoul, South Korea your next stop!
.
Aqualiner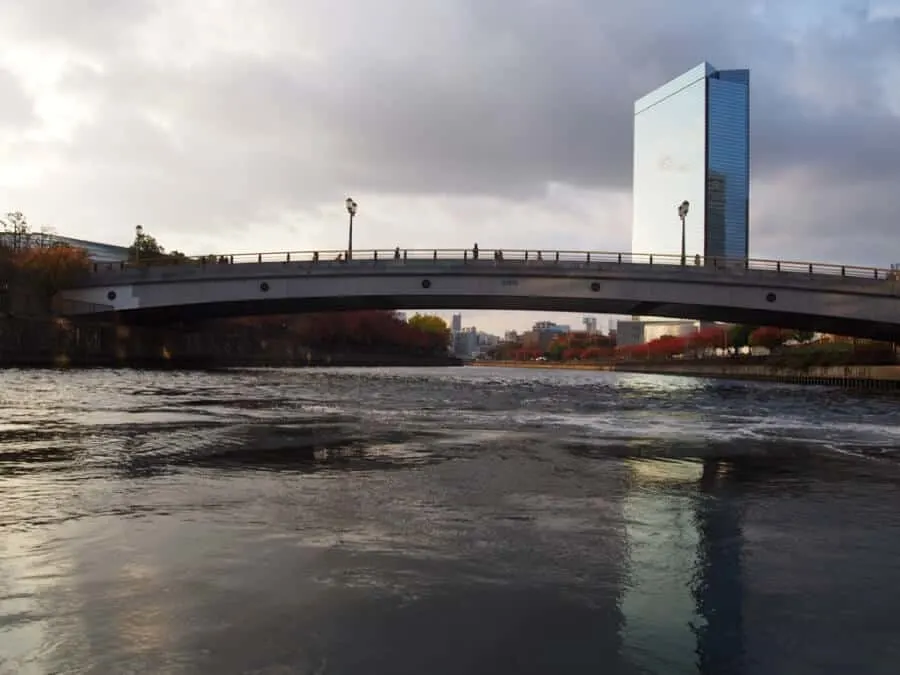 I found it really interesting to see Osaka from a different view: from a boat meandering along the river next to Osaka Castle Park and towards the city center. The Aqualiner cruises for about an hour and the views are especially good during cherry blossom season or autumn when the leaves are changing.
.
Universal Studios Japan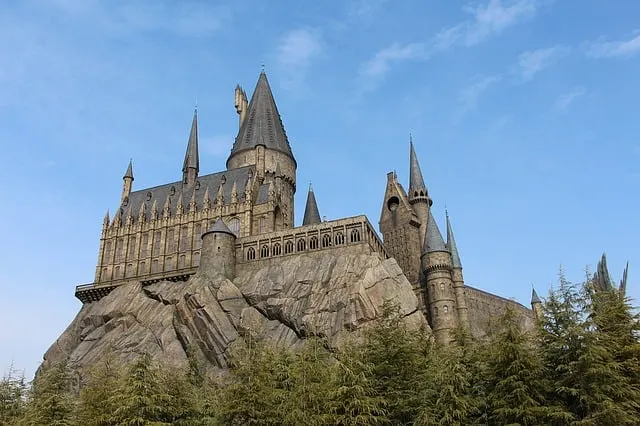 Universal Studios opened in Osaka over fifteen years ago and is a wonderful place to experience the magic of movies. Their Harry Potter section is unique amongst other venues with an extra-long and rather magical forest entry.
RELATED –
Want to get off the beaten path in Japan? Consider the
6 prefectures of Tohoku
– they are absolutely gorgeous! (and there are hardly any tourists!)
.
Kaiyukan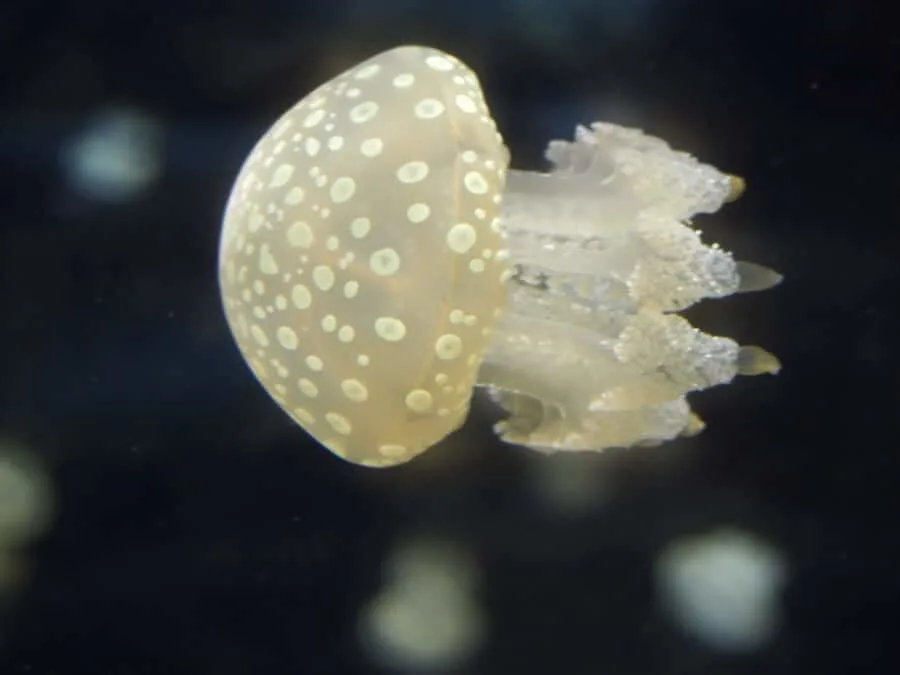 On the harbor at Tempozan, the Kaiyukan Aquarium is a really well-designed aquarium – after several escalator rides, you start in an above-water habitat at the top (hello sea otters!) and then spiral down through the building seeing all kinds of sea creatures along the way.
You can combine a trip to the aquarium with a harbor cruise and see Osaka from above and below the water.
.
Tsutenkaku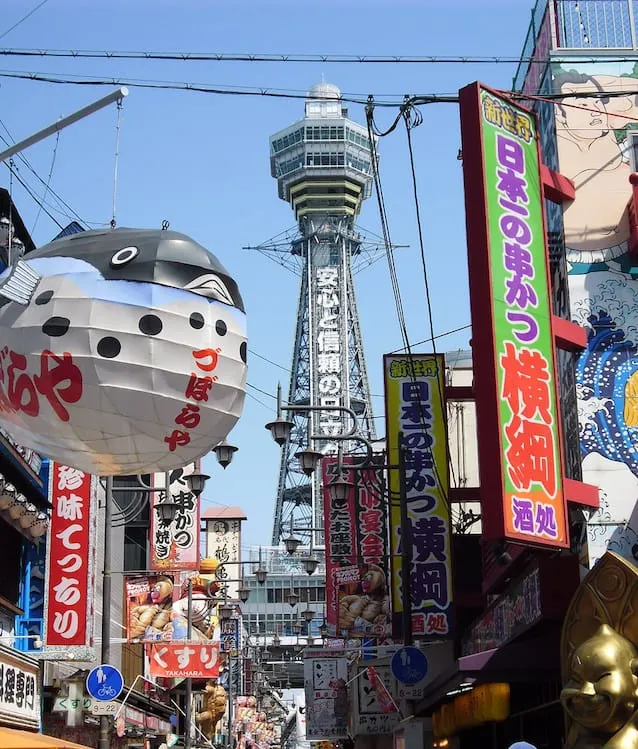 The tower at Tsutenkaku is over a hundred years old now, and is Osaka's answer to the Eiffel Tower. It's also found in a fabulously colourful part of Osaka and even if you don't go up the tower it's a great place to wander around and to eat, too. Taking a Walking Tour is a really great way to get to the heart of this part of the city.

.
Abeno Harukas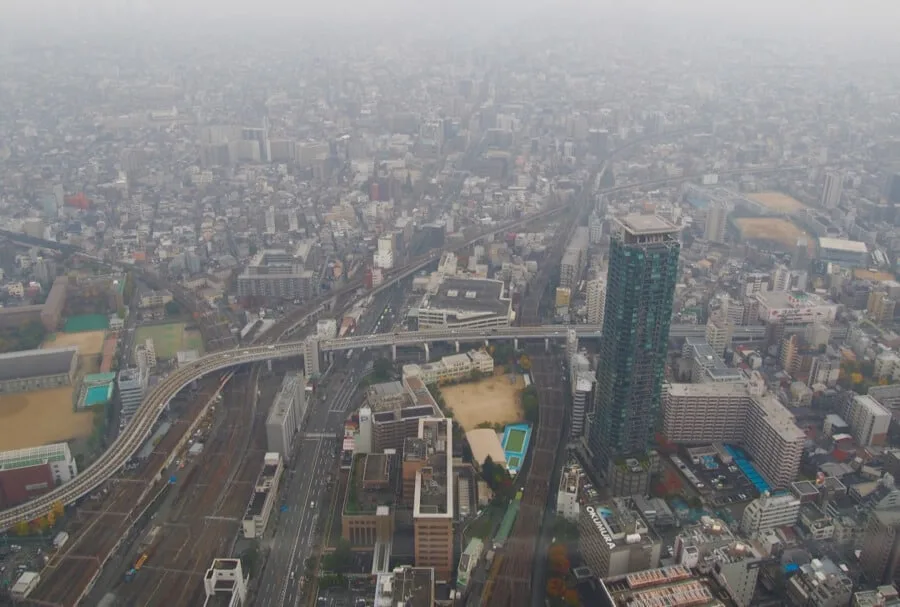 Speaking of views, the newest tower around is the Abeno Harukas 300 building, which reaches 300m in height. The top includes several levels of viewing and a restaurant and like all good Japanese sights it has its own mascot, the Abeno bear, who is a blue bear decorated with white clouds!
.
Shopping in Shinsaibashi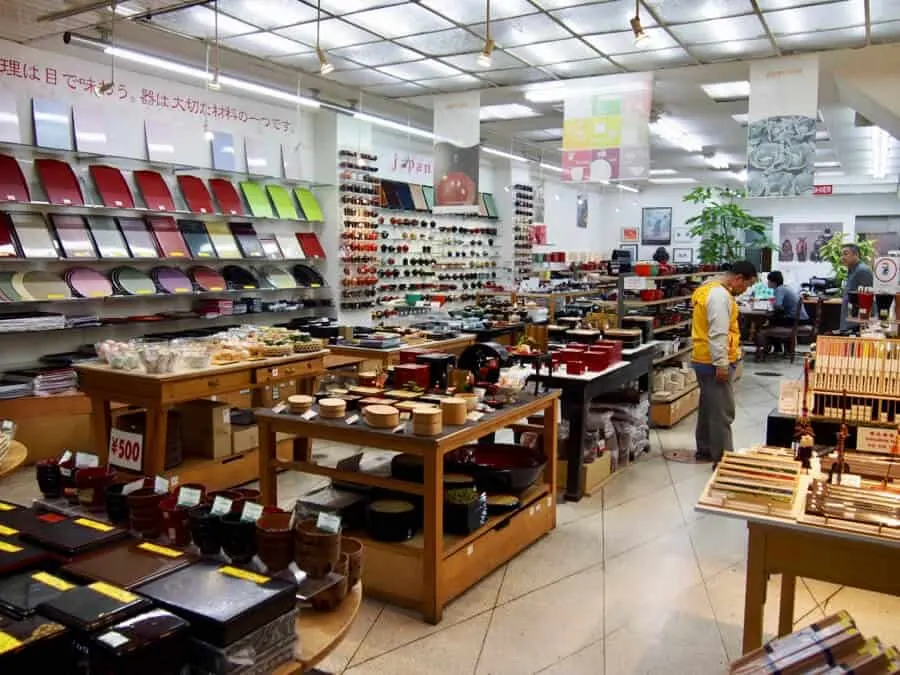 Make no mistake, shopping at all levels from luxury to bargain is a whole lot of fun in Japan. Even the 100-yen shops carry a huge range of goods and the cheap price doesn't always mean the quality is terrible. The Shinsaibashi area has covered pedestrian malls stretching in several directions and some aimless wandering through here will be time well spent (and maybe some yen well spent too!)
.
Sakuya Konohana Kan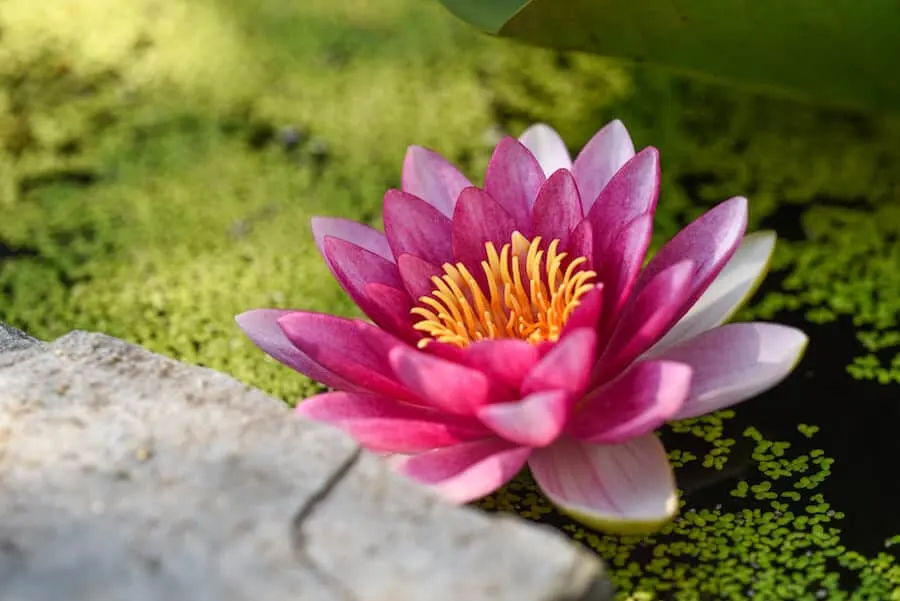 Japanese gardens are all fantastic but Sakuya Konohana Kan is a little special – it's a botanical garden with over 2,500 plant species, including some particularly rare ones, housed inside an enormous greenhouse, originally built for the Expo held in Osaka in 1990.
.
What to Eat in Osaka
Food is practically a religion in Osaka (much like the rest of Japan!) From Sushi and Sashimi to Yakiniku & Horumon (Japanese BBQ) and Ramen & Udon – you can find just about any Japanese dish that you have ever heard of!
Small cafe's and street vendors offer the most authentic experience, and here's a guide to (just a few) local dishes to help you know what you are looking at!
Makizushi – sushi rolled into long cylinders (aka the sushi roll)

Miso Soup – a staple in Japan and often served with vegetables, tofu, seafood or meat

Yakitori

– literally translated as 'grilled chicken', Yakatori often refers to all items (vegatable/tofu/meat/seafood) grilled on a stick.
Tempura –

deep fried fish and vegetables in a light batter

Edamame – young soy beans cooked in salty water (and best when smothered in wasabi!)
Noodles – Udon, Soba, Ramen – whatever your noodle preference, Osaka has you covered
Mochi – a sticky rice pounded into a paste

Okonomiyaki

– a savory pancake often utilized to use up left-overs (Takoyaki are ball shaped versions with octopus in the middle)
Sashimi – raw, sliced fish
Oden – a hot pot that is ordered by item and is a street food favorite.
Natto – fermented soy bean
Onigiri – rice designed to be eaten by hand (like a sandwich!)
Yakiniku – Japanese BBQ
Sukiyaki –

a Japanese stew that's typically cooked in a hotpot on your table as you dine. It consists of thin-sliced beef, vegetables and tofu in a fairly thick broth of soy sauce, sugar and mirin. Sukiyaki is often served with raw eggs as a dipping sauce.
If you like to really get to the heart of a city through its food, book yourself onto an evening food tour and eat and drink at some of the best spots in town. Or you could try your hand at creating some local delicacies yourself at traditional Japanese Cooking Class or Specialist Sushi Cooking Class.
RELATED: If you're a Food lover (like me!), Vietnam has some awesome cuisine. Why not visit the UNESCO heritage city of Hoi An and continue you're foodie journey!
.
Where To Stay in Osaka


Just a short drive from Shinsaibashi, the hotel showcases exclusive views of Osaka. Some of the popular facilities at this sophisticated 5-star hotel include outdoor tennis courts, a free shuttle service, free Wi-Fi and has a gym with a swimming pool. The on-site spa provides a variety of treatments and a chance to relax.
Book Now | Compare Prices for Later | Read Trip Advisor Reviews

This comfortable hotel in Osaka provides free Wi-Fi, as well as a 24-hour reception and a free shuttle service. It is close to the National Museum of Art Osaka, restaurants and shops.
Book Now | Compare Prices for Later | Read Trip Advisor Reviews

The modern rooms at Arietta Hotel & Osteria Osaka include a refrigerator, tea and coffee making facilities and wireless internet access. A shower, cable/satellite channels, a hair dryer and free wifi are also provided.
Book Now | Compare Prices for Later | Read Trip Advisor Reviews

There are a variety of facilities on offer to those staying at the hostel, such as a 24-hour reception, a coffee bar and a vending machine. In addition, the multilingual staff can offer tips and local knowledge.
Drop Inn Osaka has 69 traditional rooms that are filled with a range of essential amenities to ensure guests have an enjoyable stay.
Book Now | Compare Prices for Later | Read Trip Advisor Reviews
.
Extra Osaka Adventures

IF YOU HAVE THE LUXURY OF TIME AND CAN'T GET ENOUGH OF OSAKA, TAKE A LOOK AT THESE GREAT DAY TRIPS & TOURS TO EXPLORE THE SURROUNDING AREA:
Kyoto and Nara Day Tour inc Golden Temple & Todai-ji Temple – Begin your cultural excursion with a guided tour of the ancient Nijo Castle, and then absorb the aesthetic majesty of both Kyoto Imperial Palace and Kinkaku-ji Temple. Revitalize with a traditional Japanese lunch then explore nearby Nara, home to majestic monuments like the Great Buddha of Tadoi-ji Temple and Kasuga Shrine
Hiroshima & Miyajima Day Tour – See the historical highlights of Hiroshima on a comprehensive full-day tour from Osaka, led by a knowledgeable guide. Ride on the super-speed bullet train to Hiroshima then board a boat to the idyllic Miyajima Island, home to the splendid Itsukishima Shrine before returning to Hiroshima to visit the magnificent Hirsohima Peace Memorial Park and Museum.
Day trip to Kyoto, Nara & Kobe – Spend a day exploring historic neighborhoods, visiting temples, and shopping on a full-day tour from Osaka to Kyoto, Nara, and Kobe.Looking for more day trip inspiration, take a peek at these other epic day trips from Osaka.
.
Essential Visitor Info
How To Get to Osaka
Japan has great transport links and Osaka can be reached by planes, bullet trains, express trains, buses, cars, ferries.
A private taxi will cost around $28USD; There are 4 train line options available from the airport to the train station and range between $10-25USD.
The bullet train station is at the entrance to Osaka and from here it is possible to transfer to the subway lines to reach central parts of the city.
If arriving by domestic flight, the airport bus is the most practical method of transport to take to the city. Buses are comparable in cost to the trains but go direct to some city center hotels, which can save time.
How to Get Around Osaka
Osaka City is largely divided into two areas: the Umeda area, called "Kita," and the Namba/Tennoji area, known as "Minami." Depending upon your destination, you can travel through the city using the subway, which goes all throughout the city, the JR Osaka Loop Line, which circles the central districts, and other private railways that connect in various parts of the city. (Pre-Book your JR Pass Here – it's the cheapest price on the web)
As Osaka is located on the water and you can enjoy a truly 'Osakan' experience by cruising the waterways on the waterbus or a cruise.
WiFi in Japan
Whilst wifi is available in almost every hotel in Osaka, there are not as many hot spots available whilst you're out exploring. If you absolutely need to have access to the internet whilst traveling around, you can rent a Mobile WiFi Hot Spot which can be picked up and returned to the International Airport.
When to Visit (Climate + High/Low Seasons)

You can visit Osaka at any time of year because the weather is temperate. The best times to visit Osaka are the fall (October/November) and spring (March/April/May). Summer (June/July/August) in Osaka is hot and humid.

In spring (late March to mid April), you have the blossoming of the various flowers, notably Japanese apricot (ume) and cherry (sakura). The weather is usually temperate at this time and the humidity is relatively low.

One time to avoid in spring would be Golden Week (usually around the first week of May although it moves slightly from year to year). Huge numbers of Japanese travel domestically at this time and you can expect large crowds and high prices for accommodation and transport.

Summer and winter are less attractive with muggy, humid weather dominating the summer months, and cold temperatures combined with snow in the winter.
.
So there you have it – hopefully we've given you enough information to plan the perfect trip – and given you a great list of Things To Do in Osaka to make sure you get the most from your visit. Don't forget to let me know you're own highlights once you're back!

Oh, and if you liked this post please tweet, pin and share – I'd really appreciate it! Click the P in the share bar for full size images!
READY TO EXPLORE MORE OF JAPAN? YOU MIGHT BE INTERESTED IN THESE TRAVEL BLOG ARTICLES:
Hi There! Thanks for reading our Incredible Things To Do in Osaka Plus Where To Stay & What To Eat! I just wanted to let you know that this post contains affiliate links, which means if you purchase something after clicking a link, I may get a small commission – which is at absolutely no cost to you. If you enjoyed this article and are going to be searching for some of the things I mention anyway, I would love it if you could click through from the links above & thank you in advance! Read my full Disclosure here.