Kyoto is one of Japan's most popular cities and for a good reason. Kyoto serves as the cultural center of Japan with a perfect blend between the old and new. The charming history and rich customs are sure to entrance all who visit. Because there are so many amazing things to do in Kyoto we've put together this Kyoto Travel Guide to help you plan your trip. It has the best sights in Kyoto plus where to eat and where to stay in Kyoto along with some helpful visitor information about how to get there, how to get around, the best time to visit Kyoto and some great day trip ideas for exploring more of Japan.
What are you waiting for? Keep reading and start planning the perfect visit to Kyoto.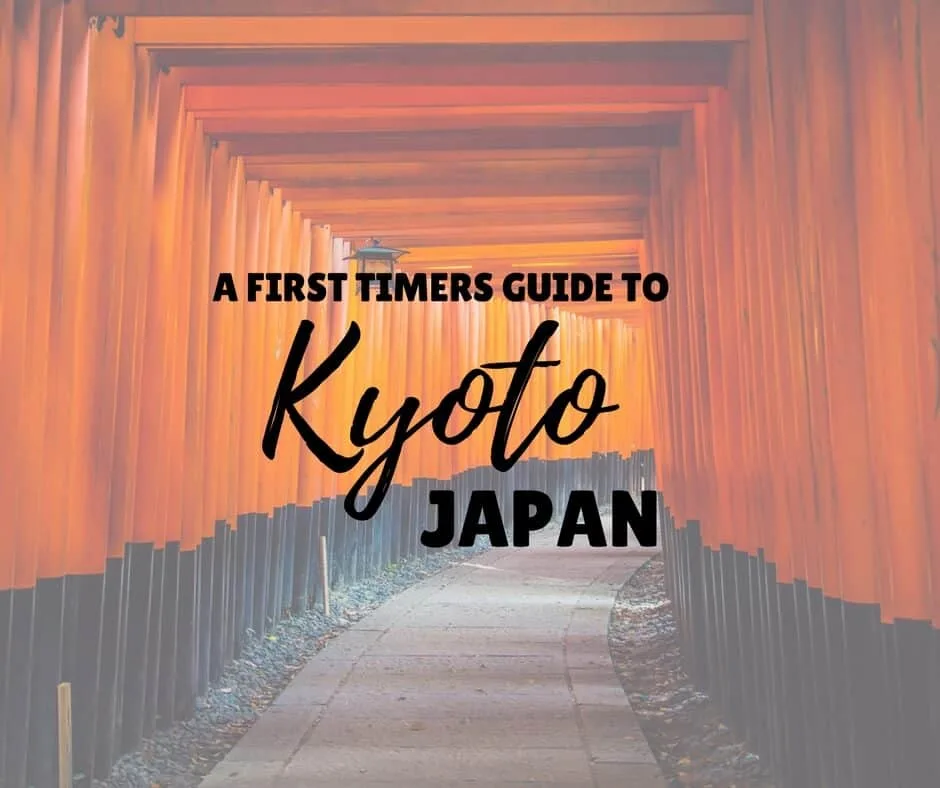 Disclaimer: Almost all posts on this site contain Affiliate links, and this one about the best things to do in Kyoto and the best sights in Kyoto is no different. This means that if you click on any of the links in this post (and make a purchase) I may receive a small commission at absolutely no cost to you. Each post is carefully crafted to (hopefully!) answer all your questions and recommendations are made where we believe they will improve your trip and help with your planning. As such we thank you in advance should you decide to click & buy. Read my full Disclosure here.
The Best Sights & Top Things To Do in Kyoto
Walk through the stunning Fushimi Inari-taisha Shrine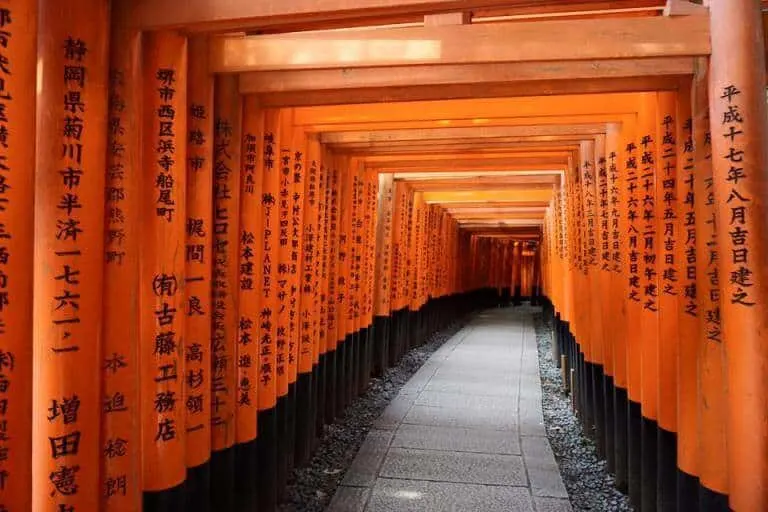 You'll instantly feel serene strolling through the 10,000 orange gates, or Torii at Fushimi Inari. Built around 711 A.D., the beauty of Fushimi Inari envelopes a path up the Inari Mountain. It is said that making your way to the top will bring prosperity and good fortune.
.
Kiyomizu-dera Temple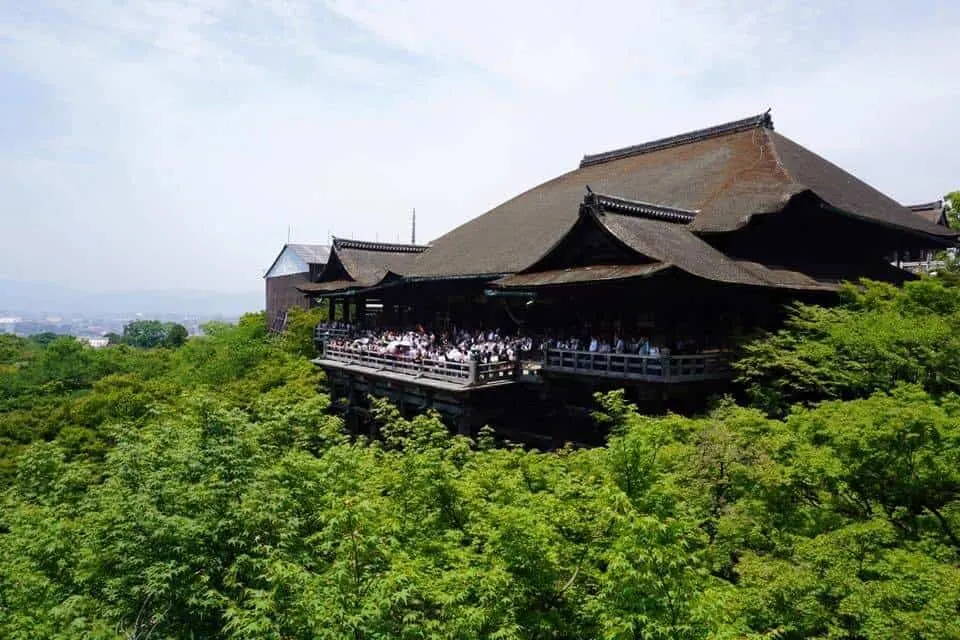 A truly unique structure, Kiyomizu-dera offers some of the most fantastic mountain views and a chance to witness a piece of preserved history. Make sure to arrive early and walk around all of the temple grounds to get the full experience.
.
Spot some Geishas in Gion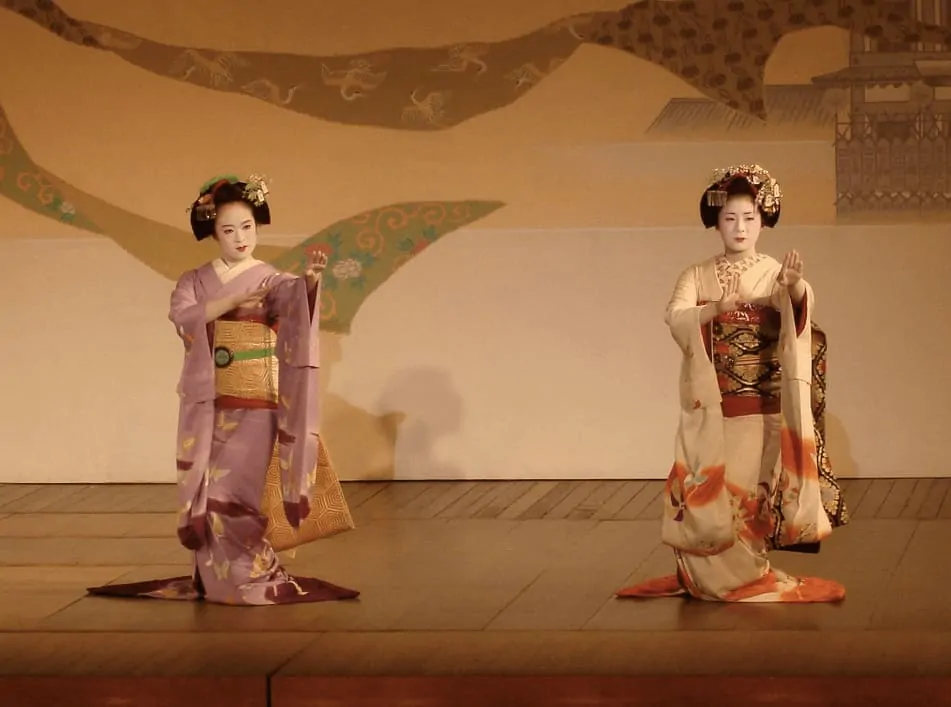 Gion is filled with small shops and romantic restaurants but it is also where geishas and maiko perform traditional tea ceremonies. If you're lucky, you'll even spot some wandering on the street. Sign yourself for a traditional culture tour which will include Geisha dancing, Japanese performing arts and a authentic meal or chose to attend a tea ceremony in a traditional wooden house. Both experiences are guaranteed to blow you away.
RELATED –
Want to get off the beaten path in Japan? Consider the
region of Tohoku
– it's absolutely gorgeous! (and there are hardly any tourists!)
.
Graze off delicious street food at Nishiki Market
If you're looking to experience the many foods of Japan, Nishiki Market is a food lover's haven. Grab some fresh fish, sushi, skewers of meat, and even sweets. If you're a little bit culinary inclined, or simply just love food, we recommend joining an in-depth walking tour of the market – which in some cases include a 7 course lunch or a cooking class & sake tasting!
.
Explore the beauty of Okochi Sanso Garden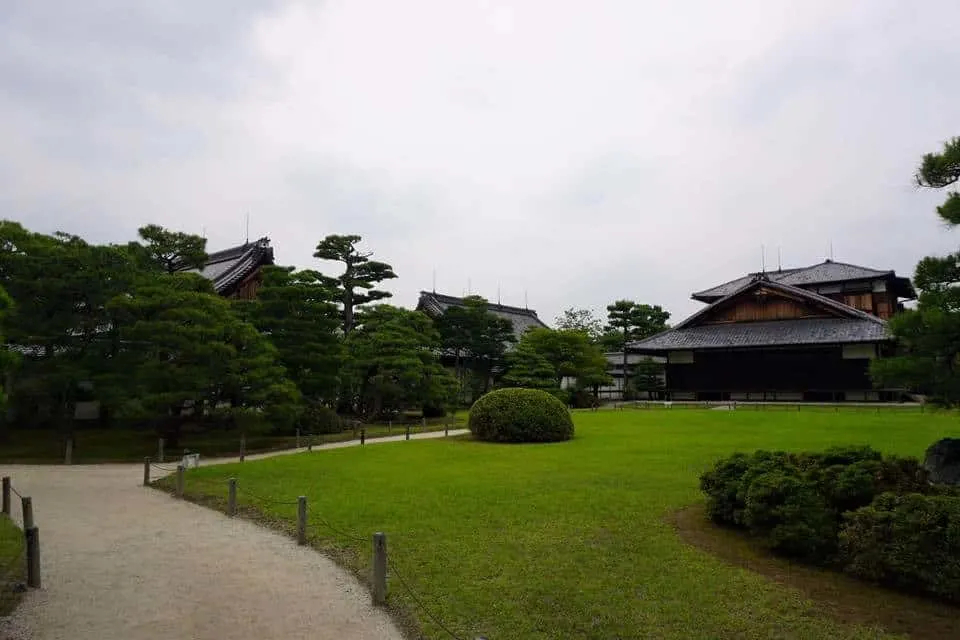 Formerly the estate of a Japanese famous actor, Okochi Sanso Garden is a divine beauty. It has been compared to many of the Imperial estates in Japan and many have even said that Okochi Sanso is worth visiting instead since you do not need to make arrangements prior to visiting. Here you'll experience a gorgeous view of the mountains and gardens. At the end of your visit, you are served complimentary green tea and a biscuit cookie.
.
Test your samurai skills at Nijo Castle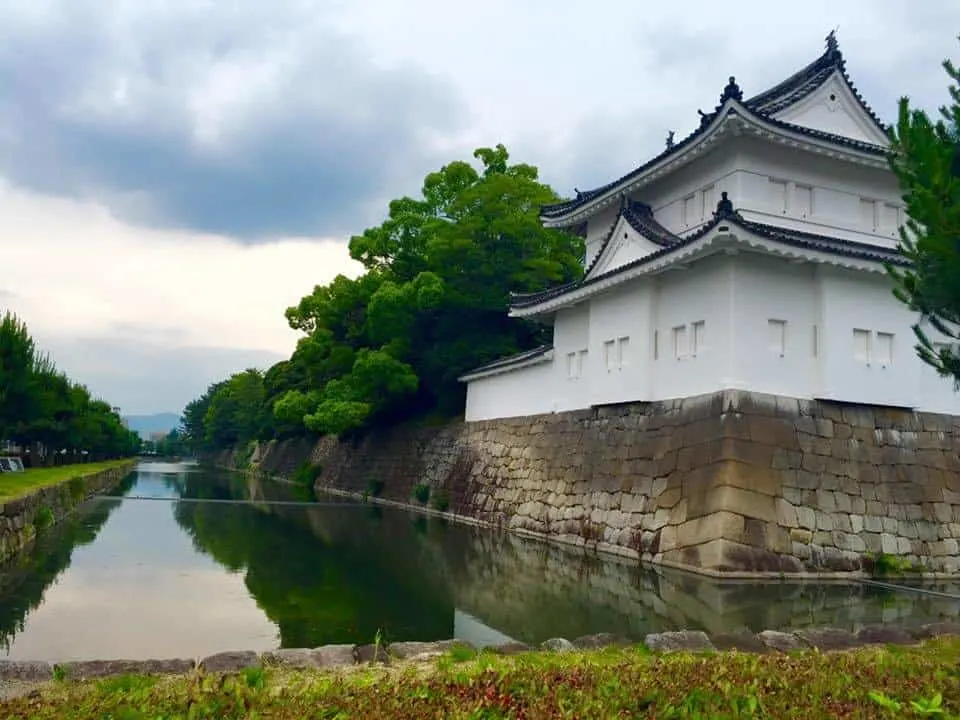 The historic Nijo Castle has some amazing paintings inside but what will draw you in even more is how well preserved everything is and the mysterious "nightingale" flooring. The floors bend and chirp as you walk on them and it is said that it it was an early form of an alarm system to warn residents of intruders.
.
Visit the artistic Kenninji Temple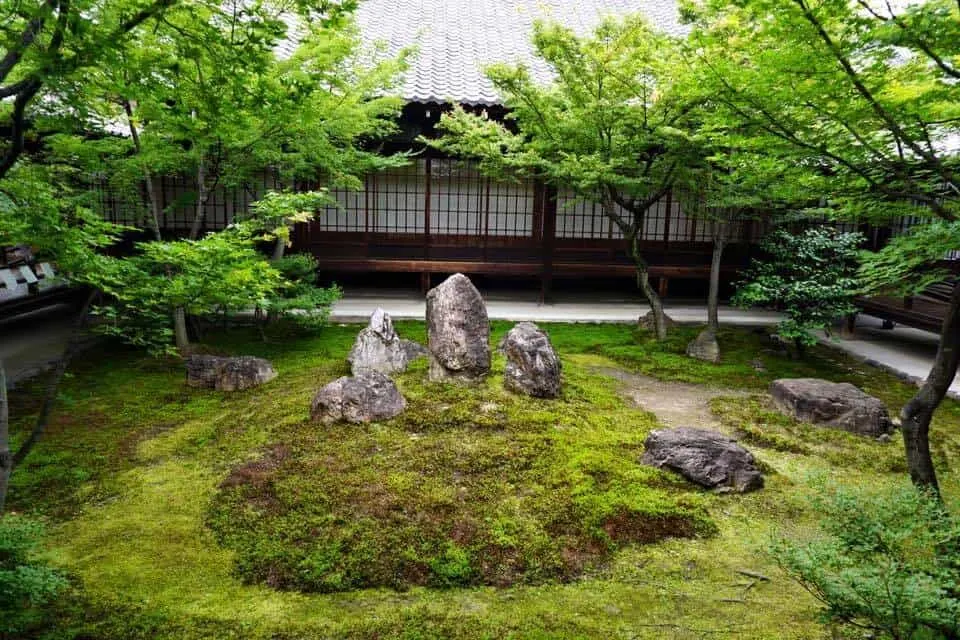 If you're looking for a place to relax, visit Kenninji Temple. It's a bit less crowded than many other spots in Kyoto and has fabulous wall murals and a tranquil zen garden.
.
Stroll through the majestic bamboo forest, Arashiyama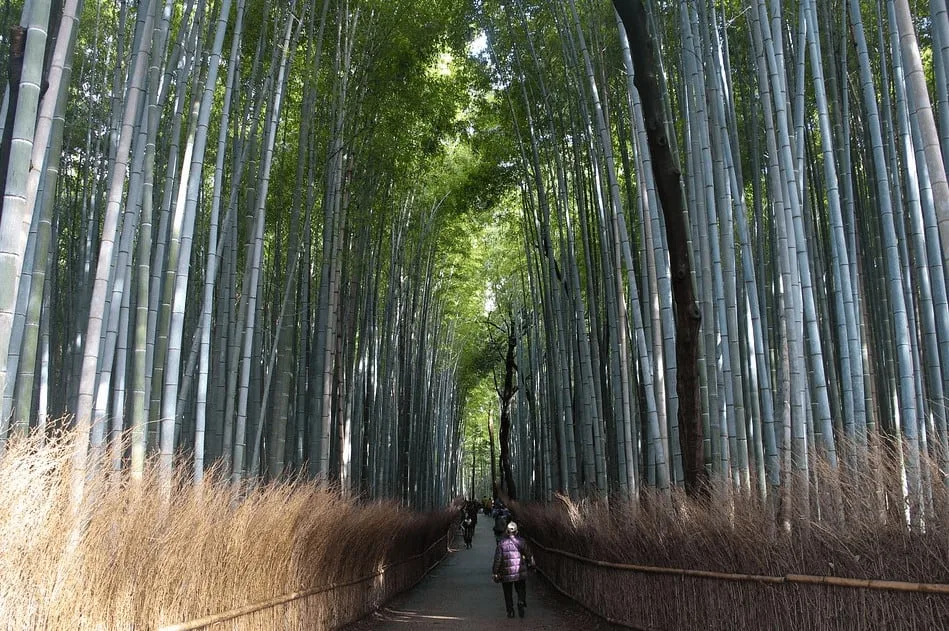 Arashiyama will quite literally take your breath away. Here you'll be surrounded by towering stalks of bamboo that will lead you on a path to many peaceful zen gardens and shrines.
.
Kinkaku-ji Temple (The Golden Temple)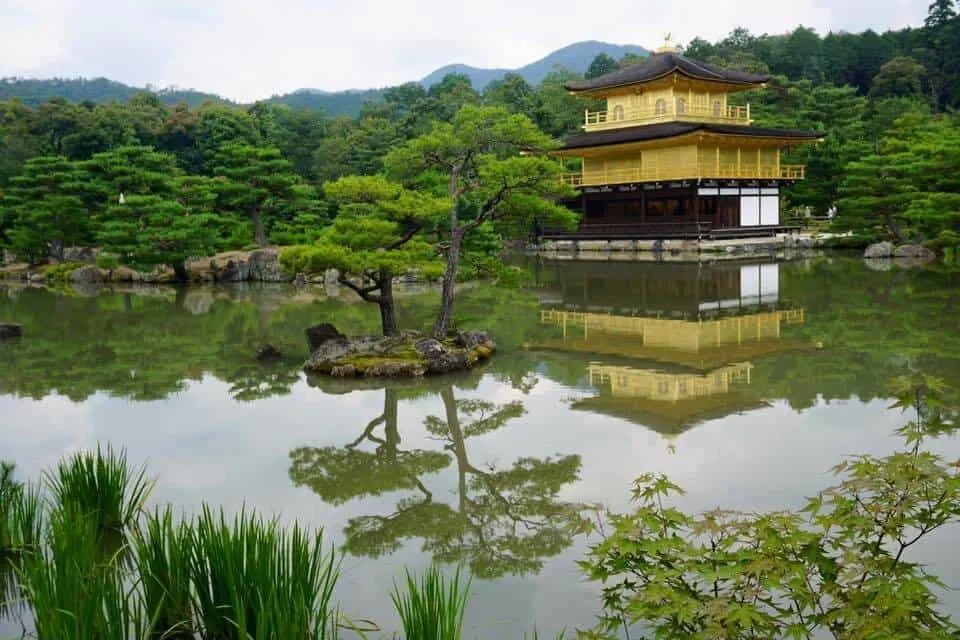 One of the most popular and iconic spots in Kyoto right after Fushimi Inari Shrine, but yet if you're only in Kyoto for a weekend, it's worth seeing the glittering golden temple over the still watered pond. Just make sure you arrive early to avoid the large crowds.
.
Monkey Park Iwatayama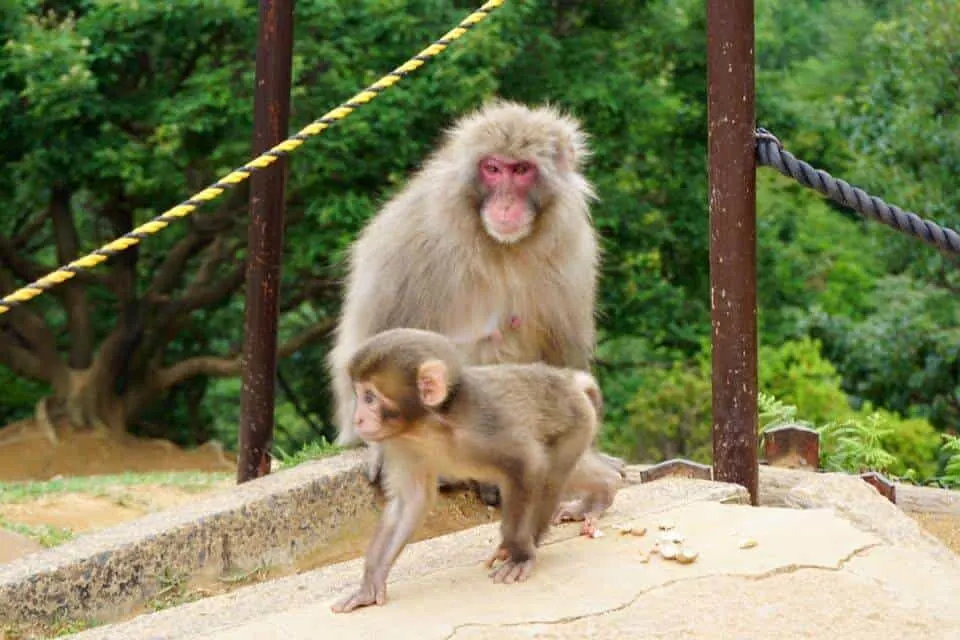 If you enjoy animal experiences make the hike up to Monkey Park Iwatayama. Here you'll be able to safely enjoy watching Japanese Macaques in their own environment and witness a fabulous view of the Kyoto skyline.
.
Where & What to Eat in Kyoto
Sobanomi Yoshimura
Japan is known for its variety of noodles and soba is definitely a popular choice. This restaurant has some fabulous soba and udon lunch sets and all of the noodles are made right there in the shop.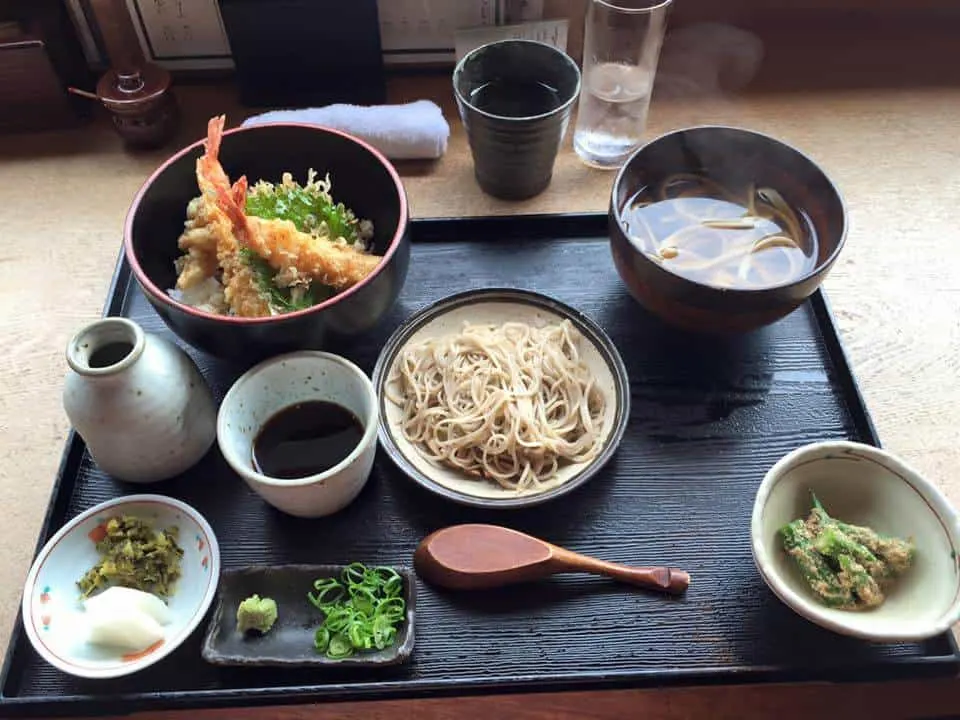 Menbakaichidai
Dinner and a show? Menbakaichidai is also known as Kyoto's famous fire ramen and it's an experience worth planning for. Sit at the bar and watch as the ramen is set on fire then delivered right in front of you.
RELATED: Why not try your hand at cooking up some of these Japanese specialties and learn a bit of history about the food at the same time in a Isakaya Cooking Class – pst. you get to eat everything you make!
Chao Chao Sanjo Kimyamachi
Looking for some fresh gyoza? Chao Chao has many delectable varieties. Of course you must try the traditional pork gyoza but also fill up on the shrimp, crab, and chicken mozzarella to mix things up!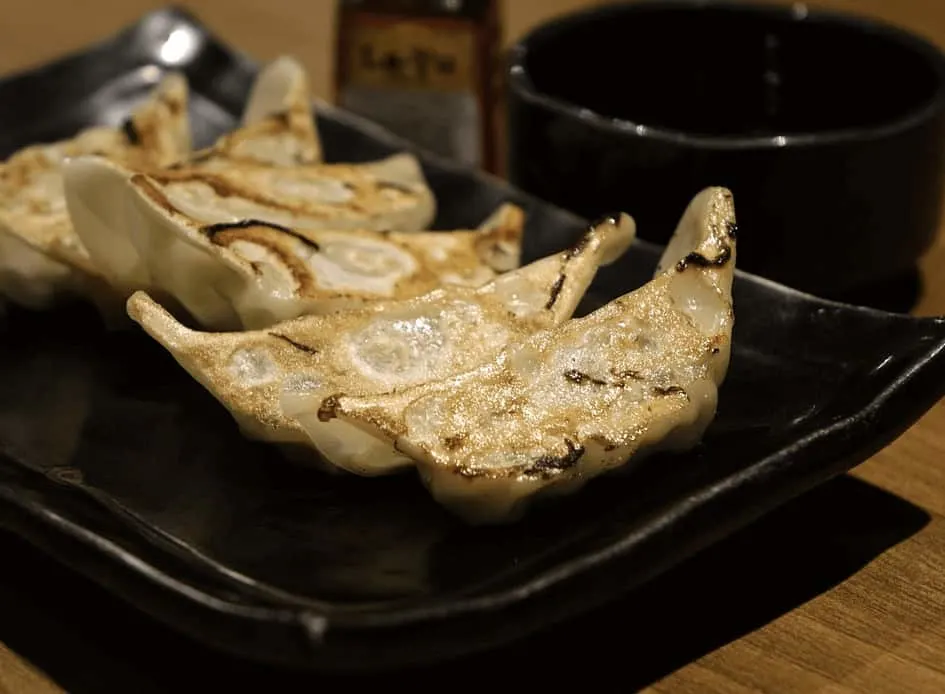 Toraya Ichijo
Something else that is unique to Japan is the many tea houses that offer a variety of hot and cold teas but also wagashi, a traditional sweet. Toraya Ichijo is a beautiful spot to enjoy wagashi and a cup of matcha tea while staring out into the lush, charming garden they have.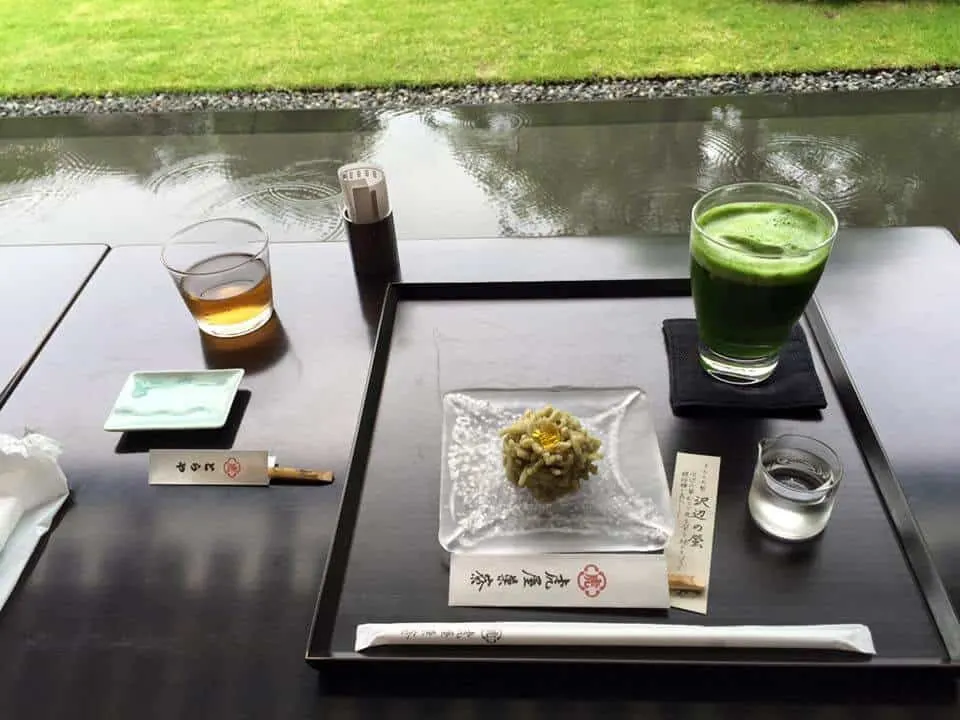 .
Where to Stay in Kyoto
A city the size of Kyoto has plenty of accommodation options – which can be come a little overwhelming(!) so we have put together 4 recommendations for hotels in Kyoto based on different budget levels – from luxury hotels to backpacker's hostels and a couple of options in between to help find the perfect place to rest your head. And check out this post if you are looking for a boutique Ryokan.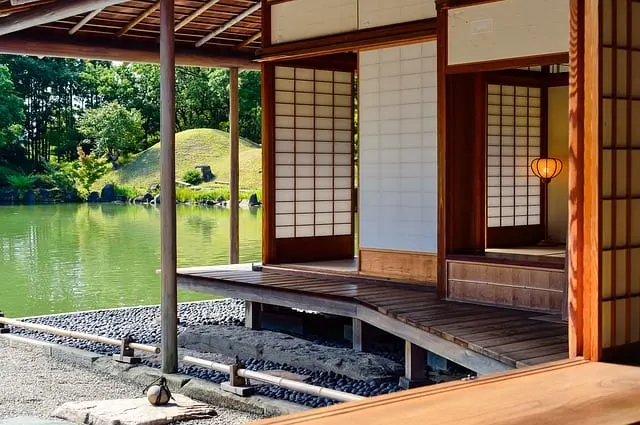 Luxury – Gion Kinpyo (Book Now | Compare Prices for Later

Mid-Range – Mosaic Machiya KSK ($300+ Per Night)
Mosaic Machiya KSK is situated in Kyoto and features free Wi-Fi. It is conveniently positioned for guests wanting to sightsee in the area. The hotel has a café, ideal for those wanting a bite to eat without leaving the property. Each evening, guests can relax in the comfortable lounge bar.
Book Now | Compare Prices for Later | Read Trip Advisor Reviews
Budget – Hotel Grand Bach Kyoto ($100-$150 per night)
Situated a short walk from Gion-Shijo Train Station, Hotel Grand Bach Kyoto is a convenient base while in Kyoto. It provides a laundry service, and is a short walk from the Minami-za Theatre and Nishiki Market
Book Now | Compare Prices for Later | Read Trip Advisor Reviews
Backpackers – Hat'n Hat Hostel ($40-$60 per night)
Hat'n Hat Hostel provides a convenient place to discover nearby Kinkaku-ji and Ryoan-ji, as well as everything the local area has to offer. Katsura Imperial Villa is just a short car ride from the hostel which features 14 air conditioned rooms and a shared bathroom.
Book Now | Compare Prices for Later | Read Trip Advisor Reviews
.
Extra Kyoto Adventures
IF YOU HAVE THE LUXURY OF TIME AND CAN'T GET ENOUGH OF KYOTO, TAKE A LOOK AT THESE GREAT TOURS TO EXPLORE THE SURROUNDING AREA: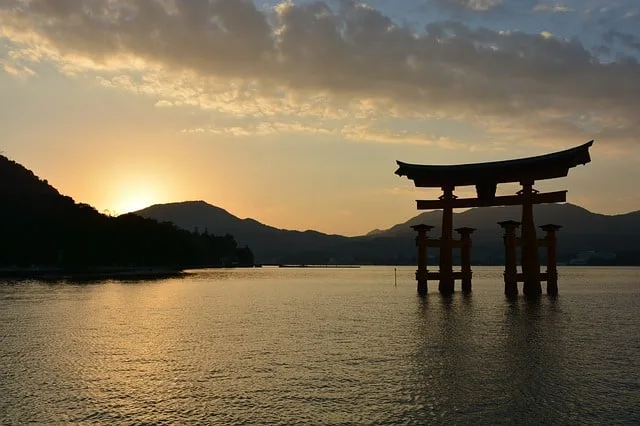 RELATED: Have more than a few days to spare, why not make it a 2 city break and combine your visit with 2-3 days in Osaka?
.
Essential Visitor Information for Kyoto


How To Get to Kyoto
Japan has great transport links and Kyoto can be reached by trains, bullet trains, buses and cars.

As Kyoto does not have it's own airport, visitors arriving my plane tend to arrive via one of the Osaka airports. A private taxi from either Kansai or Itami will cost around $45USD;
If arriving to Kansai (Osaka) Airport, The best and fastest way to get to Kyoto from the airport is to buy a one-day JR West Kansai Area Pass and take the Haruka Limited Express (non-reserved tickets only). The Haruka Limited Express takes about 77 minutes, with trains leaving every 30-60 minutes. The pass is for foreigners only and costs ¥2,300 and you will need to show your passport, as well as a copy of your foreign-bound return flight, when purchasing a ticket.
Travelers arriving on a domestic flight will likely arrive to Itam airport (just outside Osaka). The easiest way to get to Kyoto from Itami Airport is by limousine bus No. 15. The trip takes about an hour and costs ¥1,280. The buses run three times an hour.
Most visitors arrive at JR Kyoto station by Shinkansen (bullet train) from Tokyo. Nozomi trains take approximately 2.15 hrs. to Kyoto and costs ¥13520 one-way.
RELATED: Pre-book your JR Rail Pass here (it's the cheapest price on the web!)

How to Get Around Kyoto

The easiest way to get around Kyoto is by utilizing the bus, train, and subway systems. The JR Kyoto Station is the main hub for Kyoto and it's also an excellent place to shop and dine! There are also taxis but those can quickly become costly. Though not recommended for Kyoto, is also possible to rent a car. Just make sure you apply and receive an International Driver's License before your visit. Being as iconic as Kyoto is, you might expect that it is very busy. To avoid the crowds try arriving to the popular attractions very early.
When to Visit (Climate + High/Low Seasons)

You can visit Kyoto at any time of year because the weather is temperate. The best times to visit Kyoto are the fall (October/November) and spring (March/April/May). Summer (June/July/August) in Kyotois hot and humid.

In spring (late March to mid April), you have the blossoming of the various flowers, notably Japanese apricot (ume) and cherry (sakura). The weather is usually temperate at this time and the humidity is relatively low.

One time to avoid in spring would be Golden Week (usually around the first week of May although it moves slightly from year to year). Huge numbers of Japanese travel domestically at this time and you can expect large crowds and high prices for accommodation and transport.

Summer and winter are less attractive with muggy, humid weather dominating the summer months, and cold temperatures combined with snow in the winter.
So there you have it – hopefully we've given you enough information to plan the perfect trip – and given you a great list of Things To Do in Kyoto to make sure you get the most from your visit. Don't forget to let me know you're own highlights once you're back!

Oh, and if you liked this post please share on Facebook, tweet or pin – I'd really appreciate it! Click the P in the share bar for full size images!
READY TO EXPLORE MORE OF JAPAN? YOU MIGHT BE INTERESTED IN THESE TRAVEL BLOG ARTICLES:
Hi There! Thanks for reading our The Best Sights in Kyoto + Awesome Things to do for First Time Visitors! II just wanted to let you know that this post contains affiliate links, which means if you purchase something after clicking a link, I may get a small commission – which is at absolutely no cost to you. If you enjoyed this article and are going to be searching for some of the things I mention anyway, I would love it if you could click through from the links above & thank you in advance! Read my full Disclosure here.