You have probably tried sushi before or at least heard about it unless you have been living under a rock all this time. So, if you have finally decided that you have had enough of pizzas and burgers or just want to up your game when it comes to this Japanese delicacy, then maybe it's time to know sushi better. I can tell you from my experience that once your tastebuds get used to the aroma and flavors, there will be no looking back. And so I present to you my guide to how to eat Sushi for Beginners!
In this post, I wish to help beginners get an idea about the different types of sushi that are available (and how to eat them!)
We will also talk about the popular types of sushi rolls (both fish and vegetarian) and address a few common frequently asked sushi related questions. Keep reading, You'll be a sushi aficionado in no time!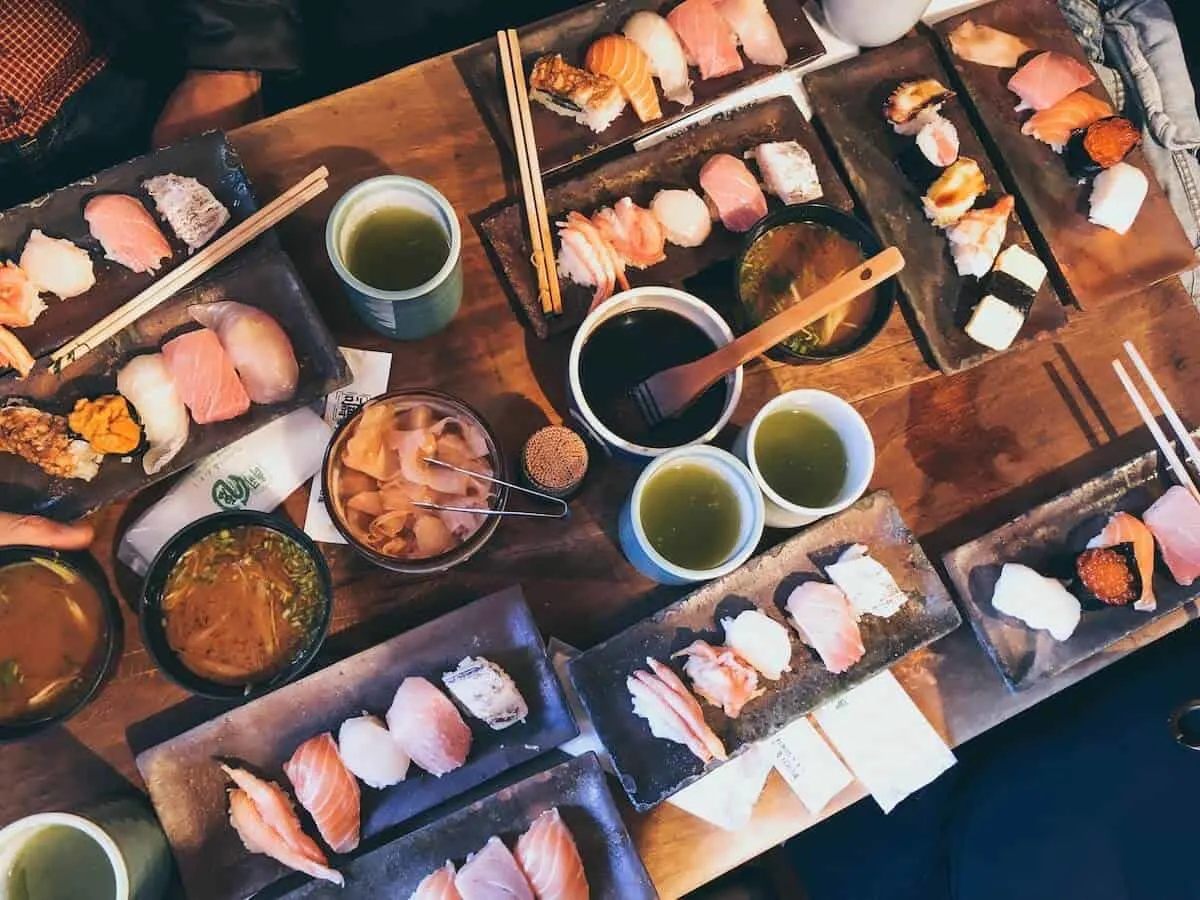 Disclaimer: Almost all posts on this site contain Affiliate links, and this one is no different. This means that if you click on any of the links in this post (and make a purchase) I may receive a small commission at absolutely no cost to you. Each post is carefully crafted to (hopefully!) answer all your questions and recommendations are made where we believe they will improve your trip and help with your planning. As such we thank you in advance should you decide to click & buy. Read my full disclosure here.
A Guest Post by James of Easy Homemade Sushi
Sushi for Beginners: A Guide to the Different Types of Shusi
Contrary to what most beginners probably think, sushi is not just one dish. In fact, there are so many variations under the sushi umbrella that people are spoilt for choice. However, this variation poses confusion for the beginners who have no clue where to start from, so here's a small road map for them:
Hosomaki

Also known as just 'Maki rolls', this is the first thing people think of when they hear sushi. It comprises of fish or veggies rolled in a layer of seasoned rice, wrapped in seaweed. The filling may be just one, 2-3 or sometimes more (futomaki – such as vegetable rolls or California rolls – a sushi lovers favorite).
For the beginner sushi eater, we suggest trying a one-filling sushi roll that is cut into 6 or 8 pieces. The fillings may be raw tuna, raw salmon, yellowtail, cucumber (i.e. cucumber roll), avocado (i.e. avocado roll), or carrot. Hosomaki is the simplest of sushi and the perfect first foray for beginners.
Uramaki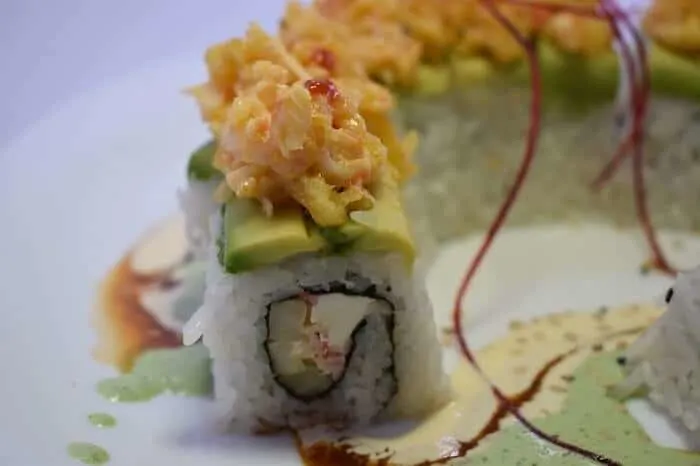 Uramaki is the Japanese name for westernized inside-out sushi roll that has seaweed hidden beneath the rice layer (as pictured above). There's not much difference in terms of flavor, but the appearance varies. So, if you find the green nori or seaweed wrap ugly, this may be your thing. Uramaki is often topped up with garnishes such as masago or tobiko (both are fish roe but you can find out more about the difference here), sesame seeds, or thin slices of avocado or raw fish.
Spoiler alert! And we hope you have already realized this – but this Sushi Guide is not AT ALL related to the Marian Keyes book 'Sushi for Beginners' (which isn't even related to Sushi) or other women fiction books like 'Lucy Sullivan is Getting Married' or 'Rachels Holiday'.
Temaki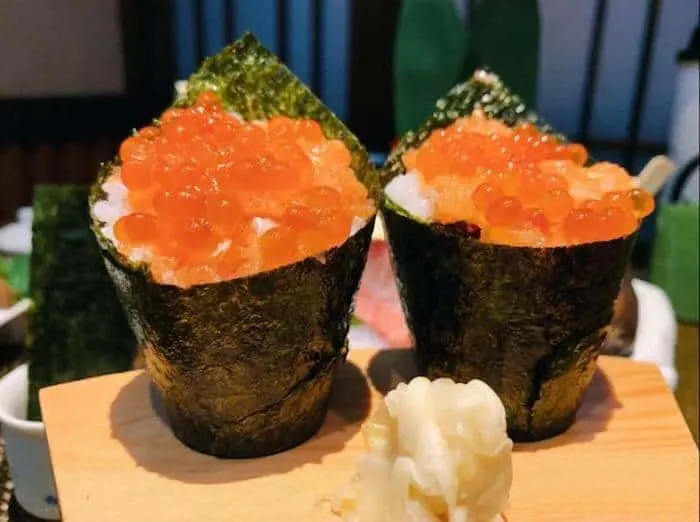 This is the cool cone-shaped sushi that is rolled by hand and has almost all the ingredients you find in a sushi roll. They may be larger than your typical sushi roll and unlike a roll that you can share, a Temaki is meant to be eaten by one person. It contains less amount of sushi rice, and fillings like tuna or salmon strips, cucumber or avocado slices that may pop out of the cone for visual appeal.
Nigiri sushi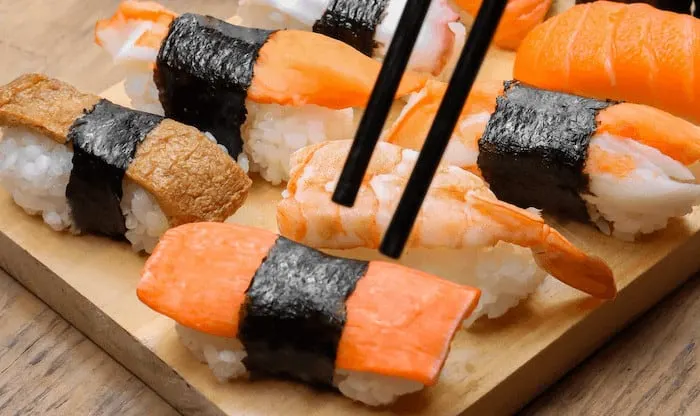 This is probably the next most popular type of sushi that people think of after the rolls. It comprises of a bed of sushi rice with one topping. This style suits best for people who wish to savor the delicate flavors of raw fish or seafood. However, that does not mean there are no vegetarian options. Avocado, sweet potato, eggplant, and tofu are common vegetarian toppings used in the nigiri.
Gunkan maki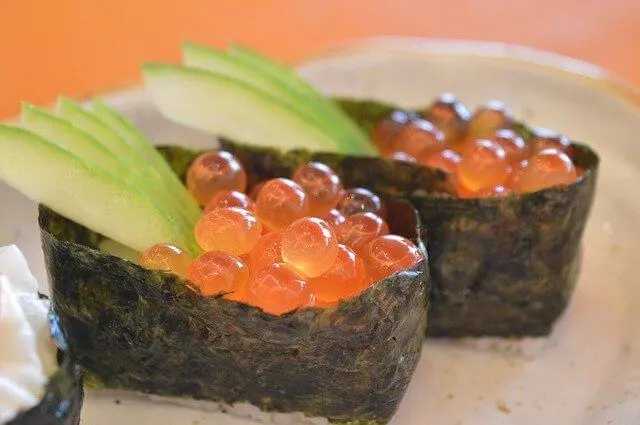 Also known as the battleship sushi, these attractive boat-shaped maki comprises of a bed of seasoned rice, covered with a thick nori strip and filled with delicious toppings. The toppings include raw fish cubes, scallops, tobiko or masago mixed with mayo, and so on.
Chirashizushi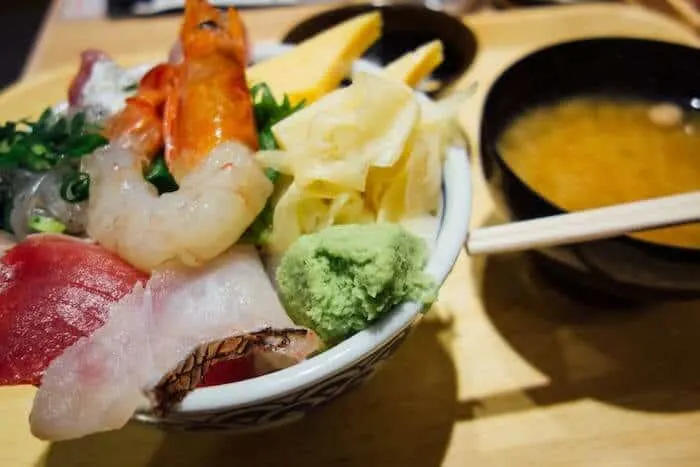 In some sushi restaurants, you may find people savoring a bowl of sushi instead of a roll or cone. Don't be surprised because it's the same thing presented in a different way. Unlike a sushi roll, where all the ingredients are put together compactly in a form, Chirashizushi is scattered bowl sushi comprising of seasoned rice at the bottom, topped with raw fish slices, vegetables, and nori strips.
Frequently Asked Questions from Sushi Beginners
What's the black, green, white & pink stuff served with my sushi?
Black: The thin black sauce is soy sauce, often served in a small bowl
Green: The green stuff is wasabi known for its intense heat. It is integral to the meal as it both aids digestion, and when eating fish, it keeps the fish safe to eat and reduces fishy odors. Don't shy away – sushi with wasabi is wonderful!
*NOTE*: Avoid mixing your wasabi into your soy sauce -it is considered rude in sushi etiquettes. Also, ensure only the fish touches the soy sauce, and not the rice, which has already been seasoned and is likely to fall apart with the additional moisture.
White: The thin white strips which often accompany a sushi meal are daikon – a type of Japanese radish – and are used as both an accompaniment to complement the meal and to aid digestion
Pink (not pictured): Often served as thin strips in a bowl, the pink sushi accompaniment is pickled ginger (aka. Gari). It is served to be enjoyed as a palate cleanser between different dishes and to remove any lingering tastes before you profess to the next bite.
Fingers or Chopsticks?
It is perfect aright and acceptable to use your hands to eat sushi rolls or nigirizushi. You don't need to know how to use chopsticks or feel embarrassed about not being able to use them if you are not confident.
Down in One?
Sushi is designed to be eaten in one bite – and should not be cut in half with your chopsticks(!) If you find your sushi bites are a little overwhelming, simply ask the chef to cut them in half.
What Order Should I Eat?
You may not have considered this, but there is actually a correct order to eating Sushi – and it's quite logical (why wouldn't it be, we are talking about the Japanese): basically, you are to start with the lightest and least flavored fish first, progressing to the stronger, heavier fish towards the end of the meal.
Feeling Adventurous? Go full Omakase
Omakase literally means 'I'll leave it up to you'(!) so when placing this order, be fully aware you will get what the chef is feeling that day. If you have any dietary requirements (or desires) – or just want to let them know you are a beginner – be sure to let the chef know so they can plan a menu accordingly.
Is there any Sushi You Should Avoid?
We'd like to say no, but if you don't have the luxury of an iron stomach there are some seafood and vegetarian fillings/ toppings that require an acquired taste so maybe avoid trying them on your first meal. Examples would be sea urchin sushi that has an unusual appearance and taste or natto maki that comprises of a slimy and fermented form of soybeans (below).
Sushi at Home – Storebought or Homemade
The secret of how amazing Sushi is long ago escaped the borders of Japan and is now available in a lot of countries around the world. This means the possibility of having sushi at home either via your local sushi-stall, sushi bar, supermarket – or if you're feeling creative – cooked/rolled up by your own hand via sushi recipes available online.
Just be sure that if purchasing fresh seafood/sushi, you consume as soon as possible. Not only because that will be when it is at it's best, but for good food hygiene too; and if that's not possible, get it in the fridge asap. And if you are making your own – make sure you get some sushigrade fish, a bamboo mat, sharp knife & a rice cooker (the last thing you need is less than perfect rice when it comes to making homemade sushi!)
What is A Bento Box?
A bento box is a reusable Japanese-style lunch box that typically holds a single portion meal consisting of a main dish and some sides. Not for the exclusive use of Sushi, a good bento box will always have at least some sushi, sashimi and certainly, rice.
.
Popular Sushi Rolls For First Timers (Fish/ Seafood/ Meat)
If you are trying sushi for the first time and have never tasted raw fish before then we would suggest that you start with cooked sushi options. Those who wish to experience eating raw fish, we suggest that you start with the lightest varieties of white fish and then go to the fatty and strong-flavored versions. Here are some recommended options for you:
Shrimp tempura sushi roll
This tops our list for its crunchy, deep-fried texture and soft, juicy shrimp meat inside. This is a cooked variety and amazingly delicious which is why it is one of the great classic sushi rolls and one of the top choices for beginners.
California roll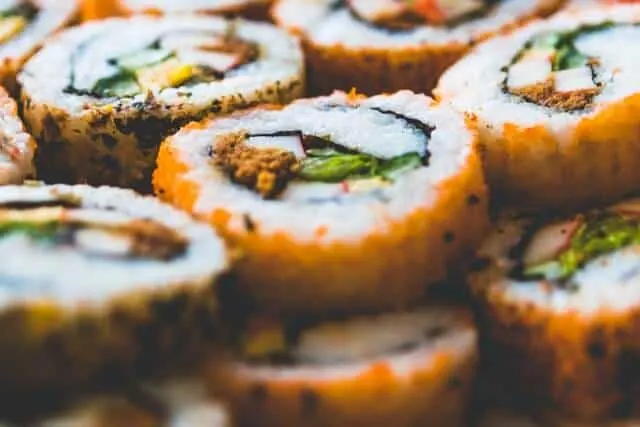 This is one of the inside out hand rolls that contains cooked crab or imitation crab (cooked). Seafood flavors are perfectly balanced with cucumber, avocado, and sesame seeds (and often topped with spicy mayo)
California Roll v Philadelphia Roll

For the America-loving sushi fans, we have the very common California Roll and the emerging in popularity Philadelphia Roll (Philly roll /
makizushi
). The main difference between them is that a California roll contains (cooked) crab meat, avocado & cucumber and the
Philidelphia
Roll contains Smoked Salmon, Avocado & Cream Cheese.
Which one would be your first pick?
.
Chicken Teriyaki Roll
If you would like to give fish or seafood a miss and enjoy chicken instead, there are delicious options too. For beginners, this can be a good base to get used to the flavor of nori and rice.
Spicy Tuna Roll
If you must try raw fish then we suggest that you start with our all-time-favorite Spicy Tuna Roll. The spiciness balances the raw flavor to make your first experience enjoyable.
Tobiko/ Masago Sushi
Savory fish eggs are delightful in their appearance and taste. So, you may order a gunkanmaki with masago toppings or an uramaki with masago outside. Some sushi rolls may also have fish roe as one of the fillings.
Popular Sushi Rolls For Beginners (Vegetables/Fruits)
If you are a vegetarian, you can still enjoy a filling and delicious meal at the sushi restaurant. Although many people still confuse sushi with seafood, there are many vegetable sushi options out there.
Cucumber Maki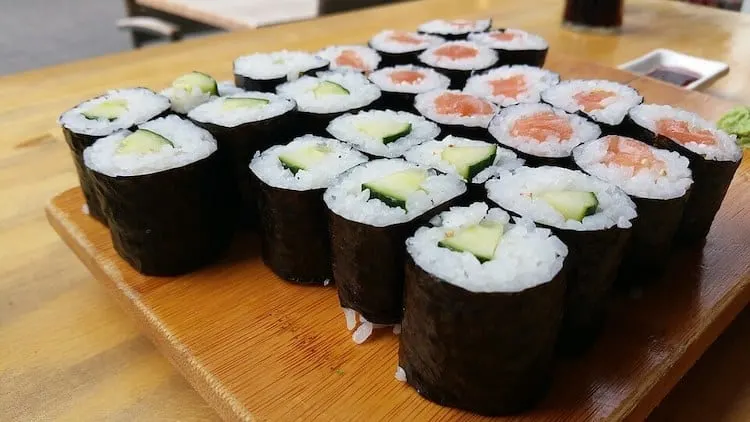 Cucumber Maki is the simplest and most basic kind of sushi roll you can enjoy at any restaurant. It only comprises of seasoned sushi rice, nori sheet, and cucumber strips inside. The fillings may also include avocado slices, carrots, or bell peppers.
Eggplant Tempura
Why should vegetarians miss out on the tempura fun? You get to spoil your tastebuds with vegetarian tempuras made from veggies like eggplant, sweet potato, and shitake mushrooms.
Smoky Tofu Sushi
Tofu is that soft and heavenly delight in vegetarian options. It can be smoked, cooked, fried, or baked to use in different types of sushi mentioned above. Tofu skin sushi (typically a tofu skin roll) is another inventive use of tofu and makes sure there is little waste.
And that's a wrap folks! We hope our beginners guide to sushi has got your tastebuds tingling for the ultimate sushi experience – whether it is in the motherland (Japan, just in case you were wondering what I meant) or your first foray into Japanese cuisine down at your local sushi bar or via subscription boxes. Will you go veggie first, or jump straight into raw fish – or even full Omakase?! The choice is yours!
And if you know someone that needs to up their sushi game or is heading to Japan in the near future, be sure to share this article with them on Facebook, Flipboard or Pinterest. Sharing is caring & thank you in advance!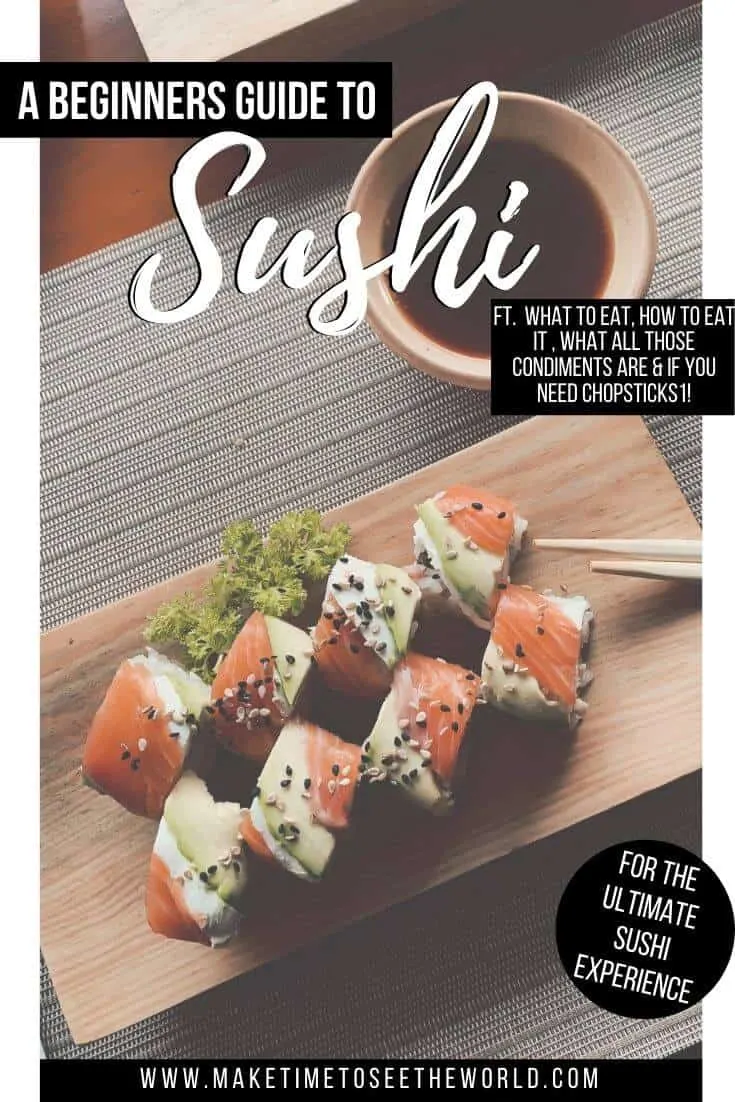 READY MORE ASIA TRAVEL INSPIRATION? YOU MIGHT BE INTERESTED IN THESE TRAVEL TIPS, TRAVEL ARTICLES, DESTINATION GUIDES, AND RELATED POSTS:
Hi There! Thanks for reading my Beginners Guide to Sushi (How, What & Why + Other FAQs!). I just wanted to let you know that this post contains affiliate links, which means if you purchase something after clicking a link, I may get a small commission – which is at absolutely no cost to you. If you enjoyed this article and are going to be searching for some of the things I mention anyway, I would love it if you could click through from the links above & thank you in advance! Read my full Disclosure here.
And Thank you for reading the MakeTimeToSeeTheWorld travel blog posts.