A Perfect Hong Kong Itinerary for 3, 4 or 5 days in Hong Kong (& Macau) including tips on how to get around, where to stay + all the INCREDIBLE things to do.
Hong Kong is a wonderfully cosmopolitan city in a Specialist Administrative Region of China. A former British colony, the prevalence of English speakers and signage alongside it's compactness makes it very easy to navigate. It's the perfect destination for solo female travelers, a haven for foodies and a wonderland for shopaholics.
The perfect combination of city life and outdoor adventures, this 3, 4 and 5 day Hong Kong Itinerary has something for everyone and includes where to stay, what to eat and the top things to do in Hong Kong for the perfect city break.
Disclaimer: Almost all posts on this site contain Affiliate links, and this one about the Ultimate Hong Kong Itinerary | 3-5 Days in Hong Kong & Macau is no different. This means that if you click on any of the links in this post (and make a purchase) I may receive a small commission at absolutely no cost to you. Each post is carefully crafted to (hopefully!) answer all your questions and recommendations are made where we believe they will improve your trip and help with your planning. As such we thank you in advance should you decide to click & buy. Read my full Disclosure here.

Where to Stay in Hong Kong
On Kowloon Peninsula
(TST) Tsim Sha Tsui Kowloon and Mongkok are popular tourist spots and for good reason. Right in the heart of the action, close to the markets and in walking distance to Victoria Harbour and other major attractions, Kowloon is the most expensive with TST and Mongkok being slightly cheaper.
As is the case everywhere in Hong Kong, space is at a premium and as a consequence, the rooms in most hotels are on the small side. But when there are so many things to do in Hong Kong, iconic sight to see and awesome things to eat, your room is essentially just a place to sleep anyway!
Top Hotels on Kowloon Peninsula
On Hong Kong Island
Causeway Bay and Wan Chai are often cheaper than staying in Hong Kong Central (probably due to the fact that they were once considered to be part of Hong Kong's red light district!) – but both areas have been revamped and are now trendy neighborhoods that visitors love.
I personally stayed right between Wan Chai and Causeway Bay stations and had absolutely no idea I was in a 'red light district'. I'm sure if that is what people are interested in, they would be able to find those kind of establishments (my research says they're around the 100 block of Lockhart Road!!), but as a first-time visitor walking around, taking in the sights and snapping a million photographs – I saw no indications of a seedy underbelly and never felt uncomfortable at all.
Top Hotels on Hong Kong Island
Hong Kong: What You Need to Know Before You Go
How To Get Around Hong Kong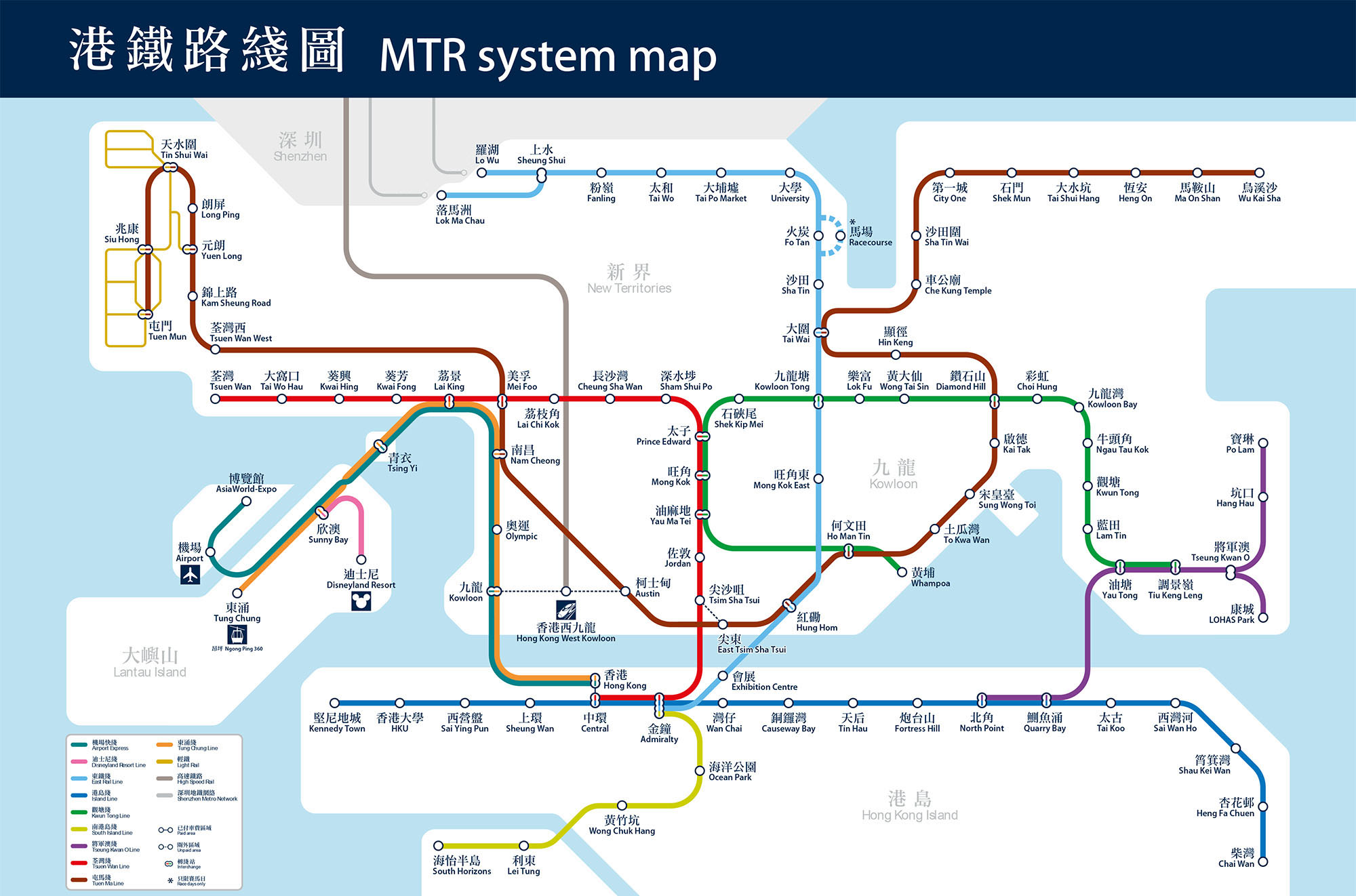 Hong Kong is wonderfully compact and it's world class underground (MTR) system makes navigating it a breeze. They operate on a card payment system called Octopus (which operates the same way as the Oyster card in London) which can be topped up as you go to save you carrying cash or paying for each trip individually.
The card can be used on all underground, bus and ferry fares throughout Hong Kong. The MTR map in every station and on every train has English translations and is colour coded to help you find your way around. And at each station, where there are various exits, each exit has a list of attractions that can be reached. For example, if you are heading to Victoria Peak, you will alight at Central Station and exit at J2. These boards – located in every station – make getting around super easy.
The MTR is the easiest and quickest way to get around, but there are also buses, the iconic Star Ferry which crosses the Victoria harbor between Central and Tsim Sha Tsui Station each day every 6 minutes and costs $0.65c(!) – its the cheapest way to say you have been on a harbor cruise!
The double-decker trams that run along the length of Hong Kong Island from Shau Kei Wan and Kennedy Town are the cutest thing, with each journey capped at 2.30 HKD / Hong Kong Dollars (around $0.25c). If your feet need a break but you want to stay on the move – hopping on one of these iconic trams is a great way to watch the city go by.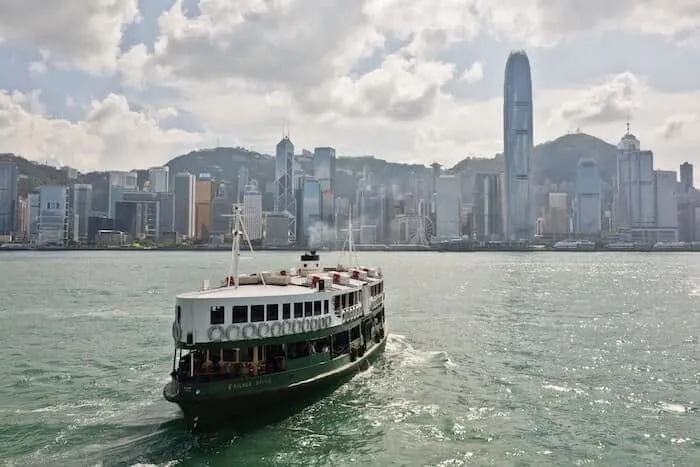 I also highly recommend downloading the free 'Maps.Me' app (and the Hong Kong map within it) before you go which works offline and can provide all the A to B directions needed to help you get around. It also has a Geo locator that is used offline which can tell you exactly where you are on the map so you'll never be truly lost.
.
How to Get to Hong Kong from the Airport
After landing at Hong Kong International Airport, the MTR counter is located just past immigration. Whilst there is a special 'Tourist Pass Octopus Card' which includes return transfers to the city via the airport express train line and a dollar amount worth of credit which lasts for 3 calendar days, available, we found that purchasing a regular Octopus Card at $150 HKD (inc. $50 deposit and $100 credit) and topping up as you go works out to be much cheaper. Especially if you don't plan to use the return trip (which if you follow our 4 day Hong Kong Itinerary, you won't!)
The Airport Express Travel Line also limits the choices of station you can alight at in Hong Kong, which if you are heading to Tsim Sha Tsui, Mong Kok – or other popular areas will mean you have to travel further and change trains multiple times to get to your final destination. It's frankly not worth the hassle.
.
WiFi in Hong Kong
Free Wifi is readily available in Hong Kong – from hotels to restaurants and even on the MTR, you'll never be far from a hotspot. But if you prefer to have your own dedicated connection, you can grab a local sim which offers unlimited 3G or 1.5GB of 4G Wifi for Five Days at the airport from Klook for less than $7 (the staff will even help set up your phone to make sure everything works when you pick it up). This is the cheapest way to stay online (you can get a 'Tourist Sim' from the DiscoverHK desk but this is $11.50 for the same deal).
If you don't want to take your regular sim out of your phone whilst you are in Hong Kong, you can also grab a portable hotspot device on arrival at Hong Kong Airport for $5 per day.
3-5 Day Hong Kong Itinerary
Day 1 – Get Lost (Or Walk for the Gram!)
We recommended getting lost in our article about Hong Kong's points of interest, and we really meant it. Hong Kong is a compact city with an amazing underground system that it is entirely possible to throw a dart in the MTR map, hop out at a station and just wander the streets.
On Nathan Road (known after WWII as "the Golden Mile" – although it's rare for anyone to refer to it that way anymore) you'll find upmarket shopping malls, local markets and more restaurants, cafes and street food vendors than your stomach can handle!
On Tsim Sha Tsui Parade you'll find the promenade with great views of the harbour and the Avenue of Stars. In the center of Kowloon is Kowloon Park, one of the largest green spaces in the midst of an array of high rises and for a little bit more culture there is Tin Hau Temple, St Andrews Church, Chi Lin Nunnery and Nan Lian Garden.
For the photo-hunters among you might be interested in our Instagram Tour of Hong Kong – it's a great way to explore Hong Kong whilst getting some amazing photos at the same time. You'll visit Choi Hung Estate, Chi Lin Nunnery, Ping Shek Estate, San Wai Swimming Shed, the Flower Market, Ladies Market and a few more iconic sights. It's a great route to follow and is definitely a work out which you can reward yourself with all the Dim Sum you can eat!
To finish your day you have a few options: one (if following the Instagram Tour) is to end the day at the San Wai Swimming Shed on the Hong Kong Island side; if sticking to the Kowloon side I highly recommend heading up to the observation deck at Sky100. For either option we recommend getting there half an hour before sunset and staying until at least half an hour after (because that's when you get the best colour!)
After the sun sets, you can't miss picking out a spot on the TST Promenade to watch the nightly 'Symphony of Lights' laser and light show that lights up Victoria Harbour each night at 8pm. (You can see the show from both sides of the harbour, but the Kowloon side is better – and you'll have more chance to catch the iconic shot of the Aqua Luna Junk returning to port.)
Day 2 – Shop 'Til You Drop + Explore The Peak
If you didn't spend all your money at the markets the day before on the Peninsula, there is plenty of shopping to be had on the Hong Kong Island side with Admiralty, Central, Times Square and Soho playing host to designer shops galore.
Even if you can't afford the likes of Louis Vuitton, Tiffany and Armani (I know I can't!) it's nice to wander through their shiny polished shops and take a peek at how the other half live – or grab some designer bargains.
Hong Kong City is not a town that rises early and so it's a great way to kill a few hours before starting your main activity for the day if you want to get out and about.
Another option would be to visit the beautiful and serene Man Mo Temple and nearby Tank Lane for some street art. Otherwise you could extend your evenings activities on Day one and explore the Temple Street night market, ladies market or goldfish(!) market on the other side of the harbour – and sleep a little longer on Day 2.
The views from Victoria Peak deserve a few daylight hours (and some of the early evening) to really appreciate them, and I love the change between daylight, twilight and night time.
There are a few ways to get up to Victoria Peak (walk or bus 15 from Exchange Square) but the best – and most iconic – way to get to the Peak is via the Peak Tram (click the link for skip-the-line tickets which also come with entry to Sky Terrace 428 – it's totally worth it!) The tram climbs up the side of the mountain at a angle between 4-27 degrees and it is so steep it creates an optical illusion that the skyscrapers of Hong Kong are actually leaning!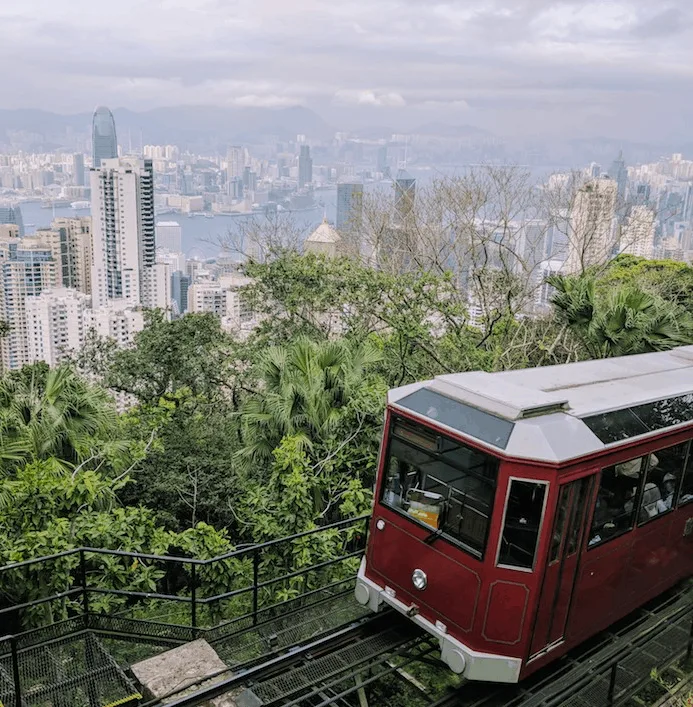 Once you are up at the top of the Peak there are several restaurants (with epic views!), a shopping Galleria, Madam Tussauds and several free walks that you can do around the top to take in the magnificent skyline below from every angle possible.
Head up to the Peak in early afternoon and plan to spend a few hours exploring Hong Kong's highest mountain before checking into Sky Terrace 428 around half an hour before sunset (and then stay for half an hour after to get the iconic skyline lit up – I know I'm a broken record on this but sunsets really deserve time!)
The line for the tram to get back down after night has fallen tends to take 30 minutes or more and so it may be worth eating at one of the restaurants at the top, but if you can wait, I would recommend grabbing food back down at the bottom where it is much much cheaper.
You can also walk back down with the steep section well lit, and with plenty of benches to take breaks, however from the bottom of the path, it is quite a far walk to get back to the 'main drag' and you will need a map (as mentioned above, I always recommend maps.me as the best offline map).
This is the (iconic) skyline view from SkyTerrace 428
.
Day 3 – Visit Lantau Island & The Big Buddha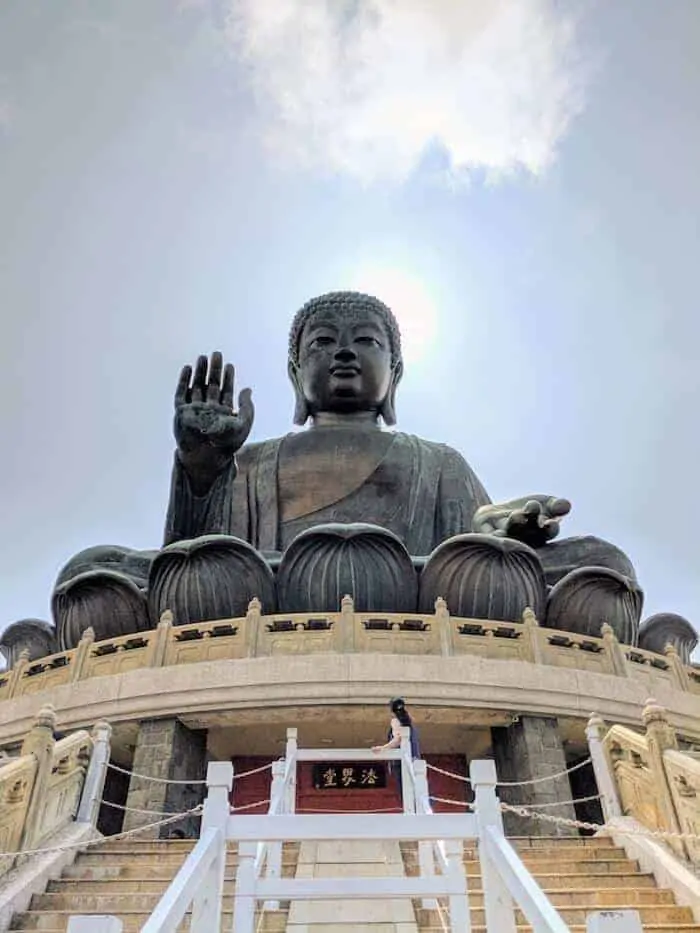 You can't go to Hong Kong and not visit the Tian Tan Buddha (known affectionately as the Big Buddha, because, well, it's pretty big). Located on Lantau Island, approximately 40-60 minutes travel time from Central or Kowloon, it makes for a great day trip and can be reached by Ferry, MTR, Bus or Cable Car – and you can do it all without a costly tour (full post coming soon!).
In short my perfect route is ferry -> bus to Tung Chung Station -> Ngong Ping Cable Car to Ngong Ping Village.
The village has lots of attractions including a 5D movie theater, and walking with Buddha – perfect for those who may have limited mobility or don't want to do a lot of walking, but the main attractions – the Tian Tan Buddha, Po Lin Monastery, The Wisdom Steps, Lantau Fun Walk are all outside the village and there is also a bus to take you down (and back up) to the very charming and photogenic Tai O Fishing Village.
I recommend spending a whole day on Lantau Island, taking your return gondola ride and hopping on the MTR back round into the city once you're done.
RELATED –
Be sure to pre-book your
Ngong Ping cable car ticket
so you don't waste time lining up at the bottom (the queues can get pretty ridiculous!)
With another night time opportunity, you can wander the markets, pick a different spot to watch the Symphony of Lights – or better yet, hop on an evening harbor cruise on one of the last remaining iconic Chinese junk boats with beautiful red sails. For 45 minutes, and with a drink in hand you'll do a loop of the harbour during the light show.
Day 4 – Have a Magical Day at Disneyland (Or Other Options!)
If you know anything about me you know that I am a massive Disney kid (I even used to work there!) and so when it came to Day 4 of my trip and the selection of things I could do, Hong Kong Disneyland – and it's proximity to the airport – was the only place on my list.
It's easy to get to the park via the MTR and they have a luggage valet service where you can leave your bags for the day whilst you explore before making the short journey to the airport (which is 15 minutes drive away). This is perfect for people who have an evening flight out and are looking for a fun activity to fill their final day.
Whilst it is only a small park by comparison to the resort in Florida (let's be honest, what park isn't smaller than the Disney resort in Florida), there are plenty of rides – big and small – to satisfy any Disney fan. Disneyland Hong Kong has a Space and Thunder Mountain (equivalents), It's a Small World, Mickey's Philharmonic Orchestra and the Jungle Adventure Cruise as just some of the classics and a few rides that even I haven't been on before.
At the time of writing, they have the only IronMan attraction in any of the parks (although Tokyo Disney is hot on their heels) and they still have the parade and live shows that all Disney lovers appreciate.
If you are not as in love with Disney as I am, there are other options if you have a 4th day in Hong Kong. You could hike Dragons Back – a 4.5 hour hike that is one of the most popular hikes in Hong Kong and a great way to see another side to the city; take a cruise to Lamma Island – another way to escape from the hustle and bustle of Hong Kong. They also have return cruises at 1pm and 3pm to help you get back in plenty of time for your evening flight.
Or if you're a theme park fan but have already done Disney you could visit Ocean Park (although they have some questionable animal attractions and recommend you do your research before attending.).
For those that don't opt for the Disney day, depending on your airline, you may be able to check your luggage in at one of the major MTR stations on the day of your flight and spend the day at leisure, meeting your bags at the airport. This is a great service if you have an early check out and a late flight and don't want to cart your bags around with you all day (who does?!). Check with your airline when you book your flight to see if they are signed up to this fantastic service.
.
Day 5 – Take a Day trip To Macau
If you have 5 days in Hong Kong then a day trip to Macau should be at the top of your list. To really get the most of it, I would suggest swapping out day 3 or 4 for Day 5, as I recommend heading over to Macau via the ferry through the outer harbor around midday and returning around 8-9pm.
RELATED:
Don't forget to
pre-book your round-trip ferry tickets to Macau
– the lines at the ticket desk in the ferry terminals in HK are crazy and you don't want to waste several hours in line (or coming back the other way from Macau ferry terminal!
Whilst in Macau there are a whole heap of things to do including free self-guided walking tours, hop on hop off tours, visit the iconic Ruin's of St Pauls (a UNESCO World heritage site), test your nerves on the Skywalk – or throw yourself off the top with a Bungy Jump! Macau is also Asia's version of Las Vegas and the casinos area sight to see in themselves.
They also have shows – both theatrical and fountain based – and why I recommend staying a little later than an organised tour would allow for. Take a look at the shows on offer, jump on the night bus tour and watch the city light up, or simply get yourself to the Wynn Casino to watch the dancing fountains which run every 15 minutes throughout the day – but looks even more spectacular at night.
The ferries back to Hong Kong run on the hour, and pre-booking (via the link above) is the best way to make sure you are not left waiting at the terminal building for a hour (or more!) if your desired ferry is full.
.
And there you have it folks. The Perfect Itinerary for Hong Kong (if I do say so myself!) to help you plan your 3, 4 or 5 days in Hong Kong and Macau complete with travel tips to help you get around, recommendations of where to stay on Kowloon peninsular or Hong Kong Island, and a day by day itinerary of things to do to help you see and do everything you want to during your stay.

Oh, and if you enjoyed reading this Hong Kong travel guide and suggested itinerary please share on Facebook, tweet or pin – I'd really appreciate it! Click the P in the share bar for full size images!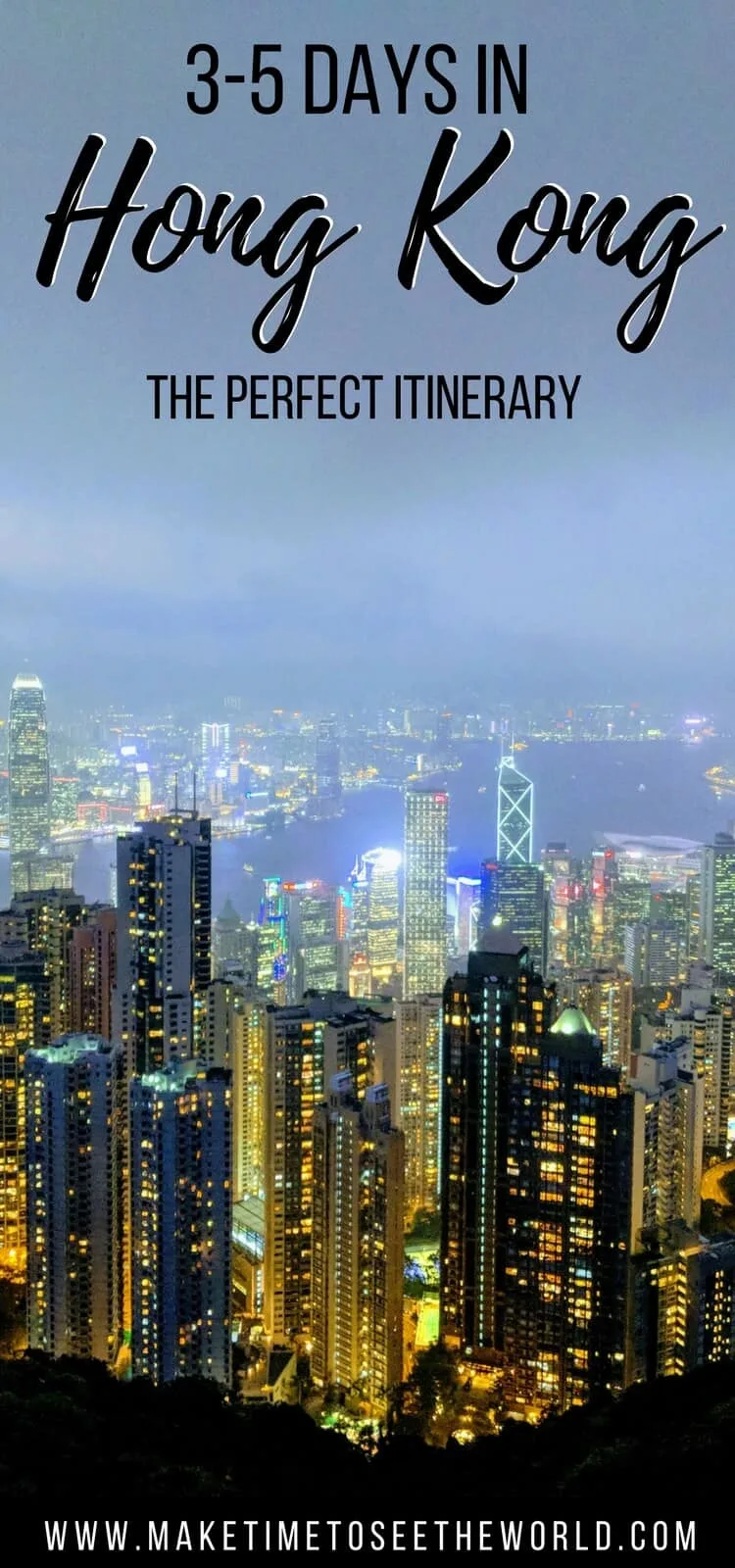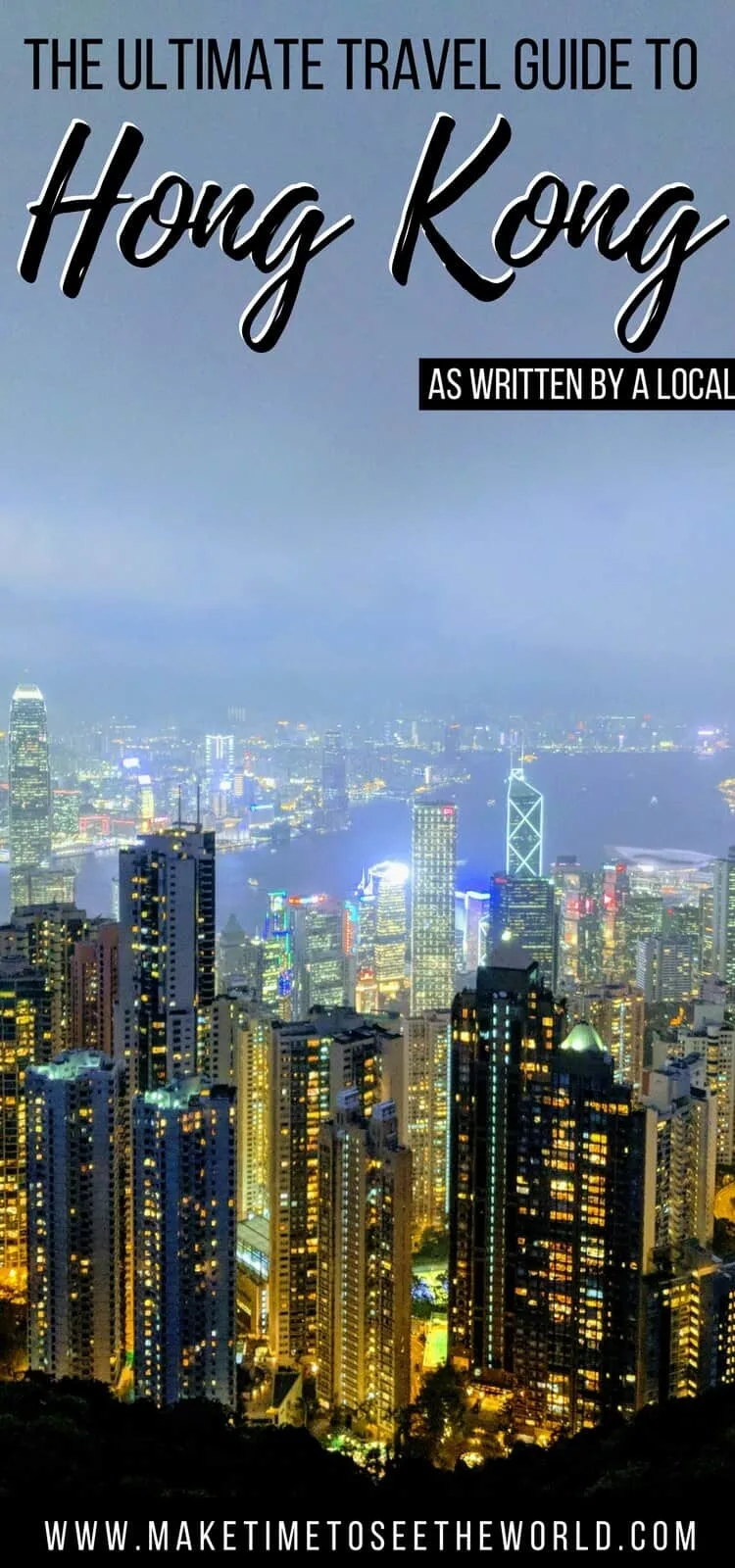 READY TO EXPLORE MORE OF SOUTHEAST ASIA? YOU MIGHT BE INTERESTED IN THESE RELATED POSTS

Hi There! Thanks for reading our travel guide to The Ultimate Sample Hong Kong Itinerary for 3-5 days in Hong Kong. I just wanted to let you know that this post contains affiliate links, which means if you purchase something after clicking a link, I may get a small commission – which is at absolutely no cost to you. If you enjoyed this article and are going to be searching for some of the things I mention anyway, I would love it if you could click through from the links above & thank you in advance! Read my full Disclosure here.
Thank you for reading the MakeTimeToSeeTheWorld Travel Blog which included a sample itinerary for when you visited Hong Kong.