I've never been a morning person, so it's only natural that I prefer a good sunset to a sunrise. They're a great way to end a day (whether it's been good or bad!) and can be a wonderful reminder that even the worst days can end in a beautiful way. Whether completely alone or surrounded by friends, some of the most magical moments happen as the sun dips below the horizon (and especially when you have a cold drink in hand!)
Although the sun setting is an astrological certainty as a result of the earth's rotation of its axis – and it happens each night no matter where you are in the world, it often takes traveling to far-off destinations to actually appreciate them. It's these overwater sunsets, poolside sunsets, mountain top sunsets, desert sunsets, city skyline sunsets (and so many more!) that are the inspiration for some of the best sunset quotes on the planet.
We've pulled the very best of them into this post, created some wall art-worthy graphics for your Pinterest boards and separated them into sections to help you quickly find the most amazing sunset quote for your current situation. From sunset captions to short sunset quotes for Instagram, inspirational sunset quotes, romantic sunset quotes, funny sunset quotes and even sunset quotes from songs to help you put together the perfect travel soundtrack for those sundowner drinks (and the afterparty!)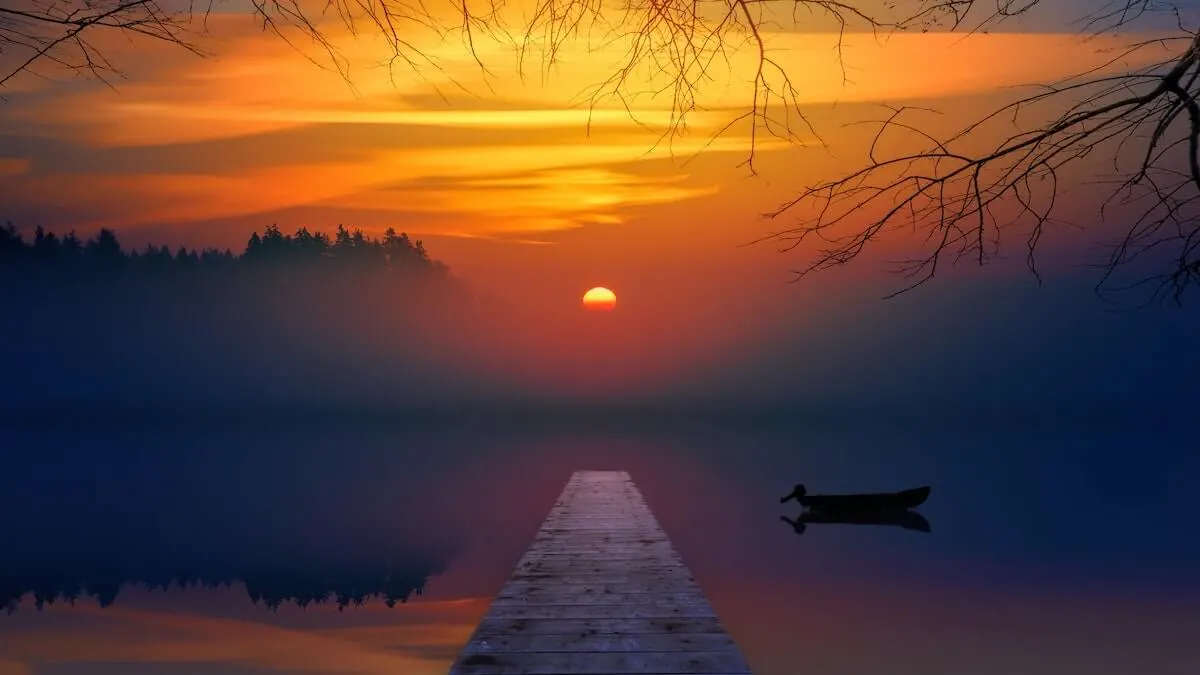 Disclaimer: Almost all posts on this site contain Affiliate links, and this one about the 80+ Best Sunset Quotes of all time is no different. This means that if you click on any of the links in this post (and make a purchase) I may receive a small commission at absolutely no cost to you. Each post is carefully crafted to (hopefully!) answer all your questions and recommendations are made where we believe they will improve your trip and help with your planning. As such we thank you in advance should you decide to click & buy. Read my full Disclosure here.
The Very Best Sunset Quotes & Sunset Captions
1: "Every one of a hundred thousand cities around the world had its own special sunset and it was worth going there, just once, if only to see the sun go down." – Ryu Murukami
2: "The more clouds you have in your sky, the more colorful sunset it will be." – Sajal Sazzad
(Such a simple sunset caption)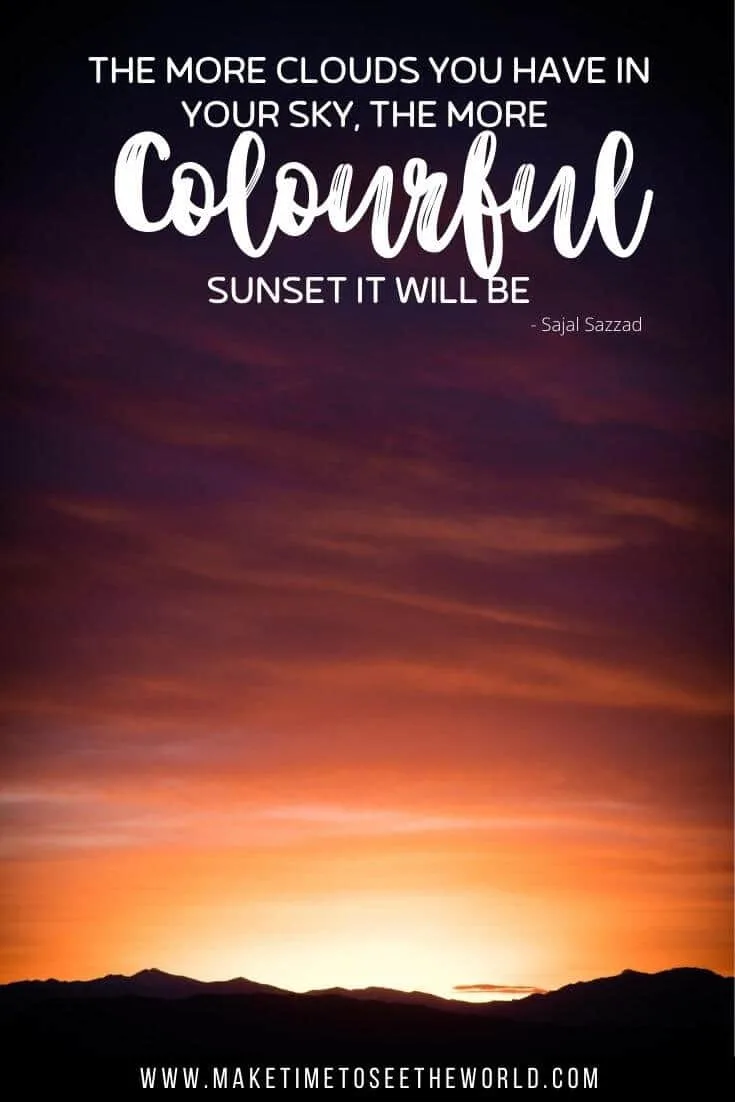 3: "Sunrise is the start of something beautiful: the day. Sunset is the start of something beautiful: the night." – Juansen Dizon
4: "Bursts of gold on lavender melting into saffron. It's the time of day when the sky looks like it has been spray-painted by a graffiti artist." – Mia Kirshner
(This is one of my favorite quotes for sunset – I'm sure you've seen a sunset just like this too!)

5." There's a sunrise and a sunset every single day, and they're absolutely free. Don't miss so many of them." – Jo Walton
(This is a caption for sunset is one of the life lessons we can all follow!)

6: "Sunset is so marvelous that even the sun itself watches it every day in the reflections of the infinite oceans!" – Mehemet Murat Ildan
7: "When I admire the wonders of a sunset or the beauty of the moon, my soul expands in the worship of the creator." – Mahatma Gandhi
8: "The strange thing about the sunset is that we actually don't want the sun to set, we want it to stay right on the horizon, not below it, not above it, just right on it." – Mehemet Murat Ildan
9: "People are just as wonderful as sunsets if you let them be. When I look at a sunset, I don't find myself saying, "Soften the orange a bit on the right-hand corner." I don't try to control a sunset. I watch with awe as it unfolds." – Carl Rogers
10: "Sunset is the most spiritual moment where human race meets the extraordinary spirit of the universe!" – Mehmet Murat Ildan
11: A sunrise or sunset can be ablaze with brilliance and arouse all the passion, all the yearning, in the soul of the beholder" – Mary Balogh
12: "Sunset is always wiser than sunrise because sunset has added the experience of an entire day to his soul!" – Mehmet Murat Ildan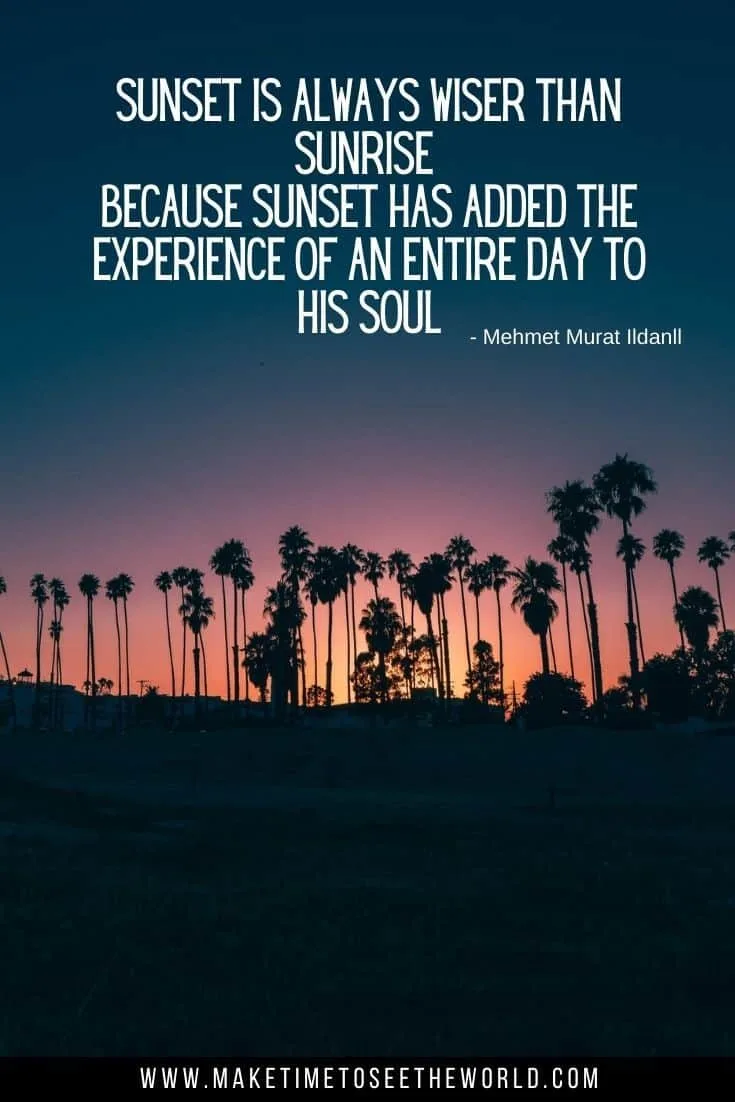 13. "I learn from the past, dream about the future and look up. There's nothing like a beautiful sunset to end a healthy day." – Rachel Boston
Inspirational Sunset Quotes
14: "Every sunset brings the promise of a new dawn." – Ralph Waldo Emerson
15: "Red sky at night, shepherds delight; red sky in the morning, shepherd's warning" – Unknown
(but the rhyme has been a rule of thumb used for weather forecasting during the past two millennia(!)
15: "Don't forget, beautiful sunsets need cloudy skies." – Paulo Coelho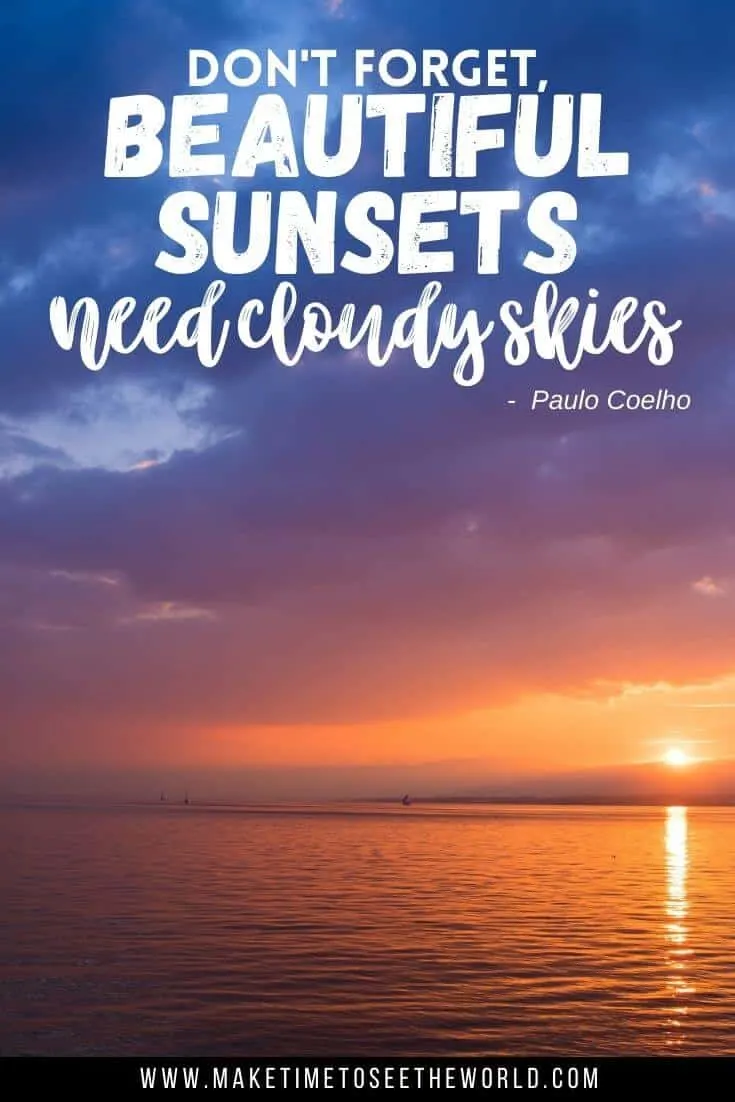 16. "Clouds come floating into my life, no longer to carry rain or usher storm, but to add color to my sunset sky" – Rabindranath Tagore
17: "Sunsets are proof that no matter what happens, every day can end beautifully." – Kristen Butler
(This is one of the lovely sky captions for Instagram when you've had a bad day/week/month!)

18: "Know what you want to do, hold the thought firmly, and do every day what should be done, and every sunset will see you that much nearer the goal." – Elbert Hubbard
19: "With every sunset a new hope is born, and an old expectation dies." – Noor Unnahar
20: "When your world moves too fast and you lose yourself in the chaos, introduce yourself to each color of the sunset." – Christy Ann Martine
21: "Every sunset is also a sunrise; it all depends on where you stand." – Karl Schmidt
22: "Admire the efforts of a failure like you admire the beauty of a sunset." – Amit Kalantri
(A very philosophical caption about sunset)

23: "From the eyes of the ice, sunset is a big event, it is a great opportunity to live longer!" – Mehmet Murat ildan
24: "Because the sunset, like survival, exists only on the verge of its own disappearing. To be gorgeous, you must first be seen, but to be seen allows you to be hunted." – Ocean Vuong
Short Sunset Quotes & Short Sunset Captions

25: "A sunset is the sun's fiery kiss to the night." – Crystal Woods
(Such a beautiful way to describe an evening sky!)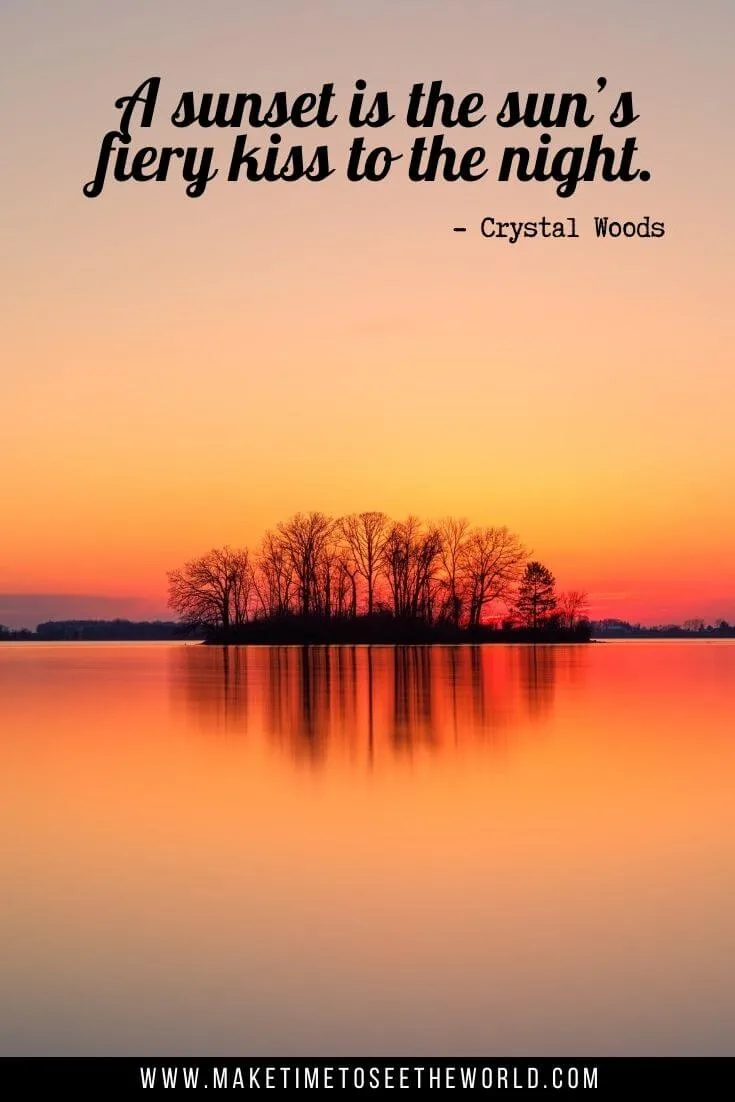 26: "It's impossible to watch a sunset and not dream." – Bern Williams
27: "Sunset is still my favorite color, and rainbow is second." – Mattie Stepanek
(This is my favorite quote about sunsets!)
28: "Watching sunset makes you feel stronger." – Anamika Mishra
29: "Every sunset is an opportunity to reset." – Richie Norton
30. "Our planet is an amazing place. Especially at dusk" – Unknown
31: "A sunset paints the sky as if there were no tomorrow." – Anthony T. Hincks
32: "When the sun has set, no candle can replace it." – George R.R. Martin
33: "Never go too long without watching a sunset." – Atticus
34: "See the beauty of sunset to enjoy the passion of life." – Debasish Mridha
35: "Sunset is the opening music of the night." – Mehmet Murat Ildan
(one of the great sundowner party quotes)

36: "I never met a sunset I didn't like." – Unknown
(this one is a perfect Instagram caption – I'm sure you've seen it before!)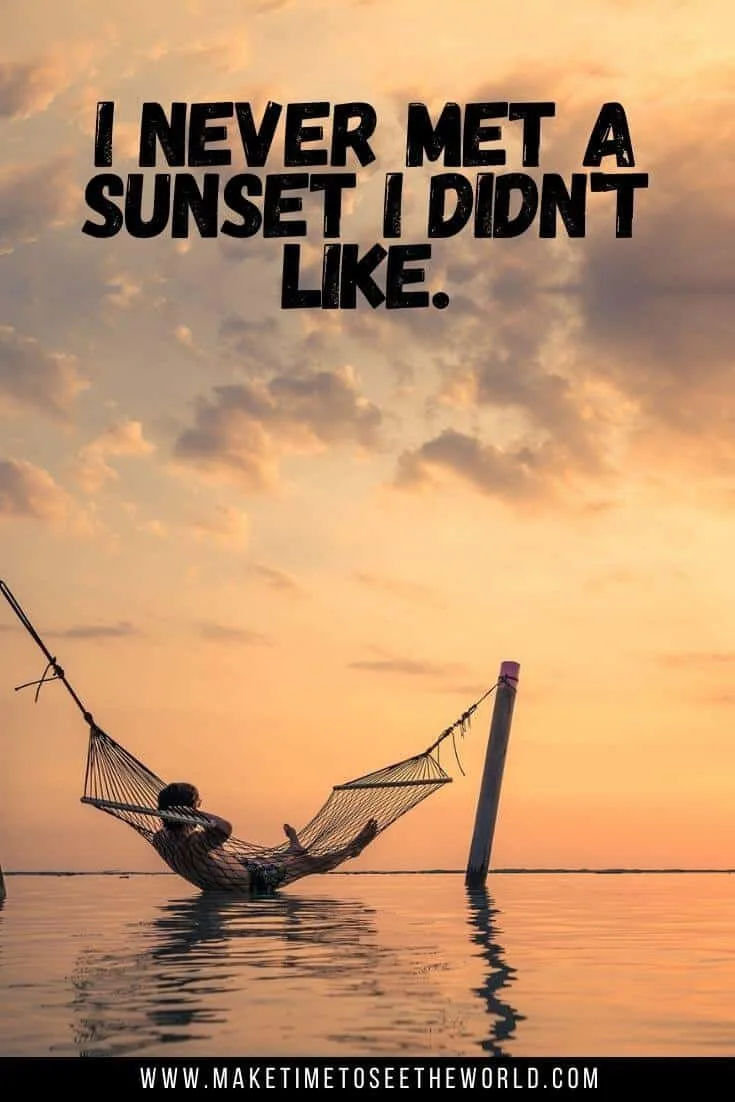 Romantic Sunset Quotes
37: "I don't know how long we stay that way, but we watch the sun go down together. The giant, burnt-orange sphere sinks towards the horizon, coloring the rock layers until it's gone and the canyon is covered in shadow." – Jennifer Salvato Doktorski
38: "Her heart was made of liquid sunsets." – Virginia Woolf
39: "The sky has changed from orange to hundred shades of pink to a dark navy blue, and here I am still loving you." – A.Y.
(One of many cute sun setting captions)

40: "Meet me where the sky touches the sea." – Jennifer Donnelly
(This is such a great sunset beach caption! Perfect for the setting sun over the water)

41: The first stab of love is like a sunset, a blaze of color – oranges, pearly pinks, vibrant purples." – Anna Godbersen
42: "Whenever you want to see me, always look at the sunset; I will be there." – Grace Ogot
43. "I just need you and some sunsets." – Atticus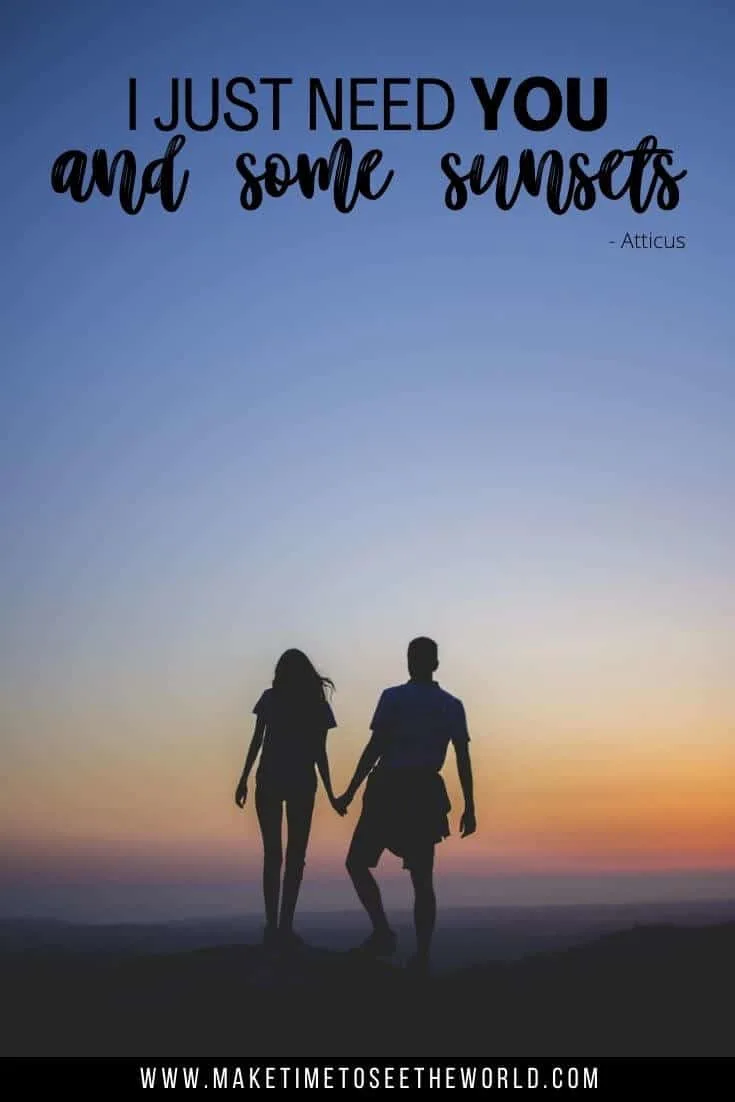 44: "Sunsets are not a rare commodity they come and go every night, so I compare you not to a sunset for you come once in a life." – Daniel Cook
45: "The most beautiful sunset is when you have it with your beloved one and the most beautiful sunrise is quite the same." – Galina Nelson
46: "In ten minutes things could look so differently, like the color of a sunset and the world after meeting you." – Jenn Satsune
Sunset Quotes for Instagram
47: "Mother nature doesn't need a filter" – Unknown
48: "Sunset is a wonderful opportunity for us to appreciate all the great things the sun gives us!" – Mehemet Murat Ildan
49: Age is irrelevant. Ask me how many sunsets I've seen, hearts I've loved, trips I've taken, or concerts I've been too. That's how old I am." – Joelle
(This quote is perfect for those magical beach sunsets with a beer!)

50: "Clouds come floating into my life, no longer to carry rain or usher storm, but to add color to my sunset sky." – Rabindranath Tagore
51: "May every sunrise hold more promise and every sunset hold more peace." – Umair Siddiqui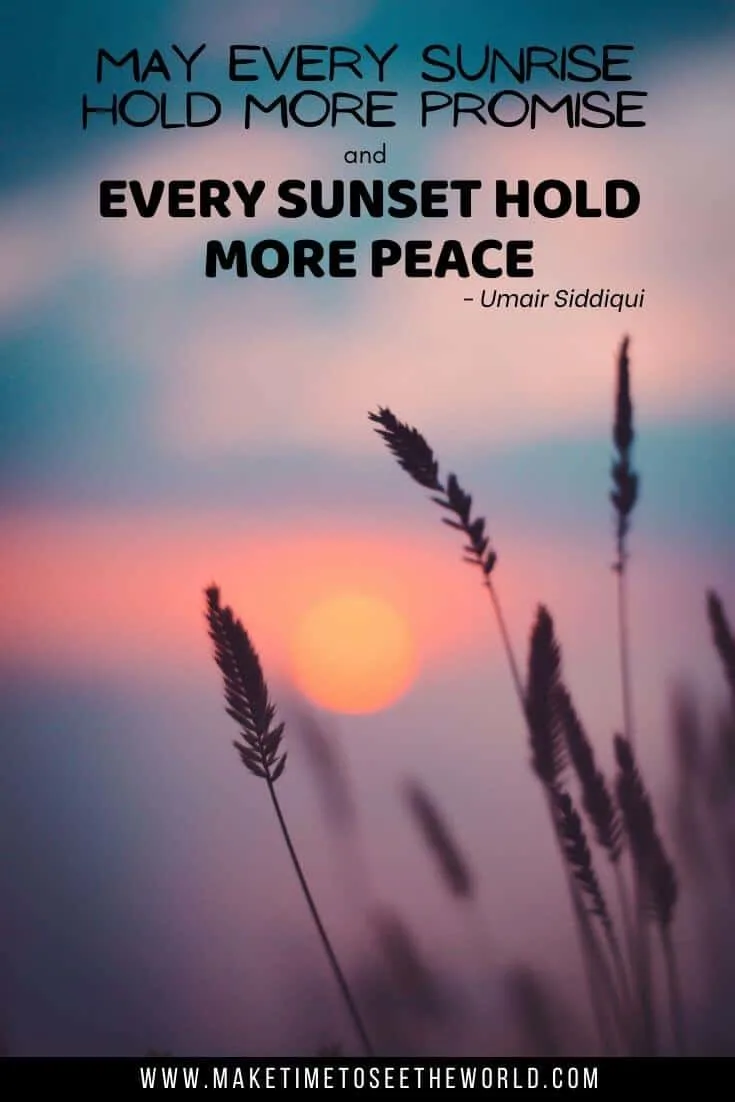 52: "My joy is the golden sunset giving thanks for another day." – Jonathan Lockwood
53: "Sunsets are my escape into the reality I want to continuously live." – Rachel Roy
54: "The beautiful affair of sun, sky and the sea brings a perfect moment of love, peace and joy." – Umair Siddiqui
(one of the beautiful nature quotes which could be about sunrise and sunsets)

55: "The sky speaks in a thousand colors." – S.R. Abbasi
56: "That was her magic – she could still see the sunset, even on those darkest days." – Atticu
Funny Sunset Quotes, Sunset Puns & Sunset Sayings
These short quotes about sunset and sunrise captions are the perfect Instagram captions for sunsets when you want something a little lighthearted and funny for your sunset pics!
57. "Sunset State of Mind"
58. "Blondes have more sun"
59. "I couldn't see the sunset because there was dusk in my eyes"
60. "Ain't no sunsets when she's gone"
61. "After the sunset I stayed up all night to think, and then it dawned on me"
(One of my favorite pun-ny sunset quotes!)
62. "Suns down, puns down"
63. "Sunsets and chill"
(This is one of my favorite funny sunset captions!)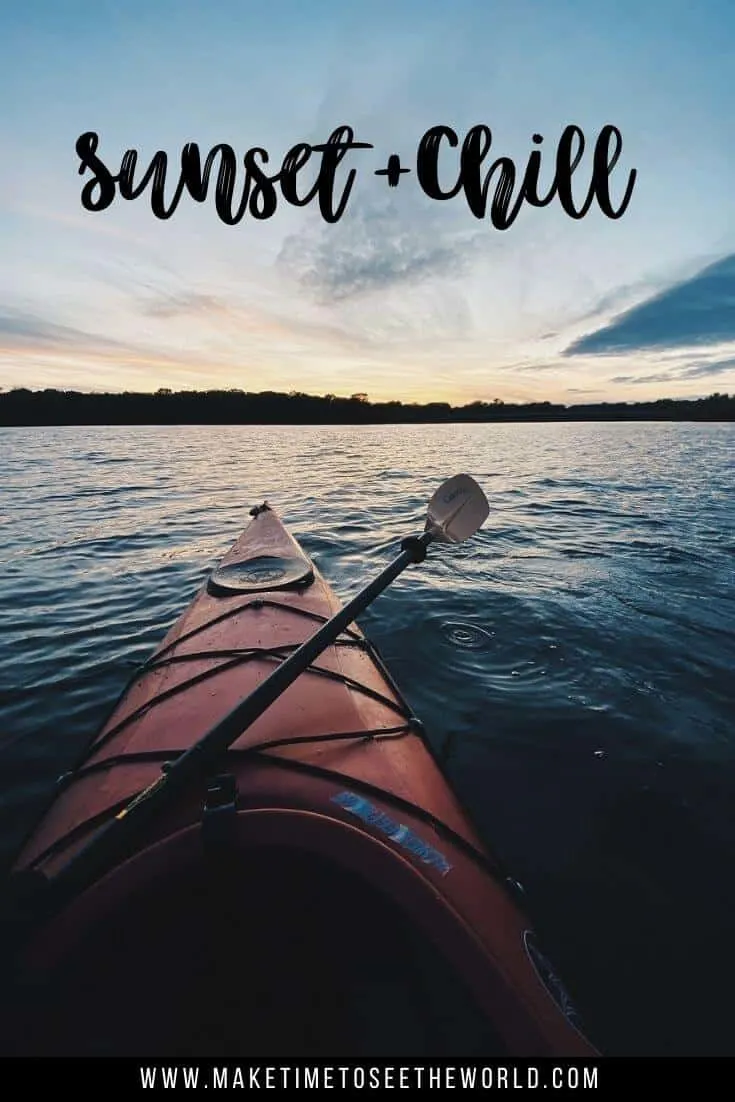 64. "It's all sun and games until somebody gets hurt"
65. "When the sky turns pink, it's time for a drink!"
(I'm pretty sure this one is the perfect caption for an Instagram sunset shot – you know the one where you hold a glass of wine or a cocktail up to the horizon?!)
66. "I was confused so I went to watch the sunset and think. It didn't help though, it just left me in the dark."
67. "That crazy little sun of a beach"
(One of the cutest beach quotes for a sunset photo!)
Sunset Quotes from Songs
68. "There is nothing is more musical than a sunset. He who feels what he sees will find no more beautiful example of development in all that book which, alas, musicians read but too little – the book of Nature." – Claude Debussy
(I thought I would start off this section the perfect quote that combines music and sunsets)

69. "As long as I gaze on Waterloo sunset, I am in paradise" – Waterloo Sunset, The Kinks
70. "Sunrise, sunburn, sunset, repeat
Moonlight, all night, crashin' into me
Nothin' will ever be easy as you and me
Tangled up with nowhere to be
Just sunrise, sunburn, sunset, repeat" – Sunrise, Sunburn, Sunset by Luke Bryan
71. "And the sun will set for you
The sun will set for you
And the shadow of the day
Will embrace the world in gray
And the sun will set for you" – Shadows of the Day, Linkin Park
72. "I'm on my way
Driving at 90 down those country lanes
Singing to Tiny Dancer
And I miss the way you make me feel, and it's real
When we watched the sunset over the castle on the hill" – Castle on the Hill, Ed Sheeran
73. "Don't let the sun go down on me (Don't let the sun)
Although I search myself, it's always someone else I see
I'd just allow a fragment of your life to wander free (Don't let the sun)
But losing everything is like the sun going down on me" – Don't Le the Sun Go Down on Me by Elton John
74. "It's like the sun set in your eyes, I never want it to rise" – Sunset, The XX
75. "Sunsets over the beaches from now on
Each day looking for new ways to go on, alright
Maybe I should drop by, maybe I should have called
Maybe I should have followed you and beat down your door" – Sunsets, Powderfinger
RELATED: The best sunset songs for Instagram stories: Sunset Lover by Petit Biscuit, Sunset by Pacific, Sunset by The XX, Sunset by Tobias Bergson, Sunset by Grayson Gibson & These Are The Days by Van Morrison.
76. "I waited 'til I saw the sun
I don't know why I didn't come
I left you by the house of fun
Don't know why I didn't come" – Don't Know Why by Norah Jones
77. "All I ever wanted was to dream another sunset with you." – Jamie All Over by Mayday Parade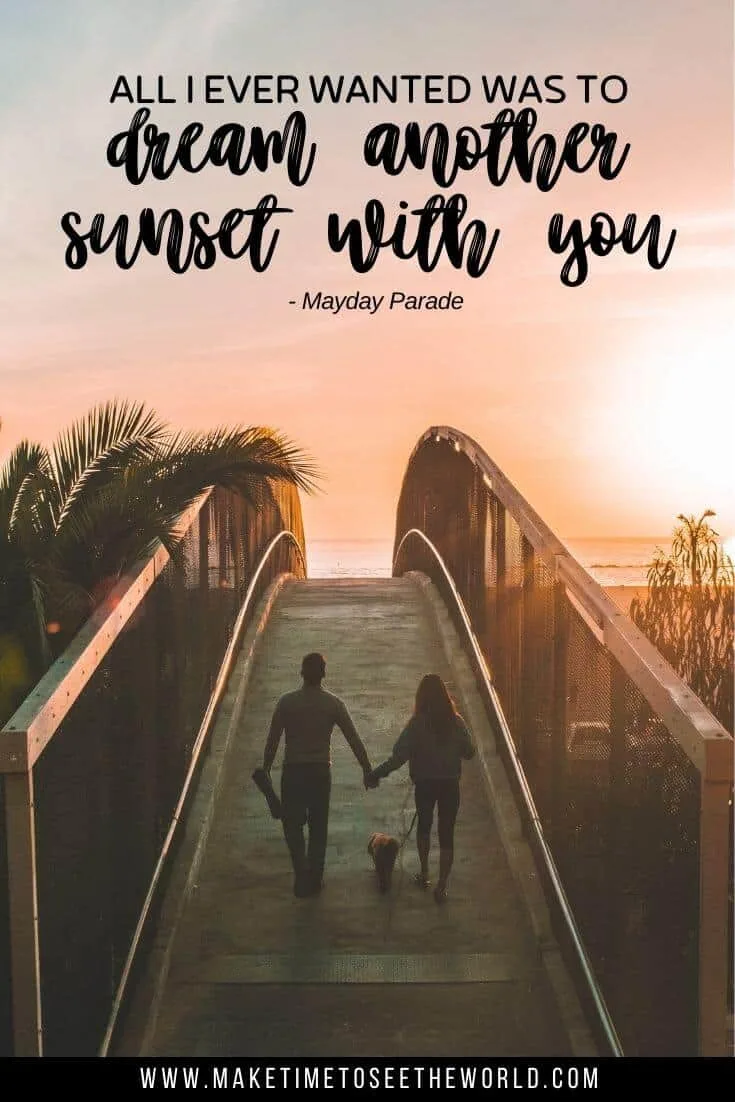 78. "And I'll be honest
I'm not used to going out before the sun goes down
But now the haze is gone, I'm in a better place" – Lula on the Beach by Seaway
79. "Red sails in the sunset, way out on the sea
Oh, carry my loved one home safely to me" – Red Sails in the Sunset by Nat King Cole
80. "Come with me underneath the sunset, where we can fly away
And watch everything gets smaller from up there in our space
Come with me underneath the sunset, where there's only room for two
'Cause everyday I'm falling, falling more in love with you" – Sunset by Grayson Gibson
And that's a wrap, folks! We hope among these quotes on sunset you have found some beautiful sunset quotes to inspire your sunset caption for Instagram post with!
Do you have a favorite caption about sunset or sky quotes? Let us know in the comments below!
Remember – sharing is caring – whether on Facebook, Twitter or Flipboard, and don't forget the sunset pictures above with sunset quotes on them can all be pinned on Pinterest!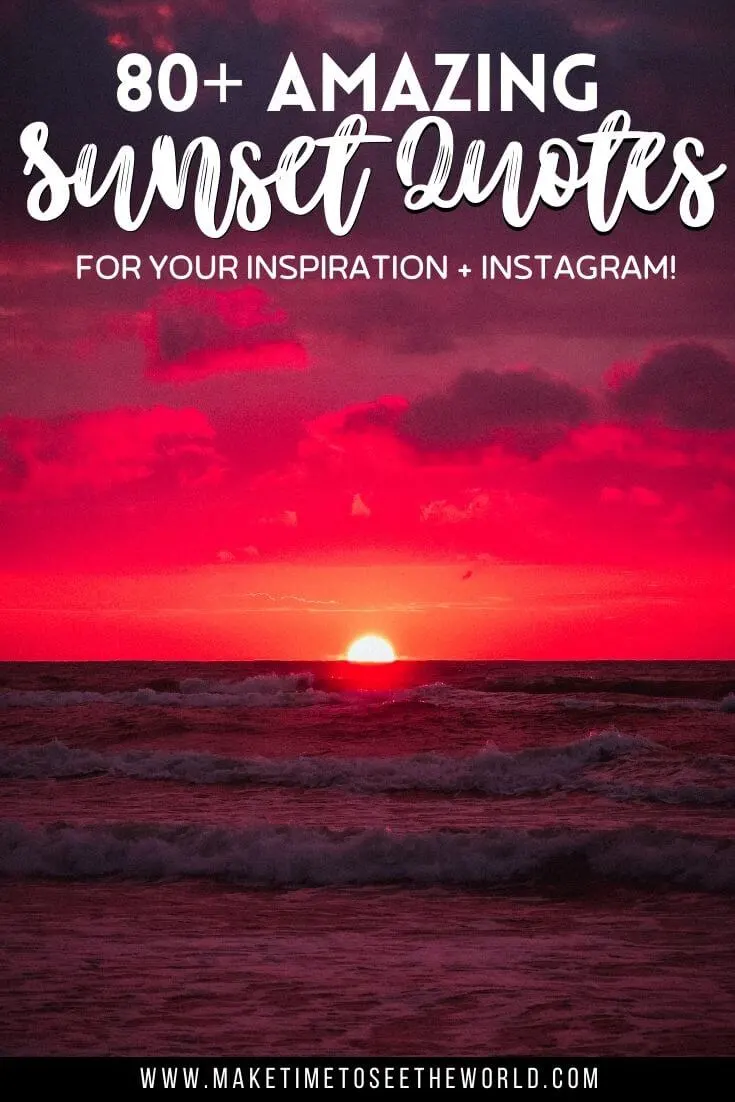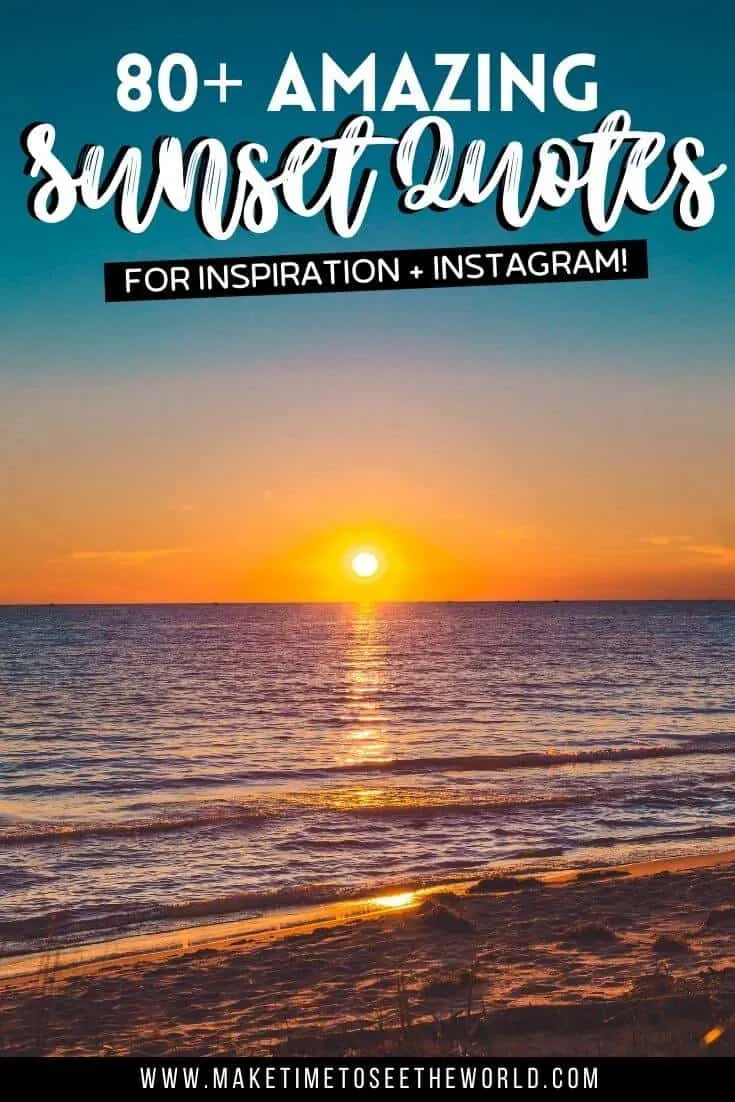 And if you liked the travel quotes featured on our beautiful sunset quotes list, take a look at the other recent posts, motivational quotes, life quotes, morning quotes, sunset love quotes, packing tips, travel accessories, travel resources, travel guides, ultimate guides and packing lists in this series:
Hi There! Thanks for reading my travel tips for the Best Sunset Quotes for Instagram and Sunset Captions for Instagram. I just wanted to let you know that this post may contain affiliate links, which means if you purchase something after clicking a link, I may get a small commission – which is at absolutely no cost to you. If you enjoyed this article and are going to be searching for some of the things I mention anyway, I would love it if you could click through from the links above & thank you in advance! Read my full disclosure here. And thank you for reading the MakeTimeToSeeTheWorld travel blog.