Perfect for first-time visitors, here are 15 BEST Places to visit in Barcelona (+ where to eat & where to stay) to help you plan your trip.
Barcelona, the sunny capital of the Catalan region is a vibrant and sprawling city that offers visitors the unique chance to experience true Catalan culture, architecture (think Gaudi) and history.
With so many fabulous things to see, explore and do when visiting this coastal gem, it may seem somewhat daunting to plan your first visit here. That's why we've decided to collate this travel guide to outline all the very best places to visit in Barcelona on your next trip to Catalonia [Catalunya] in Spain!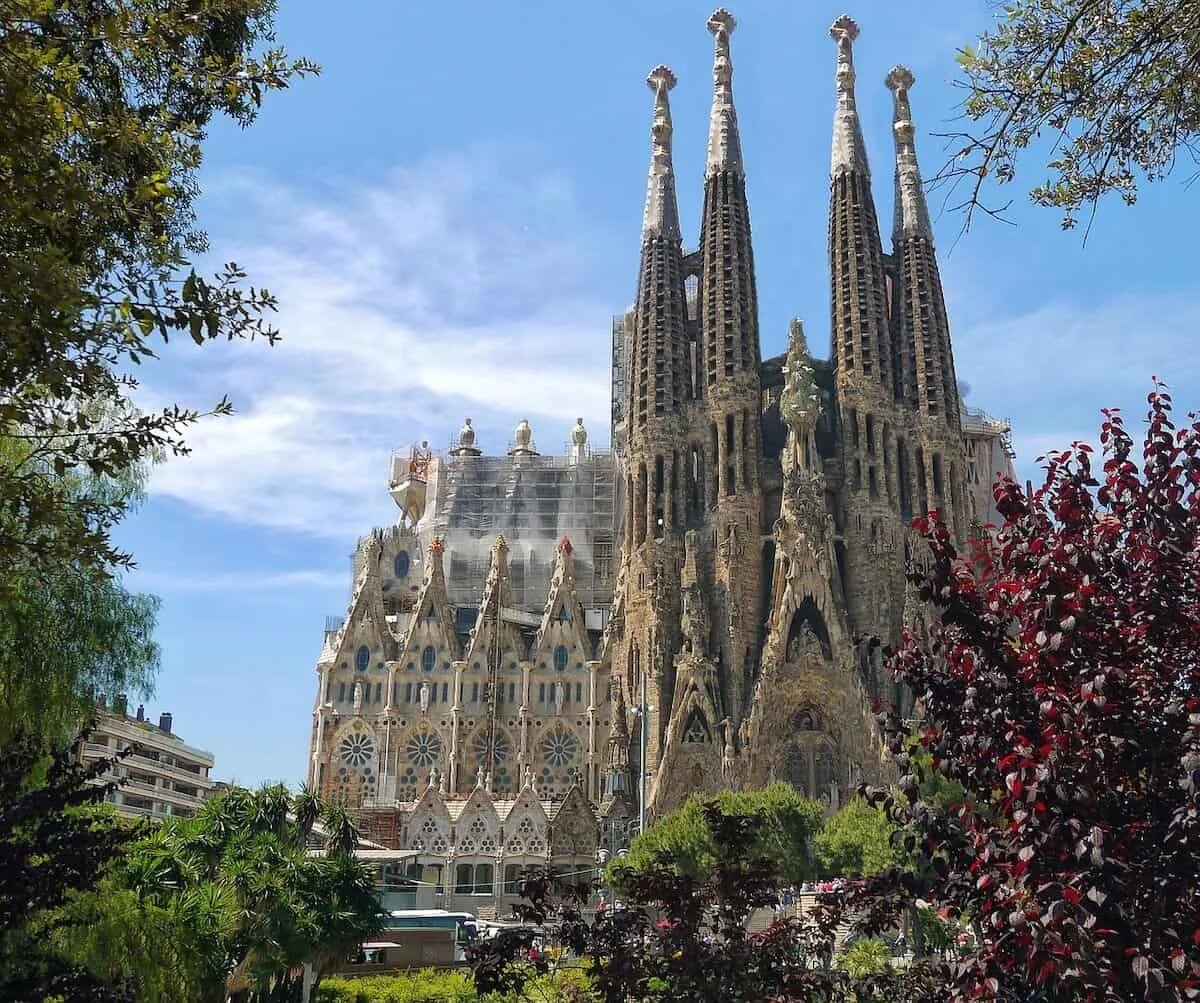 Disclaimer: Almost all posts on this site contain Affiliate links, and this one about 15+ BEST Places to visit in Barcelona Spain (Perfect for first-time visitors) is no different. This means that if you click on any of the links in this post (and make a purchase) I may receive a small commission at absolutely no cost to you. Each post is carefully crafted to (hopefully!) answer all your questions and recommendations are made where we believe they will improve your trip and help with your planning. As such we thank you in advance should you decide to click & buy. Read my full Disclosure here.
Contributed by Marco from Travel-boo.com
Essential Barcelona Travel Tips: What to Know Before you Go
Getting to and around in Barcelona
Traveling to Barcelona by plane is probably the most common way to get to the city. The city's El Prat Airport, which is located outside the city center and reachable by metro in around half an hour, receives local Spanish, European as well as international flights. If, however, you are in Spain or neighboring countries then travel by bus or rail is an alternative too.
Once you're in Barcelona you may want to make use of the city's comprehensive public transport system that includes a network of metro trains and buses.
Due to the city's large size, you may be making use of these services more than you would expect to compared to other more compact European cities. When we visited, we opted to buy a T-10 Barcelona metro ticket which currently costs €11.35 for 10 journeys in Zone 1. You may also opt to buy one of the Hola Barcelona Travel Cards, depending on how often you plan on using public transport. These range from €16.30 for a 2-day unlimited travel pass through to €38 for a 5-day pass.
*Quick Tip*: Cab hailing services such as Uber do not currently operate in Barcelona, largely due to Catalan laws and policies that has forced many of these operatives out of the region. Local taxi services do however still operate within the city.
What (and Where) To Eat in Barcelona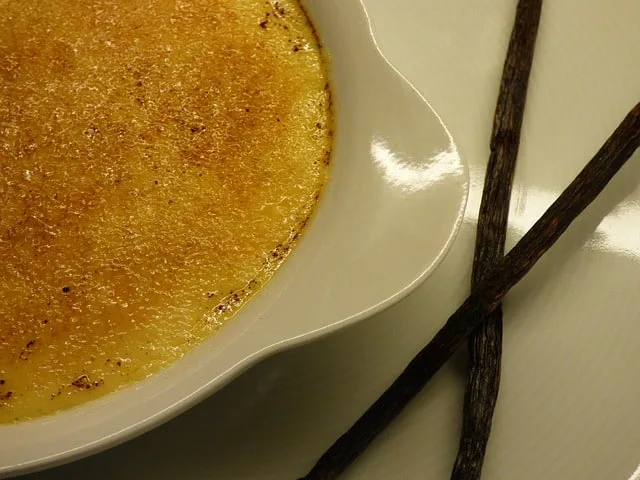 One thing to note about visiting Barcelona is that the culture and cuisine of the Catalan region is distinctly different from the rest of Spain. Don't be caught in the tourist traps in the known tourists' hotspots such as Las Ramblas. Here, you will no doubt find restaurants offering paella or sangria which is not traditional Catalonian cuisine at all!
Instead be sure to enjoy a glass of Cava, Spain's answer to sparkling wine, which is produced largely in Catalonia. Or savor some more traditional Catalan dishes such as an Esqueixada salad, Pa amb tomàquet (bread with tomatoes and olive oil) or a Suquet de Peix fish stew. For those with an affinity for the sweet, try the much-loved Crema Catalana which is fairly similar in style to a Crème Brulee.
For the best in Catalan fare, sample these and other traditional dishes of the region at restaurants such as Can Valles in Eixample, 7 Portes in Ribera, Can Culleretes in the Barrio Gotico (Gothic Quarter) or El Glop in Gracia.
Where to Stay in Barcelona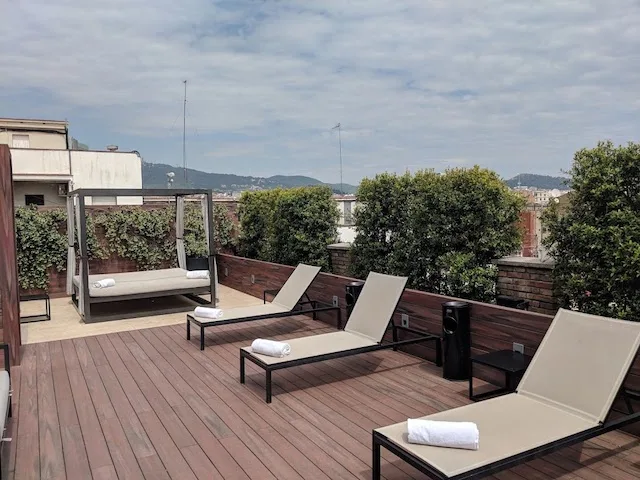 When selecting a hotel in Barcelona we recommend staying close to the city center – and if that's not possible, be sure to select a hotel near to a metro station to take advantage of Barcelona's very good transport links.
Ideal areas would be Barri Gotic (Gothic Quarter, Historic Quarter inc. La Rambla); Plaça de Catalunya/Plaza de Catalunya (both the city center of Barcelona and where the old and new (19th century) parts of Barcelona meet); or Eixample, the 19th Century built part of the city (specifically around Passeig de Gracia).
*Editors Note* I stayed in Hotel U232 in Eixample which had rich, comfortable rooms, complimentary drinks, and the beautiful rooftop terrace you see above. It was 15 minutes walk from the train station, and around the corner from the hop on hop off bus stop. (It would also be a great place to stay if you are traveling alone)
15+ Best Places to Visit In Barcelona
Home to some of Gaudi's most incredible buildings, stunning beaches, and mouth-watering restaurants, this city has no shortage of amazing tourist attractions. Whether you're visiting Barcelona for the first time or returning, here are some of the best things to do and places to visit in Barcelona.
Sagrada Família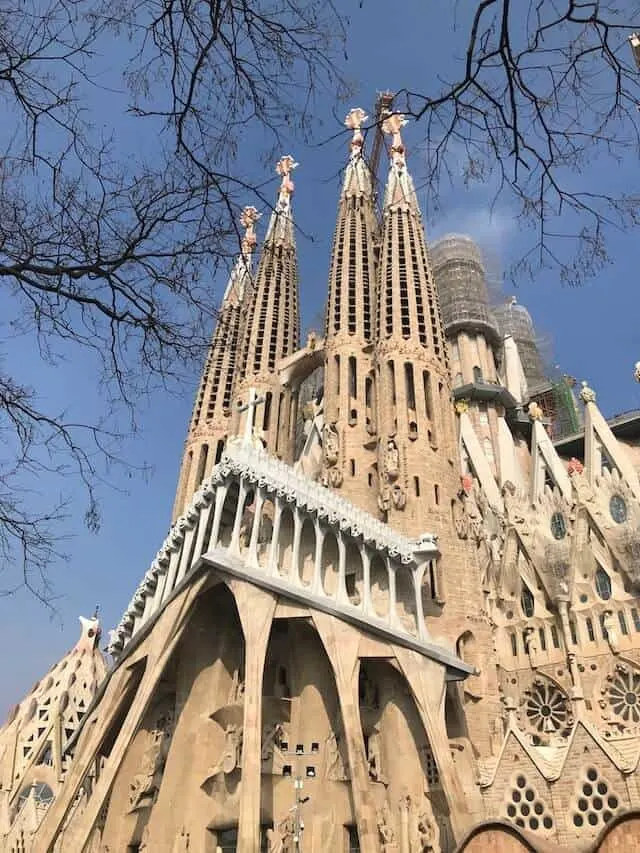 This architectural masterpiece combines fantasy and reality. Anton Gaudi's magnificent basilica combines multiple architectural styles including Art Nouveau, Catalan Modernism and Spanish Late-Gothic. Both the interior and exterior look like something out of a dream and will leave you awestruck. While the church is still unfinished, it's one of the premier tourist attractions in Barcelona.
Upon its completion, la Sagrada Família will consist of three major facades. The Passion facade and Nativity facade are already complete, while the Glory facade is still under construction.
The church boasts incredible spires (ten of which still need to be completed), amazing towers, portals, chapels and magnificent stained glass. Even though it's scheduled to be completed in 2026, visitors can explore the gorgeous structure. Just make sure to book your admission tickets in advance.
La Boqueria Market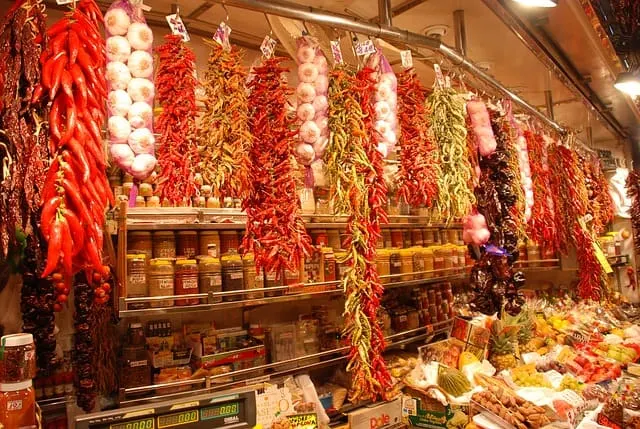 If you asked any locals about what to do in Barcelona, Mercat de La Boqueria would be at the top of their list. The market was started in the 1200s and has since become a popular centre. It's made up of over 200 stands, and foodies will be delighted by all that La Boqueria has to offer.
Located in Barcelona's city centre, it's the perfect place to buy some groceries, have a meal or to immerse yourself in the local culture. The market sees over 45,000 visitors daily and is a delight for the senses. After exploring, you'll even be able to cool off with a beer at one of the market's bars.
Camp Nou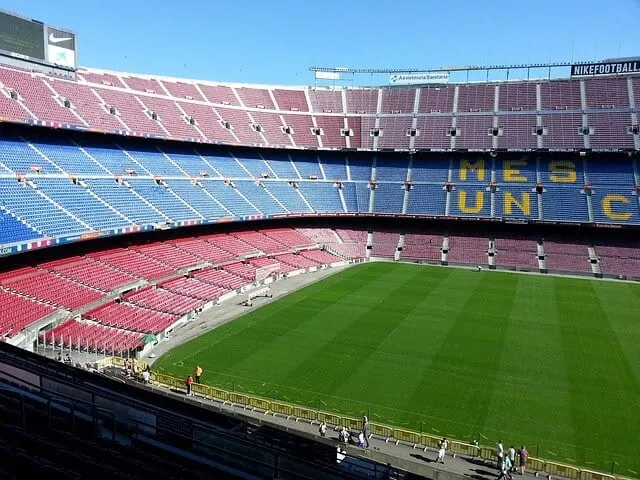 A visit to Camp Nou is a must for football fans. The 99,000-seater stadium is impressive in both its size and capabilities. Not only will you be able to stand in the home ground of FC Barcelona, but you'll also be able to see some incredible memorabilia from the past 50 years. It's no wonder it's one of the top tourist attractions in Spain!
If you happen to get your hands on some tickets for a live game, you're in for the time of your life. But if you want to see what goes on behind the scenes, and experience running through the player's tunnel, a guided tour is the way to go.
Palau de la Música Catalana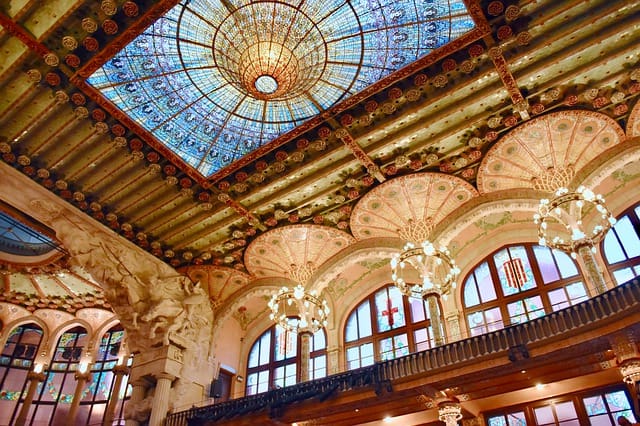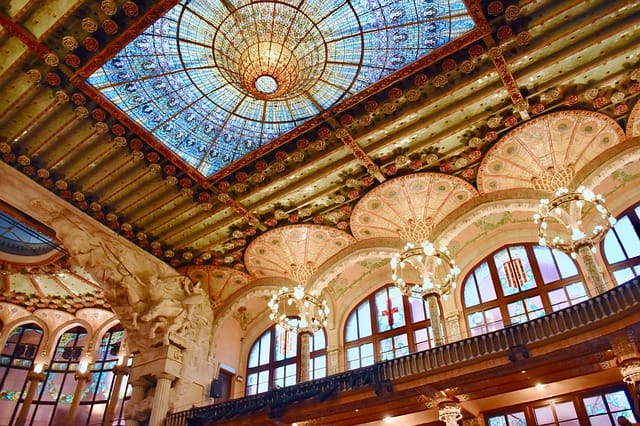 The Palace of Catalan Music is magnificent, to say the least. This beautifully designed auditorium is picture-perfect with a mosaic of stained glass and eccentric chandeliers. It's an incredible venue to watch an array of choral, orchestral and opera musical performances.
While you're in Barcelona, it's definitely worth taking a tour of the Palace. During the day the concert hall is magnificent, but it's after dark that it truly comes alive, especially when there's a show. It's one of the top things to do in Barcelona at night.
If you're able, it is worth getting tickets to watch one of the concerts hosted throughout the year. The venue boasts phenomenal acoustics, and there's no better place to watch the tale of the Spanish gypsy girl, Carmen.
Las Ramblas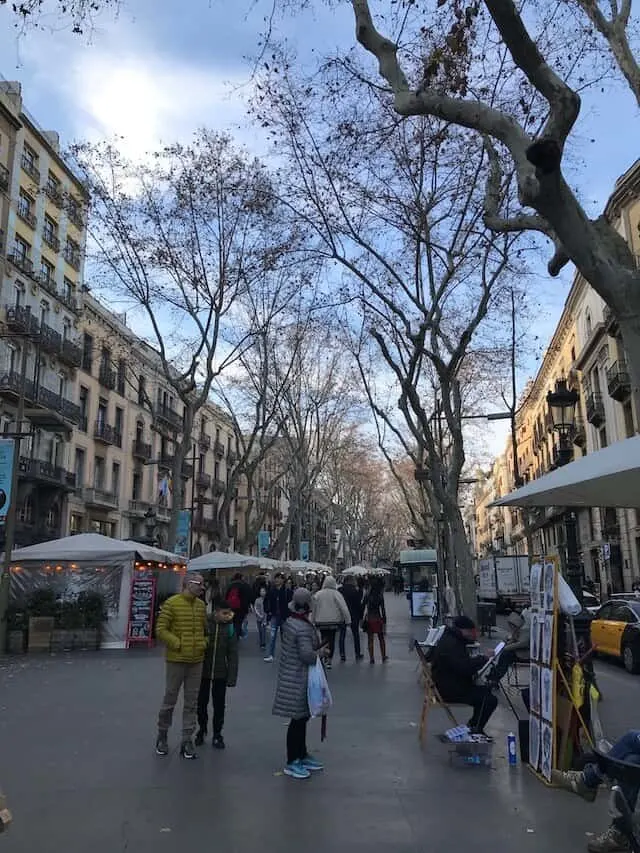 Strolling through Las Ramblas is an essential Barcelona experience. The extensive pedestrian boulevard is located in the heart of the bustling city and is Barcelona's most famous street. You'll find a mixture of both tourists and locals exploring the mile-long avenue.
This street is full of some of the best Barcelona things to do. Along the boulevard, you'll find various talented human statues and Spanish artists (who will happily draw your portrait or caricature). There are also plenty of shops and restaurants and it's the perfect place to enjoy some sangria while people watching.
You might even be able to catch a street performance underneath the shade of the trees. This gorgeous street will keep you busy for hours, and is a great place to get a feel for Barcelona life – just be wary of pickpockets in this area.
Explore the Gothic Quater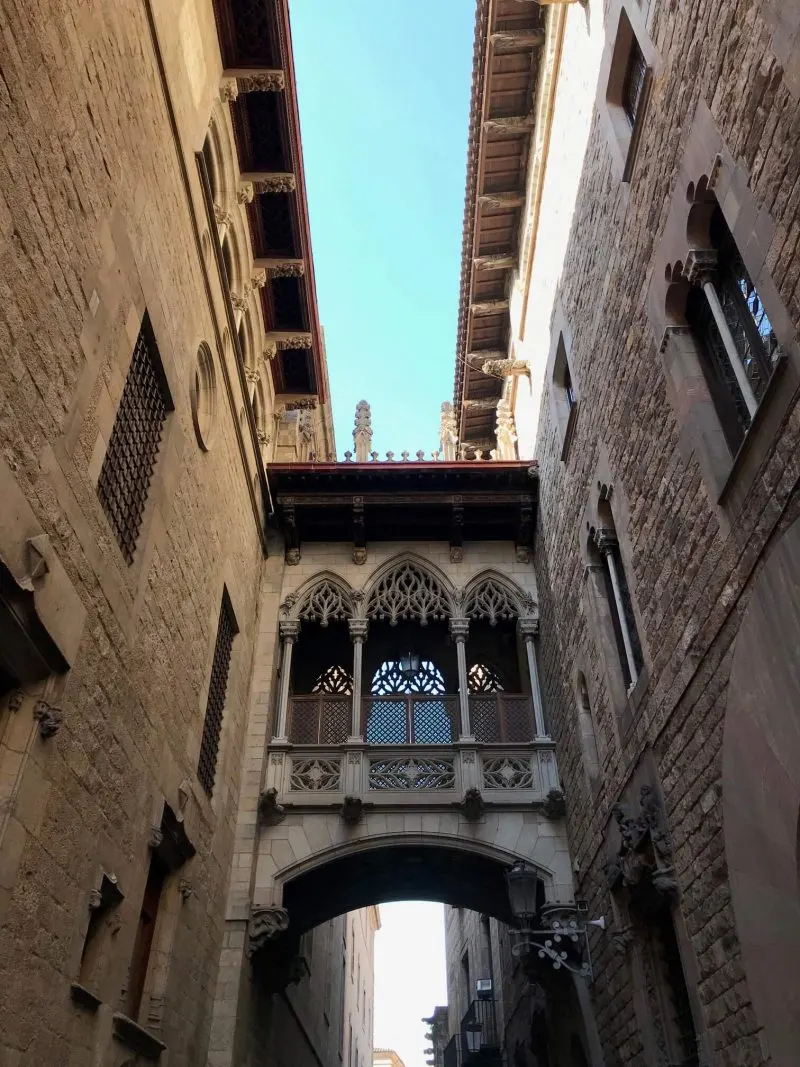 The Gothic Quarter – "Barrio Gotico" in Spanish & "Bari Gotic" in Catalan – is an absolute must-visit on your trip to Barcelona. It is the oldest district in Barcelona and with all its narrow streets, squares and famous gothic architecture buildings it is a great place to explore on foot. And when you're ready for a break, there are plenty of cafes to grab a drink or a bite to eat in the area.
Barcelona Cathedral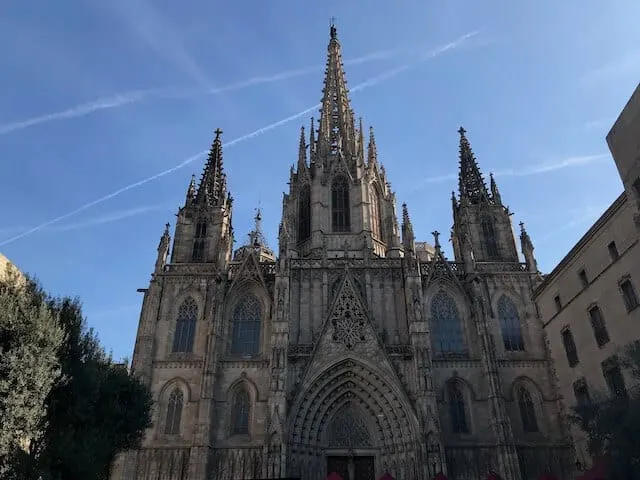 No – it's not another name for the Sagrada Familia! The Cathedral of the Holy Cross and Saint Eulalia (or Barcelona Cathedral for short) is the Gothic cathedral and seat of the Archbishop of Barcelona, located in the heart of the Gothic Quarter.
Impressive during the day, and equally so when lit up at night, grab a beer at one of the bars around the square and soak in the atmosphere.
Arc de Triomf / Arco de Triunfo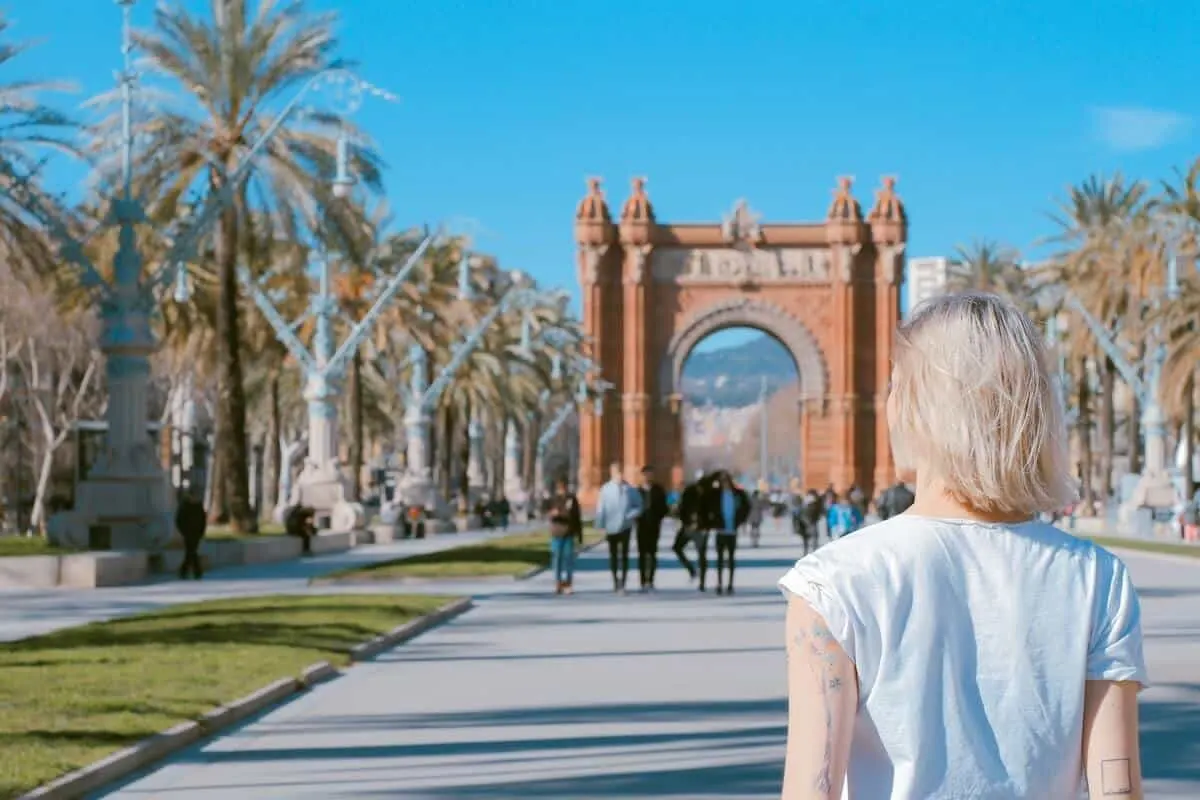 Built of red bricks in the New Moorish style, the Arc de Triomf stands proudly at the end of the Passeig Lluís Companys. In 1888, the arch served as the main entrance to the World's Fair and the arms of the city of Barcelona and of the 49 Spanish provinces were placed around it.
Citadel Park

Just beyond the Arco de Triunfo, you'll find the beautiful green space and the impressive fountain of Citadel Park. A perfect spot for enjoying Barcelona's sunshine or a spot of people watching.
Museu Picasso
Made up of five adjoining palaces, Musee Picasso has a lot more than just art on offer. With extraordinary rooms, extravagant chandeliers and amazing painted ceilings, the museum itself is a work of art.
While Picasso's most famous works are housed in other areas of the world, there's no better place to learn more about the renowned painter than in one of his favorite places in the world, Barcelona. The Picasso museum collection shows Picasso's progression as an artist and introduces you to the man behind the masterpieces. Musee Picasso is, without a doubt, one of the top things to do in Barcelona.
Park Güell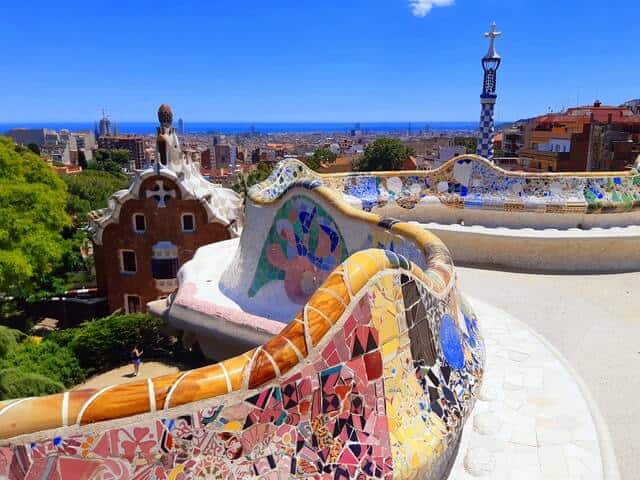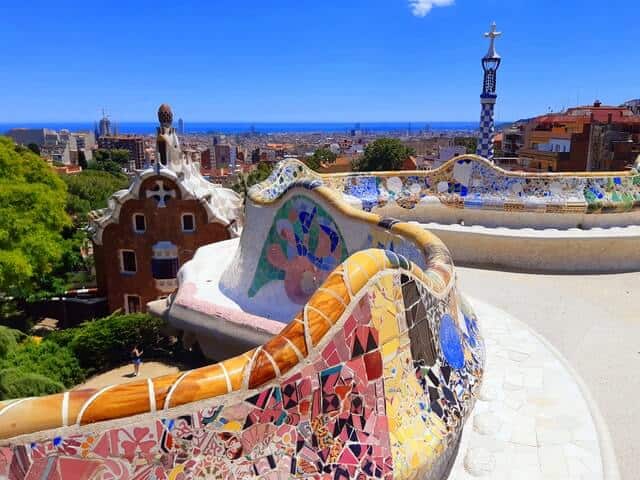 Parc Guëll offers a dream-like experience straight out of a fairy tale. There's a reason why you'll find this public park on the cover of Barcelona's postcards. It beautifully combines both architecture and nature. The structures often appear to be an extension of nature itself, offering a fantastic experience that'll delight both adults and children.
This collaboration between Eusebi Güell and Antoni Gaudi is one of the best things to do in Barcelona, Spain. And you'll be able to get a stunning view of the city from Nature Square. Entrance to most of the park is free, but you'll need to buy a ticket in advance to see the best parts of the park.
Park Güell is also the perfect place for anyone with a travel camera.
Visit One of Barcelona's Beaches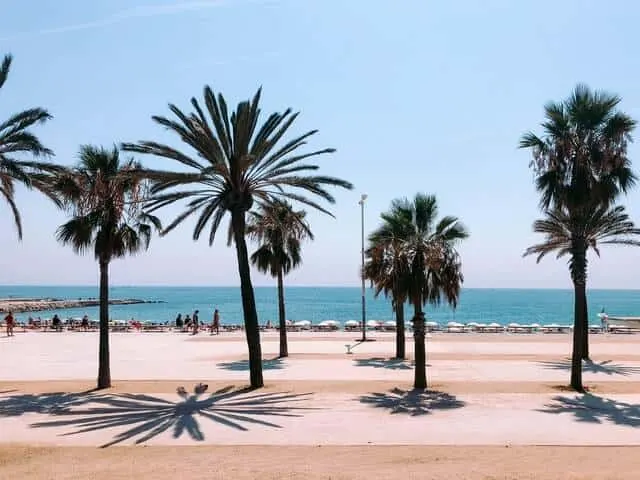 Visiting a beach is a must-do in Barcelona. The city's boardwalk continues for miles with plenty of different beaches to choose from. Whether you're looking for a place to soak up the sun, catch up on your reading or go for a surf, there's a beach for you.
Barceloneta is a bustling, lively beach that's exceptionally popular. There's a line of trendy shops and bars along the boardwalk. You'll even be able to look at Frank Gehry's 52-meter long golden fish sculpture.
Make sure you don't forget anything with this ultimate beach packing list.
Casa Batlló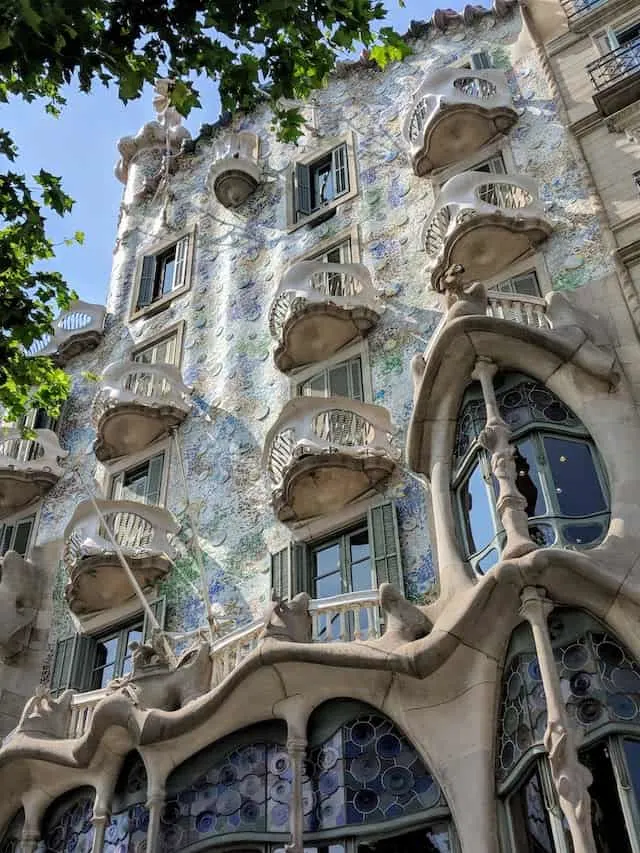 Not far from the central Placa de Catalunya, explore another of Gaudi's masterpieces with a tour of Casa Batlló. This UNESCO World Heritage Site is absolutely gorgeous and makes for stunning photographs. Designed without any straight lines, this apartment block has a uniquely organic feel to it.
The exterior is covered in shards of stained glass, giving the building a water-like feel. The roof of the building is one of the most whimsical aspects which are designed like the scales of a dragon.
The interior is just as unique with a stunning mushroom-shaped fireplace that's the perfect place to warm up in colder months.
Be sure to grab your skip the line tickets and avoid wasting time queuing outside this stunning building.
Montjuïc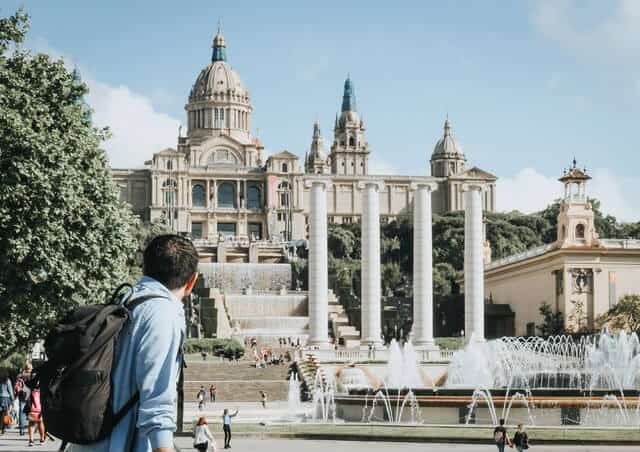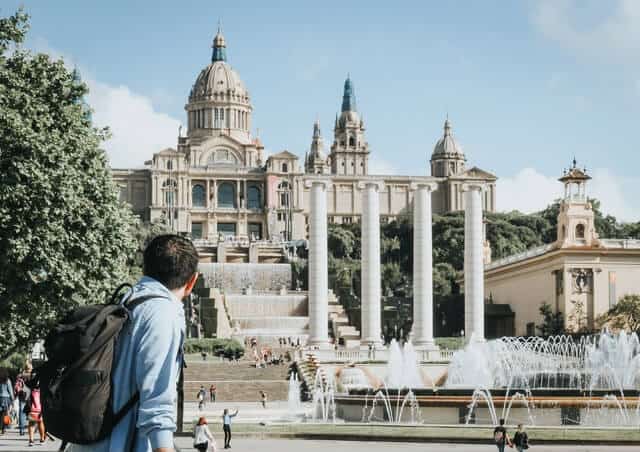 From the Magic Fountain to the incredible museum and exotic gardens, this historic hill has so much on offer. At the top of Montjuïc, you'll find a 17th-century fortress which served to protect the city during the Catalan Revolt and the Civil War.
A great place to see a panoramic view of Barcelona is from the steps of the National Museum of Catalan Art de Montjuic. It's also an incredible place to take travel photographs.
Monjuic Cable Car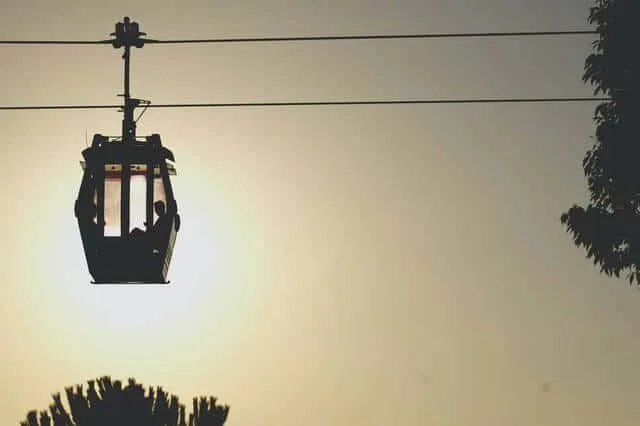 Take a ride on the Montjuïc Cable Car for some incredible views of Barcelona. From here you'll be able to see both the city and Barcelona's coastline, and get a spectacular aerial view of the fountains and the National Museum of Catalan Art (above).
Parròquia de Sant Francesc de Sales Church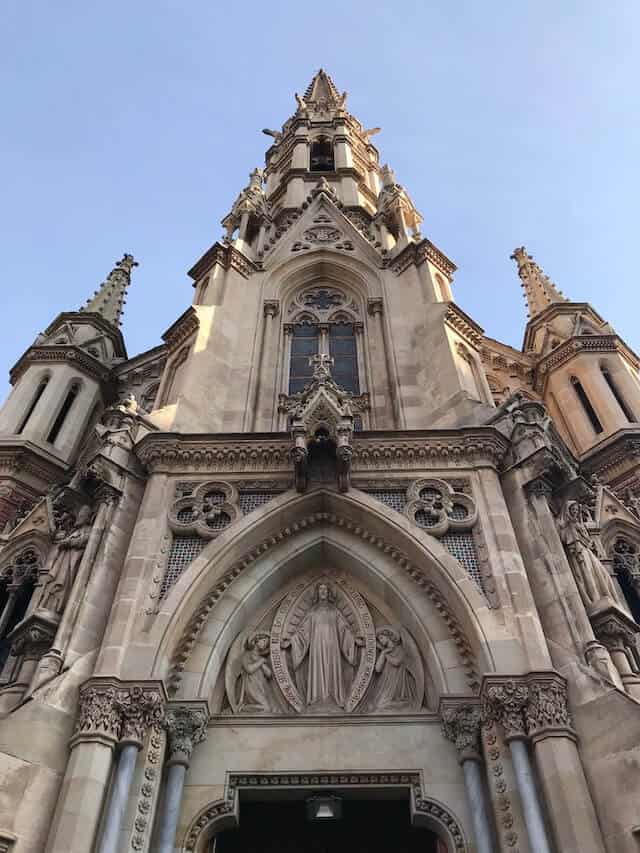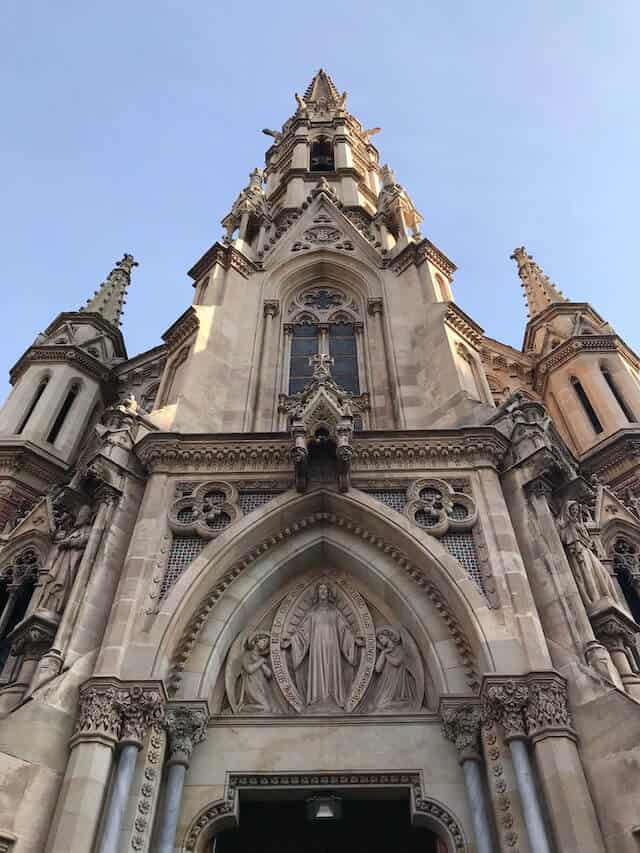 If you have space in your Barcelona itinerary for a little more religion, be sure not to miss the Parish of Saint Francis of Sales. It was built between 1878 and 1885 by an architect named Joan Martorell, who was born in Barcelona and happened to be Antoni Gaudí's teacher.
Located in the Eixample District, it is easy to include on your Barcelona trip, especially if you are staying in that area.
The Best Day Trips from Barcelona
Montserrat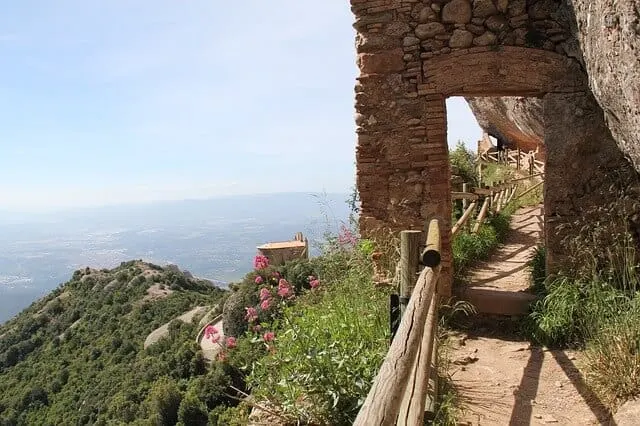 Montserrat is a spectacularly beautiful Benedictine monk mountain retreat about 60-90 minutes North West of Barcelona. Take a guided tour, hike the area with a local or include it on a wine and tapas tasting day. The surrounding mountain scenery of the region is breathtaking and makes for a great day trip from Barcelona.
Sitges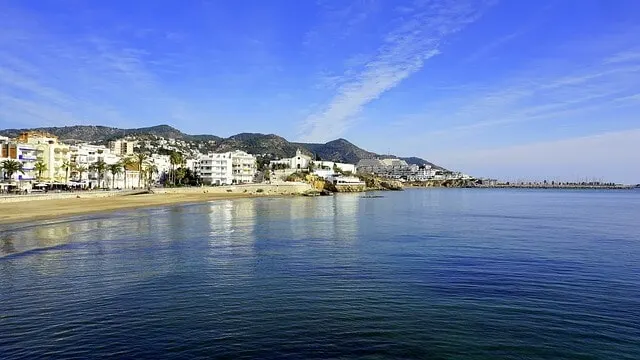 Sitges is located about 35km SouthWest of Barcelona and is renowned worldwide for its Film Festival and Carnival. Located between the Garraf Massif and the sea, it is also known for its beaches (there are 17 to choose from!) and historical sites, the combination of which makes for a beautiful day out and a great contrast to the hustle and bustle of Barcelona.
Girona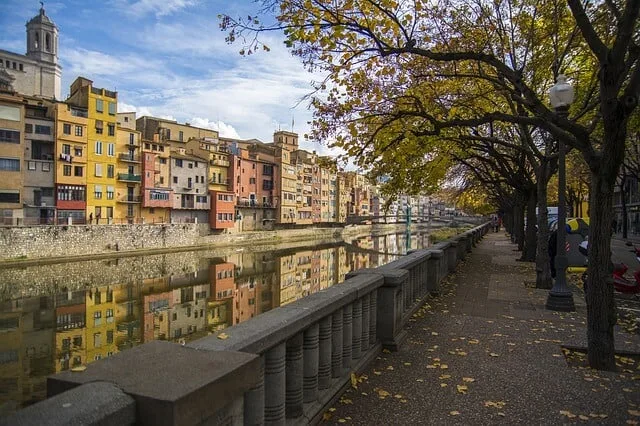 Travel NorthEast from Barcelona (and almost to the border with France) to discover the wonders of one of the most fascinating cities in Catalonia and learn about its cultural heritage. Wander around Girona's winding medieval streets and its very well preserved Jewish quarter. You never know, you might just feel like you've stepped into Braavos or King's landing (from Game of Thrones). If you know, you know.
We hope this guide to 16 Best Places to Visit in Barcelona Spain (perfect for first-time visitors) has been a huge help planning your Barcelona trip, and has shown you all the best things to see and do in Barcelona while you are there!

If you know of anyone else that needs a little bit of inspiration or assistance in planning their Barcelona vacation (or how to explore Barcelona while they are there!), please be sure to share this post on social media: Facebook, Flipboard, Twitter or grab one of the images from below for Pinterest. And remember – sharing is charing (and we thank you in advance!)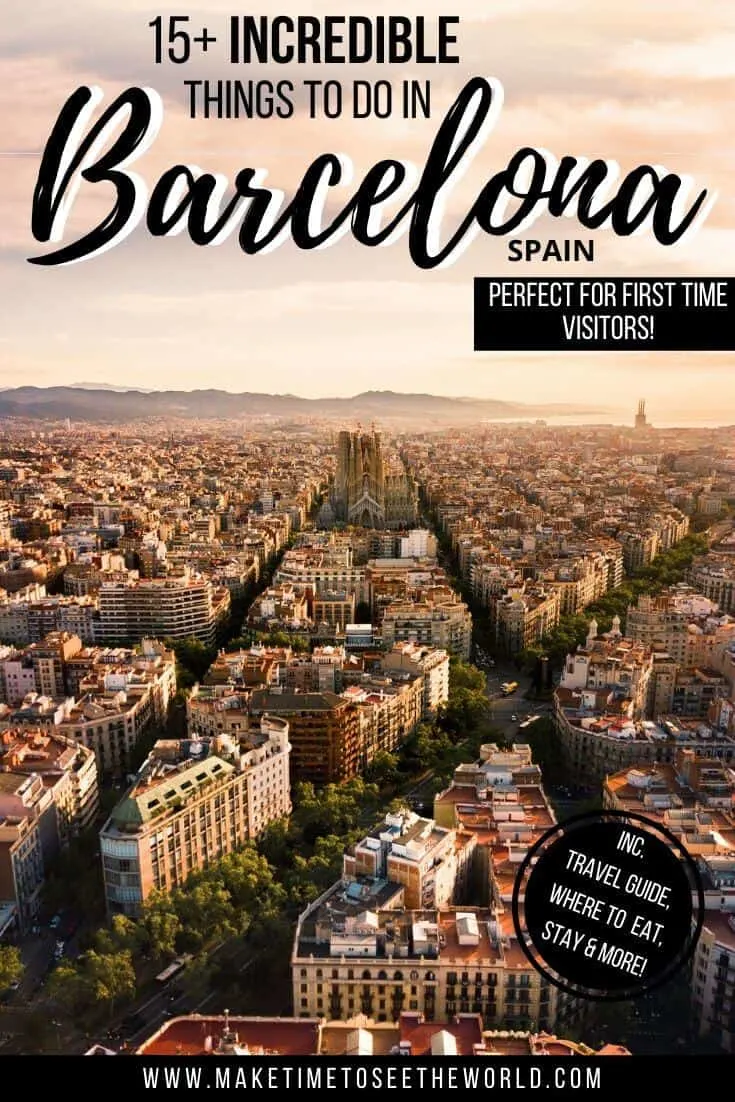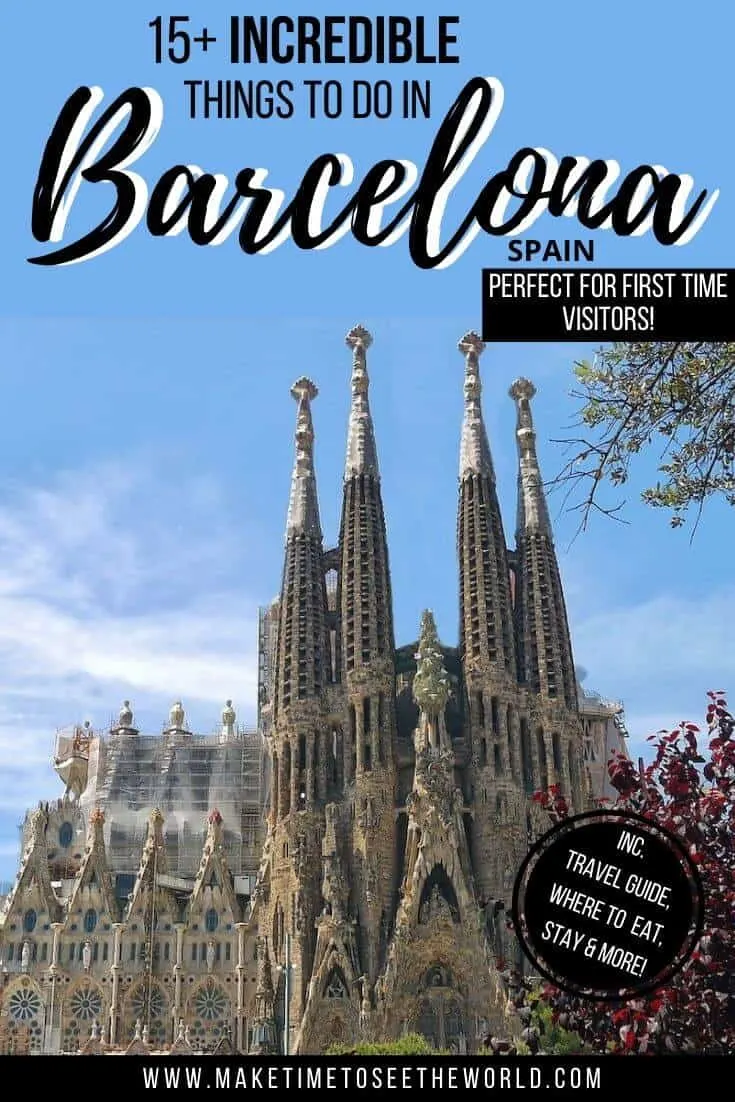 READY MORE EUROPE TRAVEL INSPIRATION? YOU MIGHT BE INTERESTED IN THESE TRAVEL TIPS, TRAVEL HACKS, TRAVEL ARTICLES, DESTINATION GUIDES, TRAVELER RESOURCES AND RELATED POSTS ABOUT OTHER AMAZING CITIES IN EUROPE:

Hi There! Thanks for reading our guide to the most 15+ BEST Places to Visit in Barcelona Spain (Perfect for first-time visitors) I just wanted to let you know that this post contains affiliate links, which means if you purchase something after clicking a link, I may get a small commission – which is at absolutely no cost to you. If you enjoyed this article and are going to be searching for some of the things I mention anyway, I would love it if you could click through from the links above & thank you in advance! Read my full Disclosure here.
And a huge Thank You for reading the MakeTimeToSeeTheWorld travel blog.