Zion National Park, located in southwestern Utah, is a result of the Virgin River cutting through thousands of feet of layered Navajo sandstone, creating the Zion Canyon. Named for the Hebrew word "refuge," Zion National Park sees millions of visitors each year, with the numbers only increasing year after year. Travelers cannot get enough of the beautiful Zion Canyon, which they can view wading through its Virgin River or ascending Angels Landing. At night, the stars come out and illuminate the night sky in a breathtaking sight.
Visiting
Zion National Park
is truly an experience, even for those who aren't the most avid nature-lovers. It's a once in a lifetime experience and is just a short trip away from either
Las Vegas
or Salt Lake City.
To help you plan out your itinerary to this wonder of nature, everything you need to know before heading in that direction is compiled into this Zion National Park Travel Guide featuring the best time of year to visit, where to stay, and the best thing to do in Zion National Park.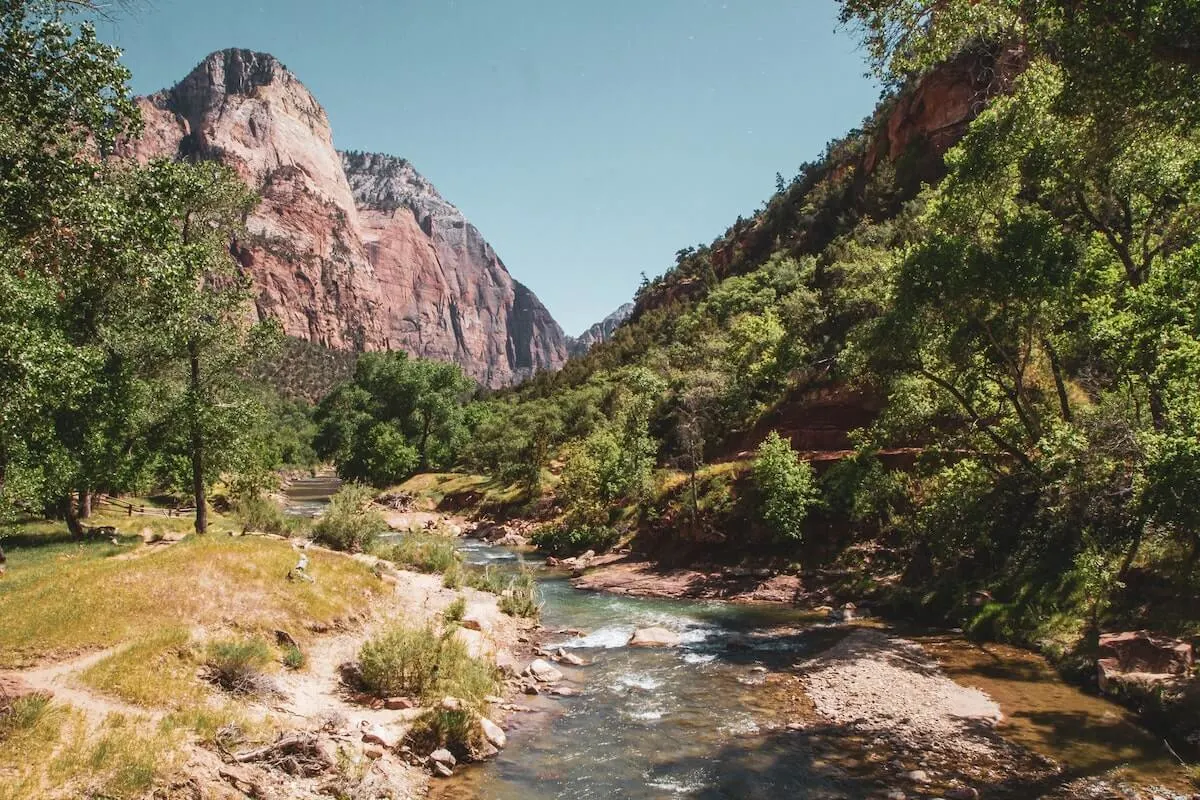 Disclaimer: Almost all posts on this site contain affiliate links, and this one about 10+ BEST Things to Do in Zion National Park (Perfect for first-time visitors) is no different. This means that if you click on any of the links in this post (and make a purchase) I may receive a small commission at absolutely no cost to you. Each post is carefully crafted to (hopefully!) answer all your questions and recommendations are made where we believe they will improve your trip and help with your planning. As such we thank you in advance should you decide to click & buy. Read my full Disclosure here.
GENERAL TRAVEL INFO FOR VISITORS TO THE USA
Visa: Travelers from countries that are members of the Visa Waiver Program (ESTA) do not require a visa when visiting the USA. However, it is recommended to check up-to-date visa entry requirements before your visit regardless of what country you are coming from to avoid issues and concerns on the date of your travel.
Currency: The official currency in Zion National Park is the U.S. dollar or American dollar ($, USD, US$).
You can withdraw currency from ATMs using your local bank card or a designated travel card. If you are visiting from another country, be sure to check any fees and charges from your bank prior to using it and carry a second source of payment/cash in case your primary card gets 'eaten' by an ATM.
Language: English is the primary and most widely spoken language in the USA (although not the official one at the Federal level!) There are 350 other languages spoken, the main ones being Spanish, Chinese, French, and Vietnamese.
WiFi/Internet Access: Depending on your length of stay, you can either purchase a local sim card (in advance or on arrival) – to swap out with the one in your own phone to avoid roaming charges. OR, grab a pay as you go portable Wifi Devices which means you can keep your sim active and connect wirelessly. Just remember to turn off data roaming so you don't incur any hefty charges.
Essential Zion National Park Tips: What to Know Before you Go
The Best Time To Visit Zion National Park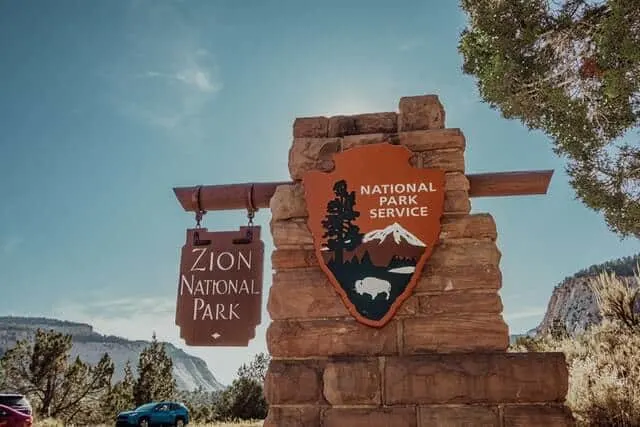 Although the park is open to the public 24 hours a day, every day of the year, the best time of the year to visit Zion National Park is between the months of May and November, which is the peak season in the park. This is due to the optimal weather conditions to enjoy the attractions in the park, and the park's free shuttles are also running.
Zion National Park usually sees the biggest crowds during the months of June through to September, when temperatures are at their highest, and when the free shuttle makes it easy for visitors to get to the various trailheads in the park and other attractions.
During the hotter months, temperatures over 100 degrees are common, so hikes are recommended in the early morning and late evening. The months of May, October, and November can be a good time to visit as well when crowds aren't as heavy and the weather is slightly milder. Fall colors in October are beautiful, and accommodation may be cheaper during these months as well.
If the weather doesn't bother you, and you'd like fewer tourists and cheaper accommodation rates, you can also visit during the months of December through to April. Although the park experiences little snow, sometimes the weather may be too cold to enjoy some of the attractions.
The free shuttle also doesn't operate in December, January, and February, so you'll have to rely on having a car for getting around the park—but you could enjoy the Zion Canyon Scenic Drive this way, which is usually closed to private vehicles from March to November when the park shuttle is operating.
Where to Stay in Zion National Park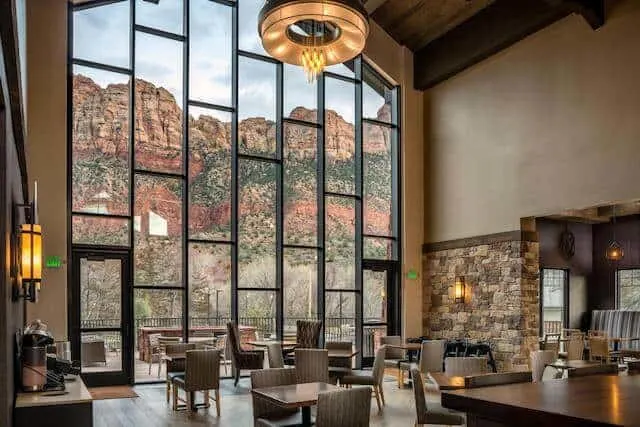 While Zion National Park is one of the smaller national parks in the United States, it's a must-visit destination for anyone who is in Utah or nearby. It's the perfect playground for adventurers, with hiking trails to rock climbing, mountain biking, and bouldering. And of course, for those who like to kick back and relax, there is the Emerald Pools, where you can sit and marvel at the glistening water.
There are plenty of places to stay in and around Zion National Park, depending on what you're looking to do while you're there. Some spots are ideal for those who are ready to rough it, but some are far more luxurious – it's all up to you. Here are some of our picks for your vacation accommodation:
Luxury ($$$) – Springhill Suites by Marriott: located in Springdale, which is the most populated place to stay outside the park, known as the gateway to Zion National Park. Rooms have an urban feel and there are views of the park from the bedroom windows. (If arriving at the East Zion Entrance, we recommend Zion Mountain Ranch or Zion Ponderosa Ranch Resort)
Mid-Range ($$) – Zion Glamping Adventures: located just outside of Hildale and near Zion National Park, this spot offers you the chance to sleep under the stars in complete comfort. Their luxury canvas tents all have real beds and warming heaters, and there is a barbecue area with picnic tables.
Budget ($) – Econo Lodge Hurricane: a popular and affordable hotel in Hurricane, nearby to Zion National Park. There is a complimentary continental breakfast and free WiFi and parking for guests.
10 Things to do in Zion National Park
Zion Canyon Scenic Drive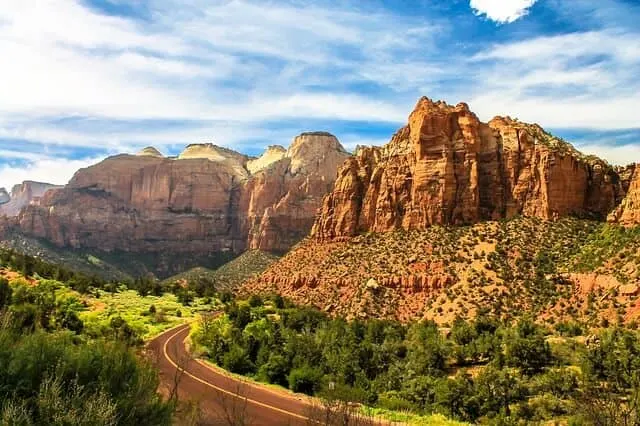 The Canyon Scenic Drive provides you with the opportunity to see the towering majestic wonders of Zion National Park from the comfort of your own car. The road goes along the valley floor and runs from the visitor center all the way to the Temple of Sinawava, and will also go past many of Zion's most well-known attractions, including the Great White Throne and Angel's Landing.
During the warmer months, you can take one of the park's free shuttle buses as the road is closed to private vehicles, but during the winter you can drive your car through the Zion scenic drive yourself.
Ride The Free Shuttle (+ Shuttle Stops)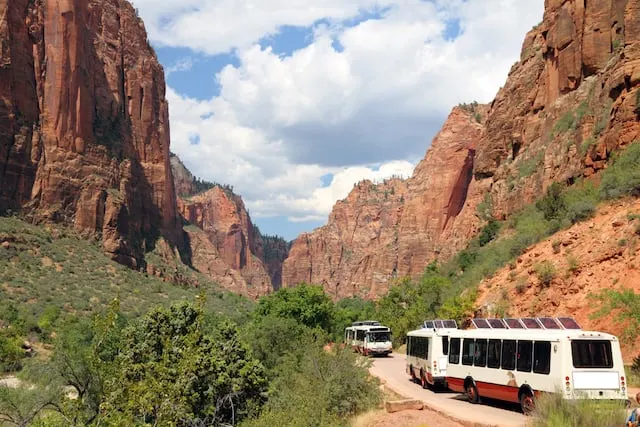 As we mentioned above, in the warmer months, the park has a free hop on hop off shuttle bus that stops at some of the main attractions in Zion National Park.
Zions shuttle system has 9 stops which helps alleviate the pressures of peak summer traffic. It offers a convenient way for visitors to reach key spots and places within the park. Operating between April and October the shuttle stops at:
Zion Canyon Visitor Center (for Watchman Tail, Pa'rus Trail, South Campground & Watchman Campground)
Zion Human History Museum (for Bridge Mountain Arch, Altar of Sacrifice & the Museum)
Canyon Junction (for the end of the Pa'rus Trail & the spot where the Zion Canyon Scenic Drive ad Route 9 intersect)
Court of the Patriarchs (for Court of the Patriarchs viewpoint & Sand Bench Trail)
Zion Lodge (for Emerald Pools Trailhead)
The Grotto (for Kayenta Trail, Angels Landing & West Rim Trail)
Weeping Rock (Cable Mountain, Deertrap Mountain, East Rim Trail, Hidden Canyon, Observation Point & (of course) Weeping Rock)
Big Bend (for views of Great White Throne & Angels Landing)
Temple of Sinawava (for The Narrows & Riverside Walk)
Hike Angel's Landing

Angel's Landing is a spot for the most avid hikers and climbers and hiking it is one of the top activities in Zion National Park. With the expansive views of the entire Zion Canyon from the summit of Angel's Landing – it is certainly worth the trip, even for those who do not consider themselves pro hikers.
The rock is 1,000 feet above the valley floor – which gives you incredible views, but be warned, the final stretch up to Angel's Landing, called the Hogsback, is a rocky ridge that has sheer drops on either side, with only a chain handrail keeping you on.
Although intimidating, you'll be rewarded with the most stunning views if you decide to climb all the way to the top – and after which you can certainly say you have ticked hiking in Zion National Park off your bucket list.
The Narrows Riverside Walk
This is your chance to see the Narrows without actually hiking the Narrows. You can start at the Temple of Sinawava, where you'll see the walls of the canyon closing in on the sides of the Virgin River.
If you head on down the sidewalk, you can play around in the water, or just marvel at the scenery around you. At the end of the walk, you'll see people heading up the river – those are the ones who are actually hiking the Narrows. If you don't feel like doing that, you can turn around and take in the view on the way back.
Hike The Narrows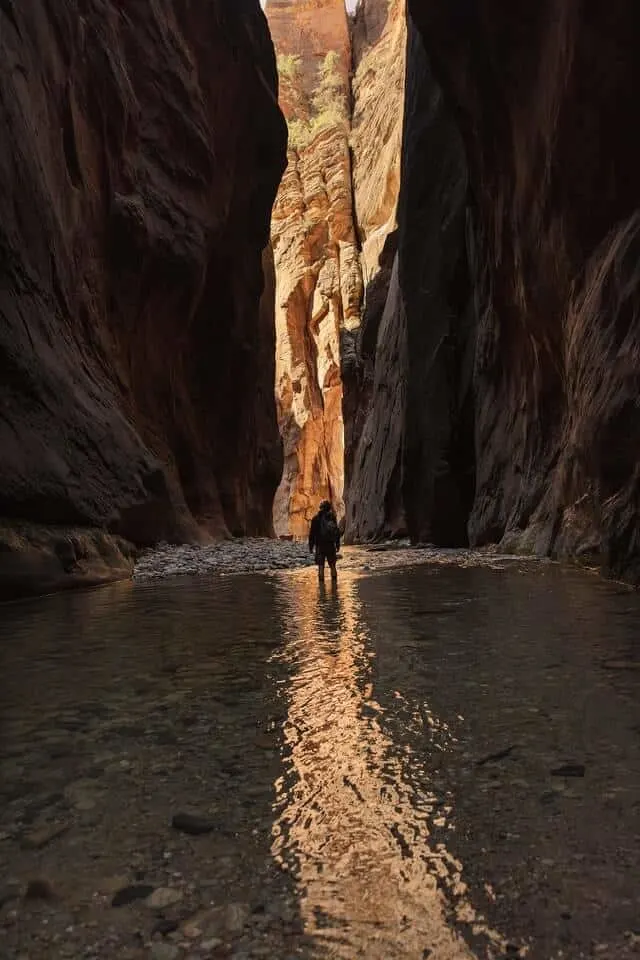 Although one of the most famous trails in Zion National Park, you should be warned that The Narrows is not a trail as such – it's more a river. But if you don't mind hiking through water knee-deep and walking over rocks, it isn't too difficult of a hike.
One of the most beautiful trails in Zion, around every bend through the slot canyon there is something new to see, whether it is a tree, waterfall, or hidden pool. If you make it all the way to Big Spring, you'll see the stunning pool there.
One of the popular day hikes, the ability to do it is very dependent on the time of the year you do it and the water levels. Make sure you double-check before you head out on the hike. The best time of year to hike The Narrows is the late spring and summer when water levels aren't at risk of being too high.
Also, if you are not wanting to do the hike alone, there are a few guided, small group tours available that you can join.
Canyon Overlook Trail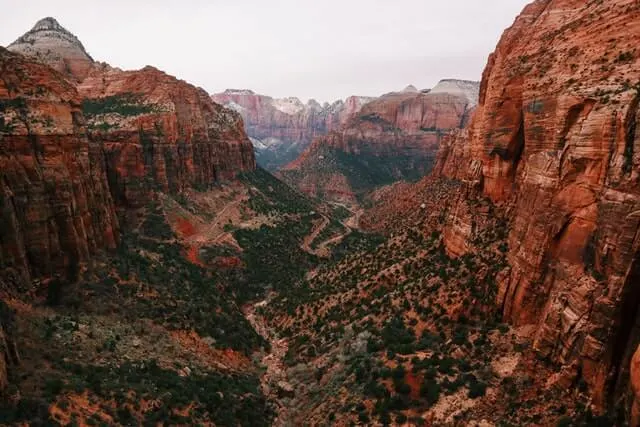 This is possibly one of the most perfect, expansive shots of the valley. The Canyon Overlook Trail takes you to a lookout point that has been popular with photographers, but be careful of the cliff edges. Aside from that, this is a fairly easy one-mile hike that will be easily completed by any fitness level. You can find the trailhead at the east entrance of the Mount Carmel Tunnel.
Weeping Rock + The Hanging Gardens of Zion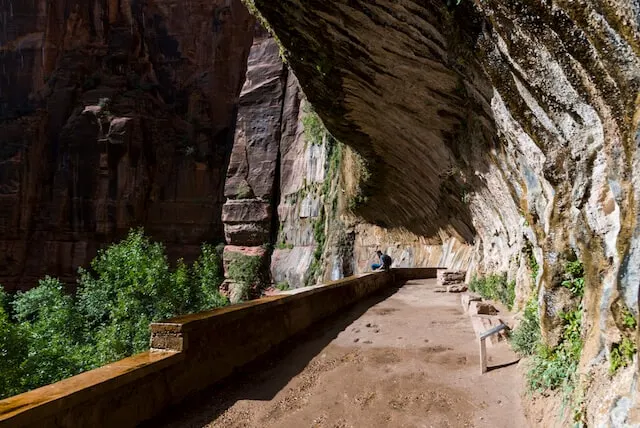 This spot doesn't really count as a hike – it's a major stop on the free shuttle that runs through Zion Canyon in the summer months, so it's very accessible. The trail will lead you to an unusual sandstone cliff that is covered in tiny rivulets of water (giving it its name).
The "tears" of this rock wall feeds the ferns and mosses that grow on its face – known as the Hanging Gardens of Zion. You'll also see the Great White Throne towering overhead.
Join an Organised Activity
If it's your first visit to Zion National Park and hiking isn't your go-to activity, you may be wondering what there is to do in the Park. But never fear – even if hiking isn't your thing, there are lots of other things to do in Zion National Park to keep you entertained.
Our favorites include taking a guided tour through the Slot Canyons of East Zion, UTV tours & horseback riding, Canyoneering and even day trips to other Utah National Parks such as Bryce, Arches and Canyonlands!
Lower Emerald Pool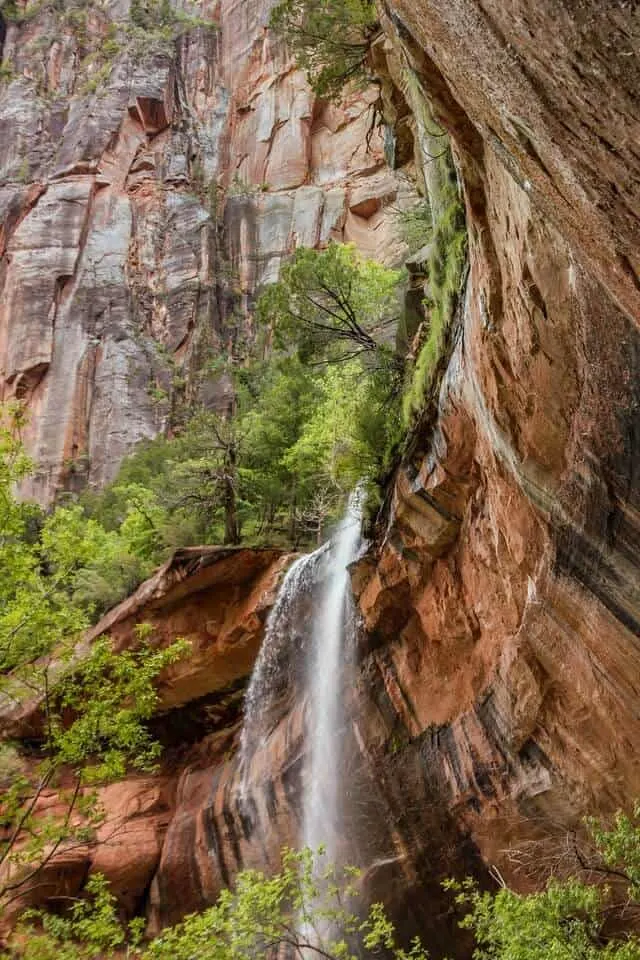 Across the street from Zion Lodge is where you'll find a paved trail that will take you to the oasis that is Emerald Pool. It's easy to reach the lower pool, where water from the Middle Emerald Pool above drips down the sandstone into the Lower Emerald Pool. When there are higher levels of rainfall during the spring, you may see it turned into an actual waterfall.
It's also just a great spot to relax and cool off in the heat of the summer, and via the Emerald Pool Trail is easily accessible to anyone.
Checkerboard Mesa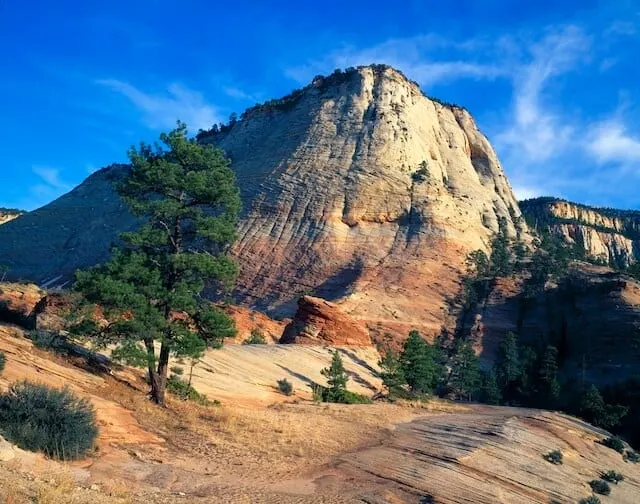 Checkerboard Mesa is probably Zion's most famous attraction and is easily accessible by car. It isn't on the free shuttle route, so you'll have to drive over to the rock formation, but it's located just inside the East Entrance to the park.
The rock is a sandstone butte covered in crosshatches caused by layers of windblown sand, and this is where its name is originated. It is also covered in vertical cracks caused by stress and erosion on the stone surface. It's truly an amazing photo opportunity.
Ready for More?
Check out our Complete Guide to All
63 US National Parks
which includes pics, maps, highlights, history, and even a
free
printable checklist! OR if you're focused on the West, we have a complete guide to all the
National Parks on the West Coast
(also with a free printable checklist!)
Northgate Peaks

If you start at the Wildcat Canyon trailhead near the town of Virgin, you will see a sign towards Northgate Peaks after approximately a mile. At the end of the trail, you will have to head up a small hill of rocks, but you'll be rewarded with a vast southern view of Zion National Park Utah, with the twin peaks in front of you. So rewarding.
Drive the Zion-Mount Carmel Highway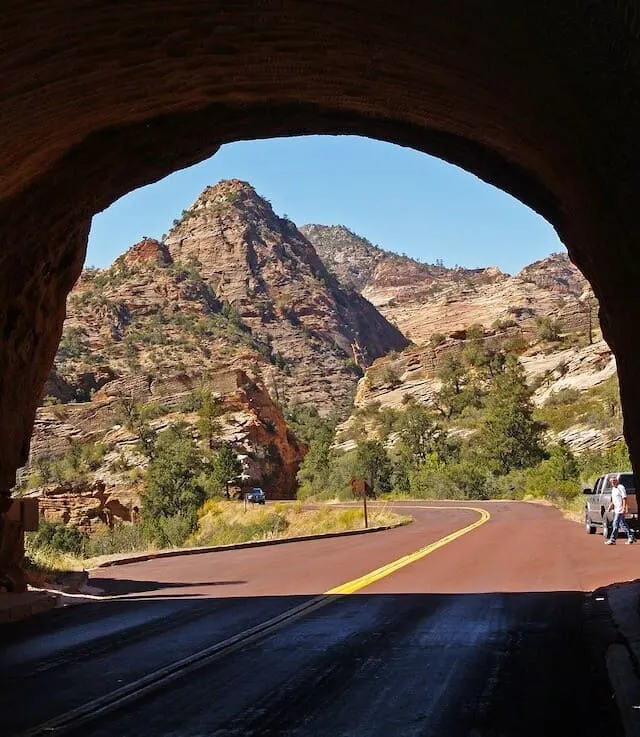 The Zion-Mount Carmel Highway is an excellent way to enter the park, cutting through 10 miles of Zion National Park and connecting the South and East entrances of the park. It's also a great way to see the beauty of the park from the comfort of your car, taking you over bridges, along switchbacks, and through a tunnel that cuts through the deep stone mountain. It's truly one of the most beautiful drives you can take in the park.
Zion National Park's steep red cliffs will stay in your memories forever, like a scene taken straight from a movie. With plenty of hikes and trails for adventurers and plenty of accommodations that will allow for those who love to relax to truly sit back, you'll have a great time no matter what you enjoy doing. In fact, we're sure you'll be back to see more of Utahs National Parks before you know it.
We hope this guide to 10 Best Things to do in Zion National Park for First-Timers has been a huge help planning your trip, and if you know of anyone else that needs a little bit of inspiration or assistance in planning their trip to Zion National Park, please be sure to share on social media: Facebook, Flipboard, Twitter or grab one of the images from below for Pinterest. And remember – sharing is charing (and we thank you in advance!)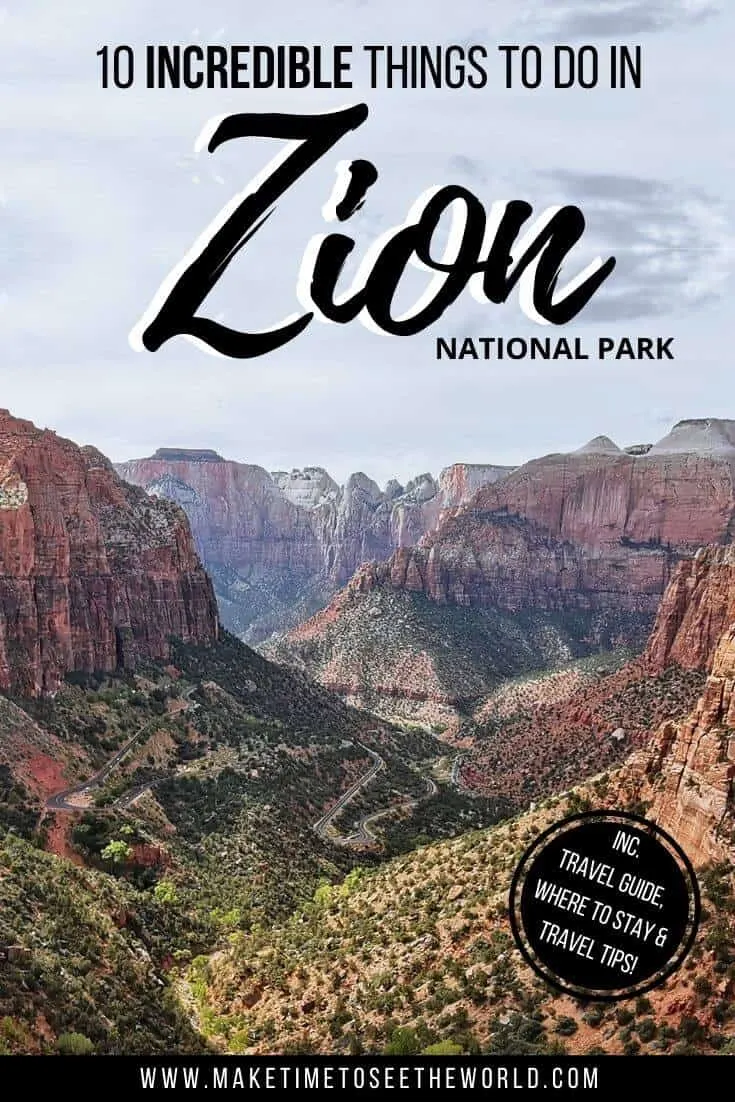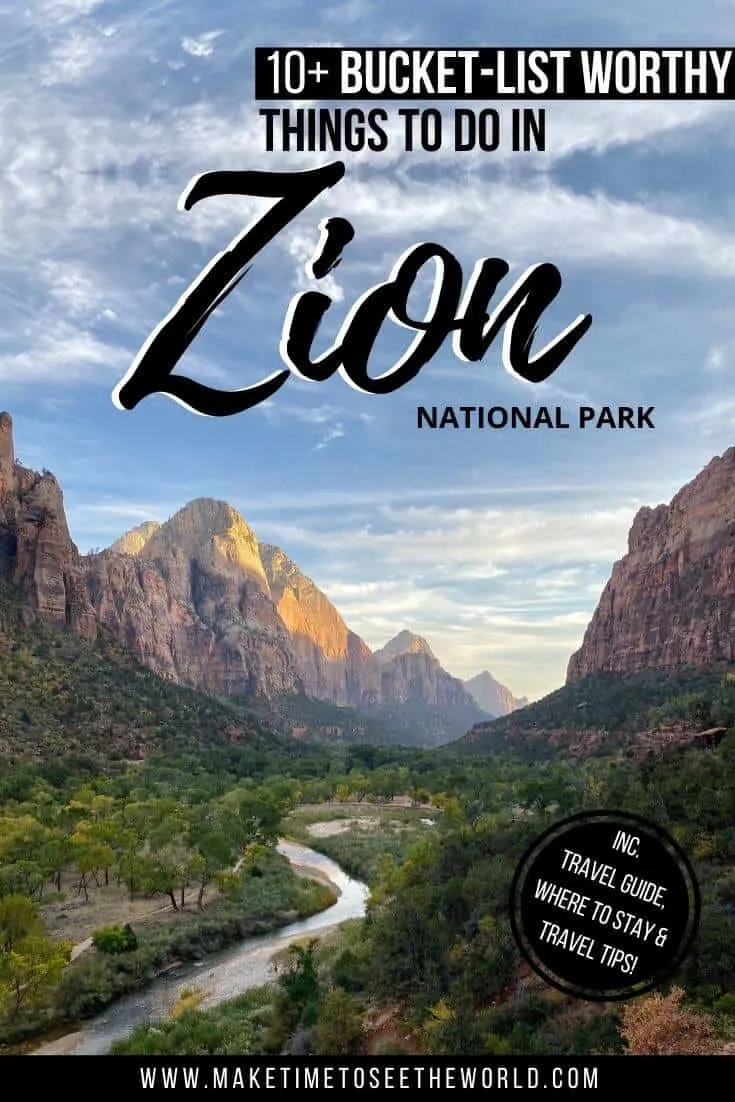 READY MORE USA TRAVEL INSPIRATION? YOU MIGHT BE INTERESTED IN THESE TRAVEL TIPS, TRAVEL ARTICLES, DESTINATION GUIDES, TRAVELER RESOURCES AND RELATED POSTS ABOUT OTHER AMAZING CITIES IN NORTH AMERICA:

Hi There! Thanks for reading our guide to the most 10+ BEST Things to Do in Zion National Park (Perfect for first-time visitors). I just wanted to let you know that this post contains affiliate links, which means if you purchase something after clicking a link, I may get a small commission – which is at absolutely no cost to you. If you enjoyed this article and are going to be searching for some of the things I mention anyway, I would love it if you could click through from the links above & thank you in advance! Read my full Disclosure here.
And a huge Thank You for reading the MakeTimeToSeeTheWorld travel blog.