Picture perpetually sunny skies, endless opportunities for outdoor adventures, and friendly locals, and you have Bend. The city is known for being the perfect place to explore the great outdoors and is a great hub for taking day trips outside to lesser-known spots. But there are also plenty of action-packed events, hipster craft breweries, and more in and around the city so no matter what you enjoy doing while you're on vacation, you'll find it in our guide to the Best Things to do in Bend Oregon.
Perfect for first-time visitors, our guide to central Oregon's favorite city is here to help you plan out your itinerary to this outdoor paradise. We've got everything you need to know compiled into this Bend Travel Guide, featuring how to get around, where (and what) to eat, day trip ideas, not to mention, the best things to do in Bend Oregon. Get started planning your first – or next! – adventure to Bend right here!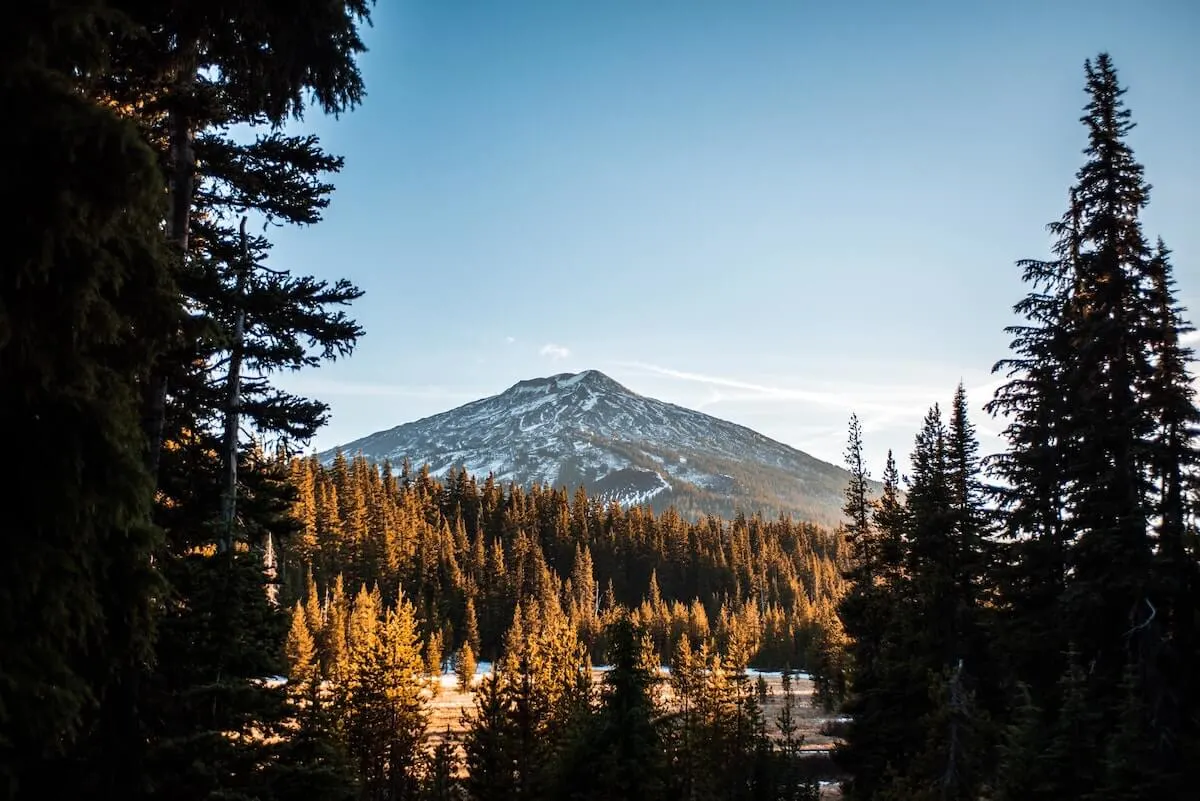 Disclaimer: Almost all posts on this site contain Affiliate links, and this one about the Best Things to do in Bend Oregon is no different. This means that if you click on any of the links in this post (and make a purchase) I may receive a small commission at absolutely no cost to you. Each post is carefully crafted to (hopefully!) answer all your questions and recommendations are made where we believe they will improve your trip and help with your planning. As such we thank you in advance should you decide to click & buy. Read my full Disclosure here.
GENERAL TRAVEL INFO FOR VISITORS TO THE USA
Visa: Travelers from countries that are members of the Visa Waiver Program (ESTA) do not require a visa when visiting the USA. However, it is recommended to check up-to-date visa entry requirements before your visit regardless of what country you are coming from to avoid issues and concerns on the date of your travel.
Currency: The official currency in Bend is the U.S. dollar or American dollar ($, USD, US$).
You can withdraw currency from ATMs using your local bank card or a designated travel card. If you are visiting from another country, be sure to check any fees and charges from your bank prior to using it and carry a second source of payment/cash in case your primary card gets 'eaten' by an ATM.
Language: English is the primary and most widely spoken language in the USA (although not the official one at the Federal level!). There are 350 other languages spoken, the main ones being Spanish, Chinese, French, and Vietnamese.
WiFi/Internet Access: Depending on your length of stay, you can either purchase a local sim card (in advance or on arrival) – to swap out with the one in your own phone to avoid roaming charges. OR, grab a pay as you go portable Wifi Devices which means you can keep your sim active and connect wirelessly. Just remember to turn off data roaming so you don't incur any hefty charges.
Essential Bend Travel Tips: What to Know Before you Go
Getting Around Bend
Bend is very pedestrian-friendly, particularly the Old Mill District and Downtown areas, the most popular areas for shopping and dining. You can find your way around easily, and the obvious plus-side is that you don't need to worry about parking! During winter months you can also rent snowshoes to get around.
Bend has also been dubbed "Bike Town USA" and with good reason. There are plenty of great cycling trails, bike lanes, and scenic bikeways around town to get you from point A to point B, and there are various bike shops around town where you can rent everything you need – even electric bikes.
For public transportation, Bend's Cascades East Transit bus system will get you around where you need to go. While not as convenient as larger cities, there are currently 10 fixed routes in the city of Bend, with connections in the center of town. You can also grab the Mt Bachelor shuttle in the winter and River shuttle in the summer. Make sure you check online for bus routes and schedules!
You can also hail taxis, Uber, and Lyft to get you where you need to go around the small city.
Where to Eat in Bend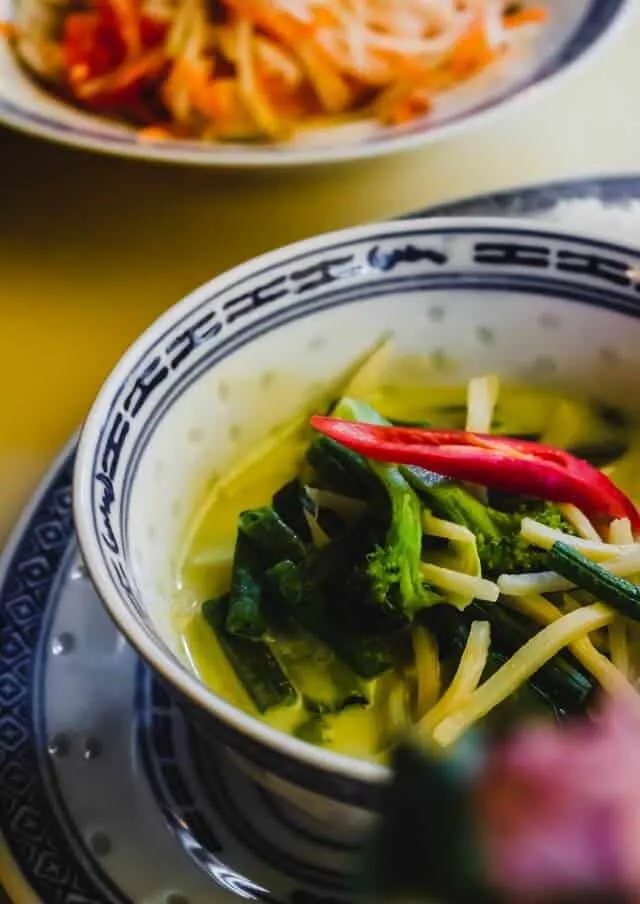 While Bend is known for outdoor adventure and its sunshine, you'll now find a range of cutting-edge food and restaurants popping up around town. Between hikes and trips up to the mountain, you'll find a range of cultures and foods such as classic Cuban sandwiches, glorious Asian delights, and Argentinian-style bratwursts—so you'll have plenty to choose from. Here are some favorites:
Cuban Kitchen — Bend's first Cuban restaurant is a favorite among locals, offering up traditional Cuban specialties like tender pork marinated and braised in tropical spices and fruits. Here you can get one of the best Cuban sandwiches you'll have.
Bangers & Brews — this family-operated shop offers exactly what they say, an extensive tap list and an impressive variety of bratwursts of all kinds of meat including lamb, elk, and even water buffalo.
Foxtail Bakeshop & Kitchen — known as the best bakery in town, you'll want to grab brunch here at least once. They have a creative menu of both sweet and savory options, including an All Butter Biscuit Sando and seasonal grain and rice bowls.
Wild Rose Northern Thai Eats — a family-run restaurant in the downtown area, you'll love the spicy-driven food here. The wait here can be long on weekends, so make sure you make a booking or head over early to grab a seat!
Where to Stay in Bend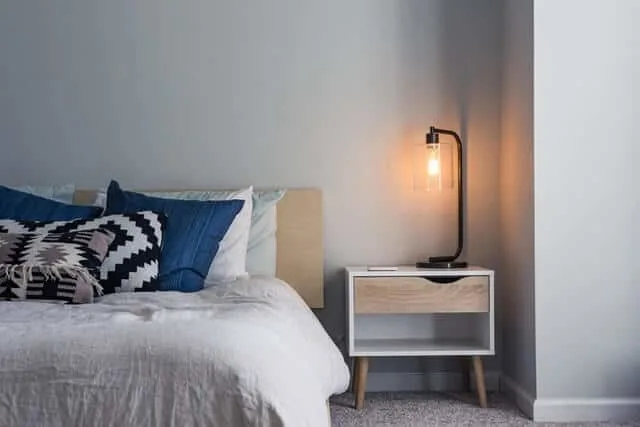 Bend is such a great spot for outdoor activity, that you'll be exhausted after a day out of adventuring. Nothing beats a comfortable bed after a full day, so whether you want to be on the doorstep of the action in Downtown or a cozy secret hideaway on the outskirts of town with stunning mountain views, you'll be able to find what you're looking for among these Bend hotels.
Depending on what your preference is, you can either stay in the center of town or on the outer edges to give you easy access to all the national parks and the outdoor playground that is Bend. Here are some of our picks:
Luxury ($$$) — The Oxford Hotel: a sophisticated, classy hotel located in the River West district, running on renewable energy and offering contemporary dining. It's a top hotel in Bend for multiple reasons!
Mid-Range ($$) — Riverhouse on the Deschutes: property located on the Riverfront at the Convention Center, with great views of the river and large, comfortable rooms.
Budget ($) — Rodeway Inn & Suites: clean, convenient rooms (some fitted with kitchens) in a quiet area with free breakfast included.
Top 10+ Things to do in Bend Oregon
High Desert Museum
One of Bend's top attractions is the High Desert Museum, a unique nature preserve that is set on 135 forested areas on the outskirts of Bend. The museum was opened in 1982 to showcase the West high desert habitat with exhibits featuring live animals, historic sets, and more. You'll see otters, bobcats, and badgers, and even a real American West stagecoach and a make-believe high desert habitat.
Deschutes Historial Museum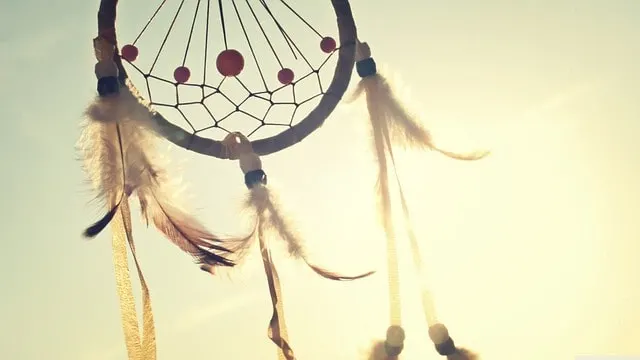 The Deschutes Historical Museum explores Native American tribal history in the Deschutes Country, showing early exploration, fur trapping, homesteading the High Desert, logging, and life throughout Deschutes Country over the years. You'll see photographs, artifacts, paintings, letters, and dioramas that will take you back in time to important parts of Oregon's history. It's a must-visit for any history enthusiast!
Lava River Cave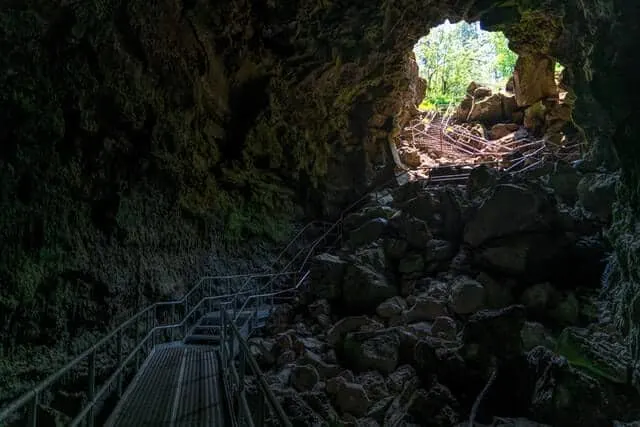 The entrance to the Lava River Cave is hidden among bushland, a natural cave that formed over 80,000 years ago and the longest continuous lava tube in Oregon at a whopping 5,211 feet. You will descend over a hundred steps down into the start of the cave where you'll see ice stalactites suspended from the ceiling even in the summer months. The lava tube changes in texture, size, and temperature the further inside the caves you venture, so time to get exploring!
Mt Bachelor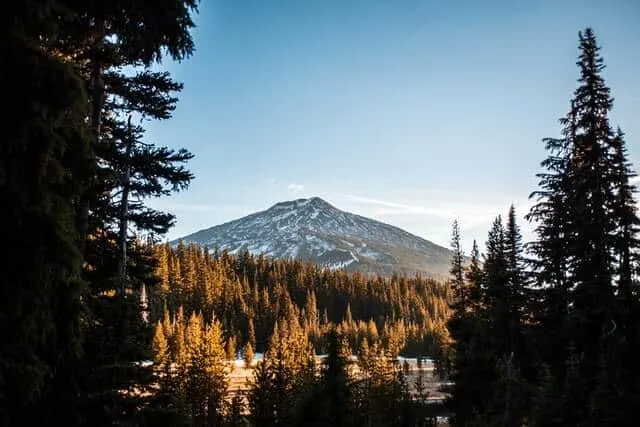 Mount Bachelor offers the best of snowcapped mountains, world-class ski fields, and luxury. Head up to the mountain to experience all the snowsports, or get on the popular sled dog ride, which is available all year round. You can also try snowshoeing through the mountain to enjoy the scenery, or if you have younger ones, head over to the Snowblast Tubing for an adrenaline rush. And once you're done, head to the lodge for a warm, hearty meal.
Go Lake (+ State Park!) Hopping
Is there any way to feel more outdoorsy, than hitting multiple different lakes within the same day?! And in Bend, it is easy to do! Our top three state park and national park recommendations near Bend (within a 30-45 minute drive) are Deschutes National Forest, Smith Rock State Park & Tumalo State Park:
Deschutes National Forest in Deschutes County is home to Cultus Lake, Devil's Lake, Elk Lake, Hosmer Lake, Lava Lake, Todd Lake, Sparks Lake, Paulina Lake, Crescent Lake (and about 10 more!) So grab your camera, walk the hiking trails, enjoy horseback rides, take in the views from a scenic viewpoint (or 5!), go fishing, go tubing, drive the Cascade Lakes scenic byway, and take the opportunity to camp under the stars and multiple campsites and RV resorts!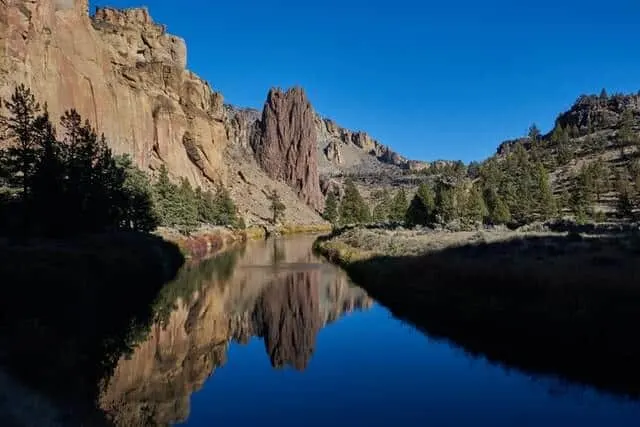 Smith Rocks State Park was recently named one of the 7 Wonders of Oregon. It is home to a picturesque stretch of the Crooked River, is a favorite for rock climbing (it is considered the birthplace of sport climbing in the USA!), is home to the Misery Ridge Trail and marks the end of the Sisters to Smith Rock scenic bikeway which provides incredible views of the Cascade Mountains.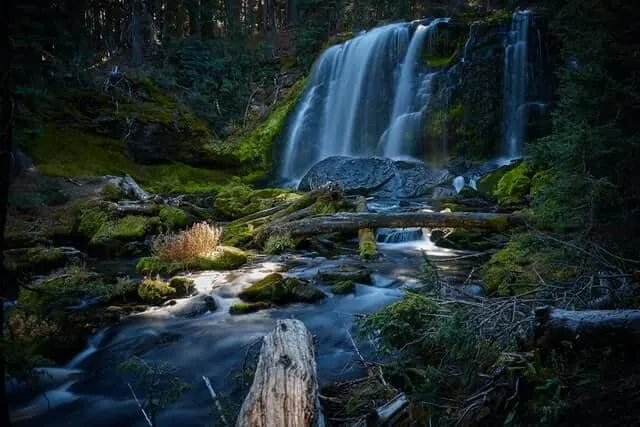 The stretch of the wild and scenic Deschutes in Tumalo State Park features vertical basalt cliffs, a series of pools and the beautiful Tumalo Falls and Tumalo Creek (above) making it the perfect spot for some outdoor adventures such as hiking, fishing and camping. And is home to some of the most incredible Bend photo spots to help you take the envy-inducing Instagram snaps!
Les Schwab Amphitheater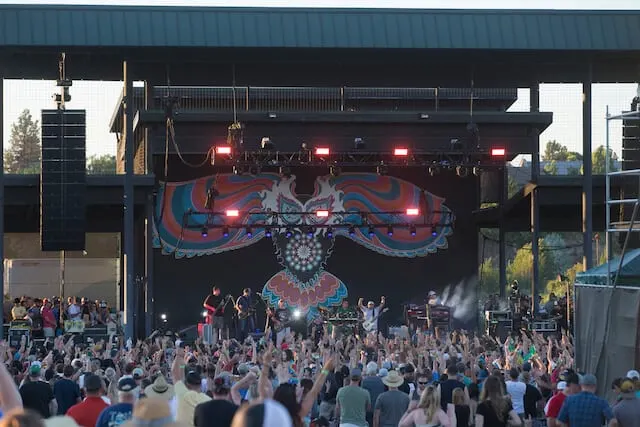 Bend offers some of the best events during the warmer months, and situated on the west banks of the Deschutes River is Les Schwab Amphitheater in the historic old Mill District, where you'll find some of the iconic concerts. The Amphitheater can accommodate up to 8,000 patrons and has seen some of the biggest names in entertainment, including Coldplay and Bob Dylan. You can also see free concerts by local and national performers.
Goody's Chocolate and Ice-Cream Factory Tour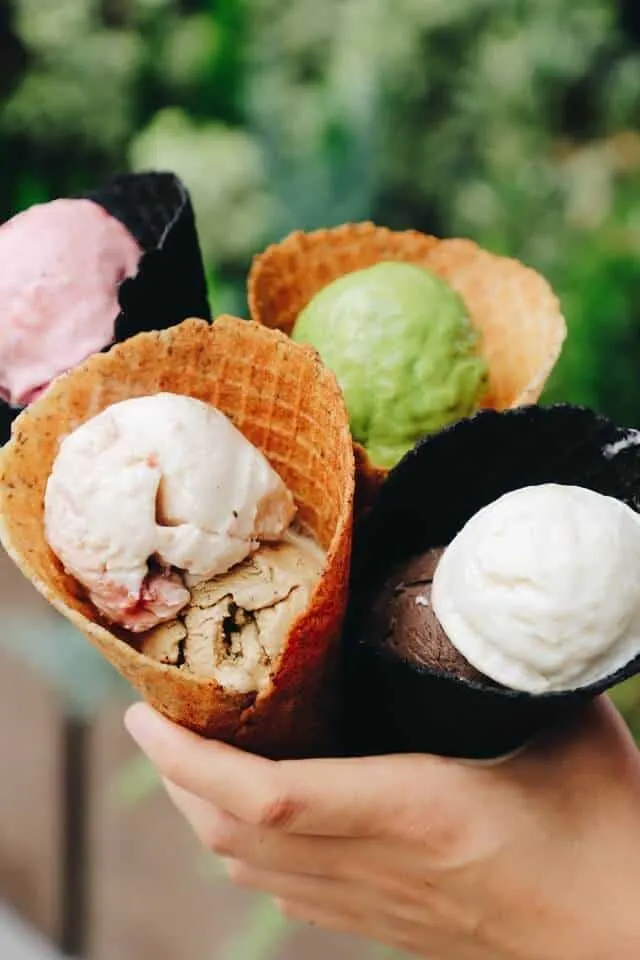 Operating for over thirty years, Goody's is an iconic institution in Bend, so make sure you reward yourself with a tour of the factory. You'll get to see a working sweet factory, either by a guided tour or self-guided tour, and even sample some of the best-sellers by Goody's. They make over 100 different types of sweets including gourmet chocolates, toffee, peanut brittle, and of course ice-cream.
Oregon Badlands Wilderness Area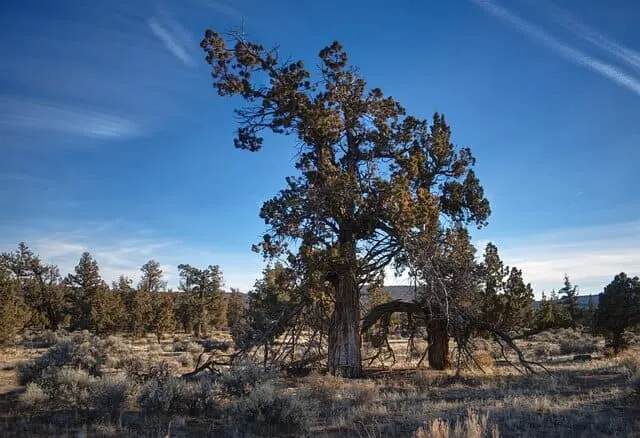 If wildlife is your jam, head out to explore the 29,180 acres that is the Oregon Badlands Wilderness Area. The area is home to unique landscapes and geological features, including the Dry River which was once a flowing river during the Ice Age and now separates the two volcanic areas of the Badlands volcano and the Horse Ridge volcano. There are almost 50 miles of trails open to the public, and you'll see an abundance of wildlife, so keep an eye out!
Drake Park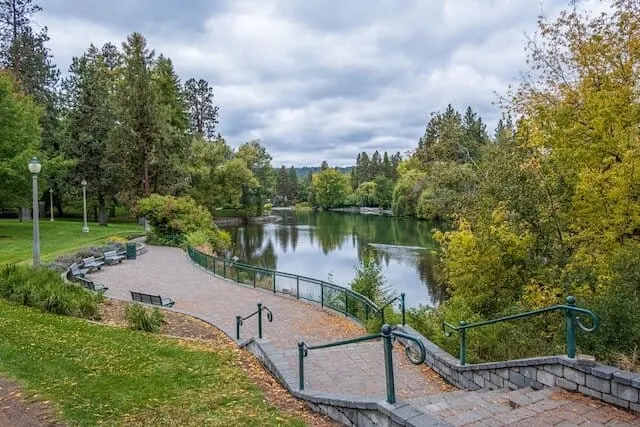 The 13-acre park is Bend's most popular outdoor gathering spot, and on weekends you'll definitely see the park bustling with people enjoying the great weather Bend has. There is plenty of space for picnics, playing a game of football with your friends, or just laying back and enjoying the fresh air! There is also an outdoor stage that hosts live outdoor events and river trails for those that don't mind a wander!
Downtown Bend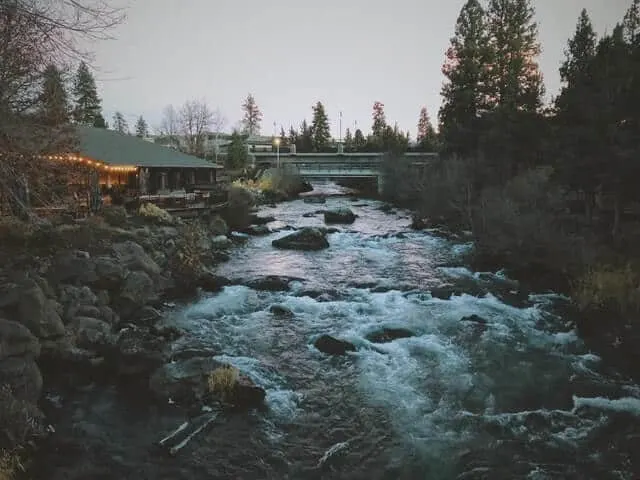 There are plenty of things to do in the downtown area of Bend, a historical area with award-winning restaurants, micro-breweries, local stores, art galleries, and theaters. Downtown is actually where the community gathering place Drake Park is located, where there are plenty of free events during the summer months. It's worth exploring the downtown area while you're in the small city of Bend.
Craft Breweries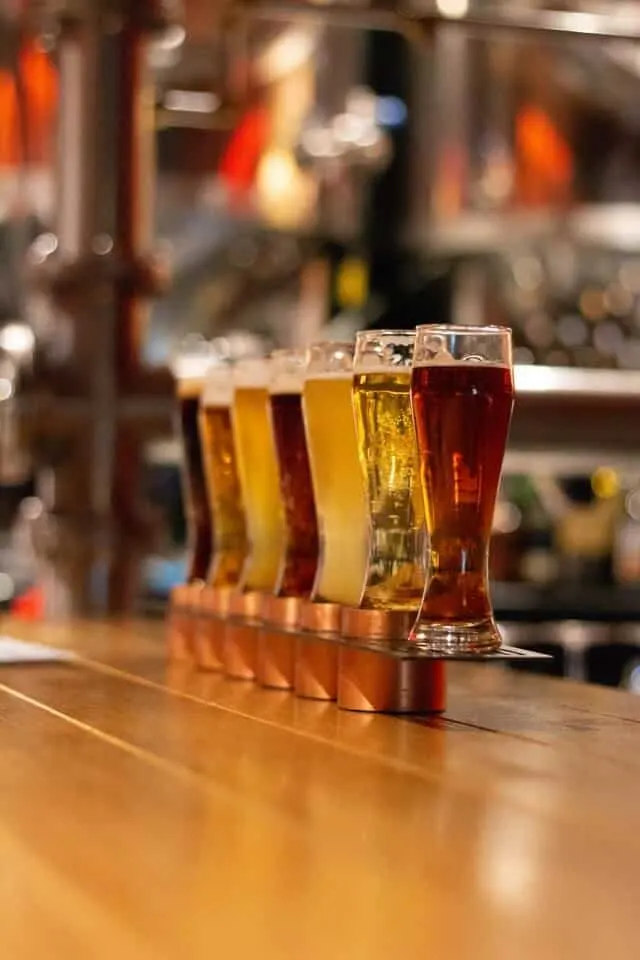 Bend is known for its breweries and is said to be the microbrew capital of the West. If you're an avid beer drinker, you'll love the Bend Ale Trail, a trail that will take you to 16 breweries that offer the best of Bend brewing. You can pick up a map at any of the breweries and have it stamped off at each one you try (if you get 10 stamps, the visitor center will have a prize waiting for you, and if you stamp off all 16, expect an even bigger prize).
The craft beers at Deschutes Brewery are always a hit and you can even take a behind-the-scenes brewery tour to find out how those sweet amber ales are made!
Top Day Trips from Bend Oregon
Newberry National Volcanic Monument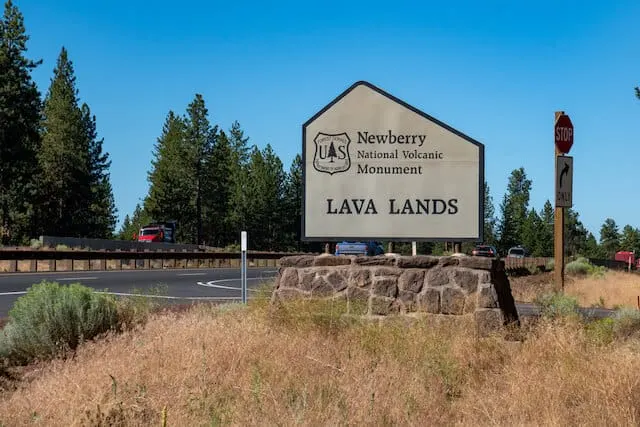 The interior of Newberry Crater is only a one-hour drive from Bend and is Oregon's largest volcano. The road into the crater is only open during the summer months, so make sure you take the opportunity to go there for a day trip if you happen to be in town! You can drive to the top of Paulina Peak, fish for trout in a 6,000-foot-elevation lake and see the natural hot springs. The national monument is home to lava tubes, cinder cones, caldera lakes, a waterfall, hiking trails, and a fresh obsidian flow.
Be sure to pay a visit to the Lava Lands Visitor Center to find out all you need to know about the park.
Crater Lake National Park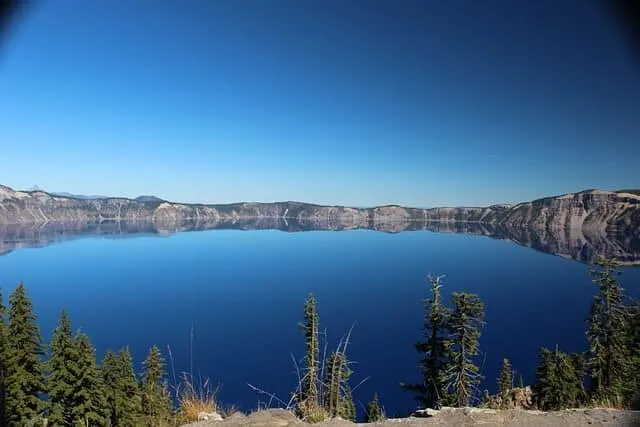 Crater Lake National Park is only a two-hour drive south of Bend and is pretty accessible from the highway. It's actually Oregon's only national park, and it's definitely worth a day trip from Bend. You can stop and take in different angles at the scenic viewpoints dotted around as you circle the lake on the 33-mile-long Rim Drive. Make sure you pay a visit to the Crater Lake Lodge, where you can stop and take in the views.
Lake Billy Chinook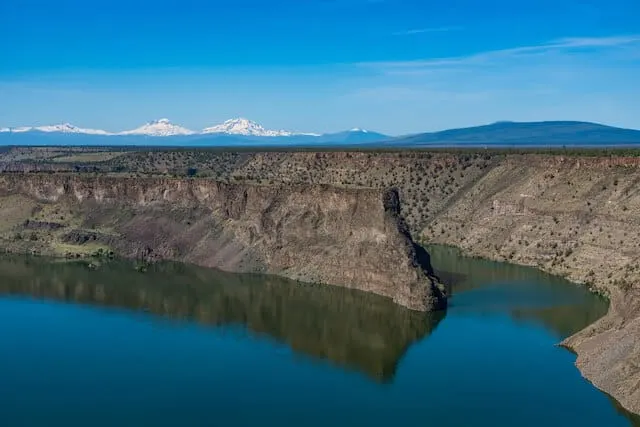 Located a short 1.5-hours drive from Bend, the Lake Billy Chinook area is perfect during the warmer summer months, with three rivers that collide to form a deep lake in the canyon. It is a popular area for boating and general water sports but there are also hikes you can do, such as the seven-mile Tam-a-láu Trail that will take you to the top of a lava plateau that offers fantastic views of the canyons.
Bend is such a hub for outdoor adventuring and road-trips that there is never enough time spent there in this beautiful park of the Pacific Northwest. While we are sure you'll have a great time no matter how long you can spend in the area, you'll be back for more before you know it.
We hope this guide to 10 Best Things to do in Bend Oregon for First-Timers has been a huge help planning your trip to visit Bend, and if you know of anyone else that needs a little bit of inspiration or assistance in planning their Bend OR getaway, please be sure to share on social media: Facebook, Flipboard, Twitter or grab the image below for Pinterest. And remember – sharing is charing (and we thank you in advance!)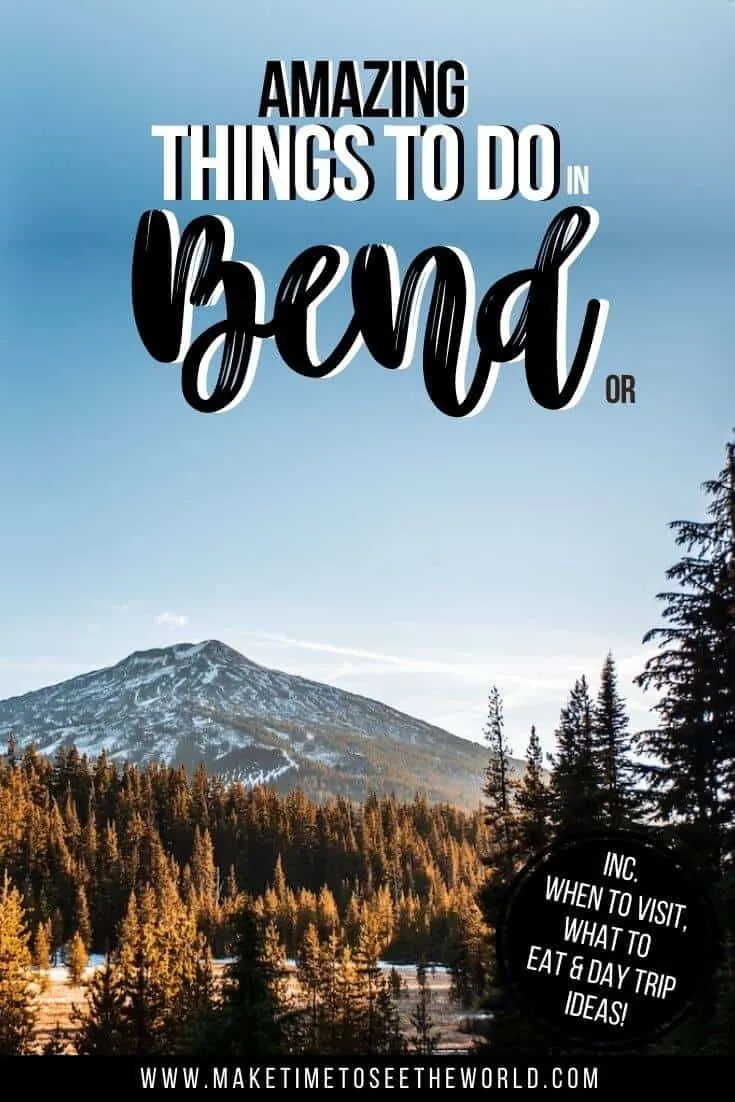 READY MORE USA TRAVEL INSPIRATION? YOU MIGHT BE INTERESTED IN THESE TRAVEL TIPS, TRAVEL ARTICLES, DESTINATION GUIDES, TRAVELER RESOURCES AND RELATED POSTS ABOUT OTHER AMAZING CITIES IN NORTH AMERICA:

Hi There! Thanks for reading our guide to the most 10 BEST Things to do in Bend Oregon (Perfect for First Time Visitors to Bend OR) I just wanted to let you know that this post contains affiliate links, which means if you purchase something after clicking a link, I may get a small commission – which is at absolutely no cost to you. If you enjoyed this article and are going to be searching for some of the things I mention anyway, I would love it if you could click through from the links above & thank you in advance! Read my full Disclosure here.
And a huge Thank You for reading the MakeTimeToSeeTheWorld travel blog.