Bryce Canyon National Park is located in Utah in the USA. This national park isn't a canyon, but a series of amphitheaters carved out by nature. Bryce Canyon is well known for the colorful formations of hoodoos, fins and natural bridges (which are natural rock formations for the uninitiated).
Visitors can find many Things To Do in Bryce Canyon like viewing the vast landscape from the overlooks along the Scenic Drive, photographing the breathtaking scenery and hiking the trails to get a close-up view of the hoodoos.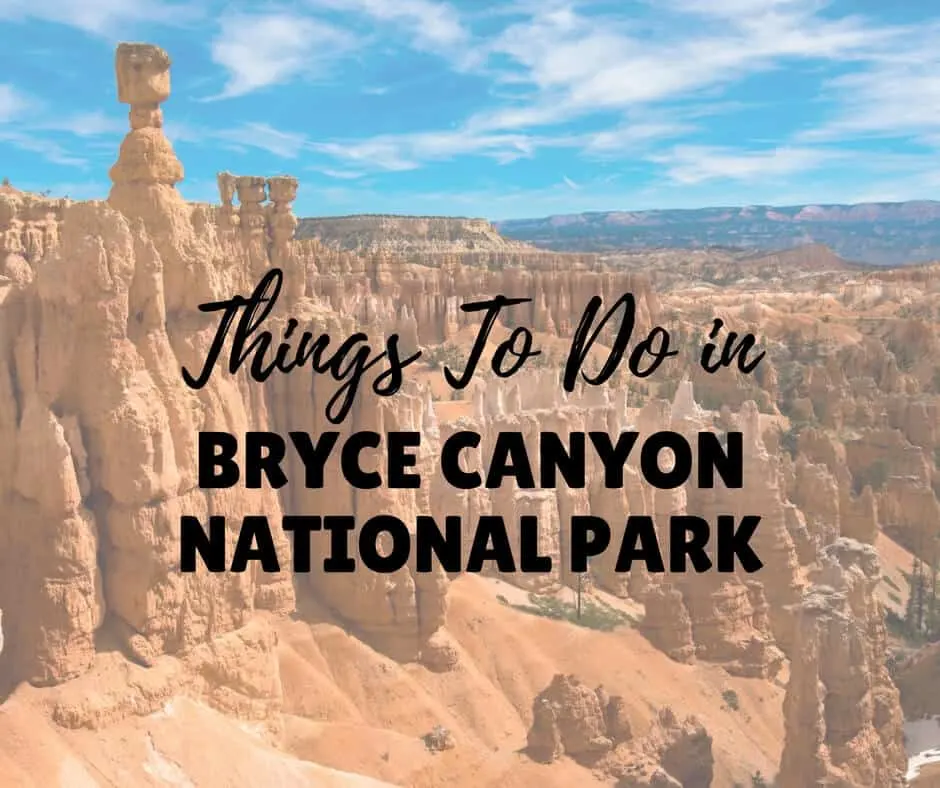 Disclaimer: Almost all posts on this site contain Affiliate links, and this post about the Top Things To Do in Bryce Canyon National Park, Utah is no different. This means that if you click on any of the links in this post (and make a purchase) I may receive a small commission at absolutely no cost to you. Each post is carefully crafted to (hopefully!) answer all your questions and recommendations are made where we believe they will improve your trip and help with your planning. As such we thank you in advance should you decide to click & buy. Read my full Disclosure here.
A Guest Post by Jamie Joyner of Photo Jeepers
Things To Do in Bryce Canyon

Scenic Drive
Begin your visit at Bryce Canyon with the Scenic Drive viewpoints and end at the Amphitheater Viewpoints. Start the Scenic Drive at Rainbow Point at the southern end of the road so all overlook stops will be on your right to avoid left turns on a busy and winding road.
The Scenic Drive is 18 miles one way. Allow 1 to 2 hours to stop at all viewpoints or 3 to 4 hours for serious photography at each stop. On a clear day, you can see 100 miles in all directions from the viewpoints along this road.
Rainbow and Yovimpa Point
The elevation at the Visitor Center is about 8,000 feet. As you drive to Rainbow Point, you climb 1,100 feet higher. The Scenic Drive ends at the combined parking area for Rainbow Point and Yovimpa Point.
View the colorful hoodoos in Rainbow Canyon. Walk along the Bristlecone Loop Trail to see an 1,800-year-old bristlecone pine. This tree is believed to be one of the oldest living things at Bryce Canyon.
.
Ponderosa Canyon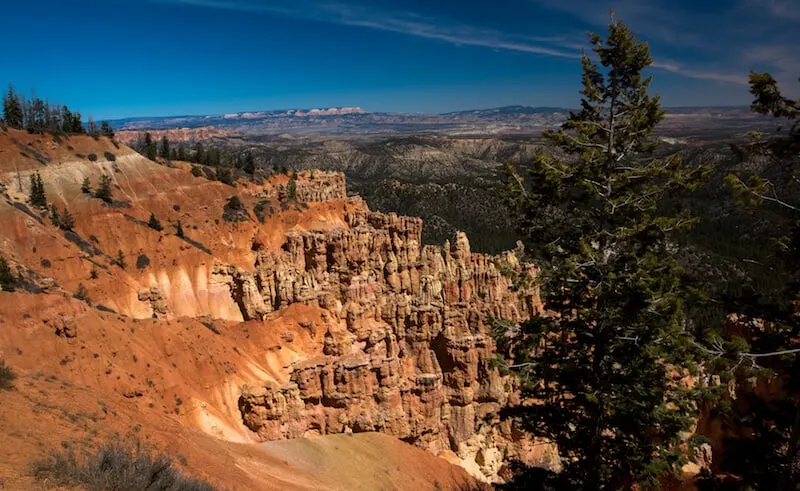 You can see hoodoos and magnificent views to the north and south from the Ponderosa Canyon overlook. There are huge Ponderosa Pines on the canyon floor, some are over 150 feet tall and 5 feet in diameter, which is hard to see from the top of the canyon.
.
Agua Canyon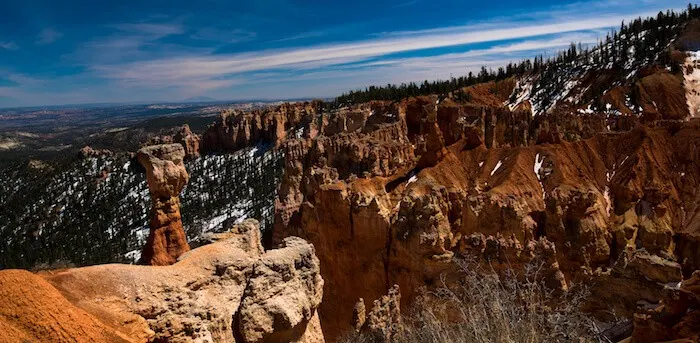 Some of the best contrasts of color in the park can be seen at Agua Canyon. One of the fun things to do at this overlook is to find the two prominent hoodoos named The Hunter and The Rabbit.
Ready for More?
Check out our Complete Guide to All
63 US National Parks
which includes pics, maps, highlights, history, and even a
free
printable checklist! OR if you'd prefer to focus on the West, our complete guide to the
West Coast National Parks
could be just what you need.
Natural Bridge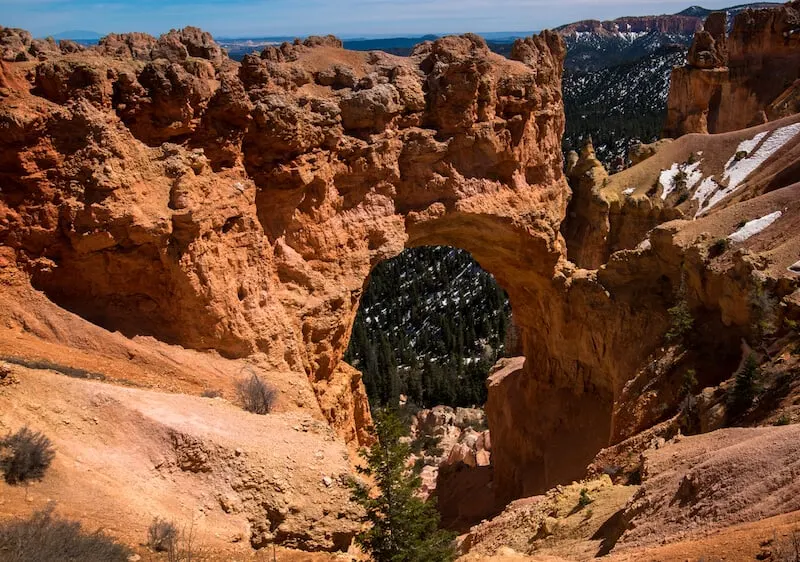 Natural Bridge is really an arch. This is one of the more popular stops on the scenic drive. Try to find a spot where you can photograph the green Ponderosa trees through the arch. This adds a nice pop of color.
.
Bryce Point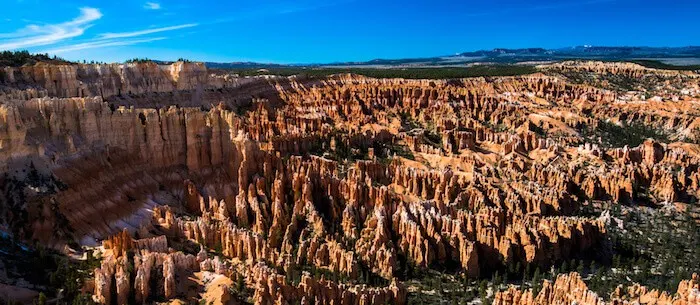 The most concentrated grouping of hoodoos in Bryce Canyon is found in The Amphitheater section of the park. The Bryce Point overlook provides one of the most scenic vistas of hoodoos in the amphitheater. This viewpoint is perfect for sunrise photos because the tops of the hoodoos glow with light.
.
Sunset Point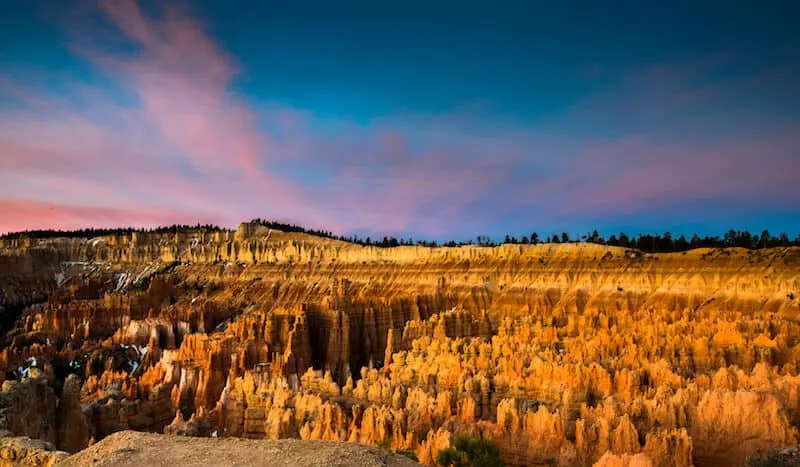 The most dramatic scene of hoodoos is found at Sunset Point. The famous 'Silent City' is a close grouping of hoodoos and fins found directly below the point and to the south. Since all the viewpoints face east, at sunset you won't see or photograph the sun setting, but instead view the soft light as it glows on the tops of the hoodoos.
RELATED: Can't get enough of the USA's National Parks? Check out our complete guide to planning to trip to Yellowstone NP, Zion National Park, Yosemite National Park, Grand Canyon or Arches National Park!
Thor's Hammer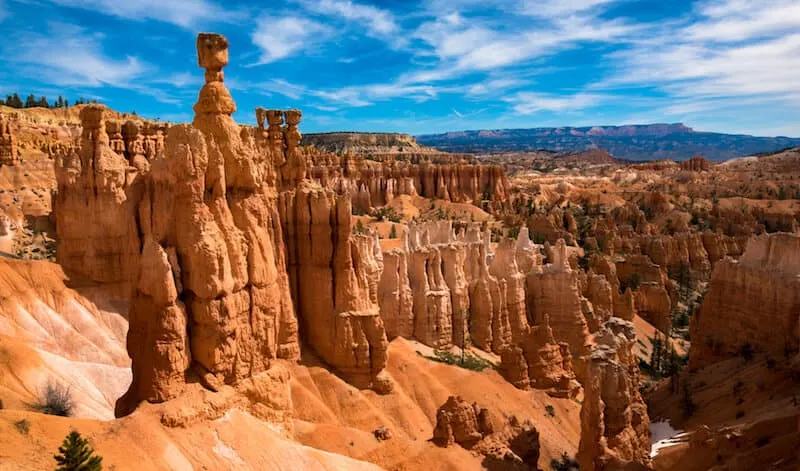 Thor's Hammer is one of the most well-known and photographed formations at Bryce Canyon. It's just below the overlook of Sunset Point, but the best way to view it is along the Navajo trail.
We highly recommend hiking the Navajo-Queen's Garden Trail to see the hoodoos up close. Even if you don't want to hike the complete loop trail, at least walk down the Navajo trail far enough to see Thor's Hammer up close.
.
Sunrise Point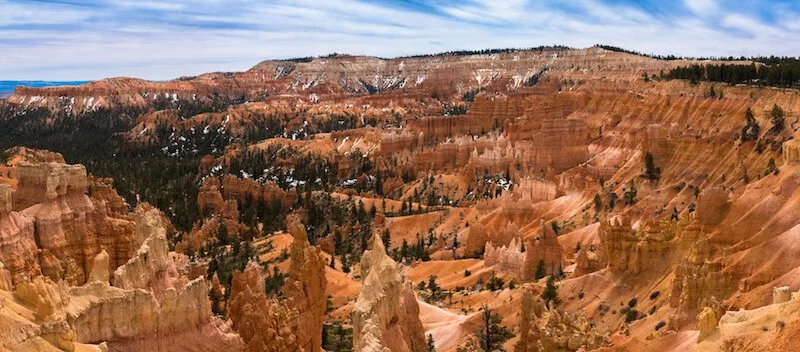 Sunrise Point is on the northern side of the Bryce Amphitheater. As the name suggests, it is a good location to view the sunrise, but it's also a wonderful place to photograph at sunset. At this viewpoint, take the Queen's Garden trail and descend to the canyon floor to explore the Queen's Garden.
Queen's Garden
The Queen's Garden Trail drops about 320 feet below the canyon rim for about 1 mile to reach the area known as the Queen's Garden. Interesting rock formations here include Gulliver's Castle, the Queen's Castle, and Queen Elizabeth herself.
When Is The Best Time To Visit Bryce Canyon
Bryce Canyon is located at a high elevation (8,000-9,000 feet) so it is generally cooler than Utah's other National Parks and it is advisable to bring warm clothing with you regardless of what time of year you visit. Summer (June -September) temperatures are pleasant 21-24oC (70-75F) dropping to 8-10oC (45-50F) overnight. During winter (December – February) daytime temperatures average 2-3oC (36-39F) with overnight temperatures as low as 30 below zero.
The rainy season occurs in July and August with frequent, usually brief, afternoon thunderstorms which produce heavy rain and frequent lightning. If visiting during these months remember that lightning kills and "when thunder roars go indoors!"
Where To Stay To Visit Bryce Canyon
Bryce Canyon National Park have rooms, suites and cabins at Bryce Canyon Lodge (budget option below) and two campgrounds, North and Sunset, which are both located near the visitor center.
The North Campground has 13 RV sites (by reservation) + 86 RV and Tent sites available on a first come first served basis. (RV sites = $30pn, Tent sites = $20pn).
Sunset Campground is located west of Sunset Point with 20 Tent sites (by reservation) + 80 RV and Tent sites + 1 Group site available on a first come first served basis. Sunset campground is closed during Mid-October through mid-April.
Both sites typically fill up by early afternoon in the warmer months.

If you're not much of camper, there are also lots of hotels and cabins in the Bryce Canyon area – here are our top picks for each of our standard price brackets:
That's a wrap folks! I hope you enjoyed our Guide to Thing To Do in Bryce Canyon National Park and you're all set to get amongst the hoodoos and fins!
Oh, and if you liked this post, please tweet, pin and share – I'd really appreciate it! Click the P in the share bar for full size images!
READY TO EXPLORE MORE OF THE USA? YOU MIGHT BE INTERESTED IN THESE ARTICLES
Hi There! Thanks for reading our post about the Things To Do in Bryce Canyon National Park. I just wanted to let you know that this post contains affiliate links, which help support this site at absolutely no cost to you. If you enjoyed this article and are going to be searching for some of the things we mention anyway, I would love it if you could click through from the links above. These links help me keep this site online and updated – so thank you in advance! Read my full Disclosure here.