Sydney is one of the most visited cities in Australia and one that ranks high on practically everyone's Australia Bucket-List. Boasting some of Australia's most iconic tourist attractions – the Opera House, Harbour Bridge and Bondi Beach – to name a few, Sydney is jam packed full of amazing things to see and do! Whether you're looking to pack everything in to one whirlwind Sydney Weekender (where long weekends are best!), or pick your highlights from the Top Things To Do in Sydney, we've got options and ideas to suit every budget and every style of traveler. And this guide was written by a Sydney Native – so you know her recommendations are going to be spot on!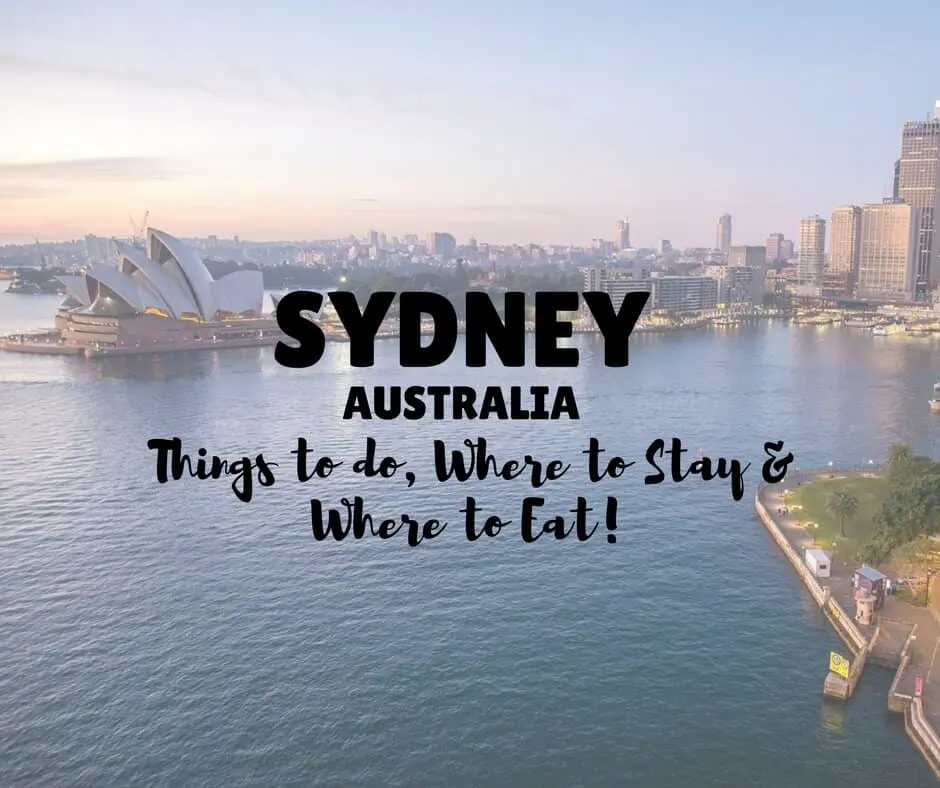 Disclaimer: Almost all posts on this site contain Affiliate links, and this post packed with Awesome Ideas for A Sydney Weekender: Where to Play, Stay & Eat! is no different. This means that if you click on any of the links in this post (and make a purchase) I may receive a small commission at absolutely no cost to you. Each post is carefully crafted to (hopefully!) answer all your questions and recommendations are made where we believe they will improve your trip and help with your planning. As such we thank you in advance should you decide to click & buy. Read my full Disclosure here.
A Guest Post by Paula Morgan from Sydney Expert
There is so much to see and do in Sydney that you'll need a pretty well thought out itinerary to make the most of your limited time. Here are my highlights for a short visit to this gorgeous harbour city, along with recommendations for where to eat and where to stay!
Top Things To Do on a Weekend In Sydney
Visit the Sydney Opera House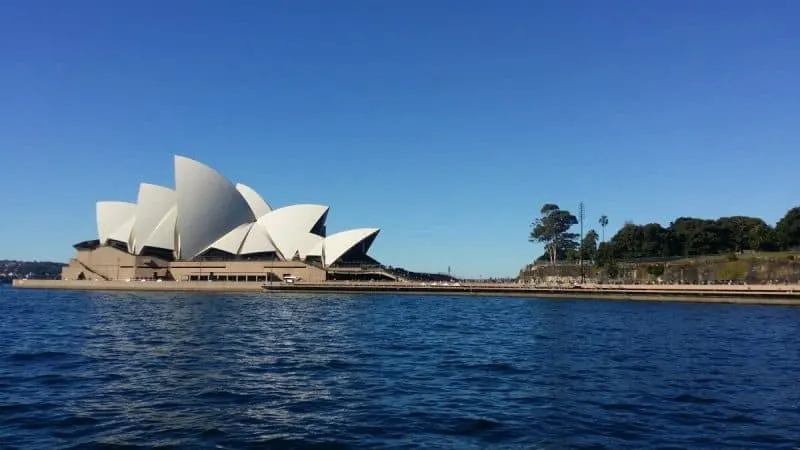 The Opera House is at the top of every Sydney guidebooks must-see list. It belongs there; it's an amazing piece of architecture and one you cannot fail to be impressed by.
Try to see inside the Sydney Opera House too. You can do this by getting tickets to a show or joining one of the Opera House Guided Tours. Any why not add an unusual activity to your list that will give you a vantage point that's a little out of the ordinary? Cruise around the Harbour and watch the night lights of Sydney come alive on a sunset dinner cruise; or get a unique aerial perspective on a Sydney Harbour Helicopter Ride!
.
Get up close and personal with the Sydney Harbour Bridge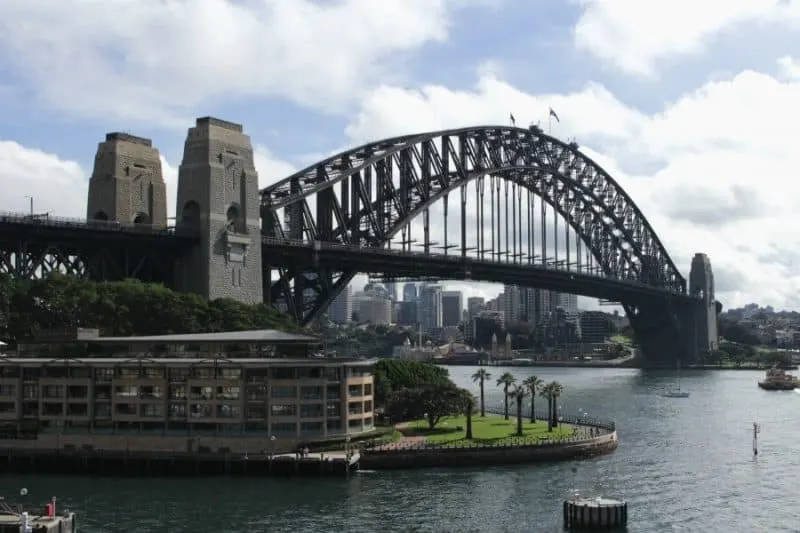 Sydney's other icon provides an excellent vantage point over the city. There are 3 ways to explore the famous 'coat hanger'.
If you are not scared of heights or stairs then the Sydney Harbour Bridge Climb is fantastic. It will take you 134m above sea level via 1,439 stairs.
If 200 steps is more your style then visit the Pylon Museum – Learn how the bridge was built and get fabulous 360 degree views of the city.
If you are travelling on a budget you can walk across the deck of the bridge for free.
RELATED: Visiting Sydney is one of my Top 100 Things To Do in Australia – click the link to read them all!
.
Stroll Royal Botanic Gardens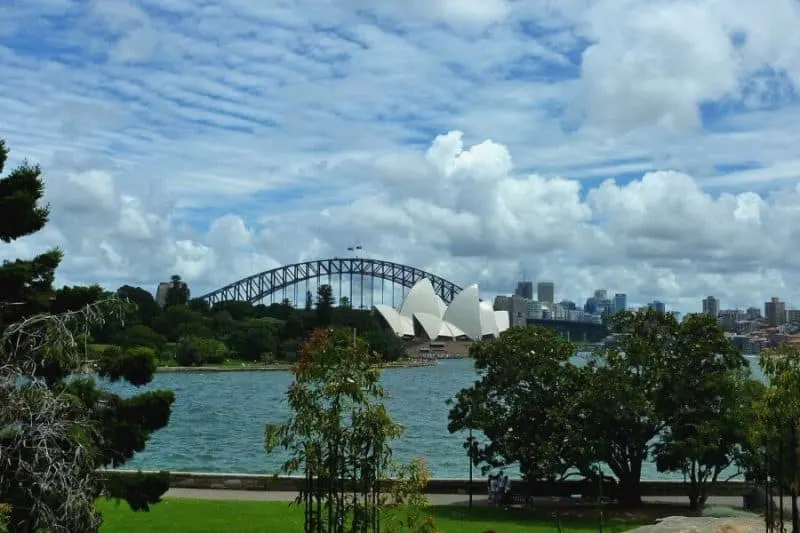 Even if gardens aren't usually at the top of your travel list, you should make an exception and include this one. You can pick up a self-guided walking or sculpture map at the information centre. Grab some wine, cheese and fruit and walk around to Mrs Macquarie's Point for a picture perfect picnic spot. (It's super romantic too! Click here for more romantic things to do in Sydney!)
RELATED: If you're super short on time and would like someone to assist with planning your trip why not try out the free Sydney Greeters service for a personal guided tour given by a local resident.
.
Walk Bondi to Coogee with a stop at Tamarama Beach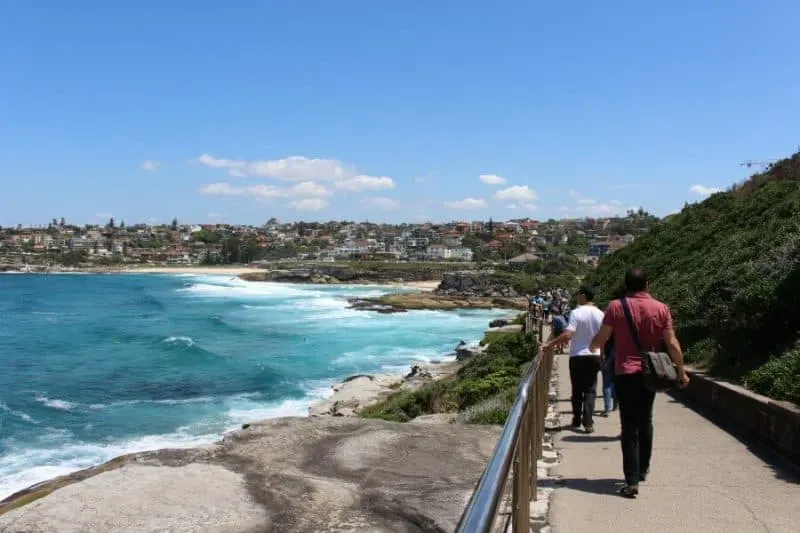 No visit to Sydney is complete without a couple of beach stops. After all, the city boasts more than 50 beaches along its coastline – and there are some fabulous coastal walks between them! Tamarama, also known as Glamarama by locals for the beautiful people it attracts, is a small beach 1km along the path from the famous Bondi Beach. It's safe for swimming and has a café that offers good coffee, all day breakfast and healthy lunches.
RELATED: If you're looking for a beachy holiday – why not consider a Weekend on the Sunshine Coast?
.
Explore the Rocks – Sydney's Old Quarter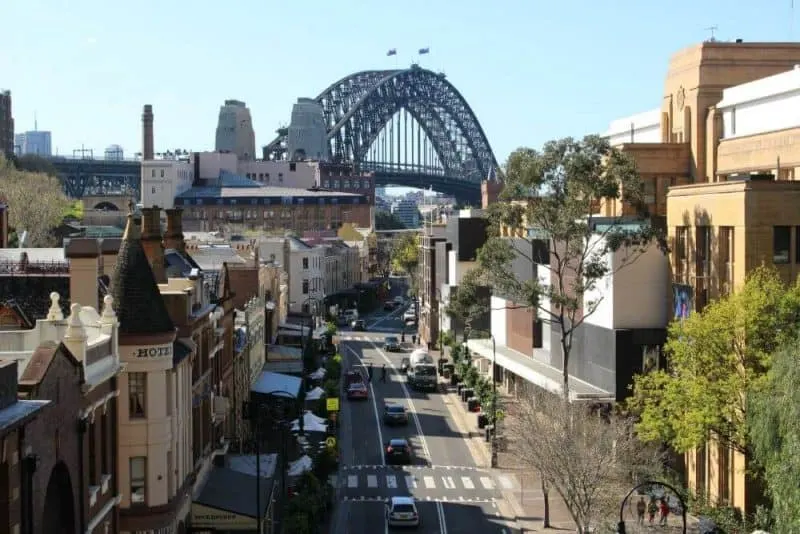 The Rocks is the birthplace of Sydney. In the early days of the colony it was home to the poorest residents. Today it boasts some of our best preserved buildings and plenty of places to stop for a beer or two while you appreciate them.
Check out my self-guided walk to help you get the lay of the land. Allow 2-3 hours to do the area justice.
RELATED: Aussie Travel Resources: Australia Travel Tips, Quotes about Oz, Aussie Slang & a Big Australia Quiz!
.
Ride the ferry to Manly Beach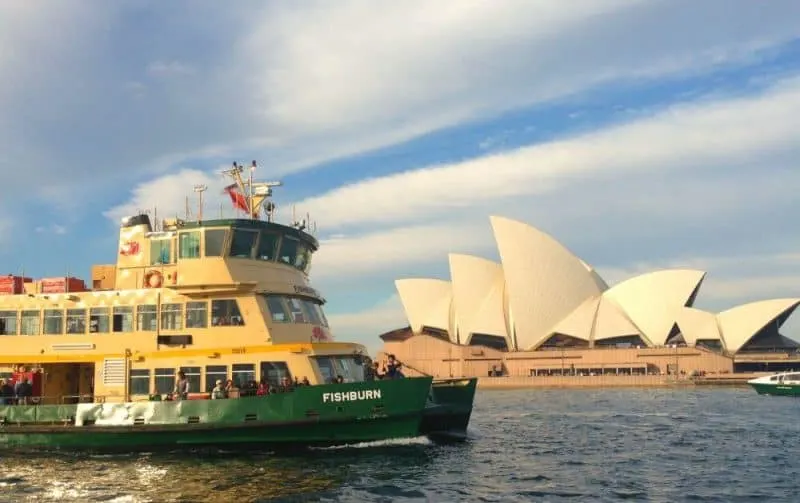 The 1940s tourism marketing campaign for Manly coined the slogan "Seven miles from Sydney, 1000 miles from care" and for me, the motto still rings true today. As soon as I get on the Manly ferry and make my way across the harbour, it really does feel like I am escaping.
A visit to Manly ticks 2 things off the Sydney sight-seeing list; a ride on Sydney Harbour and a day at the beach – fish and chips optional. Make sure you follow the walkway around to Shelly Beach for some great coffee at the Boathouse.
RELATED –
Ready to explore more of Australia's capital cities? Make
Melbourne
your next stop!
.
People watch at Darling Harbour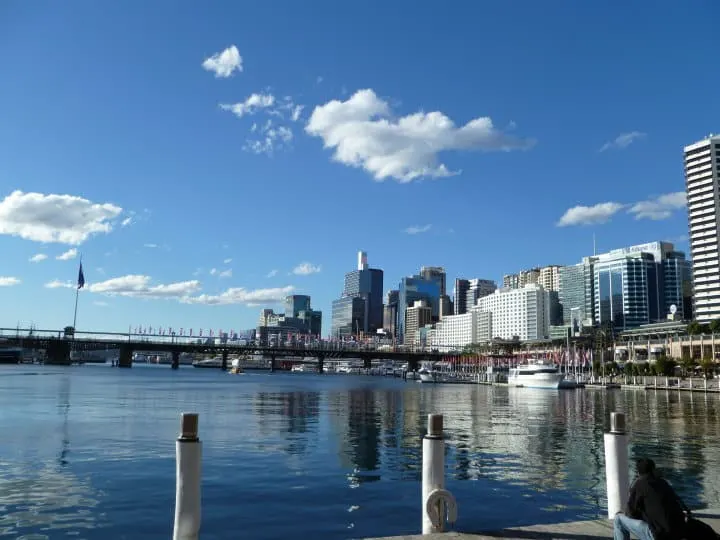 There is almost always something happening at Darling Harbour. A perfect spot for people watching, Darling Harbour is home to museums, nightclubs, cafes, restaurants and a fantastic new children's playground.
Locals will tell you it's touristy, and the food and drinks are expensive and it can be but that doesn't mean you should miss it. Weekends see free family events, cultural festivals and a Saturday night fireworks show several months of the year.
RELATED: Dis you know Australia has a remote Island paradise that is the down under equivalent of the Galapagos? Read all about Christmas Island here to find out more!
.
Find a Street art mural and some craft beer in Newtown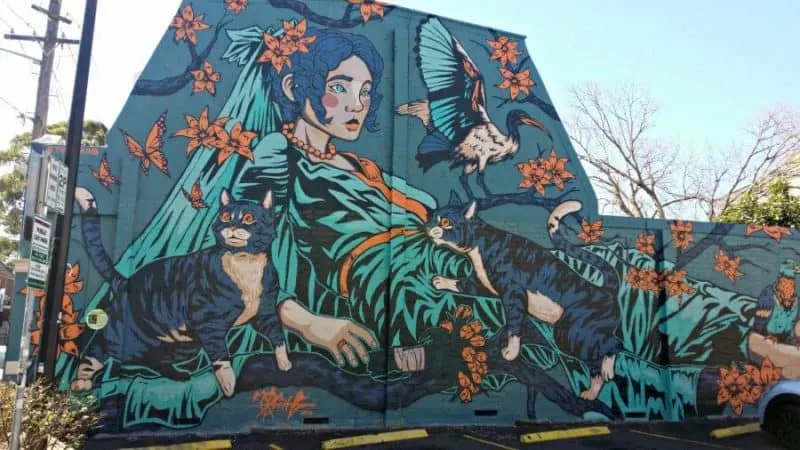 Just 4 kms from the city centre, Newtown offers more than its share when it comes to great food, street art and quirky shops. Pretty much anything goes here, and there is lots to see and do. It's a good place to wander in the late afternoon. Check out my street art walking tour if this sounds like you. It highlights some of the best murals and some great eats along the way. Make sure you try a local beer or cider in one of the many pubs along King Street.
.
Visit Sydney Harbour National Park at Watson's Bay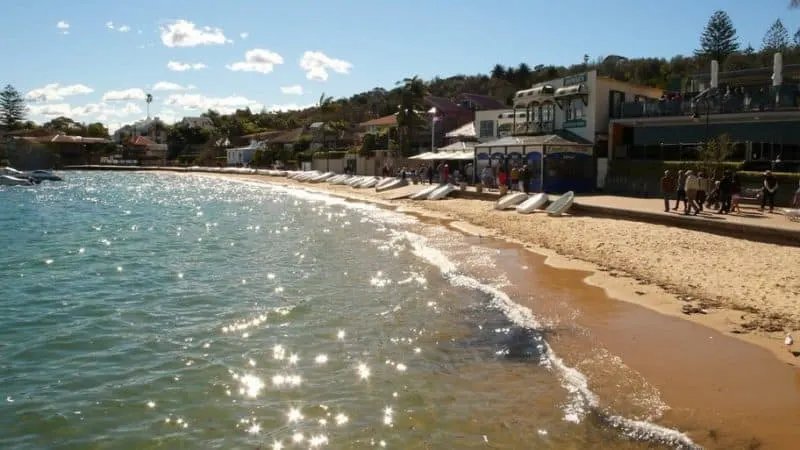 20 minutes on an inner harbour ferry and you will find yourself at Watson's Bay. Take a short walk through the National Park to Hornby Lighthouse and the rocky cliffs of The Gap. After your walk grab a beer at the Watsons Bay Hotel or splurge on a meal at Doyle's, Australia's oldest seafood restaurant.
.
Check out Chippendale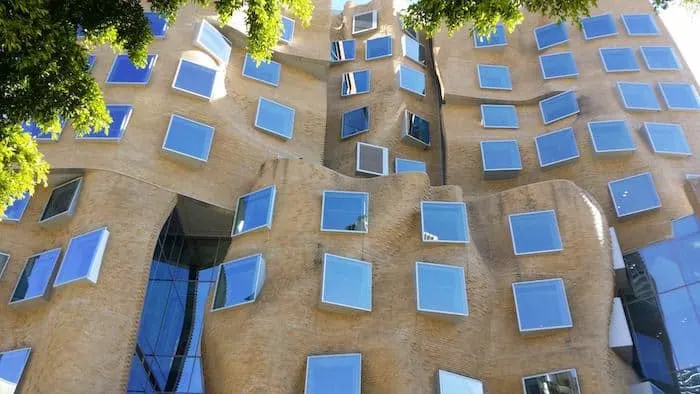 This almost forgotten part of the city on the southern fringe near Central station has recently been transformed into a centre of arts, food and entertainment. Check out White Rabbit Gallery for contemporary Chinese art, take your taste buds on a quick trip to Asia with a meal from a hawker stall in Spice Alley and explore the award winning Central Park complex with its cutting edge architecture.
.
Sydney Activities For Families & Children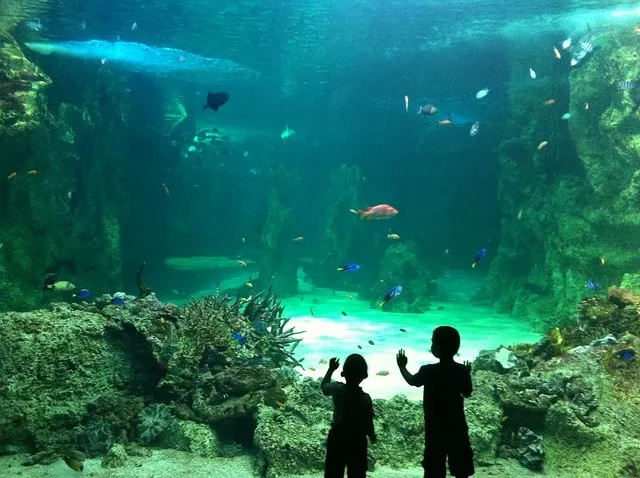 Sydney has a great range of activities for families, children (and big kids!) – with the indoor options providing alternatives to the usual top stops when the Sydney weather isn't playing nice! For the wildlife enthusiasts, a visit to Taronga Zoo can get you mixing with the animals; the SEALife Center offers a peek into the underwater world; Slip in a cheeky history lesson with the Dinosaurs at the Australian Museum; or inspire the astrologer within with some stargazing at the Sydney Observatory. And, when you've exhausted those options, don't forget Luna Park – whose Ferris Wheel has been delighting visitors since 1935!
Traveling as a family? Read more about Things to do with Kids in Sydney
.
Where to Eat on a Sydney Weekender
Have Yum Cha for breakfast at The Palace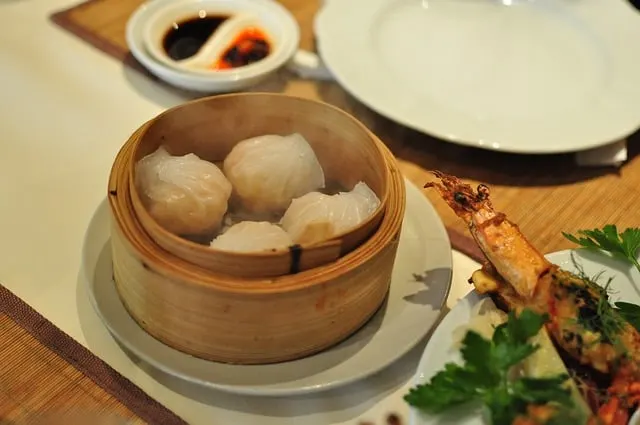 Much of the world refers to this style of eating as Dim Sum, but here we call it Yum Cha. Apparently, dim sum refers to the food eaten while Yum Cha is the name given to the meal itself. Regardless of what you call it the range and quality of Dim Sum in Sydney is fantastic.
My Favourite is The Palace in Piccadilly, Din Tai Fung in World Square and East Ocean in Chinatown. Yum Cha is available between 11-3pm daily but the best time is to go is 11.45am before the crowds. Vegetarians don't have to miss out, Bodhi in the Park near St Mary's Cathedral offers fantastic vegetarian yum cha daily.
.
Black Star Pastry
Try the Most Instagrammed cake in Australia (which is also available in their newly-opened Melbourne Store). Black Star Pastry's watermelon cake hit Instagram a couple of years ago and quickly became the most In(sta)famous cake in the country.
.
Opera Bar at Sydney Opera House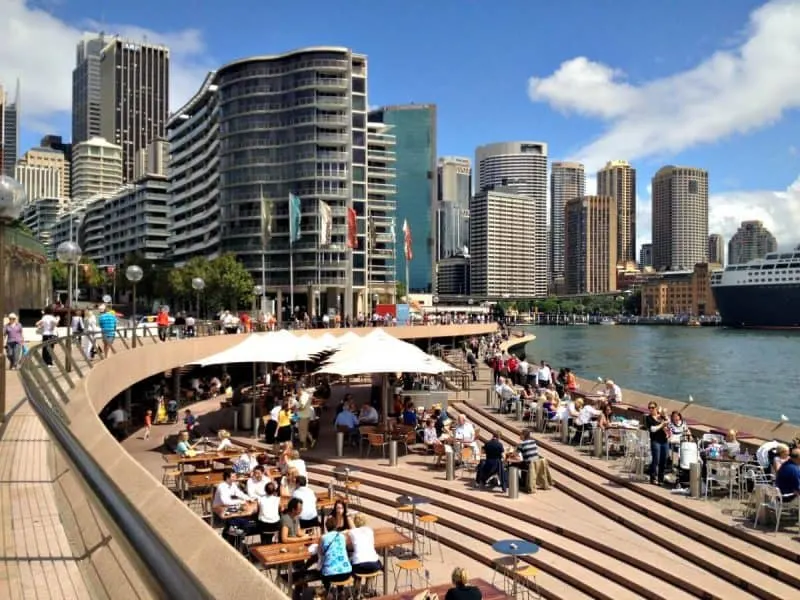 A cocktail and snacks at Opera Bar at sunset is the perfect way to end a day in Sydney!
RELATED: Short on time? Read this if you only have 1 Day in Sydney
.
Where To Stay in Sydney

The hotel has 172 contemporary rooms that are fitted with all the essentials to ensure an enjoyable stay. After settling in to their room, guests can discover the area with use of Museum Railway Station, which is a short stroll from the hotel.
Sydney's attractions, such as Queen Victoria Building and St Mary's Cathedral, are within easy walking distance of Primus Hotel Sydney. The local neighbourhood is also well-known for its shopping.
Book Now | Compare Prices for Later | Read Trip Advisor Reviews

Located centrally, Vibe Hotel Sydney allows for easy access to Sydney's popular retail areas and tourist attractions. The various facilities this modern hotel has to offer include a rooftop pool, a sauna and 24-hour room service.
This chic hotel provides meeting rooms, a coffee bar and a convention center. Staff are available 24-hours a day and can assist with booking tours and tickets.
Book Now | Compare Prices for Later | Read Trip Advisor Reviews

The hotel is situated in Sydney and is close to local attractions, such as Hyde Park, Oxford Street and St Andrew's Cathedral, Sydney. It is conveniently located in the city centre.
Song Hotel Sydney formerly Y Hotel Hyde Park features a 24/7 reception, plus free Wi-Fi and meeting rooms. For added convenience, it offers an airport shuttle, luggage storage and a tour desk.
Book Now | Compare Prices for Later | Read Trip Advisor Reviews

The Original Backpackers Lodge offers award-winning accommodation in Sydney and is within a five-minute walk of Kings Cross Railway Station. It also provides free Wi-Fi and is within a five-minute stroll of Kings Cross.
Book Now | Compare Prices for Later | Read Trip Advisor Reviews
.
Extra Sydney Adventures

IF YOU HAVE THE LUXURY OF TIME AND CAN'T GET ENOUGH OF SYDNEY, TAKE A LOOK AT THESE GREAT TOURS TO EXPLORE THE SURROUNDING AREA:
The Hunter Valley is one of the most famous wine regions in Australia. Make it a food and wine themed day on this Hunter Valley Tour complete with wine and craft beer tasting and a chef-prepared lunch.
Get out into the wilds on the Blue Mountain Tour & River Cruise & the opportunity to cuddle up to Koalas and Kangaroo. Spend a day with the Flora and Fauna and you'll be able call yourself a true Aussie!
.
Essential Visitor Info
How To Get Here & Get Around
Unless you're planning to drive to Sydney on an epic road trip through Australia (book your car hire here), plane is going to be your best bet (that goes for International visitors too). Use Skyscanner to compare prices and get the best deal.
To get from the airport to the city, Sydney does have an AirportLink which boasts a short 13 minute train ride for $18AUD per adult ($15 per child); There are also multiple companies who offer shuttle bus transfers. The best deal I could find at the time of publishing was around $16AUD one way (Google "Sydney Airport Shuttle Bus") – with Airbus offering $30AUD return per person. It will take slightly longer with the traffic element but on a super tight budget is a great way to save a couple of bucks.
Sydney is a lovely city to walk (although terrible to drive!) and most people will enjoy exploring on foot. To use the local public transport system (trains, bus & ferry – with the exception of the Manly Ferry) visitors will need to buy an Opal Card (available online and at various CBD locations). Prices per journey depend on the distance traveled and generally lie between $3.38 (up to 10km) – $6.50AUD (up to 65km)
When to Visit (Climate)

Between September – November (Spring) and March – May (Autumn) are usually thought of as the best time of year to visit Sydney offering the best balance of weather, price and lack of school holiday crowds. Average Temperatures range between Max 21°C & Min 12°C during this period.
The busiest times of year to visit is the Summer/high season of December – February where crowd numbers swell as families and holidaymakers arrive in droves to enjoy the good weather, and when Sydney's beaches continue to see record numbers of visitors year on year. Average temperatures range between Max 26°C & Min 18°C during this period.
.
So there you have it – hopefully we've given you enough information to plan the perfect Sydney Weekender – and given you a great list of things to do in Sydney to make sure you get the most from your visit. Don't forget to let me know you're own highlights once you're back!

Oh, and if you liked this post please tweet, pin and share – I'd really appreciate it! Click the P in the share bar for full size images!
Hi There! Thanks for reading our Awesome Ideas for a Sydney Weekender – Where To stay, Play & Eat! I just wanted to let you know that this post contains affiliate links, which help support this site at absolutely no cost to you. If you enjoyed this article and are going to be searching for some of the things I mention anyway, I would love it if you could click through from the links above. These links help me keep this site online and updated – so thank you in advance! Read my full Disclosure here.