Melbourne has so much to offer! With a European feel, shopping and sports for all, some of the best food and drink in the country and a unique laneway culture where you can drink the best coffee in the world!
So on your next trip down-under – or the next time you decide on a city break in this wonderful country – we highly recommend keeping a few days free to visit Melbourne and have put together this Melbourne Travel Guide featuring the best places to go in Melbourne along with some travel tips and day trip ideas to help with planning your trip!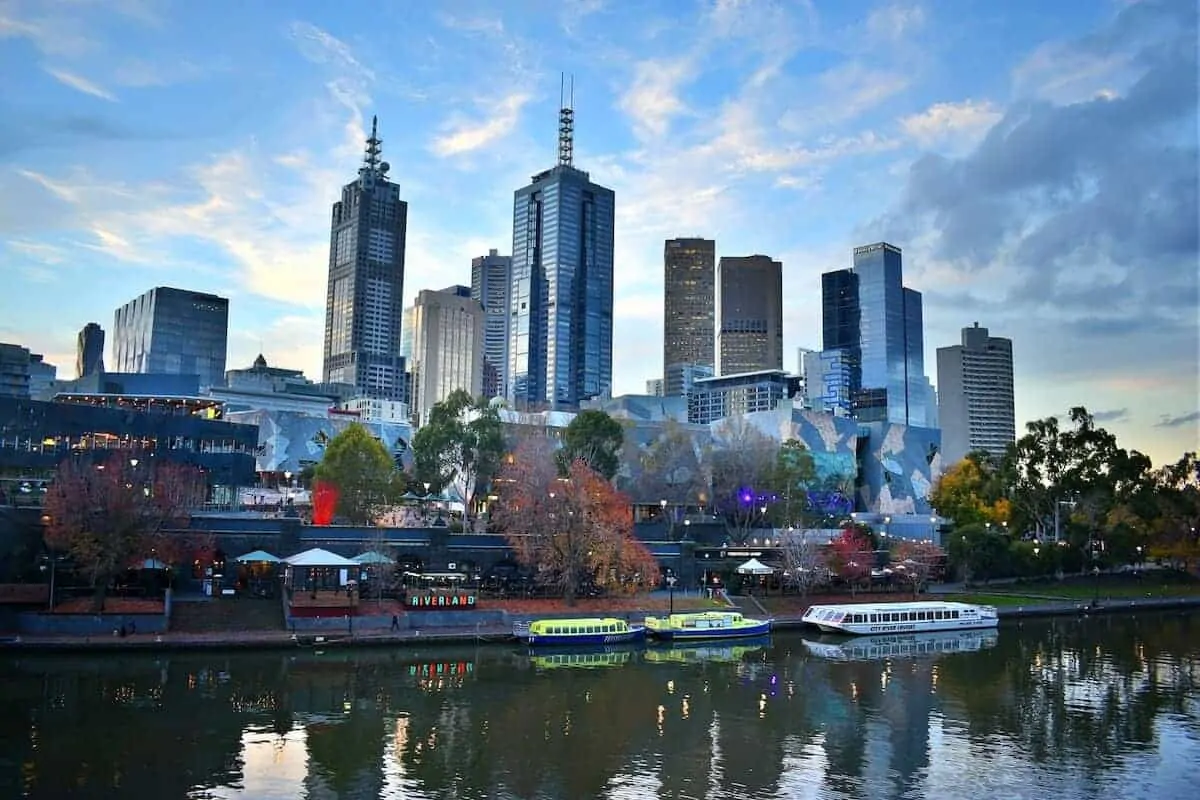 Disclaimer: Almost all posts on this site contain Affiliate links, and this one about the Best Places to go in Melbourne + Melbourne Travel Guide is no different. This means that if you click on any of the links in this post (and make a purchase) I may receive a small commission at absolutely no cost to you. Each post is carefully crafted to (hopefully!) answer all your questions and recommendations are made where we believe they will improve your trip and help with your planning. As such we thank you in advance should you decide to click & buy. Read my full Disclosure here.
A Guest Post by Cindy & Simon at Free Two Roam
Melbourne is the second largest city in Australia and the capital city of Victoria. However, many overseas visitors don't make it to Melbourne, instead preferring to spend their time in Sydney with its stunning harbour and surf beaches.
I can't really blame them; although we live in Melbourne, I've always had a soft spot for Sydney. It's quite a shame though because Melbourne is a beautiful, vibrant and dynamic city. It is Australia's sports, fashion, food and cultural capital and it's even been rated one of the most liveable cities in the world for several years in a row. Here are some tips to help you plan your stay in Melbourne & some FREE Things to do in Melbourne to help give your wallet a break!
.
The Best Things To Do & Places To Go in Melbourne
Admire the street art in Hosier Lane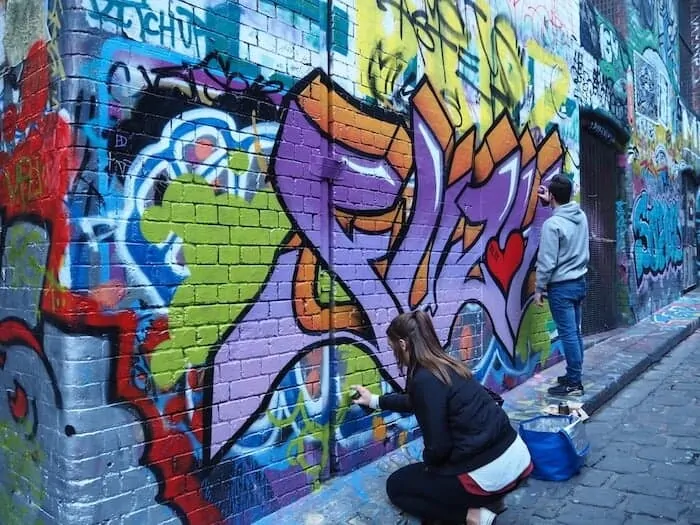 Hosier Lane is one of the most popular and most photographed streets in Melbourne. Fed up with prosecuting graffiti artists, the Melbourne City Council decided to designate this street a living street art gallery. Every inch of it (including the rubbish bins) is now covered with vibrant graffiti art. The art on display constantly changes and if you're lucky you might even see some of the artists in action. Hosier Lane offers an amazing insight into Melbourne's cultural life.
Take yourself on a FREE self-guided street art tour and see for yourself!
.
Walk along the Yarra River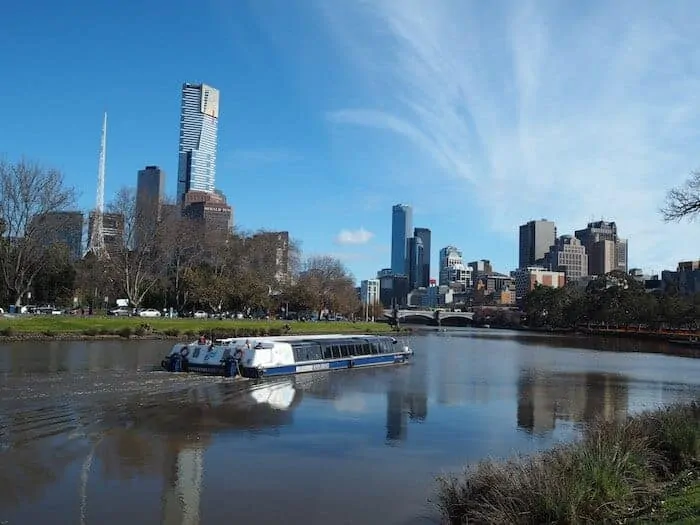 A walk along the banks of the Yarra is an absolute must. Soak up the city's atmosphere and take in the best views of the city's skyline. Start first thing in the morning to get a glimpse into the everyday lives of Melbournians. You'll see many of them out on their morning runs, walking their dogs, cycling alongside or rowing down the river. And if you'd like a different view of the city, Yarra River Cruises provide a unique perspective.
.
Admire Melbourne from up above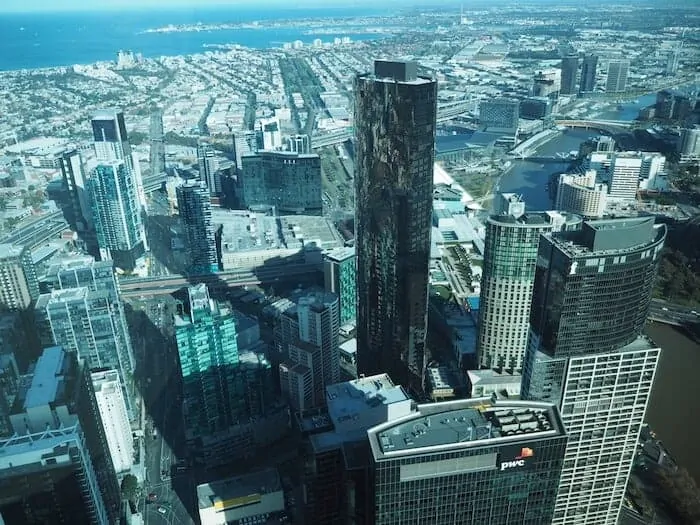 From the 88th floor of the Eureka Tower, Melbourne's tallest tower, you'll have a birds-eye view of the CBD and Port Phillip Bay. Aim to arrive just before sunset, so as to see the city first by day and then all lit up by night.
For the adventurous ones, try the "EDGE" in the Eureka Skydeck. The Edge is a cube with glass walls, glass ceiling and glass floor. It extends outside from the 88th floor, suspending you nearly three hundred meters out over the streets below. It's a fun thing to do, providing you're not scared of heights!
.
Stroll through the Botanic Gardens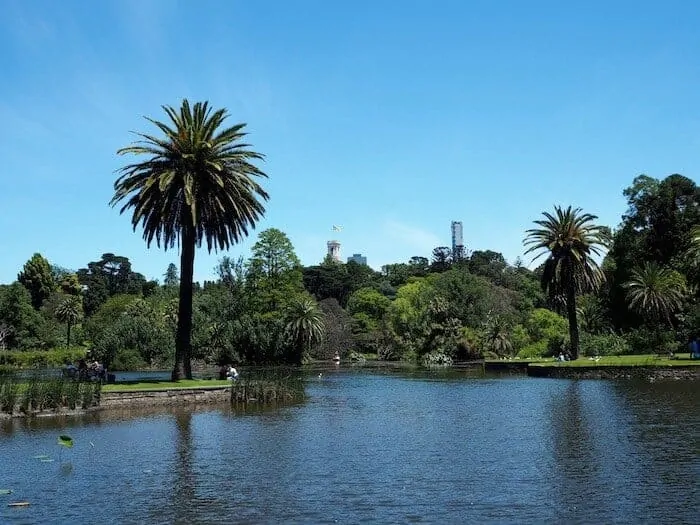 The Royal Botanic Gardens is a serene oasis in the middle of the city and it's a great place to escape from the everyday hustle and bustle. On a beautiful sunny day, bring a picnic with you to enjoy in the meticulously kept gardens.
Take time to admire the extensive plant collections, bright colourful flowers and Ornamental Lake. Stroll along the meandering paths to discover a large variety of plant species. Located right next to the entrance to the Botanic Gardens, you will also find the Shrine of Remembrance. The Shrine of Remembrance is Victoria's war memorial and also one of Melbourne's iconic landmarks. From its balcony, the shrine offers splendid views of Melbourne's skyline. It is free to enter.
.
Pick Up Some Bargains at the Queen Victoria Market
The Queen Victoria Market (QVM) is an institution and one of the best places to go in Melbourne Australia. Be it an early morning shopping spree to pick up some bargains, or an evening at one of the night markets (which are on both in summer and winter from 5pm on a Wednesday night), the market is a delight for everyone.
If you're staying for an extended time and have a kitchen in your place, there is also a fresh food market – where the fish, meats and cheeses are to die for! Just add in a bottle of wine and you've got a great food and wine night right there! (but that's just my personal preference!)
Head to an Outdoor Cinema
Melbourne has an incredible 9 Outdoor Cinema events throughout the year. Click the link and find the one that's on during your visit and book a night under the stars at the movies! (Just be sure to pack a blanket as no matter what time of year, it can coll down quickly once the sun has gone!)
.
Take a ride on the iconic City Circle Tram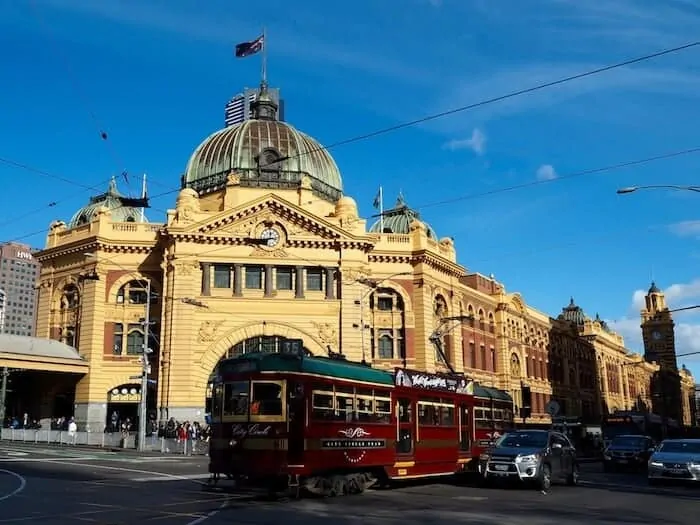 For a sneak peak of the entire city, jump on the free Circle Line tram (Number 35). The tram rolls around the city centre, stopping at most of the city's main tourist attractions. The entire loop takes about forty-five minutes, but you can "hop-on and hop-off" at any of the stops. Designed for tourists, it also has a voice-over commentary detailing the history of the attractions that it passes by.
For an even nicer experience, book a meal on the Colonial Tramcar Restaurant. You'll get to see the sights of the city, while you feast on delicious food and enjoy all you can drink Australian wine!
.
Watch a cricket or AFL game at the Melbourne Cricket Ground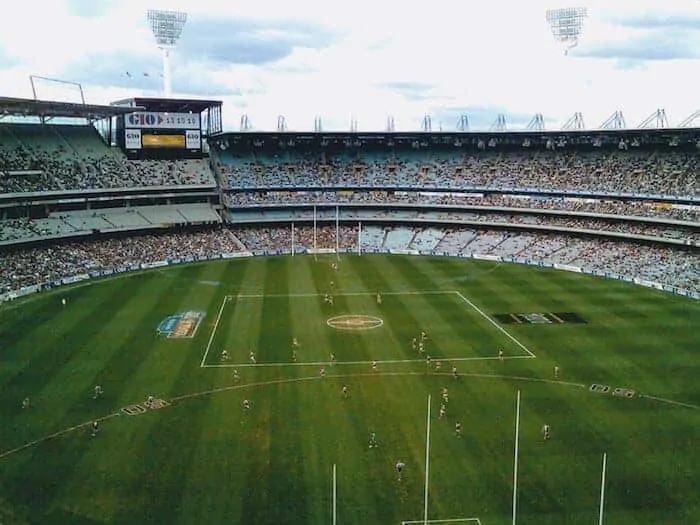 The city of Melbourne is sports crazy! Home to the Australian F1 Grand Prix, Melbourne Cup, Australian Open, AFL finals and more. If you're a sports fan, you just have to catch a sporting event while you're in town. With a total capacity of over one hundred thousand people, the Melbourne Cricket Ground (MCG) is Australia's largest, oldest and most popular sporting venue.
If you visit Melbourne in winter, head to "The G" to watch a fast-paced game of Aussie Rules football, or in summer an international cricket match. And whilst you're there, take in some sporting history at the National Sports Museum. Book Your MCG & Museum Tour Here.
.
Enjoy the entertainment at Federation Square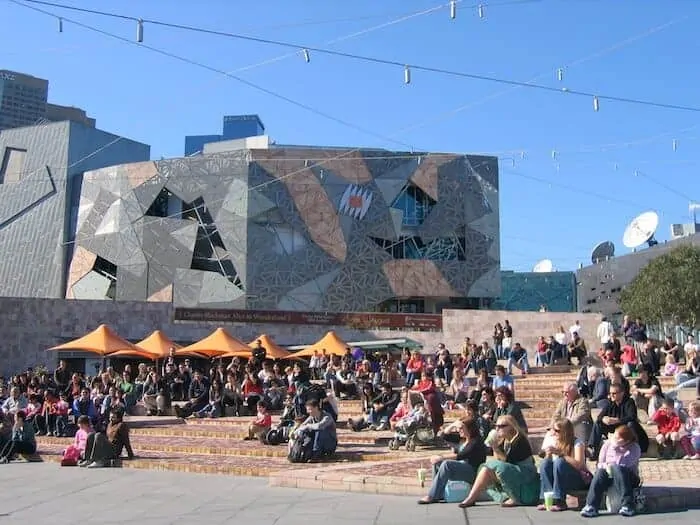 Federation Square is situated across from Melbourne's iconic Flinders Street railway station. Fed Square (as it's known to locals), has some rather quirky architecture. It's also big on entertainment, playing movies on its big screen and showcasing live acts on its stage.
Many festivals take place here throughout the year and there is always something going on at Fed Square. So take a seat and enjoy whatever's playing. Fed Square also has some very nice bars and restaurants which are great for people watching, and it's opposite St Pauls Cathedral another iconic Melbourne site.
.
Visit St Kilda at sunset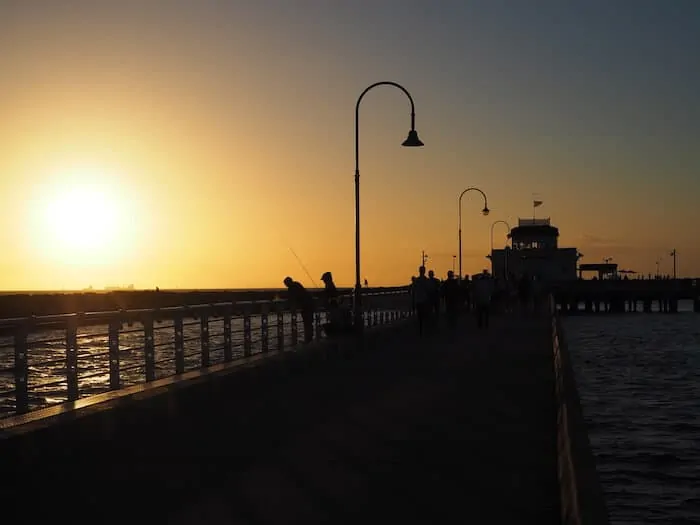 St Kilda Beach is the closest beach to Melbourne's city center and also it's most popular. At one of the beach is the famous Luna Park, perfect for keeping the kids entertained; and the wide, sandy beach is packed with people in summer when locals and tourists alike head there to cool off from the heat. St Kilda also gets some of Melbourne most beautiful sunsets, so make sure you hang around long enough to enjoy one.
At sunset, follow the crowd to the end of the pier. Sit, wait and watch as members of the local little penguin colony arrive back home after fishing in the bay.
.
Check out the colourful beach boxes at Brighton beach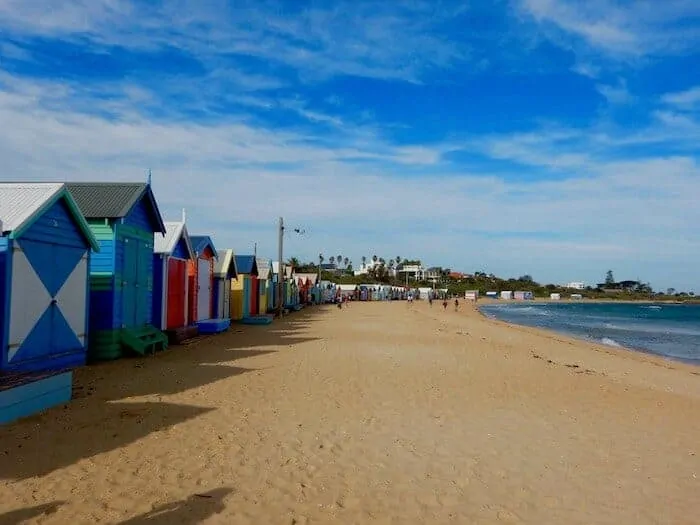 Brighton Beach is thirteen kilometers south of the city centre. It is the second most popular beach in Melbourne, largely due to its key landmark, the stretch of eighty-two quaint and colourful bathing boxes, with the spectacular city skyline in the background. To get to Brighton Beach, take a Sandringham bound train from Flinders Street station and hop off at Brighton Beach station.
.
Have fun visiting Artvo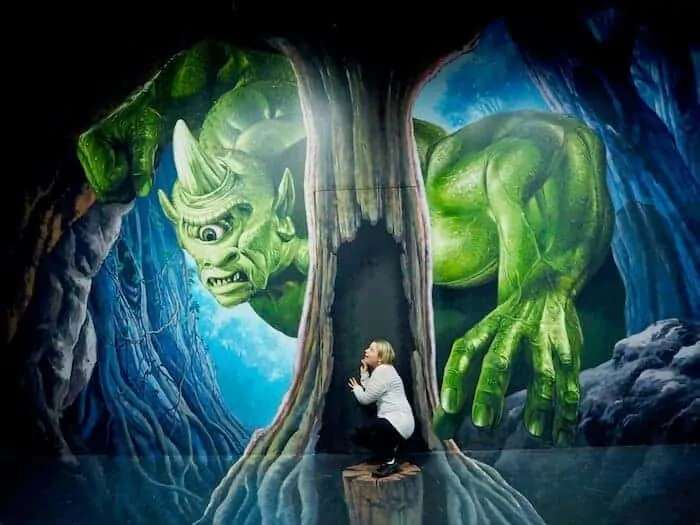 Artvo is Melbourne's new immersive and 'trick art' gallery. Even if art isn't really your thing, you'll still have fun at Artvo. Because at Artvo, it's not so much about looking at the art, but more about becoming part of it. In fact, you are actively encouraged to touch and interact with its one hundred tricky works of art. They are designed to come alive in 3D, giving you some great photos for your Instagram feed! It's one of the newest tourist attractions in Melbourne and would be perfect for a rainy day activity if the whether isn't too great!
.
Get your caffeine fix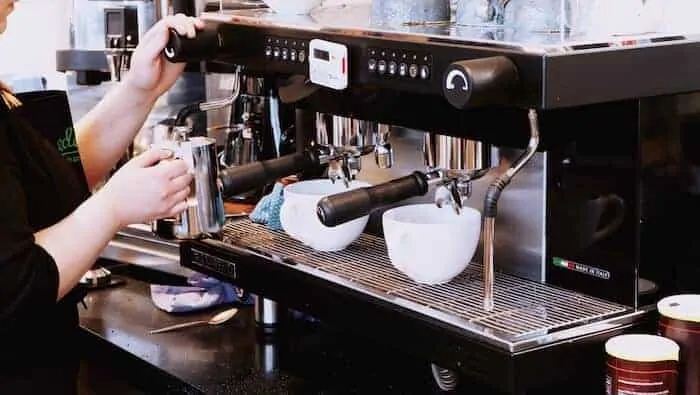 Melbourne has a huge coffee culture. With a coffee shop on nearly every corner, it won't take you long to get your caffeine fix in the morning! After trying a latte in Melbourne, you'll never want a coffee from Starbucks again! Melbourne's coffee shops are renowned as some of the best in the world and the Block Arcade is a great place to sample a selection.
Get out of the city (Day Trip Ideas)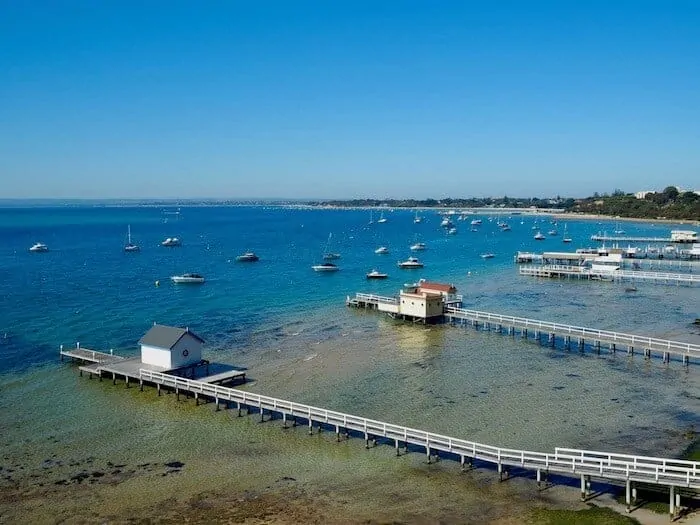 Another attractive feature of Melbourne for tourists is that there are so many amazing places to see that are only a short drive outside of the city centre. So if you're lucky enough to visit for more than a weekend, make sure you take a day trip or two. Whether you enjoy hikes in the mountains, wine tours, wildlife encounters at Healesville Sanctuary, spectacular coastal drives or amazing beaches, you will find them all close by.
The most popular day trips from Melbourne are to the Mornington Peninsula (where you can take wine tours, visit the hot springs or get away to the beach), Phillip Island (for the little penguins parade), the Yarra Valley (for a wine tour) and the Dandenong Ranges (to see the iconic Puffing Billy Steam Train).
These are the best tourist attractions near Melbourne, and a little bit further away are the Great Ocean Road where you can visit the famous twelve apostles, the Grampians and Wilsons Promontory. Each of these places are stunning and whichever one you choose you can't really go wrong.

.
Where to eat in Melbourne
Melbourne has a great reputation among foodies. It has some of the best restaurants in Australia, with cuisine from all around the world. The hardest part is choosing where to eat. Here's a list of our favorite restaurants in Melbournes CBD.
Rice Paper Scissors
Rice Paper Scissors is located in one of Melbourne's great little laneways and it is all about Asian fusion food. This place is always packed and for good reason; it offers mouth-watering food with truly fabulous flavours. Oh, and the cocktails aren't too shabby either!
Mamasita
Mamasita is situated above a 7/11 at the top of a stairwell. When it first opened its doors, it was the first restaurant in Australia to offer an alternative to Tex Mex style food. Since then, the Mexican craze has gone nationwide. But after all these years, Mamasita is still packed every night. If you love Mexican food, you really should check it out, but go there early at around 5 pm to avoid waiting hours for a table which will allow you to grab some of the best food and drink in Melbournes city centre.
Saké Restaurant & Bar Hamer Hall
Saké is an authentic Japanese restaurant located right by the river in Southbank. Dine on its outside deck to enjoy some of the best views of the city. Of course, a view like this comes with a price tag, and Saké is certainly not cheap. But the food is definitely worth the steep price.
Koko Black Royal Arcade
For dessert or for a mid-morning break, head to Koko Black for unexpected signature chocolate experiences. With over one hundred types of chocolates and with the best hot chocolates in town, there is no chocolatier in Australia quite like Koko Black. Try their chilli hot chocolate, it's delicious!
.
Where to drink in Melbourne
Melbourne has an excellent rooftop bar scene, so don't forget to have a pre or post dinner drink at one of the city's many rooftop bars. Some of the best are Rooftop Bar at Cookie, Madame Brussels, The Rooftop at QT and Good heavens.
.
Where to Stay in Melbourne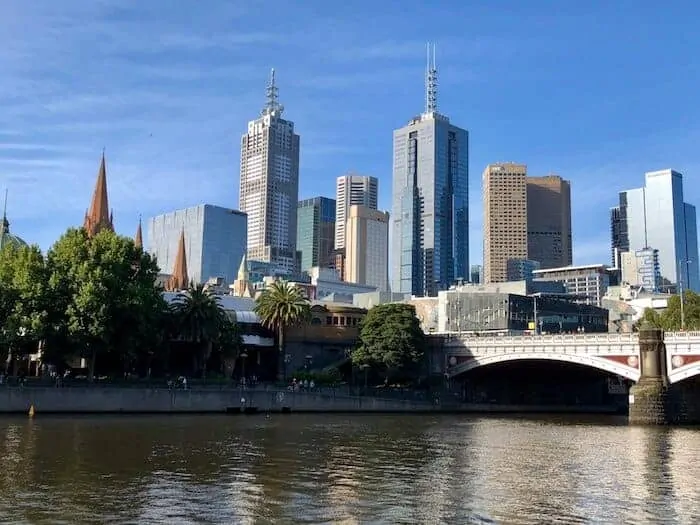 Because Melbourne is the second largest city in Australia, it has plenty of places to stay. Whether you're after a hostel, a mid-range or luxury hotel, you will be spoilt for choice in Melbourne.
Here are some Melbourne hostels and hotels to get you started:
United Backpackers Melbourne (Backpackers <$50)
United Backpackers has been voted the best backpackers in town and has the best location, directly opposite the iconic Flinders Street Station and 50 meters from Federation Square and the beautiful Yarra River.
Check Prices for later | Read Reviews
Travelodge Hotel Melbourne Southbank (Mid-Range hotel <200)
The Travelodge is located in the heart of Southbank, close to the Yarra River and walking distance to many tourists attractions, restaurants, bars and the shopping precinct.
Check Prices for later | Read Reviews
The Crown Tower (Luxury >300)
The Crown Tower is undoubtedly the most luxurious hotel in Melbourne. The rooms have recently been renovated and some have uninterrupted views of the Yarra and the city. Located in Southbank, it has the perfect location.
Check Prices for later | Read Reviews on Trip Advisor
.
How to get there and get around
From Melbourne's Tullamarine airport, you can catch the Skybus ($18 one way) to take you into the city. Alternatively, you can request an Uber (which allows you to check the fare before ordering your cab) or catch one of the many taxis waiting outside the arrival terminal. But bare in mind that taxis in Melbourne are not cheap. You'll be charged between $55 to $65 for the privilege!
Melbourne is a great city to walk around and to get lost in. You never know what gem you will come across next. But it is also well served by trams, buses and its metropolitan train network.
In city centre Melbourne there is a Free Tram Zone, so if you don't leave the central business district (CBD) you will not need to buy the cashless Myki transport card.
If you visit St Kilda or Brighton, then you'll have to buy a Myki card and touch on and off as you enter and exit the tram or train station. You can pick up a Myki card at any station in the city or at 7-Eleven stores, for the rather steep cost of $6. After that, you can top up your card at any 7-Eleven store, at premium stations or at Myki card machines. The fare you pay will depend on the distance you travel.
So there you have it – hopefully we've given you enough information and travel tips to help in planning your trip to Melbourne – and given you a great list of places to go in Melbourne to make sure you get the most from your visit. Don't forget to let me know you're own highlights once you're back!

Oh, and if you liked this post please tweet, pin and share – I'd really appreciate it! Click the P in the share bar for the full size image!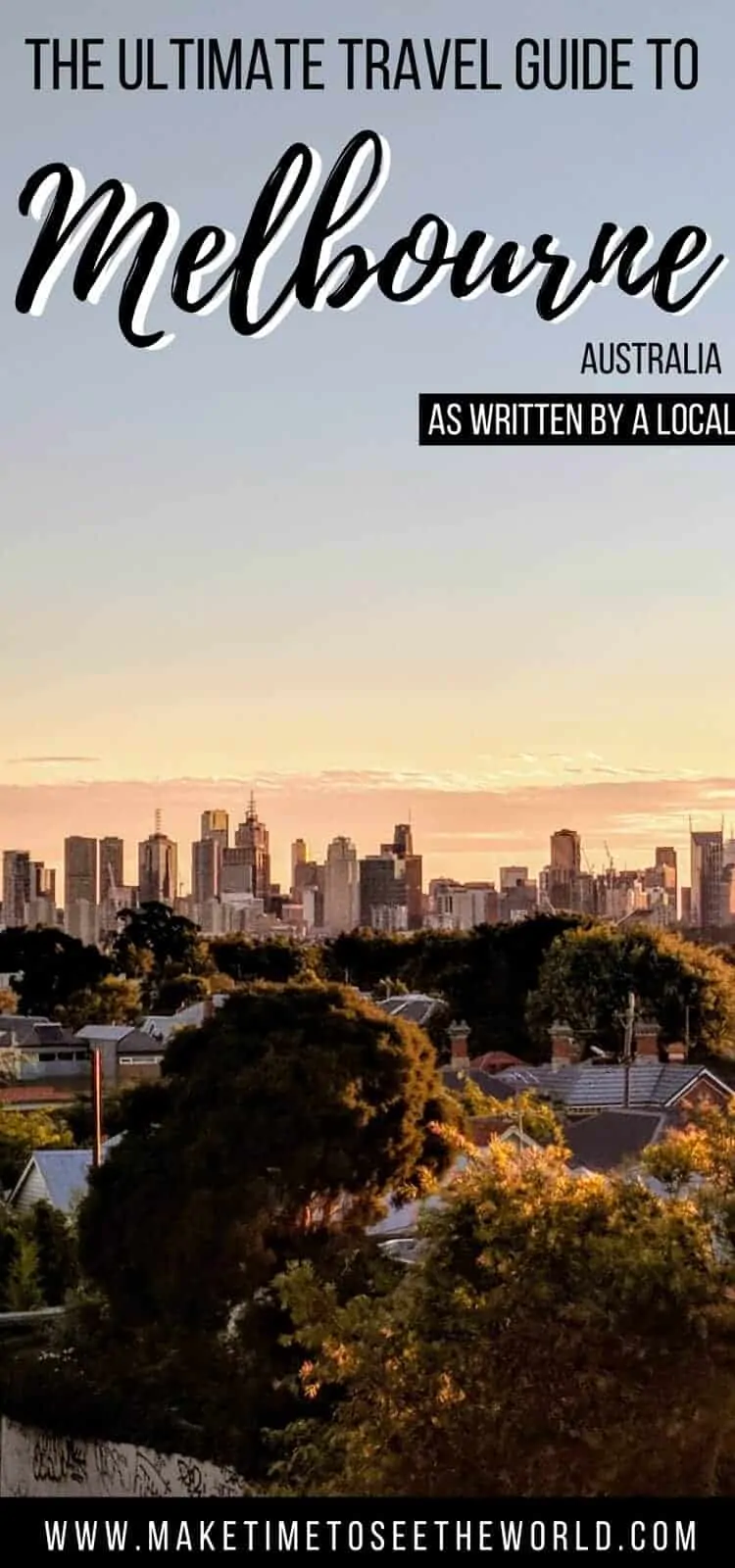 READY FOR MORE AUSSIE TRAVEL INSPIRATION? YOU MIGHT BE INTERESTED IN THESE ARTICLES
Hi There! Thanks for reading our Melbourne travel guide to the Best Places To Go in Melbourne. I just wanted to let you know that this post contains affiliate links, which help support this site at absolutely no cost to you. If you enjoyed this article and are going to be searching for some of the things I mention anyway, I would love it if you could click through from the links above. These links help me keep this site online and updated – so thank you in advance! Read my full Disclosure here.