Oh Melbourne I love you. From your love of food and wine, your passion for whatever sporting event is on each week and your first class class shopping to your iconic neighborhoods, world famous coffee and secluded laneways which act as a canvas for some of the best Street Art in the World.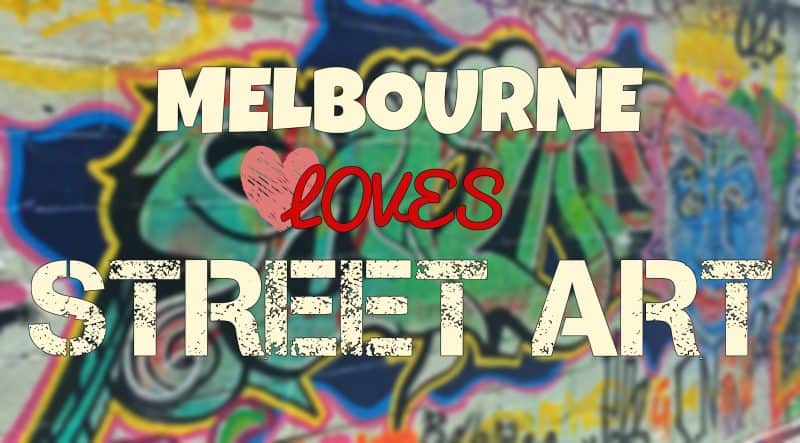 Melbourne is an amazing city and I love that walking through the CBD you'll see and eclectic mix of people. There are no labels and everyone is accepted for who they are and who they want to be. But it hasn't always been this way. Melbourne's street art culture is a remnant of a youth who felt disaffected during the 1970 and 1980's and took their inspiration from the graffiti culture of New York. Since then it has morphed into a sub-culture of its own and Melbourne City encourages it.
There are designated walls and buildings throughout Melbourne where the city grants permits for artists to display their work. On the whole its a system that works well, with new artwork popping up and recycling the walls at irregular intervals. The one thing the city requests is that artist 'do art; not tags' – and most artists comply. One thing for is for sure, it's highly unlikely that if you took yourself on a walking tour a few weeks apart, you wouldn't be able to find the same artwork!
Let me take you on a mini tour of Melbourne's most famous Street Art Laneways
First up: Hosier Lane
The epitome of Melbourne's street art laneway's – one of the originals and still one of the best. Noted for the quality and often political nature of its art, its an underground artists hub in the midst of upmarket cocktail bars and fancy restaurants.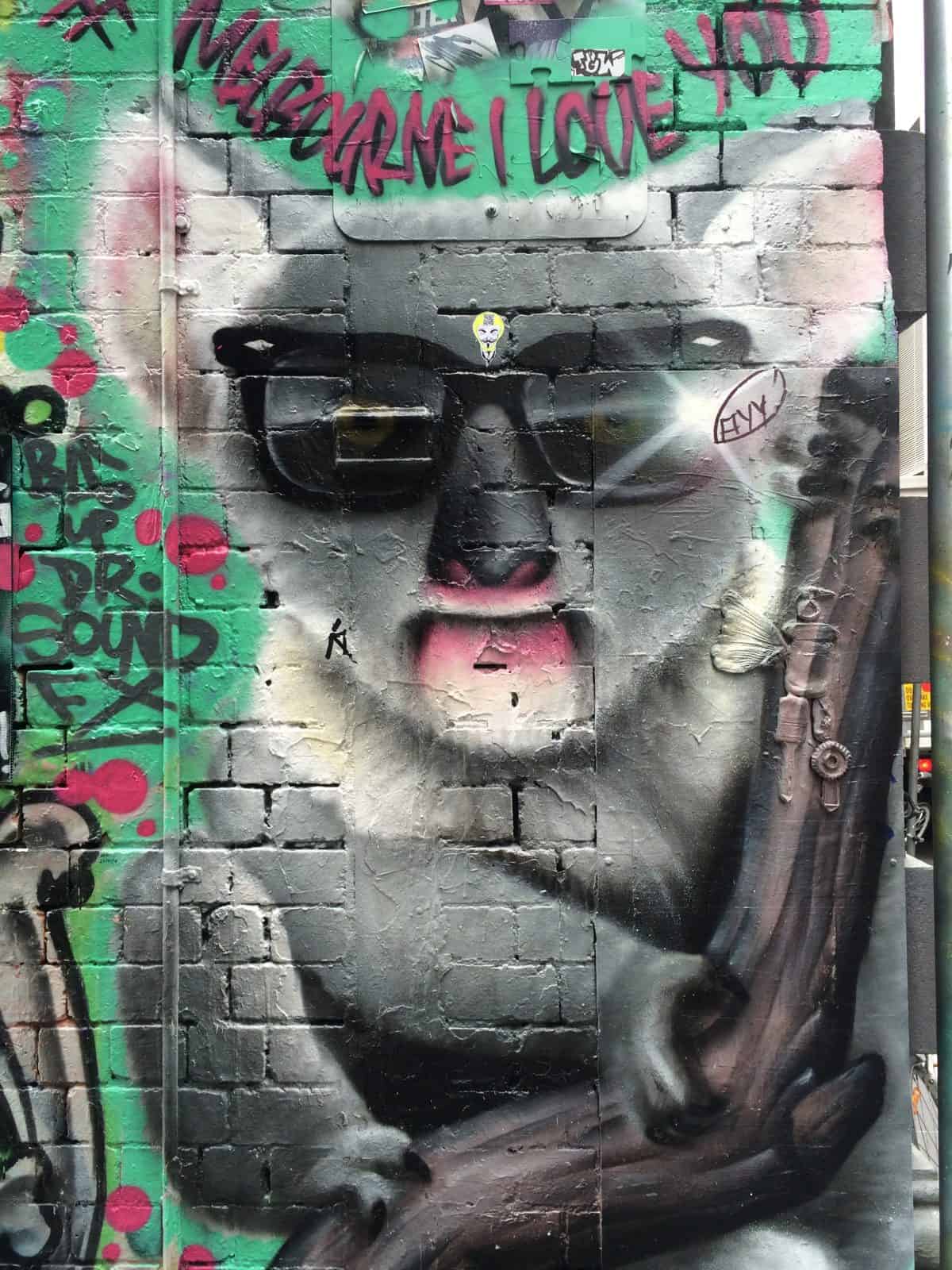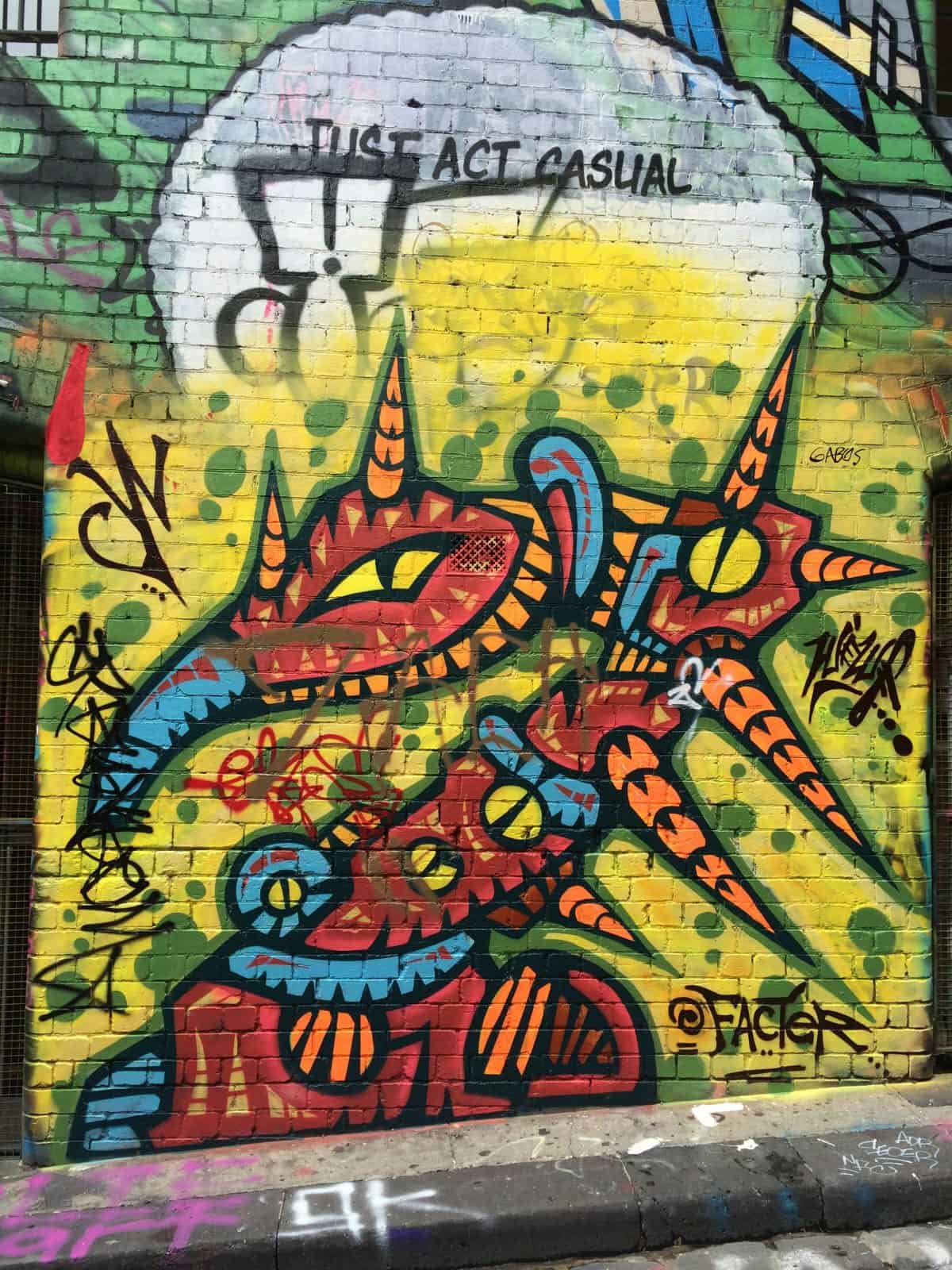 RELATED: Touring Melbourne's street art is one of my must-do things in Australia – click the link to read all 100!
.
next stop: AC/DC Lane
Formerly Corporation Lane, it was renamed in 2004 in recognition of AC/DC as both recognition as their status as Ambassadors for Australia, and its location in the rock bar district of Melbourne. The trademark lightning bolt contravened road naming provisions and so the punctuation was creatively added around the street name sign after its installation! The laneway is now home to some great artwork – some of which is protected and will never be re-tagged. This is probably the only spot in Melbourne where you will always see the same piece of art!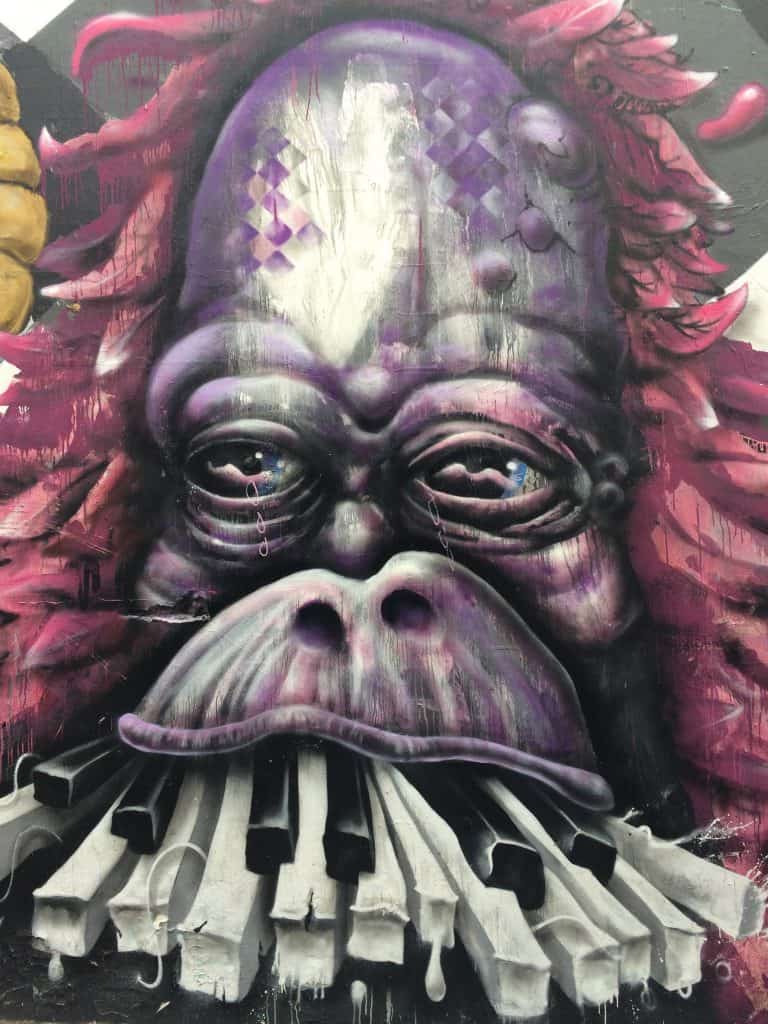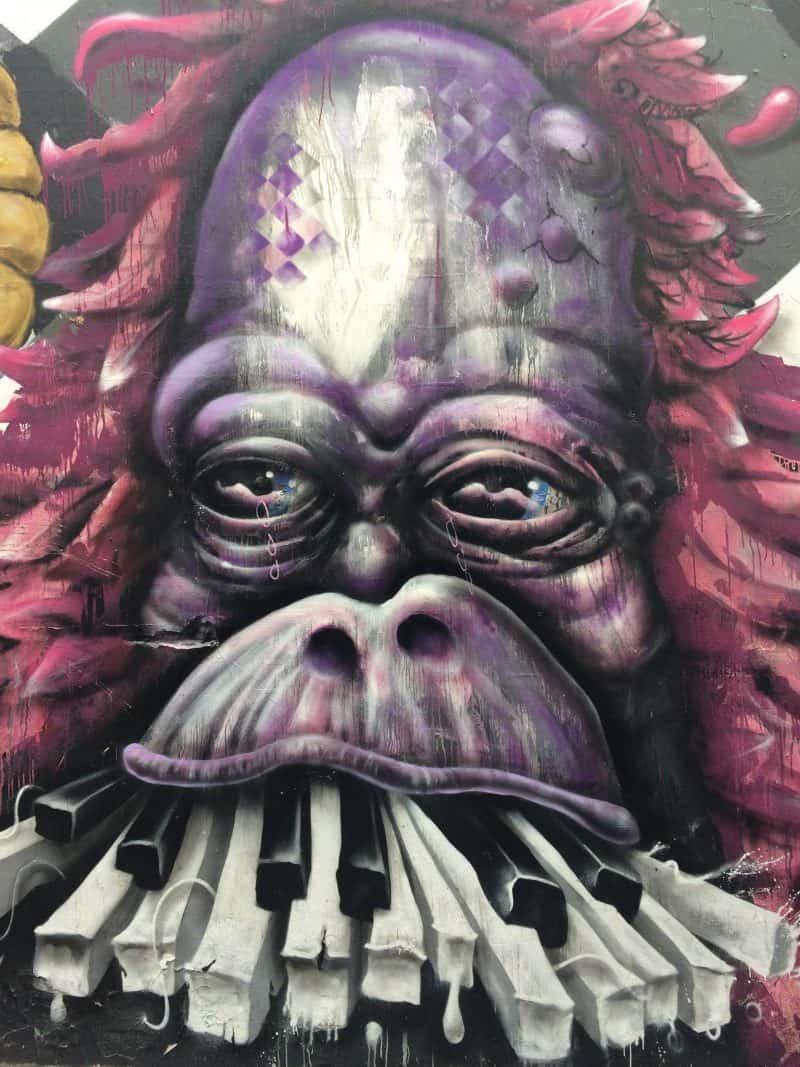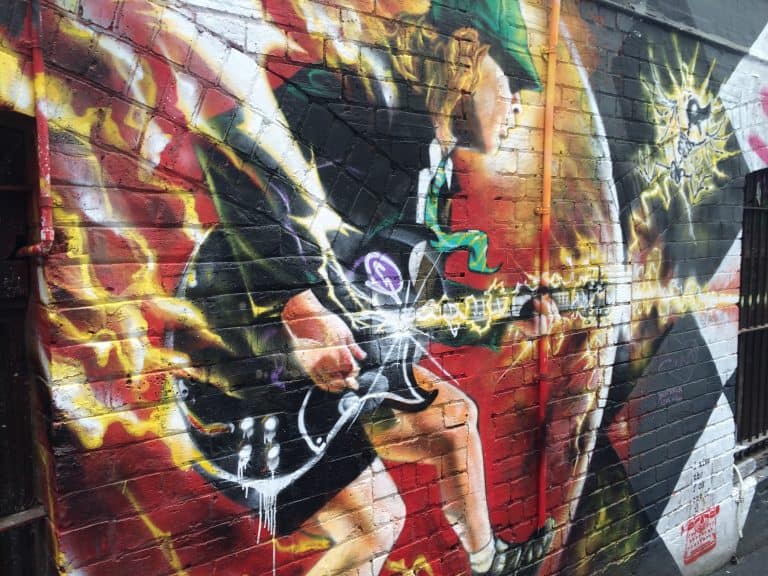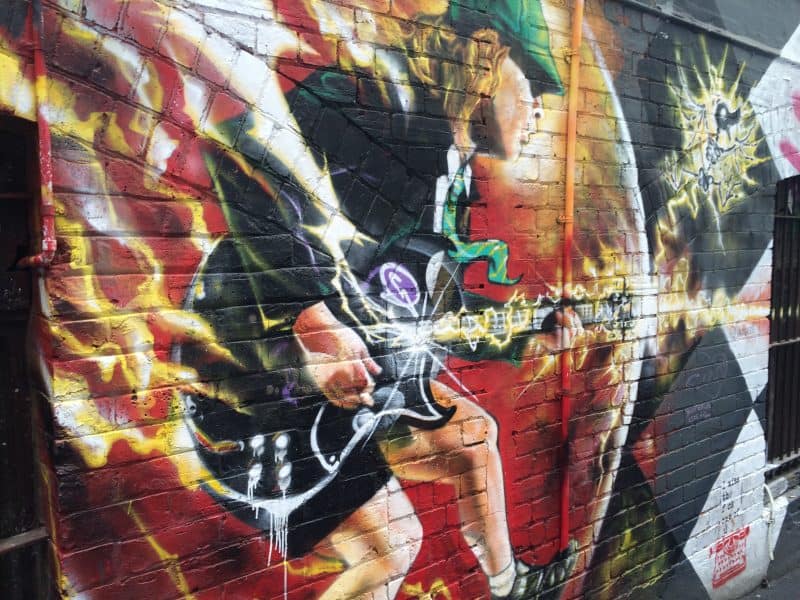 The Cherry Bar is the home of rock and roll on AC/DC lane, with its artwork is linked to those who contributed funding to the soundproofing of the building. This is street art that will should always be around.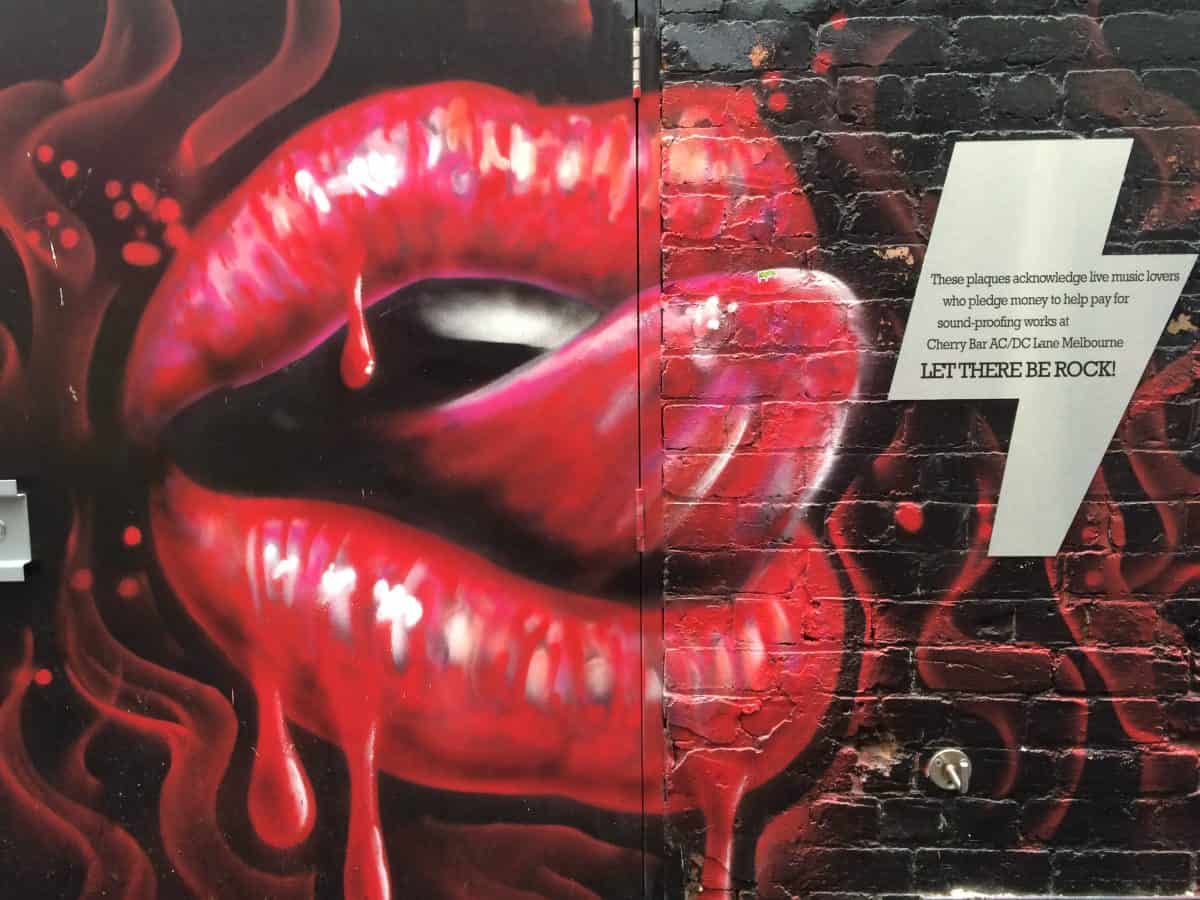 MOVING ON: FLINDERS LANE
Flinders Lane is lined with upmarket, trendy and supercool restaurants and bars – but there is still a little Street Art to be found – and even Walt Disney is getting in on the act! This piece is one of my favorites and was installed during the Lion King's 2015 theater run in Melbourne.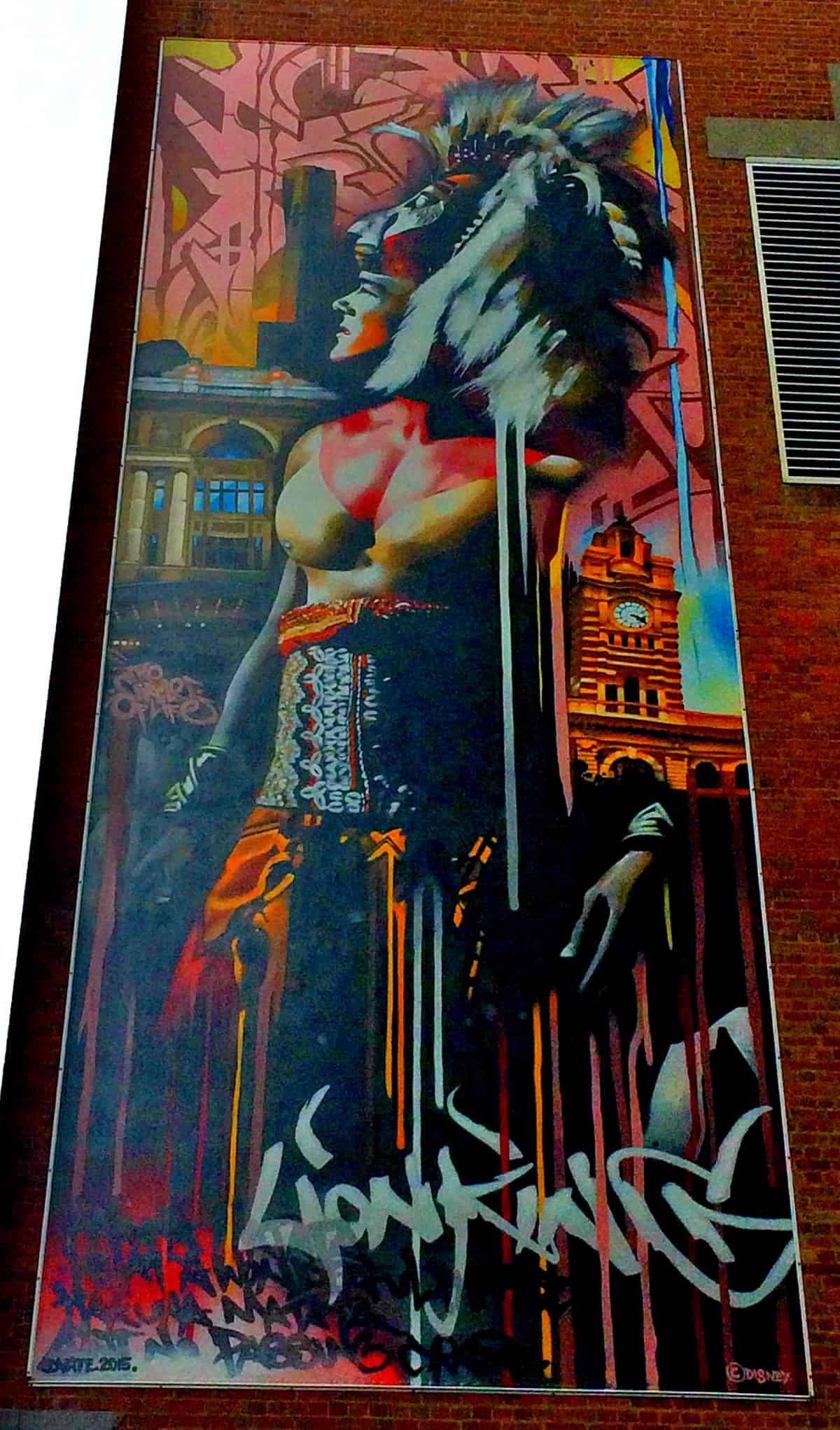 FINALLY: UNION LANE
Slap Bang in the middle of Melbourne's shopping center – Bourke Street Mall, and right next to David Jones (an upmarket department store) lies Union Lane. To be honest, its my least favorite street art laneway – most of the artwork is tags rather than art, and it is quite dirty (and a little smelly) between the middle and the entrance on Little Collins Street. The entry from Bourke Street however, is where you'll see tourist snapping the traditional tourist shot – and the end of the laneway often has a great piece of art on display.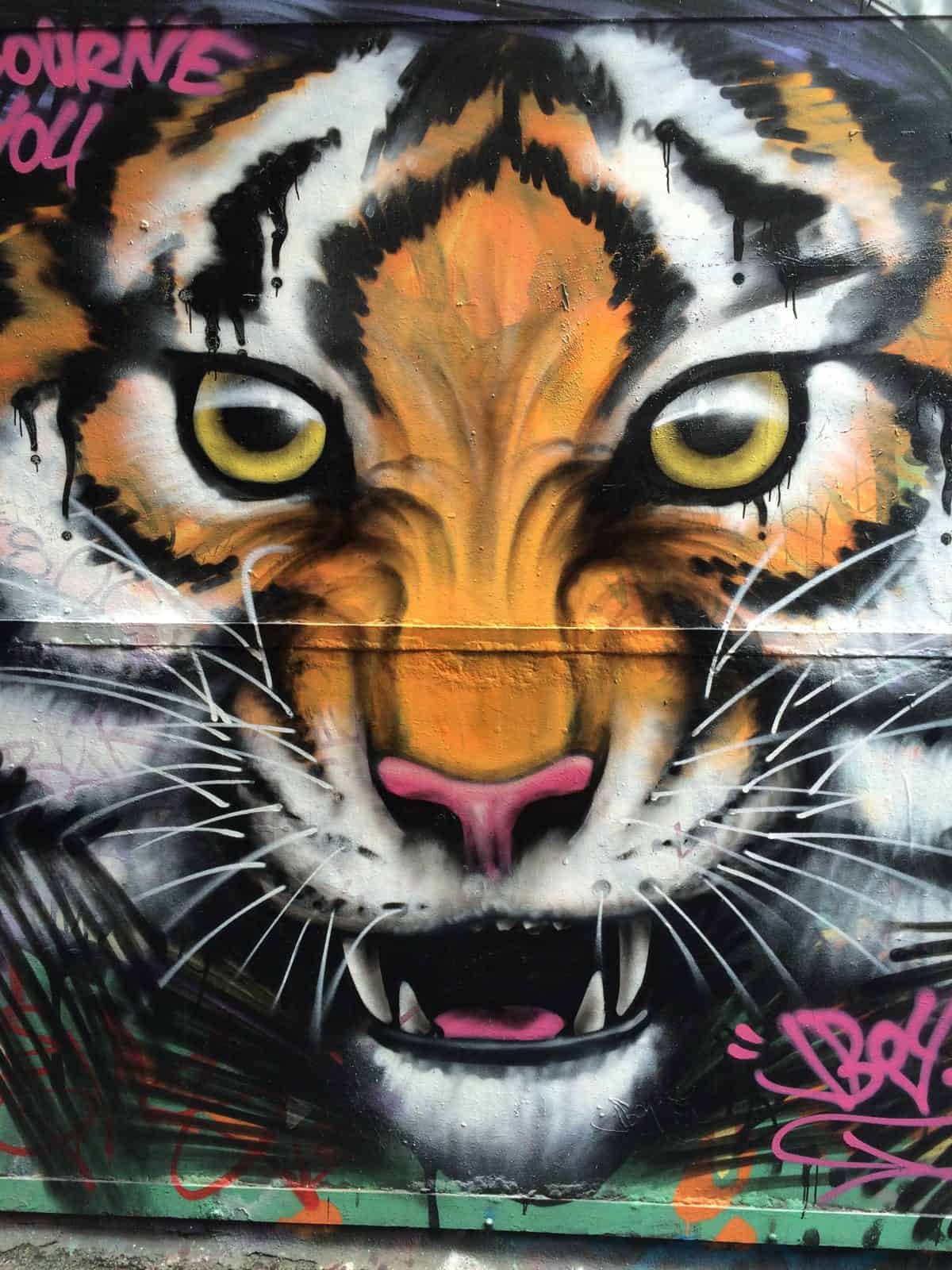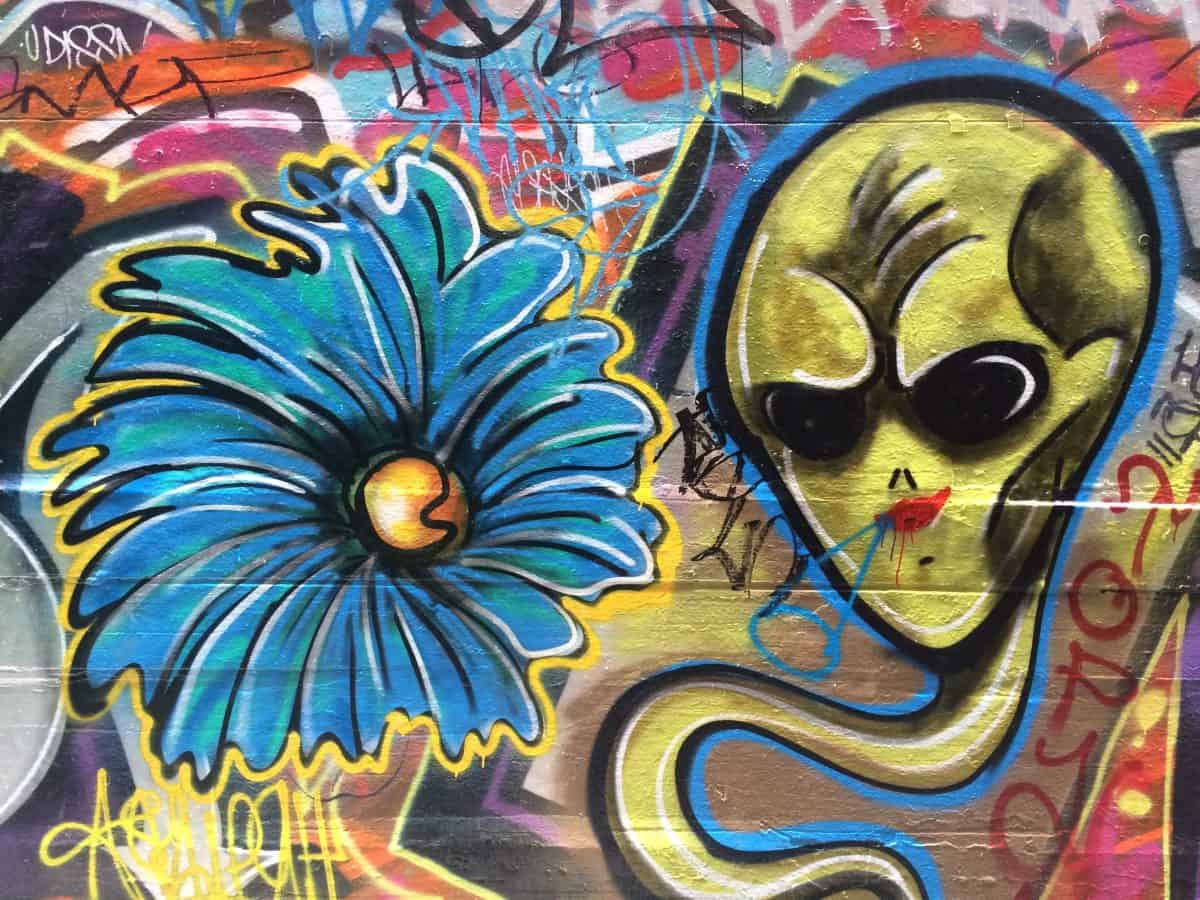 …and this last one: I saw from my 10th floor office window at the other end of the city and ran out to get a shot. Its a cafe combining two of Melbourne's loves – coffee & street art! Pretty cool huh?!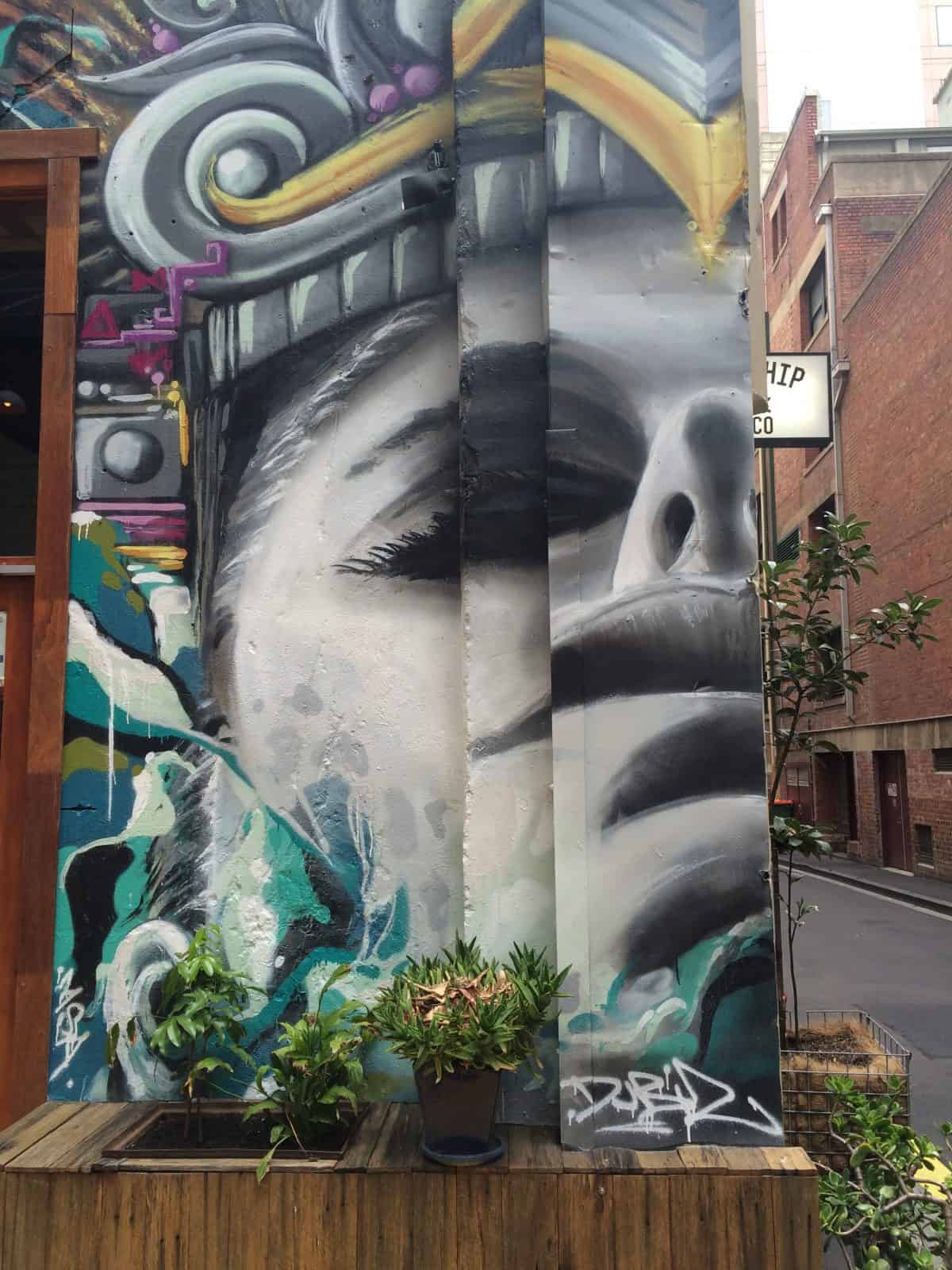 Have you ever visited any of these iconic laneways? Or have I missed your favorite off the list? Let me know your favorite street art laneway in the comments below!
and did I mention…

If you like this post – please pin & share :-)
Melbourne Loves… Street Art
was last modified:
December 30th, 2020
by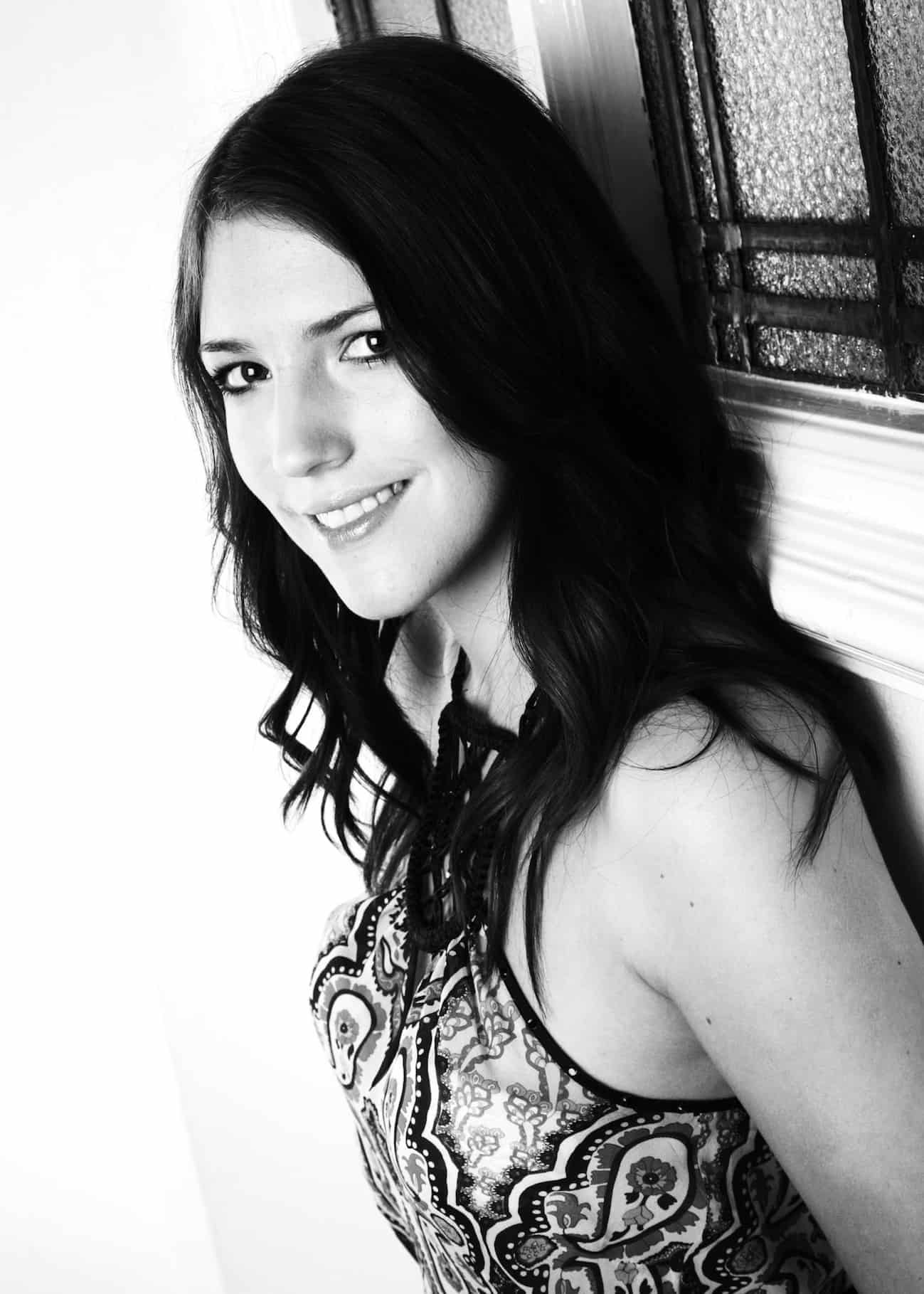 Vicki is the Lawyer turned Content Creator, Editor-in-Chief and all round Boss Lady at MakeTimeToSeeTheWorld.
She has lived and worked in 7 different countries and started the site to show everyone that it is possible to travel whilst holding down a full time job (because not everyone can – or wants to – quit and walk away from it all).
Her style of travel has always been to get the best out of a destination as a time poor traveler making the most of limited vacation days and all without breaking the bank; BUT she does know where to save and where to splurge to have the most incredible travel experiences – such as luxury hotels and over-water bungalows, safaris, spas and more(!) – where the situation calls for it.
To see where Vicki's work has been featured online, visit our Featured Elsewhere page.
– and if you are a travel brand who would like to find out how to work with Vicki, contact her here.