When visiting Asia, a cooking class is high on most people's list of things to do, and for us it is an absolute necessity (my partner is a chef, who's favorite cuisine is Asian – so it's a no brainier really!) We have attended classes in Laos, Thailand and Vietnam – all of which have been wonderful, but today I'd like to share our experience at Tamarind Laos – the *BEST* cooking school in Laos – and tell you why it MUST be on your itinerary when visiting Luang Prabang.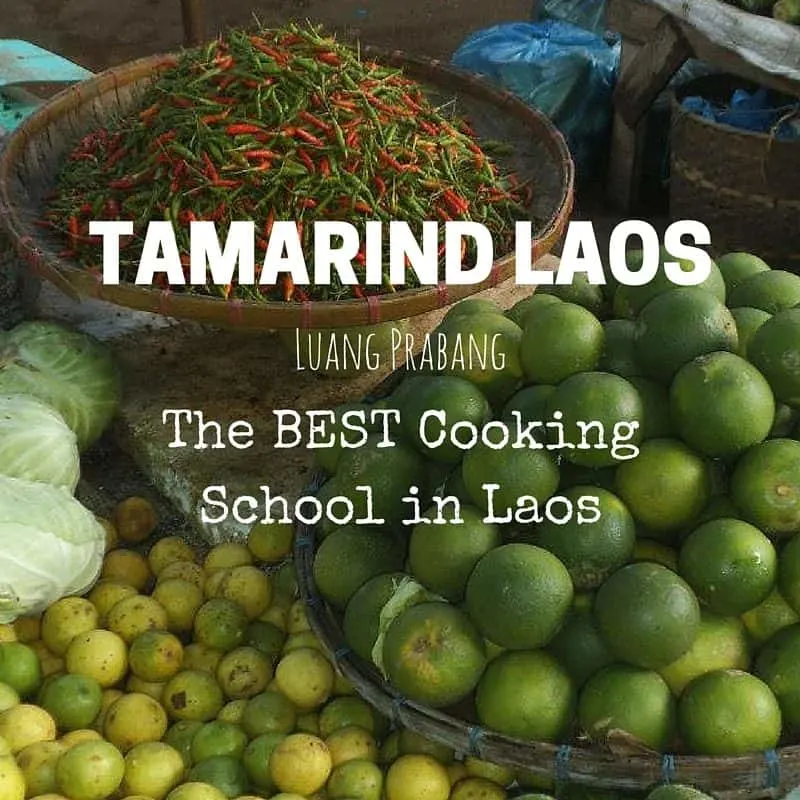 TAMARIND LAOS: The BEST Cooking school in Laos
Tamarind Laos is a well-known restaurant in the heart of the UNESCO Heritage Town of Luang Prabang which showcases traditional Lao cuisine. Whilst stopping here for a bite to eat you will be guaranteed a wonderful meal – what is even better is that you can spend a day with local chefs at their cooking school where you will be taught the basics of Lao cuisine across 4 dishes – and you get to eat all your (very) tasty creations at the end!
Meeting at Tamarind Laos Restaurant at 8.45am, we were driven by tuk-tuk to the Phousy Market. This is the biggest market in the Luang Prabang area and is certainly geared towards locals rather than tourists. Led by our chef-guide, we were given a comprehensive tour of the different food areas within the market, stopping to chat with stall owners who explained (where they could or translated by the guide) the different ingredients used in traditional Lao cooking. We saw all kinds of fruits and vegetables, meat and fish (in various states of being – ranging from alive to smoked..) and were even able to taste traditional Lao snacks.
If you have never been to an Asian market, it is an assault on the senses. From the flourecent colour of the fruits, the vibrant greens of the vegetables, the rich colour of dried spices and the texture of bunches of garlic together – it's a chefs heaven.
Then there's the meat/fish section where the occupants are *fresh*. Where the dismembered body parts of pigs and chicken sit atop wooden benches and the blood of the animals butchered that morning is still in puddles on the floor – or has been collected in bags alternating with bile. It's not an area of the market for the feint hearted, hygiene conscious (the flies were horrendous and the smell – I mentioned the assault on the senses yes?!) or vegetarian – and I would recommend scrolling quickly over these next photographs if you feel like you fall into any of the above categories.
Our guide was extremely helpful, and recommended our taking pictures if we saw something we didn't know/understand, however he wrangled our group of 12 very well and made sure we could all hear and see what he was talking about throughout the visit. He was also quick to point out that if we wanted to purchase anything we would be charged 'local prices' so that we wern't 'ripped off.' Very sweet.
We felt very lucky to have been able to visit the market with our guide. His tour and explanation of things made what could have been an overwhelming and confusing experience, notwithstanding the major language barrier.
Moving on from the market we were taken agian by tuk tuk to Tamarind Gardens, a professional looking complex with a classroom area under a covered deck over the water and a dining area surrounded by lush rain forest.
The table at the front of the preparation area was laid out with lush green vegetables, garlic and shallots – bought fresh at the market we had just left and we were given a quick run down of the day.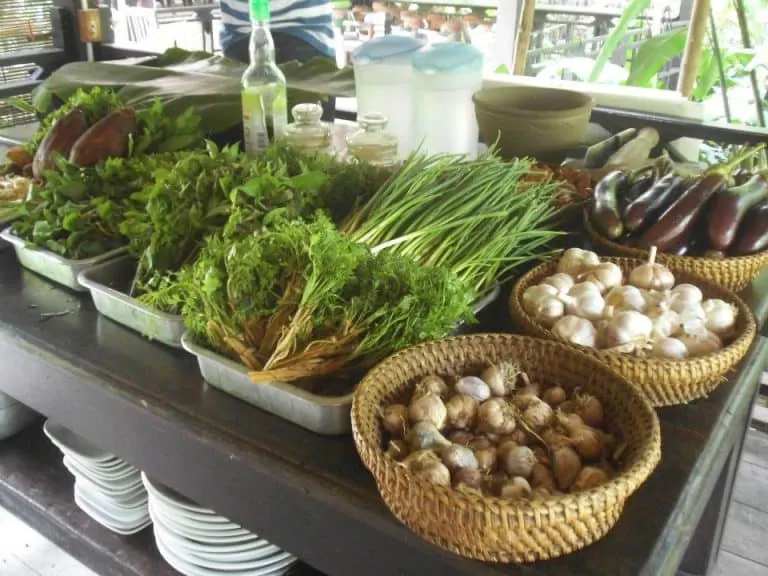 We would be preparing sticky rice, jeow (a dip to be eaten with the sticky rice), steamed fish in banana leaves, lemongrass stuffed with chicken (you have to see it to believe it) and buffalo laap. For each dish a large ingredients list would be hung at the front of the class and we would be invited to collect our ingredients from the table to take back to our stations. From there were were shown and talked through the process of each step of the recipe. It was all hands on and brilliant fun – with some great opportunities for photographs.
We cooked all of our dishes using traditional tools such as a motar and pestle and cooking on coal burners, and ended the afternoon by sitting down to eating them all at once!
It was a lot of food and if you were last to the table you had a lot less time to eat and I may have given myself a bit of indigestion as everything was so yummy I just wanted to keep eating even after I was full!
And if that wasn't enough food, we then went back to the classroom to make a dessert of purple rice pudding with fresh fruits which was enjoyed by all. I think at this point I was too full to even think about taking photos! (Poor effort on my part, I know!)
Before we returned to Luang Prabang we were all given a very professional recipe booklet which included information on lao cuisine and culture in addition to recipes for everything we had done that day (plus a few extra dishes). To say that Laos was at the beginning of our 8 week South East Asian odyssey, the recipe book made it all the way to Australia and I still use it to make Laap (although more often with beef or chicken mince rather than buffalo!) – so you can probably tell what a great impression Tamarind Laos left on me!
NOTE: You can book your Cooking Class via email before arriving in Luang Prabang – and it is highly recommended you do so as they can get busy!
If you haven't been to Laos, Tamarind Laos is a must do on your visit to Luang Prabang – and if you have already been – did you love it as much as I did? Let me know in the comments below.
Did you like this article? Why not Pin it!