Looking to pick up a drone to take on your travels? Have we got the guide for you! Complete with recommendations from travelers who fly them and a comparison table to get the info to you as quick as possible – this guide to best drones for travel will have your new bird picked out in no time!
Drones are the latest and greatest travel accessory, and with the continuous leaps and bounds in technology, there are plenty on the market to choose from. It's picking the right one for you that's the tricky part!
We recently put a call out to the travel community to find the 'Best Drones for Travel' and got lots of great recommendations for a few of the most popular drones on the market and so we've included these – and other crowd favorites – in this article alongside testimonials from the travelers that fly them.
We'll help you find your perfect drone to capture incredible imagery on your travels – and at the right price(!) – in no time.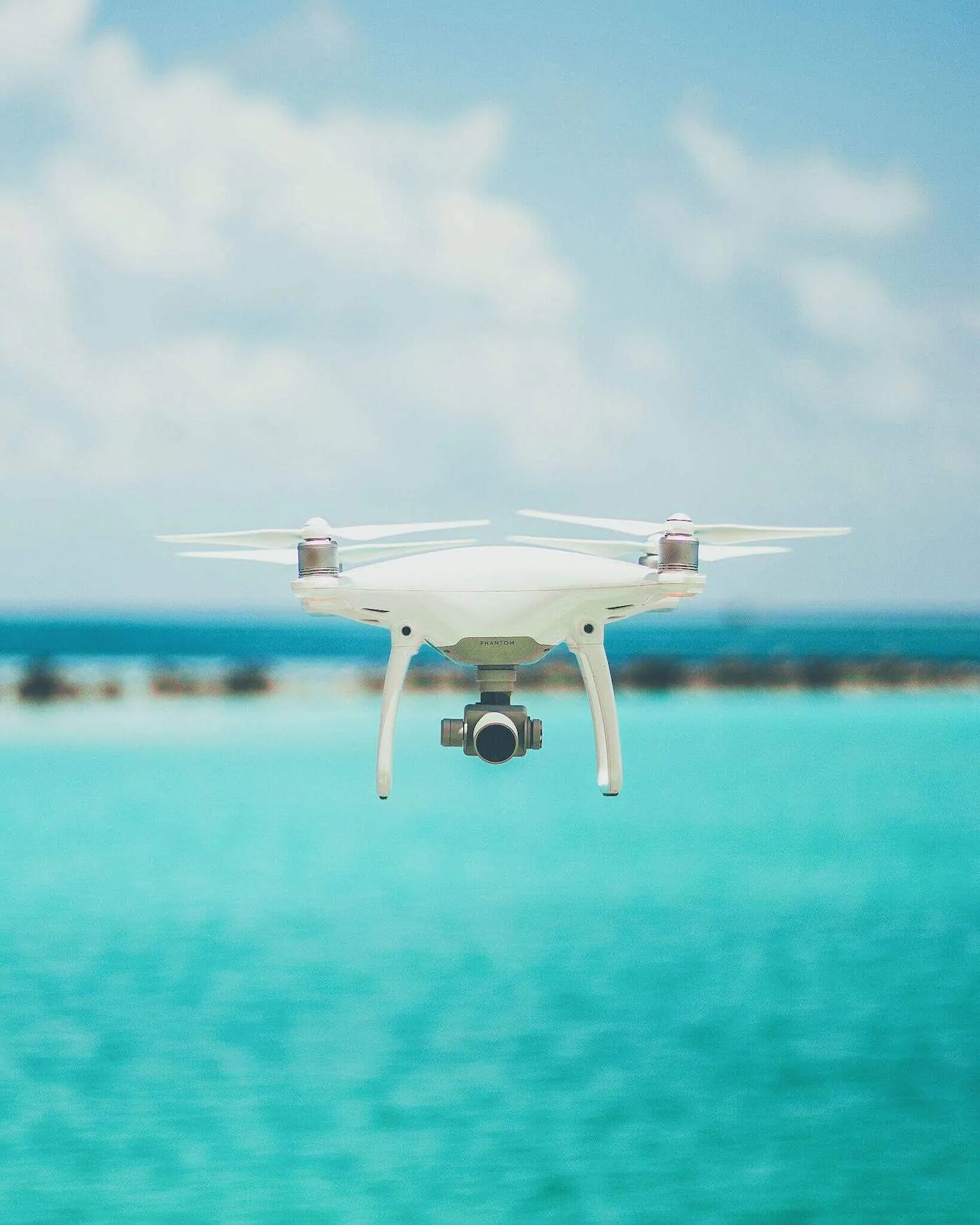 Disclaimer: Almost all posts on this site contain Affiliate links, and this one about the Best Drones for Travel is no different. This means that if you click on any of the links in this post (and make a purchase) I may receive a small commission at absolutely no cost to you. Each post is carefully crafted to (hopefully!) answer all your questions and recommendations are made where we believe they will improve your trip and help with your planning. As such we thank you in advance should you decide to click & buy. Read my full Disclosure here.
The Best Portable Drones with Cameras Perfect for Travel
DJI are absolutely the best in class when it comes to drones for travel, cramming the best tech and cameras into smaller and smaller flying packages.
They also have the added benefit of being a truly global brand, and with their products and add on's available all around the world, should you ever need to grab an after market extra such as a spare battery, extra set of props or carry case, you can pretty which get them wherever in the world you happen to find yourself.
There are definitely benefits to sticking with the big guys when it comes to picking the best drone for travel.
And for those that have a GoPro (or a planning to get a GoPro for more action and adventure shots) and would like to utilize it as part of a drone setup, we have also included the best drone that is compatible with GoPro. These models could definitely save you a few dollars as they have a lower price point being a drone only and not a drone fitted with an in-built camera.
The Best Drones for Travel: A Comparison Chart
Drone
DJI Phantom 3 Pro
DJI Mavic Pro
DJI Spark
Price
$$$
$$$
$$
Size
Large
1.2kg
Medium
734g
Mini
300g
Built in Camera
Yes
Yes
Yes
Megapixels/Max Photo Size
12MP
4000x3000
12MP
4000x3000
12MP
3968x2976

Video
4K
4096x2160 @25fps
1980x1080 @60fps
4K
4096x2160 @30fps
1280x720 @120fps
1080p
1920x1080 @30fps



Max Speed
35mph
40mph
22mph
Max Range
5km
7km
100m
Handheld/App Control
Both
Both
App Only
Max Flight Time
23mins
27mins
16mins
Drone
DJI Mavic Air
DJI Mavic Mini
GoPro Karma
Price
$$(+1/2)
$
$$
Size
Small
416g

Tiny
249g
Medium-Large
1kg
Built in Camera
Yes
Yes
No
Megapixels
/Max Photo Size
12MP
4056×3040
12MP


Per GoPro
Video
4K
3840×2160 @30fps
1920×1080 @120fps
2.7Kp
2.7k @30fps
1080 @60fps
Per GoPro
Max Speed
42.5mph
29mph
35mph
Max Range
5km
4km
Up to 3km
Handheld
/App Control
Both
App + Controller

Handheld
Max Flight Time
21mins
30mins
20mins
.
The Best Drones for Travel – Personal Recommendations
1. DJI Phantom 3 (&4) Advanced
Since we bought the DJI Phantom 3 Advanced, a lot of smaller options have come out on the market and so is the technology of drones: they evolve quickly. But our Phantom has always been a pleasure to use and I would only upgrade it and not replace it by a smaller model.
It fits perfectly in the top box of our motorcycle and we've been able to take it to a few places where we got shot I would have not been able to get with my own camera. As you can guess, drones are perfect for landscape photography: mountains, cityscapes, tea fields, things seem to take a very different dimension when taken from above.
While maybe a bit bulky compared to its younger brothers like the Mavic and the Spark, the quality of the photos feels maybe a little superior and the bulk of the drone makes it feel a little safer (we've all heard horror stories of bird grabbing people's drone… )
The DJI Phantom 3 Advanced was recommended by Marie-Carmen from The Orient Excess and this is one of her favorite shots taken with the drone: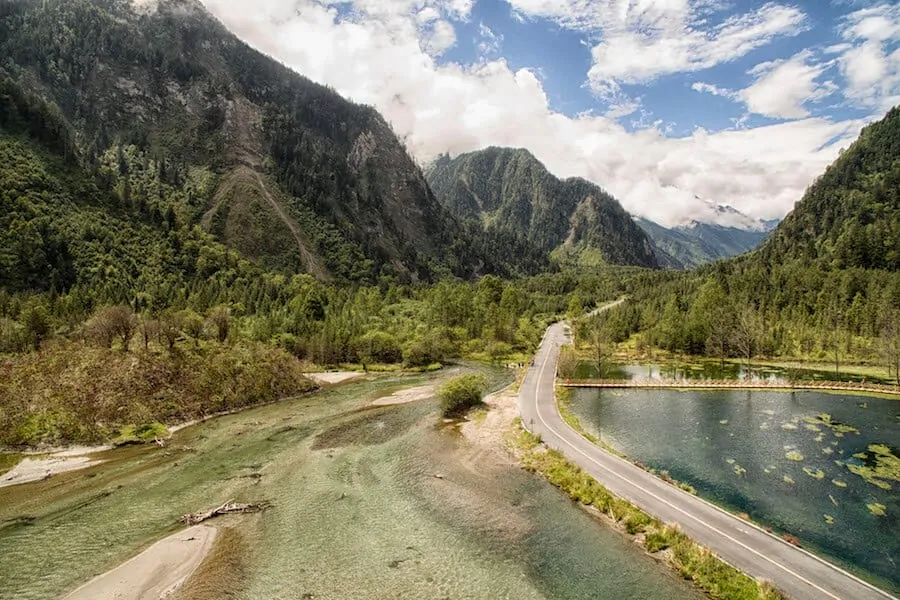 .
2. DJI Phantom 4
The Phantom 4 Series Drones from DJI includes the newest Phantom 4 Pro and the Phantom 4 Advanced. Both drones have pro-level camera systems with 1-inch 20 MP Exmor R CMOS sensors capable of shooting crystal clear 4K video at 60 fps. Maximum image size for digital stills is 20mp – with outstanding photo quality.
The Pro and the Advanced models also both allow up to 30 minutes of flight time on a single charge, greatly increasing the in-air time from earlier models. The advanced stereo video position system (VPS) makes hovering much easier and the drone safer to fly in adverse conditions.
The Phantom 4 series drones have the popular Intelligent Flight Modes of TapFly, ActiveTrack, Gesture Mode, Follow Me , and Waypoints included. Weighing in at just over 3 pounds, both drones utilize magnesium frames for stiffness and light weight.
The biggest difference in the Phantom 4 Pro and Advanced models is in the obstacle avoidance technology. With the Pro, you have five directions obstacle sensing and with the Advanced model, you have forward obstacle avoidance of 0.7 – 15 meters ahead. This can be important if you're typically flying in areas where trees or power lines are a concern.
The DJI Phantom 4 Drone was recommended by Lisa from What Boundaries Travel and this is one of her favorite shots: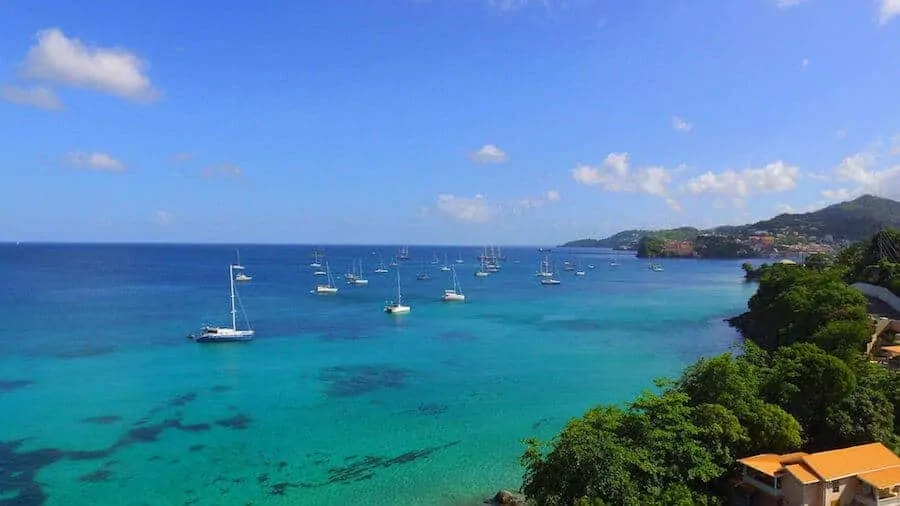 .
3. DJI Mavic Pro
The DJI Mavic Pro drone is a favorite of many a traveler. It's compact, foldable design – around the same size as 750ml water bottle – 4K camera and max flight time of 27 minutes makes it the perfect travel companion; and it's easy to throw into a backpack for every adventure.
DJI offer a 'fly more combo' on most of their products which include a gaming-style controller to which you can attach a smartphone/tablet – or it can be flown from the app directly (although I don't really enjoy doing so) and two of my favorite tech features are the 'obstacle avoidance' and 'return to home' feature. Both are a real life saver.
The benefit of the game-style controller is that it is very easy to fly, both as a gamer and a non-gamer and it's zippy and responsive in the air.
My main piece of advice for flying and traveling with the DJI Mavic Pro is to keep the gimbal guard and have it attached to the drone whenever it is not in use. The Gimbal is very delicate and must be treated with the utmost care.
For those who are very tech savvy, it may also be frustrating that you are not allowed to repair the drone yourself, and must either send it in to DJI or take it to a authorized person should anything go wrong – but as a person who would never attempt to take the drone apart myself, this has not been an issue for me.

The DJI Mavic Pro was recommended by Me(!) Vicki from MakeTimeToSeeTheWorld – and this is one of my favorite shots:
.
4. DJI Mavic 2 Pro
If you feel like you have outgrown the Pro but still love the portability and features (and are already pretty good at flying it!), you should definitely consider upgrading the the Mavic 2 Pro (there is also a Mavic 2 Zoom but the minor improvements on the Pro do not make it worth the money in my opinion).
With the Mavic 2 Pro they have improved the camera after partnering with Hassleblad and now have a brand new high-performance image sensor which has an active sensing area four times more effective than Mavic Pro. This means higher image quality with superior light and color performance.
It also improved the ISO range from 100-3200 to 100-12800 giving a profile of over 1 billion colours (compared to the Pro's 16 million); can fly at a top speed of 45mph/72kmph (up from 40mph) and has a transmission range of 8km (up from 7km). It's just all round better.

Jones Around the World has been killing it with his drone shots recently (and every other style of photography!), and he's currently flying the Mavic 2 Pro, check out some of his shots on Instagram
View this post on Instagram
5. DJI Spark
The DJI Spark wins hands down for me when it comes to a drone to take with you on travels. It's unbelievably small and light, weighing just 300g, and is one of the most portable drones on the market so will easily fit in your hand luggage or handbag for that matter. It has an obstacle avoidance system and its top speed when in sports mode, is just over 30 miles per hour.
On the downside the battery only lasts about 12 minutes and, because it is so light, it can only be flown in the slightest of breezes.
I found the initial set up a bit tricky and the instructions on the DJI website didn't work but everyone on the Spark forum is friendly, helpful and encouraging. If you ever have a problem, there are plenty of people to help you out.
The quality of both the video footage and still images is superb for such a diminutive beasty. I've flown it with just my mobile and with the controller and found both easy to use. You can even fly it and take images and videos just using hand jesters.

The DJI Spark was recommended by Kat from Travel With Kat – and this is one of her favorite shots taken with the drone: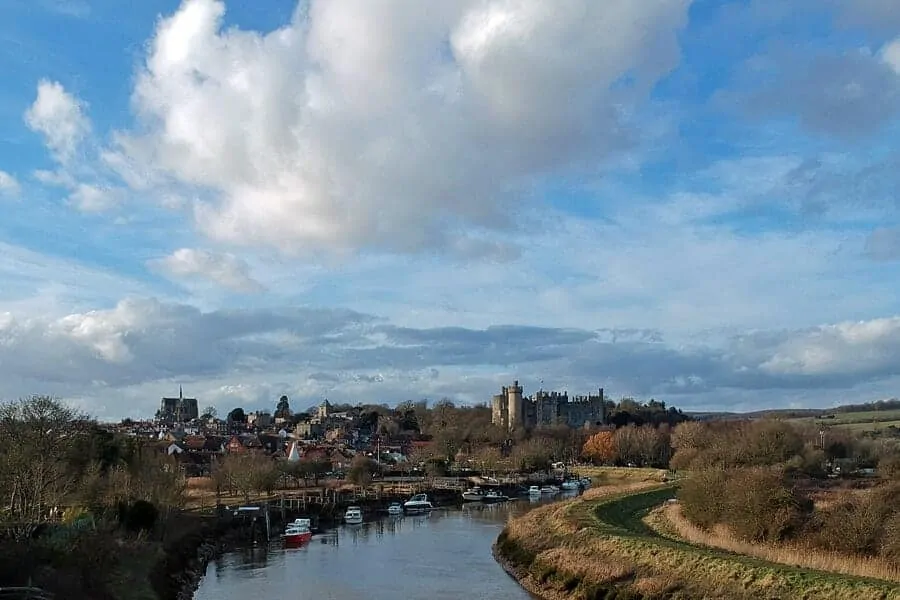 .
6. DJI Mavic Air + DJI Air 2
So you want to capture amazing photos of your travels, but what can you do to come away with something a little different and stand out? You need to change your perspective! The best way I've found to do that is with a Drone and the DJI Mavic Air and DJI Mavic Air 2s are just the ticket. These small & foldable, but capable drones have changed my travel photography!
Capturing epic 12MP stills, stunning 4K video and even HD 1080p slow motion footage at 120fps at up to 5KM away this flying camera is a real powerhouse when you consider its size! The Mavic Air features "smart" camera modes that allow even the inexperienced amateur to get great shots and even visual tracking for hands free flying.
Its folding design stows away neatly in a backpack pocket and its 20 minute flight time per charge ensures it'll be ready for the action whenever you need it next! And its 'return home' feature is a great use of drone technology that can help even the most advanced flyer out!
Give yourself the ability to get a new perspective. I've experienced places in a whole new way with a drone and captured photo's that I never would have been able to without one. Needless to say the DJI Mavic Air has a full time spot in my luggage!

The DJI Mavic Air was recommended by Patrick from Adventographer – and this is a great shot he took with the DJI Mavic Air: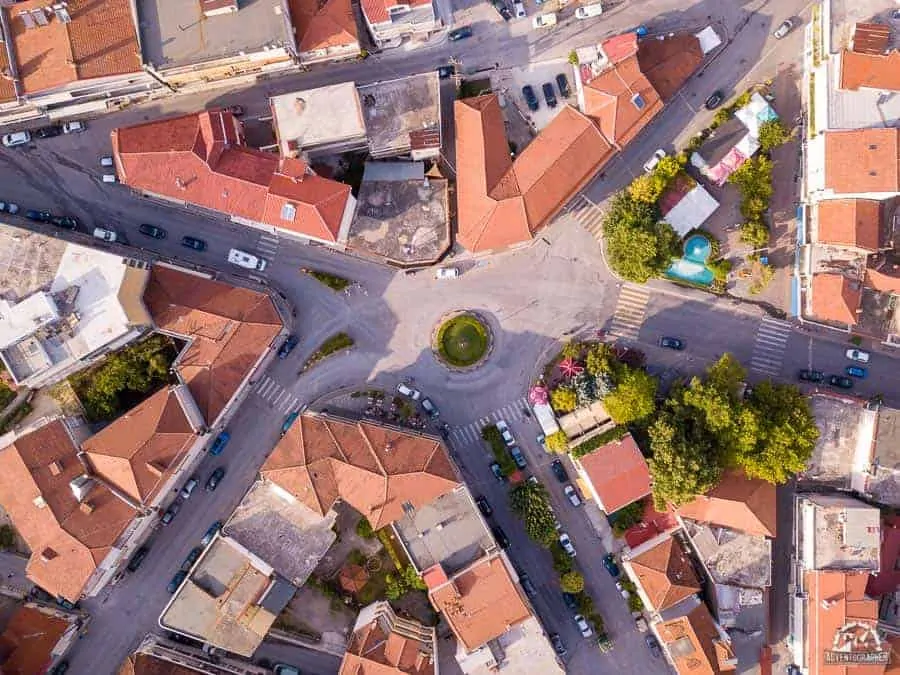 .
7. DJI Mavic Mini (1,2 & 3!)
The Mavic Mini series is DJI's ultra-portable drone line. And they are a game-changer – not to mention a great travel drone for beginners!)
For the initial incarnation of the Mavic Mini, it weighed in at a tiny 249g, with a 30-minute flight time. It also has a whopping 30-minute flight time, a 12MP camera, and shoots 2.7k Quad HD video. By the time the DJI Mini 3 was introduced, video capacity had been increased to be able to shoot 4k video and with HDR mode for photo and video.
DJI also managed to pack in some great features into all 3 mini drones via the QuickShot functions (circle, 45 degree reverse pan and delayed selfie) and have built a new streamlined app for flying that beginners should be able to get the hang of in no time.
We do just have one word of warning and that is that the Mavic Mini 1 doesn't have the full spectrum obstacle avoidance that the bigger DJI drones have (so if you are brand, brand new at flying, head for open spaces whilst you are practicing!), but it does have landing sensors for extra control in hover mode, and there are 360° propeller guards available as extra safety features.
So if you are looking for a pocket drone that can take great images and video that fits in the palm of your hand (and doesn't require FAA regulation!) Look no further than the Mavic Mini 1, 2 or 3 (depending on your budget and needs).
Whichever way you look at them, they are a great affordable travel drone, just be sure to buy the Fly More package with whichever model you choose which gives you a carry case, three batteries, two way charging hub and other goodies: for the extra value, you'd be silly not to.

.
8. GoPro Karma Quadcopter (now discontinued, but an honorable mention!)
The GoPro Karma system is more than just a camera it's an all around image capture system. The Karma consists of a Drone, A stabilization stick and a GoPro camera. This unique sytem all comes packed in its own backpack so that you can take it anywhere, through airports, hiking mountains or walks along the beach. The star of the Karma system is the 3-axis gimbal stabilzation stick that keeps all your GoPro footage smooth and even. The Gimbal is interchangable and is used on both the stabilization stick and the Drone.
The Karma Drone has a flying time of around 18 minutes and is easy to fly. The draw back of the Karma drone is that it does not have an avoidance system so it wont warn you when you are about to crash into something.
The Drone has a range of 3 km and comes with 5 preset modes for different filming experiences. The gimbal allows you to move the camera view up and down with ease during flight. A mobile app called passenger by GoPro lets your friend or partner connect to the Gopro camera while you are flying and they can take pictures.
The Karma also delivers amazing drone footage when filmed in 4k. The Karma system is available with or without the camera ( yes you need a camera a gopro camera ) so if you already have a Hero5 or Hero6 you wont have to inherit another camera with the system. The camera is also positioned in front of the drone's landing gear, so their is no change of you accidentally capturing it in any of your shots. Overall I love my Karma system and think it's one of the best GoPro accessories on the market!
NOTE: The Karma and 3DR Solo were both great options for GoPro fans, but these are no longer in production. If you can find a second-hand one with gimbal there are great deals to be had.
The GoPro Karma Quadcopter was recommended by Mark from Wyld Family Travel – and this is one of his incredible drone shots: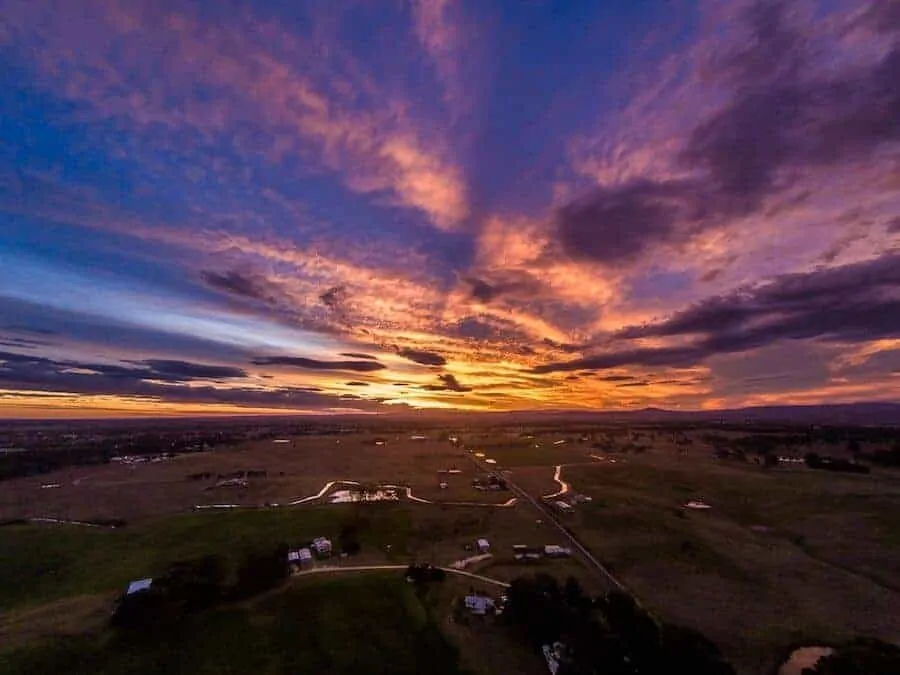 .
9. Parrot Anafi
The Parrot Anafi drone (and formerly the Parrot Bebop 2) are often dwarfed by their DJI counterparts, but they have the distinction of being the only foldable drones on the list that was built around the camera – and not a drone with a camera attached.
It also has a lot more movement than the other drones for travel on the list and is capable of barrel rolls and flips (which would make for super cool travel videos!) AND had video quality up to 4k, and a 21 Megapixel camera – packing a serious amount if bang for your buck.
Weighing as little as 320g, and taking 2 seconds to unfold, the Parrot Anafi Drones compact size was made for throwing in a backpack.
The drone can be controlled via an app or alternatively with the controller, or VR goggles where you can see what the drone sees – as if you're in the air with it.

.
10. Hover Camera Passport Drone
The Hover Camera Passport Drone is perfect if you want an ultra-portable and super small drone for a relatively good price (<$400).
It's also the ultimate selfie drone with auto-follow (face or body technology), can be controlled with a hand gesture, has a built in flash and as it's carbon fiber cage design means it's propellers are always enclosed and you can catch/grab it out the sky without any fear of losing a finger (which after you've tried to catch a DJI Mavic Pro/DJI Spark, is a real and often realized fear!)
With it's tiny size and 0.5kg weight, it is not subject to any regulations (other than basic drone etiquette) and can be flown right out of the box. It even shoots in 4K video and stills at 13MP.
I decided to include the Hover Camera Passport as a last minute addition (and hence why it's not in the comparison table) – but it is serious contender in terms of capability, size and functions. As I said at the top, the tech is advancing so quickly, drones as small and powerful as this could become the norm sooner rather than later.

.
Things to Consider Before Buying Your Drone
Not all drones are created equal, each have different features, flying requirements, size and portability.
Drones do not always come ready to fly. it is often the case that when your bird arrives you will need to download an app and/or upgrade the firmware to the latest version prior to be able to fly. It is advisable to check the compatibility requirements with your phone/device prior to purchase.
Each country has different rules for flying drones and you MUST check these before launching your bird. Australia's CASA (Civil Aviation Safety Agency) have a great app called "Can I Fly There" which is great for a on-the-ground spot check, but where such an app is not available you MUST check manually. Other Great Apps include SkyCatch, Hover and Know Before You Fly.
Just because you fly and take photographs/video does not mean that you can financially profit from these captures. Again this is something specific to each country and must be checked. Some activities also require a drone pilot to be licensed by a regulatory body.
Size matters. Both in terms of whether your drone qualifies you as a recreational pilot or not; and also when it comes to packing. Whilst none of the drones listed are particularly cumbersome, they are all delicate. This means they cases they travel in are padded and, for some, on the bigger side. If you only travel with hand luggage, be sure to select a drone that can comfortably fit in your bag (and I don't mean squashed and squished in!)
Drone are not easy to fly, although a lot are pretty intuitive. Take time to practice flying your bird in a large, unobstructed, open space (like a huge field!) before venturing out into the world.
That's a wrap folks! I hope you have enjoyed our drone buying guide to the best drones for travel and we have helped you find the right drone fro you!
Oh, and if you enjoyed reading this guide to the best drones for travel please share on Facebook, Flipboard, tweet or pin – I'd really appreciate it! Click the P in the share bar for a full size image!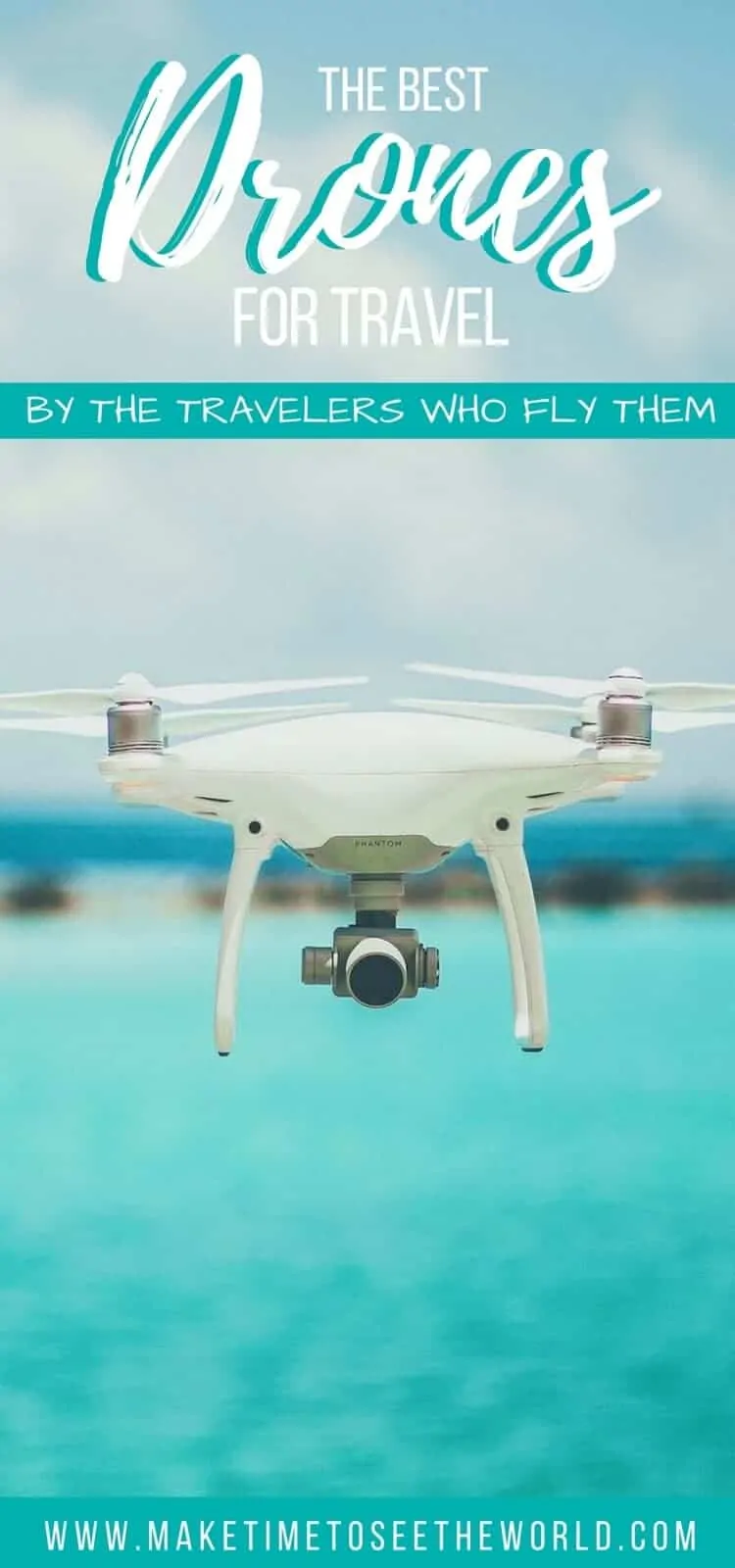 READY MORE TRAVEL INSPIRATION? YOU MIGHT BE INTERESTED IN THESE ARTICLES
Hi There! Thanks for reading my ultimate guide to The Best Drones for Travel (from the travelers that fly them!) I just wanted to let you know that this travel guide contains affiliate links, which means if you purchase something after clicking a link, I may get a small commission – which is at absolutely no cost to you. If you enjoyed this article and are going to be searching for any of the drones I mention anyway, I would love it if you could click through from the links above & thank you in advance! Read my full Disclosure here. And thank you for reading the MakeTimeToSeeTheWorld Travel Blog.