The world-renowned Fabulous Las Vegas is known as one of the best travel destinations to enjoy a holiday like no other. A city to party night and day, see some crazy sites and hopefully hit a lucky streak!
Of course, when booking a holiday here, we know you will want your accommodation to be just as fabulous as Vegas itself, which luckily isn't too difficult, with a wide and eclectic mix of hotels located both directly on and surrounding the central Las Vegas Strip.
In our guide below, we have compiled a list of the best places to stay in Las Vegas to suit any budget and requirements. Ranging from luxury hotels to motels and for ever budget in between, there really is something for everyone in this one of a kind city.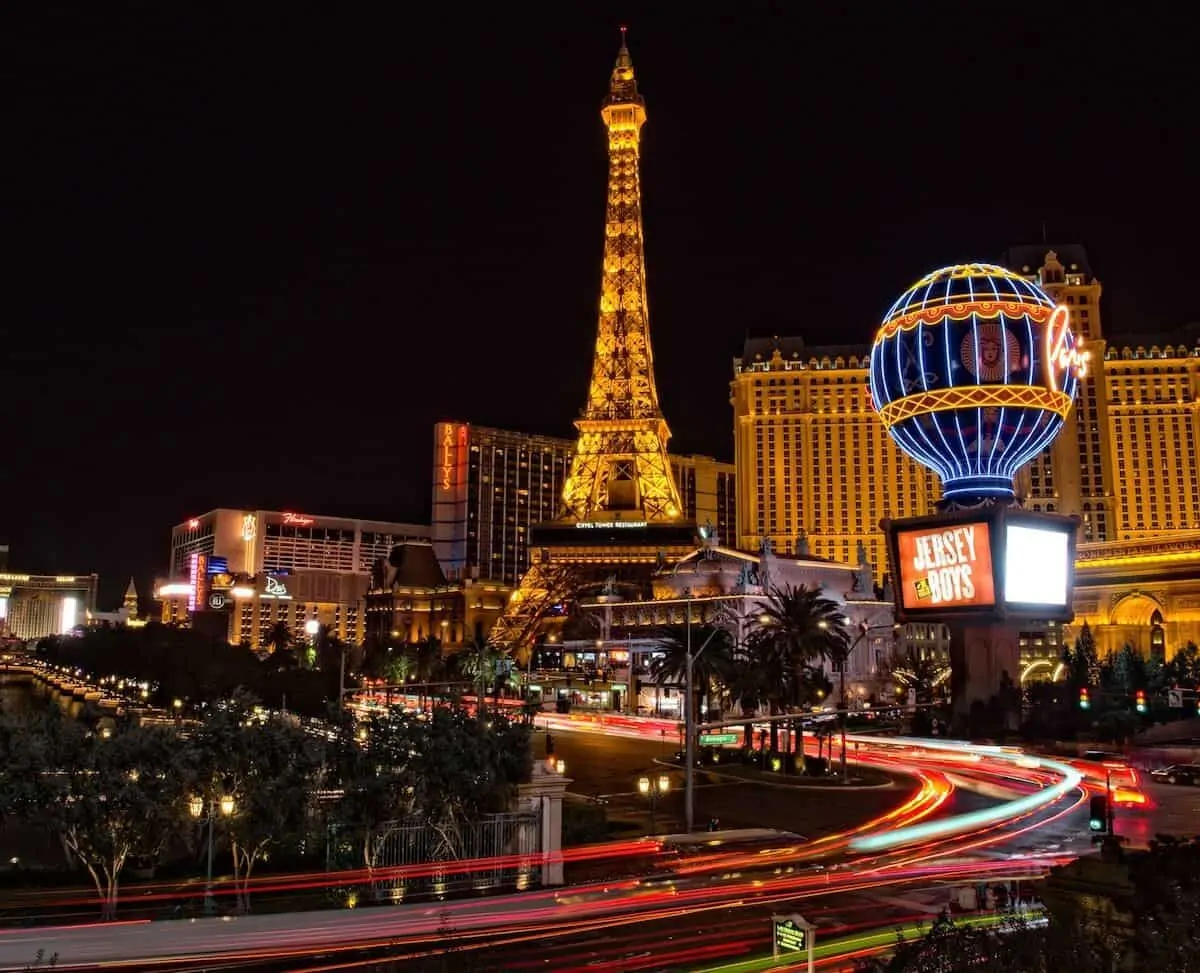 Note: This post contains affiliate links, which means if you click any of the links in this post I may earn a small commission from your purchase, at no additional cost to you. And I would love you forever. Just sayin' (read the full legal disclosure here)
The Best Places to Stay in Las Vegas – A selection of the best hotels all within walking distance of the Las Vegas Strip
Luxury Hotels ($200+ per night)
Bellagio (5*)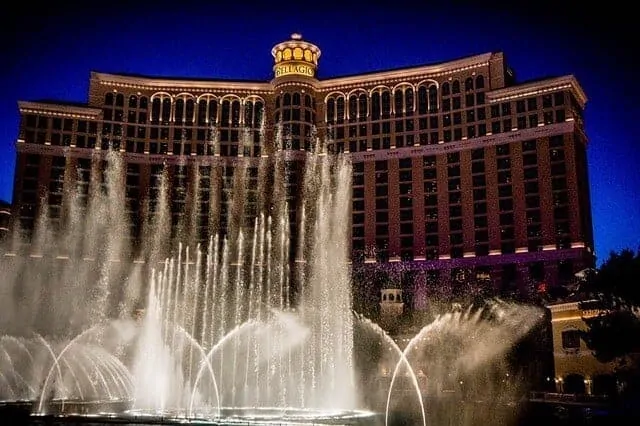 As one of the most well-known luxurious 5star hotels, the Bellagio is situated in the heart of the Strip in Las Vegas City.
Offering a wonderful selection of facilities, the hotel features multiple dining options ranging from fine-dining to a contemporary sushi bar. The hotel also features a selection of boutiques, The Bank Nightclub, casino, luxury day spa with five courtyard swimming pools, botanical gardens and even an art gallery!
Guests love this luxury hotel for its comfy beds and the famous Bellagio fountains. And if you want an alternate view of the water show, head over to the restaurant outside the Planet Hollywood resort.
Stay at one of the best hotels in Las Vegas from $300 p/n – check prices and availability here
.
Waldorf Astoria (5*)


The newly-renovated Waldorf Astoria Hotel (formerly the Mandarin Oriental hotel) located on the Las Vegas Strip has a choice of either strip or city views from all rooms and suites. This is the ideal strip hotel for tourists looking to escape the hustle & bustle of Vegas life, offering guests a sense of calm and relaxation in a non-gaming environment.
The hotels main feature is its luxury Shanghai-themed spa with a range of water treatments available and a fabulous selection of swimming pool options located on the eighth floor.
Also on offer are a selection of fine dining options including French cuisine, tapas and classic cocktails at the Mandarin Bar.
Nightly room rates from $219 p/n – check prices and availability for your Las Vegas break
.
ARIA Resort & Casino (5*)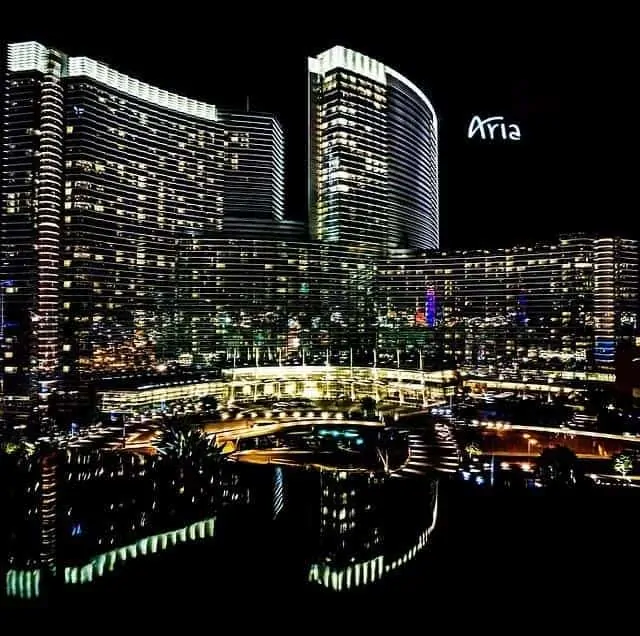 Las Vegas strip hotel the ARIA Resort & Casino showcases luxurious bedrooms, all of which feature floor-to-ceiling windows, city views, glass enclosed showers and a soaking tub, as well as a one-touch room control system to easily customize your room features.
The hotels facilities are endless, offering a casino, multiple dining options, a spa with 62 treatment rooms, nightclub, and the seasonal adults-only LIQUD Pool Lounge, making it one of the favorite hotels among travelers to Las Vegas who want to the enjoy the shopping opportunities, nightlife and entertainment on the strip.
Luxury rooms from $263 p/n – check prices and availability
.
Mid-range hotels ($100-200 per night)
Caesars Palace (4*)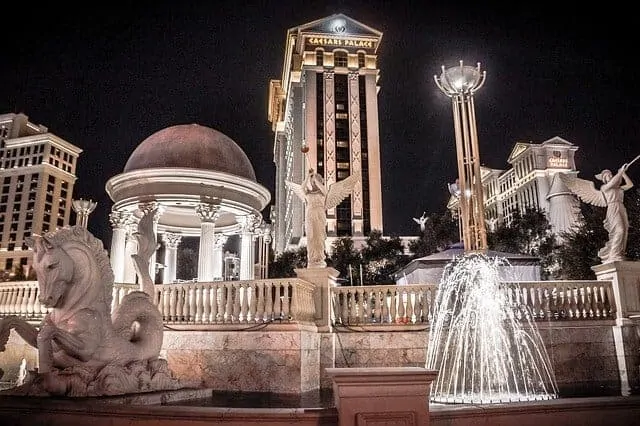 The Caesars Palace Las Vegas Strip hotel is not only popular because of its great location, the hotel also boasts a wide range of features and facilities including celeb-owned restaurant Gordon Ramsay's Hell's Kitchen and Pub & Grill, alongside the famous Bacchanal Buffet offering over 500 different items to choose from.
For entertainment, guests can head to the Palace casino, Cleopatra' Barge floating lounge or the Omnia nightclub.
The hotel is also home to the Qua Baths & Spa offering a wide range of treatments and spa experiences.
Nightly rate from $145 p/n – Check Current Prices & Availability
.
The Mirage (4*)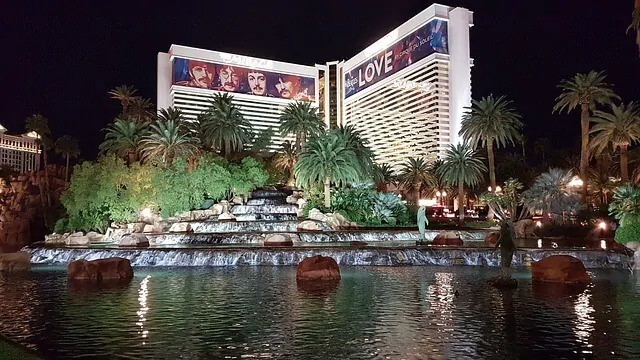 Best-known for its replica lava-flowing volcano, The Mirage hotel & casino has a great central location on the Las Vegas Strip. With its stylish rooms and 24-hour dining options, the hotel also features the 1 Oak nightclub, spa, an oasis style outdoor pools, along with a unique dolphin and wildlife habitat.
Rooms from $164 p/n – Check prices and availability
.
New York New York (4*)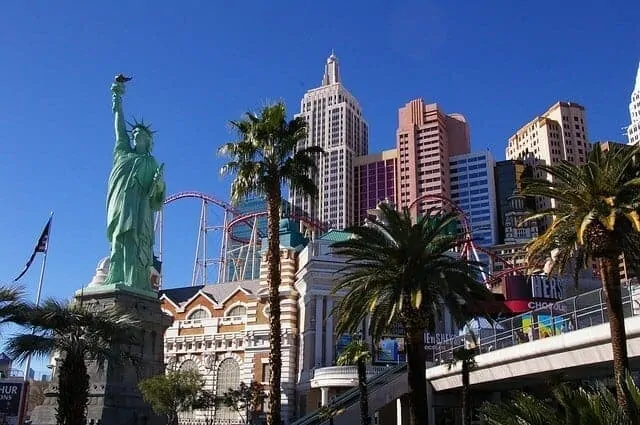 As one of the best themed hotels on the Strip, guests staying at New York New York will fall in love with the hotels Statue of Liberty replica and an adrenaline pumping ride on The Big Apple Coaster. Offering international cuisine, guests can choose from a classic New York pizza, trendy street food, sushi and a drink at the Nine Fine Irish pub.
A stay at New York New York is not complete without a visit to the hotels spa and swimming pool or a night enjoying Cirque du Soleil's dazzling show 'Zumanity'.
Room starting from $180 p/n – Check prices & availability
.
Budget Hotels ($100 and under per night)
The Luxor (3*)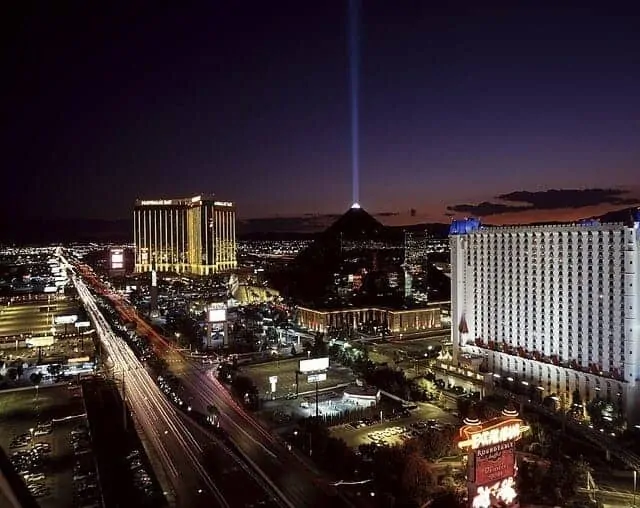 Standing out among the Las Vegas strip hotels for its iconic pyramid shape and striking beam of white light that punctuates the sky each night, the Luxor features classic rooms with breath-taking skyline views.
At this Vegas hotel the dining options are extensive featuring a steak restaurant, burger bar and buffet style restaurant.
For entertainment guests will enjoy an evening at the hotels 120,000 sq. ft. casino, or for a day of relaxation, the Nuture Spa offers a wide range of luxury treatments and facilities.
Nightly room rates from $49 p/n – Check current prices and availability
.
Circus Circus (3*)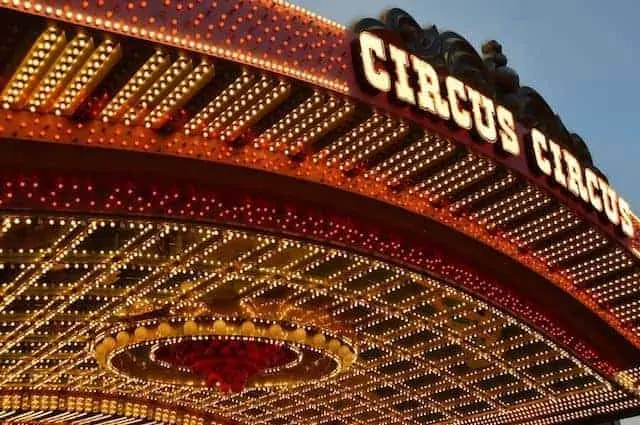 For a fun family hotel option, the Circus Circus themed hotel is one of the oldest hotels and casinos on the strip and is best-known for its fantastic entertainment options, including an adventuredome, indoor theme park, roller-coaster and circus themed acts. Within the hotel guests can also enjoy shopping at the promenade and a day at The Carnival Midway, playing its 200 classic circus/arcade games.
For a break in between the fun, head to one of the hotels dining options, including a steak house, buffet style restaurant, deli, Mexican cuisine, burger bar and pizzeria.
Nightly Rates from $40 p/n – Check Current Prices & Availability
.
Stratosphere (3*)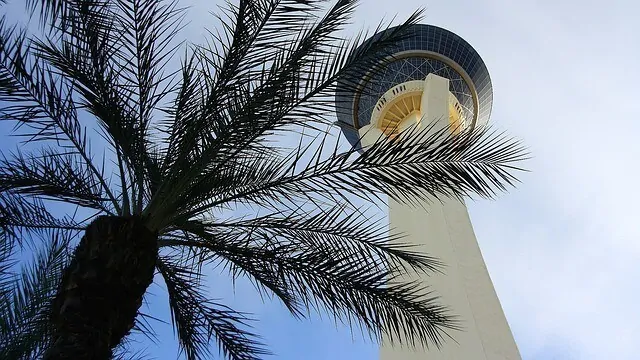 Located towards the end of the Las Vegas Strip, the Stratosphere hotel features stylish rooms, a casino and multiple rooftop pools.
However, the hotel is best known throughout the city for its iconic 1,149 ft. tower, at the top of which is the Top of The World, a 360 degrees rotating restaurant, offering classic buffet dining and a champagne brunch. And above that – if you are brave enough – are several adrenaline fueled rides which can spin you, or drop you, off the side of the tower (watch the vid below – you'll see what I mean!)
Rooms from $51 p/n – Check Current Rates & Availability
.
Motels/apartment style suites
Downtowner Motel (2*)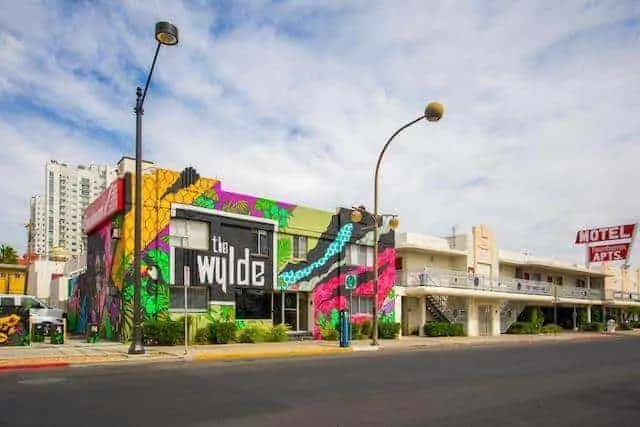 The colourful Downtowner Motel is located just off the Las Vegas Strip and is within walking distance of Fremont Street in Downtown Las Vegas (if you couldn't guess from the name!)
Featuring economy style rooms and select rooms offering guests the bonus of a convenient kitchenette, the hotel also boasts a picturesque outdoor pool area.
Nightly Rates from $75 p/n – Check Current Prices and Availability
.
Travelodge (1*)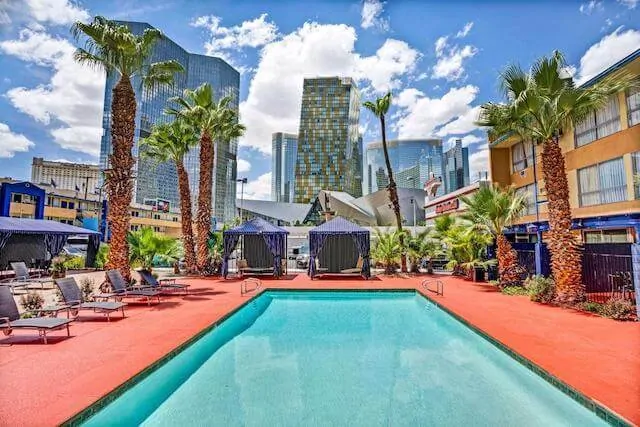 The ideal budget hotel with a great location on the Las Vegas Strip. The Travelodge by Wyndham is a small hotel offering all the necessary amenities, including a snack bar and laundry facilities.
Guests staying here will be able to enjoy a continental breakfast included with the price of their room and use of the hotels outdoor swimming pool.
Nightly rates from $42 p/n – Check Current Prices & Availability
.
1 BDR Balcony Suite in the MGM Signature (5*)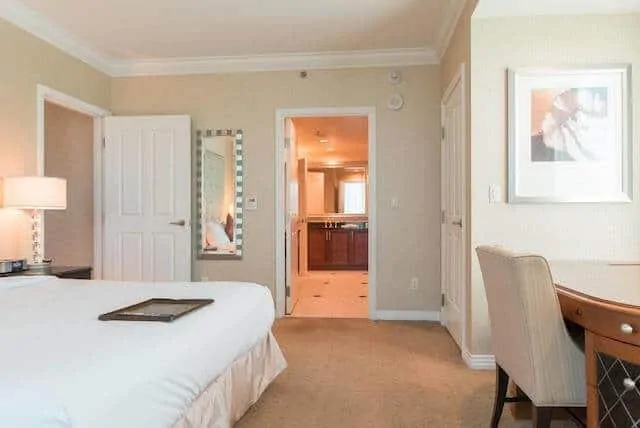 Located just 800m from the heart of the Las Vegas strip and as part of the Signature at MGM Grand complex, this 5 star apartment with full kitchen and balcony with city views is an absolute haven. And an absolute bargain. But you'll have to book this early – this kind of value gets snapped up quick!
Nightly rates from $35 p/n – Check Current Prices & Availability
.
Okay, I think we've covered all bases! We hope that with this guide to the best places to stay in Las Vegas NV you will discover the perfect accommodation to suit your whirlwind trip to Las Vegas and we cannot wait to hear all about it when you get back!
And if you liked this article, please pin, tweet, flip or share on Facebook – I'd really appreciate it!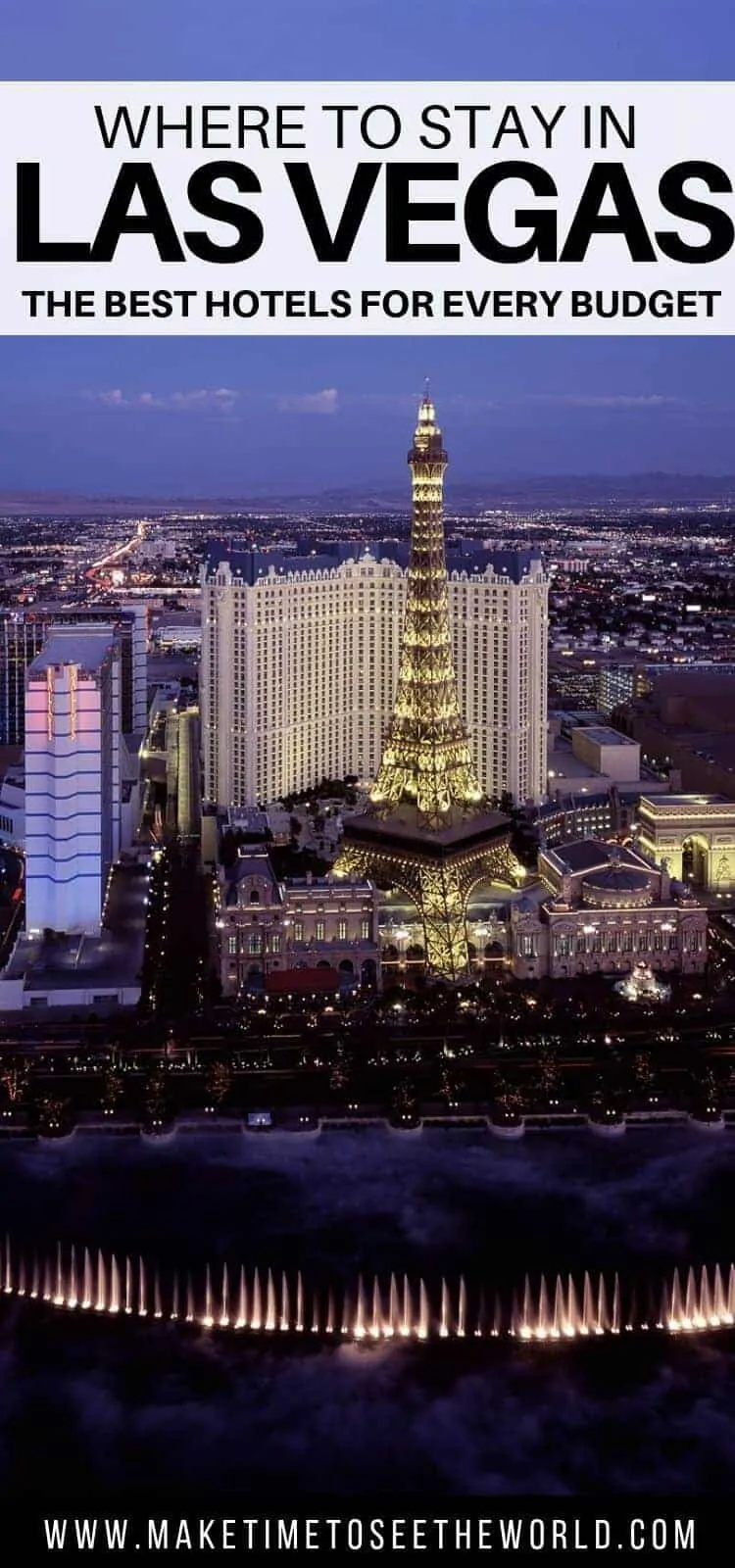 READY TO EXPLORE MORE OF THE USA & CANADA? YOU MIGHT BE INTERESTED IN THESE ARTICLES
Hi There! Thanks for reading our post about The Best Places to Stay in Las Vegas – Whatever Your Budget! I just wanted to let you know that this post contains affiliate links, which means if you purchase something after clicking a link, I may get a small commission – which is at absolutely no cost to you. If you enjoyed this article and are going to be searching for some of the things I mention anyway, I would love it if you could click through from the links above & thank you in advance! Read my full Disclosure here.