Written by a local, this guide to 48 hours in Boston is packed full of things to do, where to stay & what to eat PLUS where to find everything!
Boston is a vibrant and historic city located on the east coast of the United States. It is known for its rich history, world-class institutions of higher education, diverse cultural scene and serious sporting ties (the Red Socks, Celtics, and Bruins to name a few!). With its charming streets, iconic landmarks, and abundant green spaces, Boston is a city that has something for everyone.
One of the reasons to visit Boston is to experience its rich history. The city played a key role in the American Revolution with Boston Tea Party and is home to many historical sites and landmarks, such as the Freedom Trail, Midnight Ride, the Paul Revere House, and the Bunker Hill Monument.
Boston is also home to some of the best universities in the world, including Harvard University and the Massachusetts Institute of Technology (MIT). These institutions have contributed to the city's reputation as a hub for innovation and intellectual pursuits.
In addition to its history and educational institutions, Boston is also known for its vibrant arts and culture scene. The city is home to many world-class museums, such as the Museum of Fine Arts and the Institute of Contemporary Art, as well as a thriving music and theater scene. And don't get us started on the (sea)food!
So without further ado, let us help you plan the perfect weekend in Boston! Whether it's a quick 36 – 48 hours in Boston (or a long weekend), or you're planning a fun few days in Boston, there is a huge amount of history, parks, museums, and sports to keep everyone entertained. Keep reading for our rundown of the top things to do in Boston, the best places to stay in Boston, and a few suggestions of where and what to eat whilst you're in the city to help you plan the perfect city break.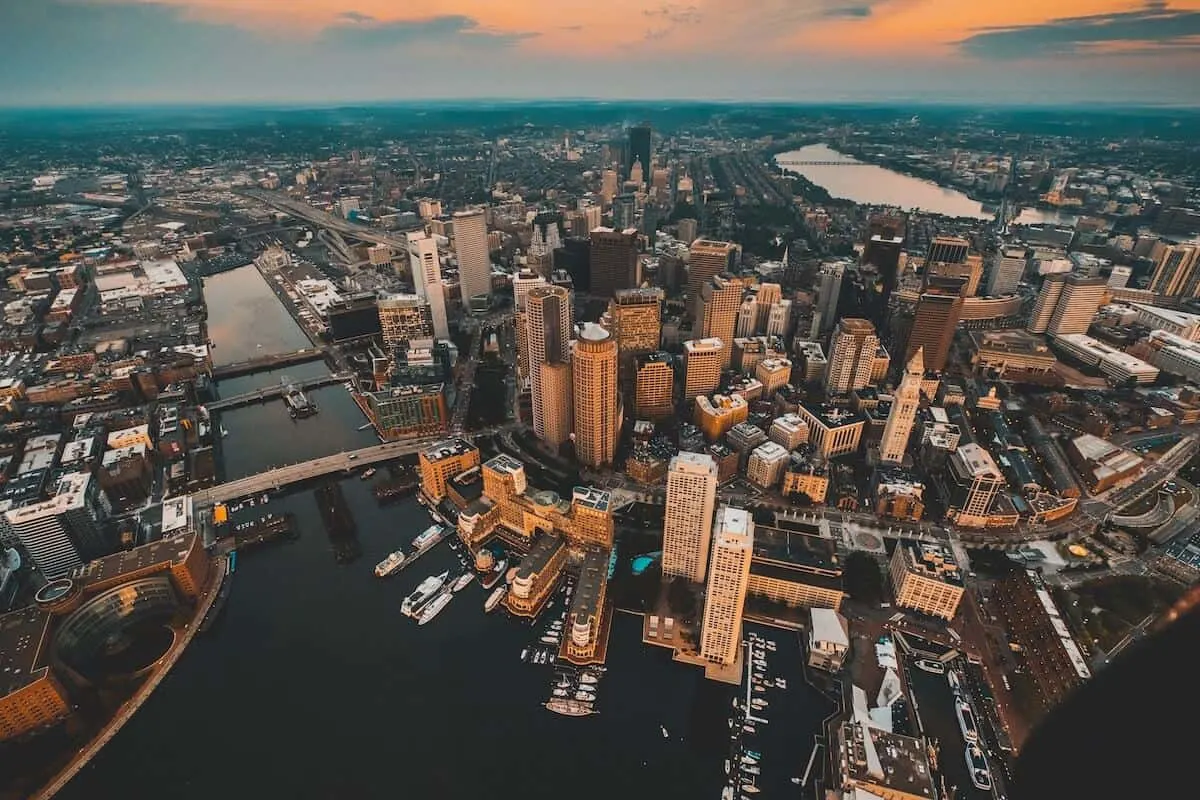 Disclaimer: Almost all posts on this site contain Affiliate links, and this one about an epic 48 Hours in Boston is no different. This means that if you click on any of the links in this post (and make a purchase) I may receive a small commission at absolutely no cost to you. Each post is carefully crafted to (hopefully!) answer all your questions and recommendations are made where we believe they will improve your trip and help with your planning. As such we thank you in advance should you decide to click & buy. Read my full Disclosure here.
A Guest Post by Brianne Miers from A Traveling Life

Boston, Massachusetts, packs a lot into 50 square miles: from world-class museums to beloved sports venues to important historical sites to impeccably designed parks. I've had the pleasure of calling "The Hub" my home for more than nine years now, and I still haven't done everything there is to do.
But given that it is considered one of the "most walkable" cities in the U.S., you can cover a lot of ground in 48 hours in Boston. To help you get the most out of your visit, here are my recommendations for the 10 best things you should have on your weekend itinerary, whether you have 2, 3 or 4 days in Boston.
Where to Stay in Boston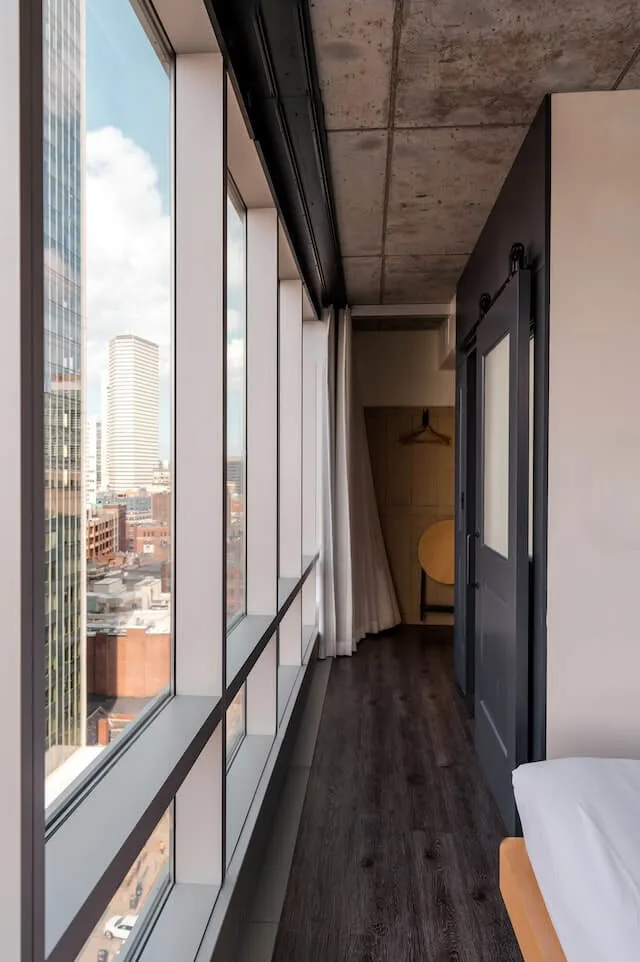 .
Fun Things To Do in Boston
Freedom Trail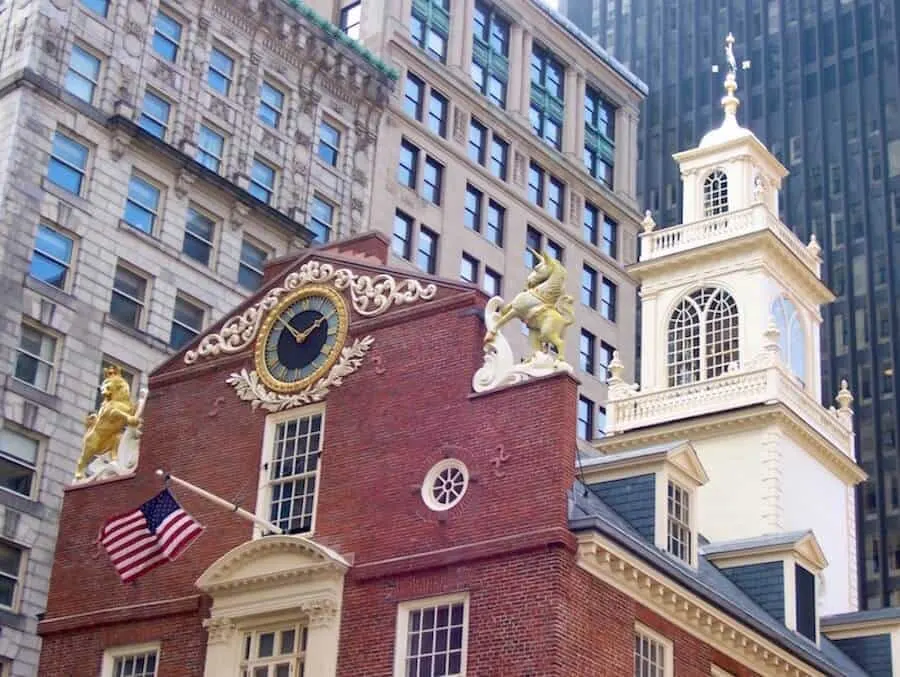 The Boston historical Freedom Trail makes sightseeing in Boston easy and it's one of the top things to do in Boston. It's a 2.5-mile route marked by a red brick line in the sidewalk that connects 16 of Boston's main historical attractions including the Massachusetts State House; Granary Burial Ground, Old South Meeting House; Copps Hill Burying Ground, and the site of the Boston Massacre, etc.
You'll also pass by Faneuil Hall Marketplace and Quincy Market, where you can find plenty of food, shops, and entertainment to keep you sustained as you explore.
You can walk the trail on your own, or there are numerous walking tours you can join. Guided walking tours often commence at the Boston Public Library, offering you a chance to step inside this historic building before you start your tour.
North End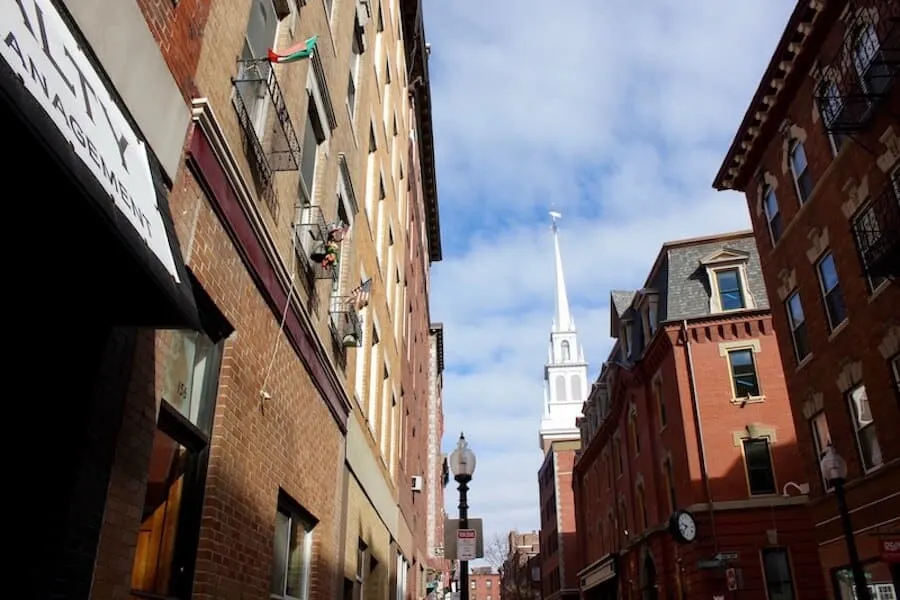 The Freedom Trail runs through the North End, which is Boston's "Little Italy." It's worth spending time wandering through the narrow cobblestone streets and visiting sites like Old North Church and the Paul Revere House. Needless to say, it's also worth eating while you're there will a Pizza Tour being one of the top activities in the area.
But if you're not up for eating all the pizza, two of my favorite italian restaurants are Giacamos and Cantina Italiana. For coffee and sweets stop by Caffe Paradiso, where you'll usually find a European football match on TV, and for dessert, try to choose between rival cannoli shops Mike's Pastry and Modern Pastry.
Public Garden and Boston Commons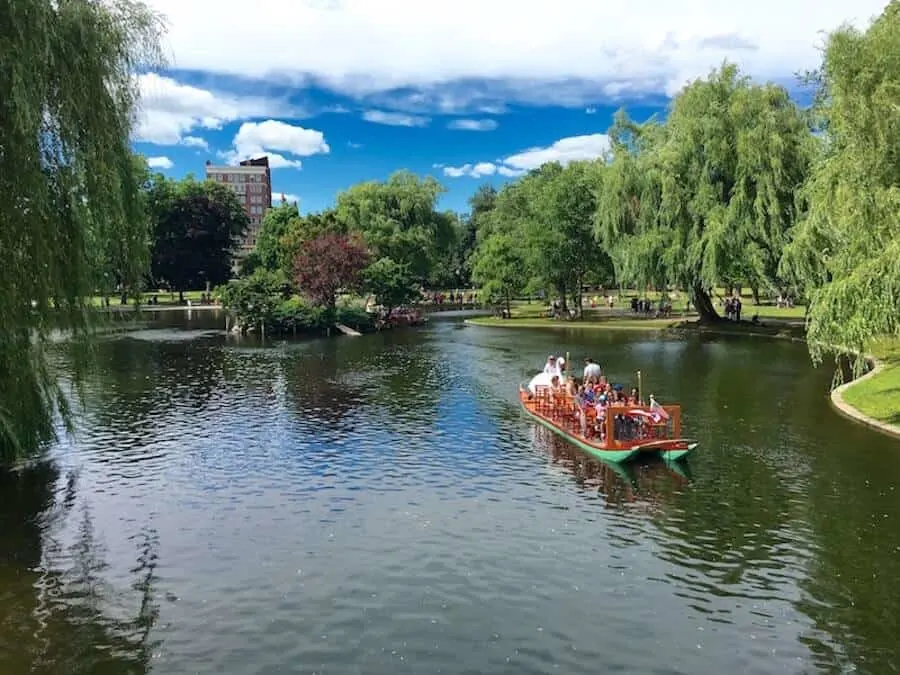 If you're blessed with good weather during your 48 hours in Boston (or better still 72 hours in Boston), then spend some time and stroll through Boston Common (the oldest public park in the USA!) and Boston Public Garden which are a pair of beautifully landscaped parks in downtown Boston.
They're great for people-watching and dog-watching, and kids love playing in the Frog Pond, which is turned into an ice skating rink in the winter. You can also take a ride on one of the beloved swan boats, which have been sailing in the pond since 1877.
If you have some extra time, the Beacon Hill district is right night to the Common and is one of the most picturesque regions in the city (perfect for those Insta shots!)
Boston Duck Tours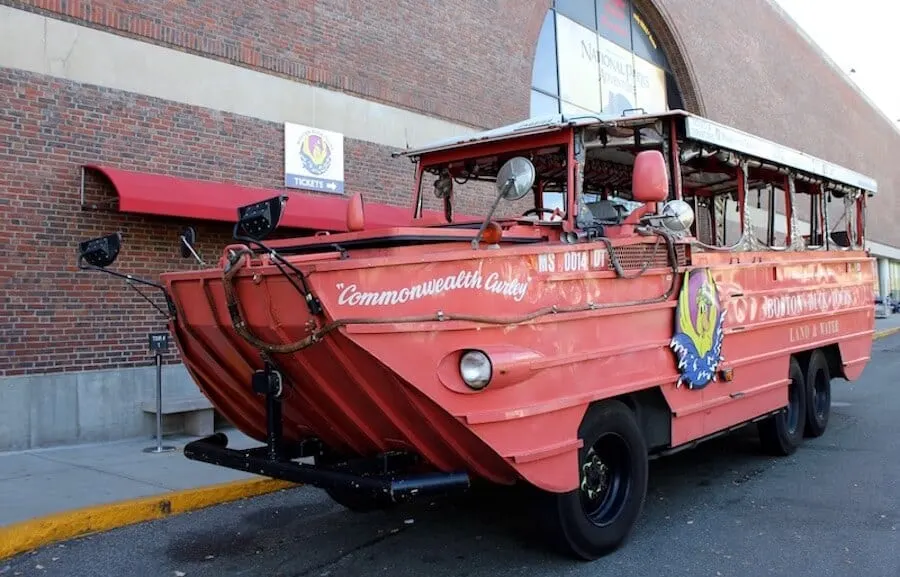 For an entertaining look at Boston's main attractions, hop on a Duck Tour. Riding in a colorful "WWII style amphibious landing vehicle," you'll drive through several neighborhoods and then take a spin in the Charles River.
It's a must see in Boston – whether you take a spin or not but for families, kids on board will love the antics of the "conDUCKtor" as well as making quacking sounds with their duck whistles.
Fenway Park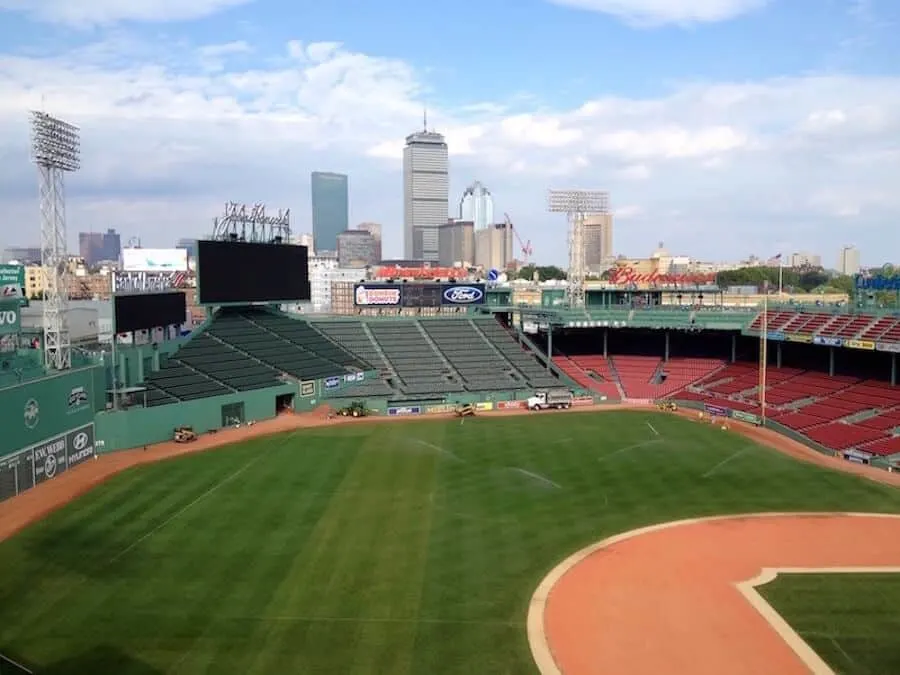 Boston's beloved Red Sox play in the oldest baseball stadium in the country, and going to a game at Fenway is definitely a unique experience. If you don't have tickets, you can take in the game from Bleacher Bar, which offers great views of the park. Daily tours are also available year-round.
Harpoon Brewery & Beer Hall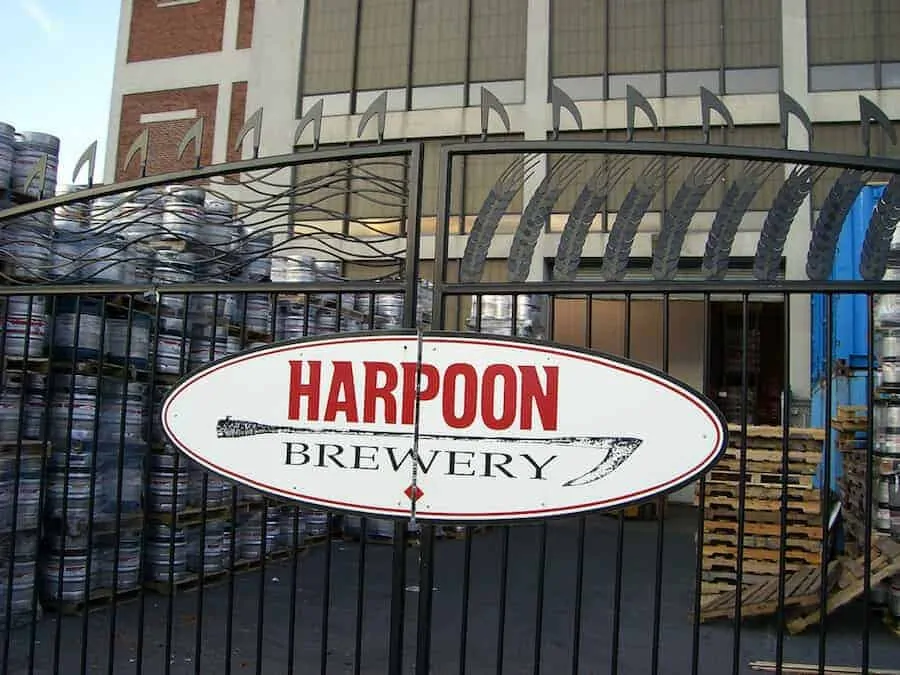 Harpoon is not the most famous Boston beer – that distinction would likely go to Sam Adams – but it's brewery in the Seaport District is worth a stop. You can take a free tour of the facility and then hang out at the beer hall to sample a wide variety of Harpoon and UFO brews while snacking on giant pretzels.
There also are numerous events and festivals held on site throughout the year. And if one brewery isn't enough, why not join a Boston Brewery Tour (which thankfully includes lunch!) and some some more of the cities great ales whilst learning about it's Brewing history.
Prudential Tower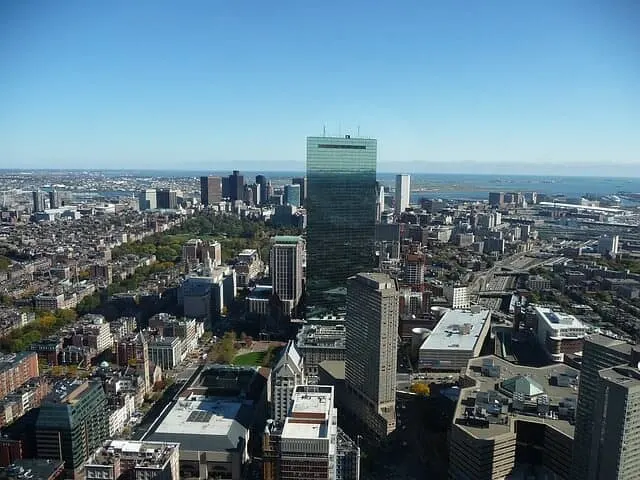 If you want to see what Boston looks like from on high, head to the Prudential Tower in the Back Bay. You have two options for taking in the breathtaking 360-degree views of Boston: the Skywalk Observatory on the 50th floor, or the Top of the Hub, a restaurant and lounge on the 52nd floor.
On a clear day, you can see up to 100 miles away from the top of the Prudential Center (which is a long way!)
.
Isabella Stewart Gardner Museum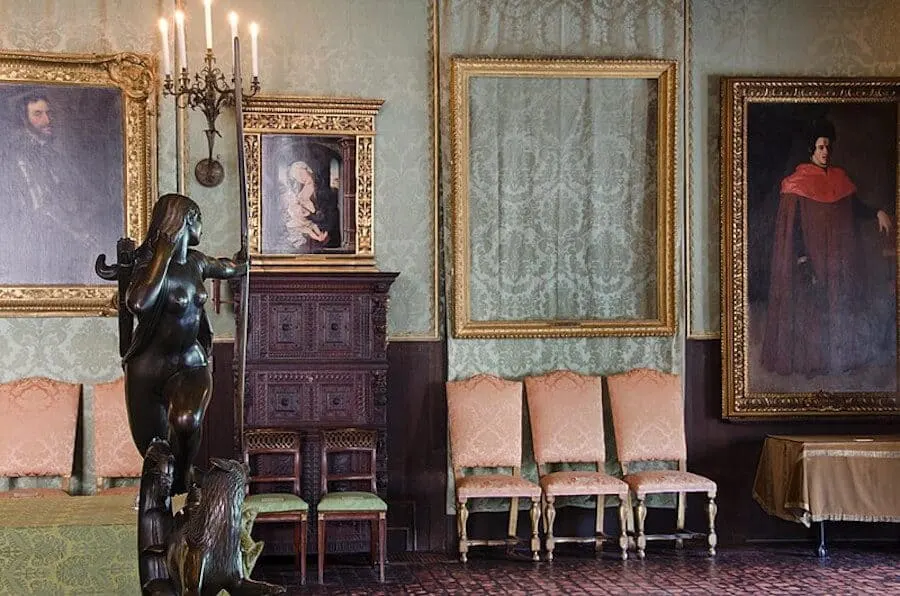 One of the most unique attractions that Boston has to offer is the Isabella Stewart Gardner Museum in the Fenway neighborhood. The building is modeled after a 15th-century Venetian palace and contains the personal collection of Isabella Stewart Gardner – 2,500 eclectic works of art from around the world that she personally selected and installed.
Interesting fact: the museum is the site of the largest unsolved art heist in the world. Thieves cut priceless works of art from their frames, and those frames still hang in place.
Newbury Street
The eight blocks that make up Newbury Street in the Back Bay (also known at the 'other' Downtown) are packed with stores, salons, restaurants, cafes, and bars. You'll find a wide range of retailers – from H&M and Nordstrom Rack to Burberry and Dolce & Gabbana – as well as one of the world's largest Apple stores. If you need an energy boost while you shop, get a caffeine fix at Trident Booksellers.
Charles River Esplanade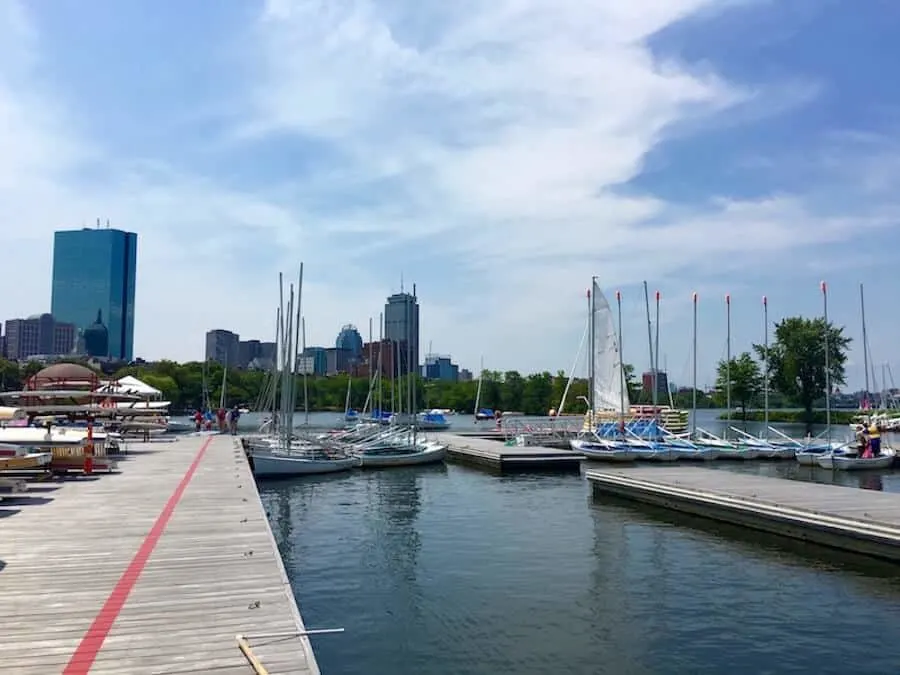 The Esplanade, a scenic park that runs along the Boston side of Charles River, offers a peaceful escape just steps from the Back Bay (and the MGH "T" stop). You can take in views of Harvard University and MIT across the river while walking, jogging or biking. Or if you'd like to get out on the water, you can rent kayaks and stand-up paddleboards by the hour at Community Boating.
The Best Day Trips from Boston
Salem Massachusetts: Just a short 30-minute drive from the hustle and bustle of Boston, step back in time and learn about those who were persecuted as witches during the Salem Witch Trials.
Martha's Vineyard: Visit this summer hotspot and enjoy boutique shops, great dining and gorgeous beaches.
Plymouth & Cape Cod: Sandy beaches, seafood shacks selling epic lobster rolls and lighthouses galore.
Read more about the Best Day trip from Boston.
What and Where to Eat in Boston

Seafood
Boston is serious about its seafood, and there is no shortage of excellent restaurants serving up regional specialties like New England clam chowder and lobster rolls. Casual eateries include Barking Crab and Yankee Lobster Co. in the Seaport and James Hook & Co. on Atlantic Ave., while Atlantic Fish Company, Row 34 and Ostra are on the higher end. And if oysters are your thing, then head to Neptune Oyster or Island Creek Oyster Bar.
Pizza
Thanks to Boston's Italian settlers, there are plenty of places to get good pizza and Italian food around town. In the North End, long-time favorites include Regina Pizzeria, which has been in business since 1926, and Ernesto's Pizza, while a newer joint is Locale. Outside of the North End are Pastoral in Fort Point, Picco in the South End and Santarpio's, an East Boston classic.
Boston Cream Pie
And after all the eating and drinking you can get a piece of Boston Cream Pie – the official Massachusetts dessert – at Omni Parker House, which created it soon after opening in 1855.
*EXTRA* Bit of a whizz in the kitchen? Why not make some of these iconic Boston dishes at home with these recipes for Clam Chowder, Boston Baked Beans & Boston Cream Pie
.
So there you have it – hopefully this Boston travel guide and travel tips have given you enough information to plan your trip to Boston – and given you a great list of Things To Do in Boston Ma to make sure you get the most from your visit. Don't forget to let me know your own highlights once you're back!
Oh, and if you enjoyed this article, please, tweet pin or share on Facebook – I'd really appreciate it! Click the P in the share bar for full size images!
READY FOR MORE USA TRAVEL INSPIRATION? YOU MIGHT BE INTERESTED IN THESE TRAVEL TIPS, TRAVEL ARTICLES, DESTINATION GUIDES, TRAVELER RESOURCES, AND RELATED POSTS ABOUT OTHER AMAZING CITIES IN NORTH AMERICA:
Hi There! Thanks for reading our 48 Hours in Boston City Guide & Boston Itinerary! I just wanted to let you know that this post contains affiliate links, which means if you purchase something after clicking a link, I may get a small commission – which is at absolutely no cost to you. If you enjoyed this article and are going to be searching for some of the things I mention anyway, I would love it if you could click through from the links above & thank you in advance! Read my full Disclosure here.