Plan the perfect trip to the 'Witch City' with our guide to 18 Top Things to do in Salem Massachusetts that are perfect for first-time visitors including. where to stay, eat + day trip ideas!
Salem is a town with a spooky past – but that's what gives it its charm and excitement! The town is infamous for the Salem Witch Trials that took place in the 17th century, making October a particularly spooky and exciting time to visit. Lovers of the macabre can capitalize on all the events and Haunted Happenings that take place around town as well as learn and celebrate its history.
We're here to help you plan out your itinerary to the spooky Salem – everything you need to know before heading that direction is compiled into this Salem Travel Guide, featuring how to get around, where (and what) to eat, day trip ideas, and the best things to do in Salem MA. Get started planning your first (or next!) adventure to Salem right here!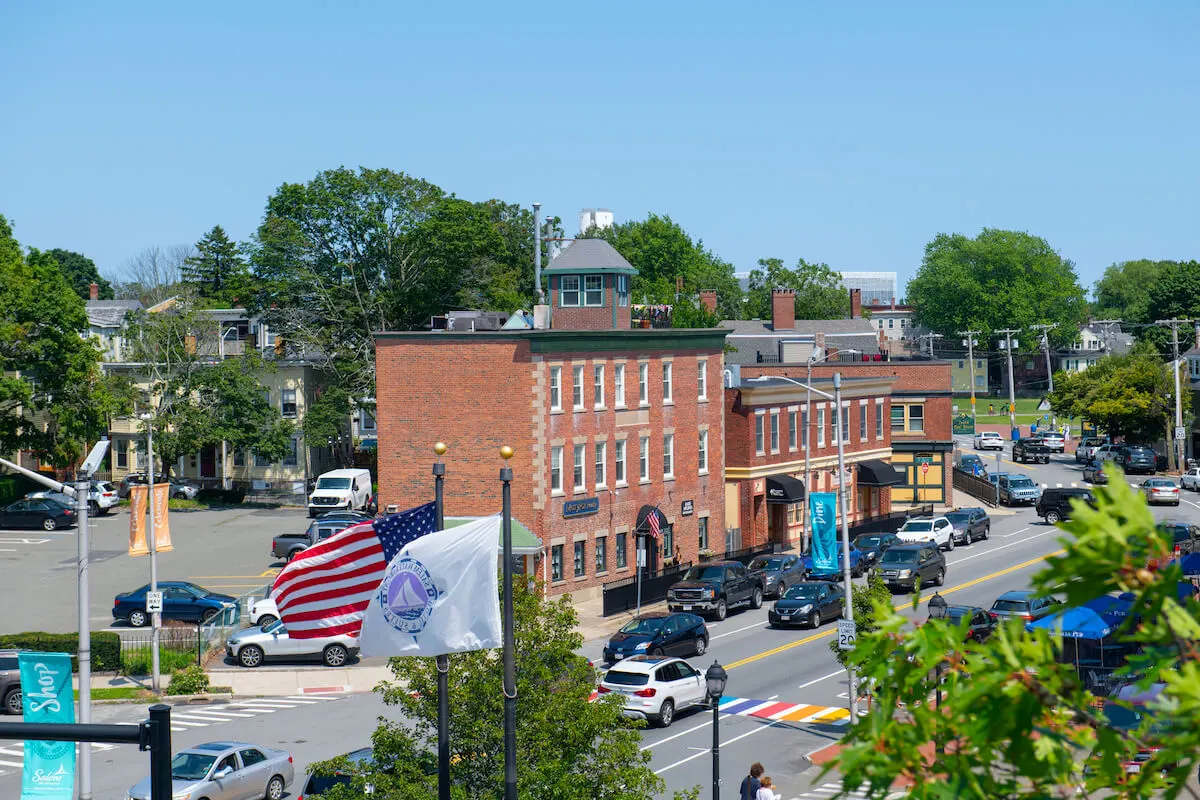 Disclaimer: Almost all posts on this site contain Affiliate links, and this one about The Top Things to do in Salem Massachusetts is no different. This means that if you click on any of the links in this post (and make a purchase) I may receive a small commission at absolutely no cost to you. Each post is carefully crafted to (hopefully!) answer all your questions and recommendations are made where we believe they will improve your trip and help with your planning. As such we thank you in advance should you decide to click & buy. Read my full Disclosure here.
GENERAL TRAVEL INFO FOR VISITORS TO THE USA
Visa: Travelers from countries that are members of the Visa Waiver Program (ESTA) do not require a visa when visiting the USA. However, it is recommended to check up-to-date visa entry requirements before your visit regardless of what country you are coming from to avoid issues and concerns on the date of your travel.
Currency: The official currency in Salem MA is the U.S. dollar or American dollar ($, USD, US$).
You can withdraw currency from ATMs using your local bank card or a designated travel card. If you are visiting from another country, be sure to check any fees and charges from your bank prior to using it and carry a second source of payment/cash in case your primary card gets 'eaten' by an ATM.
Language: English is the primary and most widely spoken language in the USA (although not the official one at the Federal level!) There are 350 other languages spoken, the main ones being Spanish, Chinese, French, and Vietnamese.
WiFi/Internet Access: Depending on your length of stay, you can either purchase a local sim card (in advance or on arrival) – to swap out with the one in your own phone to avoid roaming charges. OR, grab a pay as you go portable Wifi Devices which means you can keep your sim active and connect wirelessly. Just remember to turn off data roaming so you don't incur any hefty charges.
Essential Salem Travel Tips: What to Know Before you Go
Getting Around Salem Massachusetts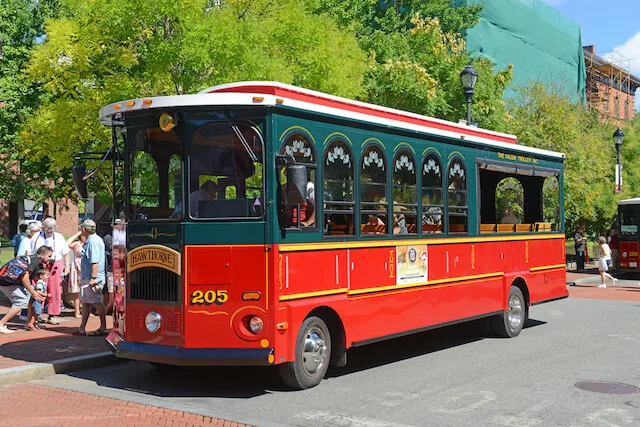 Salem is quite a small town, and super pedestrian-friendly. You can always take some form of public transportation into the city area and walk the rest of the way – most of the major attractions are within a reasonable distance of each other. Make sure you're wearing comfortable shoes, though! Many of the sidewalks are still made of old bricks that may be uneven. There is also a bike share program called Zagster, where you can download the app to unlock bikes at any of the stations across Salem.
The Salem Trolley is a great option for new visitors, taking you on an hour-long ride that hits the popular sightseeing spots. Make sure you hang onto your ticket so you can hop on and hop off the Trolley and spend time exploring—your ticket is valid for the entire day on the day you purchase your ticket.
Lastly, there are several locations in Salem that are on the outer edges of the downtown area, but you still probably don't need to rent a car. Taxis, Uber, and Lyft are all readily available to get you to these locations, and you won't have to worry about traffic or parking.
Where to Eat in Salem Massachusetts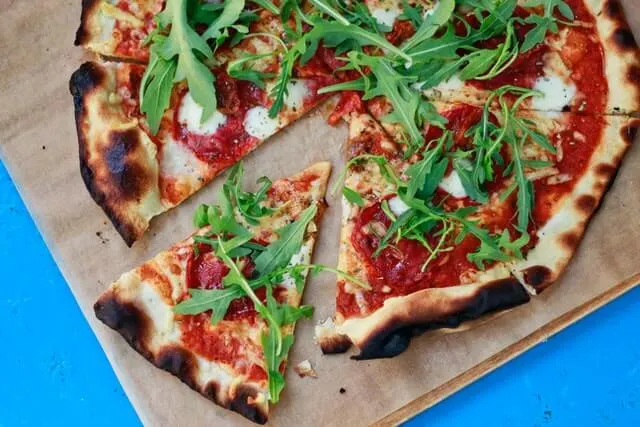 If you're heading into Salem for the food, it's best to avoid the month of October – it's the most popular time to visit Salem due to the city's history and the Halloween theme is even more amplified.
The city is lovely and much less crowded in other months and you'll have an easier time getting into restaurants and bars.
Either way, you'll always be able to find plenty of food around Salem to eat whether you're in the mood for full-service dining, taprooms, cafes, or more. Here are some favorites:
Bambolina – here you'll find neo-Neapolitan pizzas with charred crusts, wood-fired at 925 degrees Fahrenheit. The starters here are great, too.
Gulu-Gulu Cafe – one of the best spots for brunch around town, but be warned that it gets crowded on weekends. There are flavored lattes, spiked coffee, cocktails, and a variety of sweet and savory brunch dishes.
The Lobster Shanty – when you're visiting a seaside town, you'll have to eat seafood. This spot doesn't take reservations, and it's quite small, but it's worth it if you can snag a seat. Try their lobster risotto for a rich, hearty meal.
Red's Sandwich Shop – a no-fuss casual setting that serves up sandwiches and hearty classic American breakfasts.
Where to Stay in Salem MA
It is quite easy to find suitable accommodation in Salem, but one tip we have is that if you are planning to visit during the fall, you will need to book ahead in advance. October is a very popular time in Salem, with lovers of Halloween (and all things 'Hocus Pocus'!) flocking to the city to experience the spookiness of the city.
If you choose to stay near the downtown area, you'll find most of the major attractions within walking distance. Here are some of our picks (don't worry, we've left out the haunted hotels!):
Luxury ($$$) – Salem Waterfront Hotel & Suites: classically furnished rooms and suites in a centrally located hotel on the waterfront, with an indoor heated pool and golf cart rides to the wharf.
Mid-Range ($$) – The Hotel Salem: charming boutique hotel with vintage-chic rooms, located a five-minute walk from the Salem Witch Museum. Restaurants are available at the hotel (one on the rooftop) as well as free WiFi.
Budget ($) – Hampton Inn: affordable hotel in the downtown area of Salem, within walking distance to major attractions and public transportation.
18 Top Things to do in Salem Massachusetts
Salem Witch Trials Memorial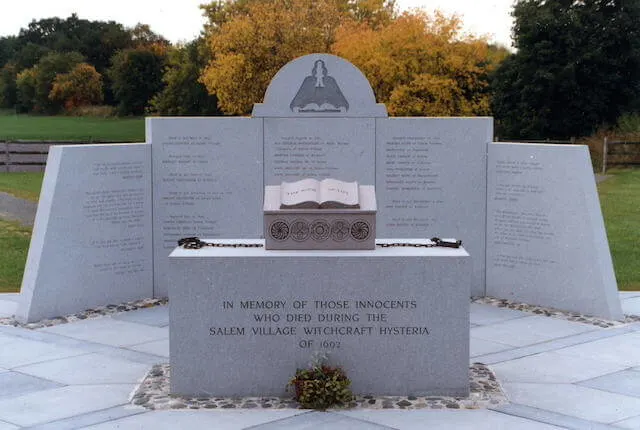 You can't visit Salem and not take note of the events that the city is renowned for. Pay your respects to those who lost their lives during the Salem Witch Trials as well as learn more about what happened during that period at the Salem Witch Trials Memorial. This is a great activity for anyone visiting Salem to learn about the solemn history of the city.
If you'd like to know more, there are also guided Witchcraft Trial Walks through Salem led by knowledgeable guides who can explain everything in detail and answer all your questions.
Harbor Sweets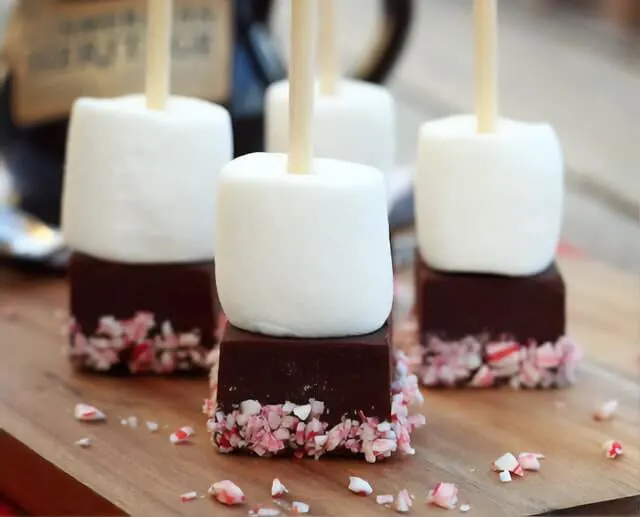 Take a step away from the spooky attractions and head over to Harbor Sweets where you'll find all the candies and chocolates you could want. The handmade candies are famous here, so make sure you try their sweet sloops (handmade chocolate sailboats with almond butter crunch centers).
Count Orlok's Nightmare Gallery
This is a great spot to visit during October (spooky!) when they open their haunted house, however, during the rest of the year, it is still worth a visit. The gallery offers exhibits on horror, Sci-Fi, and fantasy films, and is definitely a great spot for adrenaline lovers.
Salem Willows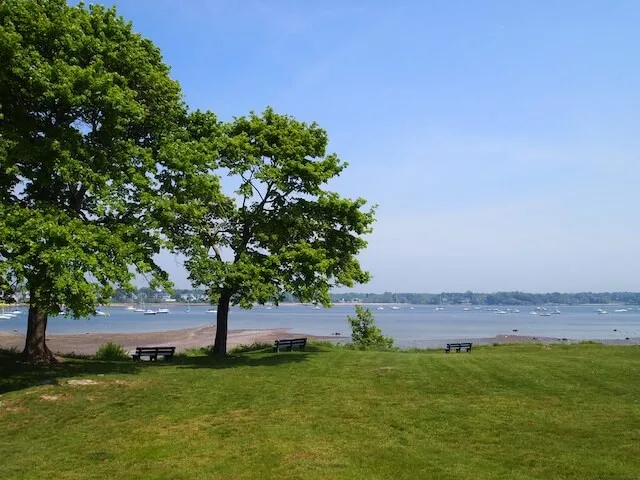 Salem Willows is a public oceanfront neighborhood and amusement park that got its name from the white willows that were planted there in the early 1800s. Stroll the paths of the neighborhood, visit the arcades, go on an amusement ride, and just bask in the nostalgic vibe of the area. Jazz musicians like Duke Ellington and Louis Armstrong performed at what was the old Charleshurst Ballroom.
Peabody Essex Museum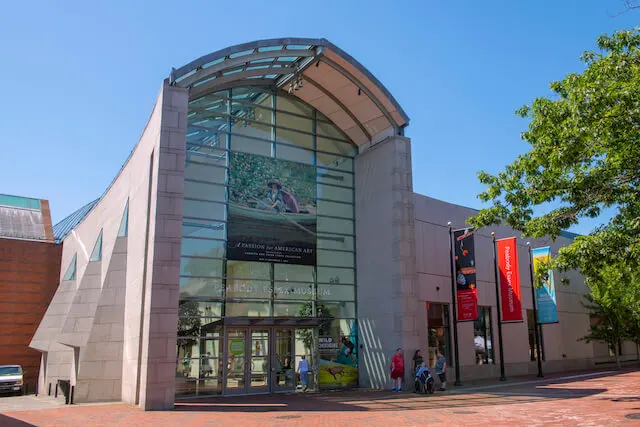 This museum is home to a very impressive collection of Asian art and features 22 buildings and two massive libraries where you will see manuscripts, maps, and plenty of artifacts that catalog Salem's centuries of proud maritime history.
Take a Ghost Tour
Even if you're only slightly interested in the city's witchy past and modern-day haunted happenings – you can't come to Salem Massachusetts and not join one of the city's many ghost tours.
Depending on how brave you are there are mid-afternoon walking tours of Salem available which run in daylight, but for the full spooky sensation, a nighttime ghost tour is a must. And if you don't believe in all that Hocus Pocus or that the city is bewitched after dark, that's even more reason to wander the streets with a knowledgable local guide. We're sure you'll be convinced in no time!
Note: There is also a Hocus Pocus Tour available – but be aware that while it is a great tour, it is not based on the movie – rather a tour about Salem's history and includes only a couple of filming locations. The tour (obviously) discusses the Salem Witch Trials but also visits sites such as the McIntire Historic District, Hamilton Hall, and Pickering House and tells visitors about the city's past as a Native American settlement and its role in the American Revolution.
Crow Haven Corner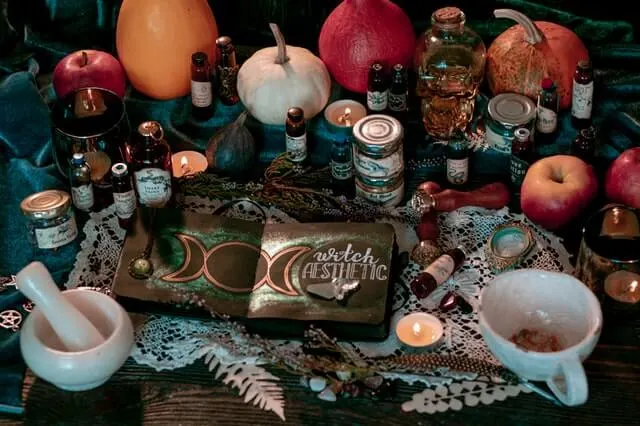 This is America's oldest "witch shop" and is packed with everything related to witchcraft. It's a fantastic spot to bring kids (and even adults) for something fun and different. You can even get your tarot cards read while you're inside!
The Witch House at Salem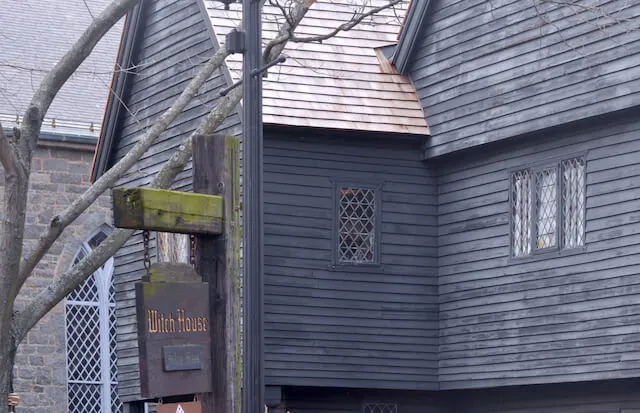 The Witch House Museum, also known as the Jonathan Corwin House, is the only remaining structure in Salem today that has direct ties to the Salem Witch Trials, and not only is it one of the main tourist attractions it is also considered one of the most haunted places in the city.
Judge Jonathan Corwin was among those investigating witchcraft in the 17th century, and was partly responsible for the 20 people convicted in the special court and executed. Today you can take a self-guided walking tour through the home filled with are exhibits and information plaques. There are also very knowledgeable members of staff on hand to answer any questions you may have.
It is a fascinating look at Colonial American history when mass panic gripped the nation and today helps explain some of the myths and misconceptions the time. Our top tip – get here early to avoid the crowds and have the house all to yourself!
Salem Witch Museum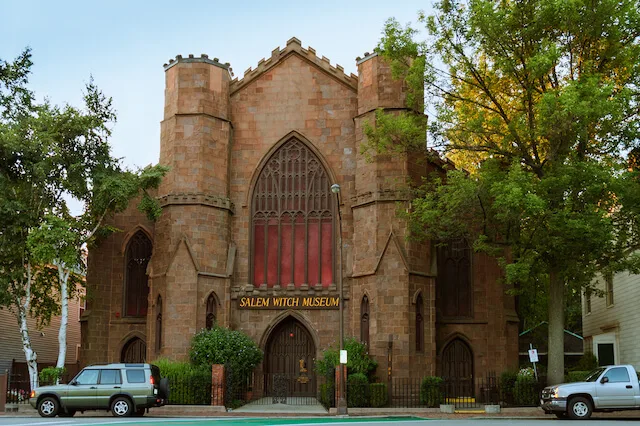 Located in a converted church, the Salem Witch Museum takes visitors back to 1692 with a dramatic look at the tragic events and hysteria that resulted in the executions of thirteen women and two men. Life-size replica sets and stages take visitors on a journey between February 1692 and May 1693 using actual documents from the trails.
New England Pirate Museum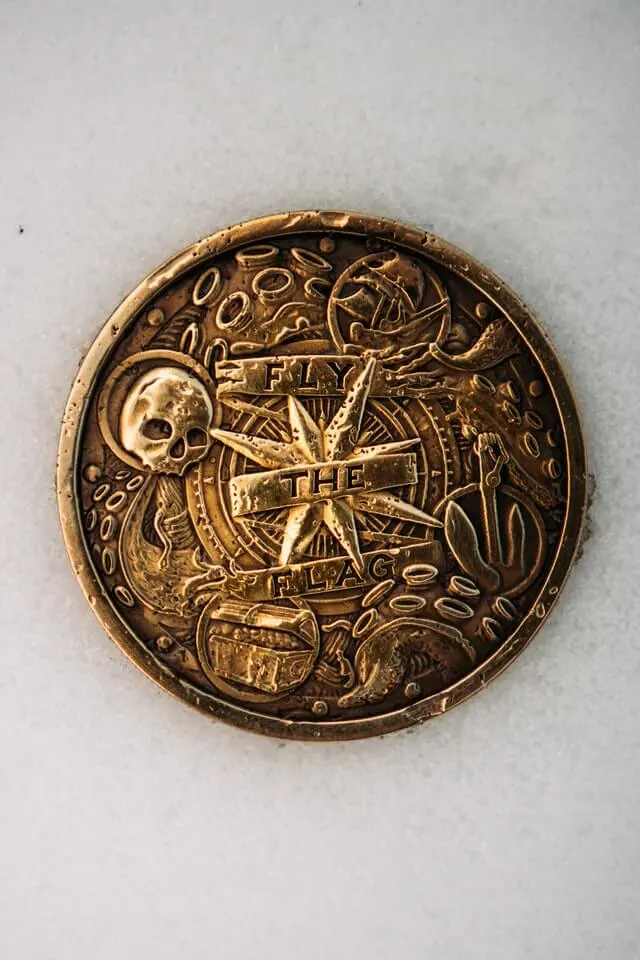 This museum is filled with information about pirate life in New England. You can learn and relive the adventures of Blackbeard, and take a walking tour where you can encounter several buccaneers and learn what it was like to be a pirate.
The House of the Seven Gables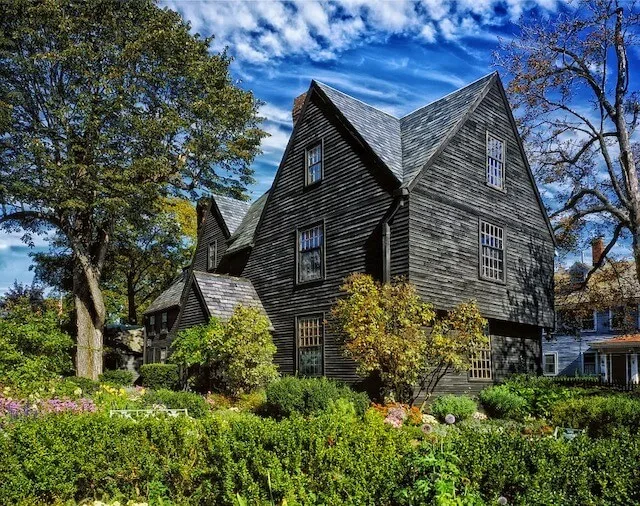 The House of Seven Gables lent its name to the Gothic novel by Nathaniel Hawthorne, and also famously influenced horror author H.P. Lovecraft.
The house, built in 1668, was owned by several prominent maritime families and received elegant additions and architectural updates over the years. As one of the city's top tourist attractions, you can take guided tours of the property and see plenty of interactive exhibits.
Witch Dungeon Museum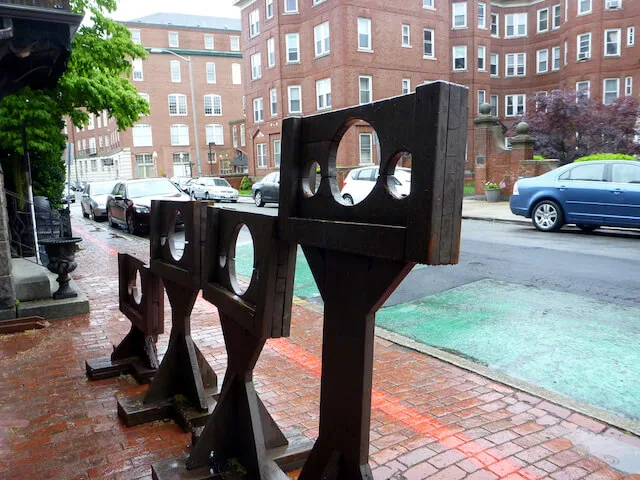 This museum is located in the heart of Salem's central tourist district and is less a museum and more a fun interactive experience that takes you through the events of the Salem Witch Trials. You'll see live reenactments and recreations of events that took place – so if you're in the mood for some light-hearted kitschy haunted house vibes, then this may be for you!
Essex Street Pedestrian Mall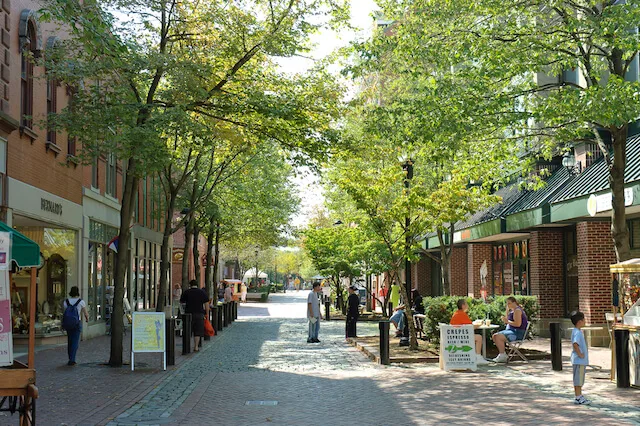 The Essex Street Mall is a great place to grab a coffee or something to eat, and shop in some of the boutique stores for a unique gift for yourself or a loved one. And if you're feeling a little overwhelmed with all the incredible things to do in Salem, the Salem Visitors Centre is a great place to swing by and get some tips.
Black Veil Shoppe of Drear & Wonder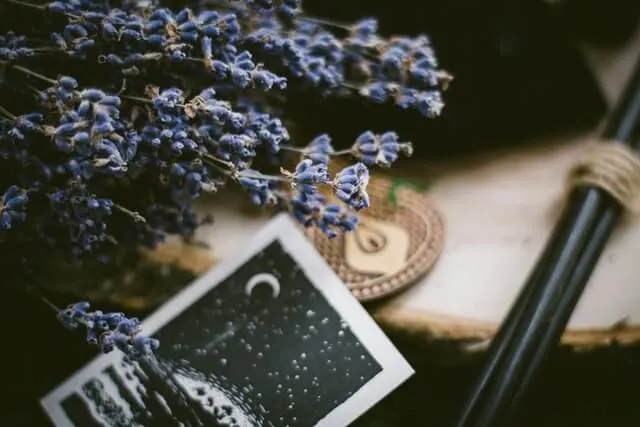 There's no doubt that Salem is home to a collection of unique and kitschy shops, but one of the most interesting of them all is the Black Veil Shoppe of Drear & Wonder. If dark art depicted on postcards, prints, t-shirts, bags, and even temporary tattoos is your thing, you'll be in heaven (or hell, whatever your poison) here. And if you're after accessories, you'll love their collection of sunglasses, candles and jewelry.
Fort Pickering & Winter Island Lighthouse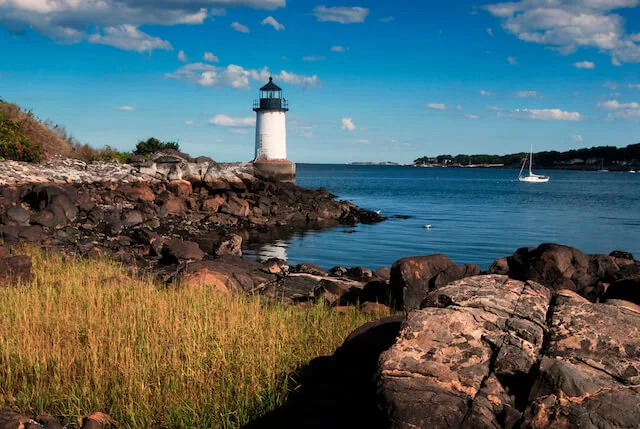 Fort Pickering is Salem's most historic military landmark dating back to the year 1643. It was first used for military purposes in 1663 as a strategic coastal defense point and military barracks for Salem Harbor during a variety of periods.
The Lighthouse was built in 1871, discontinued by the Coast Guard in 1969 and today is a picture-perfect and peaceful spot whether you visit on land via the bridge over the Porter River, or take in the view on a cruise around Salem harbor.
Learn how to Bind a Book at The Witchery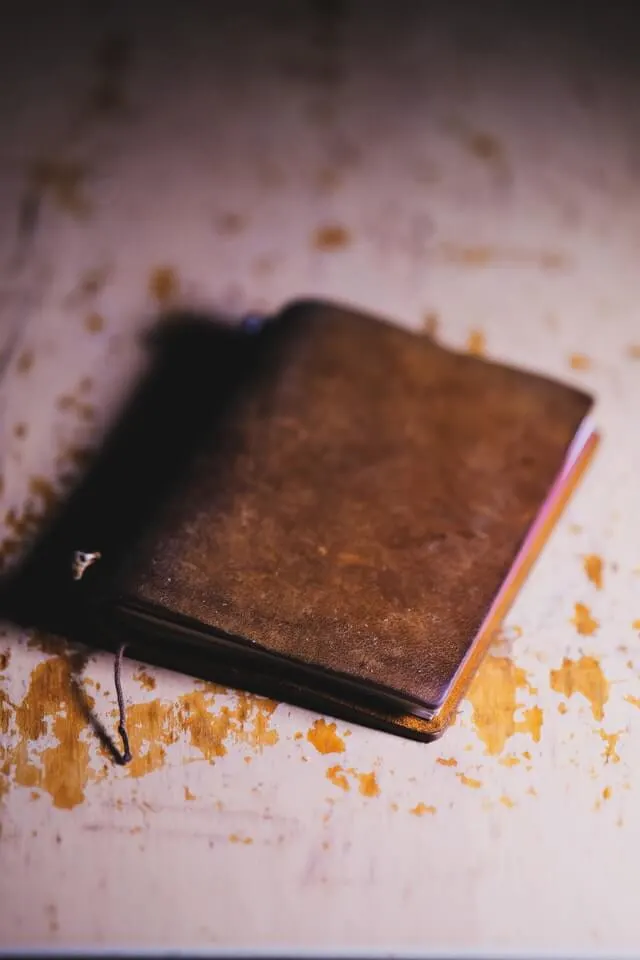 Whether you want to create your own journal, or need a new book for your spells, the bookbinding workshop at The Witchery is a really unique and fun thing to do while you're in Salem.
And if that doesn't push your (witch)craft buttons, you can also make your own broom!
The Old Burying Point Cemetery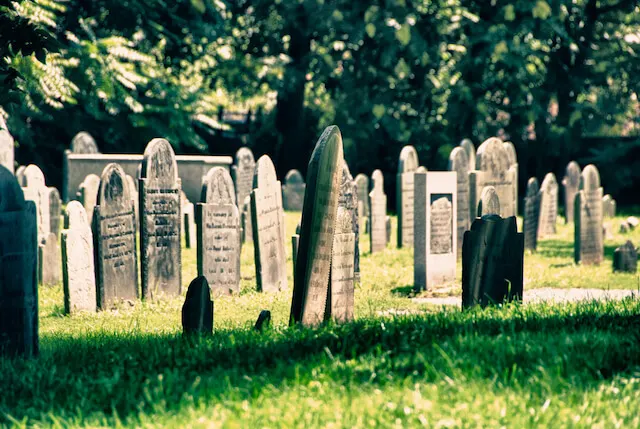 The Old Burying Point, also known as Charter Street Cemetary is a historic graveyard that was founded in 1637 – making it the oldest cemetery in Massachusetts, and one of the oldest in the USA.
Records show there are some 600 people buried here, although there are only 485 headstones and it is the final resting place of several of Salem's most notable residents including Massachusetts Governor and Revolutionary War figure John Brooks, Revolutionary War heroine Sarah Bradlee Fulton and Judge John Hathorne, one of the most influential and hated judges of the Salem Witch Trials.
Learn about the cemetery, its residents, and as one of the most haunted spots in town – its ghosts, on a guided tour. They take place during the day – but if you want to return at night to try and meet some of those ghosts, it's entirely up to you.
Salem Maritime National Historic Site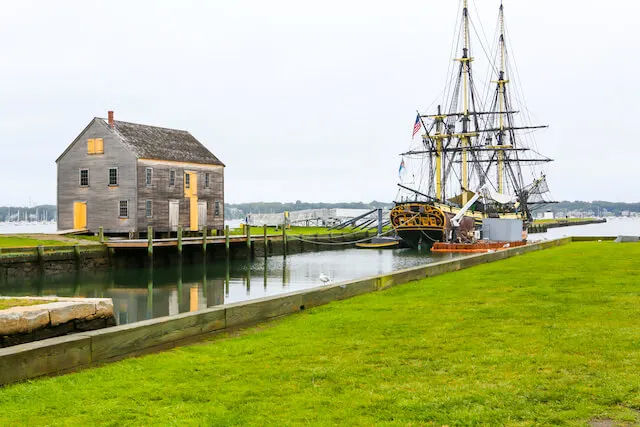 The Salem Maritime National Historic Site consists of 12 historic structures, one replica tall-ship, and about 9 acres of land along the waterfront of Salem Harbor in Salem, Massachusetts. It was the first National Historic Site established in the United States and is a great place for a walk in the sunshine, and if traveling with children, exploring the ship is a great way for the kids to blow off some steam.
3 Day Trips from Salem
Boston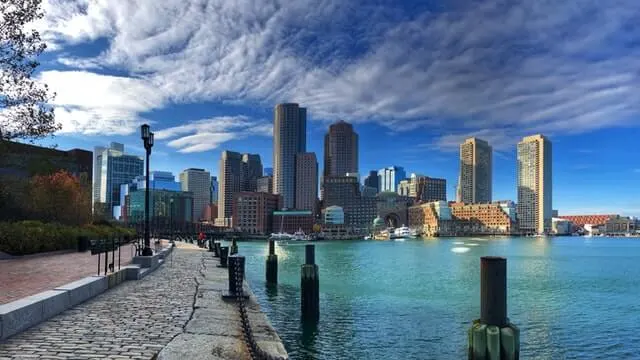 Just less than an hour away from Salem is the capital city of Massachusetts, Boston. If you want to take a trip to the big city, you can easily spend the day seeing the highlights of the city and exploring the bustling streets. There is an incredible combination of culture, architecture, and picturesque scenery on offer in Boston, so it's the perfect place to spend the day.
Likewise, Salem is one of the top-rated day trips from Boston, so if you are planning a long weekend in Boston, a visit to Salem would be the perfect addition to your trip.
Manchester-by-the-Sea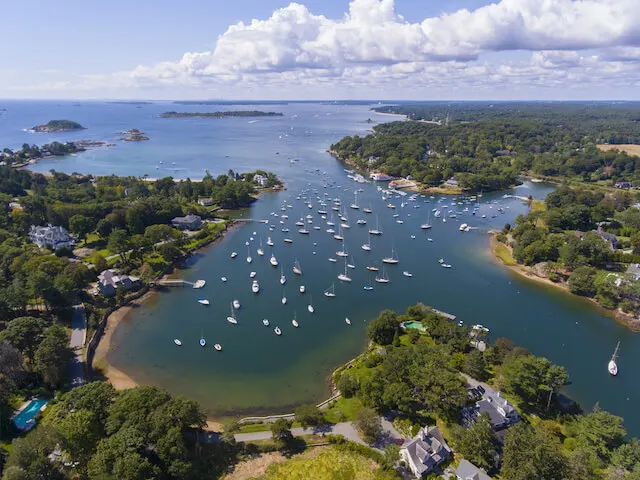 The small Manchester-by-the-Sea is a town on Cape Ann, in Essex County, Massachusetts, and is a short drive from Salem. The town is known for its scenic beaches (particularly Singing Beach), vista points, and its shoreline. The population of the town is only slightly over 5,000, making it a very quaint and quiet area. It's worth a day trip from Salem to see the picturesque views, and it is also a yachting haven and commercial fishing area.
Portland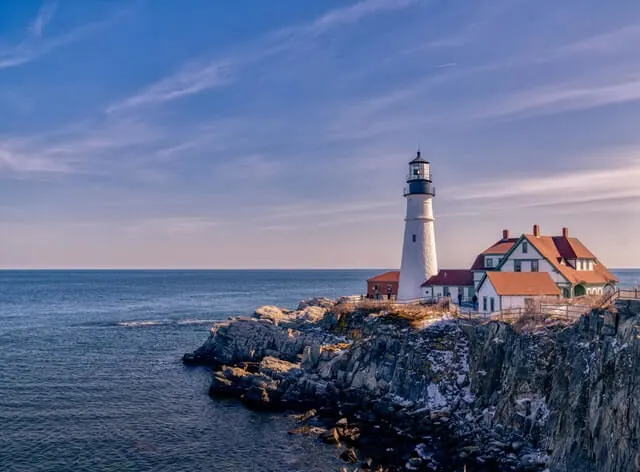 Maine's largest city is about a 1.5-hour drive north of Salem and attracts foodies from all across the country (and the world). Here you can wander around the charming streets and cobblestone lanes, and then visit the arts district where you can drop by the Portland Musem of Art and the State Theater. It's definitely worth a day trip from Salem, but make sure you head off early so you can try out as many foodie spots as you can!
Salem has such a rich history and is known around the world for the events that took place in the city in the 17th century. We're sure you'll have a fantastic time no matter what you choose to do, and hope you'll decide to pay a visit again soon!
We hope this guide to 18 Best Things to do in Salem for First-Timers has been a huge help planning your trip, and if you know of anyone else that needs a little bit of inspiration or assistance in planning their spooky trip to Salem or exploring Salem when they are there, please be sure to share on social media: Facebook, Flipboard, Twitter or grab one of the images from below for Pinterest. And remember – sharing is charing (and we thank you in advance!)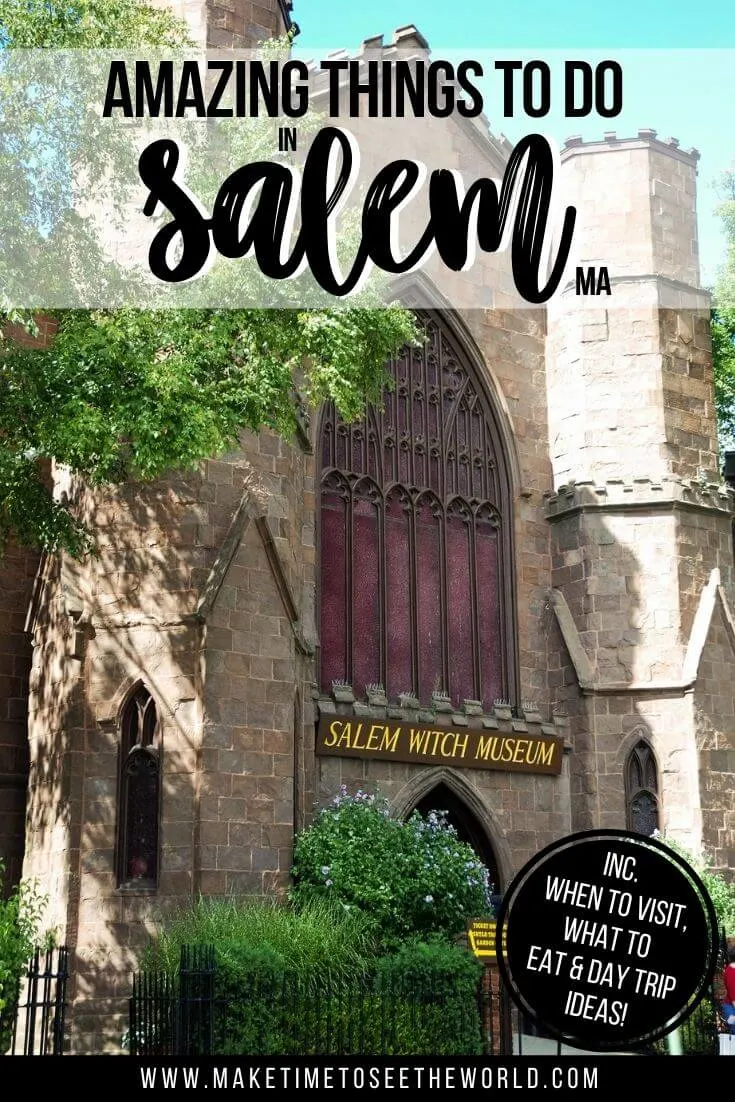 READY MORE USA TRAVEL INSPIRATION? YOU MIGHT BE INTERESTED IN THESE TRAVEL TIPS, TRAVEL ARTICLES, DESTINATION GUIDES, TRAVELER RESOURCES AND RELATED POSTS ABOUT OTHER AMAZING CITIES IN NORTH AMERICA:
Hi There! Thanks for reading our guide to the Top Things to do in Salem Massachusetts I just wanted to let you know that this post contains affiliate links, which means if you purchase something after clicking a link, I may get a small commission – which is at absolutely no cost to you. If you enjoyed this article and are going to be searching for some of the things I mention anyway, I would love it if you could click through from the links above & thank you in advance! Read my full Disclosure here.
And a huge Thank You for reading the MakeTimeToSeeTheWorld travel blog.