From Joshua Tree to Zion, San Francisco to Sedona these 18 BEST road trips from Las Vegas inc. driving times, packing tips, things to do + more!
Escape the neon lights to explore the natural wonders surrounding the city of Las Vegas. With over 5 national parks in a 2-5 hour drive of the city and many other parks and beautiful cities located close by, there are plenty of options to get out and explore nature and the surrounding area.
Not only are these destinations beautiful but whether you drive north, south, east, or west out of Las Vegas you're sure to see mountains, canyons, or lakes, making each trip about far more than the destination but the whole road trip too!
Go hiking, fishing, climbing, kayaking, or take a scenic drive. There are countless ways to immerse yourself in an outdoor adventure.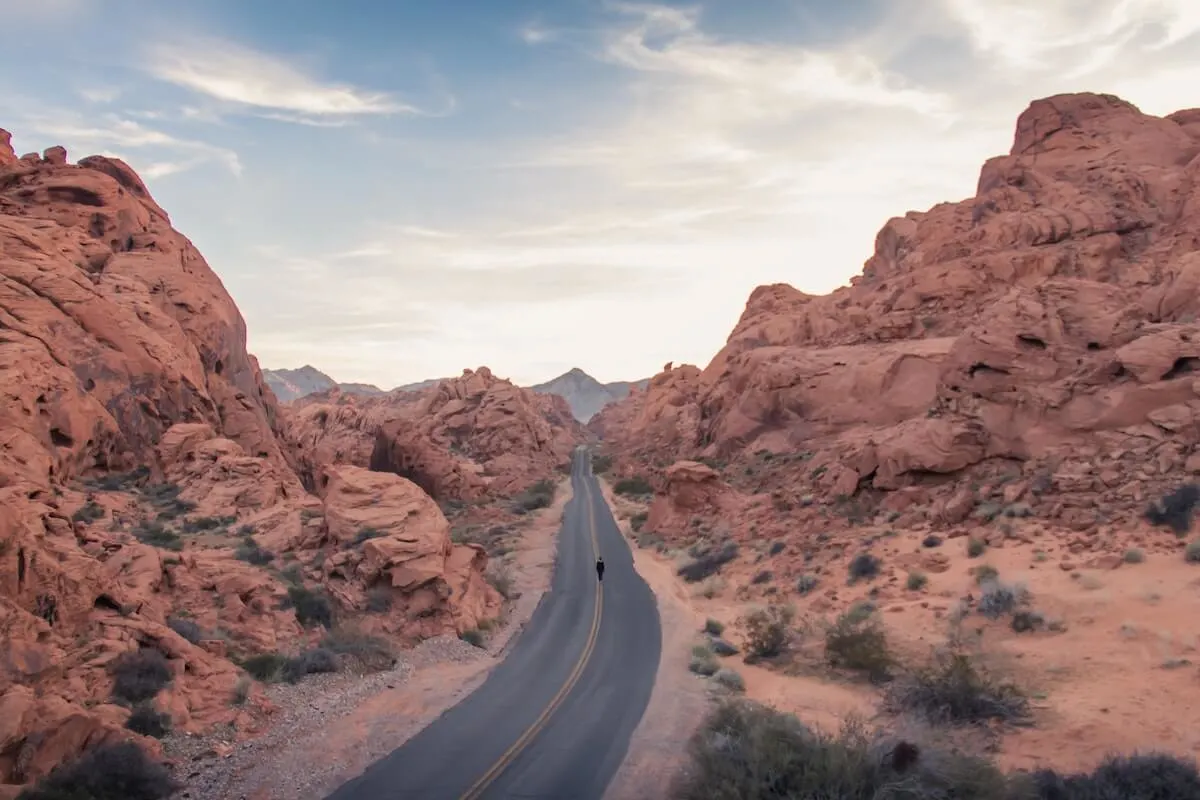 Disclaimer: Almost all posts on this site contain affiliate links, and this one about the 15+ BEST Road Trips from Las Vegas is no different. This means that if you click on any of the links in this post (and make a purchase) I may receive a small commission at absolutely no cost to you. Each post is carefully crafted to (hopefully!) answer all your questions and recommendations are made where we believe they will improve your trip and help with your planning. As such we thank you in advance should you decide to click & buy. Read my full Disclosure here.

What to Know Before Going on a Road Trip from Las Vegas
Located in the desert, Las Vegas and the surrounding areas are known for varying temperatures throughout the day and year. While these destinations are all beautiful year-round, the weather plays a significant role in choosing when to travel and what to pack.
When to Go
During the summer months, it's best to avoid the hottest desert locations located at low elevations. If you visit then, plan more intense activities during the morning and evening hours and plan for scenic drives and swimming during the day.
Fall and spring generally have more moderate temperatures allowing for more physical activities during the day. Surprisingly, many places in the desert are occasionally or frequently hit with snowstorms depending on the elevation which affects road conditions and overall visibility. So stay up to date on weather conditions no matter the season you decide to travel.
Where to Stay
Rent a car and hit the road! If you plan to camp or travel on off-road terrain a vehicle with high clearance is a great idea. If you want to camp with luxuries, move around frequently, and take your home with you wherever you go, your best bet is to rent an RV or campervan from a peer-to-peer RV marketplace in Las Vegas.
If you choose to car camp there are plenty of campsites throughout this region. Some require reservations ahead of time, others are first come first serve; so do your research. Otherwise, choose a hotel or Airbnb at one destination to take day trips from.
What to Pack for a Road Trip from Las Vegas
With the varying temperatures, elevations, and climates throughout this region, solid preparation is important. Always check the weather before you head out on your road trip but here are some general things you should always pack (and you can check out our Road Trip Packing List to make sure you have everything you need for your car!):
Clothing Layers – with changing temperatures you never know what you'll need.
Water – at least one gallon per person per day.
Food – snacks, meals, and extra snacks; you never know if you'll end up lost or in a remote area.
First Aid Kit – MyMedic makes a great one.
Folding Chairs – to relax at a campsite or park.
Hiking Gear – hiking poles, hiking shoes with good traction, a headlamp, knife, and daypack. If you're new to hiking our Hiking Tips for Beginners is a good place to start.
Maps – offline phone maps are great but a paper map as a backup is important to have too.
Sunblock – because you don't want to ruin your trip with sunburn.

The Best Road Trips from Las Vegas
The close proximity of national parks, recreation areas, hot springs and other cities make Las Vegas one of the best cities to road trip form. In any direction you travel, you're sure to hit a beautiful site. Here are some of the best road trip routes and destinations from Las Vegas.
Grand Canyon National Park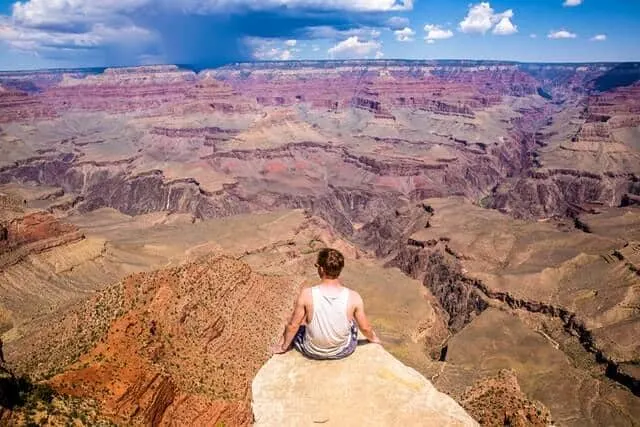 Las Vegas to The Grand Canyon Road Trip Time & Distance:
– T0 Grand Canyon West Rim – 130 miles; approx 2.5 hours (and the location of the Skywalk Canyon Overlook)
– To South Rim – 280 miles (450km); approx 5 hours driving time.
– To North Rim – 270 miles (435km); approx 5 hours driving time.
The Grand Canyon, located in Arizona and formed by the Colorado River, is one of the largest canyons in the world (although not the worlds largest – that's in Tibet!). Spanning 277 miles, 6,000 feet deep at its deepest point, and 18 miles at its widest, the Grand Canyon has impressive sites and vistas unlike anywhere else in the states.
Las Vegas to the Grand Canyon is about a five-hour drive. There are two separately accessed parts of the Grand Canyon; the North Rim and the South Rim. It's important to research what you want to visit because the opposite sides are over four hours from each other.
There are plenty of ways to explore the Grand Canyon. Most people visit the South Rim because of its close proximity to larger cities, easily accessible viewpoints, and more amenities. The South Rim of the Grand Canyon sits at a lower elevation offering impressive views of the canyon and with paved paths along the rim, it's more accessible for all visitors. The South Rim is open year-round as well as restaurants and food courts.
The North Rim of the Grand Canyon is less visited and a better option if you want to escape the summer crowds. However, at a higher elevation, the views are less dramatic. It's still a beautiful spot to visit if you enjoy longer, less accessible trails.
Joshua Tree National Park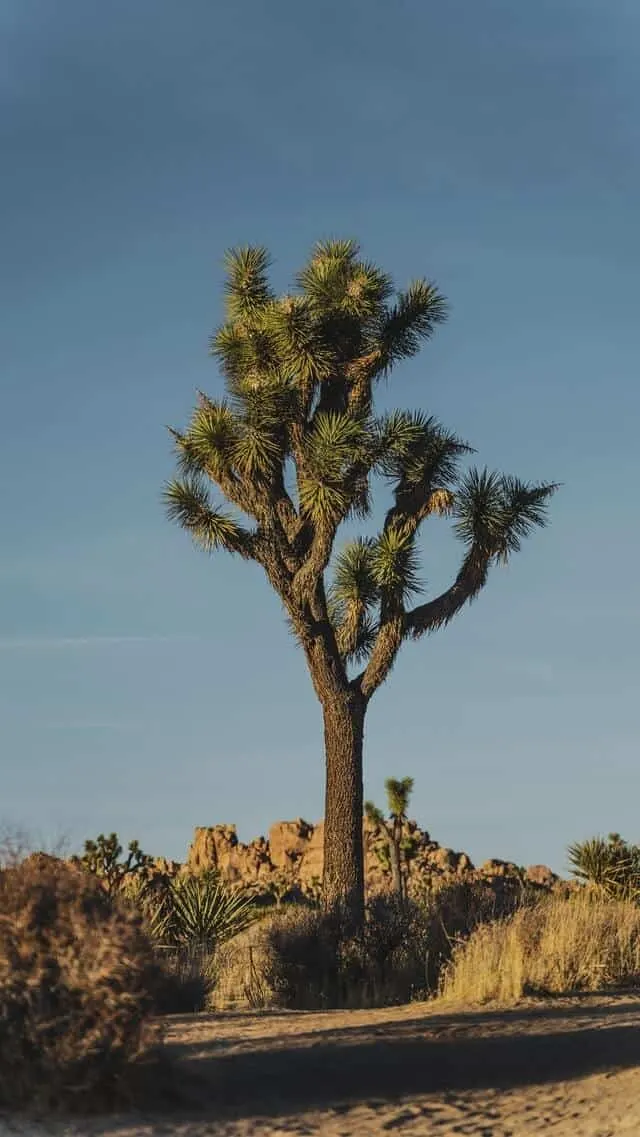 Las Vegas to Joshua Tree National Park Road Trip Time & Distance:
193 miles (310km); approx 3h 15 minutes driving time
Joshua trees, giant boulders, cholla cacti, and rugged mountains are some of the classic wonders that make up Joshua Tree National Park.
Joshua Tree is only three hours from Las Vegas and is the perfect escape from the city lights into a tranquil desert environment. Well known as a destination for rock climbing, amazing hiking trails, and scenic drives, there are ways for everyone to adventure.
For a moderate hike head to Skull Rock or Baker Dam. For a more intense hike, make your way up to Ryan Mountain. If you prefer views from the car, drive up to Keys View for sweeping sites of the desert landscape.
Death Valley National Park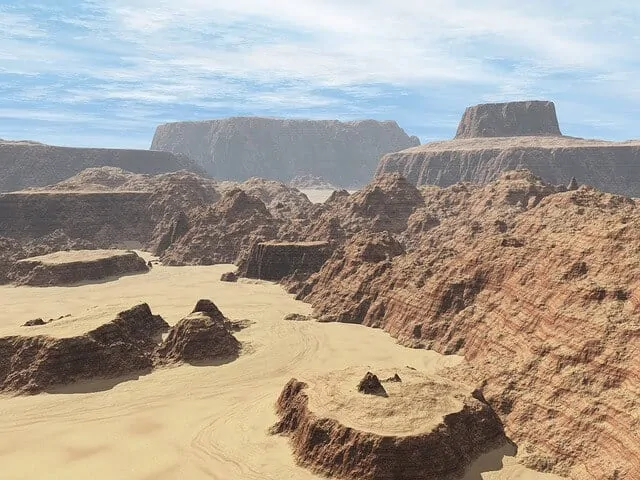 Las Vegas to Death Valley National Park Road Trip Time & Distance:
125 miles (200km); approx 2h 15 minutes driving time
Death Valley is famous for its giant sand dunes, canyons, mountains, badlands, and salt flats, including the Badwater Basin salt flat, the lowest point in North America sitting 282 feet below sea level.
With extreme desert heat in the summertime, it's best to visit Death Valley from November to April, when temperatures are more comfortable. While exploring, look out for bighorn sheep, jackrabbits, desert tortoises, and coyotes.
The park offers plenty of activities including hiking, off-roading, and scenic viewpoints. Drive up to Dantes View for picturesque views of the desert landscape. Hike through Golden Canyon to check out the rock formations. End a day watching the sunset at Zabriskie Point.
With the remote location of Death Valley make sure you fill up on gas ahead of time and carry extra water and food especially during summer. With hot summers and cold winters, spring and fall are the best time to check out this place.
San Francisco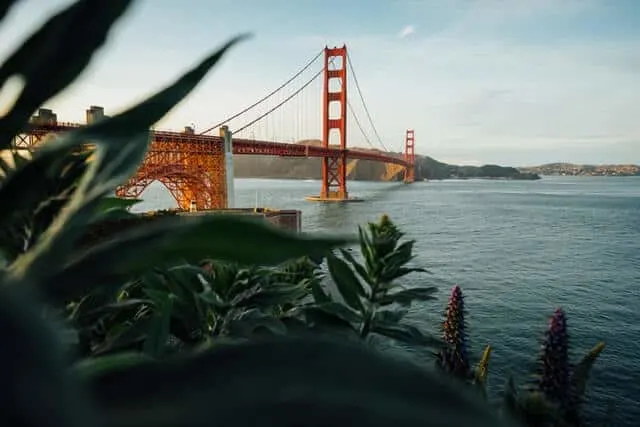 Las Vegas to San Francisco Road Trip Time & Distance:
564 miles (907km); approx 9h 5 minutes driving time
A road trip from Las Vegas to San Francisco is one you won't forget. There are a few route options but the best is the slightly longer option, about a 12-hour scenic drive. You won't be disappointed following this itinerary.
Head northwest out of Vegas and pass through Death Valley National Park. Then make your way north on California's I-395, one of the most impressive highways in the state. Driving through the high desert you'll see impressive views of the Sierra Mountains to your west.
Stop in for a night in Mammoth Lakes, a beautiful town. Ski during the winter and swim and hike during the summer. Then make your way over one of the Sierra's passes, but check road openings first as the high mountain passes are closed throughout the winter and spring for snow.
To end this road trip itinerary check out the city of San Francisco. Then continue north across the Golden Gate Bridge to Napa Valley! It's one of the most famous wine destinations in the US.
Los Angeles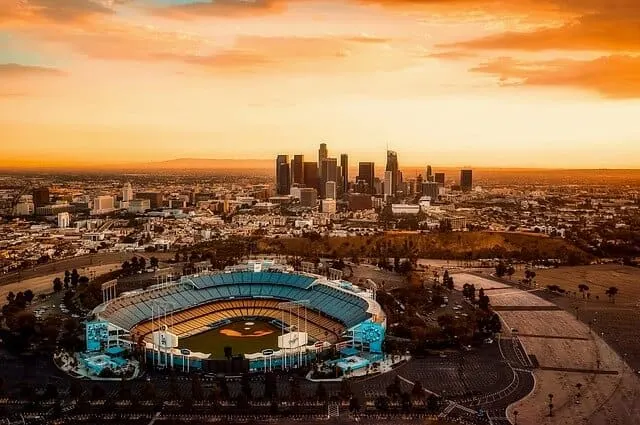 Las Vegas to Los Angeles Road Trip Time & Distance:
265 miles (426km); approx 4 hours driving time
While the shortest distance from Las Vegas to Los Angeles is only about 4 hours add some must-see sights along the way for an even better road trip!
Start heading south on Highway 15. When you're just south of Las Vegas stop by the Seven Magin Mountains by Swiss artist Ugo Rondinone. This public insulation features seven 30-35 foot towers colorful towers where visitors are invited to contemplate desert space with the history of human intervention.
Continuing to Los Angeles you can drive from Las Vegas along the border of the Mojave National Preserve or drive through the park for a more scenic drive with a chance to see Joshua trees, mountains, cacti, and desert wildlife.
As the largest city in California, there are plenty of things to do in Los Angeles. Stroll along Hollywood Boulevard, head to the Santa Monica Pier or check out Universal Studios. You definitely won't get bored!
Zion National Park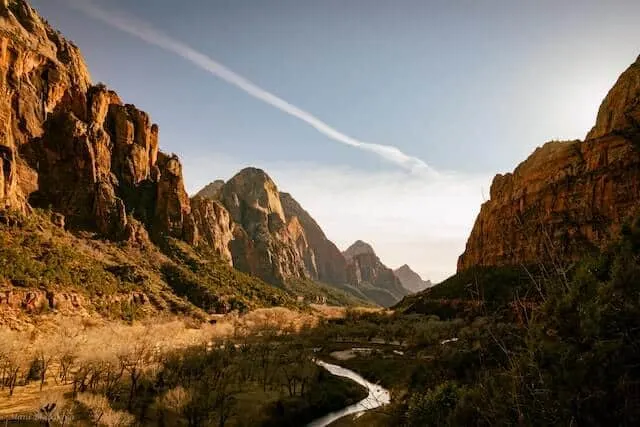 Las Vegas to Zion National Park Road Trip Time & Distance:
164 miles (264km); approx 2h 40 minutes driving time
Just about 2.5 hours north of Las Vegas, Zion National Park Utah is one of the most visited parks in the country and it's understandable why. It's located at the junction of the Mojave Desert, Great Basin, and Colorado Plateau with elevations ranging from 3,666 ft to 8,726 ft. This creates lots of unusual wildlife diversity.
As you head north out of Las Vegas on Route 15 you'll pass through the Virgin River Gorge. The Virgin River flowing through it starts in Zion.
In the park check out scenic viewpoints, wade through the canyon, or go for a hike. There are many ways to explore. Head to the Narrows and get your feet wet as you trek through the Virgin River. Daring hikers should make their way up the switchback trail and across the chains to Angels Landing.
For an additional adventure, add Utah's next closest national park, Bryce Canyon to your road trip itinerary.
Bryce Canyon National Park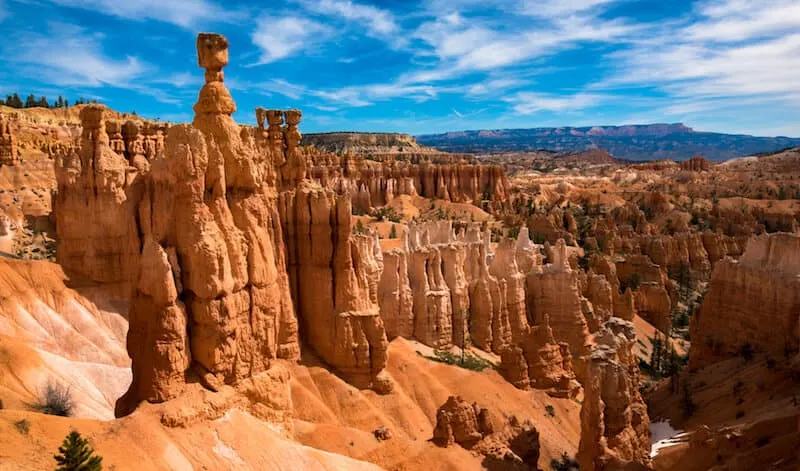 Las Vegas to Bryce Canyon National Park Road Trip Time & Distance:
263 miles (423km); approx 4h 15 minutes driving time
Pink cliffs, red rocks, and impressive vistas make up Bryce Canyon National Park located in southwestern Utah, about a four-hour road trip from Las Vegas.
The park is most famous for its large collection of amphitheaters filled with red, orange, and white geological structures called hoodoos that are formed by stream erosion and frost weathering. It's home to the largest concentration of hoodoos in the world.
Stroll along the rim of the canyon and stop at the Sunrise and Sunset viewpoints. Hike the 8-mile Fairyland Loop to walk among the hoodoo towers. Take the park shuttle to some of the 13 amphitheater viewpoints. Or enjoy horseback rides to all the highlights.
If you're crunched on time it's possible to explore the highlights of this park in a day but the longer you have the more you can dive in! And it's only about two hours from Zion National Park if you wanted to combine the two on your road trip from Las Vegas.
Lake Mead National Recreation Area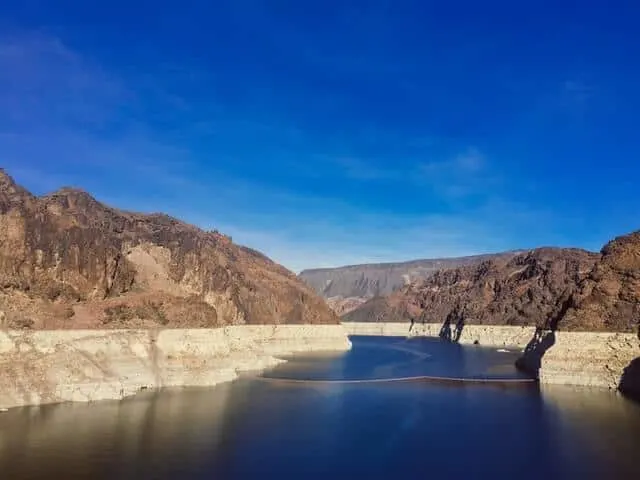 Las Vegas to Lake Mead National Recreation Road Trip Time & Distance:
30 miles (48km); approx 30 minutes driving time
Lake Mead National Recreation Area is the first and largest national recreation area in the US. It includes 1.5 million acres of canyons, valleys, mountains, two large lakes- Lake Mead and Lake Mohave, and the famous concrete arch-gravity dam, the Hoover Dam.
The close proximity of Lake Mead and the Hoover Dam make this area a great road trip destination from Las Vegas with plenty to do.
First, stop by the Hoover Dam. It was constructed from 1931 to 1936 and now provides water and power to parts of Nevada, Arizona, and California. There are many viewpoints, a walkway, and a visitor center worth checking out to learn more about the role and construction of the Hoover Dam.
Swimming, boating, fishing, hunting, biking, and hiking are some of the most popular activities at Lake Mead National Recreation Area. Lake Mead is a large reservoir fed by the Colorado River and was formed because of the construction of the Hoover Dam.
There are over 750 miles of shoreline around Lake Mead to enjoy your day at the beach or take your boat out to a private cove. Boulder Beach is a great public beach option for views and in the summertime, it's an awesome spot to take a dip and cool off.
Valley of Fire State Park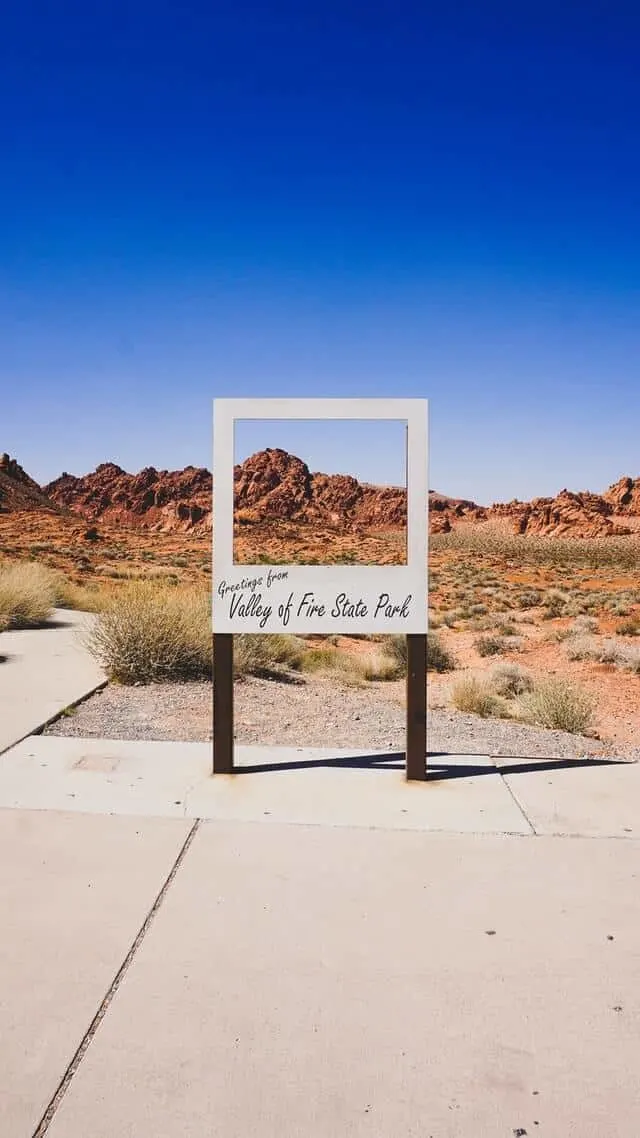 Las Vegas to Valley Of Fire State Park Road Trip Time & Distance:
50 miles (80km); approx 1h driving time
Aztec sandstone, petrified trees, petroglyphs, and bighorn sheep are some of the most famous things of Valley of Fire State Park. This nature preservation and recreation area cover more than 40,000 acres of land with unique ecology, geology, and history of the surrounding region.
Valley of Fire is about 45 minutes from Las Vegas and offers different experiences year-round. Summertime will easily bring the hottest temperatures so plan to hike in the morning or around sunset and drive to viewpoints during the day. Cooler winter temperatures make daytime hikes a great option.
Hike Rainbow Vista or drive Mouse's Tank Road for impressive views of the park. Make sure to follow the speed limit and look out for desert wildlife!
Red Rock Canyon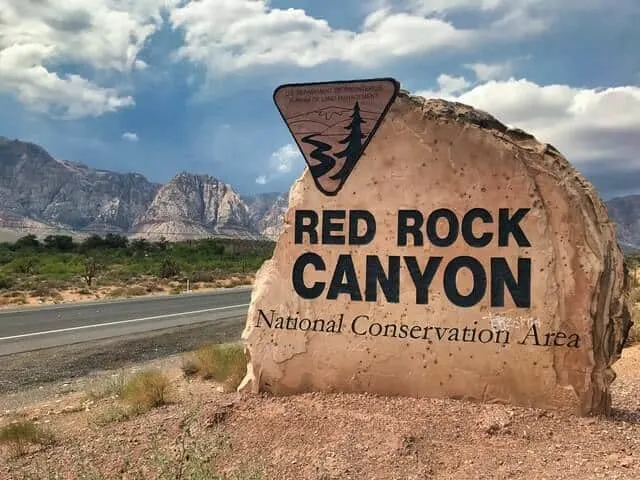 Las Vegas to Red Rock Canyon National Conservation Area Road Trip Time & Distance:
24 miles (38km); approx 30 minutes driving time
Only a short drive 3o minutes east of Las Vegas is Red Rock Canyon National Conservation Area. It's famous for its deep red sandstone rock formations and the unique patterns of swirling stone and spots.
The park loop through the park takes about 30 minutes to drive straight through but you will surely stop for the incredible vistas. Red Rock Canyon is home to plenty of hiking trails including some fun scrambling through Calico 1 & 2 and Box Canyon. It's also popular to cycle the scenic, one-way road through the park or go rock climbing!
Such a close distance to Las Vegas it's one of the places you can't miss when visiting but check online for reservations because the park gets busy during the high season from fall to spring!
Sedona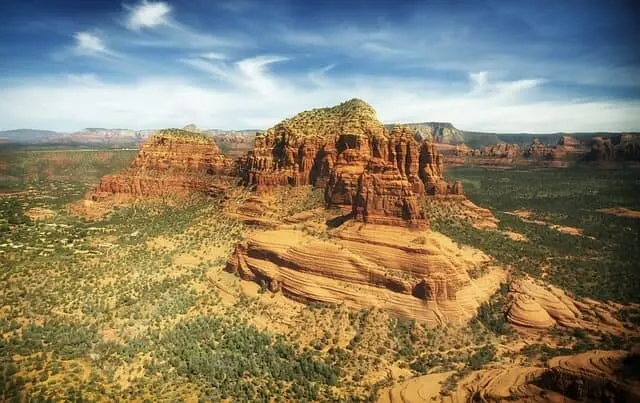 Las Vegas to Sedona Road Trip Time & Distance:
281 miles (452km); approx 4h 45 minutes driving time from Las Vegas

The beautiful city of Sedona is another one of the best road trips from Las Vegas. Add this beautiful outdoorsy Arizona city to your next road trip.
Known as a sacred healing spiritual vortex, whether you are spiritual or not, you are sure to feel some kind of special presence here. The deep red sandstone and beautiful views across the Arizona landscape make this a very impressive place.
Make your way up the short, steep hike up Cathedral Rock for incredible views overlooking the red rocks of Sedona and the surrounding national forests. Hike out at Devils Bridge for a famous sandstone arch bridge formation.
The town of Sedona is very cute filled with shops, art galleries, and restaurants and many tourism outfitters offer outdoor adventure trips based out of downtown.
San Diego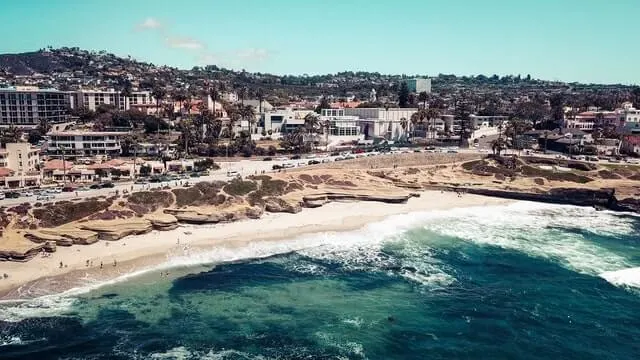 Las Vegas to San Diego Road Trip Time & Distance:
327 miles (526km); approx 5-6 hours driving time
With 70 miles of coastal beaches, beautiful parks, and a warm Meddeterian climate year-round, San Diego is a charming city to visit in California, and perfect for a romantic getaway. A road trip from Las Vegas takes 5 to 6 hours following the I15, depending on your route.
If you have extra time enjoy the road trip. Drive through Mojave National Preserve and if you're a fan of cities spend a could days in Palm Springs. This city is famous for its golf courses, spas, luxury hotels, vintage boutiques, and fine restaurants. It is a good midpoint between the cities.
With so many options in San Diego, don't miss the La Jolla Cove tidepools, Torrey Pines Natural Reserve, and Balboa Park. Also, stop in at one of over 150 breweries for some tasty craft beer to end your day.
6 More Road Trips from Las Vegas (In case you're not inspired yet!)
Las Vegas to Mount Charleston (42 Miles / 50 minutes) – a cute mountain town, perfect for getting out into nature.
Las Vegas to Nelson Ghost Town (48 miles / 1 hour) – just past Henderson and Before Boulder City take a right (south) on 95 South and visit this old Gold Mining town now loved by photographers & music video producers alike!
Las Vegas to Lake Havasu (155 miles / 2.5 hours) – visit the famous London Bridge or get out on the lake for some watersports!
Las Vegas to Grand Staircase-Escalante National Monument (217 miles / 3.5 hours) – and while you are there be sure to add on a visit to Vermilion Cliffs National Monument, Lake Powell and Antelope Canyons (an extra 1-hour drive)
Las Vegas to Salt Lake City (450 miles / 6.5 hours) – home to the 2002 winter Olympics, Salt Lake City is loved by skiers and snowboarders.
Las Vegas to Yosemite Valley (558 miles / 10 hours) – this one is a biggie so we recommend adding in a few stops along the way; namely Sequoia National Forest or Sequoia National Park (to wander among the Giant Sequoia Trees), Kings Canyon National Park, and the Sierra National Forrest before arriving at Yosemite National Park.
Road Trips from Las Vegas: Final Thoughts
With so many beautiful places located around Las Vegas make sure you get out of Sin City and explore the natural wonders of the desert! With activities for all types of adventurers, there is something for everyone. It's rare you'll drive more than an hour without stopping to take photos of the impressive sites!
We hope this guide to 10 Best Road Trips from Las Vegas has been a huge help planning your trip, and if you know of anyone else that needs a little bit of inspiration or assistance in planning their trip to Vegas (and surrounds), please be sure to share on social media: Facebook, Flipboard, Twitter or grab one of the images from below for Pinterest. And remember – sharing is charing (and we thank you in advance!)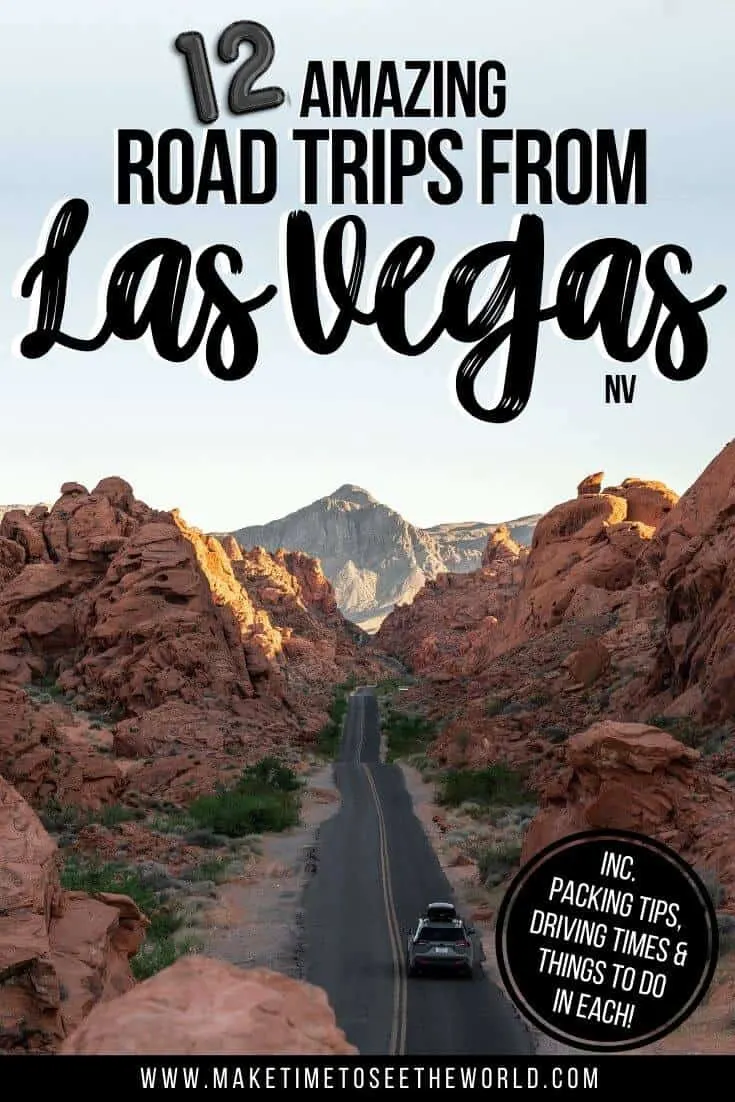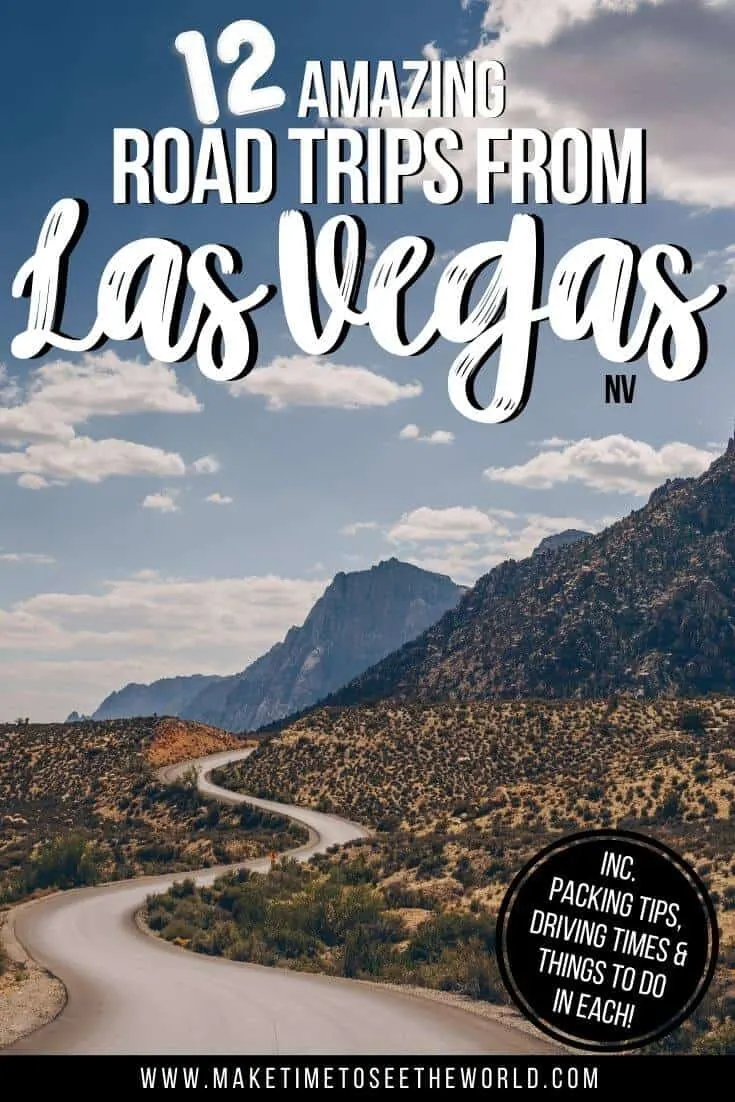 READY MORE USA TRAVEL INSPIRATION? YOU MIGHT BE INTERESTED IN THESE TRAVEL TIPS, TRAVEL ARTICLES, DESTINATION GUIDES, TRAVELER RESOURCES AND RELATED POSTS ABOUT OTHER AMAZING CITIES IN NORTH AMERICA:

Hi There! Thanks for reading our guide to the 15+ BEST Road Trips from Las Vegas. I just wanted to let you know that this post contains affiliate links, which means if you purchase something after clicking a link, I may get a small commission – which is at absolutely no cost to you. If you enjoyed this article and are going to be searching for some of the things I mention anyway, I would love it if you could click through from the links above & thank you in advance! Read my full Disclosure here.
And a huge Thank You for reading the MakeTimeToSeeTheWorld travel blog.