Nantucket is a beautiful little island off the coast of Massachusetts. There are so many fun things to do in Nantucket, and to help you have a great trip we have put together the perfect 3-day itinerary. AND It's written by a local so you know it will make sure you not only hit all the highlights, but see some special, secret spots too!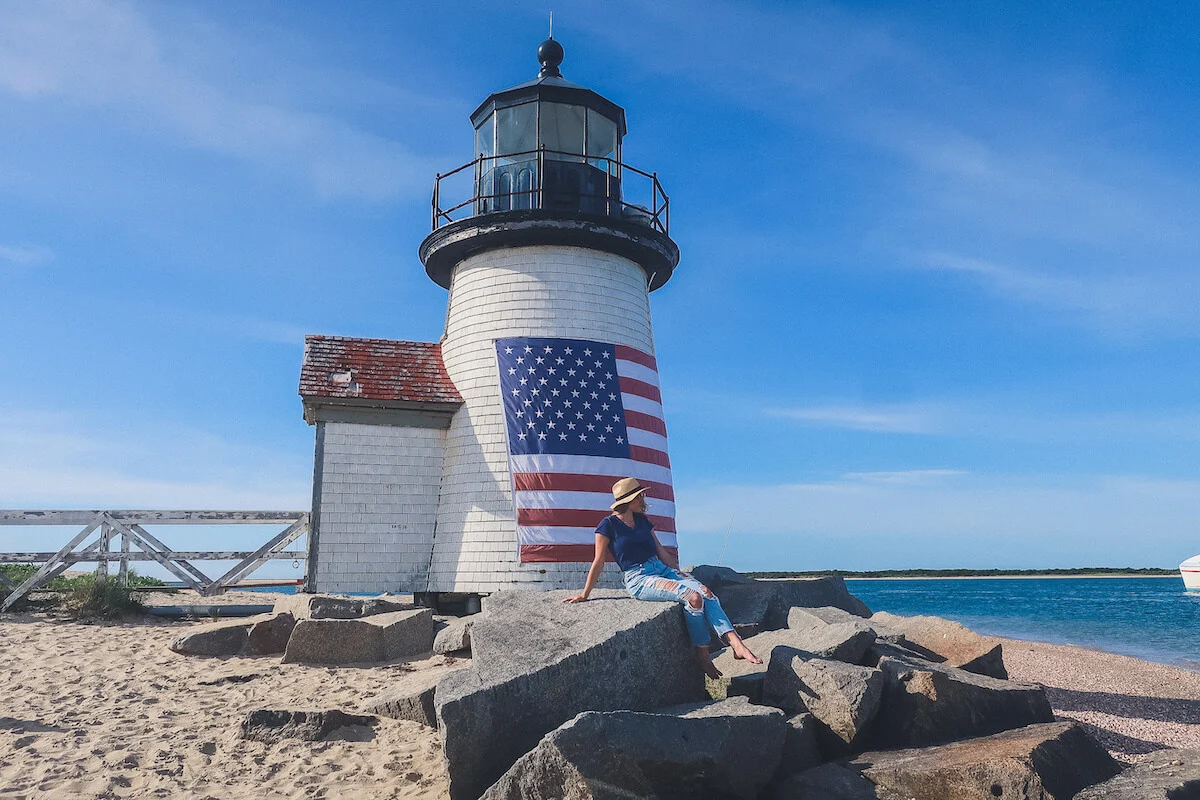 Disclaimer: Almost all posts on this site contain affiliate links, and this one about the Top Things to do in Nantucket (inc. A Perfect 3 Day Itinerary) is no different. This means that if you click on any of the links in this post (and make a purchase) I may receive a small commission at absolutely no cost to you. Each post is carefully crafted to (hopefully!) answer all your questions and recommendations are made where we believe they will improve your trip and help with your planning. As such we thank you in advance should you decide to click & buy. Read my full disclosure here.
GENERAL TRAVEL INFO FOR VISITORS TO THE USA
Visa: Travelers from countries that are members of the Visa Waiver Program (ESTA) do not require a visa when visiting the USA. However, it is recommended to check up-to-date visa entry requirements before your visit regardless of what country you are coming from to avoid issues and concerns on the date of your travel.
Currency: The official currency in New York is the U.S. dollar or American dollar ($, USD, US$).
You can withdraw currency from ATMs using your local bank card or a designated travel card. If you are visiting from another country, be sure to check any fees and charges from your bank prior to using it and carry a second source of payment/cash in case your primary card gets 'eaten' by an ATM.
Language: English is the primary and most widely spoken language in the USA (although not the official one at Federal level!). There are 350 other languages spoken, the main ones being Spanish, Chinese, French, and Vietnamese.
WiFi/Internet Access: Depending on your length of stay, you can either purchase a local sim card (in advance or on arrival) – to swap out with the one in your own phone to avoid roaming charges. OR, grab a pay as you go portable Wifi Devices which means you can keep your sim active and connect wirelessly. Just remember to turn off data roaming so you don't incur any hefty charges.
Nantucket Travel Tips
How To Get To Nantucket
Nantucket is easily accessible by ferry. You can get to Nantucket in an hour from the port of Hyannis on Cape Cod in Massachusetts. There is also a ferry from New York that gets you to Nantucket. If you'd prefer to fly in, Nantucket also have a small airport that services domestic flights.
The Best Time To Visit Nantucket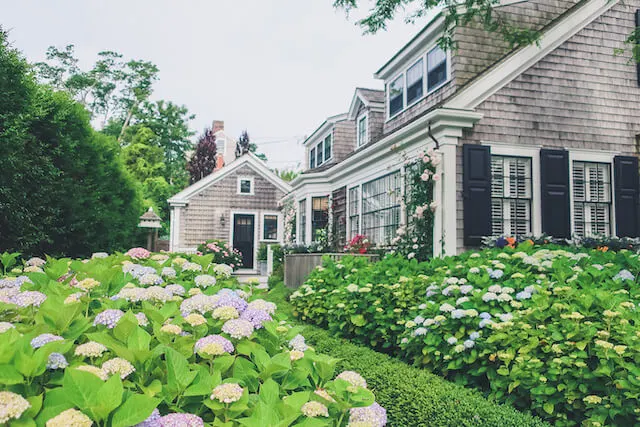 The best time to visit Nantucket is the summer months. This is vacation season in Nantucket, and it's also when most of the restaurants open. Visiting in summer also ensures that you'll be able to take advantage of the local beaches & view the stunning flowers while they are in full bloom.
Nantucket has a very distinct architectural style. All the homes are charming cottages with weathered grey shingles. Many of them are million-dollar homes, as Nantucket tends to be a high-end destination.
One noteworthy feature of Nantucket homes is landscaping. Especially, roses! Nantucket homeowners adorn their beautiful residences with gorgeous flowers – often the roses grow along the outer facades of homes.
Besides landscaping, Nantucket homes have another unique feature – they have names! You will find a nameplate on most Nantucket homes. The home's name is particular to the owner. Usually, they share a personal family story, history or namesake. Many of them are quite quirky and cute.
For all these reasons, this tiny American island is a favorite for romantic getaways in summer. It's a great place to slow down and unwind.
Where to Stay in Nantucket
In Nantucket, there's a huge Inn culture. Bed and breakfasts dominate the accommodation game. It's homey America at it's best. Many of these residences are historic, so they don't have the typical hotel setup. The more affordable accommodations in Nantucket often have a shared bathroom situation. So, this is important to look out for.
Budget – The Anchor Inn is an excellent budget-friendly inn. It's housed in the historic early 19th Century home of a whaling captain.
Mid Range – The Regatta Inn is a wonderful bed and breakfast in downtown Nantucket. It's complete with modern furnishings & luxurious amenities that you'd want.
Luxury – An excellent luxury accommodation in Nantucket is the White Elephant. The White Elephant is located in downtown, steps from bars, restaurants, and shopping.
The Wauwinet is another excellent option for luxury travelers. It may be Nantucket's most glamorous resort-style hotel. It's located in a more secluded part of the island. This is where the Obama family stayed when they visited Nantucket.
Where to Eat In Nantucket
View this post on Instagram
15+ Top Things to do in Nantucket (The Quick List)
Rent a Bike and Cycle around the Island
Hike: Alter Rock, Tupancy Links
Head to the Beach: Steps Beach, Jettie's Beach, Galley Beach, Lightship Beach, Madaket Beach
Wander the cobblestone streets of Downtown
Shop at cute, quirky, vintage and boutique shops on Main Street
Photograph the Mural at the Ralph Lauren Store
Tour the Lighthouses: Brand Point Lighthouse, Sankaty Head Lighthouse, Great Point Lighthouse
Nantucket Whaling Museum
Sconset Bluff Walk
Nantucket Anatheum
Nantucket Shipwreck and Lifesaving museum
Coskata-Coatue Wildlife Refuge
Stargazing at Loines Observatory
Gaze at the yachts in Nantucket Harbor (and join a sailing excursion or boat tour to get a closer look!)
Visit the Old Mill
Bartletts Farm
Go Dream Home Spotting (practically anywhere on the Island!)
Soak up some history at the 'Oldest House,' the Quaker Meeting House, Hadwen House and the Thomas Macy House (the Natucket Historical Association have a range of well kept properties that they maintain across the island)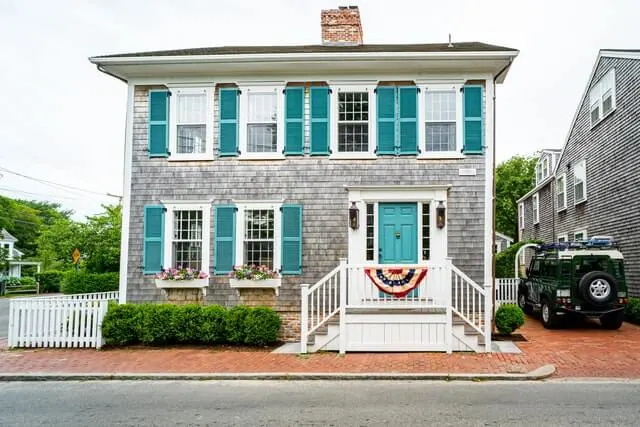 A Perfect 3 Day Itinerary ft. All The Best Things to do in Nantucket
On day 1 in Nantucket, you'll bike around the island and shop in downtown. On day 2 in Nantucket, you'll visit the whaling museums and check out the Sconset Bluff Walk. Finally, on day 3 in Nantucket, you'll hunt for lighthouses and try local brews. Use this Nantucket Tourist Map for navigation and driving directions on the island.
Day 1
Day 1 in Nantucket includes a scenic bike ride with your choice of hiking or beachgoing. You'll eat lunch at a local favorite lunch spot and then spend the afternoon exploring Nantucket's downtown neighborhood. Finally, you'll sit down to a formal dinner, and you may consider dancing afterwards.
Morning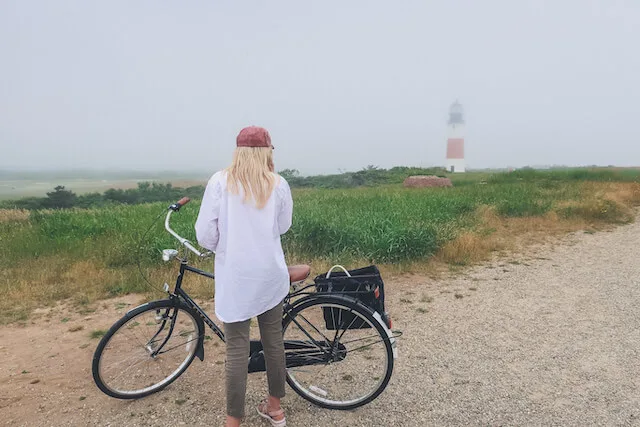 You can start your morning off right with breakfast at your Inn. Eat light, so you can grab a pastry at Born & Bread: Mercantile and Bakery.
Nantucket is a small island. So, you can get around pretty easily by bike. You should rent a bike from the Nantucket Bike Shop. This place is located in downtown, so you'll most likely be able to walk there easily from your accommodation. Also, they have excellent service.
PRO TIP: Ask for a bike with a basket! This is perfect for holding a small backpack and other accessories.
There are many different places you can bike to on the island. If you're feeling like hiking, consider biking to Altar Rock. This is the highest point on the island, and there are some gentle (but sandy) trails to explore. You'll also find some native wildflowers along the path.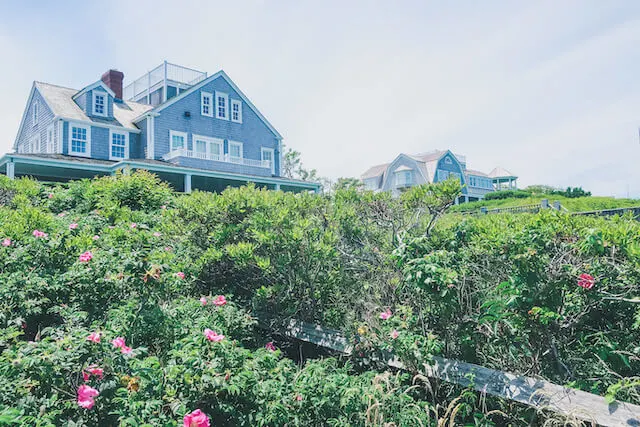 Another option is to bike to Steps Beach. This is the most beautiful beach in Nantucket! It has a very scenic wooden staircase that leads down to an oasis of white sands. Along the route to the beach, you'll get panoramic views of the prime real estate nearby.
Near Jettie's Beach, you'll find one of Nantucket's most iconic restaurants. Galley Beach is an excellent spot to grab cocktails while enjoying spectacular views of the ocean. It's a relaxed, yet sophisticated beachside establishment that doesn't disappoint.
PRO TIP: Ask your innkeeper for beach chairs and towels. Most of them provide these to guests at no additional charge.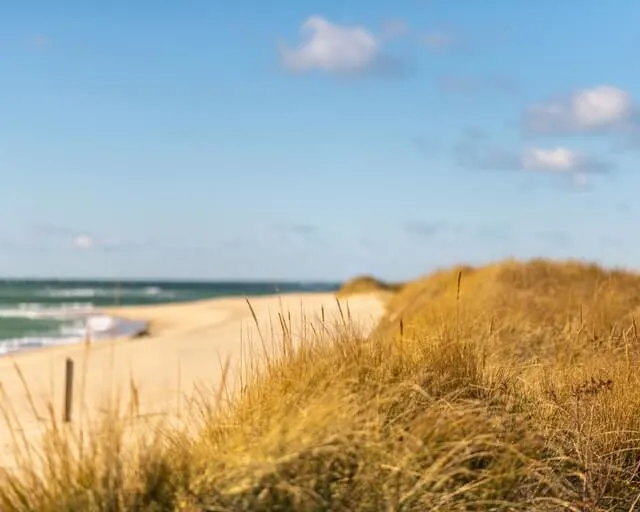 Afternoon / Evening
Grab lunch at Something Natural. It's a 10-15 minute walk from downtown, but well worth it! This is a local favorite. It's a casual place with spacious outdoor picnic table seating. Something Natural makes all their bread fresh in house. They also have a health-focused menu.
Spend the afternoon of your first day in Nantucket walking around downtown. The charming cobblestone streets are lined with many cute boutique shops and great restaurants. Here are some recommended shops:
Hepburn
Faherty Brand
Crane & Lion
Gypsy
L'll De France – French General Store
Milly & Grace
Ambrosia Chocolate & Spices
Lemon & Line
Green Eyed Dasy
Blue Beetle
Olivela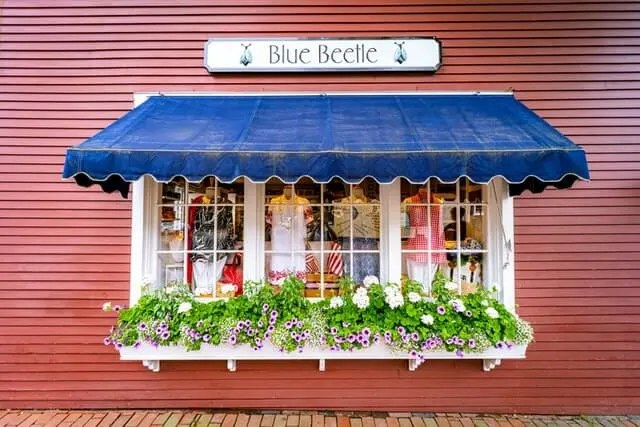 Make sure to stop by the Ralph Lauren store. On the side of the Ralph Lauren store, there's a beautiful compass mural. It's one of the most instagrammable places in Nantucket. You have to snap a photo here!
Also, if you like dessert before breakfast, you'll have to stop at Aunt Leah's Fudge or Jack + Charlies Ice Cream. Depending on when you finish dinner, these shops may close beforehand. These are the best places to find sweet treats on the island.
For dinner, you've got to dine at Cru. Cru is one of the most famous restaurants in Nantucket. It's located on a pier in downtown. So, during dinner, you'll be able to look out onto the multi-million-dollar yachts chillin' nearby.
Cru has a stunning outdoor patio. It's breezy and beachy. This is a perfect place to watch the sunset while you sip on craft cocktails and dine on freshly caught seafood. It's one of Nantucket's best restaurants, and it's where everyone goes to see and be seen.
If you're looking for some fun and dancing after this formal dinner, make sure to head to the Chicken Box.
Day 2
On Day 2, you'll explore some of Nantucket's best lighthouses and explore the legendary whaling museum (run by the Nantucket Historical Association). You'll also enjoy the Sconset Bluff Walk & dine at a historic restaurant.
Morning
The best breakfast in Nantucket is at Black Eyed Suzan's. So, even if your Inn offers a complimentary one, you should skip it and check them out!
Start your lighthouse tour of Nantucket by walking to the Lighthouse tour of the island – walk to Brant Point Lighthouse. It's only 10 minutes walking from downtown.
This lighthouse had it's origin when the whaling industry was booming in the 18th Century. Brant Point Light was also the second lighthouse established in colonial America. So, that's pretty cool. It has destroyed and rebuilt several times since it was first established, but it's story and history live in infamy.
Next, you'll want to visit the Nantucket Whaling Museum. This is a great place to learn about the history of whaling in Nantucket, and how this history helped the little island flourish and gain prestige. It artfully documents Nantucket's history over 4 centuries.
Another great spot to check out in downtown Nantucket is the Atheneum. The Nantucket Atheneum is the island's library, but it has a really unique history. The building makes the National Register of Historic Places, and it has plenty of cool art and artifacts to discover.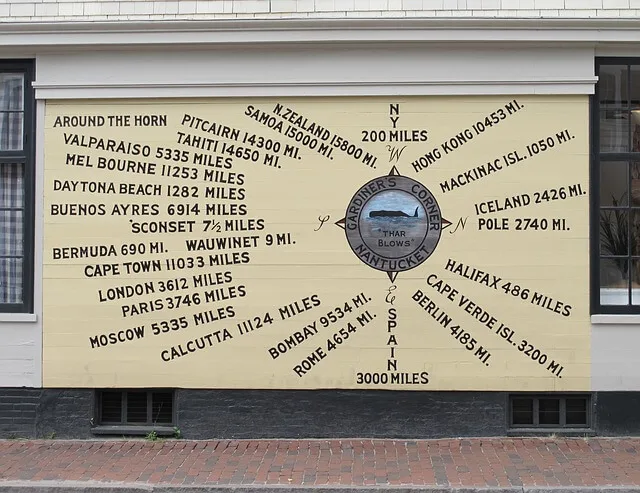 If you are feeling sentimental, you can grab some postcards at a shop on Main Street and send them off at the USPS on Federal Street. And be sure to take a peek at Nantucket's Compass Rose at the corner of Main and Washington and see just how far those postcards can travel!
Afternoon / Evening
This is a night to get all dolled up! The Sconset Bluff Walk is one of the essential things to do in Nantucket. It's one of the most beautiful places on the island.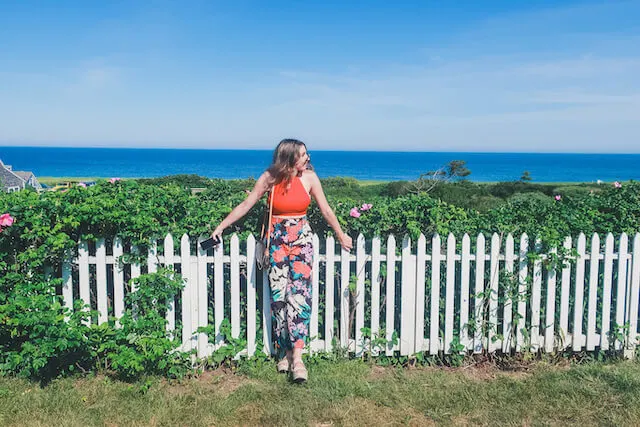 You may want to call a cab to get the Sconset if you're staying in downtown Nantucket. It's a 15-20-minute drive. Once you get to Sconset, it's pretty easy to find. During the walk, you'll pass by tiny seaside cottages. Many have beautiful roses and sweeping American flags. This is quintessential America and the Sconset Bluff Walk is one of the best outdoor activities in Nantucket!
PRO TIP: Call Roger's Taxi. Locals have told me that Ubers on the island are sketchy. Keep in mind, there's a $500 ferry charge to bring your car over to Nantucket. Hotel prices are very high. I've heard rumors that Ubers tend to sleep and live out of their cars on the island.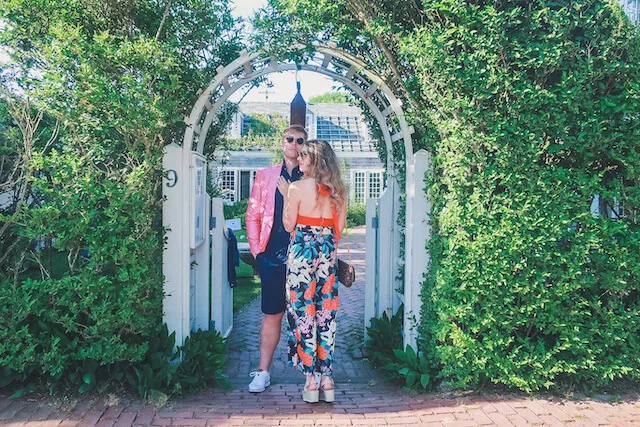 Have dinner at the Chanticleer Restaurant after you've enjoyed the Sconset Bluff Walk. Their outdoor garden is exquisite. It's definitely one of the most romantic restaurants on the island. Craft cocktails will impress, and the service is next-level. The Chanticleer serves seasonal menus designed to feature locally sourced ingredients and fresh organic produce.
If the weather is clear, you can plan to catch one of the regularly scheduled stargazing nights at the Loines Observatory. These are led by astronomers and community members. It is a fun lesser-known activity to do on Nantucket.
Day 3
On day 3 in Nantucket you'll visit the Sankaty Head Lighthouse and Great Point Lighthouse. You'll also eat at two classic Nantucket Restaurants.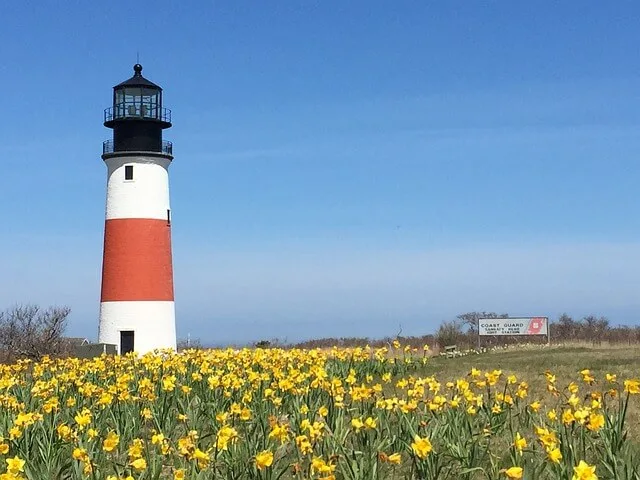 Morning
Stop by Parc for some fresh coffee, or grab fresh juice at the Juice Bar in downtown Nantucket before you hit the road. For your last day in Nantucket, you'll want to rent a jeep. That's the only way to get to the Great Point Lighthouse.
Although, you can stop by the Sankaty Head Lighthouse first. Sankaty Head Light is pretty cute. It has a white body with a bold red stripe. When it's open, guests can climb to the top for panoramic views of the island.
To get to Great Point Lighthouse, you need a jeep with 2 permits. The first permit is a standard off-roading permit. This allows your jeep to ride on many beaches on the island. The second permit is specifically for the Coskata-Coatue Wildlife Refuge, so that you can drive to the lighthouse.
The first permit needs to be on your rental car. Most rental companies on the island provide this. The second permit can be purchased additionally at the entrance to the Wildlife Refuge, near the Wauwinet Hotel.
This is one of the most adventurous things to do on Nantucket island!
Afternoon / Evening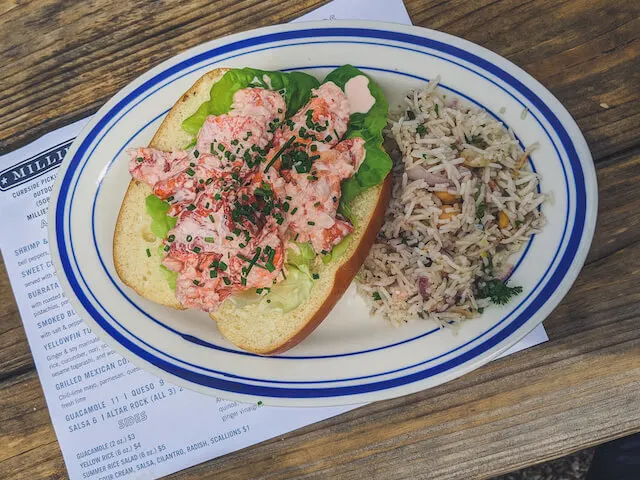 After you've concluded your morning of dune bashing and lighthouse hunting, head to Millie's Restaurant for lunch. Then, head to Cisco Brewers for drinks. If you are pressed for time, skip Millie's and head straight to Cisco because this is where a lot of food trucks hang out.
If you have more free time in the afternoon, you can check out the Old Mill or Bartlett's Farm. Nantucket's Old Mill was built in the 1700s. Other interesting historic properties include the 'Oldest House,' the Quaker Meeting House, Hadwen House Nantucket and the Thomas Macy House. The Thomas Macy House is an awesome 19th Century period museum where you'll find authentic furniture, china and other neat artifacts.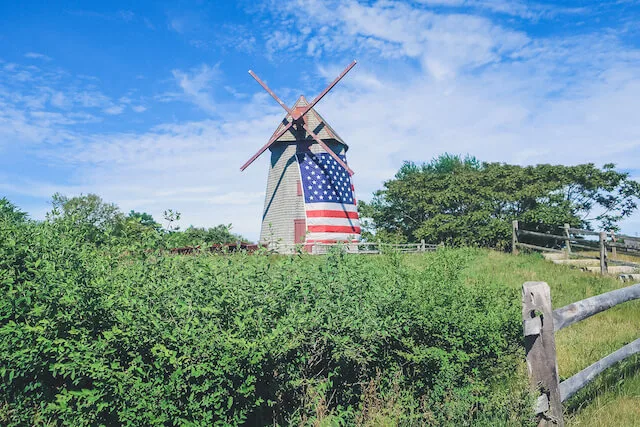 Head to Dune for dinner. Like many other restaurants in Nantucket, you'll want to make sure to secure reservations well in advance. The restaurants listed in this itinerary are in especially high demand.
Nantucket is an Island with something for everyone and it's a relaxing up-scale haven in summer. There are plenty of places to get away from the tourist route and into the serenity of the desert surrounding the city. Once you visit, you may find you don't want to leave.
We hope this guide to the Best Things to do in Nantucket MA has been helpful in trip planning for your Nantucket vacation. And if you know of anyone else that needs a little bit of inspiration or assistance in planning their escape to Nantucket Massachusetts, please be sure to share on social media: Facebook, Flipboard, Twitter or grab one of the images from below for Pinterest. Remember – sharing is caring (and we thank you in advance!)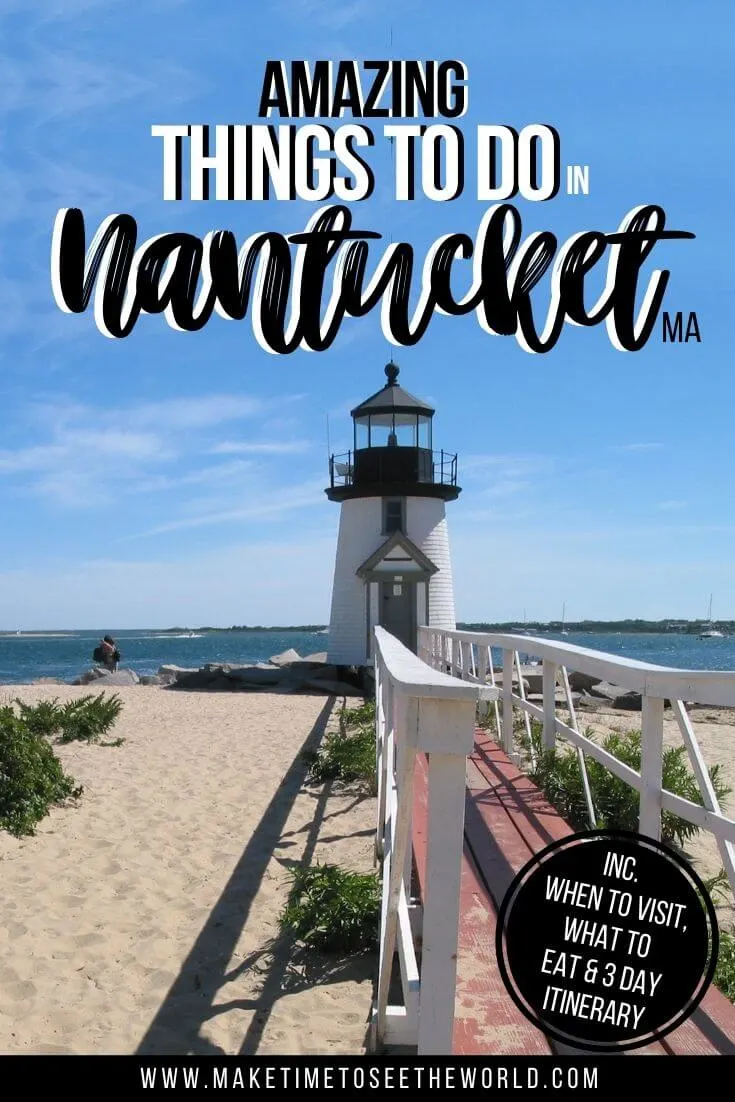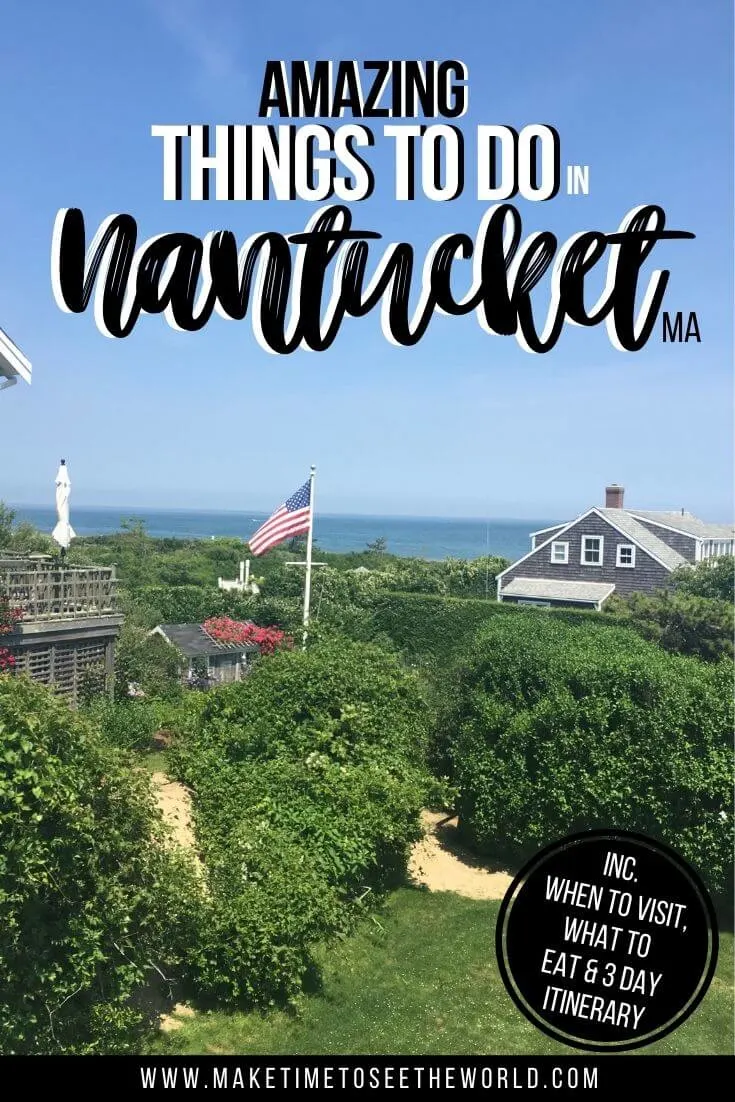 READY MORE USA TRAVEL INSPIRATION? YOU MIGHT BE INTERESTED IN THESE TRAVEL TIPS, TRAVEL ARTICLES, DESTINATION GUIDES, TRAVELER RESOURCES AND RELATED POSTS ABOUT OTHER AMAZING CITIES IN NORTH AMERICA:

Hi There! Thanks for reading our travel guide to the 15+ TOP Things to do in Nantucket Massachusetts – A Complete 3 Day Itinerary (Perfect for First-Time Visitors!) I just wanted to let you know that this post contains affiliate links, which means if you purchase something after clicking a link, I may get a small commission – which is at absolutely no cost to you. If you enjoyed this article and are going to be searching for some of the things I mention anyway, I would love it if you could click through from the links above & thank you in advance! Read my full Disclosure here.
And a huge Thank You for reading the MakeTimeToSeeTheWorld travel blog.