The ULTIMATE One Day in Seattle Itinerary: Unveil iconic landmarks, vibrant neighborhoods, and local flavors! (written by a local!)
Seattle is a fantastic city located on the West Coast of Washington State. Many people love to visit for the scenery, coffee, famous landmarks, and more.
Suppose you only visit for 24 hours and are worried about not having enough time to explore. As someone who has been to Seattle many times, I can attest that you can cover much ground exploring one day in the city and Seattle worth is definitely worth visiting – even if you are short on time!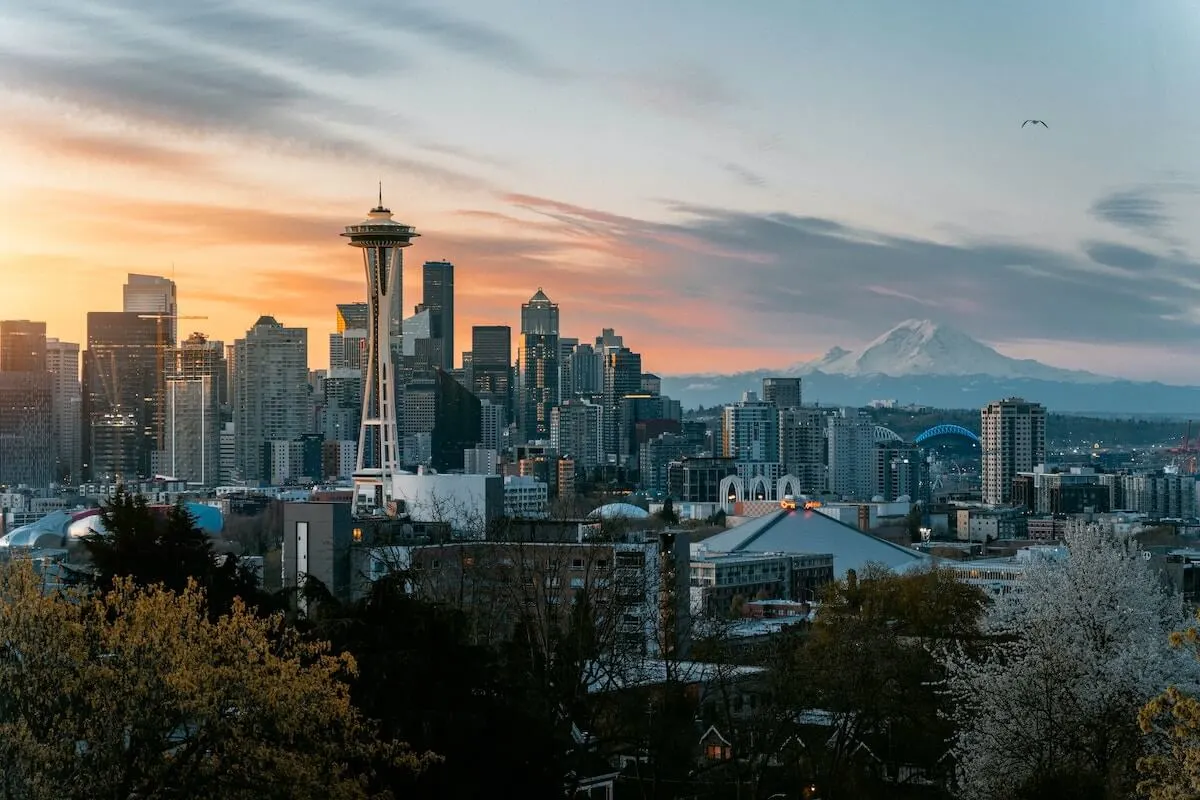 Disclaimer: Almost all posts on this site contain Affiliate links, and this one about all the Perfect One Day in Seattle Itinerary is no different. This means that if you click on any of the links in this post (and make a purchase) I may receive a small commission at absolutely no cost to you. Each post is carefully crafted to (hopefully!) answer all your questions and recommendations are made where we believe they will improve your trip and help with your planning. As such we thank you in advance should you decide to click & buy. Read my full Disclosure here.

GENERAL TRAVEL INFO FOR VISITORS TO THE USA
Visa: Travelers from countries that are members of the Visa Waiver Program (ESTA) do not require a visa when visiting the USA. However, it is recommended to check up-to-date visa entry requirements before your visit regardless of what country you are coming from to avoid issues and concerns on the date of your travel.
Currency: The official currency in Washington DC is the U.S. dollar or American dollar ($, USD, US$).
You can withdraw currency from ATMs using your local bank card or a designated travel card. If you are visiting from another country, be sure to check any fees and charges from your bank prior to using it and carry a second source of payment/cash in case your primary card gets 'eaten' by an ATM.
Language: English is the primary and most widely spoken language in the USA (although not the official one at the Federal level!) There are 350 other languages spoken, the main ones being Spanish, Chinese, French, and Vietnamese.
WiFi/Internet Access: Depending on your length of stay, you can either purchase a local sim card (in advance or on arrival) – to swap out with the one in your own phone to avoid roaming charges. OR, grab a pay as you go portable Wifi Devices which means you can keep your sim active and connect wirelessly. Just remember to turn off data roaming so you don't incur any hefty charges.
Seattle Tips for First-Time Visitors
How To Get To Seattle
These are all the ways that you can get to Seattle. Depending on where you are visiting from, these are the options.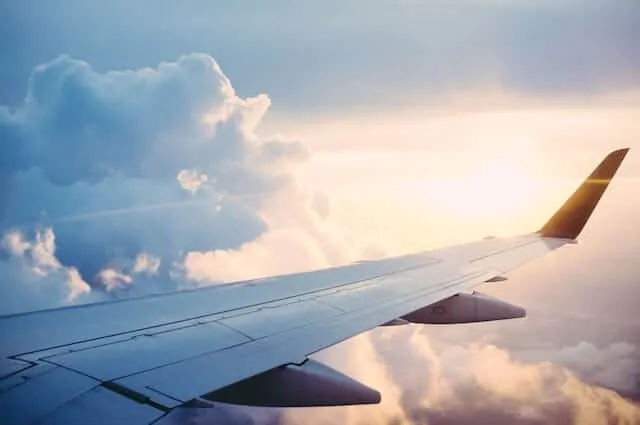 Flying
Flying to Seattle is the most straightforward when you are coming from out of the country. The Seattle-Tacoma International Airport (SEA or Sea-Tac) is the main airport you want to use.
By Car
When visiting Seattle, one of the best ways is by car. Suppose you have trouble trying to find parking. A trick (use Spot Hero) is to use one of the parkade buildings by T-Mobile Park and Lumen Field and have a parking spot for the day. It was easy to do when we watched a baseball game and wandered around Downtown Seattle afterward, you will have to walk a fair distance, but it was worth it.
Since you are visiting Seattle for a day, your next adventure could be exploring the city of Vancouver in Canada. Many people like to take a Seattle to Vancouver road trip and vice versa for the day up to the Canadian city because it is easy to get to, especially for sporting events. You will need your passports to cross the United States and Canada Border.
Train (Amtrak)
Another way of getting to Seattle is by train. The Amtrak Train runs almost everywhere in the United States, where popular stops run through the Pacific Northwest, California, Midwest, and Northeast. Although it is a longer way of getting to Seattle, it is another option and a beautiful option because it is close to the coast.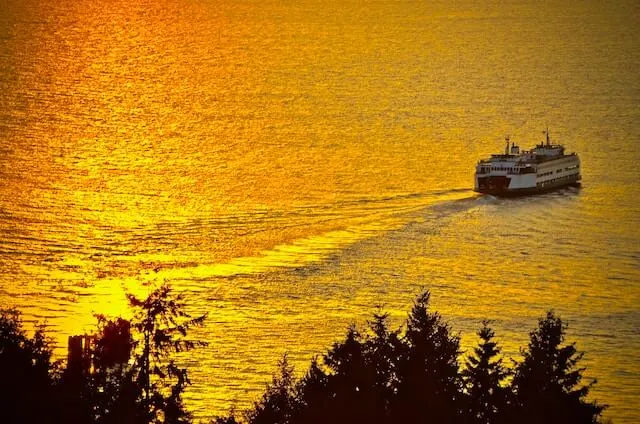 Clipper Ferry
Suppose you are visiting from Victoria, British Columbia, to Seattle. In that case, the FRS Clipper Ferry can be another transportation option to Seattle. Now I want to warn you it is an expensive ferry for a two-hour and 45-minute one-way or round-trip ride. However, if you want to splurge on trying something different than flying or driving, by all means, it is a unique way to get to Seattle.
However, if you decide to take the FRS Clipper to Seattle from Victoria, in that case, you will need your passport because you will be passing through the Canadian and United States Border.
Best Time To Visit Seattle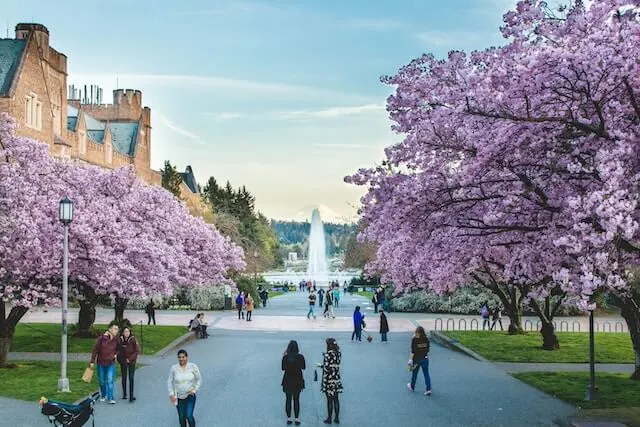 Seattle Washington is more or less a city that you can visit year-round. It is primarily personal preference when deciding when you want to go or what you are specifically going to go for.
Visiting during the off-season or shoulder season, which is October to April. It is better in terms of fewer people, and accommodation prices tend to be lower compared to the high tourist season.
However, the high tourist season from May to September will have better weather and be drier. But prices for accommodations will be more expensive.
Packing & Planning Tips for One Day in Seattle Washington
Here are a few packing and planning tips to help you explore Seattle in one day.
Pre-Book Attractions (+ Get Skip the Line Tickets!)
One of the best ways to make a day trip easier is to make a reservation in advance. Some locations are popular (like the ones linked below!), so buying tickets the day of or at the information booth or front desk may not have any tickets available.
Bring a Rain Jacket & Proper Shoes
Seattle is known to get some rain throughout the year, especially during the fall and winter. Pack a rain jacket and wear proper shoes as you will be walking around a lot.
Buy an ORCA Pass
If you plan on not driving around Seattle for the one day that you are there, you can opt to buy an ORCA Pass. Using an ORCA Pass is the way to get around using the local Seattle transit.
If you plan to revisit Seattle, you can reuse them, as it is a reusable and reloadable card. You can download the app to use your credit card to reload the pass.
Where To Stay In Seattle For One Night
Here are a few options for where to stay in Seattle for one night. Seattle's downtown area is the best option if you spend one night in Seattle, and you will be closer to all the essential amenities.
Four Seasons Hotel Seattle
The Four Seasons Hotel in Seattle is in an excellent location in Downtown Seattle. It is one block from Pike Place Market, the Seattle Art Museum, and other top tourist destinations. Of course, a Four Seasons Hotel has luxurious accommodations and amenities like an outdoor infinity pool, requested turndown services, a full-service spa, and more.
Hyatt Regency Seattle
Outside the Belltown neighborhood, the Hyatt Regency Seattle is another excellent hotel for one night in Seattle. If you are traveling for business, the Hyatt Regency is one block away from The Conference Center at the Washington State Convention Center and the Seattle Convention Center Arch. The hotel is within walking distance of local tourist locations.
The Paramount Hotel
If you are visiting Seattle on a budget, The Paramount Hotel is an excellent option for not breaking the bank on your one-night stay. It is near the Convention Centers, as well as other tourist locations. Also, the hotel is highly rated for its comfortable beds.
One Day in Seattle Itinerary: Things To do
Stop 1: Starbucks Reserve Seattle Roastery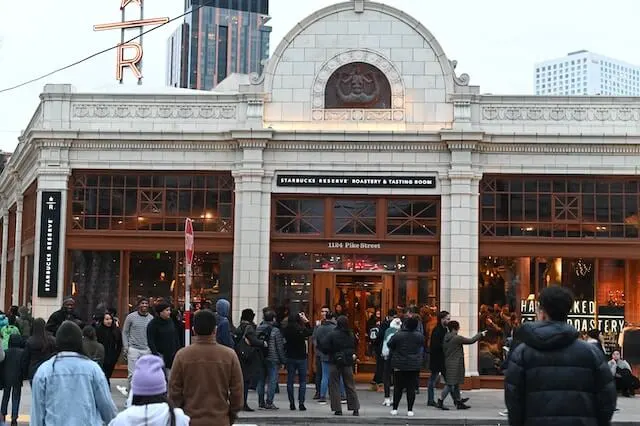 First things first, before any journey of the day, grab a coffee. But Pro tip, instead of waiting in the hours-long lineup that also wraps around the block for the first-ever Starbucks shop, check out the Starbucks Reserve Seattle Roastery instead.
While visiting the original Starbucks store is like any other Starbucks, except they only serve drinks, the Starbucks Reserve Seattle Roastery pushes its creative boundaries to create unique roasts while mixologists experiment with coffee.
Stop 2: MoPOP – Seattle Museum of Pop Culture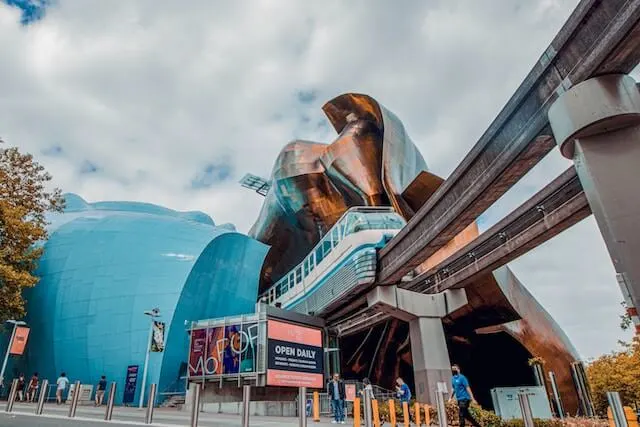 MoPOP, or the Seattle Museum of Pop Culture, is one of the world's best and most immersive pop culture museums. The MoPOP takes you to the behind-the-scenes of your favorite movies, television shows, music, and everything in between by immersive exhibitions and artifacts.
Stop 3: Space Needle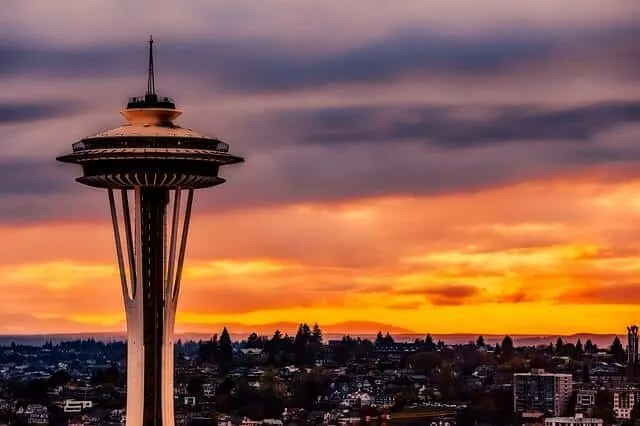 One of Seattle's most iconic and famous landmarks, the Space Needle, is beside the Seattle Museum of Pop Culture. It was built for the 1962 World Fair Exposition-themed "The Age of Space."
Today it is one of the world's most photographed structures at 605 feet (184 metres). The Space Needle offers visitors a floor-to-glass-ceiling 360-degree panoramic view of Seattle and the below structures.
Stop 4: Belltown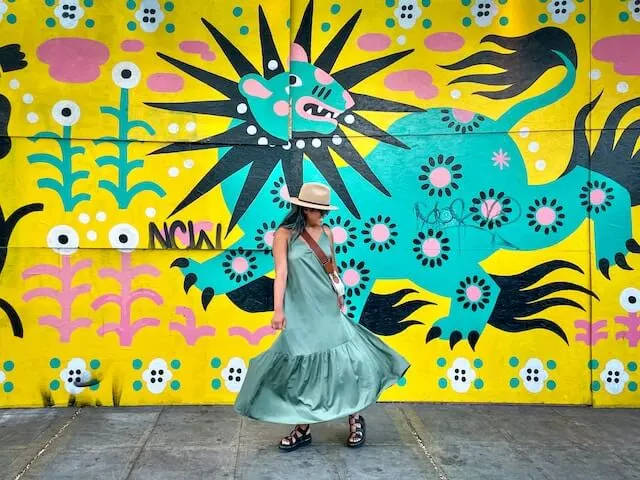 Belltown is a neighborhood in Seattle with high-rise condos, boutiques, restaurants and bars, cafes, and more. It is an excellent place to enjoy happy hour, grab lunch, or dinner.
The award-winning Olympic Sculpture Park also resides in Belltown. It is a Z-shaped park considered an off-shoot of the Seattle Art Museum (SAM) with numerous sculptures along the waterfront.
Belltown is also where the FRS Clipper ferry is located, so if you are looking for another way to get to Victoria, British Columbia or San Juan Island.
Stop 5: Pike Place Market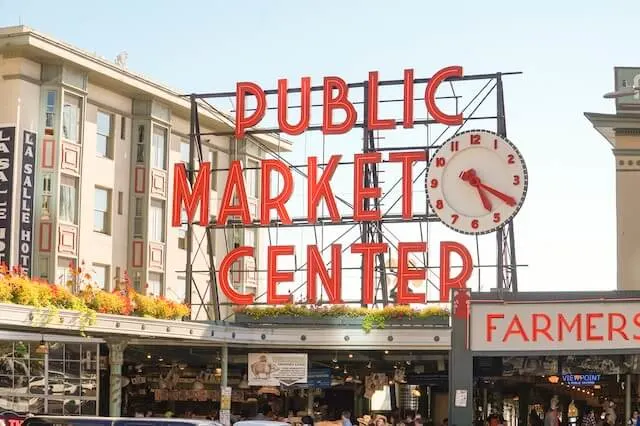 Another one of Seattle's top tourist spots is Pike Place Market. One of the United States' oldest and largest operating farmers markets, Pike Place has many locally sourced artisans and specialty foods. Remember to check out the downstairs area with more small local businesses.
Many popular locations and stores exist, such as the Gum Wall in Post Alley below the Pike Place Market. There is also a stall where you can buy hundreds of fresh-cut flowers from Yang Farm, a family-owned business.
They often come in bouquets and bunches. There are also dried flowers that you can purchase in bouquets and bunches or dried wreaths during the holiday season.
Stop 6: Watch A Sports Game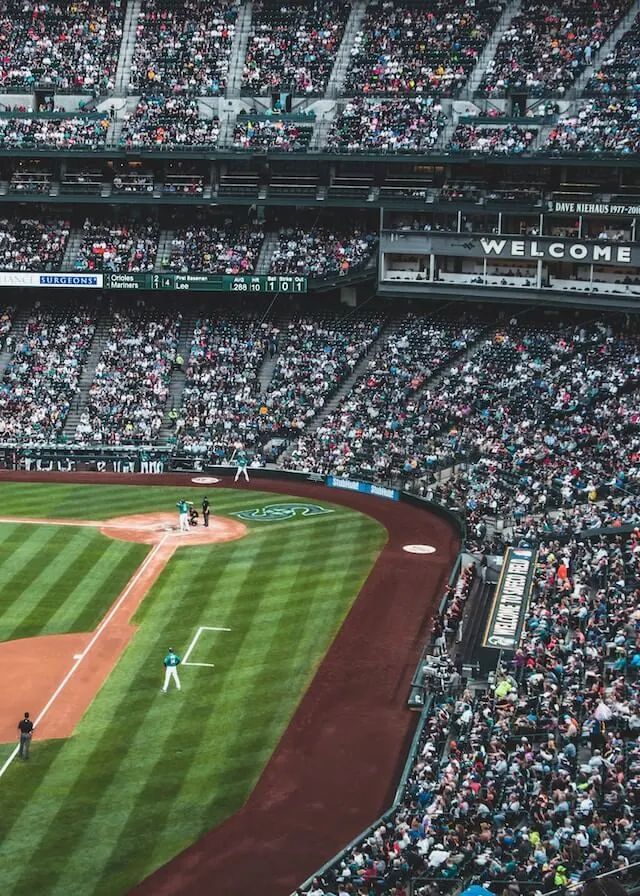 Seattle has a dedicated and large fan base for their professional sports leagues. Catching a sports game is fun during the evenings when most tourist things are closed for the day.
Baseball, the Seattle Mariners, has cheap tickets depending on where you are sitting, and the food can also be inexpensive. The Seattle Seahawks football team is always fun to watch if you can catch a game during the season, especially during playoffs.
And the newest team to Seattle, the Seattle Kraken, the professional ice hockey team, is always an excellent option to stay indoors if you are visiting during the winter months.
And, of course, the Seattle Sounders soccer team. If you want to get into the game, stay near the Sounders, the Emerald City Supporters 90 minutes of non-stop chanting and singing.
Extra Things to Consider Adding to your 1 Day in Seattle Itinerary
These are some add-on locations to your list in case you have more time during your single day stay in Seattle, or could be swapped out with our suggestions above to build your own perfect itinerary.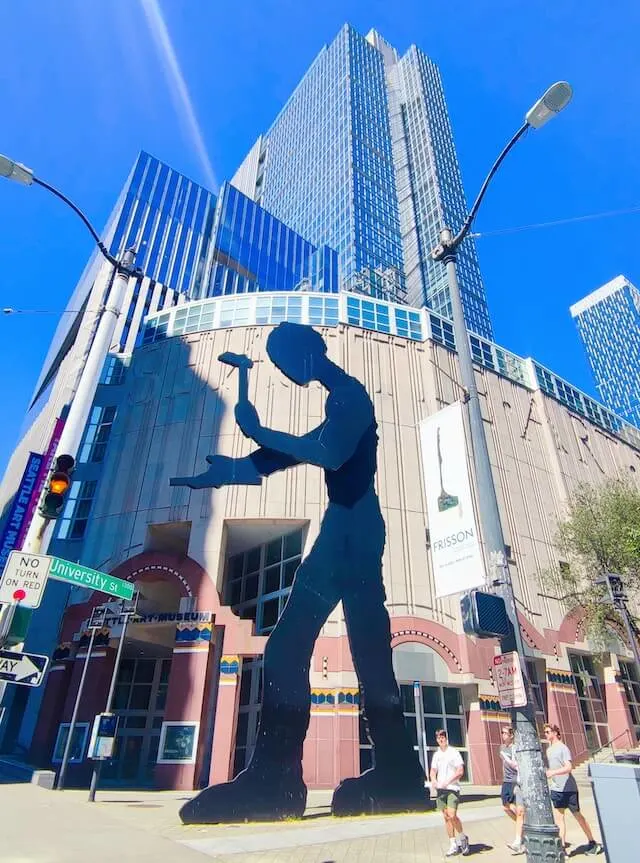 Seattle Art Museum (SAM): Explore the Seattle Art Museum in Downtown Seattle with its collections, special exhibits, and temporary installations from many different cultures worldwide.
Chihuly Garden and Glass: The captivating garden incorporates beautiful displays of hand-blown glass placed throughout the gardens and on display.
Capitol Hill: Capitol Hill is one of Seattle's most popular nightlife and entertainment districts. It has many hip bars and restaurants and is also home to the Pride community.
Fremont Troll: In the Fremont neighborhood lies a troll sculpture clutching a Volkswagon Beetle under the George Washington Memorial Bridge (or the Aurora Bridge).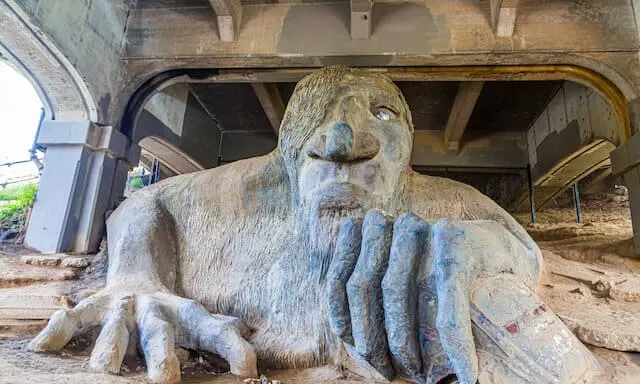 Seattle Aquarium: An excellent place for everyone to learn about marine life conservation, better understand our oceans, and learn about all the animals and mammals living or being rescued and rehabilitated at the aquarium.
Woodland Park Zoo: If you are traveling with children, the Woodland Park Zoo would be a fantastic stop. 15 minutes outside of Downtown Seattle, you and your family can explore the 92-acre zoo with almost 300 species that call it home. The zoo focuses on wildlife conservation and promotes making conservation a priority.
Interesting Facts About Seattle
Seattle is known a the "Emerald City" for its surroundings of lush green scenery, which piggybacks on to Washington States' moniker "The Evergreen State." In addition, while the city is surrounded by lush greenery, it is also surrounded by water, which in turn, Seattle houses the largest houseboat population in the world.
Another interesting fact about Seattle is that it is home to two of the largest floating bridges in the world, the Hood Canal Floating Bridge and the Evergreen Point Floating Bridge, also known as the 520 Bridge or officially the Governor Albert D. Rosellini Bridge.
Specifically, the Evergreen Point Floating Bridge was built because the lake bed is too soft for any conventional bridge. If they had made a suspended bridge, it would have cost too much to be built.
The famous Seattle Space Needle's initial idea was unlike the typical planning design route with engineers and contractors. It was designed in a hotel café on a napkin! In 1959 Edward E. Carlson, a Seattle hotel executive chief organizer for the 1962 World Fair, was inspired by a broadcast tower featuring a restaurant in Germany.
And that's a wrap. With these essential travel tips and top things to do, you're well-prepared to plan the perfect one day in Seattle itinerary. Whether you're basking in panoramic views, exploring famous markets, or immersing yourself in history and culture, Seattle offers a diverse range of experiences for first-time visitors. If you know of anyone planning a trip to Seattle, please share this travel guide with them!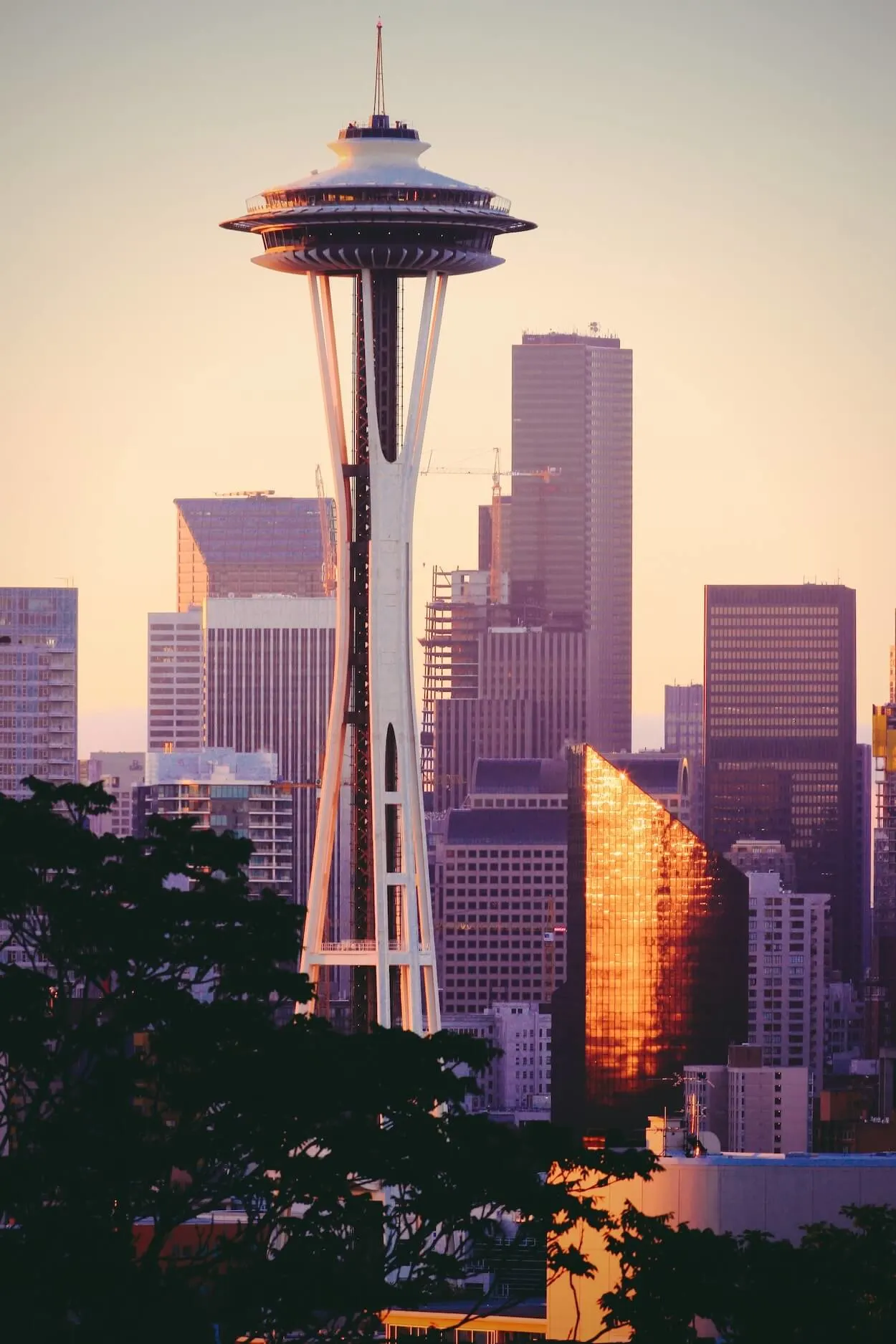 READY FOR MORE USA TRAVEL INSPIRATION? YOU MIGHT BE INTERESTED IN THESE TRAVEL TIPS, TRAVEL ARTICLES, DESTINATION GUIDES, TRAVELER RESOURCES AND RELATED POSTS ABOUT OTHER AMAZING CITIES IN NORTH AMERICA:
Hi There! Thanks for reading Perfect One Day in Seattle Itinerary + Tips (from a Local) and Seattle Travel Planner. I just wanted to let you know that this post contains affiliate links, which means if you purchase something after clicking a link, I may get a small commission – which is at absolutely no cost to you. If you enjoyed this article and are going to be searching for some of the things I mention anyway, I would love it if you could click through from the links above & thank you in advance! Read my full Disclosure here.
And a huge Thank You for reading the MakeTimeToSeeTheWorld travel blog.