From Milos to Sifnos, Mykonos to Santorini (and more), explore the 7 Best Greek islands for couples for romance, relaxation, and sightseeing!
Are you in search of the perfect destination for a romantic holiday with your significant other? Look no further! My partner and I just returned from a magical vacation in Greece!
Those turquoise waters, breathtaking views, and rich history is home to some of the most romantic destinations in the world.
Greece is the perfect place for couples that love the sun and sand, delicious traditional Greek food, and ancient sites. Not only is Greece the birthplace of Western civilization but also a place where love thrives.
Imagine taking a boat trip to the small island of Symi, where the pastel-colored buildings reflect the gorgeous beaches and white cliffs. Or perhaps a visit to Serifos, a hidden gem that offers quaint Greek villages, perfect for romantic walks and quality time.
How about Sifnos, known for its unspoiled beauty and incredible cuisine? It is the perfect island for foodies! Then there is Crete, the largest island, which has loads of UNESCO World Heritage sites and pristine beaches.
Last but not least are the 2 islands you might have been expecting Santorini and Mykonos. Undoubtedly two of the most popular Greek islands, offering a unique blend of luxury hotels, beach clubs, and the best restaurants for a spectacular romantic vacation.
Whether it's the caldera view of Santorini, the bustling Mykonos town, or the moon beach of Milos, each of these beautiful islands provides the right place for an unforgettable getaway.
These Greek islands truly have something for everyone! If you are active couples might enjoy outdoor activities, including water sports and wine tasting, or simply bask on the red beach.
The time to visit these islands is key, so we will go over the ideal time to book and what you can expect on each island.
The goal of this post is to help you decide which of these romantic Greek islands is perfect for you and your significant other and thus give them the title of being the best Greek Islands for couples!
Come and explore these seven romantic Greek islands: Sifnos, Serifos, Symi, Crete, Santorini, Mykonos, and Milos. They are undoubtedly the best places to strengthen your connection and create lasting memories.
Whether it's the stunning natural landscapes, ancient Greek charm, or the extraordinary sunsets, there's a good reason these islands are listed among the most romantic places in the world.
Start planning your Greek escape now, and embrace the love and enchantment that awaits.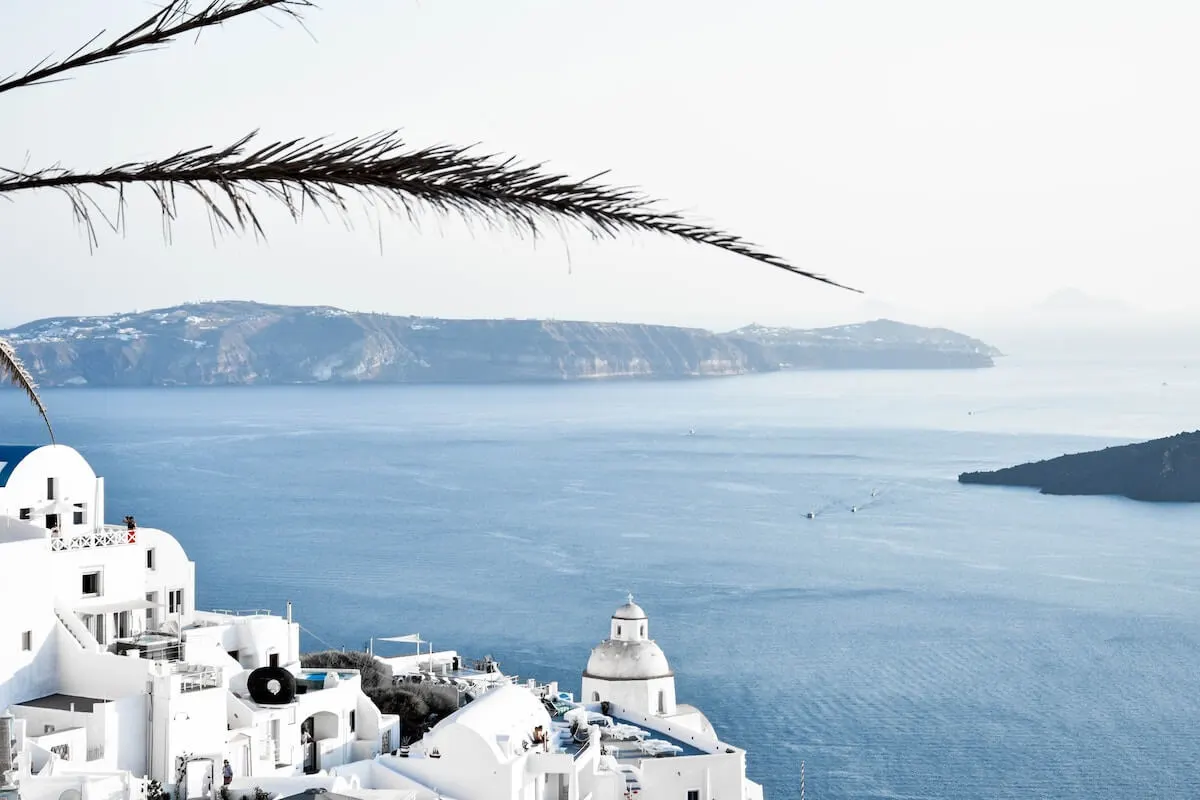 Disclaimer: Almost all posts on this site contain affiliate links, and this one about the best Greek Islands for couples is no different. This means that if you click on any of the links in this travel guide (and make a purchase) I may receive a small commission at absolutely no cost to you. This post is carefully crafted to (hopefully!) answer all your questions and recommendations are made where we believe they will improve your trip and help with your planning. As such we thank you in advance should you decide to click & buy. Read my full Disclosure here.
Symi: The Gem of the Aegean Sea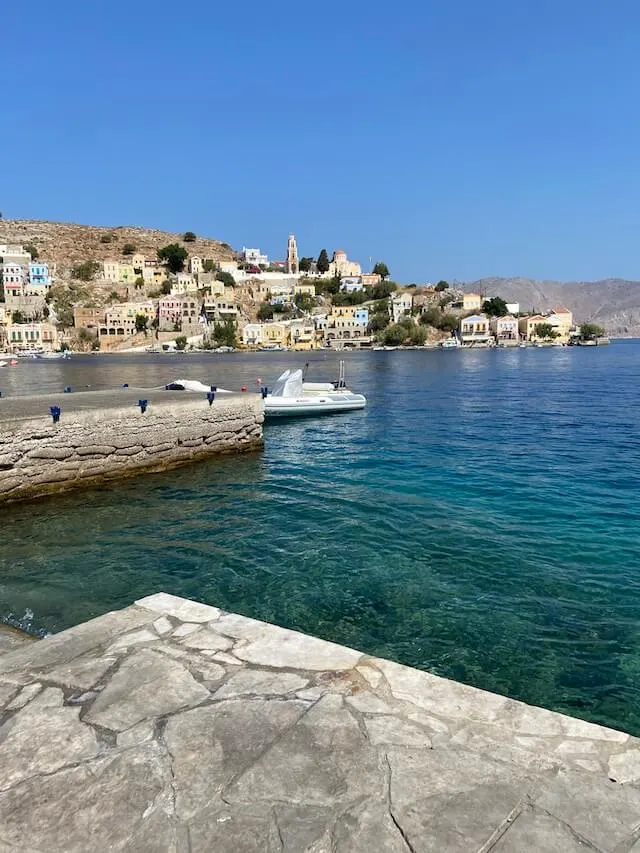 One of the most romantic Greek Islands we have ever been to is nestled in the sparkling waters near Rhodes Town. Symi is located just a 90-minute ferry ride from exciting Rhodes!
This tiny island is truly a great place for romance, boasting some of the most incredible views and romantic sunsets that Greece has to offer. Check out the Pantelis Restaurant for some of the best seafood in Greece!
We fell in love with the neoclassical architecture and pastel-colored houses cascading down the hillside to the main town. Symi truly is a picture-perfect destination!
What to Expect in Symi
For those on a couples holiday looking for both relaxation and adventure, Symi offers plenty of opportunities. While it may not be a large island like others on the Greek mainland, its charm, and incredible beaches make it a popular spot in the summer months.
A short walk through its charming streets reveals quaint shops and delightful beach bars, perfect for enjoying a refreshing cocktail as the sun dips below the horizon. Take a water taxi to secluded coves with white sand and crystal clear waters is the perfect way to spend a day.
And when it comes to the best views, Symi doesn't disappoint; the spectacular views from the island's elevated points are second to none.
We based ourselves in Symi and took advantage of nearby Rhodes old town. Best visited via a short organized day trip to explore UNESCO world heritage sites and archaeological wonders.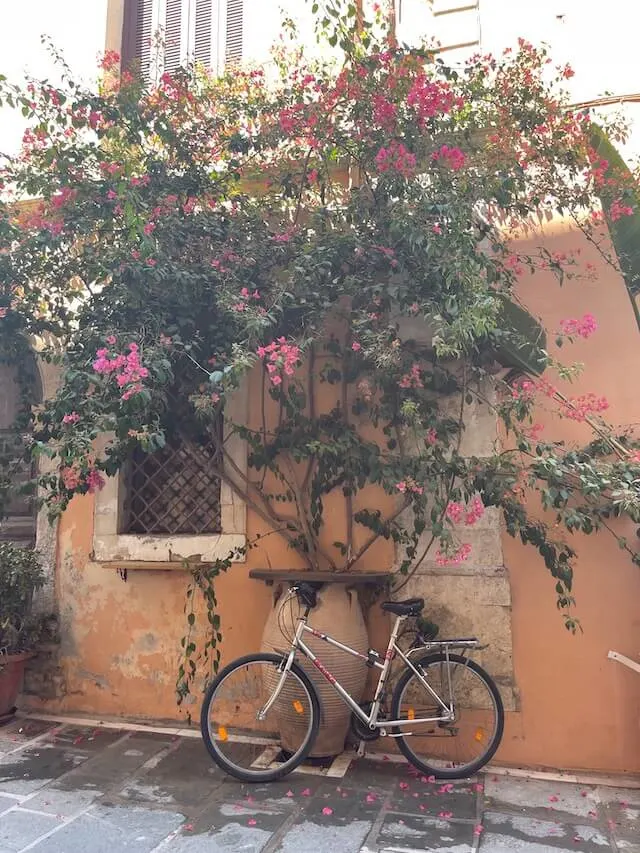 When to Visit Symi
When planning to visit Symi, you will want to visit in the summer. You can expect a warm to hot climate perfect for beach-hopping or sightseeing.
Part of the Dodecanese islands, Symi has a unique appeal that distinguishes it from the party islands of Greece. After visiting its lovely waterfront restaurants and beautiful beaches you will understand why!
One of the best things we did in Symi was share a bottle of Greek wine over a candlelit dinner – Symi stands as a testament to why Greece is home to the most romantic Greek islands.
Where to Stay in Symi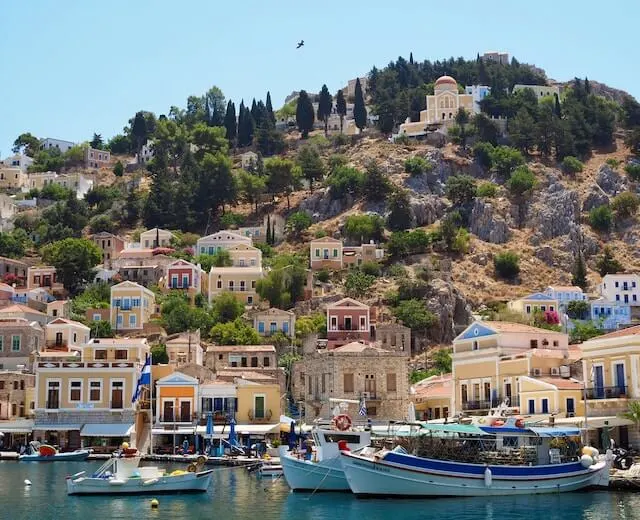 Symi Town (Gialos)
Symi Town, also known as Gialos, is the island's main harbor and a truly mesmerizing place for couples to stay. This is where the port is, and also the easiest place to stay if you don't rent a car in Symi. It is also where we stayed.
Those colorful neoclassical buildings in Symi, definitely provided a stunning backdrop for the romantic strolls along the waterfront. Here in Gialos you will also have easy access to enjoy seaside dining, watching the yachts and boats, and exploring the narrow alleys filled with boutique shops.
Accommodations in Symi are often much less expensive than you might be expecting. And they offer spectacular harbor views and the convenience of being close to cafes, restaurants, and transport to nearby beaches.
Pedi Bay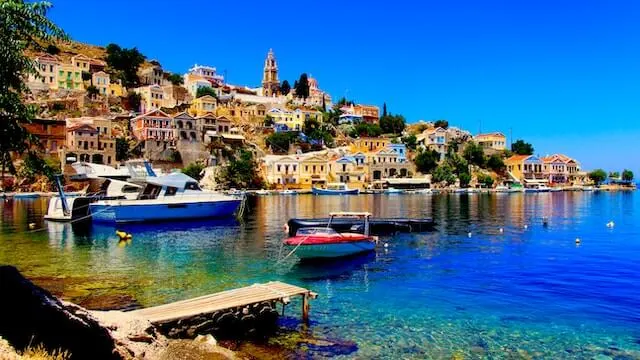 While Symi town isn't that busy and bustling, there is a more serene place to stay. So, if it's a quieter and more laid-back atmosphere you are looking for, Pedi Bay is a wonderful option.
Located just a short distance from Symi Town, Pedi Bay offers a more tranquil setting with its calm bay and traditional fishing boats.
We recommend renting a car in Rhodes and bringing it over to Symi if you stay in this area of the island. Couples can enjoy the peace of the beach, dine in small tavernas serving fresh seafood, or take a boat to secluded coves.
The hotels here are typically more secluded and offer easy access to the sea. Pedi Bay's serenity and unspoiled landscapes provide a perfect backdrop for couples seeking a more intimate and relaxed holiday.
Milos: The Island With the Moon Beach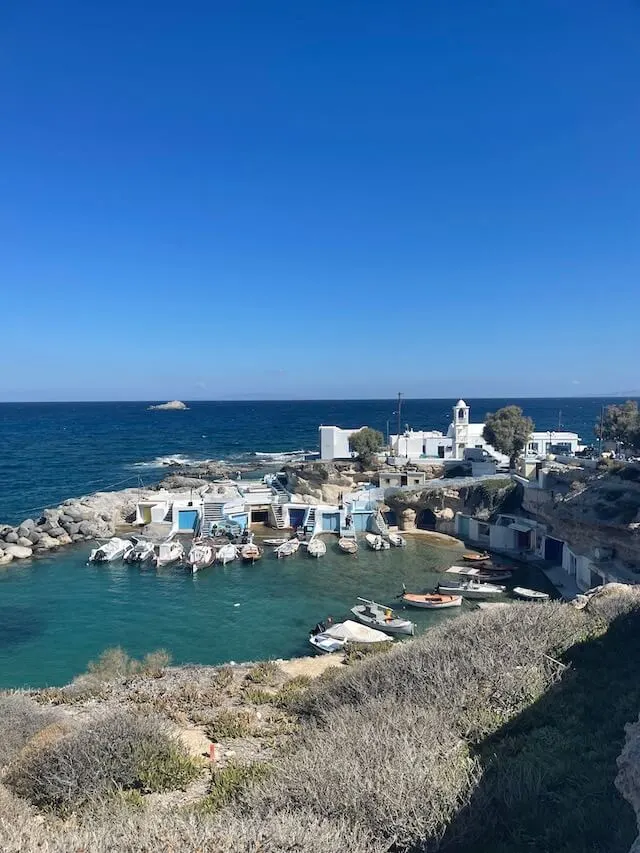 Milos, part of the stunning Cyclades and not far from the Dodecanese islands or mainland Greece, is widely recognized as one of the most romantic islands in Greece.
Unlike a typical party island, Milos offers a chill vibe and the perfect ambiance for couples who are looking to unplug.
Famous for its crystal-clear waters, picturesque landscapes, charming villages, and a beach dubbed as Moon Beach (Sarakinko Beach).
The international airport on Milos ensures easy access if you would rather fly. Alternatively, a ferry from Athens should take around 3 hours.
What to Expect in Milos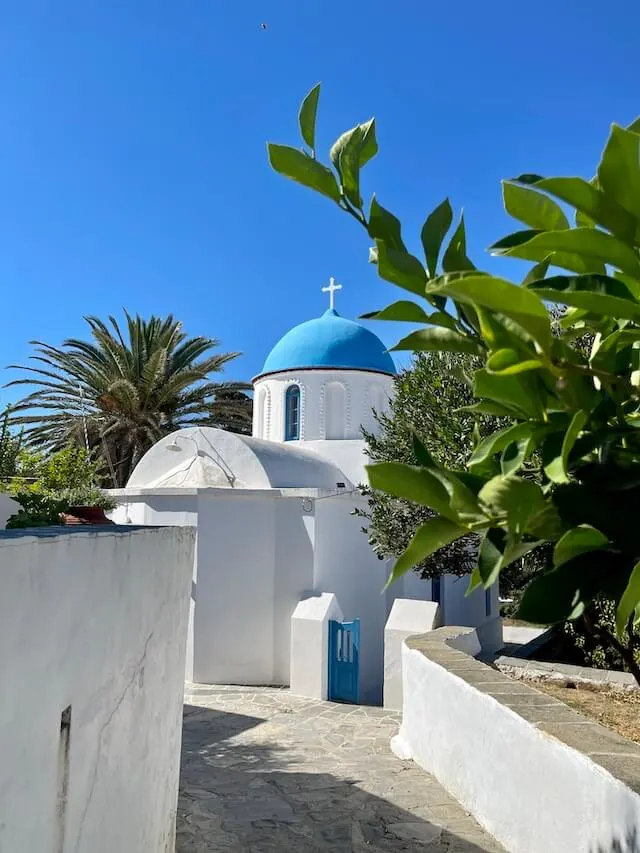 There are many things to do in Milos including the island's rich history making it a unique destination for romance. From ancient theaters to Christian catacombs, the island is peppered with archaeological sites that couples can explore together.
Though Milos doesn't host any UNESCO World Heritage sites, the wealth of culture and history still adds a profound and memorable layer to the visit.
Besides history, beach lovers will find paradise in Milos, where beach bars dot the coastline. If you are looking for something extra romantic to do in Milos, consider a private luxury boat tour to Kleftiko!
When to Visit Milos
When looking into the best time to visit Milos, the warm and sunny months between May and September are your best bet. Milos is gaining popularity, so I would recommend the middle of September.
During this period, the weather allows for perfect beach days and balmy nights, ideal for a romantic dinner by the sea or even a soothing soak in a hot tub at a luxurious resort.
The beaches of Milos, renowned for their beauty, make a day by the sea an unforgettable experience. Whether exploring the island's hidden coves or simply lounging on the sand with a loved one, the romantic allure of Milos is undeniable.
Where to Stay in Milos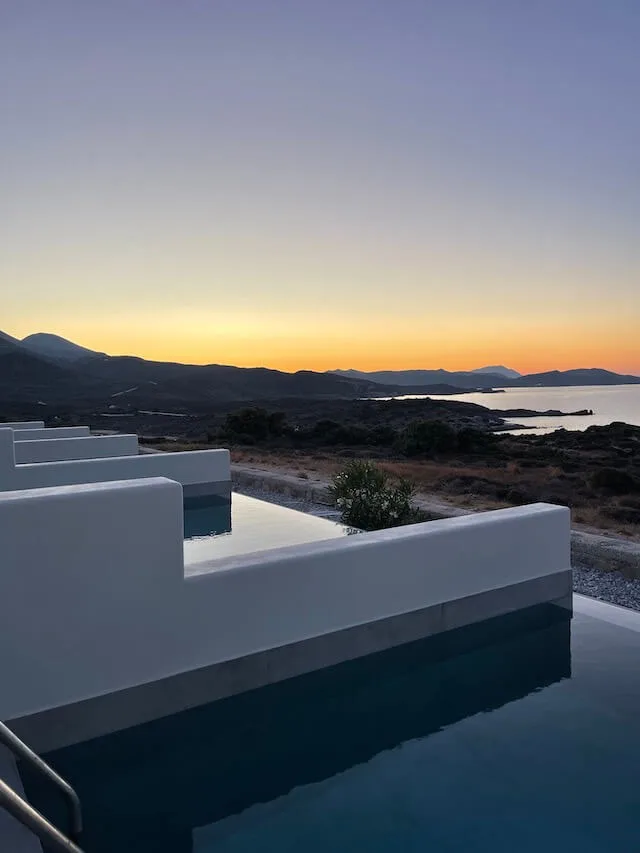 Kleftiko
Kleftiko, located on the southwestern coast of Milos, offers a secluded and extraordinary experience for couples seeking privacy and Greek resort vibes.
Famous for its unique rock formations and caves, Kleftiko is accessible only by boat, making it an adventurous and exclusive destination.
Couples can take a boat tour from the main parts of the island to explore this remote area, swim in crystal-clear waters, and snorkel through underwater caves.
The nearby area provides cozy accommodations that are typically quieter and more intimate, allowing couples to truly unplug and enjoy each other's company. Kleftiko's remote beauty and stunning landscapes create a memorable and romantic escape.
Pollonia
Pollonia, much more accessible than Kleftiko, is a charming fishing village in the northeast of Milos. It's perfect for couples looking for a blend of peaceful relaxation and local charm.
With its golden sandy beach, crystal-clear waters, and seafront tavernas, Pollonia is a great place for couples to enjoy the romance of island life.
Accommodations here are tailored to a luxurious and romantic stay, often featuring seafront rooms and private verandas. The cost is going to be less if you visit in September, but overall on the pricer side. It's the price you pay for a tranquil setting and delightful character. Pollonia makes an idyllic spot for lovebirds that want walkability to bars and restaurants.
TRAVEL ESSENTIALS WE RECOMMEND FOR GREECE:
TRAVEL INSURANCE
If you can afford to travel, you can afford – and should definitely buy – Travel Insurance (get 5% off with our link)
CAR RENTAL
– For Car Rental (anywhere in the world!) we recommend Discover Cars
FERRY BOOKINGS
– Book your ferrys through Ferry Hopper: they are the go-to site for pre-booking ferry tickets not just in Greece, but also in Turkey, Spain, and Italy!
TRAVEL MONEY/CURRENCY
– We use Wise when traveling to buy things in local currency, withdraw cash, and get great exchange rates.
Sifnos: The Foodie Island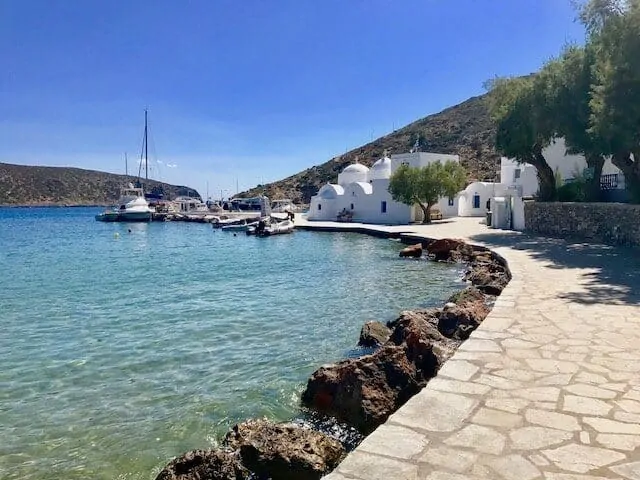 Sifnos, a gem in the Cyclades island group, we discovered by accident, just so happens to be an island synonymous with romance.
Its natural charm, whitewashed buildings, and maze-like streets create a perfect backdrop for couples seeking a romantic escape.
As soon as you arrive in Sifnos whether by ferry or by helicopter, something special washes over you.
Whether strolling hand-in-hand through the narrow lanes of Apollonia or watching the sun melt into the sea at Kastro, the island's unique blend of tradition and beauty offers endless opportunities for romance.
What to Expect in Sifnos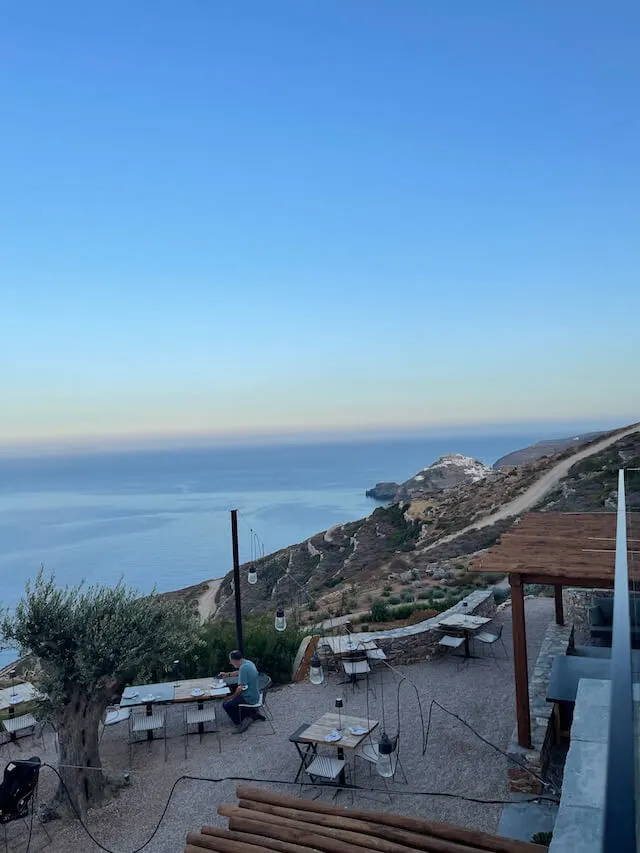 What sets Sifnos apart from other destinations is its unique culinary tradition and local craftsmanship. If you and your partner consider yourself foodies, then this is the island for you!
Sifnos is the place to check out authentic pottery workshops and savor traditional dishes at family-run tavernas.
Dining al fresco in one of Sifnos' beachfront restaurants allows couples to indulge in the freshest seafood while enjoying a gentle sea breeze and breathtaking views of the sparkling Aegean waters.
Make a reservation at Omega3, one of the most romantic restaurants in Sifnos!
Sifnos offers a rich spiritual experience with its array of well-preserved monasteries and churches.
An island great for hiking trails that meander through olive groves and along rugged coastlines. If you have an adventurous edge to your relationship, you will enjoy what Sifnos has to offer.
There are some incredible sunsets to be seen in Sifnos making it one of the most romantic Greek islands we've ever been to.
Best time to visit Sifnos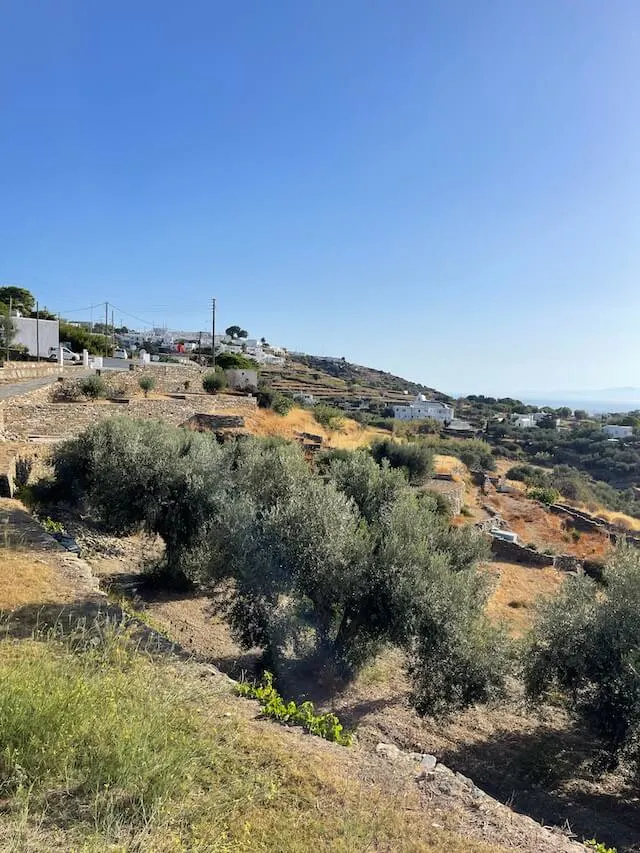 Speaking from personal experience, the best time to visit Sifnos for a romantic getaway is during the shoulder season. This would be during the late spring to early fall months, of May and September.
During these months, the island enjoys mild temperatures, clear skies, and a gentle breeze, offering an ideal climate for outdoor activities like hiking and swimming and a hell of a lot less people.
The peak summer months of July and August can be busier, attracting more tourists which is not ideal for romance, but in some spots the island retains a pleasant, laid-back atmosphere.
We found the shoulder months of May, June, and September are particularly appealing for couples seeking a quieter experience. You can expect the weather to be warm, and the seas to be inviting. We visited in September and couldn't have been happier.
Whether for beach relaxation or cultural exploration, selecting the right time to visit ensures an unforgettable romantic experience on this enchanting Greek island.
Where to Stay in Sifnos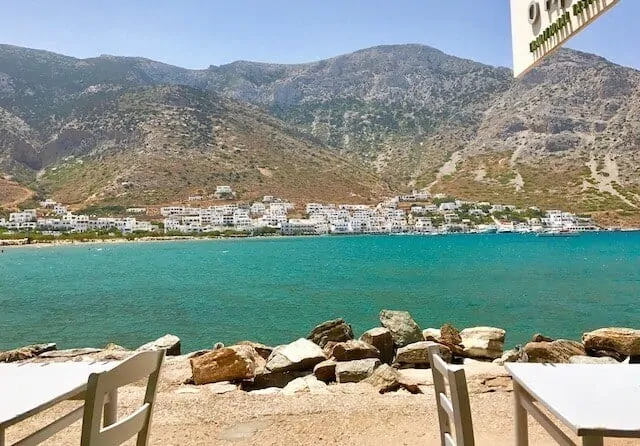 Kamares
Kamares, the port town of Sifnos, is an ideal place for couples seeking a combination of beach relaxation and a lively atmosphere. Karares is also where to port is, so it is ideal if you are planning to island hop.
The beautiful sandy beach with its clear, shallow waters is perfect for swimming and sunbathing, while the seafront promenade offers an array of dining options with fresh seafood.
Accommodations are reasonably priced here and provide stunning sea views and are within a short walk to the beach.
Evenings in Kamares can be spent enjoying a romantic dinner by the water or watching the twinkling lights of fishing boats.
The blend of convenience and scenic beauty makes Kamares a delightful choice for couples.
Platis Gialos
For those couples in search of a more secluded romantic experience in Sifnos, Platis Gialos is a wonderful option. Known for one of the longest sandy beaches on the island, Platis Gialos offers easy access to some of the best restaurants on the island.
Couples can enjoy quiet beach days, leisurely walks, or explore nearby trails leading to picturesque chapels. The area is dotted with boutique hotels and traditional Cycladic-style accommodations, many of which offer private balconies and jaw-dropping views.
Dining here is an intimate affair with small tavernas serving local dishes RIGHT ON THE BEACH. Platis Gialos' serene atmosphere and natural beauty make it a perfect retreat for couples looking to connect and unwind.
Serifos: A Rustic Paradise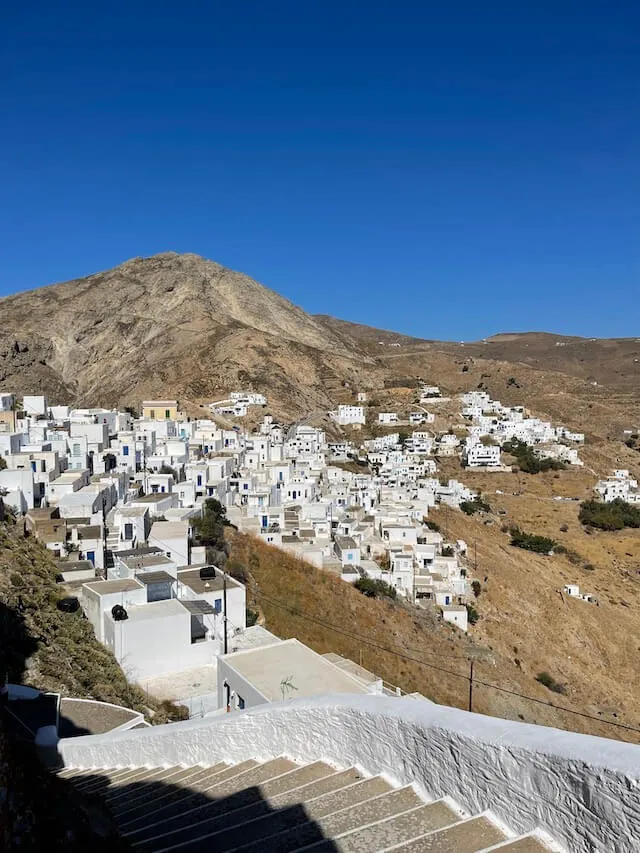 Serifos, a captivating island in the Cyclades, is often overshadowed by its more famous neighbors. However, those in the know recognize Serifos as one of the most romantic Greek islands.
This little hidden gem of an island has some rugged landscapes, unspoiled beaches, and traditional Cycladic architecture. Serifos offers an authentic setting that appeals to couples seeking the feels of an authentic Greek island life.
If you are looking to get your exercise in, Serfios main town (Chora) is perched up way on the hill you can hike up. Don't worry, you can take a bus if you don't feel like making the climb.
What to Expect in Serifos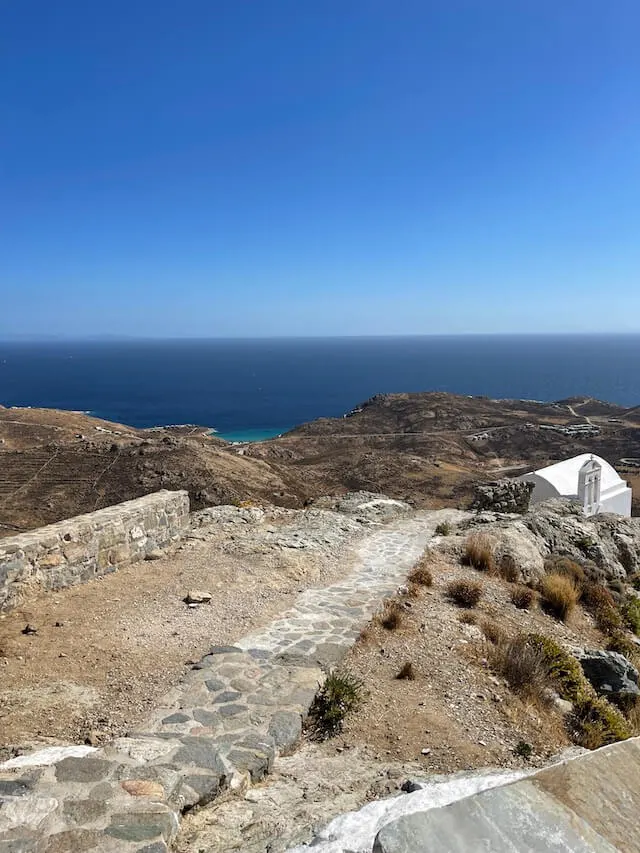 Serifos presents a blend of relaxation and adventure, we call it the no-frills romantic island. Couples can expect to find secluded beaches with crystal-clear waters, perfect for sunbathing and swimming. Hiking enthusiasts will appreciate the well-marked trails that lead to stunning viewpoints and historical sites.
Dining in Serifos is very casual, with local tavernas serving fresh, locally sourced dishes, often enjoyed with a view of the sea.
Accommodations range from boutique hotels to private villages, many of which offer breathtaking vistas of the Aegean Sea.
Above all, expect a slower pace of life and genuine warmth from the locals, who are proud to share the hidden treasures of their island with visitors. The combination of natural beauty, cultural richness, and heartfelt hospitality makes Serifos a romantic haven for couples looking to escape the ordinary.
When to Visit Serifos
Anytime in the summer is a good time to visit Serifos. The prices and crowds are a tab higher in July and August, but the weather is also fantastic making it well worth it. But if fewer people is what you are after then visit in May and September. These months offer pleasant weather with fewer crowds, allowing couples to enjoy the island's beaches and attractions in peace.
Where to Stay in Serifos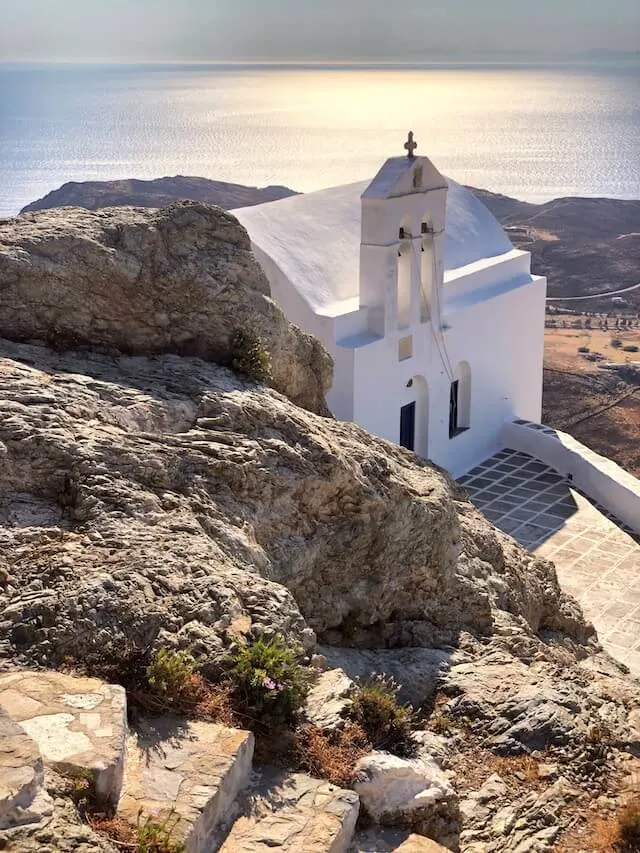 Chora
Chora, the capital of Serifos, is a captivating place for couples, especially those who appreciate history and architecture. Built on a hilltop, Chora offers sweeping views of the Aegean Sea and a labyrinth of narrow, cobblestone streets lined with whitewashed houses.
The blend of medieval charm and modern amenities creates a unique romantic atmosphere. Couples can explore the quaint squares, dine in intimate tavernas serving local cuisine, or simply enjoy the sunset from their hillside accommodation.
Many hotels and guesthouses in Chora are designed to enhance the romantic experience, providing cozy rooms and private balconies with breathtaking views.
Livadi
Chora is super cool to visit, but we were seeking a beachside romantic experience, so we choose to stay in Livadi. Located just next to the main port of Serifos.
You will get a sandy beach and calm, clear waters, Livadi provides a relaxed setting for sunbathing, swimming, or enjoying a seaside meal.
The whole port is lined, with cafes, and restaurants, providing everything needed for a comfortable and romantic stay.
Livadi is also a great base for exploring other nearby beaches, even a nude beach if you are into that.
Whether it's enjoying a cocktail by the sea or taking a hand-in-hand stroll along the shore, Livadi creates a wonderful backdrop for romance.
Santorini: A Timeless Classic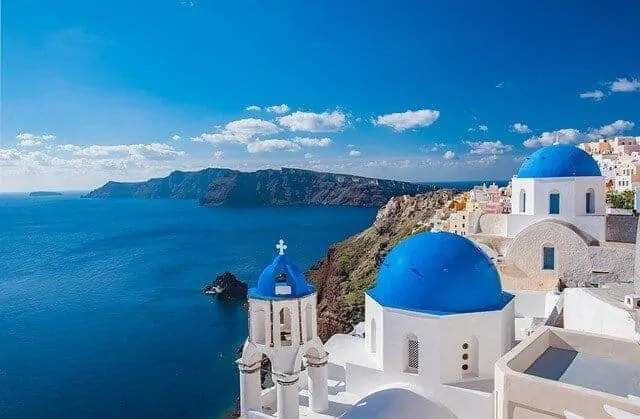 Santorini, often regarded as the jewel of the Aegean, is undoubtedly one of the most romantic Greek islands.
Looking for breathtaking sunsets? How about white-washed buildings with blue-domed roofs? Perhaps some dramatic caldera views? Santorini has all that, and the most dreamy accommodations you could ever imagine.
The island's unique volcanic landscape creates a stunning contrast with the crystal-clear waters of the sea, offering an unforgettable backdrop for romance.
So if you are planning a honeymoon or simply seeking a magical escape with a loved one, Santorini's ethereal beauty is sure to captivate your heart.
What to Expect in Santorini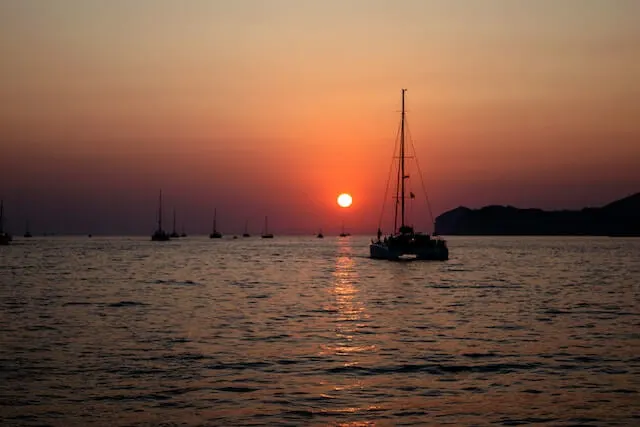 Santorini is the most popular of all the Greek islands, so with popularity, you can expect that there will be crowds. Should it stop you if you are seeking a romantic getaway? We say no, but you will need to research where you will be staying to ensure you can achieve the intimate experience you desire.
In Santorini, you can explore ancient archaeological sites, indulge in wine tasting at local vineyards, or unwind at a luxury spa.
The island's beaches, with their unique volcanic sands, are perfect for relaxation or a refreshing swim.
Accommodations range from exclusive resorts to traditional cave houses, many of which provide stunning views and private amenities like hot tubs or pools.
Santorini's enchanting atmosphere, coupled with world-class services and unique experiences, creates an incomparable romantic vacation that lingers long in memory.
When to Visit Santorini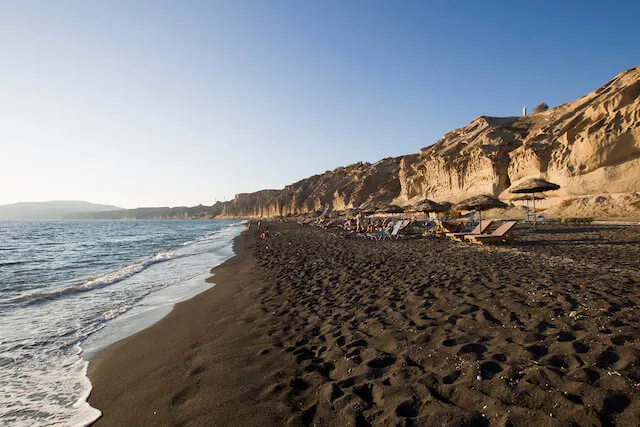 The best time to visit Santorini for a romantic experience is during the shoulder seasons of late May to early June and September to October. These months provide mild temperatures, perfect for outdoor dining, exploring, or relaxing on the beach, and they avoid the peak tourist season's crowds and heat.
The summer months of July and August, although beautiful, can be quite busy and hot, so booking well in advance is advisable if you choose this period.
For a unique and serene experience, consider visiting in the late spring or early autumn when the island's charm is accentuated by blooming flowers and a more peaceful ambiance.
Best Area to Stay in Santorini
Oia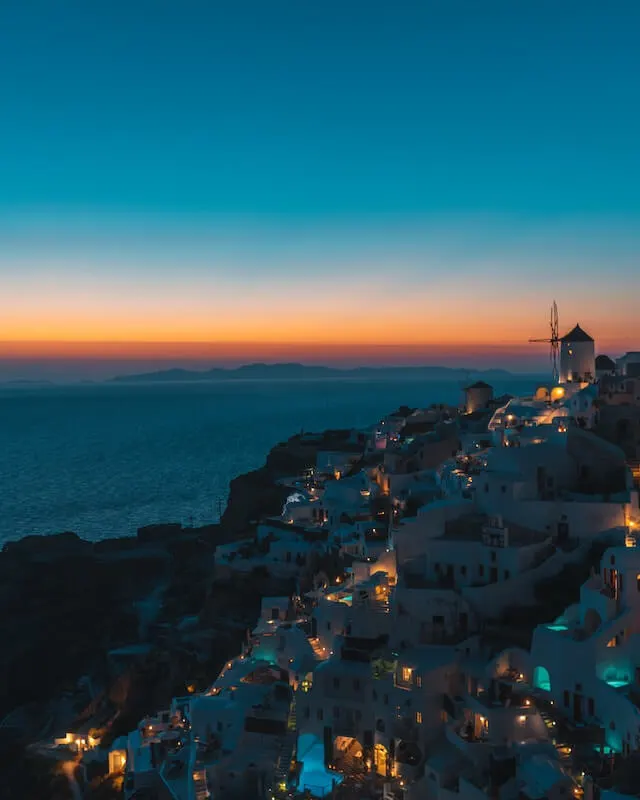 Oia is perhaps the most famous village in Santorini and for a good reason. It's a dream destination for couples, known for its iconic white-washed buildings with blue domes, narrow pathways, and stunning sunsets.
Perched on the northern tip of the island, Oia offers amazing views of the caldera and the sparkling Aegean Sea. Couples can enjoy romantic walks, intimate dining experiences in cliffside restaurants, and luxury accommodations that often include private terraces and infinity pools.
Staying in Oia is about immersing oneself in the quintessential Santorini experience, making it a perfect choice for a romantic getaway.
Fira
Fira, the capital of Santorini, is another great option for social couples seeking romance. While it shares the spectacular caldera views that Santorini is famous for, Fira is known for its vibrant nightlife and rich cultural offerings, including museums and galleries.
The town offers a blend of traditional charm and modern luxury, with many hotels featuring rooms that overlook the volcano.
Couples can explore the picturesque streets, enjoy a cocktail at a bar with a view, or take a romantic donkey ride down to the old port.
Mykonos: Glamour and Sophistication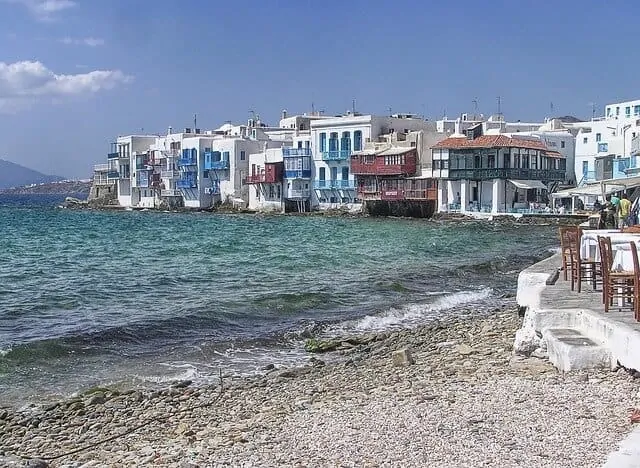 Mykonos is nestled in the heart of the Cyclades, is often synonymous with lively nightlife and vibrant beach clubs.
However, it's also one of the most romantic Greek islands, offering a perfect blend of traditional charm and modern luxury. This is where the celebrity couple come when they visit the Greek Islands.
Have fun exploring the maze-like streets, filled with bougainvillea and white-washed buildings, providing an idyllic backdrop for couples in love.
From secluded beaches to cozy restaurants, Mykonos offers an abundance of intimate settings, ensuring that romance is never far away.
What to Expect in Mykonos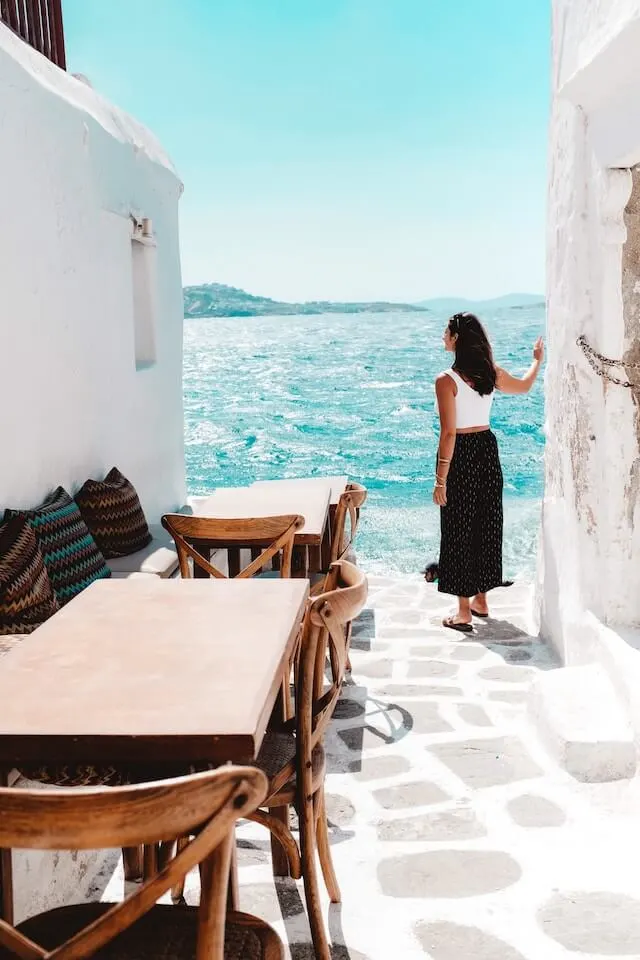 Mykonos is more than just a party island; it's a place where couples can indulge in romance and luxury.
Enjoy a romantic dinner by the sea, or explore hidden coves and beaches where crystal-clear waters invite you to unwind.
The island is home to a variety of high-end resorts and boutique hotels that cater to couples, with amenities like private pools and spa treatments. Don't miss a visit to the iconic windmills for a romantic sunset view or take a day trip to the nearby archaeological site of Delos.
Shopping in chic boutiques, sampling local cuisine, or simply strolling hand-in-hand through the charming streets of Mykonos Town.
If you are a couple who loves a spa day, many of these high-end hotels have incredible treatments to book.
When to Visit to Mykonos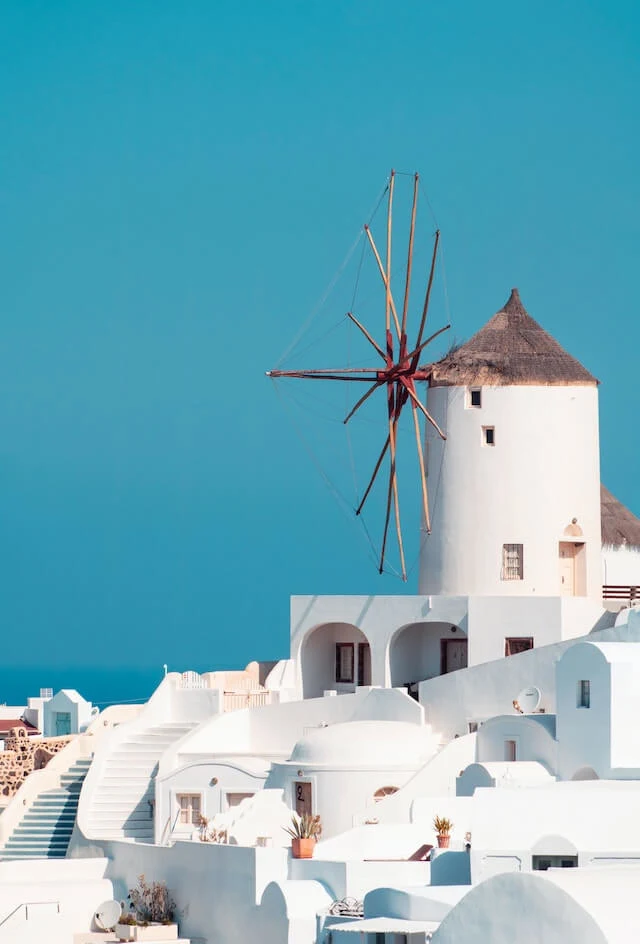 Just like with Santorini visiting Mykonos at the right time is key. If you are looking for less people watching the sunset around you, then come in the shoulder season.
Target months such as May, June, September, and early October. These months offer beautiful weather, perfect for outdoor dining, strolling through Mykonos Town, or relaxing on the island's renowned beaches.
Visiting outside of the peak summer months of July and August is highly advised.
Best Area to Stay in Mykonos
Mykonos Town (Chora)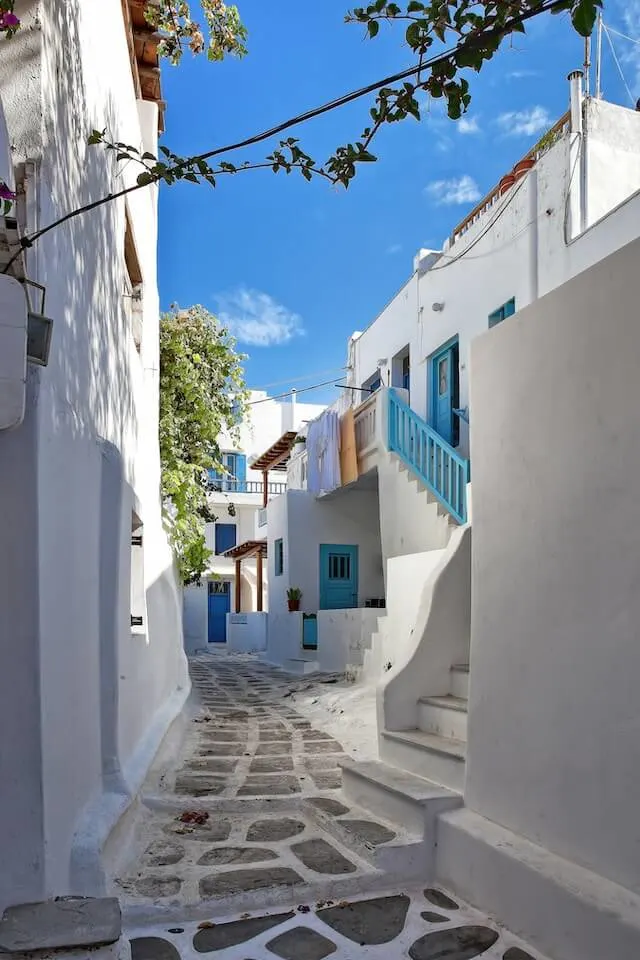 Mykonos Town, also known as Chora, is a fantastic choice if you want to stay right in the action. The town's narrow, winding streets, filled with whitewashed buildings and vibrant bougainvillea, create a magical atmosphere perfect for evening walks.
Here in the Chora, you are just steps away from enjoying cocktails with views of the iconic windmills.
Staying in Mykonos Town provides easy access to both lively entertainment and hidden, quiet spots, offering the best of both worlds.
Be sure to research boutique hotels and luxury accommodations in this area often feature private terraces and pools, allowing couples to enjoy the stunning views in seclusion.


Elia Beach Area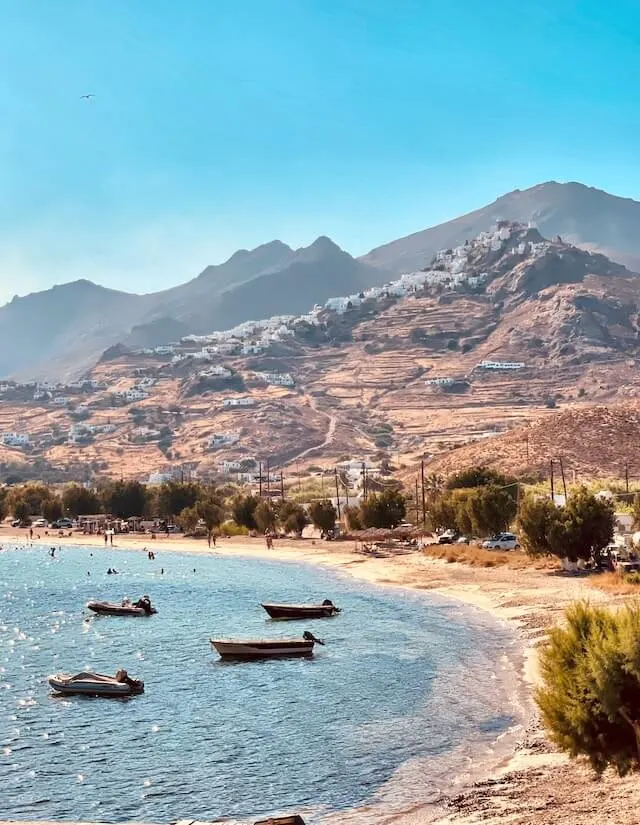 If staying in the town sound more like a nightmare, then opt for the more tranquil and beach-centered romantic escape, the Elia Beach.
As one of the longest and least crowded beaches on the island, Elia provides a beautiful and peaceful setting.
Many of the resorts and villas in this area are tailored to provide a luxurious and intimate experience, with private pools, beach access, and couples' spa treatments.
The area is less commercial and quieter than Mykonos Town, making it ideal for couples looking to escape the hustle and bustle.
The clear blue waters, fine sand beach, and stunning landscapes all contribute to making Elia Beach a perfect romantic haven.
Whether it's the vibrant energy of Mykonos Town or the serene beauty of Elia Beach, Mykonos offers distinct areas that cater to couples' varying tastes and desires.
Choosing the right location to stay is key for this romantic getaway in Mykonos!
Crete: Love in a Mythological Setting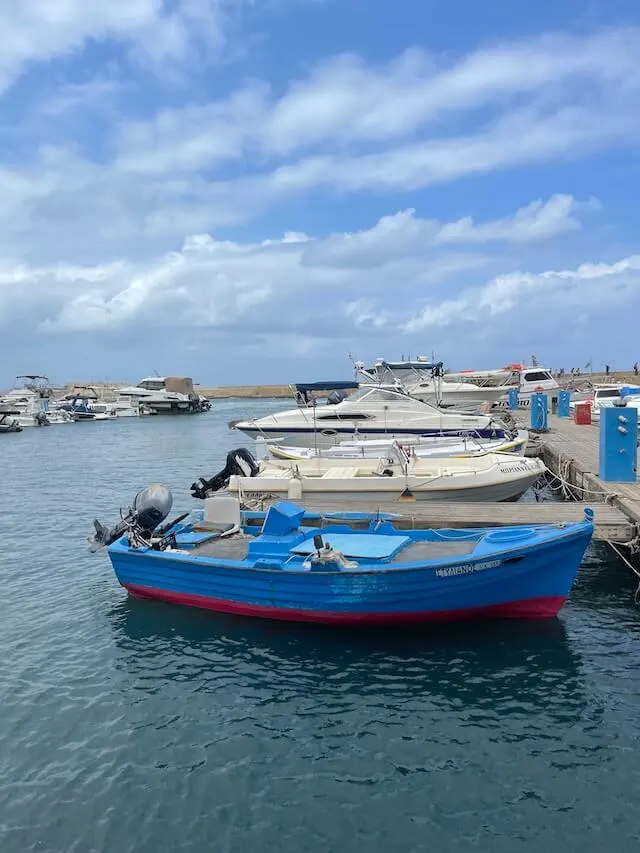 Crete, the largest of the Greek islands, is derived from the word "krateos" which means strong. Many of the Island's Greek names have deeper meanings. If you and your partner are lovers of Greek Mythology, then this is the island for you!
We love Crete for couples for its history and diversity in areas to stay. Also for all the things you can do in Crete!
The island's history is alive in its ancient ruins and Venetian architecture, while its culinary scene, featuring fresh, local ingredients, adds another layer of appeal.
Whether exploring together the charming villages or enjoying a sunset over the sea, Crete offers endless opportunities for romance.
What to Expect in Crete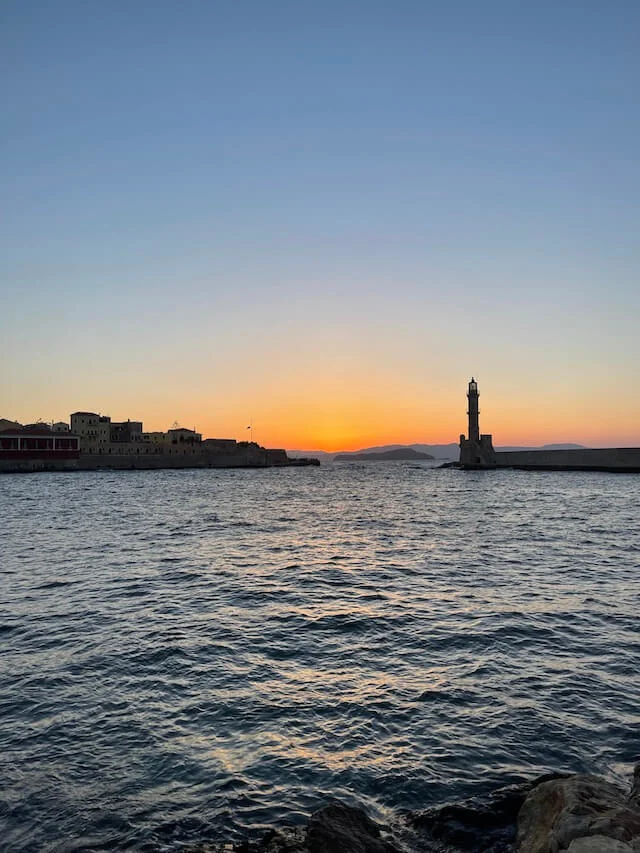 Crete's size and diversity mean that couples can tailor their experience to their interests and desires. History enthusiasts can explore archaeological sites like Knossos, while nature lovers will be drawn to the island's hiking trails, such as the famous Samaria Gorge.
The stunning beaches of Crete, like Elafonissi with its pink sands, provide an idyllic setting for relaxation and water activities.
Food plays a significant role in the Cretan experience, and couples can enjoy traditional meals in a seaside taverna or even participate in cooking classes together.
In Crete, you will have your pick of accommodations ranging from luxury resorts to quaint guesthouses.
Above all, Crete's warm and hospitable culture ensures that couples feel welcomed and cherished, adding to the romantic allure of the island.
When to Visit to Crete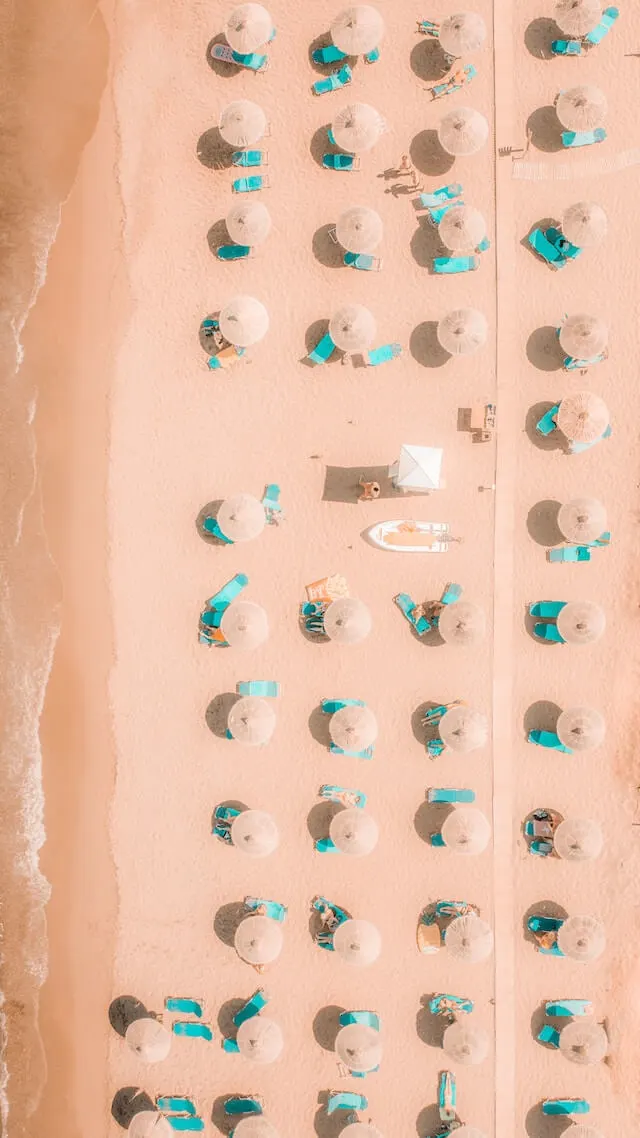 Crete is one of the few islands that functions year-round. Depending on your travel style visiting Crete in the off-season might be the perfect romantic getaway.
In the winter you can have stretches of pleasant temperatures, but you could also get rain. Since it is not going to be very busy, booking last minute is not a problem.
The summer months of July and August can be hot and crowded, particularly in tourist hotspots.
Conversely, the shoulder seasons offer a quieter, more intimate experience, allowing couples to enjoy Crete's beauty without the bustling crowds.
The island's diverse geography also means that different regions might offer different climates, so some research based on your preferences could enhance your trip.
Best Area to Stay in Crete
Chania
Chania, located on the western coast of Crete, is often considered one of the most romantic areas for couples. We stayed in the charming old town, with its narrow, winding streets lined with Venetian buildings.
The picturesque Venetian Harbor, is filled with some of the best waterfront cafes and restaurants. We found it to be an ideal setting for a romantic dinner.
Nearby beaches like Balos and Falassarna offer stunning vistas and opportunities for secluded relaxation.
Accommodations in Chania range from boutique hotels set in historic buildings in the center of the old town, to luxurious beachfront resorts. If you want nothing but the beach and some seaside cocktails, I would research hotels in Agia Marina.


Elounda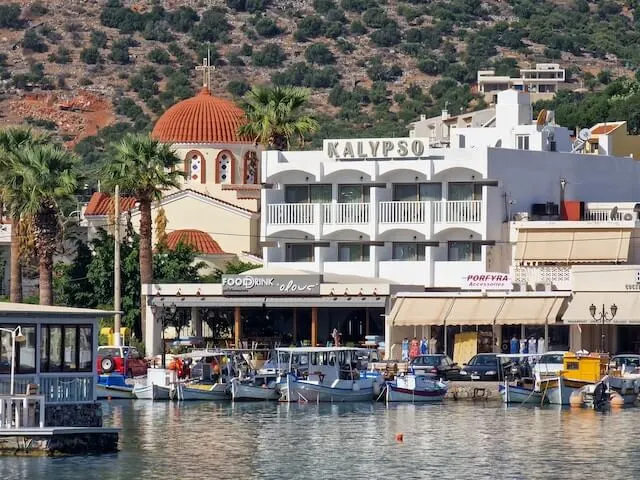 Elounda, situated in northeastern Crete, is ultimate destination for couples looking for some privacy.
Here in Elounda it's filled with upscale resorts and breathtaking views of the Mirabello Bay. So if the resort vibes are on your list, Elounda offers an exclusive and serene experience.
Many of the area's resorts specialize in providing romantic packages, complete with private pools, couples' spa treatments, and candlelit dinners.
The nearby island of Spinalonga, with its intriguing history and beautiful scenery, offers an interesting day trip.
Elounda's blend of luxury and natural beauty creates a tranquil setting, making it a perfect choice for couples looking to indulge in romance and relaxation.
Final Thoughts on the Most Romantic Greek Islands
Greece's romantic islands offer an idyllic escape for couples seeking love, connection, and unforgettable experiences.
Whether you choose the elegance of Symi, the passion of Milos, the serenity of Sifnos, the rustic charm of Serifos, or the timeless beauty of other renowned islands, Greece promises to make your love story one for the ages.
Start planning your romantic Greek island getaway today, and let the allure of these destinations sweep you off your feet.
And that's a wrap folks – our top 7 Best Greek Islands for Couples. We hope our rundown of the most romantic Greek Islands has shown you which are worth visiting and helped you in planning your first – or next – trip to Greece! And if you liked this Greece travel guide – or have friends that need help with their travel planning – be sure to share this post with them!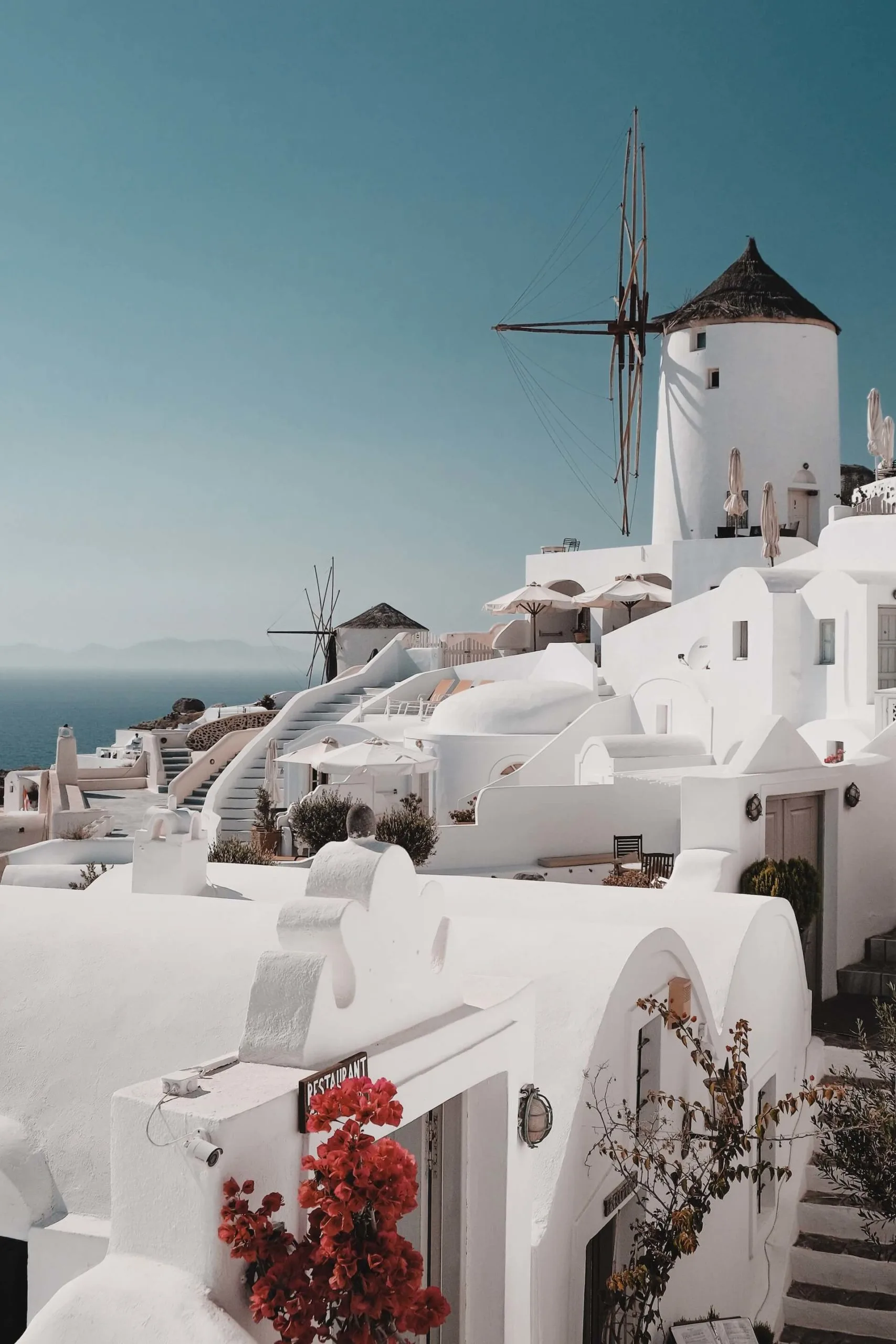 READY FOR MORE EUROPE TRAVEL INSPIRATION? YOU MIGHT BE INTERESTED IN THESE TRAVEL TIPS, TRAVEL HACKS, TRAVEL ARTICLES, TRAVEL DESTINATIONS GUIDES, SOLO TRAVEL GUIDES, TRAVELER RESOURCES, AND RELATED POSTS ABOUT OTHER BEAUTIFUL CITIES IN EUROPE TO HELP YOU EXPLORE EUROPE AND TRAVEL THE WORLD:
Hi There! Thanks for reading our travel guide to the best Greek Islands for Couples 2023. I just wanted to let you know that this post contains affiliate links, which means if you purchase something after clicking a link, I may get a small commission – which is at absolutely no cost to you. If you enjoyed this article and are going to be searching for some of the things I mention anyway, I would love it if you could click through from the links above & thank you in advance! Read my full Disclosure here.
And a huge Thank You for reading the MakeTimeToSeeTheWorld travel blog.