The Amalfi Coast is one of Italy's premier tourist destinations, welcoming millions of visitors annually. A lot of those people think that the only way to see this incredible coast line and visit these beautiful fishing villages is to take an organised tour. But that it is just not the case! We've put together this Amalfi Coast Itinerary to help plan your own Do-It-Yourself Amalfi Coast Tour with tips on how to get there, how to travel between villages, where to stay (on any budget!) and where to eat!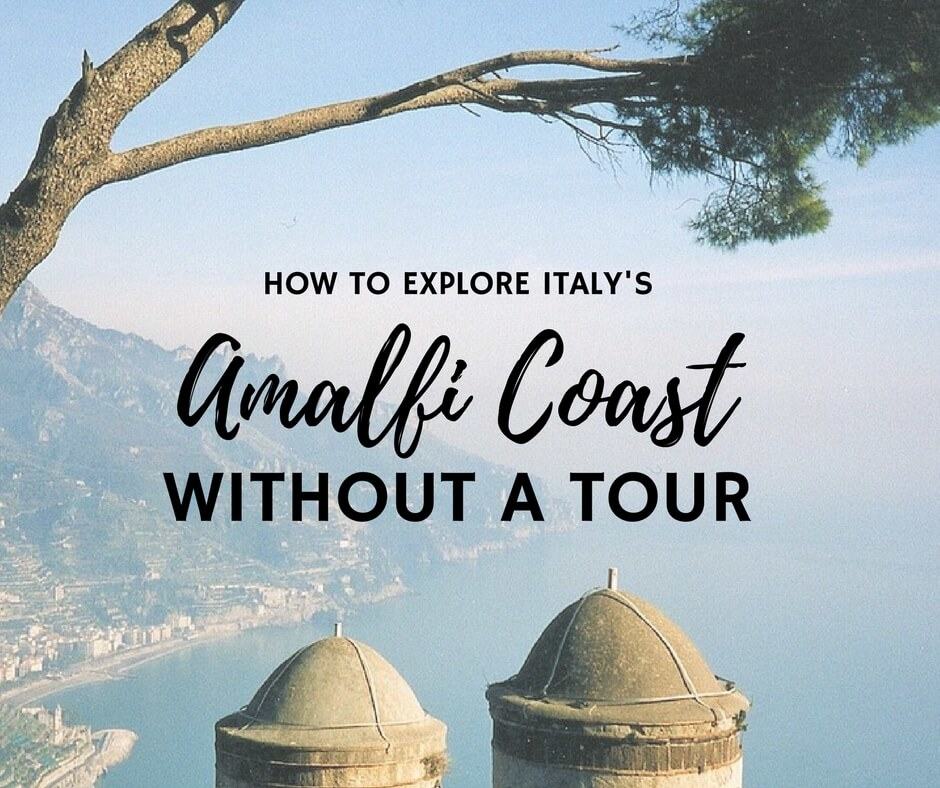 A Do-It-Yourself Amalfi Coast Tour – Positano, Amalfi & Ravello
A Guest Post by Barbara of Jet-Settera
The Amalfi Coast (Costiera Amalfitana) is a stretch of coastline about an hour south of Naples in the Gulf of Salerno. The Amalfi Coast is a UNESCO World Heritage site and it is one of the most visited tourist attractions of Italy with the coast hosting 5 million visitors annually. It is a popular vacation destination for Italians and foreigners alike. The only land route to the Amalfi Coast is the 40 kms long Strada Statale from Vietra sul Mare to Positano. The road is also known as the Road of 1000 bends. Visitors drive through lemon groves and little villages while enjoying the coastal view as they make their way into the heart of region. There are 13 small cities located on the Amalfi Coast. Many of these are centered around tourism and the main towns that most tourists visit are: Positano, Amalfi, and Ravello.
.
How To Get To The Amalfi Coast
Arrive to the Amalfi Coast either by boat from Sorrento or by bus from either Sorrento or Vietra sul Mare. The boat is a more picturesque option because you can enjoy the magnificent coastal view while cruising the sea and observe the houses of some of the rich and famous on the side of the cliffs. Taking the bus is the cheaper way to reach the coast, but be warned, the roads are winding and the traffic is usually bad. The buses run frequently (timetable), or there are a few high speed ferries between Sorrento and Positano. Or if you'd like to skip public transport completely, a private transfer can be arranged and financially may be a better option for groups of 4. Also, if you're feeling brave about driving to and between the villages, AutoEurope have got some great car hire deals!
Many tourists visit the Amalfi Coast on a daytrip  from Sorrento, while some stay longer to enjoy the colorful, romantic towns of the coast. Ideally 48 hours is sufficient to get a proper Amalfi Coast experience, visit its charming towns and soak in the beautiful views.
.
Positano – Amalfi – Ravello Itinerary
Positano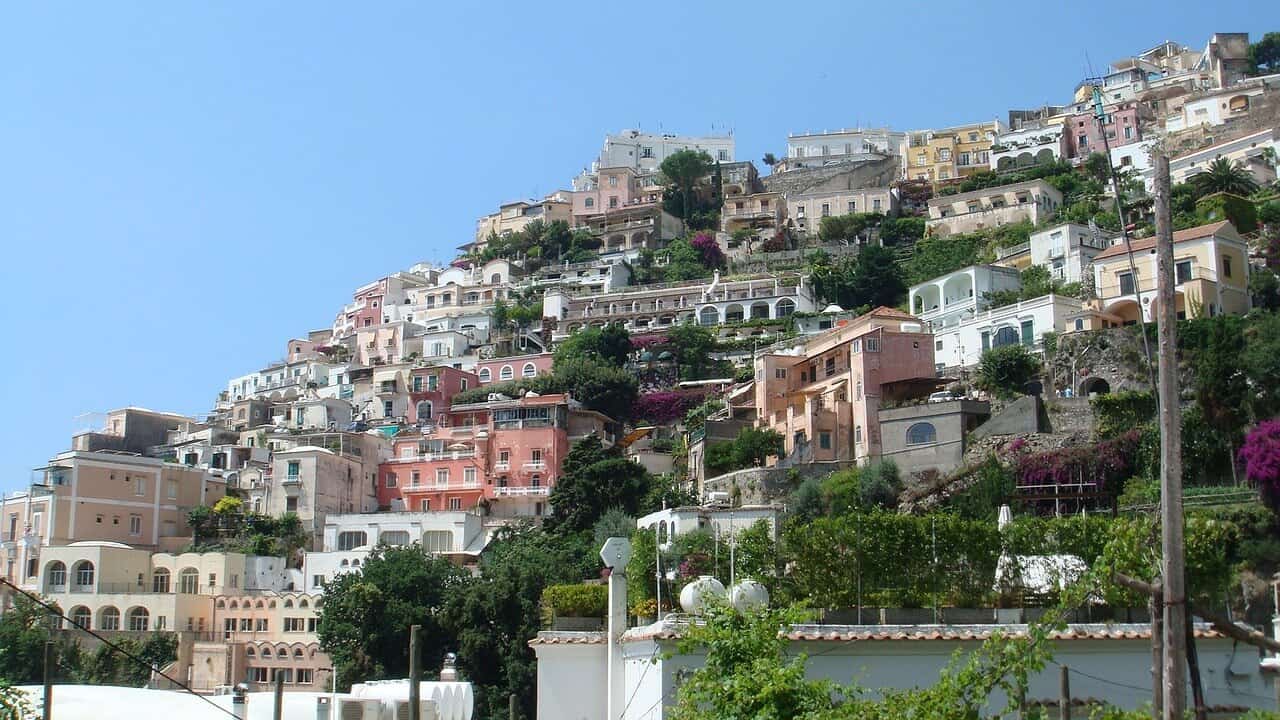 Arrive to Positano and spend the day there. This coastal town used to be a scarcely populated fishing village in the 1950s, but it quickly became popular and within a few decades, it became one of the most popular jet-set destinations of Italy. Positano is a vertical village situated on the side of the mountain. Only about 4000 locals live here, but thousands of tourists flock here during the Summer season. There is not much to do in Positano besides hanging on the beach and watching the yachts cruising around or going shopping for locally made linen and sandals. Tourists will also enjoy sitting on a terrace of a restaurant sipping Campari and watching the beautiful people walking by on the beach. Take a boat to explore the coves along the coast and have lunch at the World famous restaurant Da Adolfo. This place can only be reached by boat. It may not look like a fancy place first, but it serves some of the tastiest dishes in Italy. Its zuppe di cozze, a shellfish soup in thick tomato sauce is World famous. All their ingredients are fresh and locally grown, the fish is caught fresh every day. After a delicious lunch at Da Adolfo, a good option is to head to Li Galli, the archipelago made of three tiny islands for snorkeling. Here the water is crystal clear and the visibility is great. Once you discovered the area, head back to Positano and travel over to Amalfi, to discover this beautiful historical town.
Where To Eat
La Sponda ($$$) – It s a Michelin star restaurant in the Le Sirenuse hotel. It provides a romantic dining experience where couples can have a candle lit dinner while listening to mandolin and guitar playing. Chef Matteo Temperini prepares amazing fresh, Mediterranean flavours.
Other Dining Options: Ristorante da Costantino ($$), Da Ferdinando ($) & C'era Una Volta ($-$$)
Where To Stay
.
Amalfi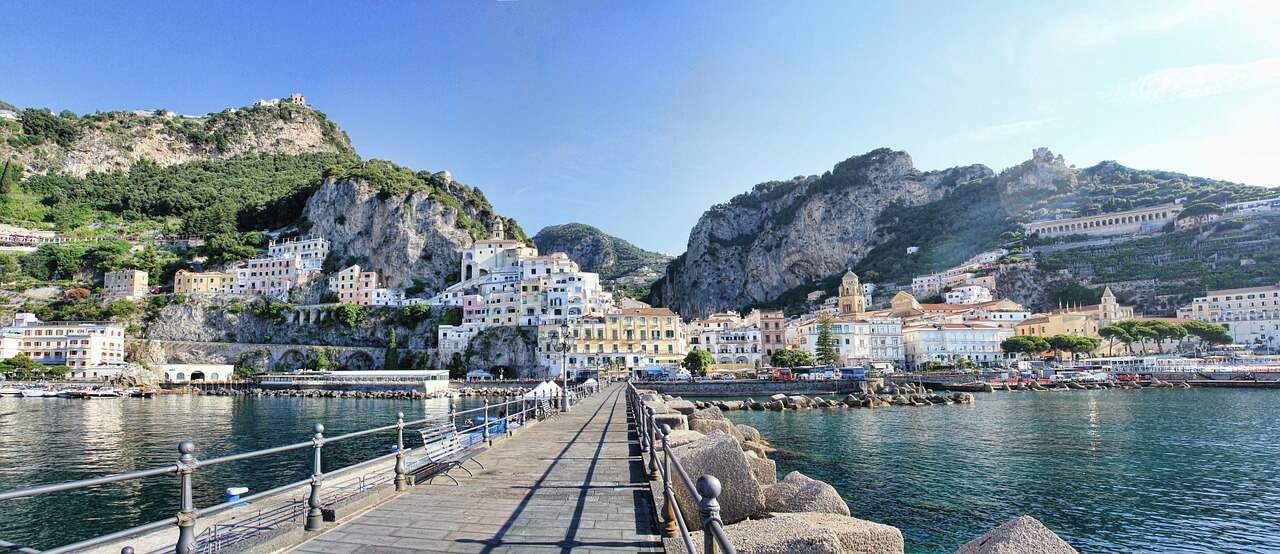 It takes about 45 minutes to reach Amalfi from Positano (by bus or ferry). About 1000 years ago, Amalfi was a large maritime republic with a population of 80,000 people and the town was competing with big trade hubs like Venice, Genoa and Pisa. Today, the town is packed with tourists, who come here to enjoy the view and often take home ceramics and lemoncello as a souvenirs. The center of the town is Piazza del Duomo, which is dominated by a striped Norman-Arab style cathedral. Pasticceria Panza is a famous pastry store where a wide selection of limoncello based pastries are sold.
Atrani
For adventurous tourists, take the footpath that leads over the hill to Atrani, an authentic Italian fishing village and enjoy dinner at Trattoria A'Paranza.
Where To Eat
A'Paranza – A low key trattoria that was renovated a few years ago. It is famous for delicious seafood dishes and deep-fried courgette flowers stuffed with cheese and the ricotta and pear flan is also incredible.
Where To Stay
Monastero Santa Rosa Hotel - 5* Luxury Stay ($500+ per night)This converted monastery perches atop the cliffs between Positano and Amalfi. The hotel was reopened not long ago after a 10 year long renovation. The hotel has an exceptional view overlooking the coast. The service is also excellent. Visitors can often spot celebrities in this hidden gem. The place has an excellent chef who prepares outstanding Italian dishes.
Like more info? Click to Read Trip Advisor Reviews
Ravello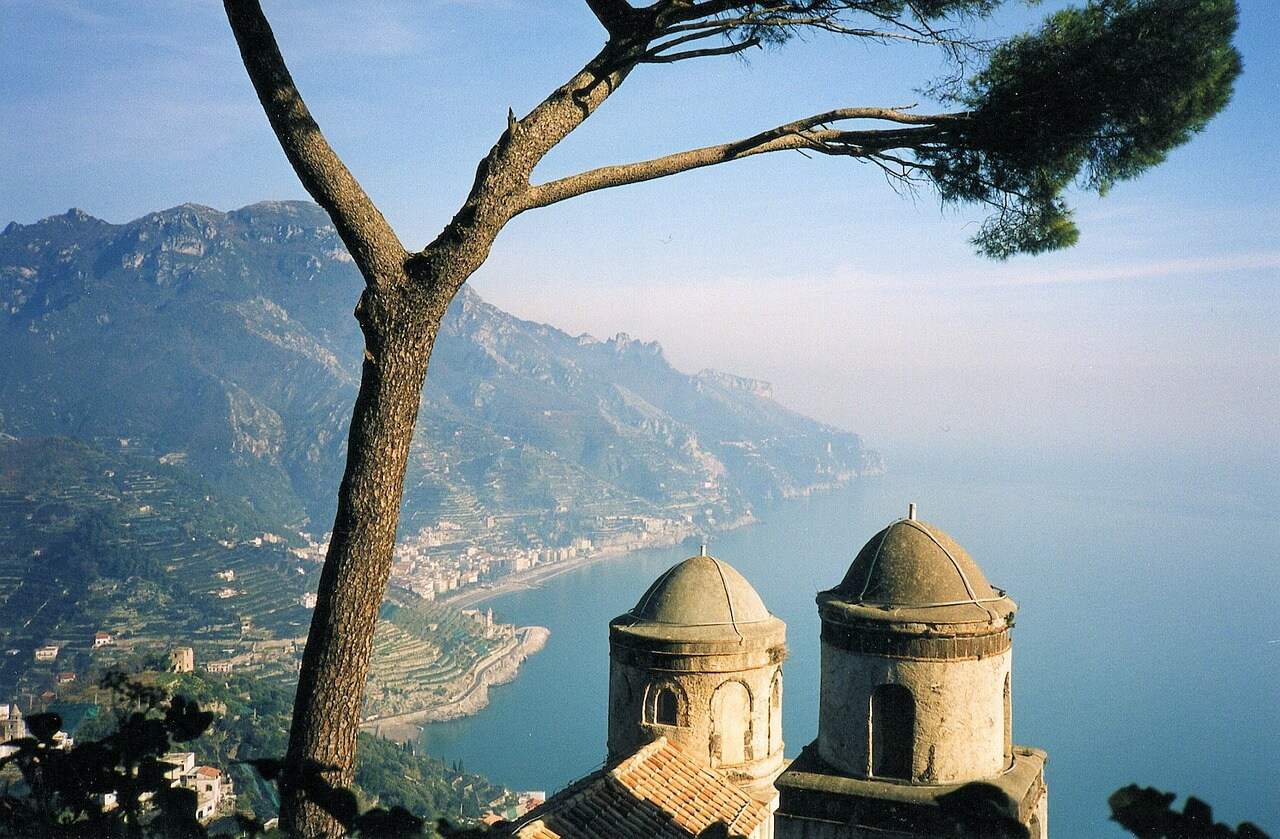 Spend the night in Amalfi and head to Ravello the next day to discover this tiny village, which is considered to be the jewel of the coastal crown. Ravello is situated on the top of the coast, high above sea level. The view from up there is truly spectacular. Ravello was also a larger, more prosperous town back in the days. Its magnificent gardens and palazzi attracted many artists and musicians. There are two famous gardens that most tourists visit in Ravello, one is Villa Ruffolo that became famous because Richard Wagner drew inspiration from the garden for his opera Parsifal. The other place Villa Cimbrone is another famous garden and hotel. It served as a love nest for Greta Garbo and Leopold Stokowski in the 1930ies. Ravello is home to the coast oldest and most beautiful church, which was built in the 11th century, the Duomo di Ravello. Ravello is famous for colorful ceramics.
*EXTRA* – Scala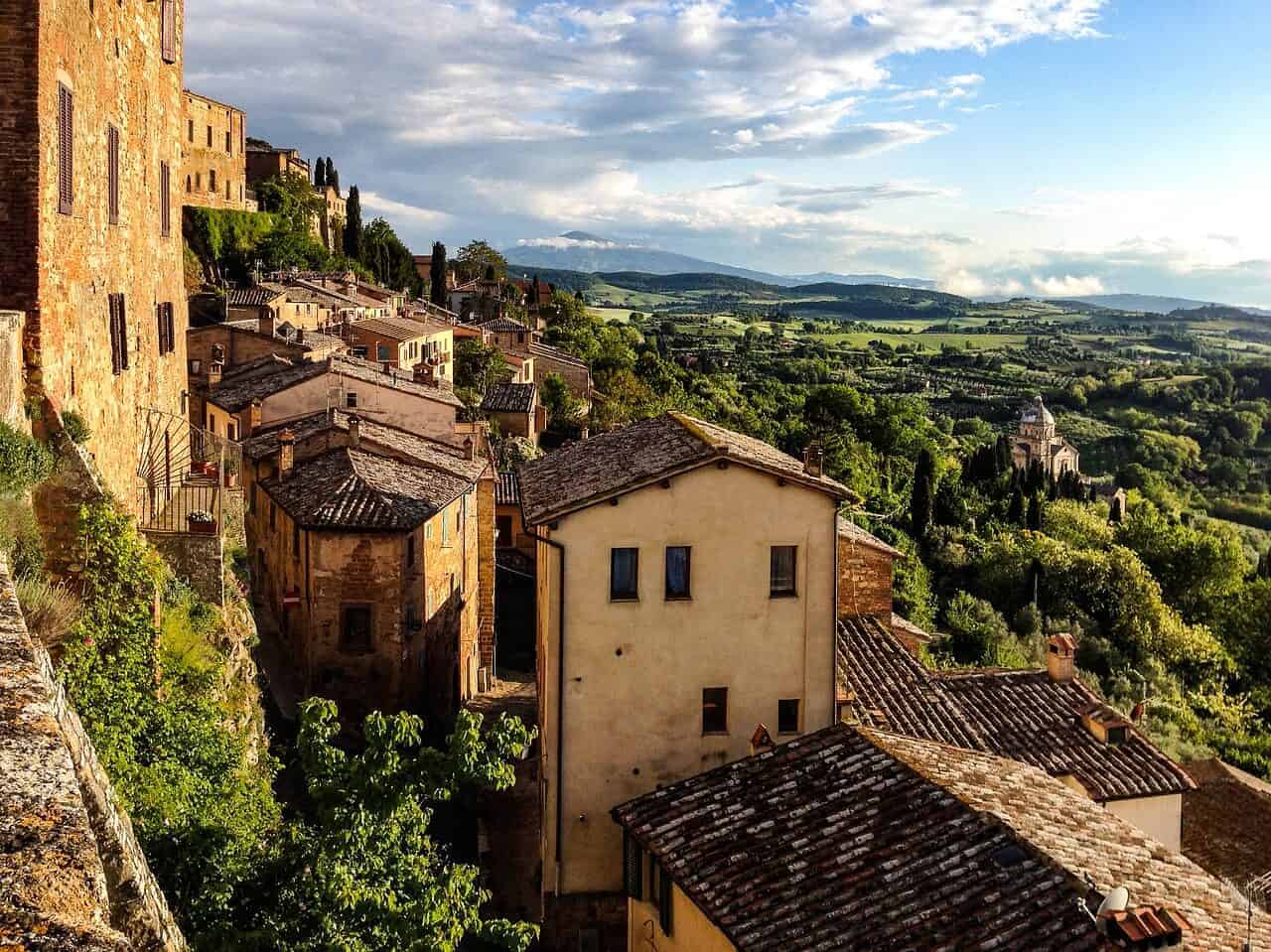 Just beyond Ravello, a less touristy town Scala is located. It is a sleepy town, set 400m above sea level and is the oldest town on the Amalfi Coast. As the former outpost for the Amalfi Coast, there are many remaining palazzi (palaces) and a large duomo from the 12th century. It is a great place for people who enjoy hiking or would like to experience traditional daily life on the Amalfi Coast if people are looking for a little off the beaten path options on their Amalfi Coast Tour.
Where To Eat
Rossellinis – is a two-Michelin star restaurant overlooking the Salerno Coast. The chef, Pino Lavarra, prepares tasty food with local flavours. The service is very friendly and attentive.
Where To Stay
.
Where To Next?!
Ravello/Scala are the last stops on our DIY Amalfi Coast Tour – but that doesn't mean your adventures in Italy are over! Hop on a bus/private transfer to Pompeii, Naples and from these bigger towns the whole of Italy is accessible by train! (click for timetable info). Or if it is time to head home, head to  the airport at Salerno and catch a flight out of there!
Related: Want to explore more of Italy? Why not visit Florence, Pisa or Venice?!
And don't forget these travel essential to help capture the incredible moments from your trip!:
| | | | |
| --- | --- | --- | --- |
| [easyazon_image align="center" height="160" identifier="B00X5RV14Y" locale="US" src="https://maketimetoseetheworld.com/wp-content/uploads/2017/03/31qr0d1QdML.SL160.jpg" tag="mak018-20" width="160"] | [easyazon_image align="center" height="130" identifier="B00DY2Y28M" locale="US" src="https://maketimetoseetheworld.com/wp-content/uploads/2017/03/41vVuEaWCJL.SL160.jpg" tag="mak018-20" width="160"] | [easyazon_image align="center" height="160" identifier="B000KFRSG4" locale="US" src="https://maketimetoseetheworld.com/wp-content/uploads/2017/03/414YD3vBpbL.SL160.jpg" tag="mak018-20" width="160"] | [easyazon_image align="center" height="119" identifier="B01F00NMBI" locale="US" src="https://maketimetoseetheworld.com/wp-content/uploads/2017/03/516wGkkcDRL.SL160.jpg" tag="mak018-20" width="160"] |
| POWERBANK | LUMIX FZ70 | GORILLAPOD | CAMERA/DAY BAG |
.
And that's a wrap folks! I hope this post has helped you plan your own Amalfi Coast Tour and if you have an hints and tips I haven't covered, let me know in the comments below!
 If you like this post, please tweet pin & share – and, as always, full sized and secret pins can be found by clicking the P in the sharebar 🙂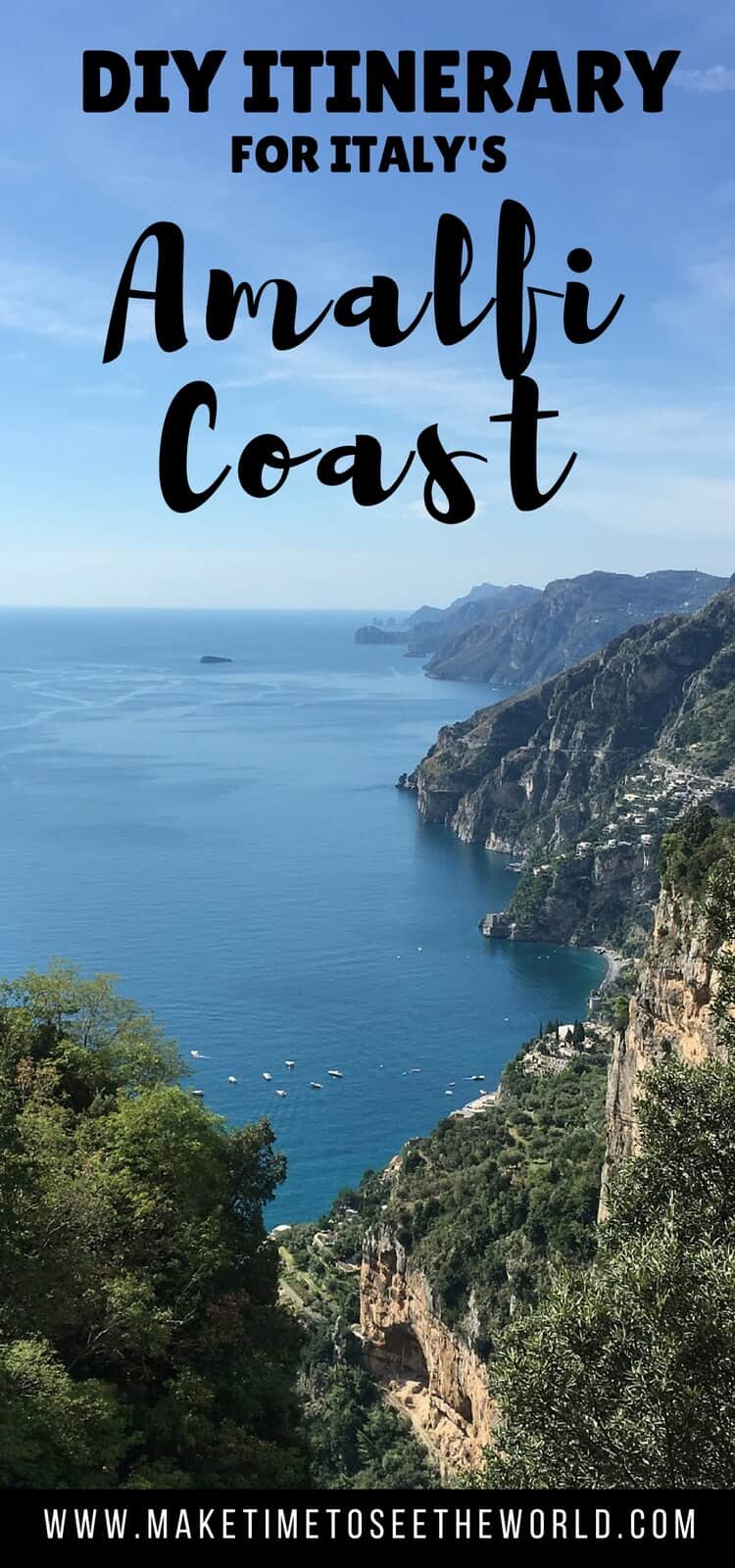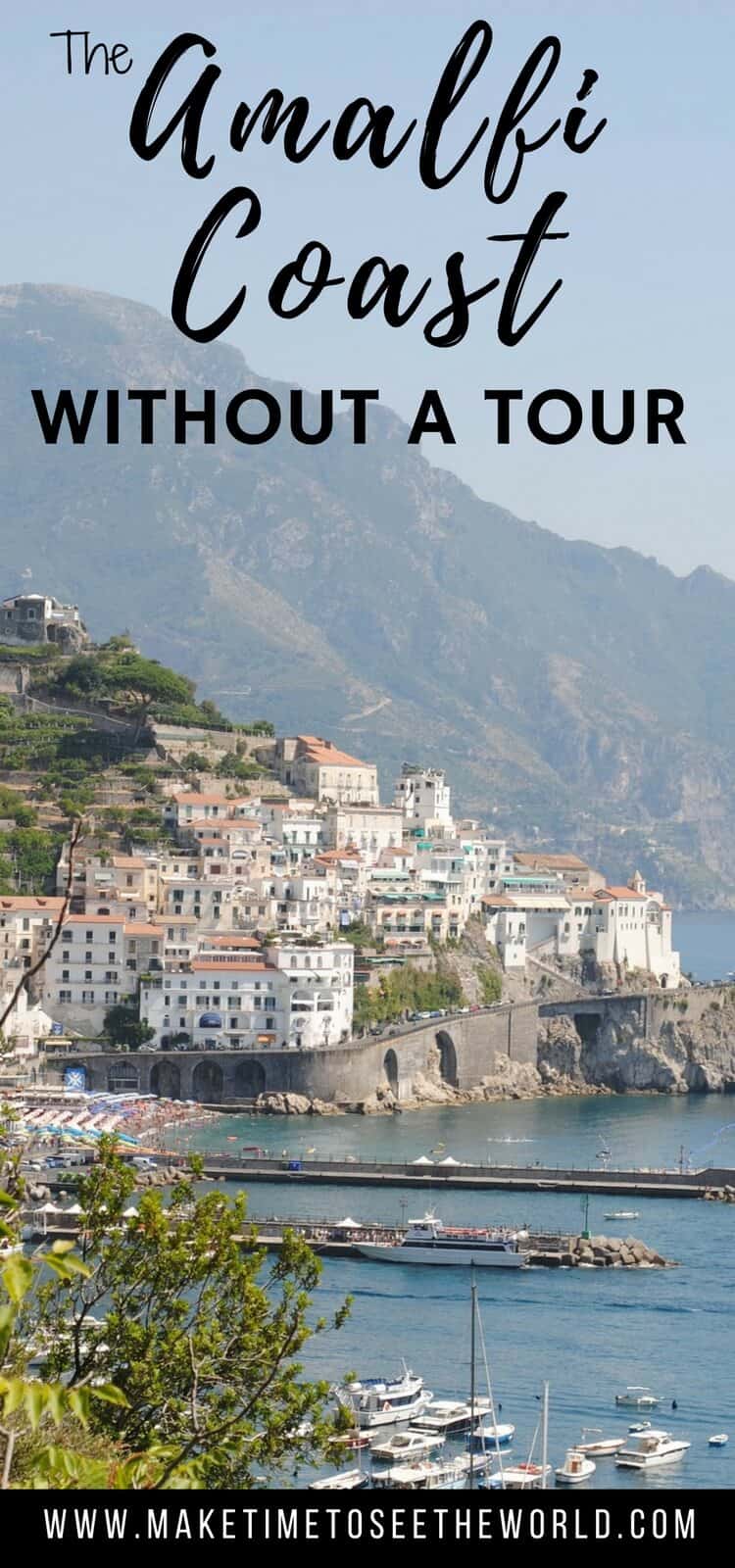 Hi There! Thanks for reading our DIY Amalfi Coast Tour: Positano – Amalfi – Ravello I just wanted to let you know that this post contains affiliate links, which help support this site at absolutely no cost to you. If you enjoyed this article and are going to be searching for some of the things I mention anyway, I would love it if you could click through from the links above. These links help me keep this site online and updated – so thank you in advance! Read my full Disclosure here.
DIY Amalfi Coast Tour – Positano, Amalfi & Ravello
was last modified:
April 23rd, 2017
by